Light and fluffy Banana Pancakes that are simple and so full of flavor. Everyone loves these pancakes that are perfect topped with nutella, chocolate syrup or even buttermilk syrup.
A hearty and delicious breakfast recipe, these banana pancakes are great any morning! Change it up by making our banana oatmeal pancakes or peanut butter banana pancakes – all delicious.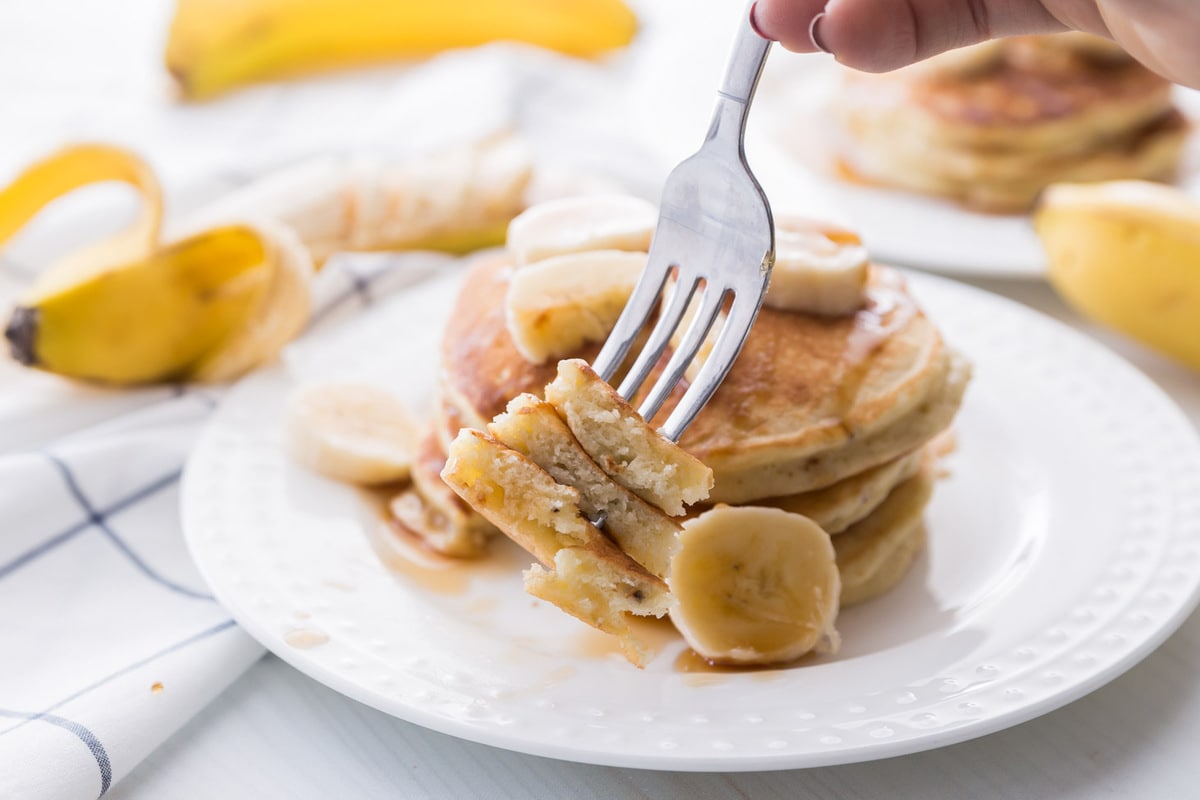 quick & Easy breakfast
Hello again! It's Alicia from The Baker Upstairs, and I'm excited to share one of my family's favorite breakfast recipes with you today. My kids are totally obsessed with these banana pancakes, and request them almost every weekend for breakfast (we sometimes even make Peanut Butter Banana Pancakes).
They're simple and quick to make, and use ingredients that we nearly always have in the house. They have a fantastic banana flavor, and are totally delicious with butter, syrup, and sliced bananas on top!
We love that these pancakes are so simple, but they really are so packed full of flavor that I think you'll agree they're the best and easiest banana pancakes. 😀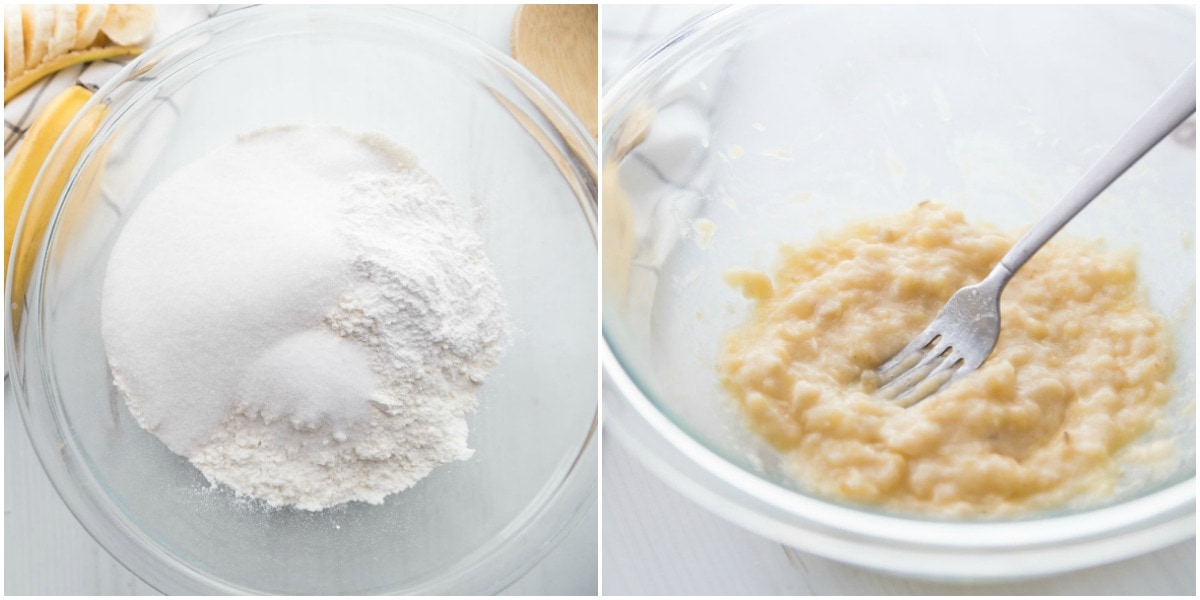 easy ingredients
The ingredients needed for this pancake recipe are pantry staples. Here is what you'll need to make these banana-filled pancakes:
flour
sugar
baking soda
salt
bananas
milk
eggs
vanilla
oil
We always have these on hand, and whether your bananas are ripe or overripe, they still work for this recipe. We just like to have fresh bananas to top them off with too.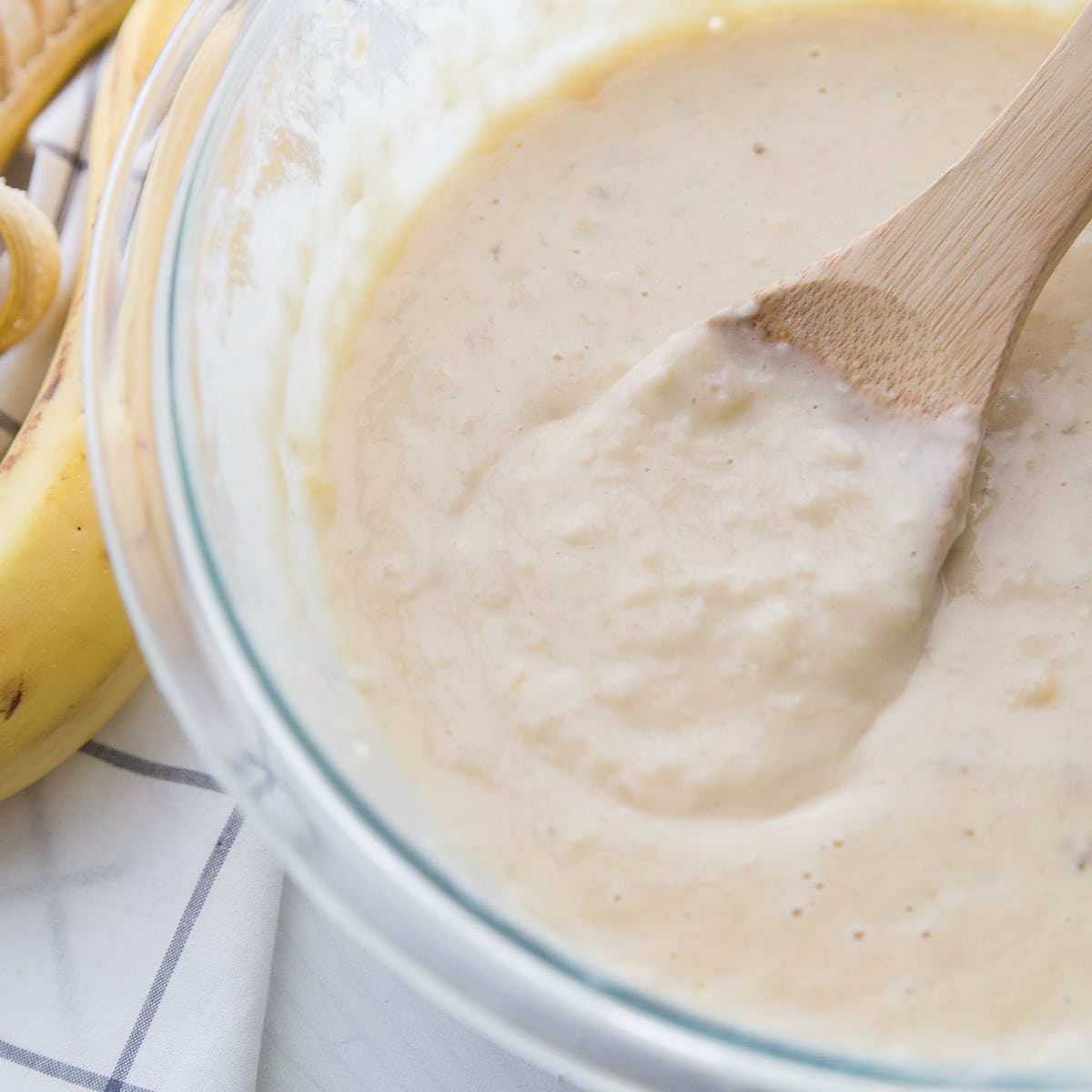 How to Make Banana Pancakes
The banana pancake batter takes just a few minutes to mix up, and you don't even need a mixer!
One of the keys to pancake perfection (in my opinion) is to let the batter rest for 5-10 minutes before pouring it onto the hot griddle. I always find that my pancakes are lighter and fluffier if I let the batter rest a little before cooking. It also helps the batter thicken just a little bit, which makes it easier to pour.
MIX. To make these, you'll combine the dry ingredients in a bowl. Then, mash your bananas and add the other wet ingredients. Combine the two and mix well (a few clumps are fine!)
GREASE. My griddle has a non-stick ceramic coating, so I don't ever grease it, but if you're using cookware that isn't non-stick, a little butter or cooking spray will help the pancakes come off the pan cleanly.
COOK. You'll spoon about ¼ cup of batter onto your griddle and cook for about 3-4 minutes (or until bubbles form on top), then flip and cook for an additional 2-3 minutes.
TOPPINGS. We ate our banana pancakes drenched in maple syrup, but these pancakes would also be really yummy with
peanut butter
Nutella
chocolate syrup
You really can't go wrong here! These pancakes are so light and fluffy, and taste amazing!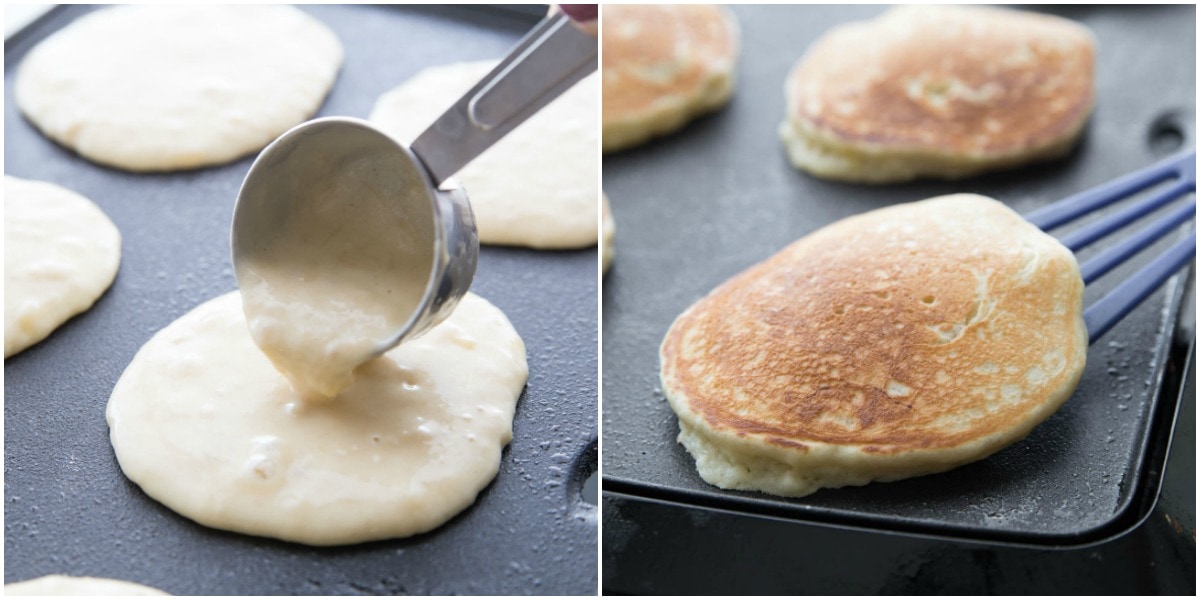 Storing, Freezing & Reheating
How to store/Freeze banana pancakes? Place in a ziploc bag and store in the fridge for up to 4-5 days. To freeze, place cooled pancakes in an even layer on a parchment-paper lined baking sheet. Let freeze for about an hour. Doing this will prevent the pancakes from sticking together.
Then, you can stack (for even more safety you can add waxed paper between each pancake) and place in a freezer-safe Ziploc bag. You can keep these in the freezer for up to 2 months.
How to reheat Banana Pancakes? You can reheat pancakes in the microwave, or you can place on a baking sheet and cover with foil. Bake for 10-15 minutes at 350 degrees. Even the toaster can work to reheat the pancakes.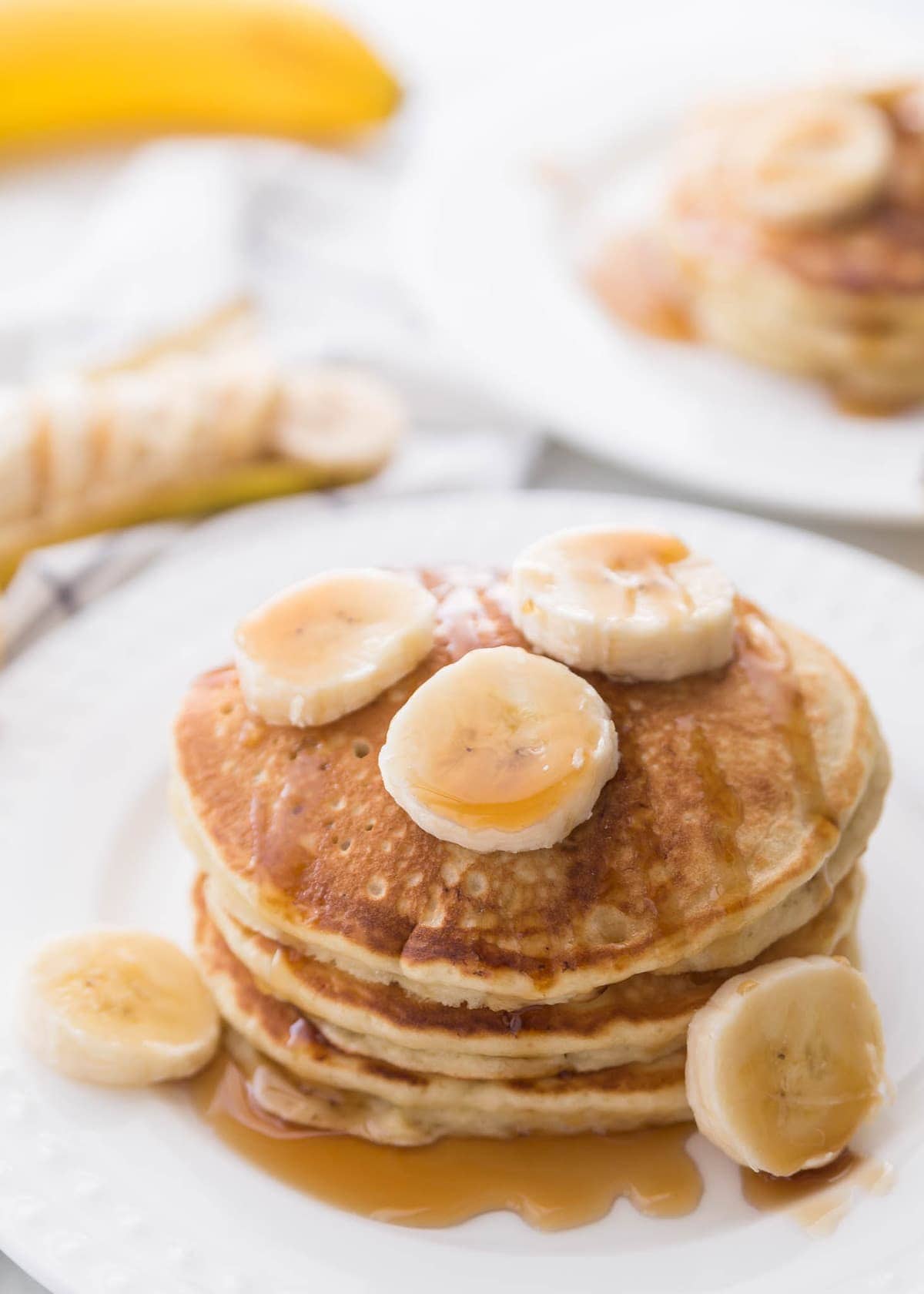 Nothing like warm, delicious Banana Pancakes on a holiday or weekend morning!! We hope you enjoy these delicious and fluffy Banana Pancakes!
For even more pancake recipes, check out:
How to make Banana Pancakes Recipe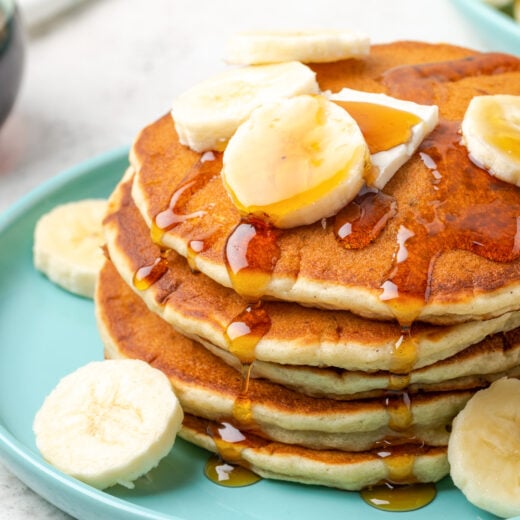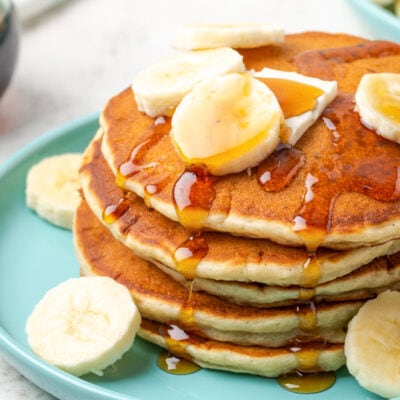 Follow these steps on How to Make Banana Pancakes for light and fluffy Banana Pancakes that are simple and so full of flavor.
Instructions
In a medium bowl, whisk together the flour, sugar, baking powder, and salt.

In a large bowl, mash the bananas with a fork until only small chunks remain. Add the milk, eggs, vanilla, and oil, and mix until combined.

Pour the dry ingredients into the wet ingredients, and mix until just combined (a few small lumps are fine). Let sit for 5 minutes.

While the batter is resting, preheat a skillet or griddle over medium heat. Spoon the pancake batter onto the hot griddle by ¼ cup scoops. Cook for 3-4 minutes, or until bubbles form over the surface of the pancake, then flip and cook an additional 2-3 minutes.

Serve warm with sliced bananas, butter, and syrup.