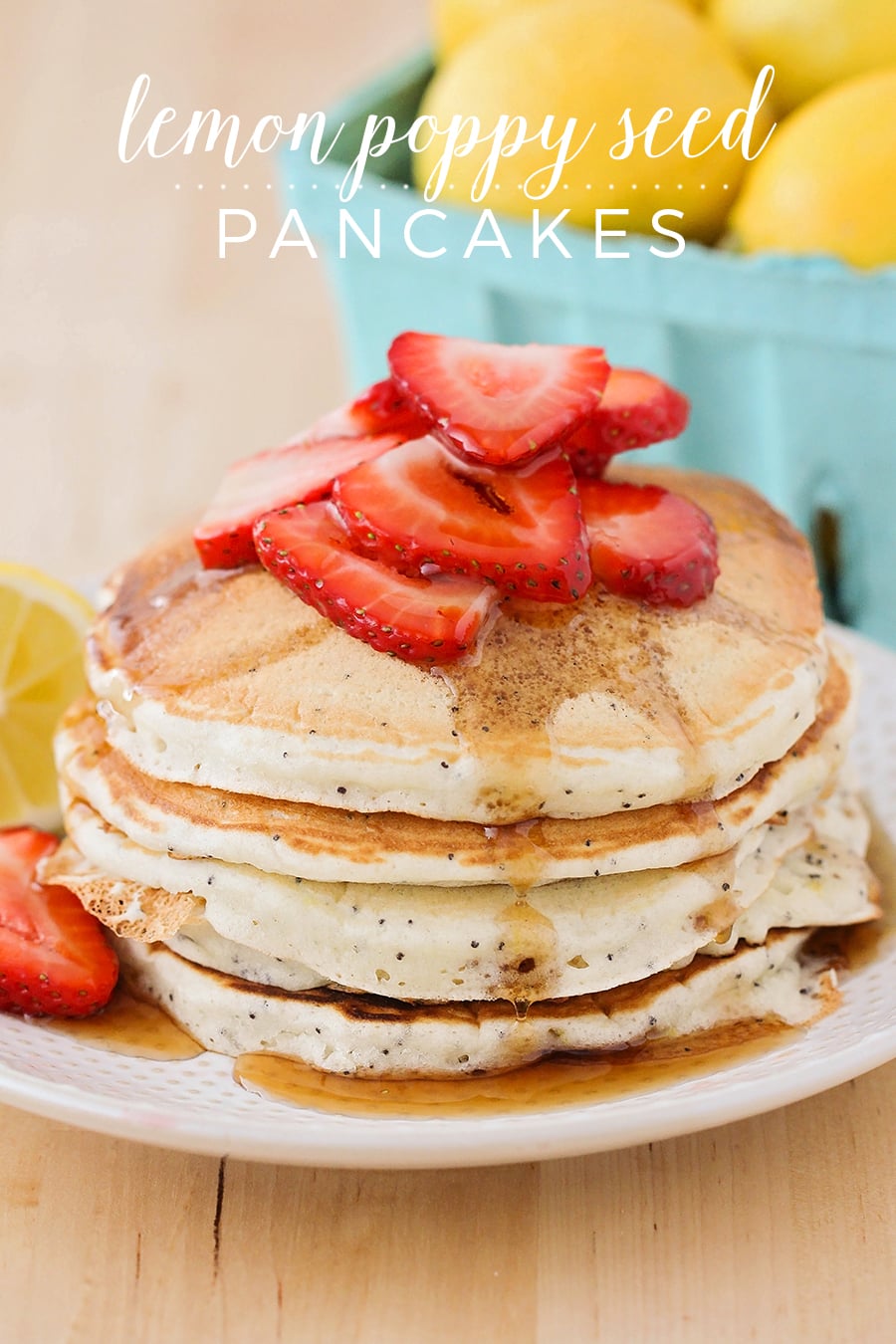 Who else LOVES having the kids home for the summer? As much as I sometimes miss having time to myself during the day, my kids and I are having a blast so far this summer! Last summer, we were preparing to move across the country, and the three summers before that, I worked full time outside the home, so this feels like the first summer in a long time that I've been able to just relax and enjoy all the great things about summer vacation. We've been having lazy mornings, spending our afternoons at the splash pad, and planning fun adventures every week. I also love that we get to have breakfast together every morning!
During the school year, we're always in such a rush that breakfast is usually something like a piece of toast and a go-gurt as we run out the door. Without a strict schedule to keep to, I can expand our breakfast repertoire to things like pancakes, scrambled eggs, and waffles. I made these lemon poppyseed pancakes recently for my kids, and they were a huge hit. They're a fun twist on our usual pancake recipe, and full of great flavor!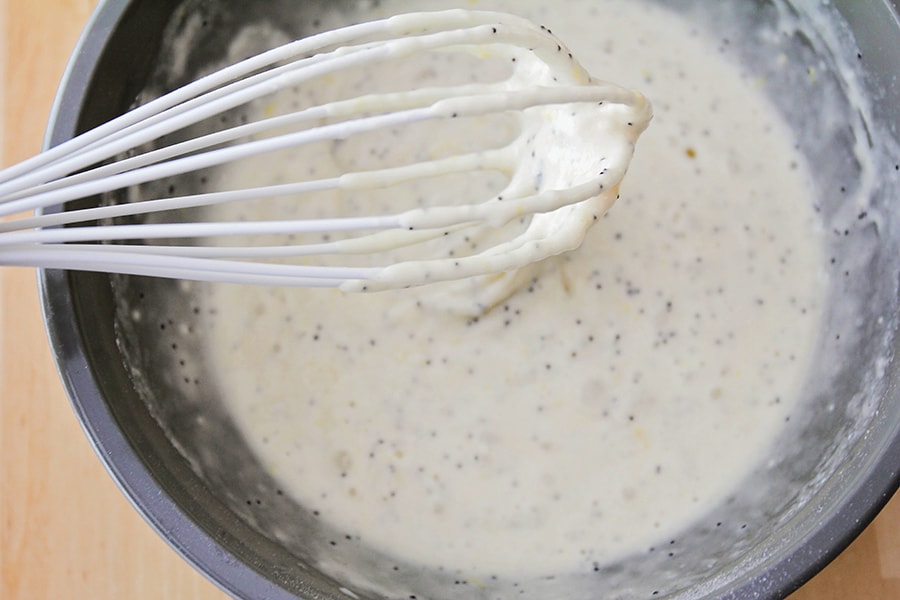 I was inspired by these gorgeous looking pancakes from Kitchen Meets Girl, but I changed up the recipe just a little to make them my own. There's something so fun about cooking and baking with poppyseeds. They're so little and cute… almost like sprinkles!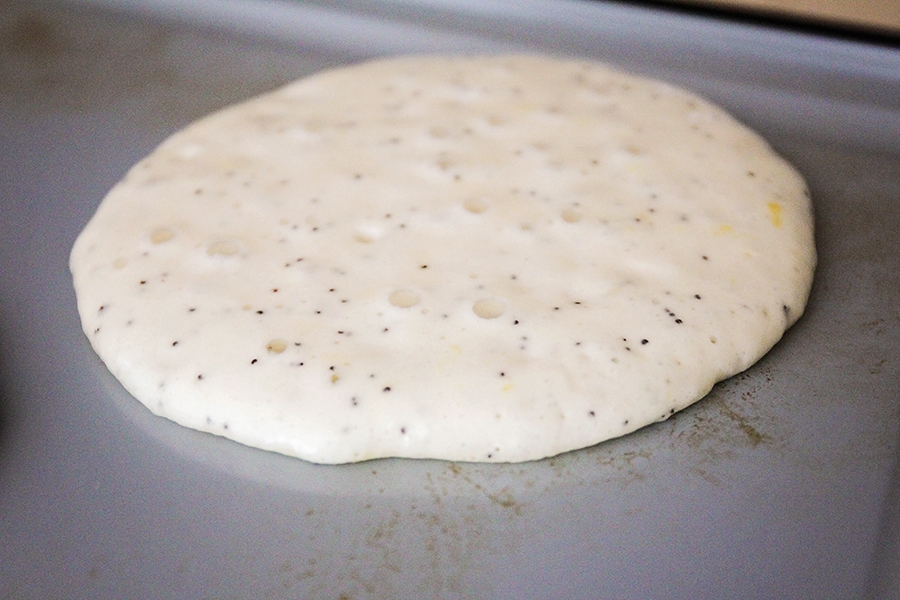 I love watching the pancakes puff up as they cook. You can see how light and fluffy they are!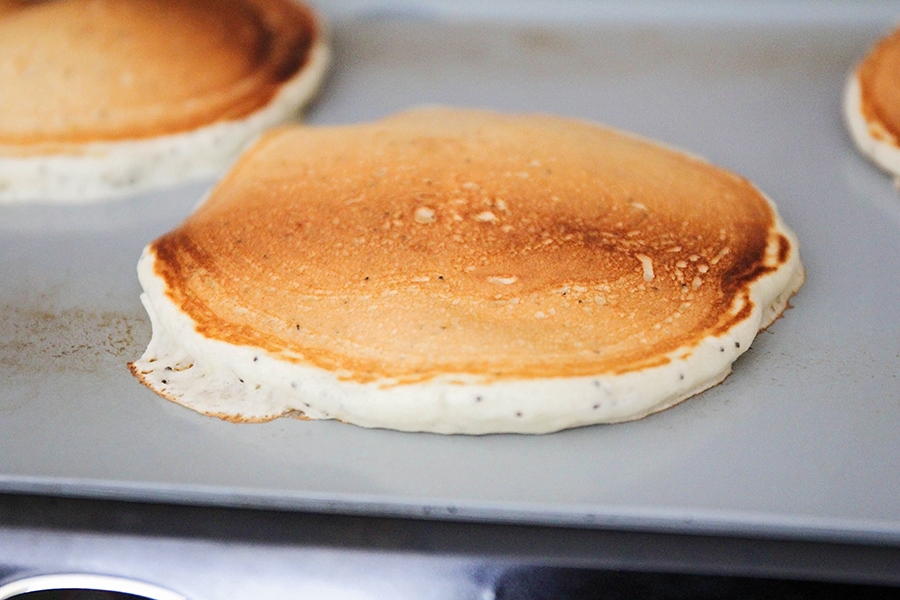 We ate ours with fresh strawberries and maple syrup on top, and they were so delicious! I think they'd also be great with strawberry or raspberry syrup on top, or spread with strawberry jam. My six year old ate hers completely dry and still loved them, so I am guessing they're just delicious any way you make them. 🙂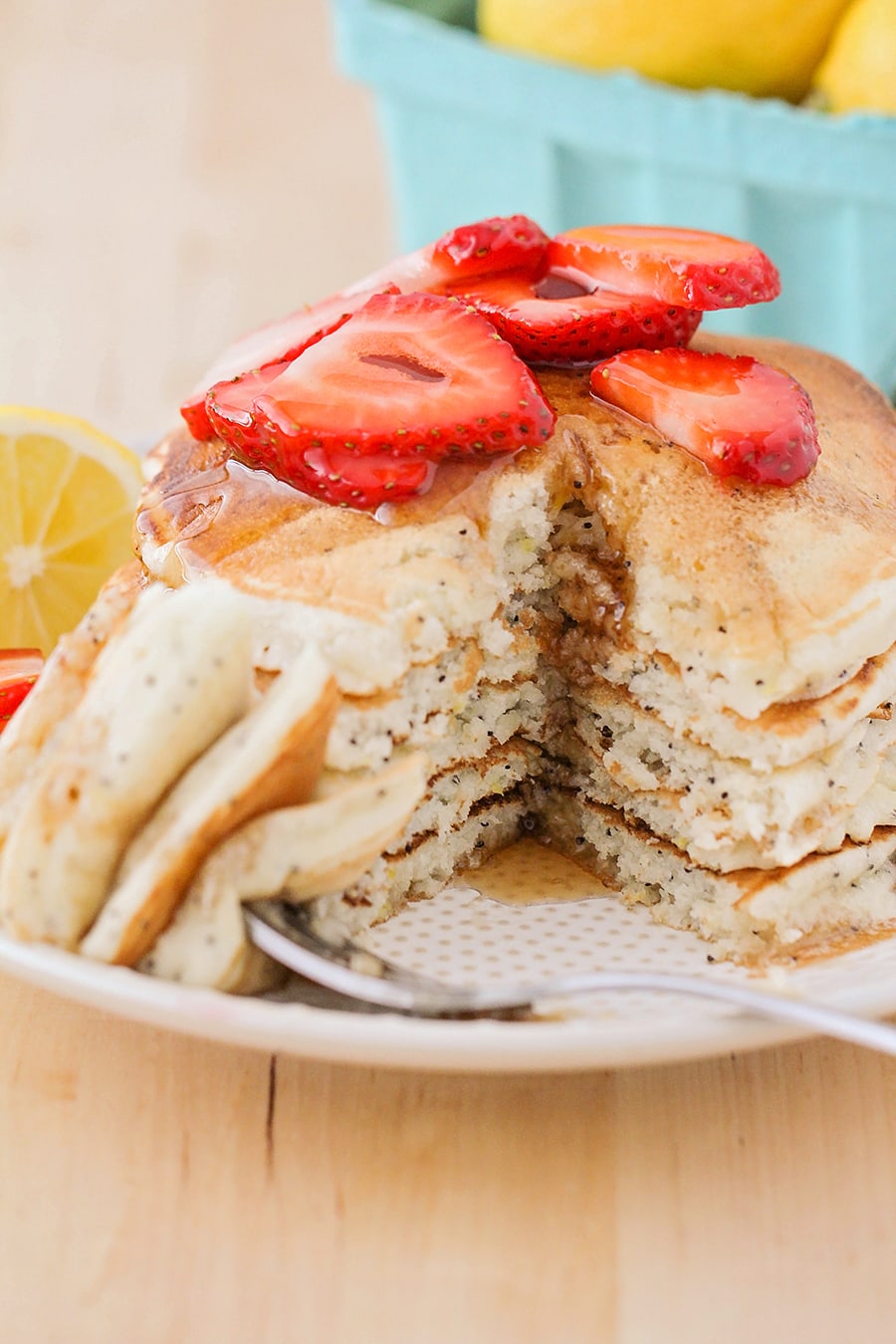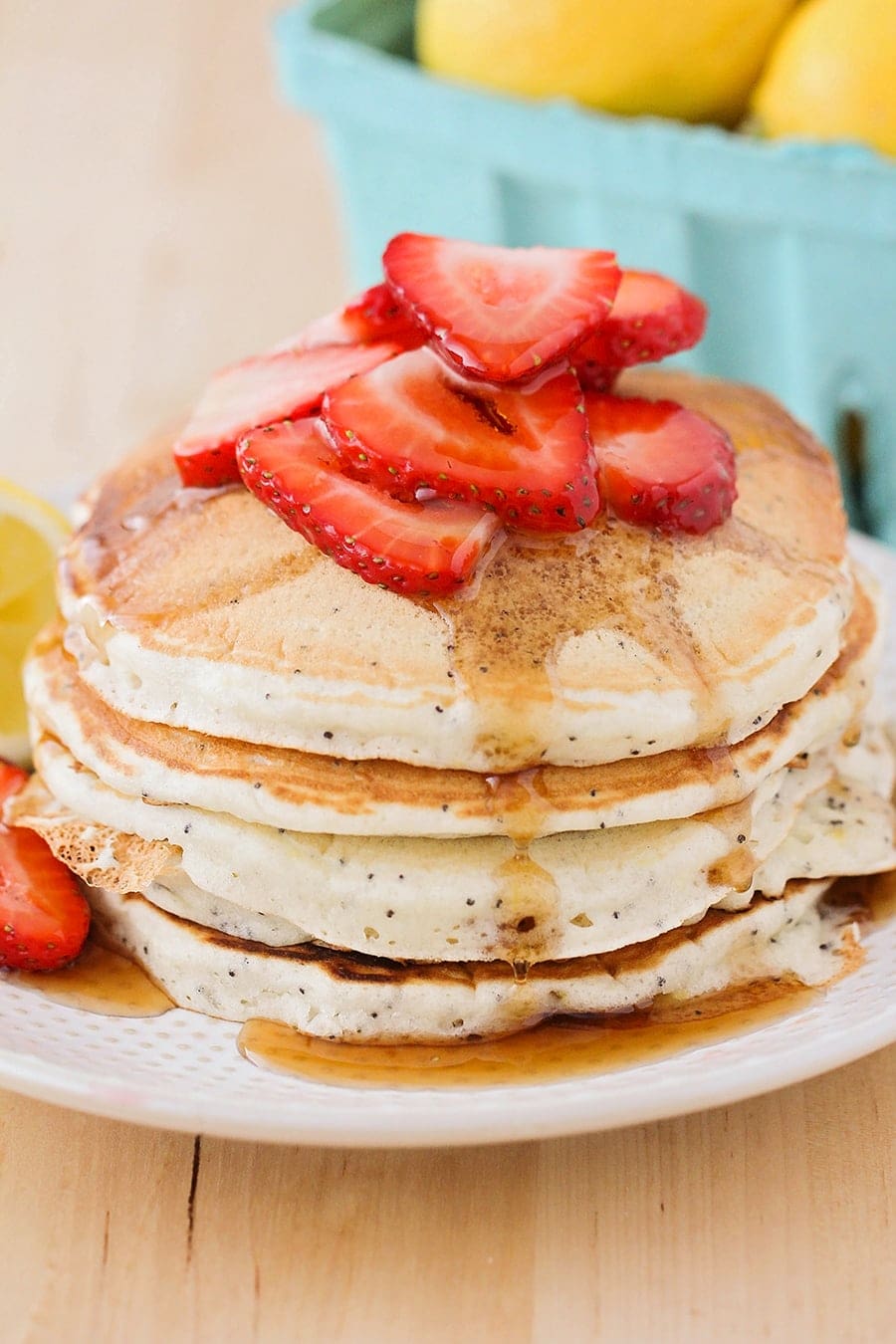 Just as a heads up, this recipe is pretty small and only makes eight pancakes, which was the perfect amount for me and my daughters. If you're cooking for a bigger crowd, though, I would suggest doubling or tripling the recipe in order to have enough to go around!
Lemon Poppyseed Pancakes recipe: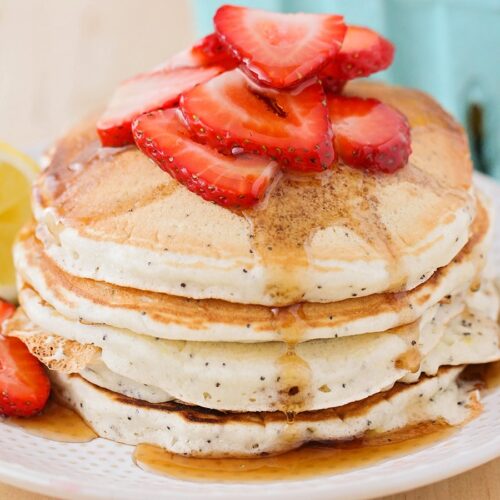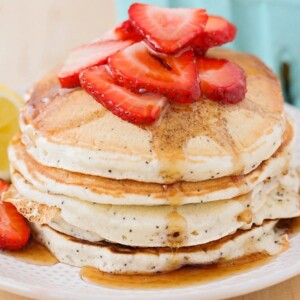 Lemon Poppyseed Pancakes
Lemon Poppy Seed Pancakes-light & refreshing with the perfect hint of lemon!!

Ingredients
1

tbsp

lemon zest

2

tbsp

sugar

1

cup

flour

1

tsp

baking powder

1/2

tsp

baking soda

1/2

tsp

salt

1

tbsp

poppy seeds

3/4

cup

buttermilk

1

tsp

lemon extract

1

tsp

vanilla

2

tbps

oil

1

egg
Instructions
In a large bowl, rub the lemon zest into the sugar, until fragrant. Add the flour, baking powder, baking soda, salt, and poppy seeds, and whisk to combine.

In a small bowl or measuring cup, whisk together the buttermilk, lemon extract, vanilla, oil, and egg.

Pour the wet ingredients into the dry ingredients. Mix until just combined (it's okay if a few small lumps of flour remain). Let sit ten minutes.

Preheat a griddle or skillet over medium heat. Scoop the pancake batter onto the griddle by ¼ cup scoops. Cook 3-4 minutes, or until large bubbles form on the surface. Flip and cook an additional 1-2 minutes. Serve warm with fresh fruit and syrup.
These look so good!! Thanks Alicia! For more great recipes from Alicia, go to The Baker Upstairs.
For another great Breakfast recipe to try:
White Chocolate Berry Pancakes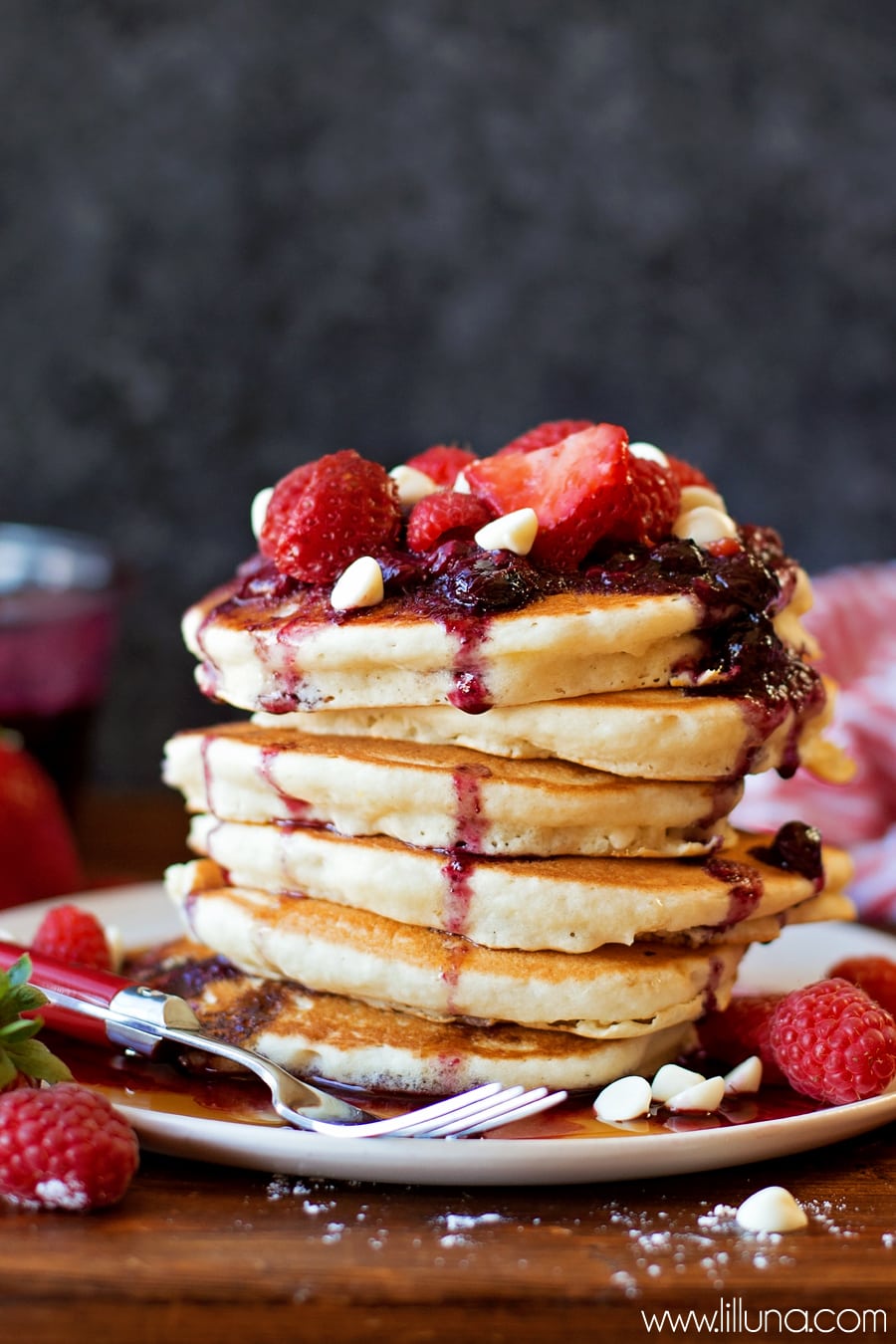 And, for more Breakfast Recipes, check out:
ENJOY!!