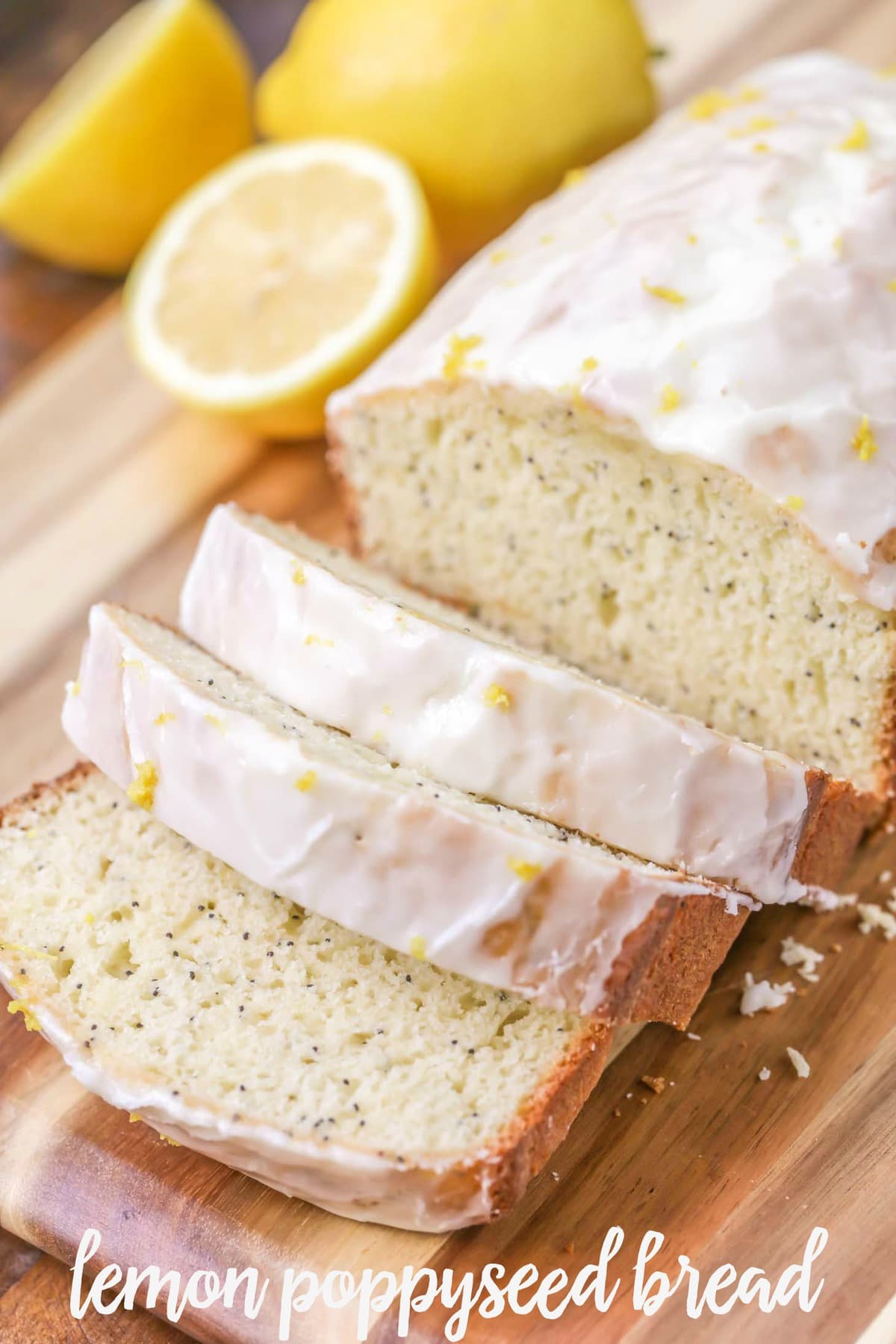 Hi there! Hope you all are having a fantastic day! If you're not, I hope I can change that for you. Being a "baker" in Arizona (in the summer) can be tough. Between trying to stay cool, and keeping your A/C bill below $500, firing up the oven is not on top of your list of things to do… well, for most people. I'm not most people and I say there is NEVER a bad time to bake up something delicious. 🙂 I may not do it as often in the summer time, but a minimum of once a week is good for the soul – and belly! Even though baking isn't so enticing, yummy lemon baked good are!
Today's recipe is a Lemon Poppyseed Bread. We've always been fans of the lemon and poppy seed combo and knew a bread form would be great. We've tried a Glazed Almond Poppy Seed bread, which is a favorite, but especially crave lemon in the summer time. This particular bread was super soft and perfectly sweet. It may have helped that we added 1 cup of sour cream and a little extra lemon for more flavor making it one of our favorite quick bread recipes.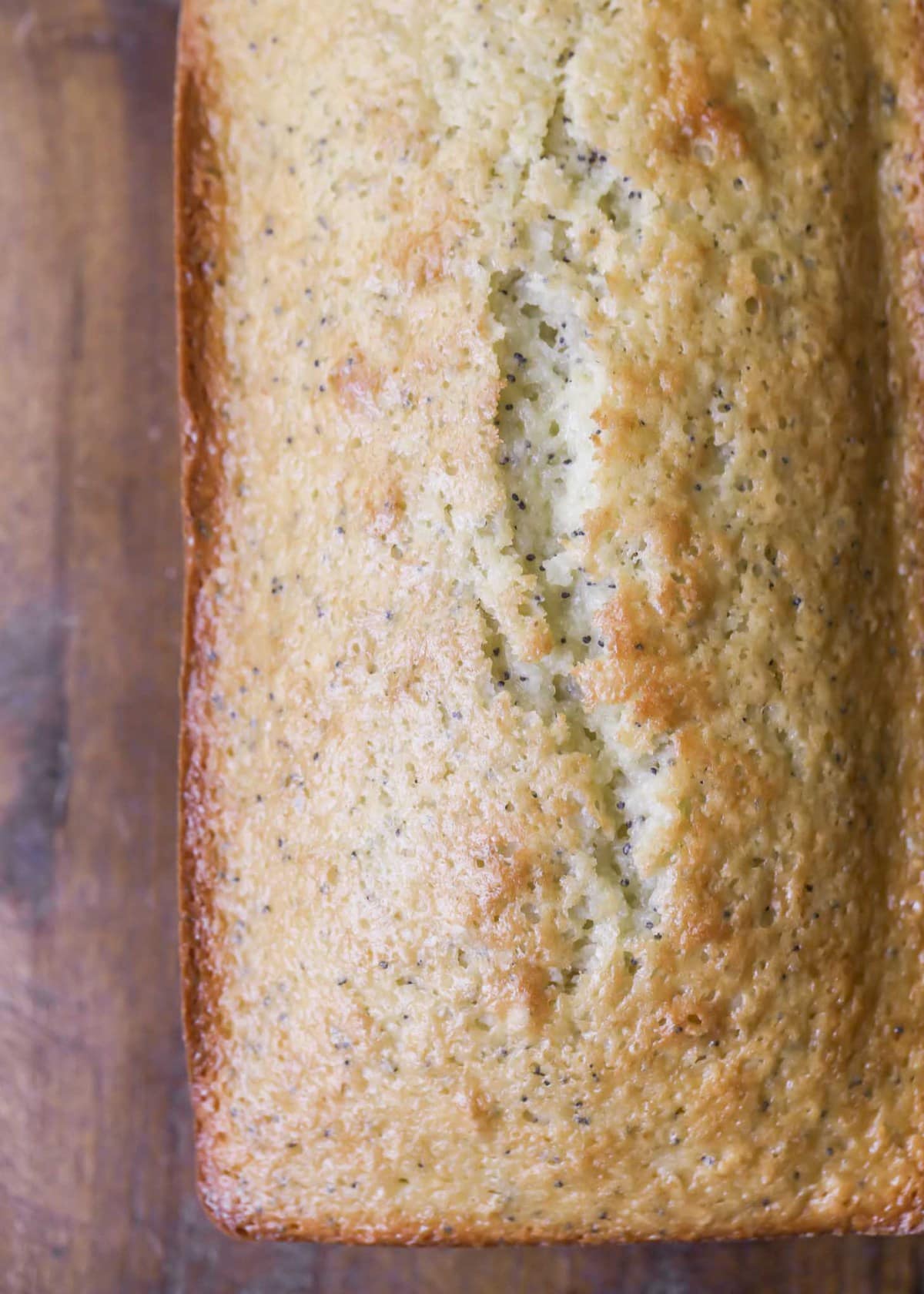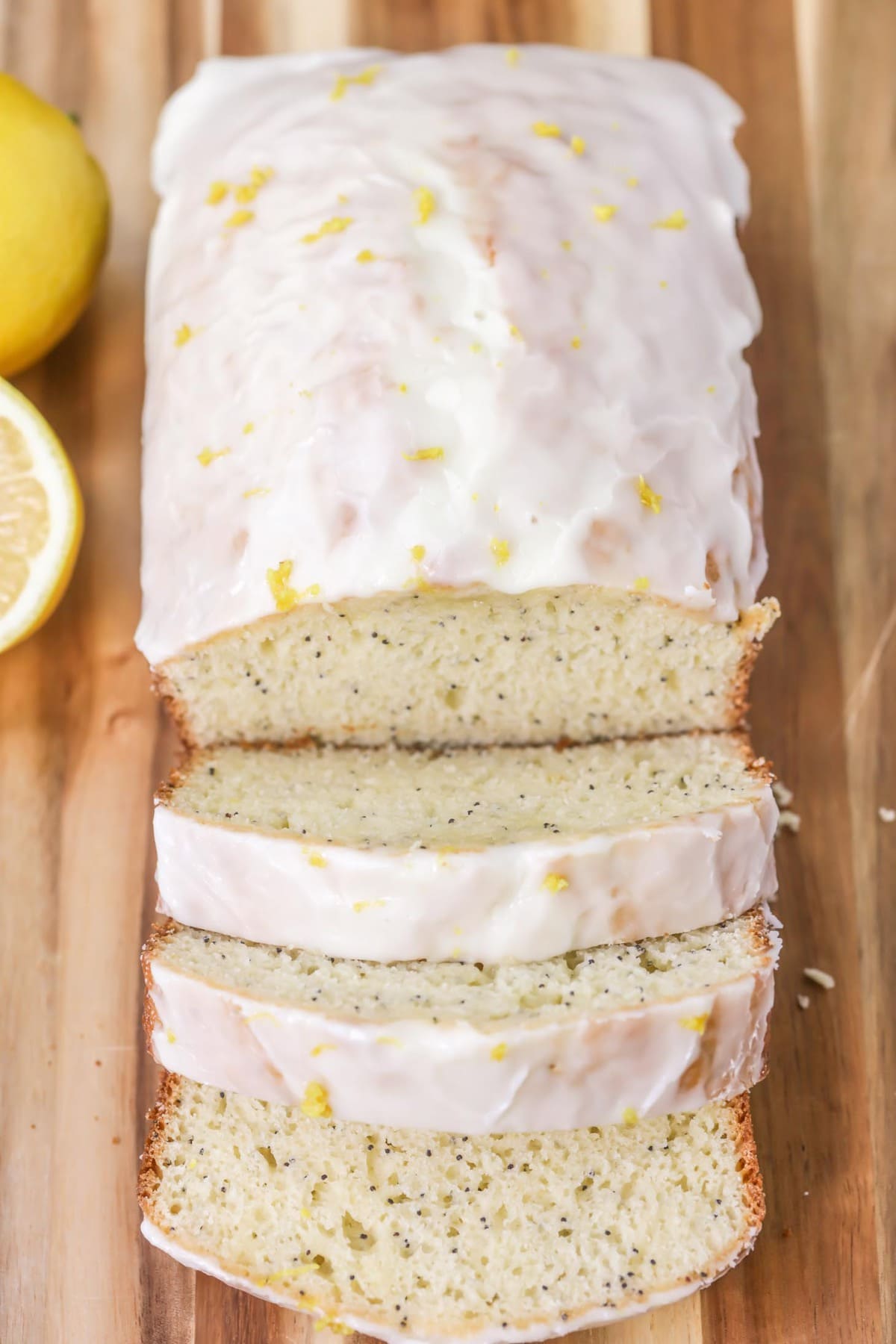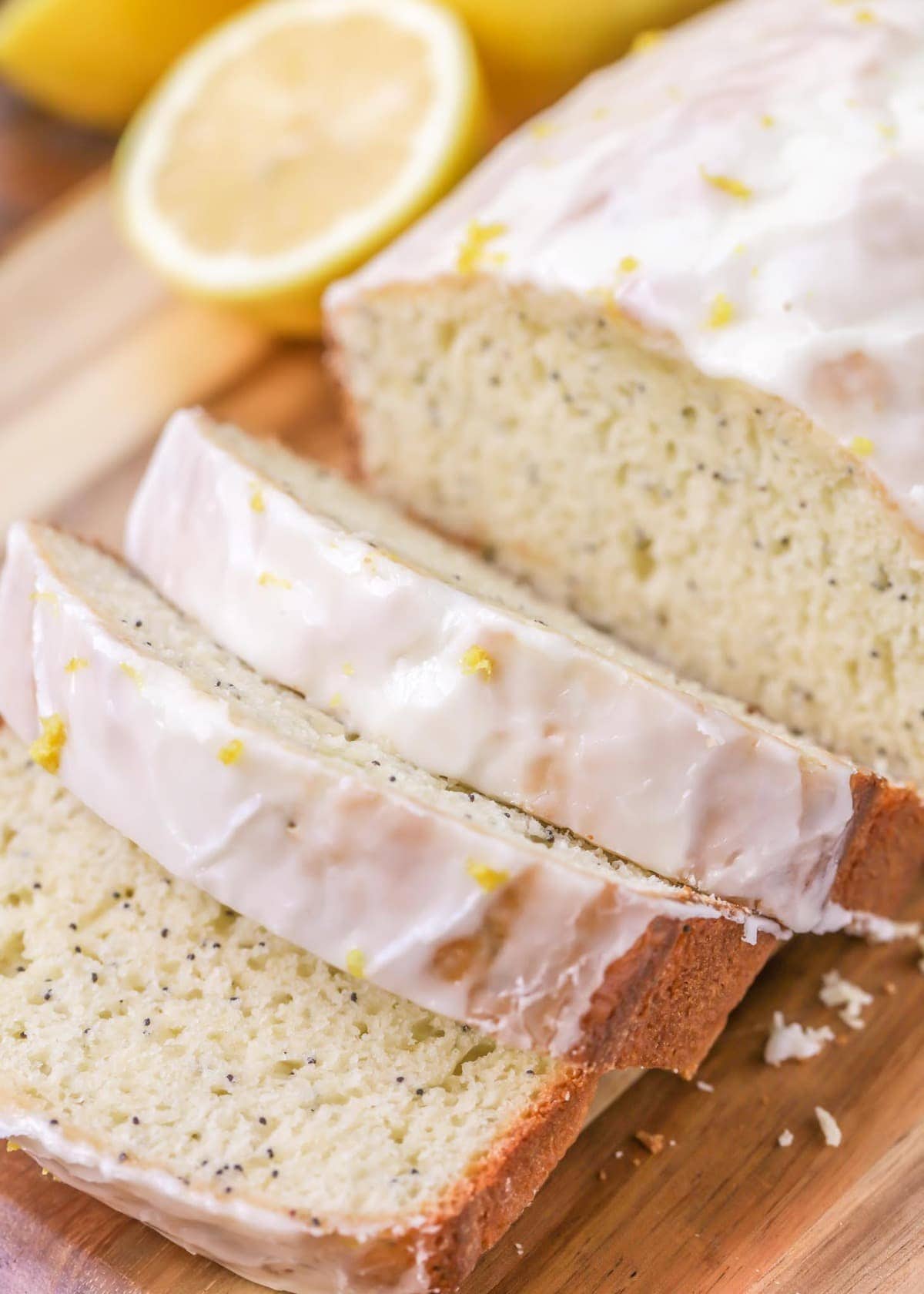 We were glad we added lemon to the glaze because the bread, itself, wasn't too lemony. And with the sour cream it made the bread so soft and moist.
Lemon Poppy Seed Bread:
Lemon Poppy Seed Bread Recipe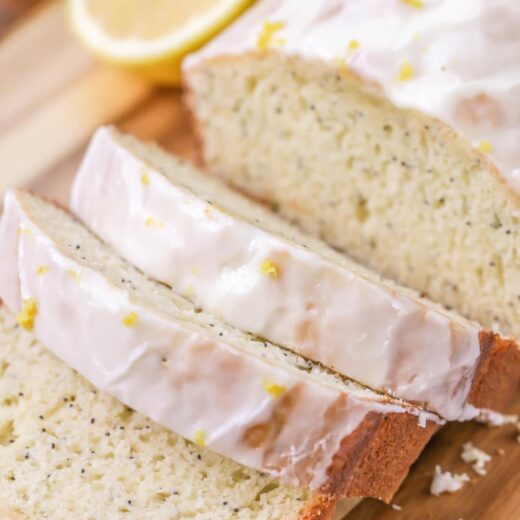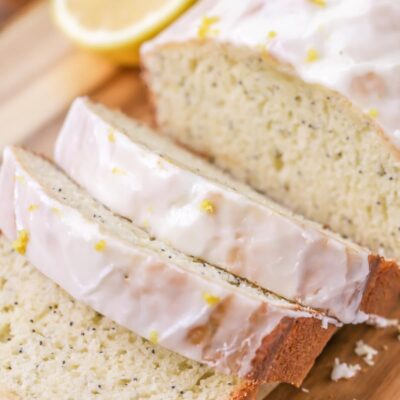 Soft and moist Lemon Poppy Seed bread. This quick bread recipe is simple and so full of flavor it's sure to be gone in minutes!

Ingredients
3

cups

all-purpose flour

1 1/2

tsp

salt

1 1/2

tsp

baking powder

1 1/2

tbsp

poppy seeds

2 1/2

cups

white sugar

1 1/8

cups

vegetable oil

3

eggs

1 1/2

cup

milk

1

cup

sour cream

1 1/2

tsp

vanilla extract

1 1/2

tsp

lemon extract
Frosting
1/4

cup

orange juice

3/4

cup

powdered sugar

1

tsp

lemon extract
Instructions
Mix together your flour, salt, baking powder, poppy seeds and 2½ cups white sugar in a large bowl or kitchen aid. Add the eggs, milk, oil, sour cream, vanilla, and lemon extract until smooth. Distribute batter evenly into 3 greased 8x4 inch pans.

Bake at 350 degrees for 50-55 minutes. Cool loaves in pans for 10 minutes before removing to a wire rack.

Frosting: Mix together orange juice, powdered sugar and lemon extract until well combined. Pour over your loafs while they are still hot. Allow to cool completely before serving.
Adapted from allrecipes.
TRIED & TRUE FINDINGS:
DIFFICULTY: easy
HOW MANY DOES IT FEED: 3 loafs
ANY CHANGES MADE: added 1 cup sour cream. For the frosting, we used powdered sugar in place of white sugar and added ½ tsp of lemon extract
ANY SUGGESTIONS FOR NEXT TIME: none
Here is a muffin version of this recipe that we love:
Glazed Lemon Poppyseed Muffins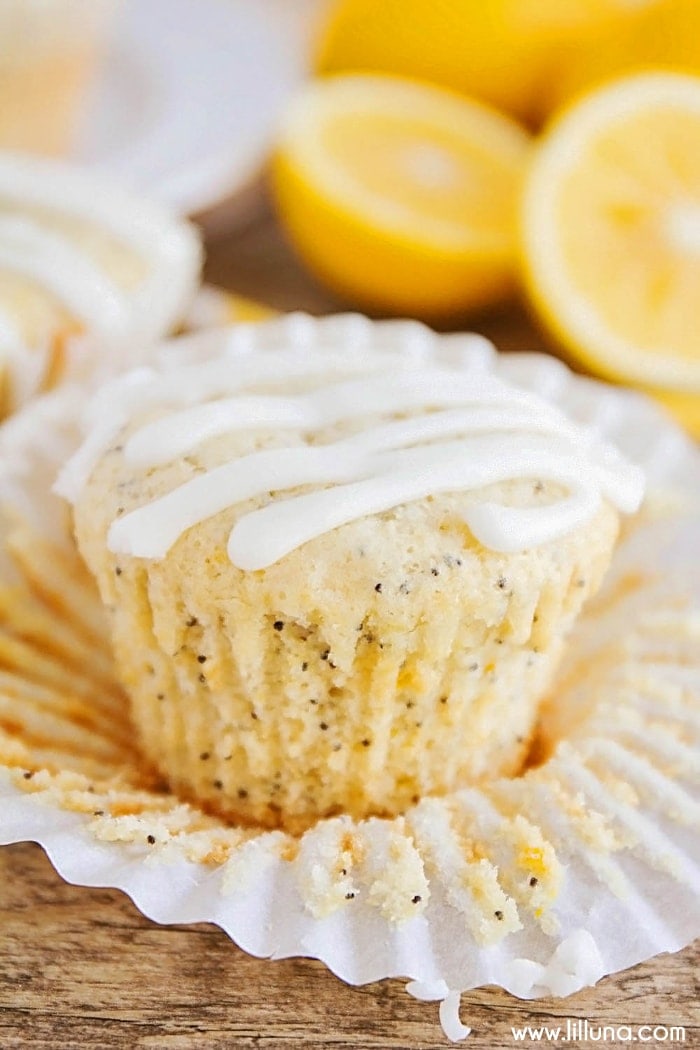 For more great quick bread recipes, check out:
ENJOY!