Fluffy and flavorful Lemon Poppy Seed Muffins are topped with a tasty glaze making them simply irresistible.
Glazed lemon poppy seed muffins combine that classic and tasty flavor combination that I adore. I love it in bread, pancakes, or even in a dressing!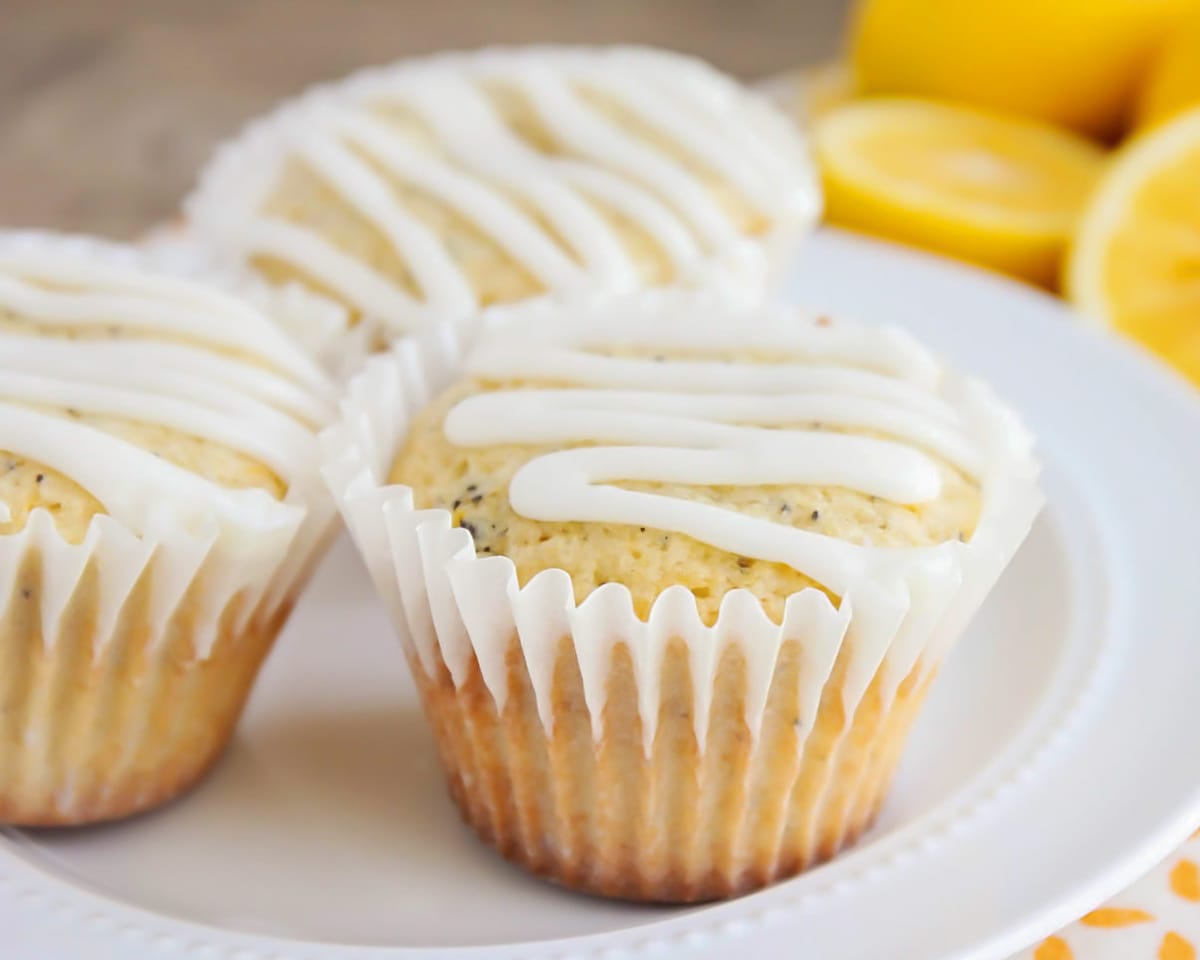 Poppy Seed Muffins
SO happy to be back today to share a yummy recipe with you. We have been long time fans of all baked goods with poppy seeds. We've also loved lemon breads forever, so it just seemed natural to want to try out these Lemon Poppy Seed Muffins from Thibeault's Table.
One of our favorite baked treats is the Lemon Poppy Seed Muffins from Paradise Bakery and we were so excited that we were able to find a recipe that was similar. These ones are more soft and not as dense but were so flavorful and addicting. You might not think adding poppy seeds would do much for a bread or muffin recipe, but they are the perfect addition because they add great flavor, which is why we've used them in other recipes (Lemon Poppy Seed Pancakes and Almond Poppy Seed Bread).
These muffins are great for baby and bridal showers, for breakfast or even an after-school snack. And let's be honest – you can make them just because! My fam loves them so we try to make them as often as possible. We hope you like them too. 🙂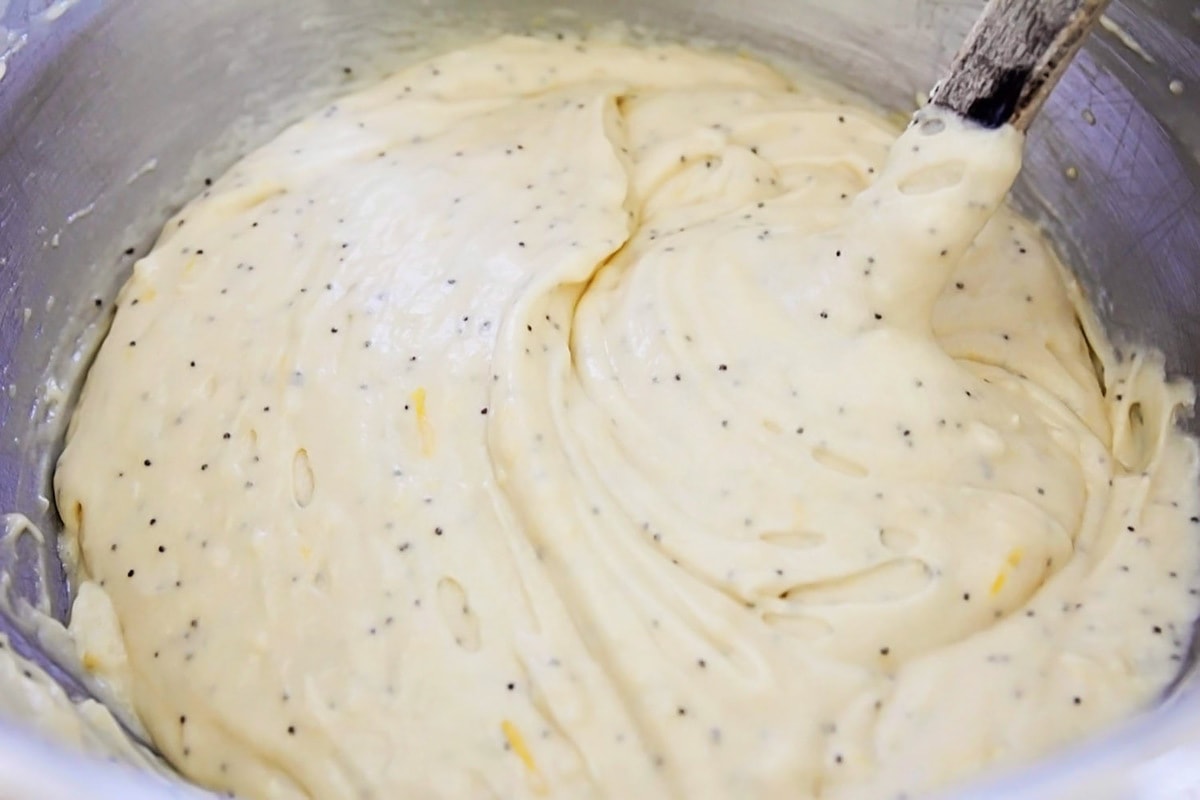 How to make Lemon Poppy Seed Muffins
PREP. Preheat oven to 350 degrees.
DRY INGREDIENTS. Combine flour, baking powder, salt, baking soda in a medium bowl and whisk together. Set aside.
WET INGREDIENTS. In a medium bowl, whisk together sour cream, buttermilk, lemon juice and vanilla. Set aside.
COMBINE. In a large bowl beat sugar, 1 stick of butter and lemon zest. Add eggs and beat until fluffy. Add dry ingredients (from step 2). Add sour cream mixture, and mix until well combined. Stir in poppy seeds.
BAKE. Add liners to muffin pan and spoon mixture into each liner. Bake for 20 minutes. Let cool.
GLAZE. For glaze, mix together melted TB of butter, milk and powdered sugar. Add more powdered sugar if it is too runny or more milk if it's too thick. Drizzle over muffins. ENJOY!
Note. As noted in the instructions, you can add more milk for a more runny glaze or even use lemon juice if you want to make the glaze more lemon flavored. Either way, it's truly the icing on the cake that makes it even more delicious. 😀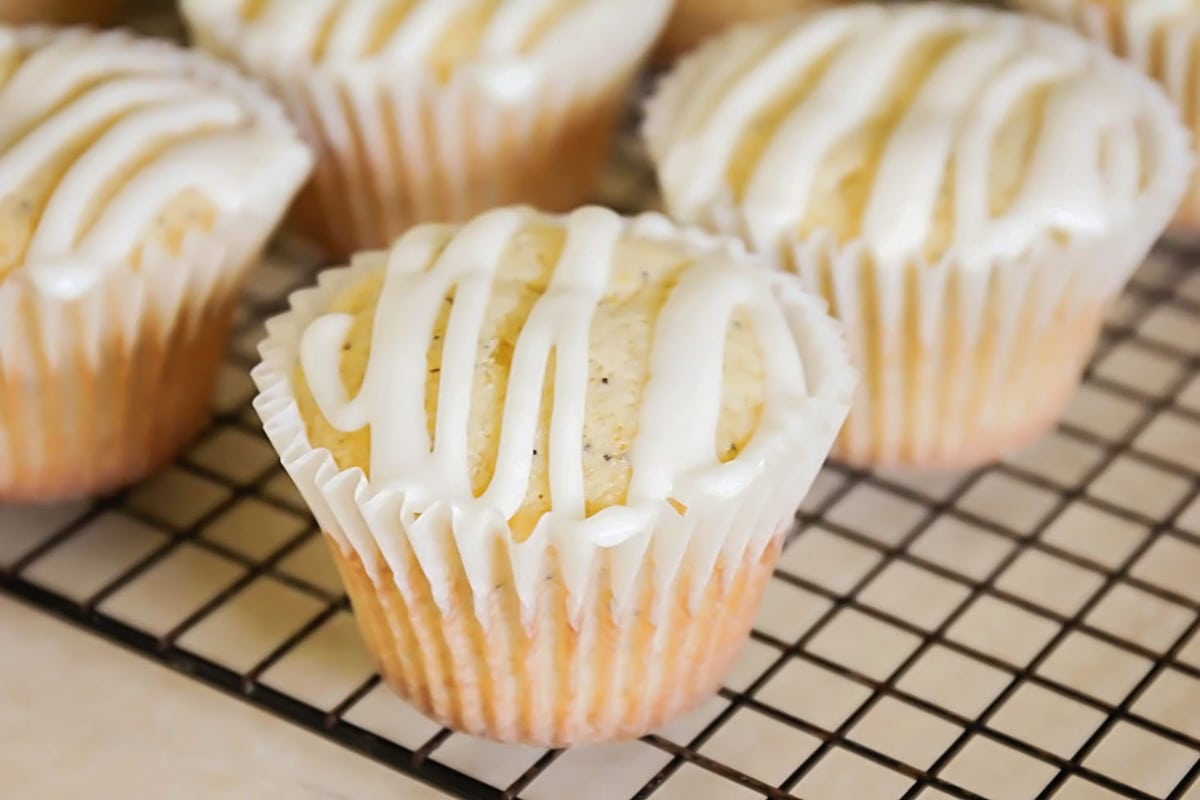 Recipe Tips
Those perfectly domed muffins can be achieved by filling the liner 2/3rds of the way. This will allow them to puff up without spilling over onto the pan. 
Fluffy muffins are made by not overworking/overmixing your batter. If it is overmixed it could create dense and unusually chewy muffins.
To ensure that your muffins remain moist do not forget to include the sour cream and buttermilk. These ingredients contribute to the overall texture of the muffins are essential for the moisture. Also make sure to keep them covered in an airtight container.
To make mini muffins, use a mini muffins pan and adjust the cook time to 10-12 minutes or until a toothpick comes out clean.
Zest is taken from the outer peel of citrus fruit and is quite flavorful. Use a citrus zester, the small side of a cheese grater or a paring knife to zest your citrus.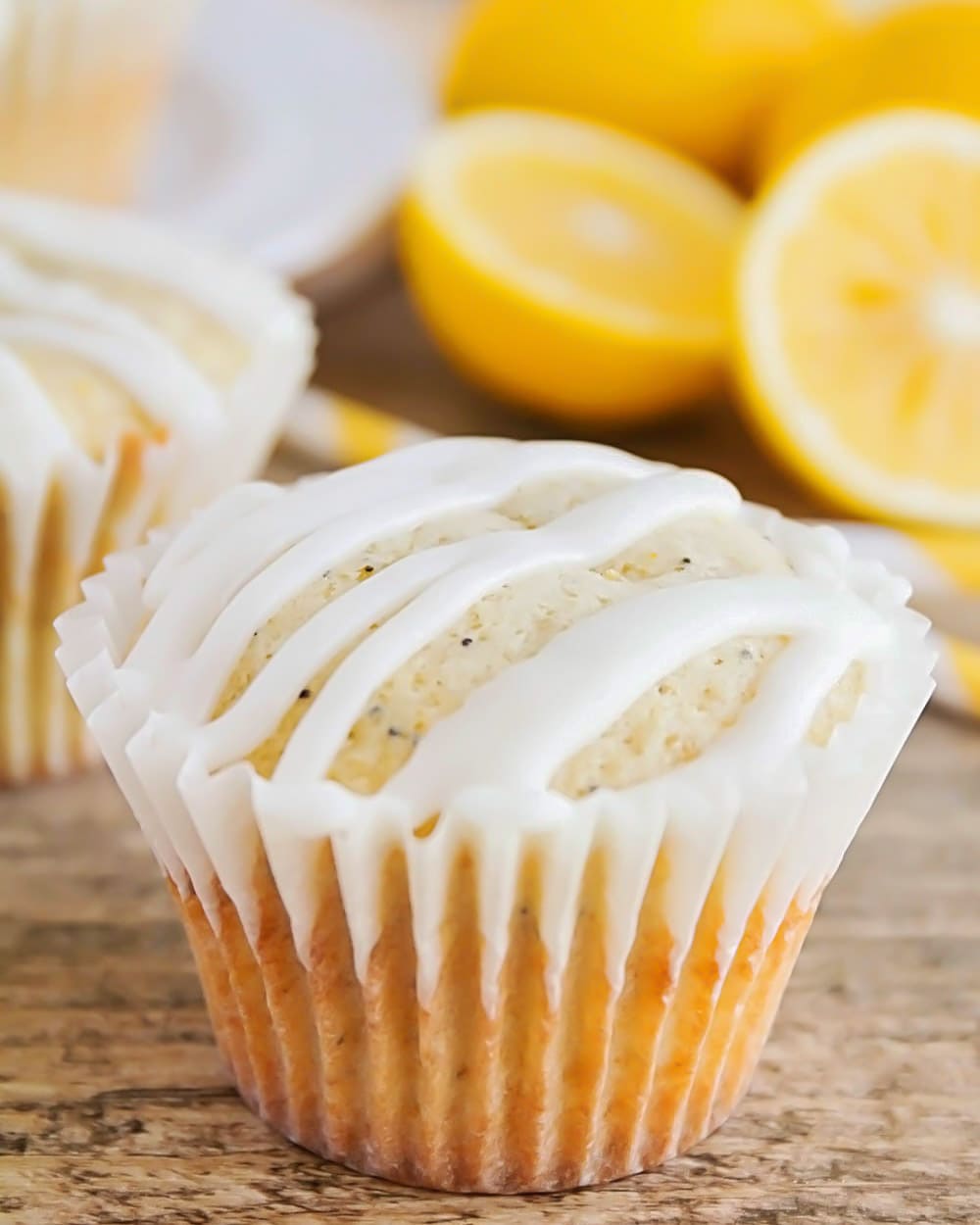 Storing Info
STORE cooled muffins in an airtight container for up to a week. Lay a paper towel on the bottom of the container and add the muffins. The paper towel will absorb any evaporated moisture so the muffins don't get a soggy texture. The airtight container keeps the air from getting in and drying them out too much. 
To FREEZE, Allow the muffins to cool, arrange them in a single layer on a baking sheet and freeze for 2-3 hours. Once frozen transfer them to a Ziploc bag and freeze for up to 3 months. 
To make ahead of time, cover and store the batter in the fridge for 1-2 days before using. Note: Since the effectiveness diminishes I would suggest mixing in the baking powder and baking soda right before pouring into the cupcake tins.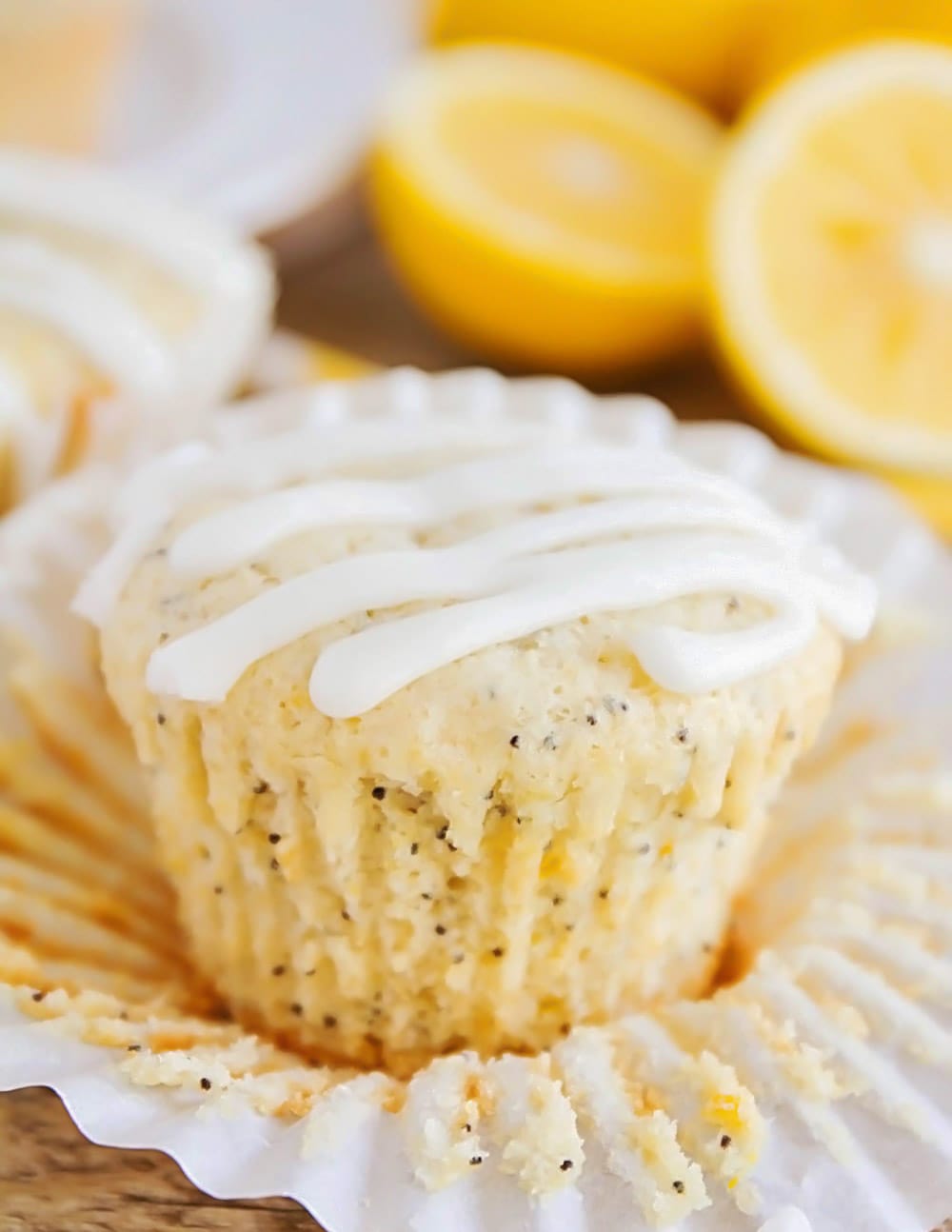 For more muffin recipes, check out:
Lemon Poppyseed Muffins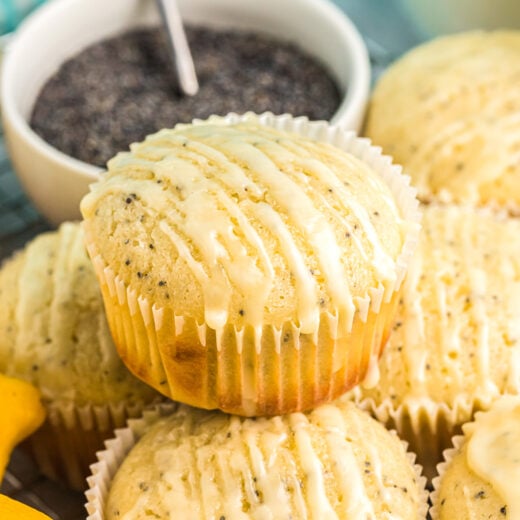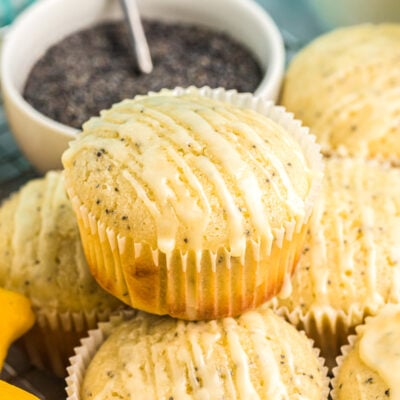 Fluffy and flavorful lemon poppy seed muffins are topped with a tasty glaze making them simply irresistible.
Instructions
Preheat oven to 350°F, and line muffin tins with muffin liners.

Mix together your flour, salt, baking powder, poppy seeds and 2½ cups white sugar in a large bowl or kitchen aid. Add the eggs, milk, oil, sour cream, vanilla, lemon extract and beat until smooth.

Distribute batter evenly into muffins tins (about ¾ full).

Bake at 350° for 17-19 minutes and let cool.

Frosting: Mix together orange juice, powdered sugar and lemon extract until well combined. Pour over your muffins while they are still hot. Allow to cool completely before serving.
Easy Lemon Poppy Seed Muffin recipe
For an easier version, you can use Fleischmann's Simply Homemade Lemon Poppyseed Muffin & Bread Mix. I recently picked up a box from the grocery store and was pleasantly surprised in how easy it was, as well as how good they ended up. We even added some white chocolate chips to the batter which made the muffins even better!!
INGREDIENTS:
Fleischmann's Simply Homemade Lemon Poppyseed Muffin & Bread Mix
2/3 cup Greek Yogurt or regular vanilla yogurt
2 eggs
½ cup oil
¼ cup water
¾ cup white chocolate chips
Glaze Ingredients: 1 cup powdered sugar (sifted), 1 – 2 teaspoons lemon juice, 1 teaspoon lemon zest, 3-5 tablespoons Milk
DIRECTIONS:
Preheat your oven to 375 degrees. Line 12 standard-size muffin cups with paper, or spray with cooking spray.
In a large bowl, combine the baking mix, yogurt, eggs, oil, and water stirring until it forms a batter. Fold in the white chocolate chips.
Spoon the batter evenly into the muffin cups, filling each about two-thirds full.
Bake for 15-20 minutes in the preheated oven, or until a toothpick comes out clean.
While muffins are baking, make glaze by mixing powdered sugar, lemon juice, lemon zest and milk in a small bowl. Mix well.
While muffins are still warm dip tops into glaze and let cool on a rack or wax paper. Let set and ENJOY!
For all Bread and Muffin recipes go CLICK HERE.
For all Recipes go CLICK HERE.