Hi Lil'Luna readers!!  I'm Gina from Kleinworth & Co. where I share favorite family recipes, crafts with the kids & occasional photography tips & tricks.
I'm beyond thrilled to be here today. I adore this beautiful space Kristyn has created here & I feel honored to be able to share a family favorite here. You see – I have a love for those giant double chocolate chip muffins you see in the market. Every time we shop I see them & use every ounce of willpower to not pick them up. I keep telling myself that I will make my own & then I never seem to get around to it. Well – this past week I finally made them & I am oh so happy I did. I definitely went a little overboard with the chocolate but it certainly made them exactly what I had been hoping for. Besides- can you ever really have too much chocolate??
If you are a choc-o-holic…these are the muffins for you.
MY OTHER RECIPES

They definitely took care of my craving for chocolate muffins.
The back story here is, for nearly a year I have been on a "no processed food for breakfast"  for the family.  This basically means that if it comes in a box or is ready to eat- they have not had it for breakfast.  I have made them some sort of baked bread, muffin or donut to go with their fruit & milk in the mornings & I'm loving that we have cut out preservatives for at least one meal of the day.   Often times they get a lot of banana bread just because I'm tight on time & usually have bananas on the counter that are well beyond their prime.  The kids are okay with that as I usually add in a little surprise like a new nut or dates to the bread to change things up a little.  I do really try to keep things on the healthier side for the weekdays.  I do my green smoothies all week long & so by the time the weekend comes- I'm ready for something like these muffins to put a little extra sparkle in my day.   They are a hit.
Chocolate Overload Muffins
Ingredients
4 cups all-purpose flour
1-1/3 cup dutch process cocoa powder
1 cup granulated sugar
4 tsp baking soda
1 tsp salt
1 cup semi-sweet chocolate chips + more for sprinkling on top
½ cup dark chocolate chunks
2-2/3 cup milk
⅔ cup vegetable oil
4 large eggs
2 tsp vanilla extract
⅓ cup chocolate jimmies
Instructions
Preheat oven to 400 degrees
Prepare 32 muffin tins with paper wrappers or cooking spray.
In large bowl - combine all dry ingredients except chocolate jimmies
In separate bowl- combine liquid ingredients & whisk until incorporated & egg yolks are broken.
Fold into dry ingredients - don't over mix but make sure you don't have any dry spots.
Spoon batter into prepared tins about ¾ of the way full.
Sprinkle on additional chocolate chips & chocolate jimmies.
Bake 20-23 minutes or until toothpick test is clean.
Cool in tins about 10 minutes before moving to wire rack to continue cooling completely.
Store in airtight container at room temperature.
I'm telling you- these are the perfect little something to have with your morning coffee or tea.  They certainly perk up my weekends & the family has already asked that I make these on a fairly regular basis.  It always makes me happy when I make something they want again & again.
You know you want some!
Want more muffin recipes?
Dulce de Leche Pumpkin Muffins
Thank you so much Kristyn for having me today.  It's been such a pleasure.
You can connect with Gina via Blog, Twitter, Google+, Instagram & Pinterest
————————————-
Oh my heavens – these look delicious!! Chocolate Muffins are my favorite!
Thank you for the delicious recipe, Gina!
Be sure to go to Kleinworth & Co.  for more delicious recipes from Gina.
For more great muffins be sure to check out: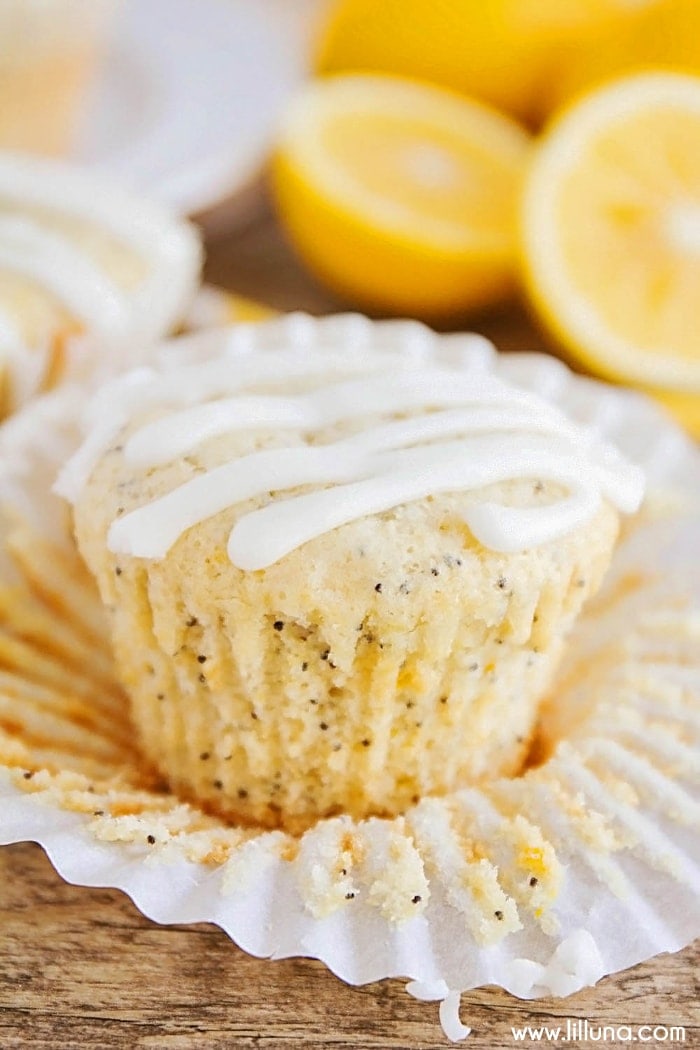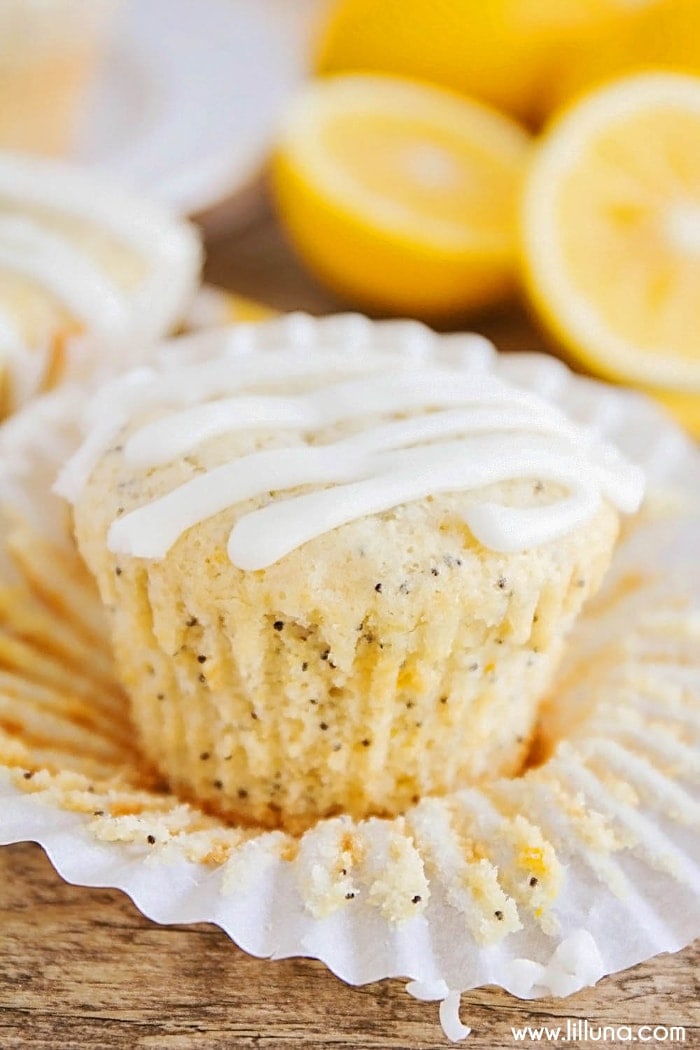 Glazed Lemon Poppy Seed Muffins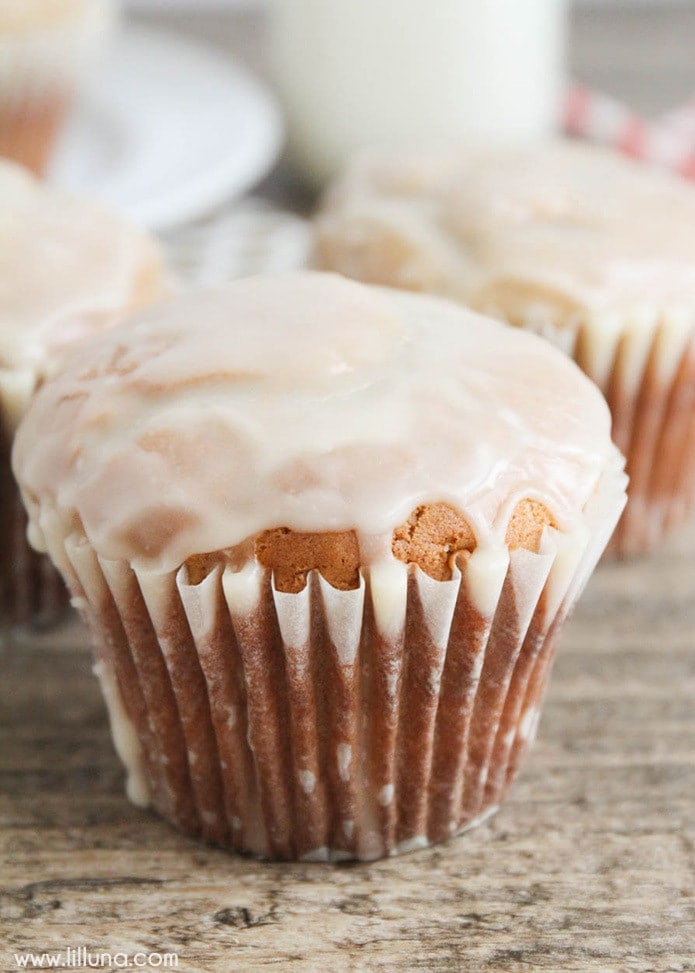 For all Breakfast recipes go HERE.
For all Recipes go HERE.
And get weekly emails with monthly freebies by signing up for the Lil' Luna newsletter. 🙂
For even more great ideas follow me on Facebook – Pinterest – Instagram – Twitter – Periscope.
ENJOY!