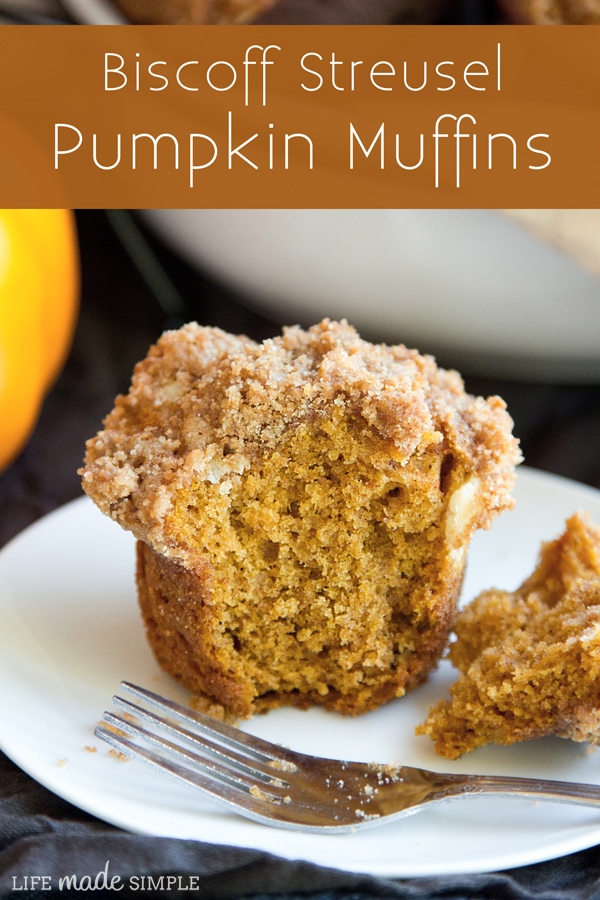 Hello Lil' Luna readers! It's me, Natalie, from Life Made Simple. Can you believe that it is officially fall?! Without a doubt, fall is my favorite season and it may or may not have something to do with baking! I absolutely love anything to do with pumpkin and often find myself loading up my shopping cart with cans of puree. Am I the only one? Now that you know just how obsessed I am with pumpkin, I wanted to share a really great muffin recipe with you. These Biscoff Streusel Pumpkin Muffins are packed with puree and loaded with seasonal spices. I topped them with a streusel that is bursting with cream cheese chunks- it's to die for!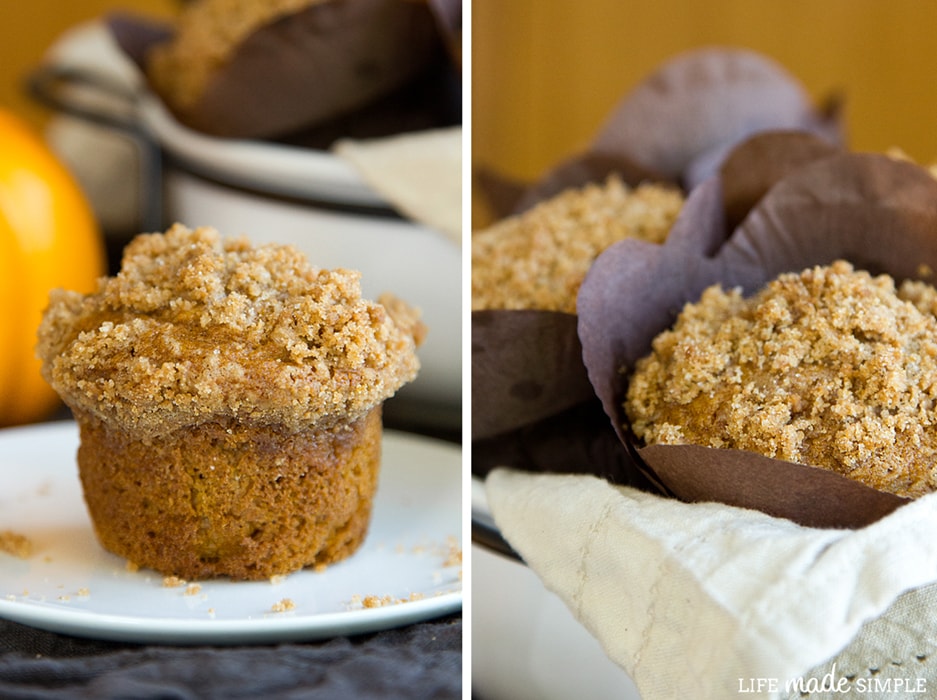 These muffins are not only perfect for breakfast, but make a great afternoon snack or post dinner dessert. The thing that I love the most about them is how moist they stay and how they become more flavorful with time. The addition of Biscoff spread and crushed cookies really elevates these muffins, making them unique and far from bland. I hope you'll give this recipe a try and that you'll enjoy them as much as I did! Happy fall baking!
MY OTHER RECIPES
Biscoff Streusel Pumpkin Muffins
Ingredients:
1½ c. all-purpose flour
1 c. sugar
¼ c. brown sugar
1 c. pumpkin puree (not pie filling)
2 eggs
¼ c. vegetable oil
¼ c. unsweetened applesauce
¼ c. water
¾ tsp. salt
1 tsp. baking soda
¼ tsp. baking powder
2 tsp. pumpkin pie spice
½ tsp. ground cinnamon
½ tsp. vanilla extract
Streusel:
¼ c. all-purpose flour
¼ c. sugar
¼ c. brown sugar
¼ c. finely crushed Biscoff cookies
2 tbsp. Biscoff spread
3 tbsp. butter, cold
4 oz. original cream cheese, cold and cut into dime size slices
½ tsp. ground cinnamon
DIRECTIONS:
1. Preheat oven to 350 degrees. Line one standard size muffin pan with liners* or lightly grease with baking spray, set aside.
2. In the bowl of a stand mixer with mixing speed on low, combine sugars, puree, vegetable oil, applesauce, water, and vanilla extract. Add eggs, one at a time, mixing until just combined.
3. In a medium size mixing bowl, whisk together flour, salt, baking soda, baking powder, pumpkin pie spice, and ground cinnamon. With mixing speed on low, gradually add in the dry ingredients, mixing until no flour pockets remain. Remove bowl from stand and set aside.
4. For the streusel, in a small mixing bowl combine sugars, flour, crushed cookies, and ground cinnamon. Using a pastry blender, cut in cold butter and Biscoff spread. Continue working the mixture with the pastry blender until it resembles chunks about the size of a rice krispie.
5. Pour batter into prepared muffin pan, dividing evenly. Top with slices of cream cheese, then sprinkle streusel over top. You will want to be generous with the streusel, but you may have a few tablespoons left over. Gently pat the streusel into the batter to help it bake into the muffin.
6. Place in the oven and bake for 18-22 minutes or until the tops spring back and the streusel is golden brown in color (note: baking times may vary depending on how much you streusel you add and the heat of your oven). Remove from the oven and allow to cool in the pan for 5 minutes before transferring to a wire rack to cool completely.
*TIP: I used bakery-style tulip papers which meant the muffins had a lot of room to expand and I wasn't afraid of them pouring onto my pan. You can find ones like these at your local craft store. I purchased mine at Garnish.
Recipe adapted from Libby's Pumpkin Cranberry Bread  |  Yield: 12 standard size muffins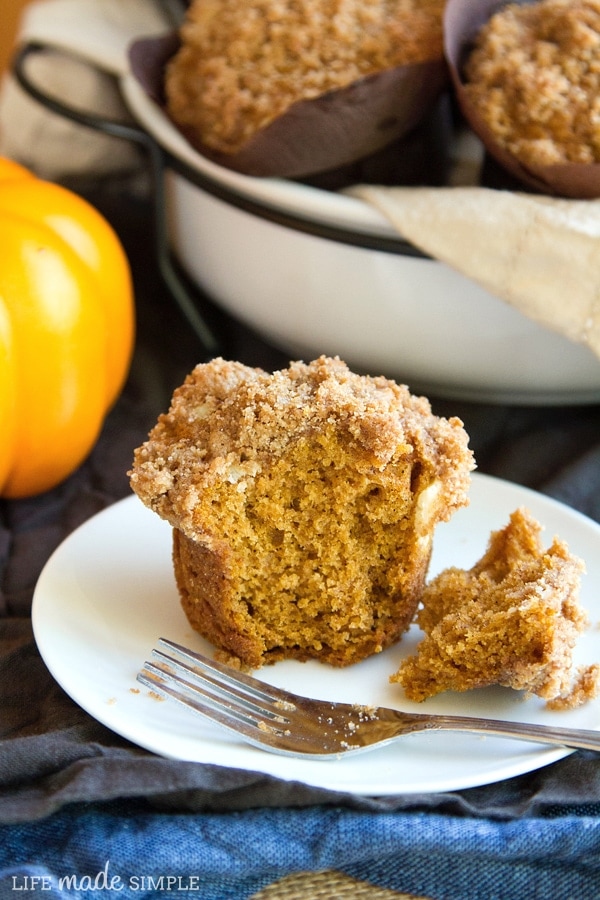 Thanks again Kristyn for having me!
You can find more recipes & craft ideas here:
Life Made Simple | Facebook | Pinterest | Twitter
For more delicious pumpkin recipes, be sure to check out:
Mini Pumpkin Cheesecakes with Gingersnap Crusts
Pumpkin Chocolate Chip Muffins
———————————————-
Holy moly, those muffins look AMAZING!!!
Did you know Natalie just had her first baby two weeks ago?! I'm SOO excited for her and wanted wish her CONGRATULATIONS!
I'm so excited for Natalie to be a new mommy. 🙂
Be sure to check out all of Natalie's yummy Pumpkin creations, and
for more information about her please go HERE.
And in case you're looking for even more Pumpkin Recipe be sure to check out these delicious recipes: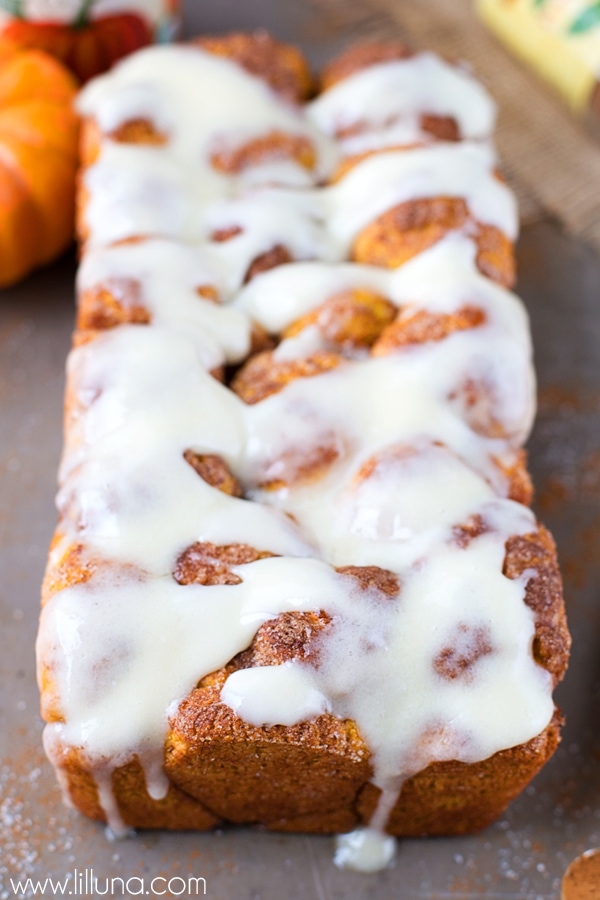 For all pumpkin recipes go HERE.
For all Breakfast recipes go HERE.
And get weekly emails with monthly freebies by signing up for the Lil' Luna newsletter. 🙂
For even more great ideas follow me on Facebook – Pinterest – Instagram – Twitter – Periscope.
ENJOY!