Delicious Biscoff Streusel Pumpkin Muffins! Packed with flavors of fall, and topped with a streusel made with biscoff cookies, biscoff spread, cinnamon & cream cheese.
These muffins are not only perfect for breakfast, but make a great afternoon snack or post dinner dessert. We also love our other pumpkin muffin recipes—the ones topped with cinnamon sugar, and filled with chocolate chips!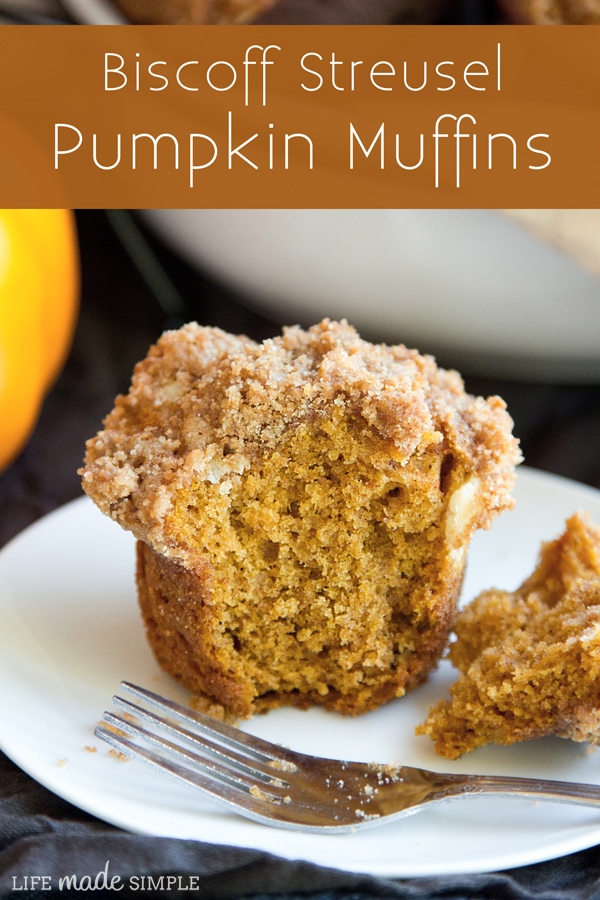 muffins with a biscoff streusel
Hello Lil' Luna readers! It's me, Natalie, from Life Made Simple.
Can you believe that it is officially fall?! Without a doubt, fall is my favorite season and it may or may not have something to do with baking! I absolutely love anything to do with pumpkin and often find myself loading up my shopping cart with cans of puree.
Because I know I'm not the only one obsessed with pumpkin, I wanted to share a delicious pumpkin muffin recipe with you. These Biscoff Streusel Pumpkin Muffins are packed with puree and loaded with seasonal spices.
What is Biscoff, you ask? It's is a brand of Speculoos cookie, which is a type of cookie popular in the Netherlands. It's a thin, crunchy, buttery, spice-flavored cookie, similar to a gingersnap. It is flat on the back and has an image stamped on the front. In the U.S. they are referred to as Biscoff cookies.
Crushed up biscoff cookies also make up biscoff spread, which is why it is also referred to as Cookie Butter. This spread is used in the same way that nutella or peanut butter is used. 
Sound amazing? It is. The streusel on top of these muffins is packed with biscoff and bursting with cream cheese chunks… It's to die for!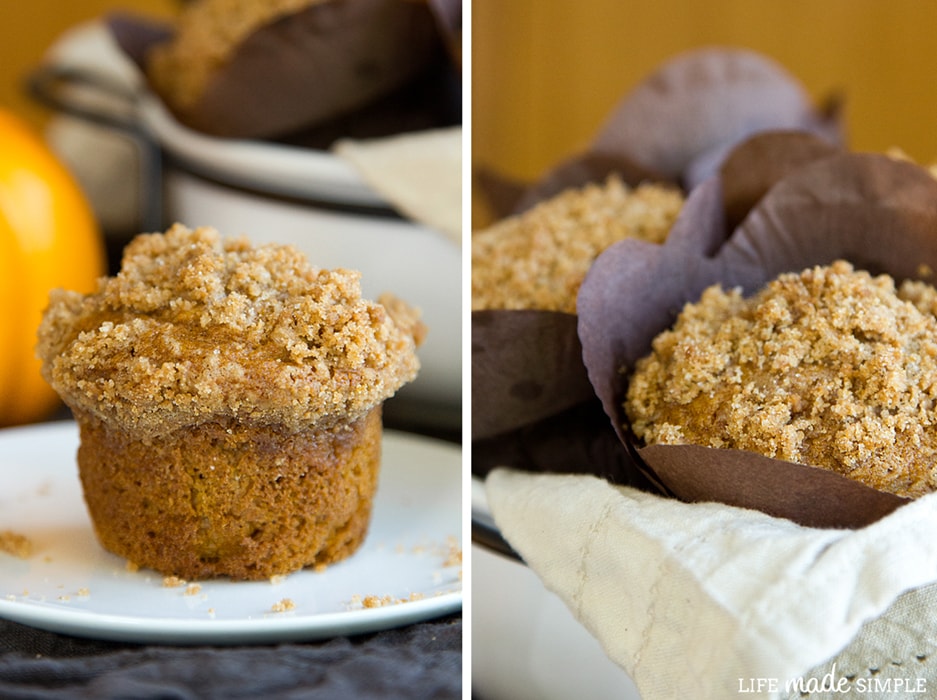 Tips for baking these muffins
Don't over mix. Doing so can result in a dense, dry muffin. Be sure to mix wet and dry ingredients separately to avoid overmixing. Then, when the two are added together, mix just enough to incorporate them. 
Don't over bake. Because ovens seem to bake a little differently it can be easy to overbake the muffins. I'd suggest checking your muffins about 5 minutes to the end. Use a toothpick to insert into the center of the muffin. The muffins are done when the toothpick comes out clean.
I used bakery-style tulip papers which meant the muffins had a lot of room to expand and I wasn't afraid of them pouring onto my pan. These are available at your local craft store.
You can make mini loaves, mini muffins or jumbo muffins. You just need to to the correct pan and adjust the bake time. Preheat the oven to 350 degrees F and bake for the recommended time.
Use a toothpick to insert in the center of the baked good. If it comes out clean take it out of the oven. If it comes out battery cook for another 5 minutes and try again.
Standard bread loaf pan: 50 minutes- 1 hour.

Mini loaf pan:  35-40 min

Mini Muffin: 15-17 min

Jumbo muffins: 33-36 min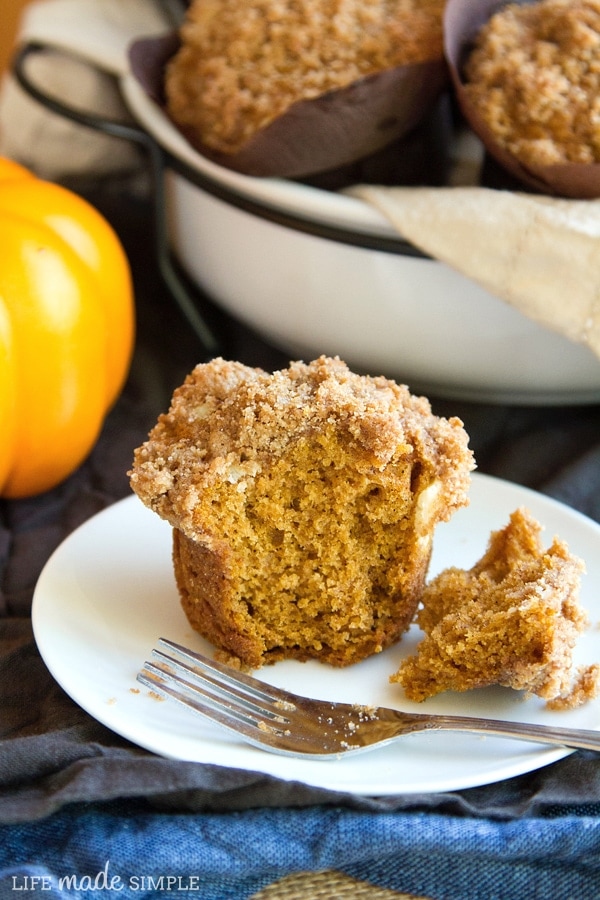 Better with Time
The thing that I love the most about these biscoff streusel pumpkin muffins is how moist they stay and how they become more flavorful with time. Here are the best ways to store them…
Counter: Place a paper towel on the bottom of an airtight container. Arrange the muffins in a single layer, and then place another paper towel over the top. The paper towels will absorb excess moisture that would typically leave the muffin tops wet and gooey. Store for 2-3 days. 

Freezer: Flash freeze muffins by arranging them in a single layer on a baking sheet, freezing for 2-3 hours, and then transfer them to an airtight freezer safe container. Freeze for 2-3 months

To reheat: If you want a warm muffin place it in the microwave for 8-10 seconds (30-45 seconds if frozen).
The addition of Biscoff spread and crushed cookies really elevates these muffins, making them unique and far from bland. Happy fall baking!
Thanks again Kristyn for having me!
For more pumpkin recipes, try:
Biscoff Streusel Pumpkin Muffins Recipe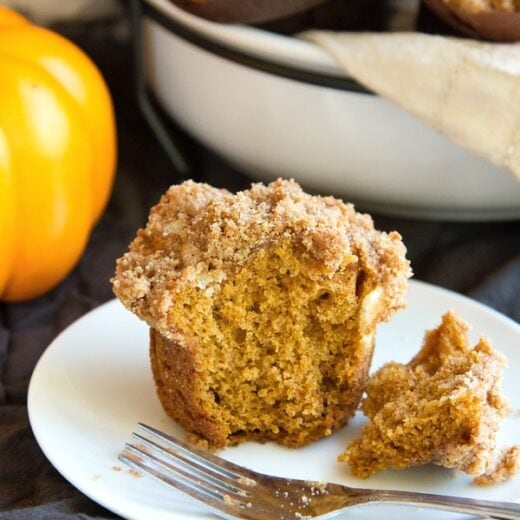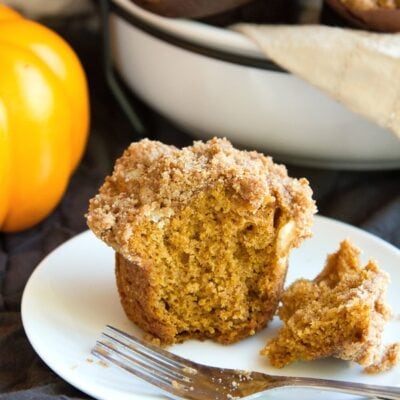 Delicious Biscoff Streusel Pumpkin Muffins! Packed with flavors of fall topped with a streusel made with biscoff cookies, biscoff spread, cinnamon & cream cheese.
Ingredients
Biscoff Streusel Pumpkin Muffin
1 1/2

cup

all-purpose flour

1

cup

sugar

1/4

cup

brown sugar

1

cup

pumpkin puree

(not pie filling)

2

eggs

1/4

cup

vegetable oil

1/4

cup

unsweetened applesauce

1/4

cup

water

3/4

tsp

salt

1

tsp

baking soda

1/4

tsp

baking powder

2

tsp

pumpkin pie spice

1/2

tsp

ground cinnamon

1/2

tsp

vanilla extract
Instructions
Preheat oven to 350 degrees. Line one standard size muffin pan with liners* or lightly grease with baking spray, set aside.

In the bowl of a stand mixer with mixing speed on low, combine sugars, puree, vegetable oil, applesauce, water, and vanilla extract. Add eggs, one at a time, mixing until just combined.

In a medium size mixing bowl, whisk together flour, salt, baking soda, baking powder, pumpkin pie spice, and ground cinnamon. With mixing speed on low, gradually add in the dry ingredients, mixing until no flour pockets remain. Remove bowl from stand and set aside.

For the streusel, in a small mixing bowl combine sugars, flour, crushed cookies, and ground cinnamon. Using a pastry blender, cut in cold butter and Biscoff spread. Continue working the mixture with the pastry blender until it resembles chunks about the size of a rice krispie.

Pour batter into prepared muffin pan, dividing evenly. Top with slices of cream cheese, then sprinkle streusel over top. You will want to be generous with the streusel, but you may have a few tablespoons left over. Gently pat the streusel into the batter to help it bake into the muffin.

Place in the oven and bake for 18-22 minutes or until the tops spring back and the streusel is golden brown in color (note: baking times may vary depending on how much you streusel you add and the heat of your oven). Remove from the oven and allow to cool in the pan for 5 minutes before transferring to a wire rack to cool completely.
Notes
*TIP: I used bakery-style tulip papers which meant the muffins had a lot of room to expand and I wasn't afraid of them pouring onto my pan. You can find ones like these at your local craft store.
Recipe adapted from Libby's Pumpkin Cranberry Bread  |  Yield: 12 standard size muffins
Holy moly, those muffins look AMAZING!!! You can find more recipes & craft ideas from Natalie at Life Made Simple.