The first days of September mean only one thing for a food blogger – start of the "autumn" recipe season. For me, a baking blogger, there is no dilemma! In my kitchen, there will be the smell of an apple or a pumpkin treat! Looking through my earlier posts, I came to the conclusion that I'm better with pumpkin. Two of my three most popular recipes contain pumpkin: OMG Pumpkin Pie Cupcakes and Pumpkin Lasagna.
And so, I decided to present myself with a recipe of that sort on the LilLuna blog. Of course, if you don't know what to prepare, it is very important to find inspiration. In my case, it's always Pinterest and if you type "pumpkin" as a keyword, there is no chance that you will miss the irresistible Double Layer Pumpkin Oreo Cheesecake from the blog Carlsbad Cravings.
Oreo crust, two layers of cheesecake (one plain and one with pumpkin puree) and whipped cream! I don't know how this sounds to you, but reading the recipe and watching the photos, I was sure that this dessert must be haven for lovers of all things sweet:) Of course, as an old chocoholic, there had to be place for chocolate in my version, so these sweet layers suddenly had a necessarily layer of chocolate ganache.
All in all, with a little effort, I had a real treat on the table, my own version of Double Layer Pumpkin Cheesecake with Oreo Crust which looked really heavenly. And it didn't just look that way! This divine cheesecake has fantastic taste, so it gained a place on my "top 5" of favorite cheesecakes very quickly. Check it out for yourself!!!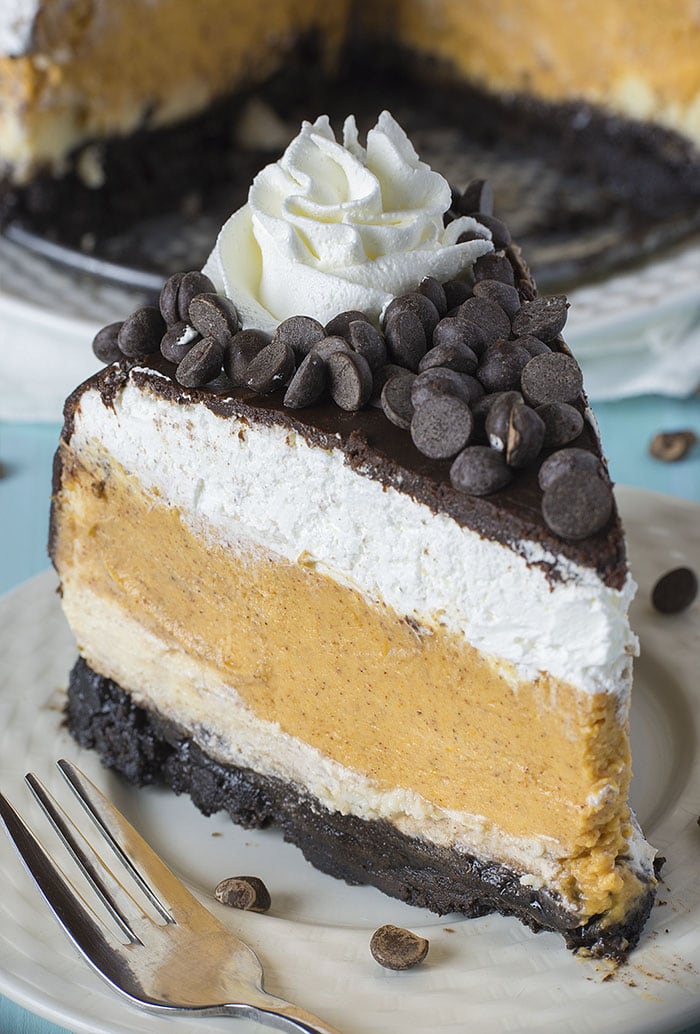 Double Layer Pumpkin Cheesecake with Oreo Crust
Ingredients
For Oreo Crust:
24 Oreos-finely crushed (crush whole Oreo with filling)
¼ cup melted butter
For Cheesecake Filling:
24 ounce cream cheese-softened
¾ cup sugar
3 eggs
1 tablespoon lemon juice
1 teaspoon vanilla extract
¼ cup sour cream
1 cup pure pumpkin puree
1 teaspoon cinnamon
¼ teaspoon cloves
¼ teaspoon nutmeg
For Topping:
1½ cups heavy cream
3 tablespoons powdered sugar(or more to taste)
6 oz. semi-sweet chocolate-chopped
½ cup heavy cream
⅓ cup chocolate chips-for garnish
Instructions
Wrap 8 or 9 inch springform pan with two layers of aluminum foil and bring the foil up the sides of the pan and make sure it's tight and secure no water gets in during the baking process!!!
Grease the inside of the pan with nonstick cooking spray and line the bottom of the pan with parchment paper.
Preheat oven to 350 F.
Mix together Oreo crumbs and melted butter, press the mixture into the bottom of 9" springform pan and smooth to get an even layer, set aside.
With electric mixer, mix cream cheese and sugar on medium speed until smooth. Decrease the speed to low and add eggs one at a time.
Add sour cream, vanilla extract and lemon juice and mix until well incorporated.
Spread 1 ½ cup of cheesecake filling onto Oreo crust and smooth with a spatula. Place in the freezer for 10-15 minutes.
Add pumpkin pure, cinnamon, nutmeg and cloves to the rest of cheesecake filling and mix until well incorporated.
Spread evenly onto plain cheesecake filling.
Place springform pan in a roasting pan, fill roasting pan about a quarter of the way with hot water and bake at 350 degrees for 55-65 minutes, rotating once halfway through (until the cheesecake is set around the edges and slightly loose in the center). I used 8 inch springform pan so I had to bake the cake almost 1 hour 30 minutes to set.
Remove springform pan from the water bath and set on a cooling rack to cool, then remove aluminum foil and refrigerate (at least 5 hour or overnight). When it's completely cooled run a thin knife around the edge and take of the ring of springform pan.
Beat 1 ½ cup heavy cream and powdered sugar until stiff peaks form. Spread 1⅓cup whipped cream on top of pumpkin cheesecake and save the rest for garnish. Place the cake in the freezer for 20 minutes.
Over double boiler melt chopped chocolate until completely smooth and has no lumps, then stir in ½ cup heavy whipping cream(from the fridge). If the ganache is warm, set aside to cool (Be sure not to spread warm chocolate ganache over the whipped cream because the cream will begin to melt and mix with chocolate) When it's cooled completely, spread about ⅔ of the ganache onto cake to cover completely heavy cream layer, then set the cake in the freezer for 5-10 minutes. Reheat the rest of ganache and pour it over the cake to and let it dripping over the edge. Let it cool completely to set then garnish the cake with heavy cream and chocolate chips.
Store the cake in the fridge.
Recipe adapted from
Carlsbad Cravings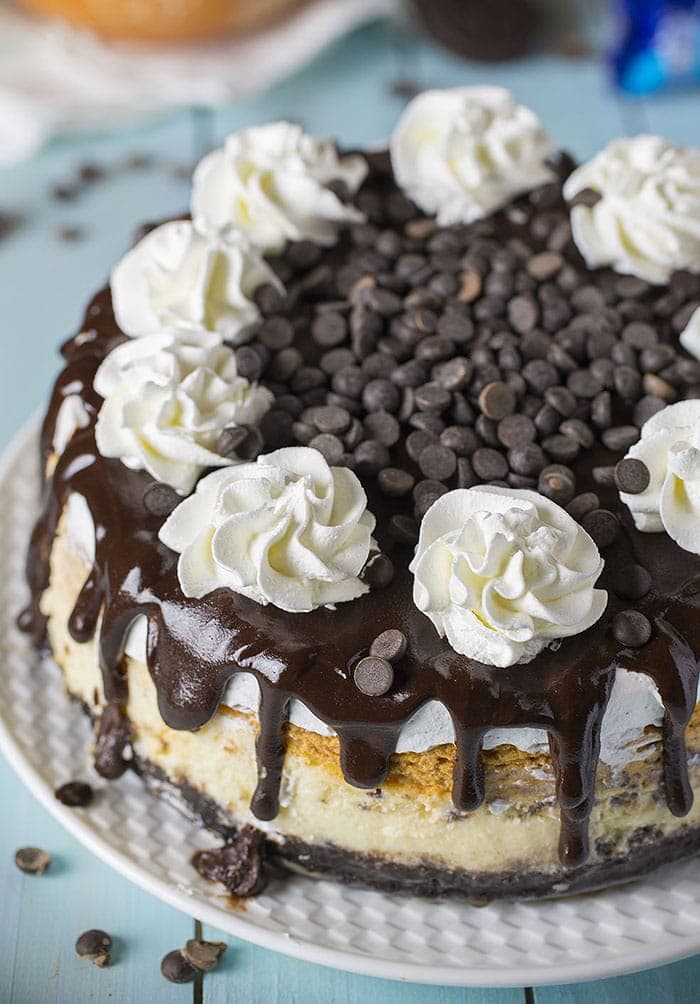 Check for more Vera's pumpkin treats:
Check Out My Other Recipes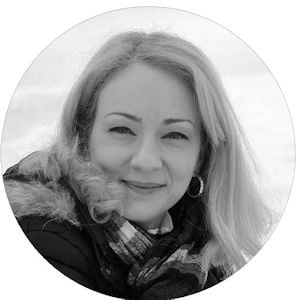 ———————————————-
Holy Moly!! This Double Layer Pumpkin Cheesecake with Oreo Crust looks AH-MAZING!!!
Seriously, Vera, this will knock anyone's socks off!!
For more great treats from Vera, go to OMG Chocolate Desserts.
For more great Pumpkin Desserts, check out: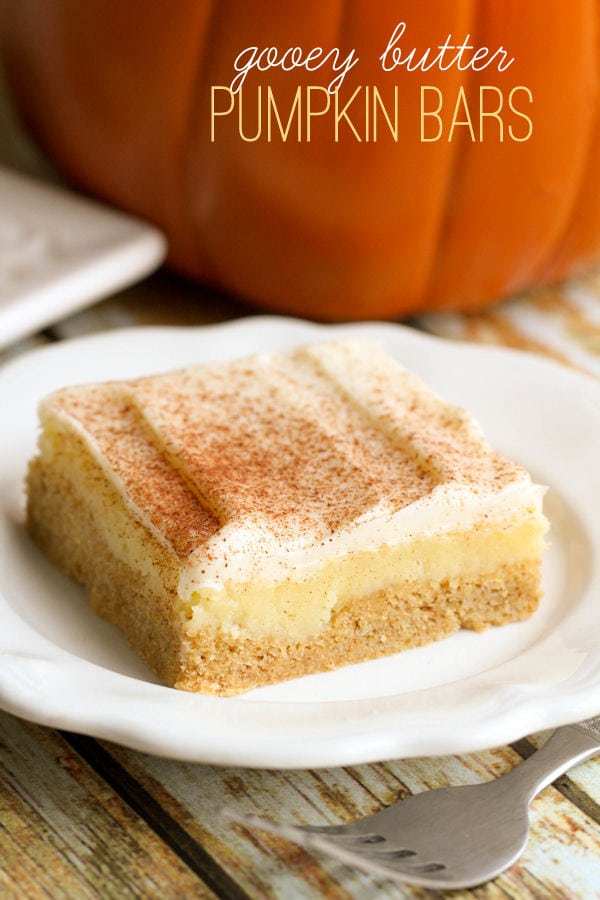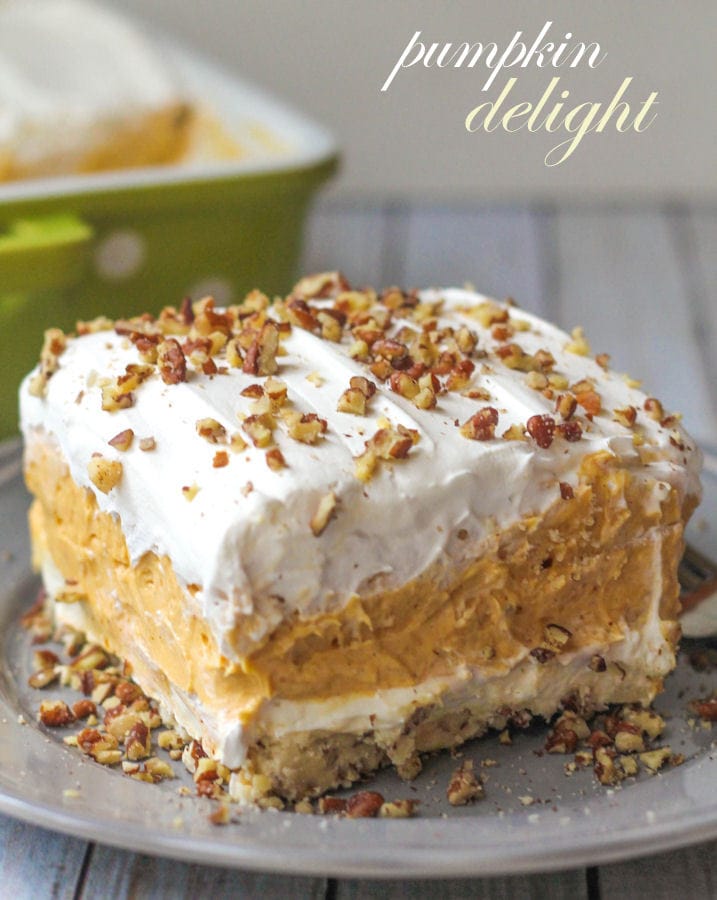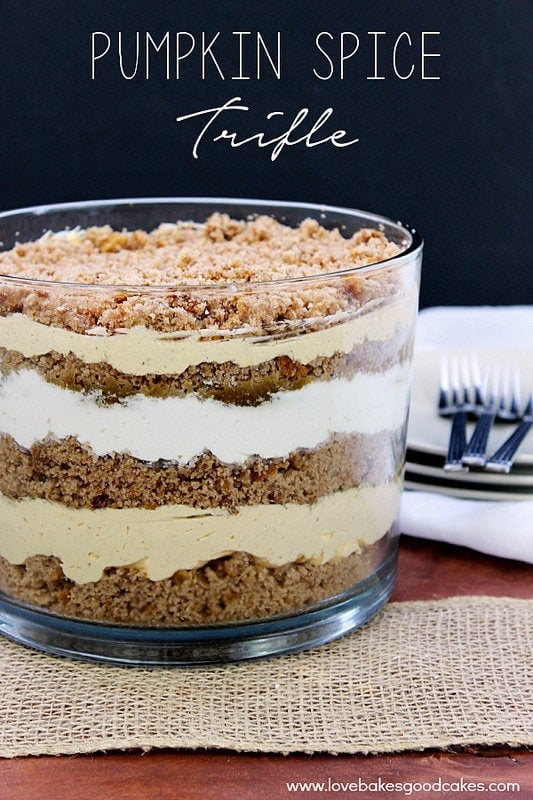 Be sure to check out all Pumpkin desserts on the site by going HERE.
For all desserts go HERE.
And get weekly emails with monthly freebies by signing up for the Lil' Luna newsletter. 🙂
For even more great ideas follow me on Facebook – Pinterest – Instagram – Twitter – Periscope – Snapchat.
Don't miss a thing – Sign up for the Lil' Luna Newsletter today!
ENJOY!