I already warned you that Pumpkin Season has started here on Lil' Luna, and I hope you guys are okay with that. I figure you can never get enough pumpkin. Right?! 😉 Now that September is officially here, I feel like the holidays are almost here. That may sound crazy to you, but this month seems to fly with the start of school and the start of fall sports. Don't you think?? I also think it will fly by even quicker for me since I'll be welcoming baby #5 next month (6 weeks to be exact), and I'm not sure if I'm ready for that just yet. 😉
With that in mind, I've been working my tush off to get tons of great fall recipes and projects ready for you guys so that when baby comes I can take some time off and enjoy all the baby love I can get! This next recipe is another one of those "fall recipes" that are perfect for to enjoy this time of year. They are Cinnamon Sugar Pumpkin Muffins that are so simple to make but seriously so stinking delicious. You can have them for breakfast but they're so good you may think they're dessert. The Cinnamon Sugar Streusel top is the bomb.com, and I think you'll love these. 😉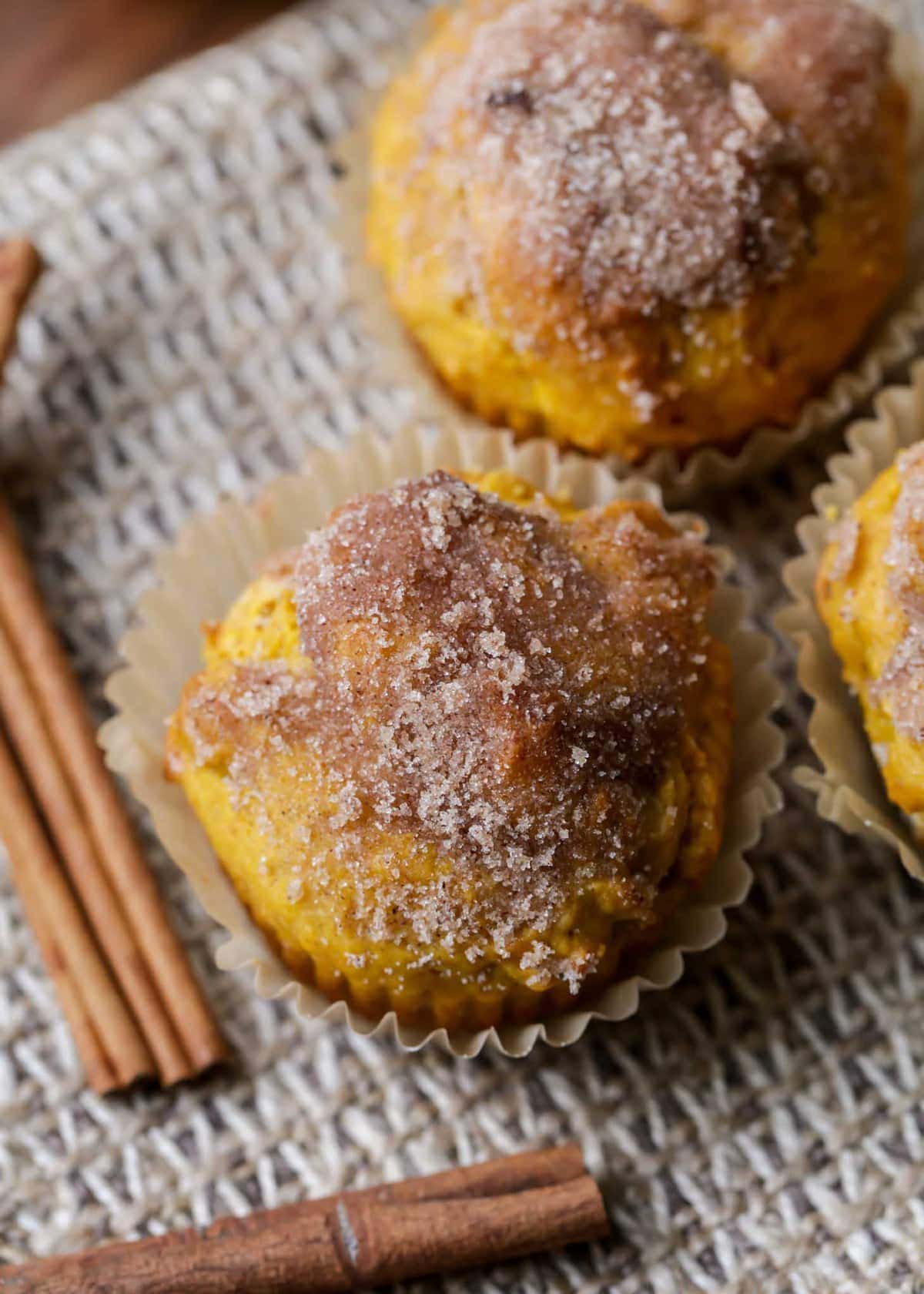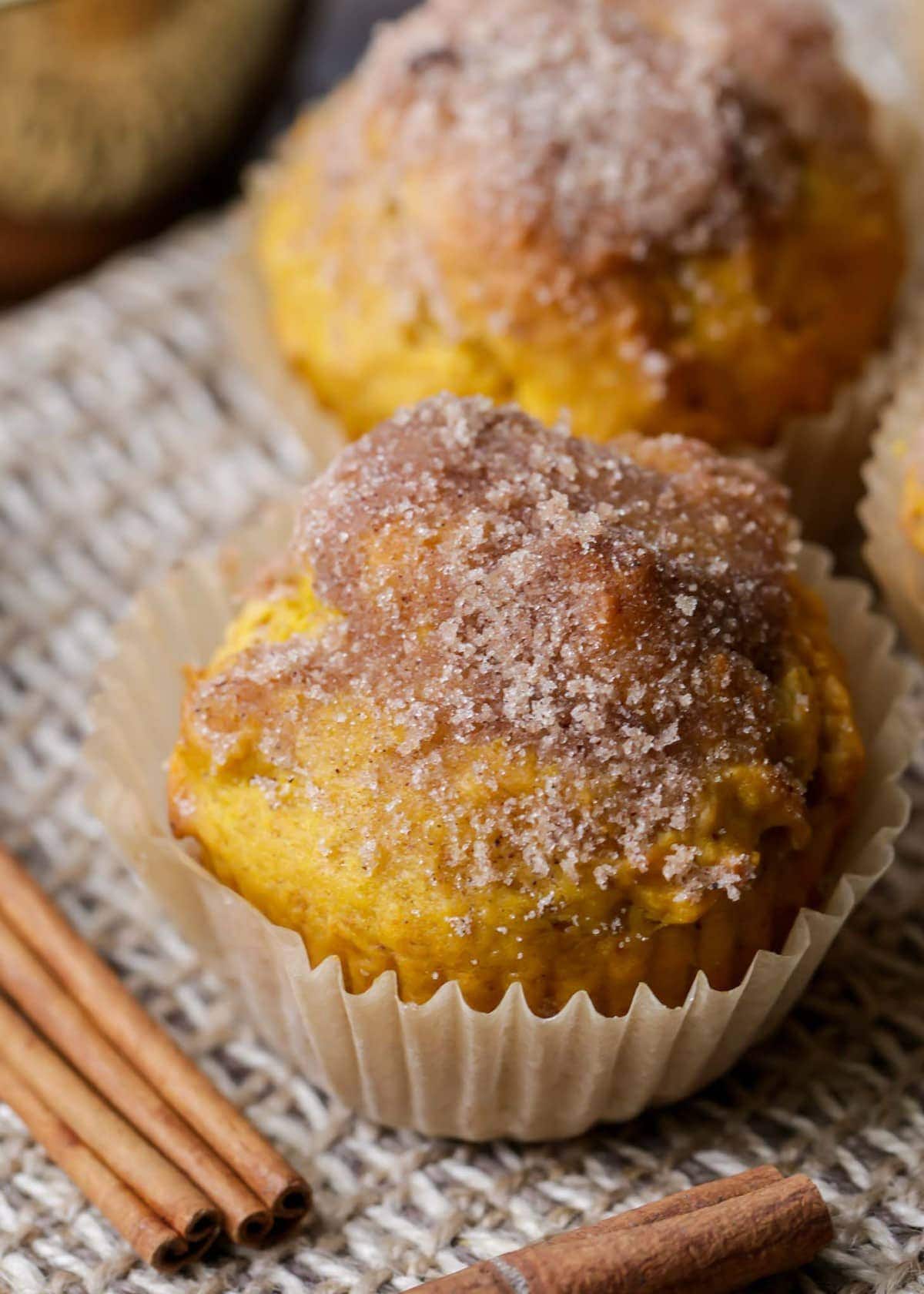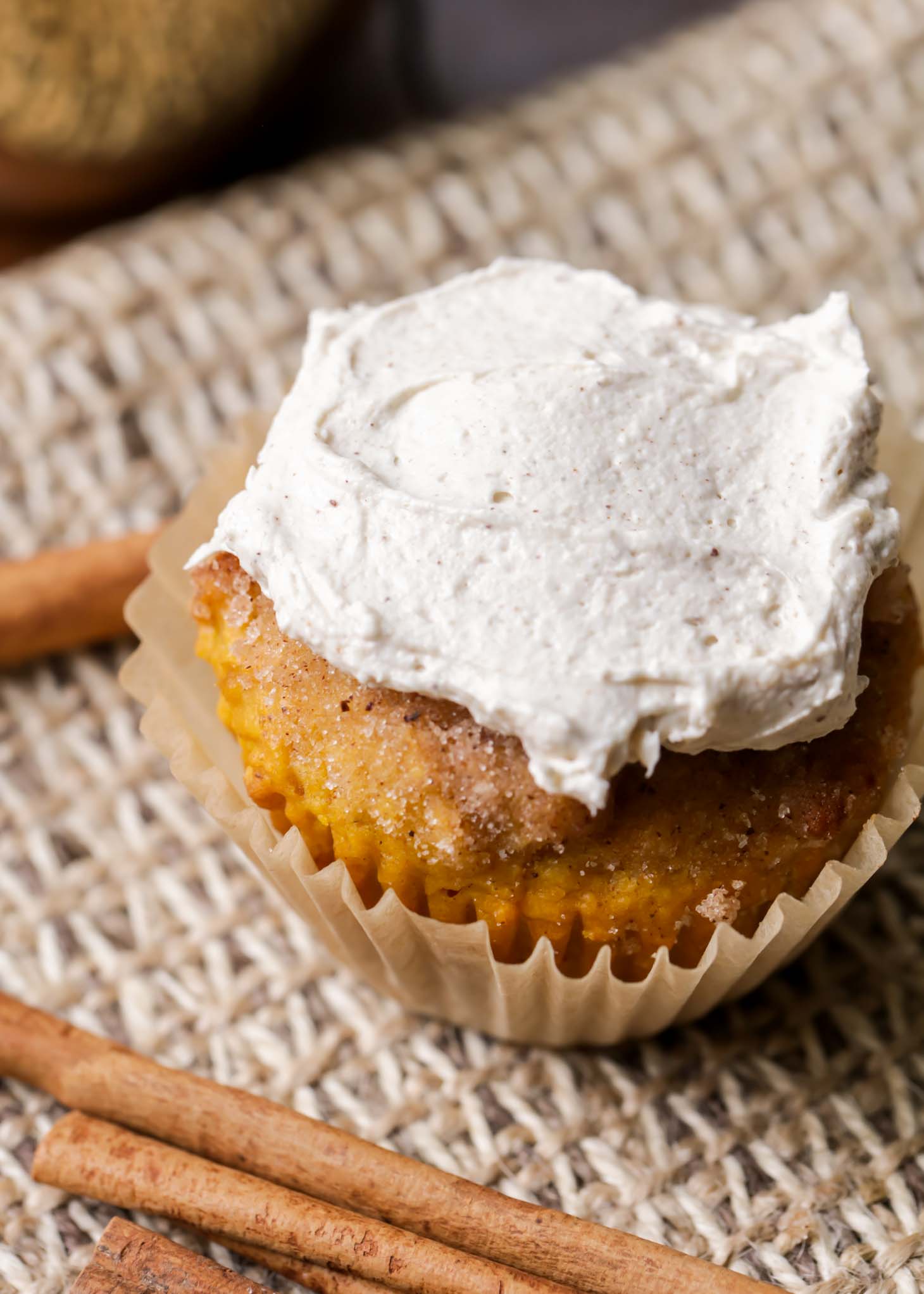 MY OTHER RECIPES
These Pumpkin Muffins are filled with fall flavors, and I think you'll especially love the cinnamon butter cream cheese spread that goes with it. As mentioned, they can be made any time but are great for any get together or fall brunch too!
This is definitely a great and simple fall treat to make and enjoy this year. 😉

Cinnamon Sugar Pumpkin Muffins
Cinnamon Sugar Pumpkin Muffins recipe. So moist and full of cinnamon, sugar, and pumpkin. Dip them in this creamy spread made of cream cheese, butter, brown sugar, and cinnamon.
Ingredients
Spread
4 ounces cream cheese, softened
3 TB butter, softened
1 TB brown sugar, packed
¼ tsp. ground cinnamon
Muffins
2 cups all-purpose flour
¾ cup sugar
1 TB baking powder
1 tsp. ground cinnamon
½ tsp. ground nutmeg
¼ tsp. salt
1 cup mashed cooked pumpkin
½ cup butter melted
2 eggs
Topping
¼ cup sugar
½ tsp. ground cinnamon
¼ cup butter melted
Instructions
Line muffin tin with baking cups, set aside.
Prepare spread by combining all the ingredients. Beat until creamy. Cover and refrigerate until you're ready to serve.
In a bowl, combine your flour, sugar, baking powder, cinnamon, nutmeg and salt; set aside.
In a separate bowl, mix pumpkin, melted butter and eggs. Add both mixtures together until just combined.
Spoon batter evenly to fill muffin cups. Bake at 400 for 22-23 minutes.
In a bowl, combine ¼ cup sugar and ½ teaspoon cinnamon. Dip tops of warm muffins in melted butter and then in the sugar-cinnamon mixture. Serve warm with cream cheese spread.