If you like monkey bread, you'll LOVE these Monkey Bread Muffins! They're a cinch to put together and are ready to eat in under 20 minutes.
Monkey Bread Muffins are great snack or weekend morning treat, and always disappear in MINUTES! Pair these sweet bites with Breakfast Pizza, Strawberry Oatmeal Smoothie, or Healthy Egg Muffins for a complete breakfast.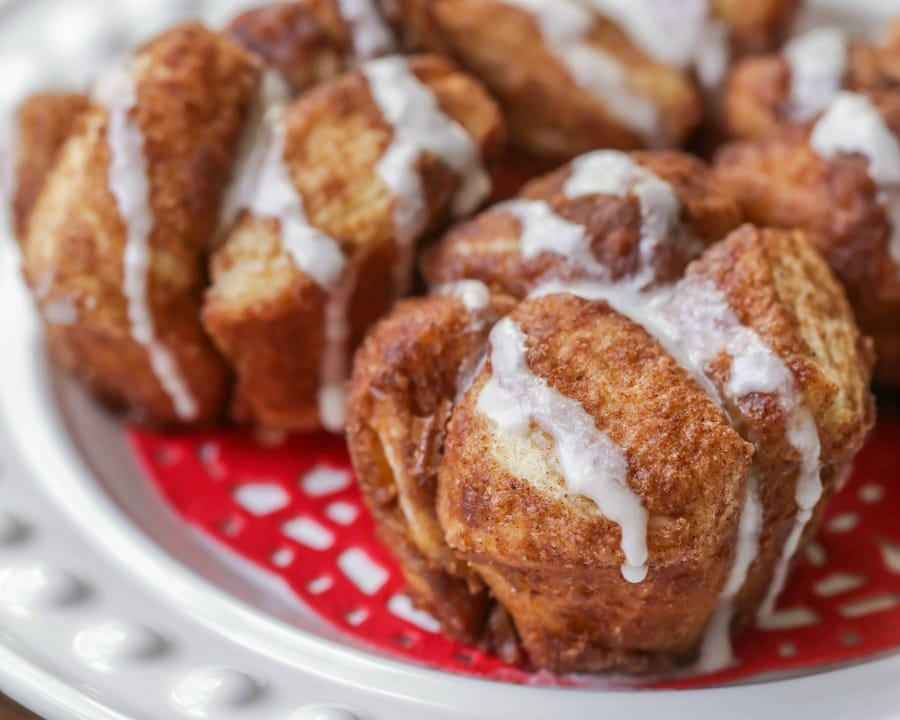 Mini Monkey Bread
When it comes to baking, there is nothing worse than finding a recipe that looks so scrumptious, but when you read the instructions, you know it's going to take way too much time! I love to find recipes that don't steal all of my time away, like today's tried and true recipe for Easy Monkey Bread Muffins.
If you've ever had monkey bread (or sticky buns as some people call them), you know how YUMMY they are. These muffins are like bite-sized monkey bread! Better yet, they're even faster than making a whole Bundt pan of monkey bread, plus they're made in individual sized portions.
These muffins only require ingredients that are usually on hand. I always seem to have a can of Grands Biscuits in my fridge, so I think we'll be making them more often. They really are delightful and a cinch to put together! Whether you eat them for breakfast, use them as a side dish, or make them for dessert, the cinnamon-sugary goodness will surely knock your socks off!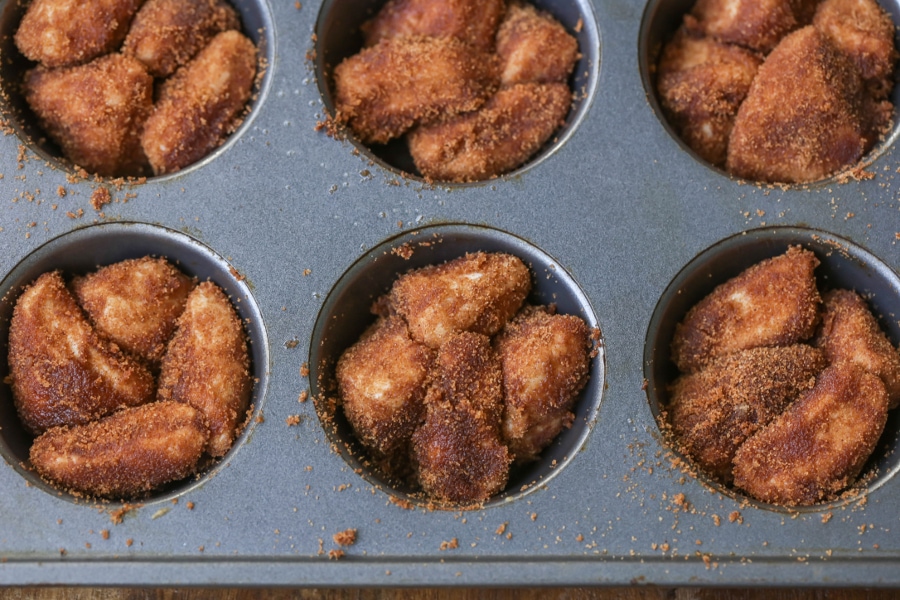 How to Make Monkey Bread in Muffin Tins
The biscuits themselves only require FIVE ingredients:
canned biscuits
brown sugar
cinnamon
butter
corn syrup
CUT + COAT. Cut the biscuits up into fourths and coat them in butter and corn syrup before dipping them in the cinnamon/sugar mixture.
BAKE. Bake for 12 minutes, turn the oven off, and let the muffins sit for a few more minutes to get slightly crispy.
GLAZE. Top the monkey bread muffins with a glaze (made from powdered sugar, butter, vanilla, and milk) while they're warm. They taste best warm, with a cold glass of milk, but we're quite certain they'll be enjoyed any way you have them. 😉
Tips + Storing Info
To save some time and make cleaning up easier you can use a cupcake liner in your muffin tins instead of greasing them.
A pizza cutter works like a charm when cutting biscuit dough for recipes like this.
STORE leftover muffins on a plate covered with plastic wrap or placed in a Ziploc bag and left out on the counter for 24 hours or stored in the fridge for a few days.
FREEZE any leftovers in a Ziploc freezer bag, or tightly closed container for up to 6 months. They would be best warmed up in the microwave for 20-30 seconds before serving.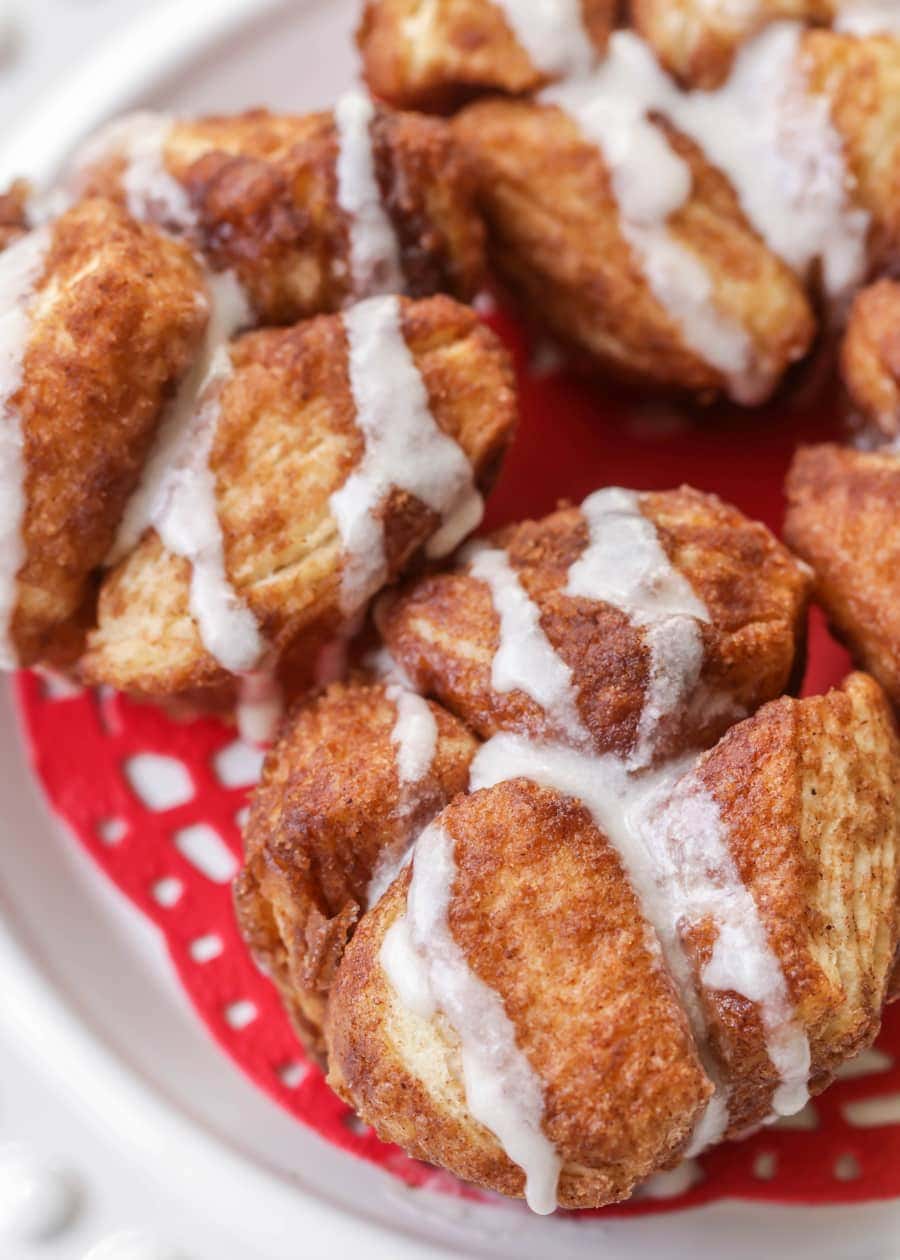 For more muffin recipes, check out:
Monkey Bread Muffins Recipe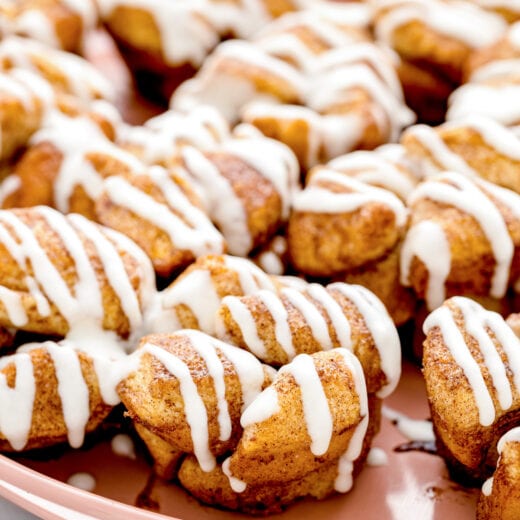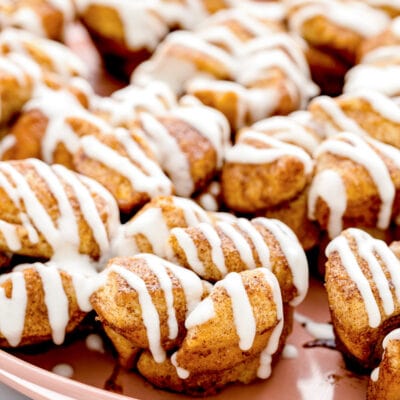 If you like monkey bread, you'll LOVE these Monkey Bread Muffins! They're a cinch to put together and are ready to eat in under 20 minutes. 
Ingredients
Monkey Bread
3/4

cup

brown sugar

3

teaspoon

cinnamon

8

biscuits

5

tablespoon

butter

1

tablespoon

corn syrup
Instructions
Preheat the oven to 375°F. Grease a muffin tin and set it aside.

In a small bowl, mix together brown sugar and cinnamon. Set aside.

In a separate bowl, melt butter, then stir in the corn syrup.

Remove biscuits from packaging and cut each into 6 pieces. Drop the pieces into the butter mix then dip them in the cinnamon sugar, covering each completely.

Place four pieces into each cup of a heavily greased muffin tin. Bake for 12 minutes, then turn off oven and let sit for another few minutes. This gives them a little crunch without overcooking them.

Remove from the oven and let cool before trying to remove them from the muffin tray.

Combine all icing ingredients and drizzle all over each muffin. Enjoy!
Adapted from Organizer by Day