I've discussed my love of breakfast foods before and with it being the new year, I thought I'd share a healthy breakfast recipe today. This recipe is for Healthy Egg Muffins. It's a simple and delicious recipe that is made of sausage, cheese, eggs and a few spices.  The thing I like most is that they can be put together really quick and then just thrown in the oven for 15-20 minutes. They also keep well in the fridge for a week or so and can be easily re-heated. Sometimes, things are pretty crazy here in the morning so it's nice to have something tasty and quick like these to re-heat over having a bowl of cereal (which is our typical go-to breakfast food).
These Muffins can also be changed up very easily. You can use different cheese, different meats, as well as different add-ins. You can throw in some chopped spinach, diced tomatoes or any veggie for that matter. We prefer to use Turkey Sausage so they are a bit more healthy but bacon or regular sausage can be used too. 😉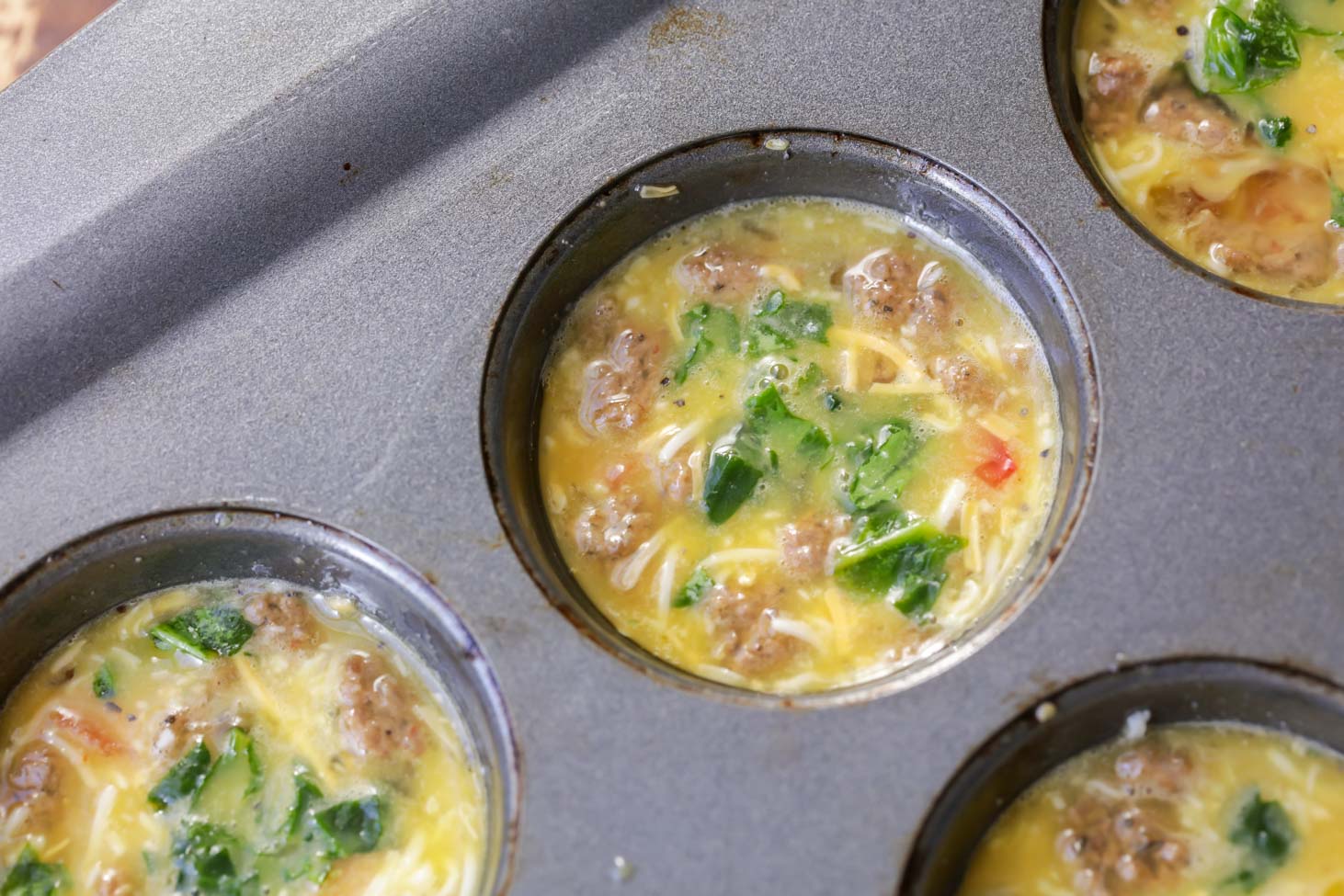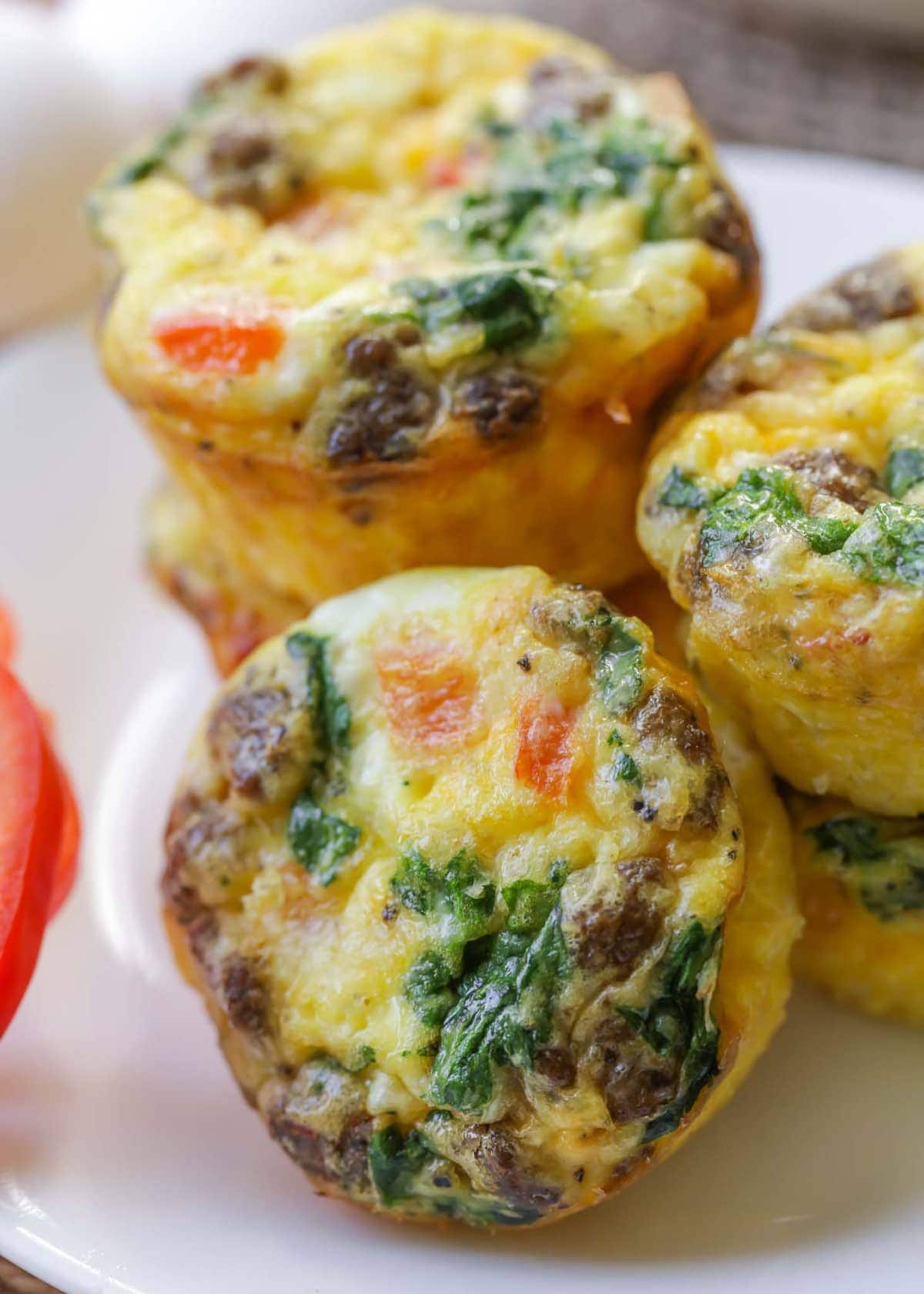 MY OTHER RECIPES
To make these egg muffins, you will need to preheat your oven to 375 and will also need about 10 eggs. Crack your eggs and whisk them together in a medium bowl. Add your cheese, sausage and extra ingredients (ie veggies). You will whisk this together until everything is combined well. Pour this mixture into muffin liners in a muffin pan (we double the liners if using a regular metal muffin pan or pour directly if using a silicone muffin pan). You will want to fill them pretty full. Place the muffin pan in the oven and bake for about 15-20 minutes. The eggs will puff up quite a bit so no need to worry – they will go down after they have come out of the oven. 😉 Enjoy these healthy muffins fresh from the oven. They can be eaten plain or even with salsa (my favorite).
For more egg recipes, check out:
Healthy Egg Muffins
A healthy and delicious breakfast option - Egg Muffins filled with cheese, sausage and delicious veggies.
Ingredients
10 eggs
1-2 tsp. seasoning of your choice. I use garlic pepper
1-2 cups grated low fat cheese. I use co-jack
½ cup lean meat, turkey sausage, ham, etc. We like turkey sausage
Optional ingredients: 2 green onions diced small, ¼ cup diced spinach. Any chopped veggies would be a good addition.
Instructions
Preheat oven to 375 F. A silicone muffin pan or cups will work best for this recipe, but a standard muffin tin will work too. Just double your paper liners and spray well.
Mix all ingredients together, whisking your eggs first.
Pour into sprayed cups filling almost to the top.
Bake for 15-20 minutes, checking often. Eggs will puff up and look like they are over flowing. Don't be alarmed, they will set back down to normal size. Enjoy warm!
NOTE: These will hold up well in the refrigerator for 7-10 days. I put two muffins in a snack sized bag to pop in the microwave each morning for a quick breakfast. YUMMY and a great start to the day!
For more great breakfast dishes, be sure to check out these favorites:
I am seriously obsessed with breakfast recipes!! That may be why we seem to have them for dinner more than for breakfast. 😉
For all breakfast recipes on the site go HERE. For all recipes go HERE.
ENJOY!