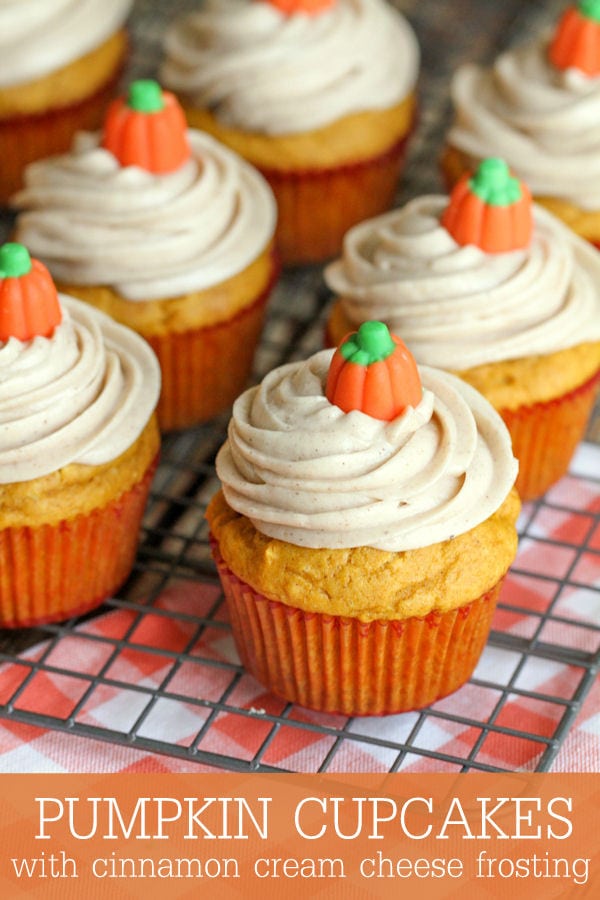 Are you sick of the pumpkin recipes yet? I hope NOT!! Fall is just starting so I'm hoping you're prepared for the bombardment of pumpkin recipes the next month. I've shared a few already the past few weeks and have just a few more for you before baby comes. This next recipe is one that I've been wanting to make for years!! I've seen recipes for Pumpkin Cupcakes but most required a TON of ingredients and time, and I just wasn't up for it. Call me lazy, but I've been on the search for an EASY Pumpkin Cupcakes recipe and finally found THE ONE!
The recipe comes from Real Simple, and I only made a few modifications. I also decided that if you're going to make Pumpkin Cupcakes you HAVE to make a Cinnamon Cream Cheese Frosting to go with them, and that's what I did. The hubby admitted to having 4 of them on the first night I made them. I also gave some to some friends that stopped by last week. They stopped by again Friday and admitted to eating all 6 cupcakes (there were two of them) within 24 hours. All agreed that the frosting and the fluffy and moist cupcakes together was a great combo.
MY OTHER RECIPES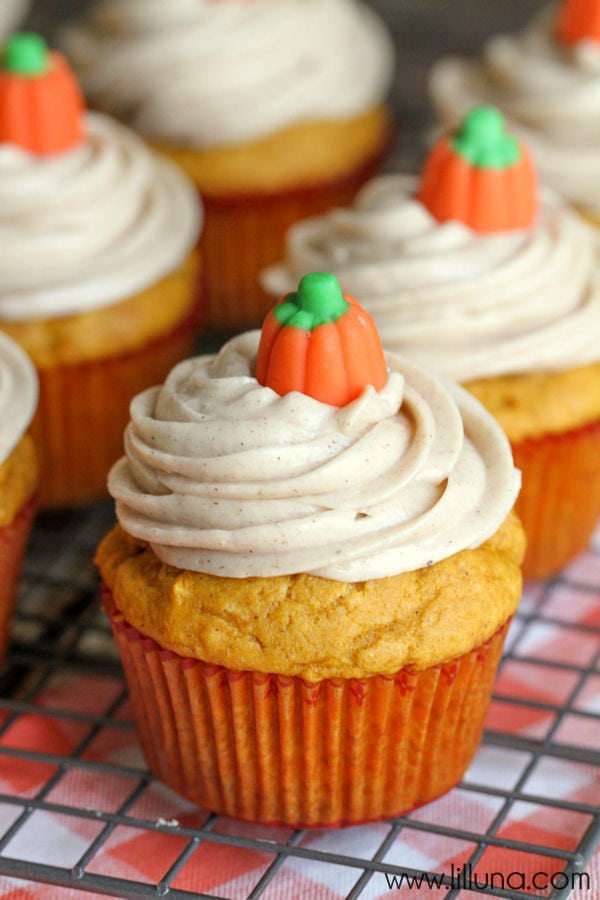 So glad to have found this recipe and to have made a few changes!! It is the best Pumpkin Cupcakes recipe we have yet to try, and of course the best part was the frosting!!! It comes from Kraft Recipes, and was perfect for this cupcake recipe. 😉
My kids have never really been BIG fans of pumpkin recipes, but they absolutely loved these cupcakes. They, too, were slightly obsessed with the frosting and may have licked the bowl clean when it was made. Glad to find another "TWO THUMBS UP" pumpkin recipe for the blog.
For more pumpkin recipes, check out:
How to make Pumpkin Cupcakes VIDEO:
Easy Pumpkin Cupcakes
Ingredients
1 box Yellow Cake Mix (plus ingredients listed on back minus the water)
½ tsp. pumpkin pie spice
½ tsp. cinnamon
1 tsp. vanilla
1 - 15 oz. can pumpkin puree
Frosting
1 - 8 oz PHILADELPHIA Cream Cheese, softened
¼ cup butter softened
1 tsp. vanilla
2 cups powdered sugar
1½ tsp. cinnamon
Candy Pumpkins
Instructions
Preheat oven to 350.
Prepare cake mix as directed on box but add pumpkin pie spice and substitute pumpkin puree for the water. Add vanilla and cinnamon.
Pour batter into cupcake liners in muffin tins.
Bake for 17-20 minutes.
Let cool completely.
Combine ingredients for frosting in a medium bowl and beat until smooth.
Pipe or spread frosting on and top with a Candy Pumpkin if desired. ENJOY!
BEHIND THE SCENES AT LILLUNA.COM:
I had just finished taking pictures of this recipe when my little guy, Wes, woke up. He immediately ran over to the cupcakes and kept pointing saying "Mmmmmm!" – just had to snap a pic!!