Pumpkin Pancakes are the ultimate autumn breakfast. They're completely irresistible when topped with homemade cinnamon buttermilk syrup!
I can't get enough pumpkin recipes in the fall! Especially all the yummy pumpkin breakfast recipes, like these perfect Pumpkin Pancakes, Pumpkin Waffles, and especially Pumpkin Cinnamon Rolls!!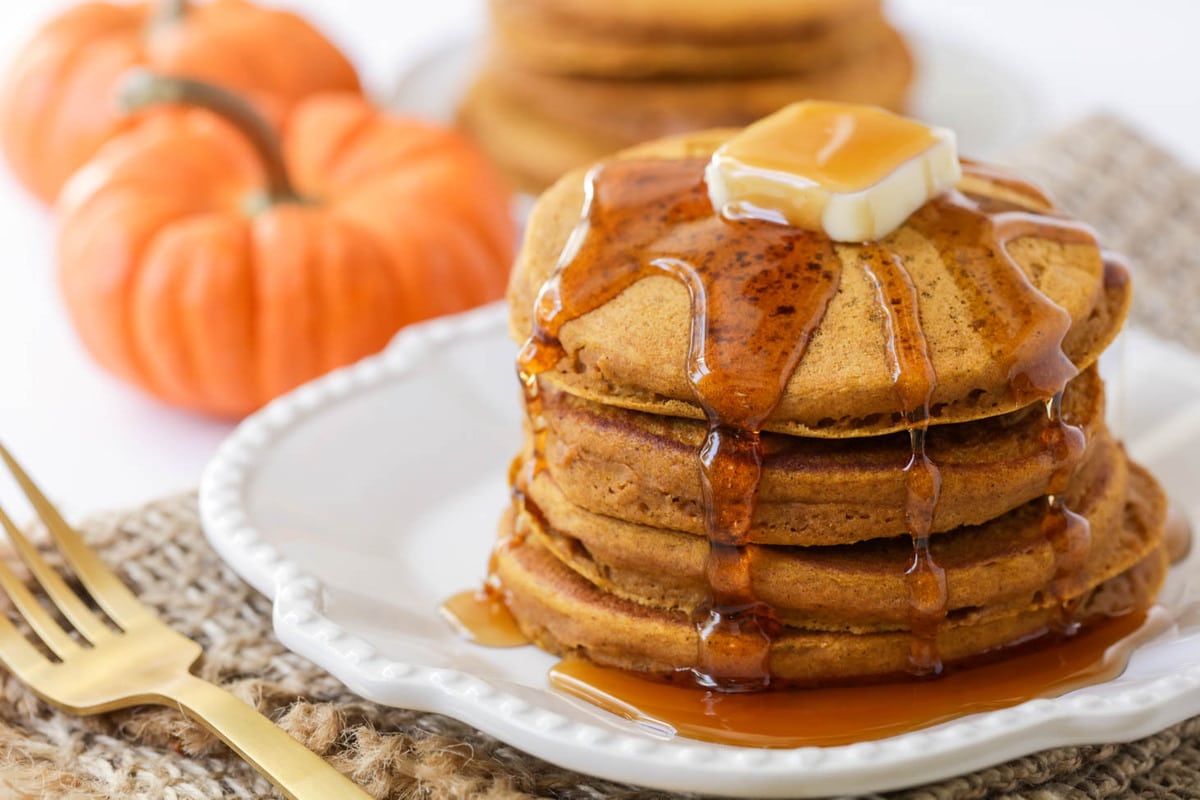 Yummy + Easy fall breakfast
I love pancakes, and I love pumpkin, so sharing a Pumpkin Pancakes recipe is just inevitable. Like I've shared before, I haven't always been a fan of pumpkin-flavored recipes. Now that I've converted, I'm all about sharing the delicious fall pumpkin dishes!
Most know that pumpkin and cinnamon go hand in hand. Along with those ingredients, you'll need a few others to make this recipe, but I promise you won't regret giving Pumpkin Pancakes a try. They're phenomenal!
They have just the right amount of pumpkin and cinnamon. You'll want to eat a stack without even knowing it. They're quick too.
We've realized you can't beat soft, super tasty Pumpkin Pancakes in minutes! We especially like to serve these for the holidays when we have company in town.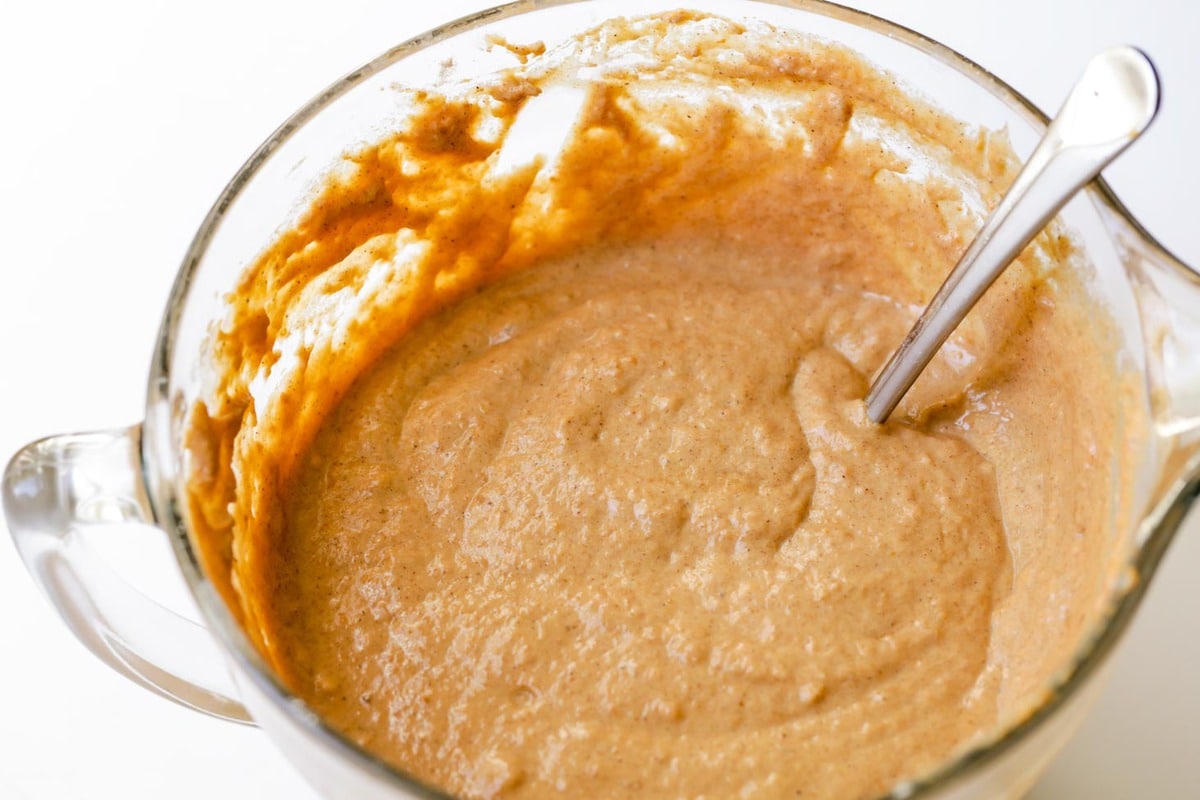 How to Make Pumpkin Pancakes
WET INGREDIENTS. Whisk the milk, pumpkin, egg and oil.
DRY INGREDIENTS. In a separate large bowl, mix the dry ingredients. Pour the pumpkin mixture into the flour mixture. Mix until just combined.
COOK. Spray a skillet or griddle with cooking spray. Cook ¼ -⅓ cup of the pancake mixture on the griddle for a few minutes on each side.
When to Flip
When making a new recipe, it's a good idea to cook a test pancake, and make adjustments.
Flip the pancake when little bubbles appear on the top of the batter, and the edges turn golden. 
Once flipped, if it has burn marks, that means the temperature is too high. Make adjustments to the temperature before cooking more.
Do not press the pancakes down with a spatula. All that does is flatten it.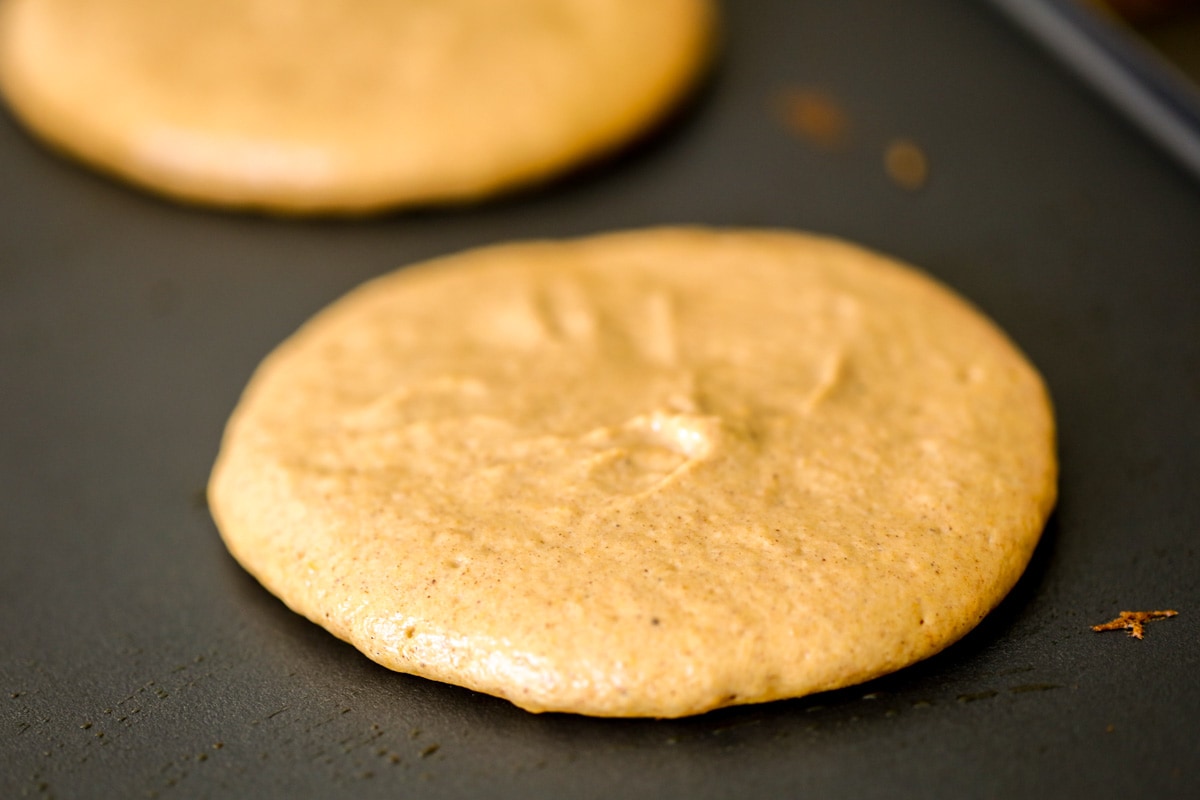 Recipe Tips
Room temperature. Take your butter and eggs out of the fridge, and measure your milk. Allow the ingredients to stand at room temperature for about 30 minutes. This will help all the wet ingredients to combine easier.
Thin batter. If your batter is too runny, and spreads out too much, just add a bit of flour.
Thick batter. If your batter doesn't spread at all, and it's too thick, add a bit more water or milk.
Pumpkin pancakes with Bisquick. Mix together 1 egg, 1½ cups milk, 2 cups Bisquick, ½ cup canned pumpkin, 1 teaspoon cinnamon, and ½ teaspoon all-spice. The batter will be thick, but will cook the same.
Dairy free. For a dairy free version, replace milk with almond milk.
Toppings. Some great toppings to go with these Pumpkin Pancakes: Whipped Cream, toasted pecans or other nuts, jam, chocolate chips, or powdered sugar.
We especially like to top this off with some butter and maple syrup, or even better – Cinnamon Buttermilk syrup! (see recipe below)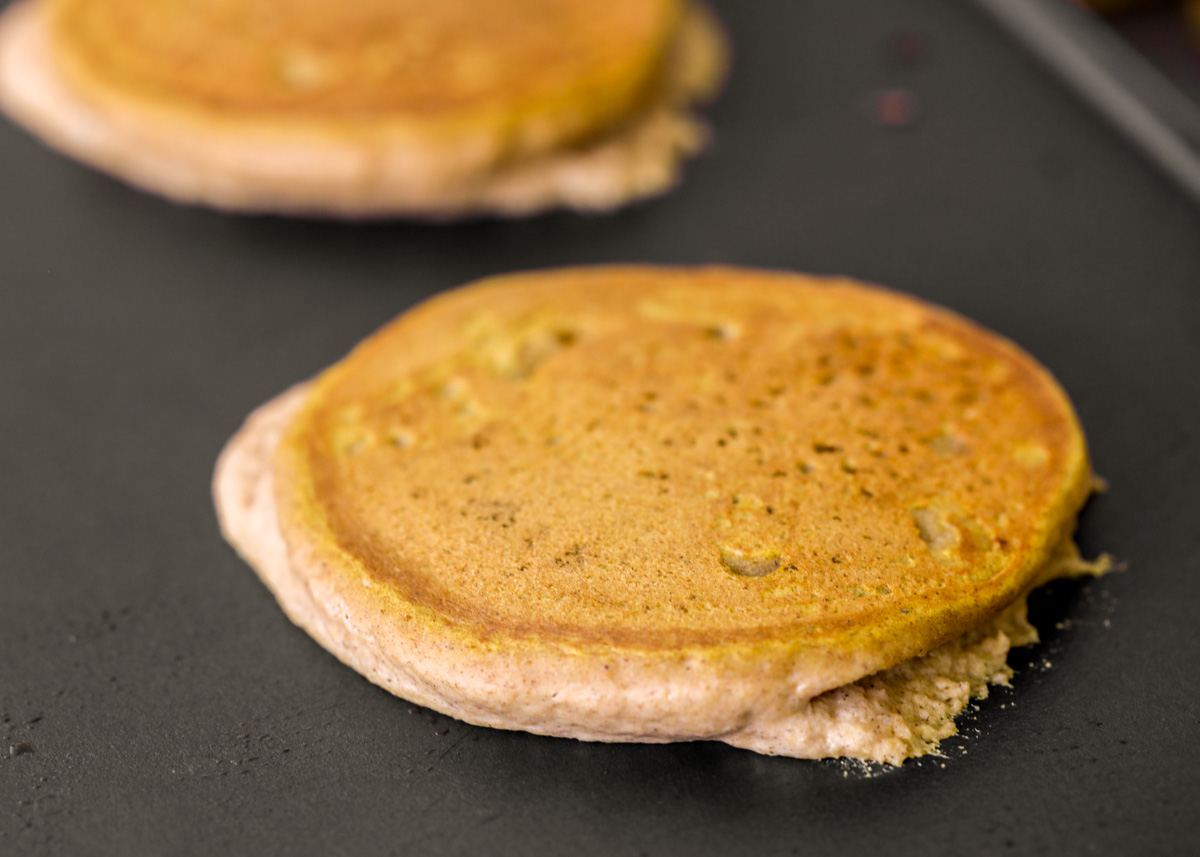 Storing info
STORE. These pancakes make great leftovers! Just put them in a Ziploc bag, and store them in the fridge for up to 5 days. Reheat in the microwave, or on a baking sheet in the oven.
FREEZE. Place a sheet of wax paper between each pancake and stack together. Place in a freezer-safe Ziploc bag. Freeze for 1-2 months. Pop them in the toaster for an easy way to reheat them.
Make ahead of time. If you do have company in town, and want to make these ahead of time, we recommend making and freezing them with the above instructions!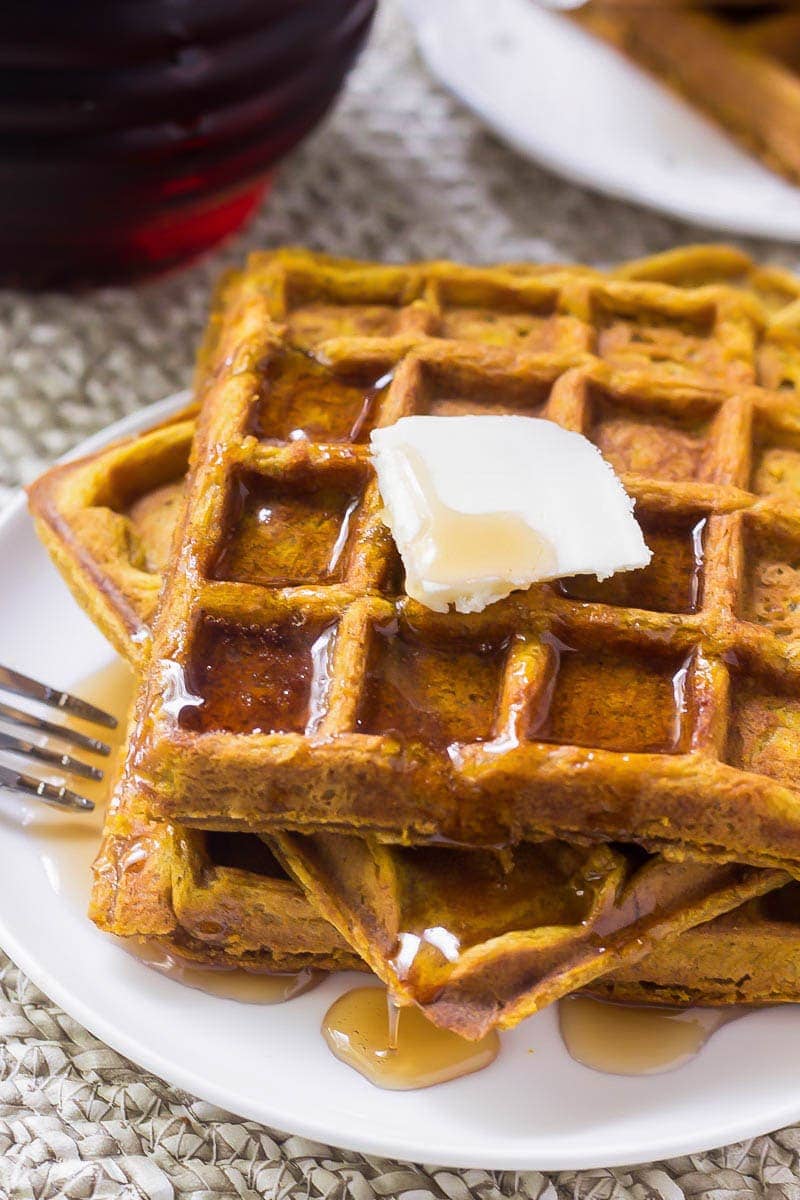 Cinnamon Buttermilk Syrup
For this recipe, regular syrup would be great, but we knew it would be even better with Buttermilk Syrup (have you tried it before?? AMAZING!!)
With the fall flavors, I added a little bit of cinnamon to the syrup, and the result was out of this world. Here is the recipe:
½ cup butter
1 cup sugar
½ cup buttermilk (or for a substitute: ½ cup milk with 1 tsp. lemon juice)
1 tsp. vanilla extract
1 tsp cinnamon
½ tsp baking soda
COMBINE + COOK. Melt butter in a pan on low-medium heat. Add sugar, buttermilk, vanilla and cinnamon. Mix well. Add baking soda and stir until all combined.
I honestly am not sure if you can find a more delicious fall-flavored breakfast recipe than this one. I really think you'll love this recipe because even the non-pumpkin lovers in the family were devouring these guys. 😉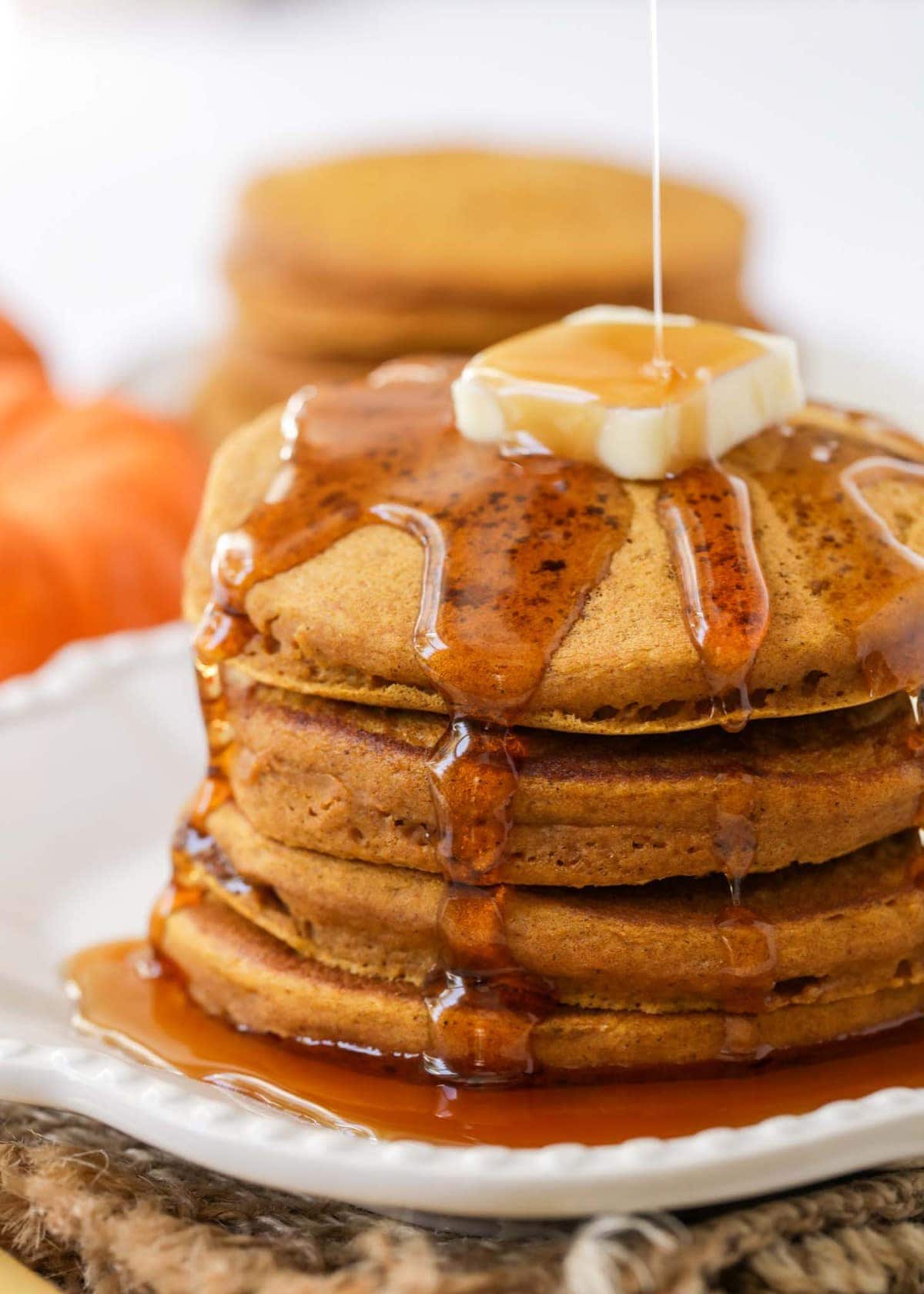 For more pumpkin breakfast recipes: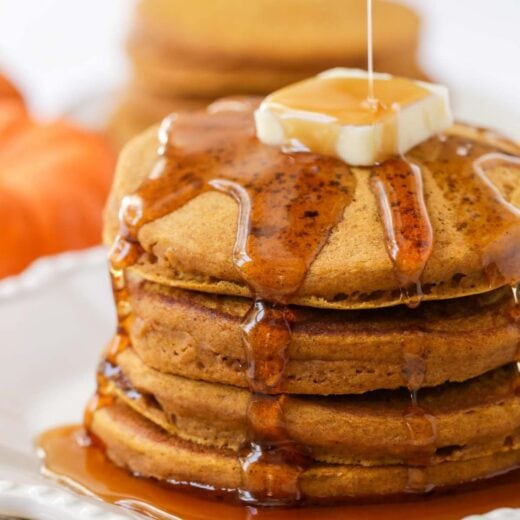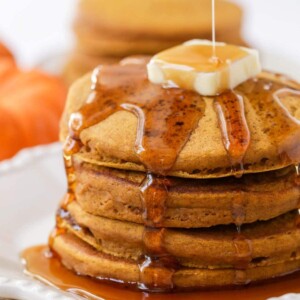 Pumpkin Pancakes Recipe
Pumpkin Pancakes are the ultimate autumn breakfast. They're completely irresistible when topped with homemade cinnamon buttermilk syrup!
Instructions
Mix together milk, pumpkin, egg and oil in a medium bowl.

In a separate bowl, combine flour, brown sugar, baking powder, baking soda, cinnamon, nutmeg and salt.

Add dry ingredients to wet ingredients and stir just enough to combine.

Heat a lightly greased griddle or frying pan over medium/high heat.

Scoop about ¼ – ⅓ cup for each pancake. Brown on both sides and serve hot.

Serve with cinnamon buttermilk syrup and ENJOY!
Nutrition
Calories:
285
kcal
,
Carbohydrates:
46
g
,
Protein:
7
g
,
Fat:
7
g
,
Saturated Fat:
5
g
,
Cholesterol:
33
mg
,
Sodium:
447
mg
,
Potassium:
423
mg
,
Fiber:
3
g
,
Sugar:
10
g
,
Vitamin A:
8610
IU
,
Vitamin C:
2.3
mg
,
Calcium:
184
mg
,
Iron:
3.1
mg
Nutrition information is automatically calculated, so should only be used as an approximation.
Making this recipe? Tag us!
Share it with us on Instagram using the hashtag #lilluna, so we can see what you're creating in the kitchen!