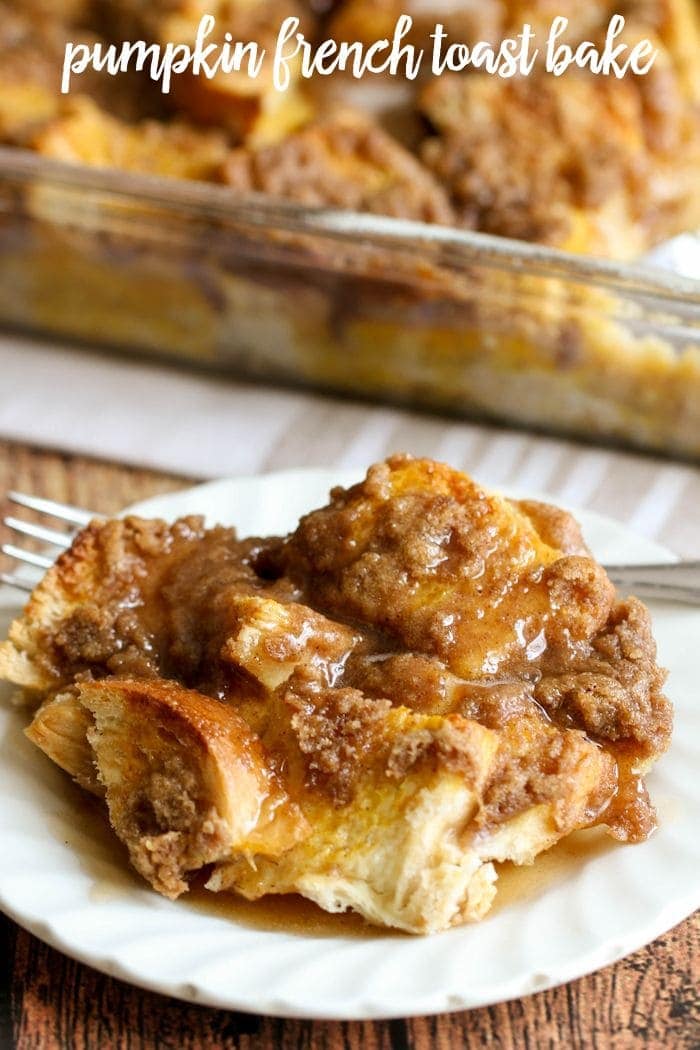 Who loves Pumpkin?!
We do, and I'm here to share a recipe today that will convince you that Pumpkin shouldn't be an ingredient used soley in the fall. Yes, we all think of pumpkin during that time of the year, but it's an ingredient that can be enjoyed all year long!!
Did you know that LIBBY'S® 100% Pure Pumpkin is a good source of fiber and excellent source of vitamin A and the antioxidant beta-carotene?! I didn't know this until recently, but I'm not surprised that this versatile ingredient contains no added salt, no added sugar, no flavorings or preservatives. Pretty awesome, right?! It's such a fun ingredient and can be used for so many different recipes from sweet to salty. We like to use it most for treats and desserts, and recently thought it would be a wonderful addition to one of our favorite recipes – French Toast! In fact, I think we've created one of the yummiest breafkast recipes I have ever had with this Pumpkin French Toast Bake and homemade Cinnamon Buttermilk Syrup. Yes, it's a mouthful, but it is AMAZING!! The great thing about it is it's easy and you can add as much pumpkin as you like! It did remind me of fall as I ate it, but then I was reminded how much I love the taste of cinnamon and pumpkin and wanted to enjoy these amazing flavors all year long. I'll be able to do just that with this recipe, and I CANNOT wait to share it with you. I REALLY think you'll love it. 😉
Here it is…

Pumpkin French Toast Bake
Ingredients
1 loaf of sourdough bread (used Pepperidge Farm)
8 eggs
2 cups milk
2 tsp. pumpkin pie spice
½ - 1 cup LIBBY'S® 100% Pure Pumpkin
¼ cup heavy cream
¼ cup sugar
1 TB vanilla
TOPPING
½ cup flour
½ cup brown sugar
1 tsp. cinnamon
1 tsp. pumpkin pie spice
½ tsp. salt
½ cup butter
CINNAMON BUTTERMILK SYRUP
½ cup butter
1 cup sugar
½ cup buttermilk (or for a substitute we do ½ cup milk with 1 tsp. lemon juice)
½ tsp baking soda
1 tsp. vanilla
½ tsp. cinnamon
Instructions
Cut bread into 1½ inch squares. Place in a greased 9x13 pan.
In a bowl whisk together eggs, milk, pumpkin pie spice, pumpkin puree, heavy cream, sugar and vanilla. Once it's mixed well, pour over bread chunks and refrigerate over night. If looking to do this quicker, refrigerate for at least 30 minutes.
To make streusel, mix flour, brown sugar, cinnamon, pumpkin pie spice and salt in a bowl. Cut in a cold stick of butter. Mix with your fork until crumbly. Refigerate overnight as well.
Once ready to bake preheat oven to 350.
Before baking spread streusel over the top and bake for 35-45 minutes.
Make buttermilk syrup by melting butter in a pan on low-medium heat. Add sugar, buttermilk, vanilla and cinnamon - mix with whisk. Add baking soda and stir until all combined. Well be foamy at first and will then return to normal.
Serve warm with french toast bake right out of the oven.
ENJOY!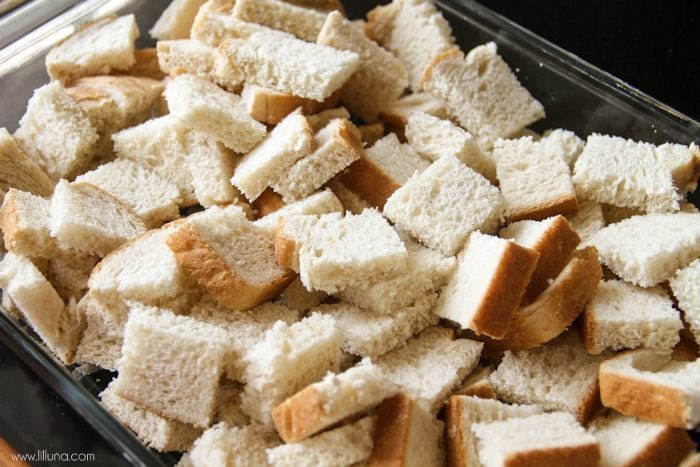 Cut your sourdough bread into 1 1/2″ squares.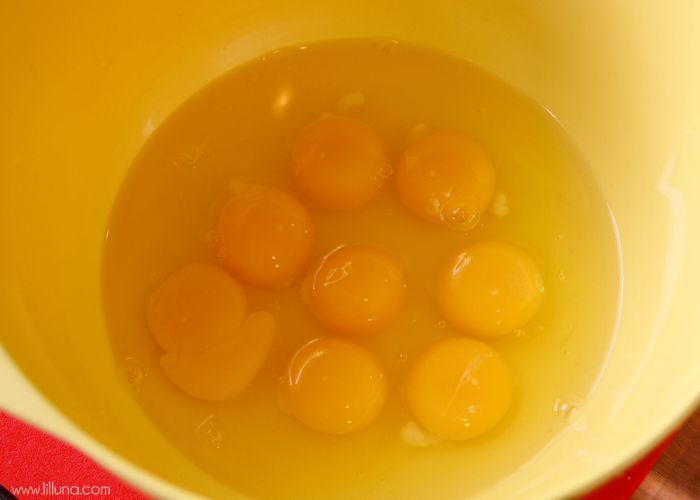 Pour your eggs in a bowl.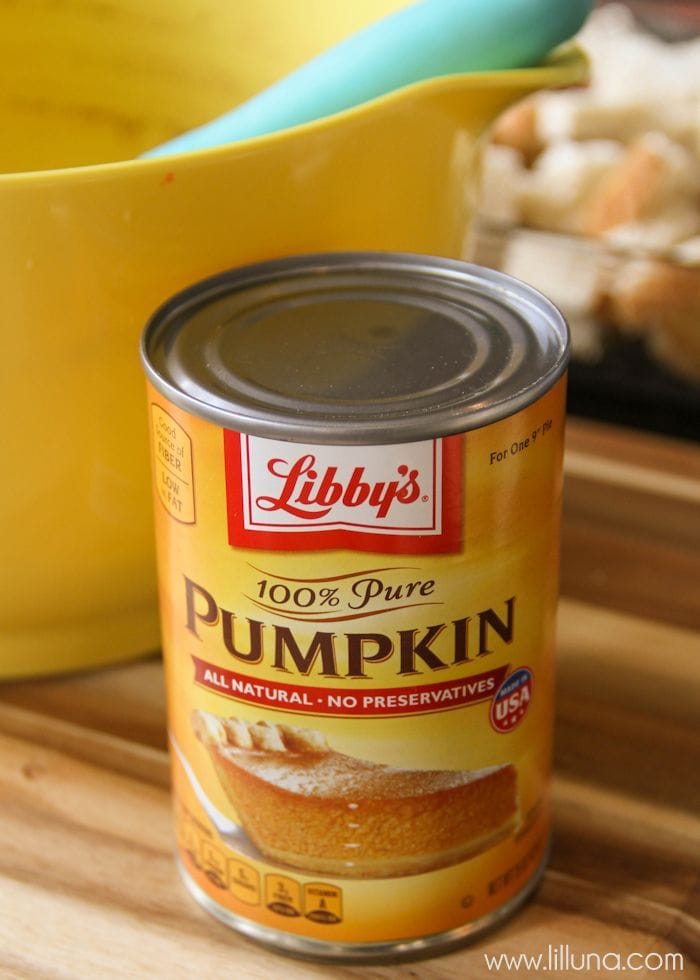 Add LIBBY'S® 100% Pure Pumpkin for that delicious pumpkin-y taste.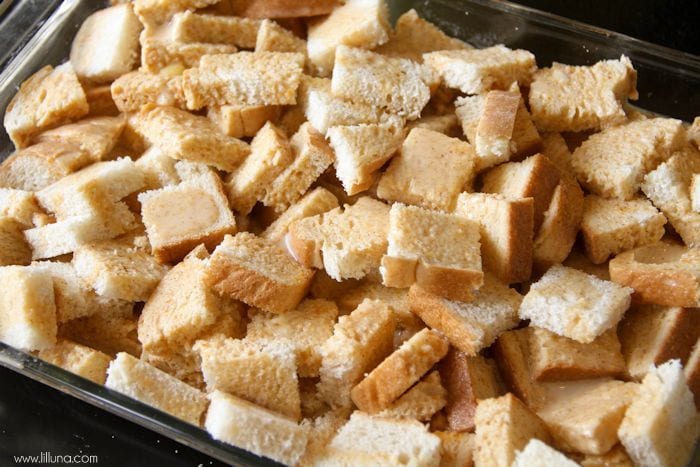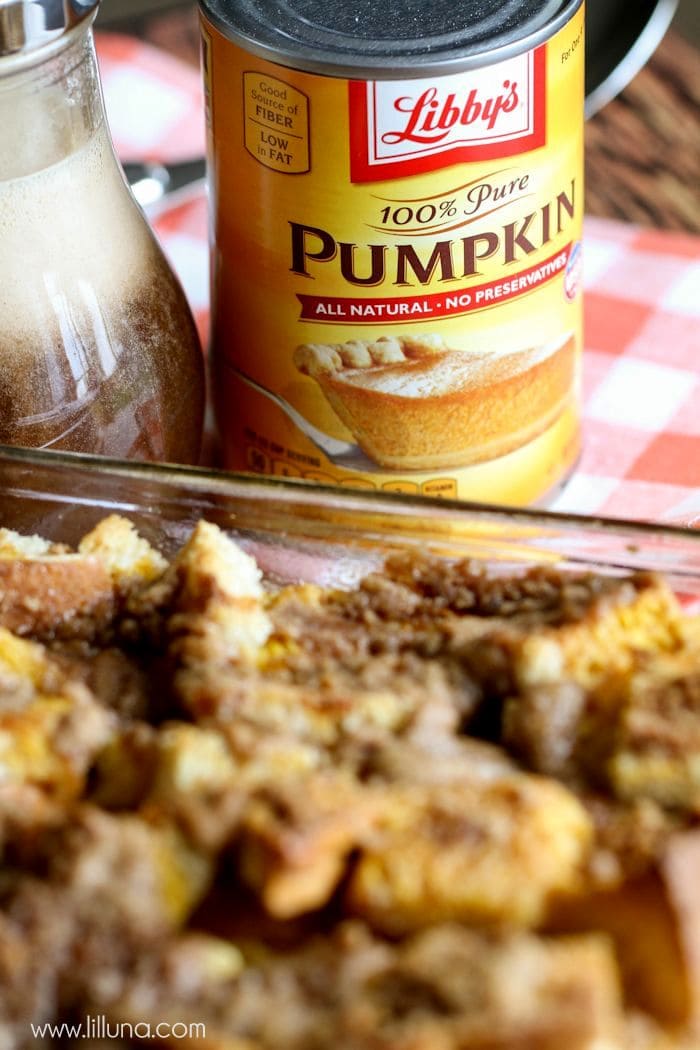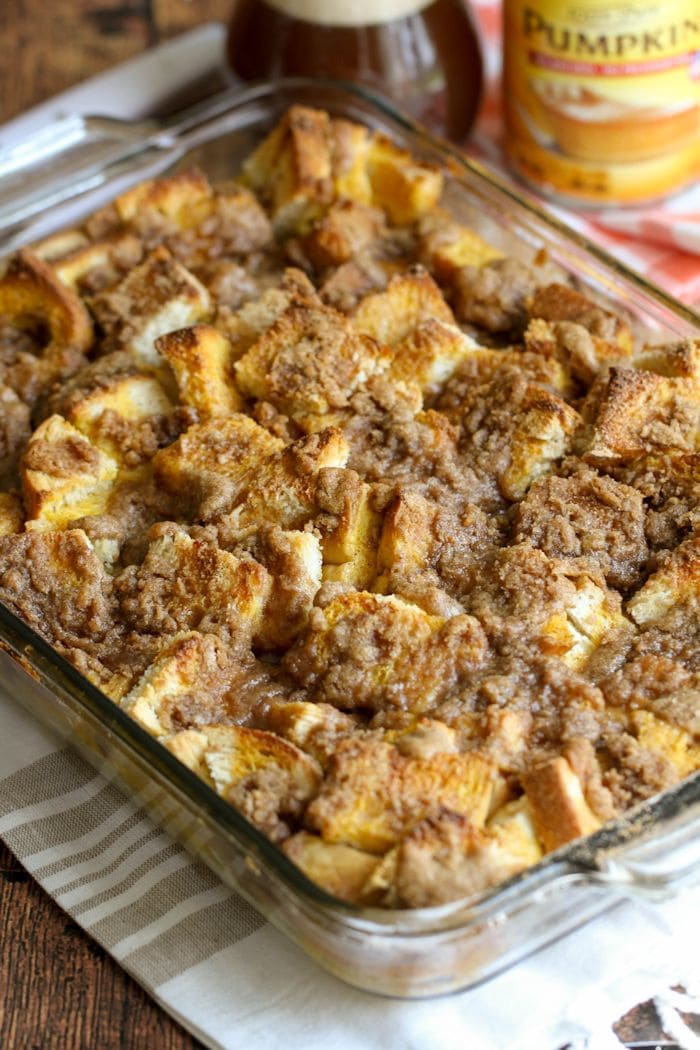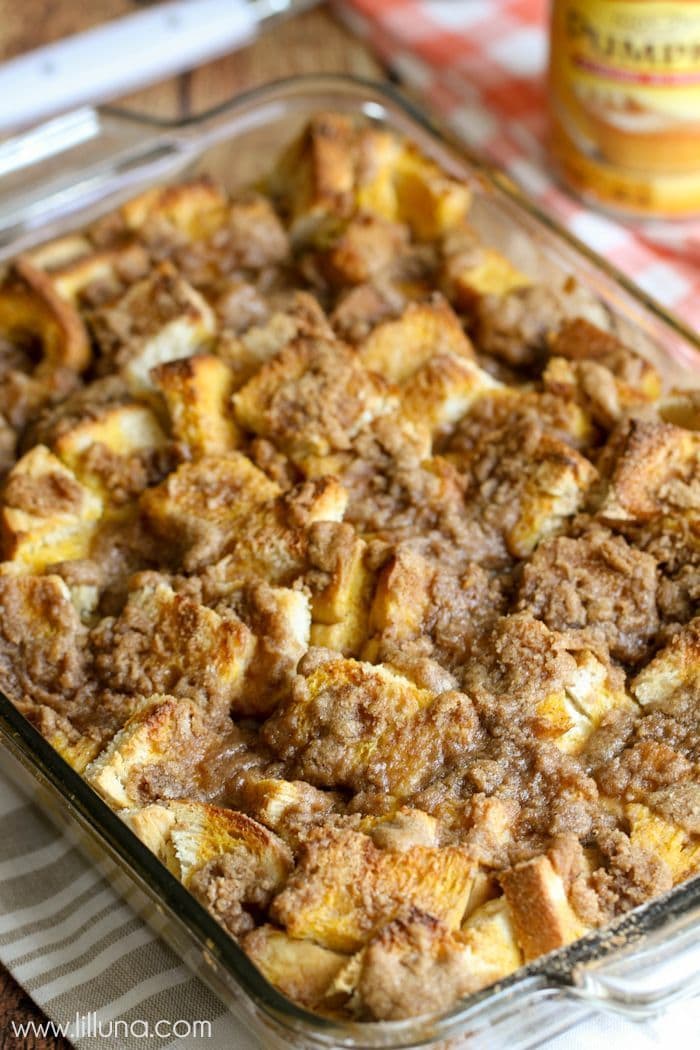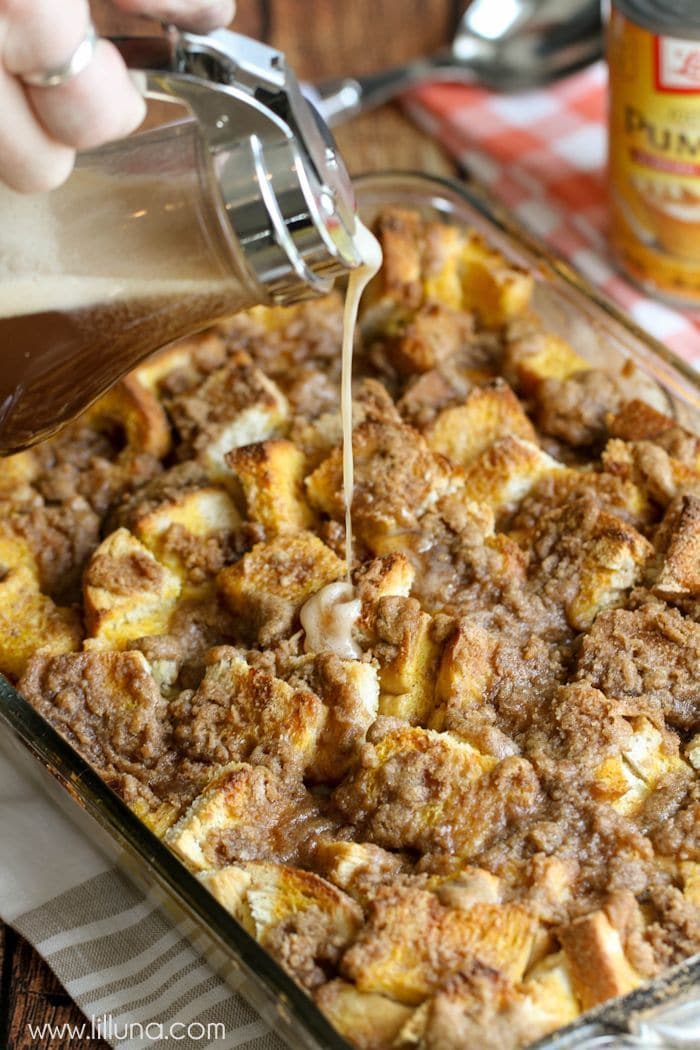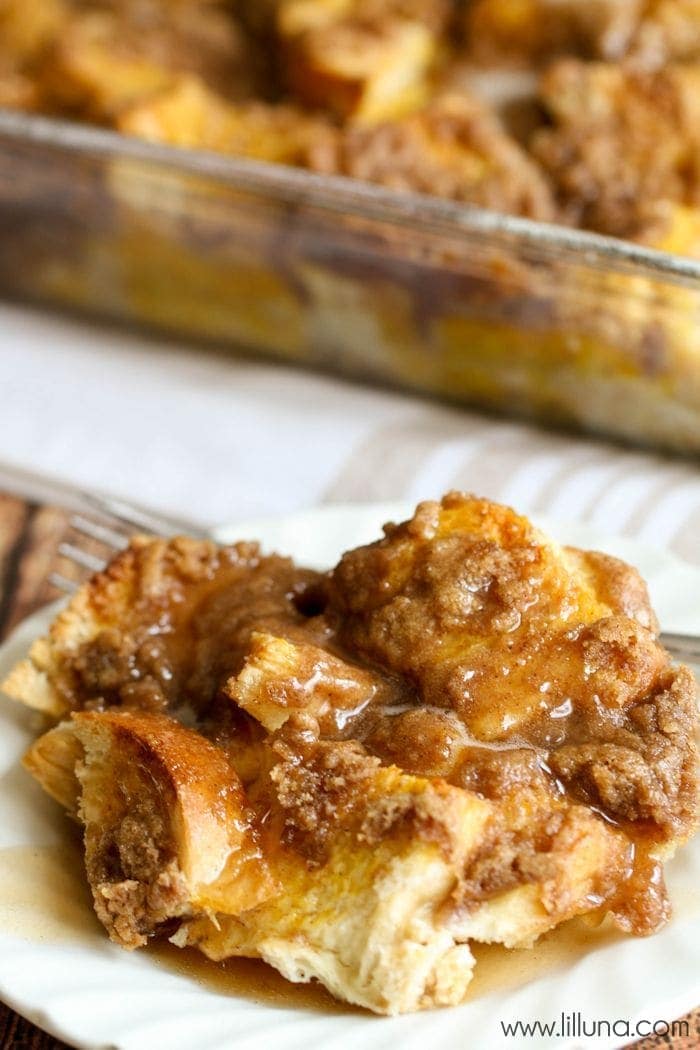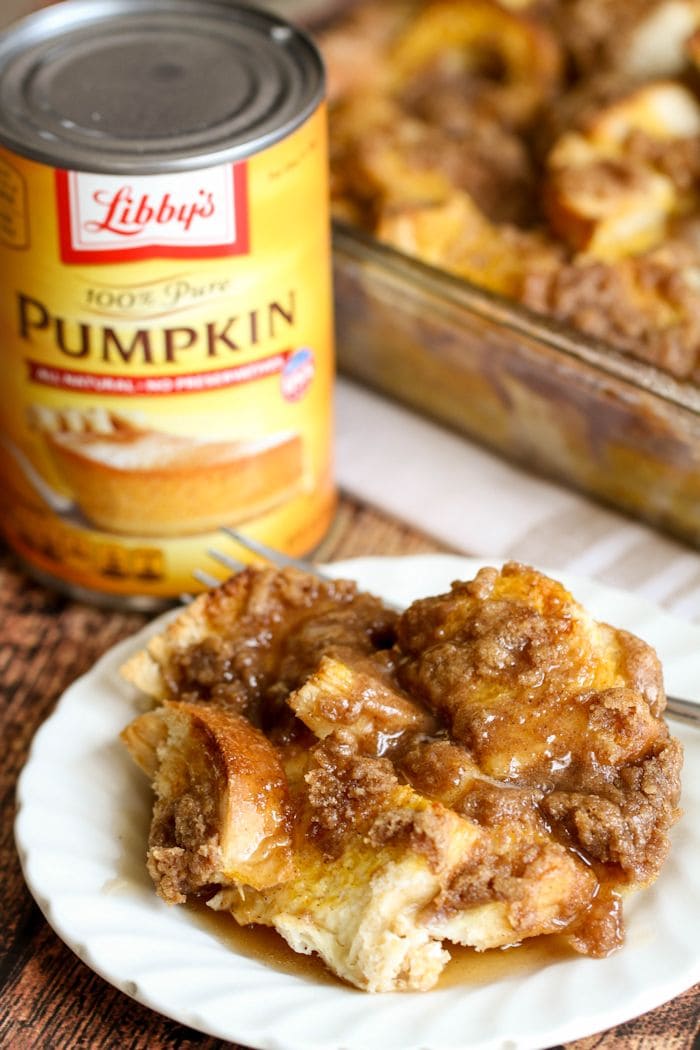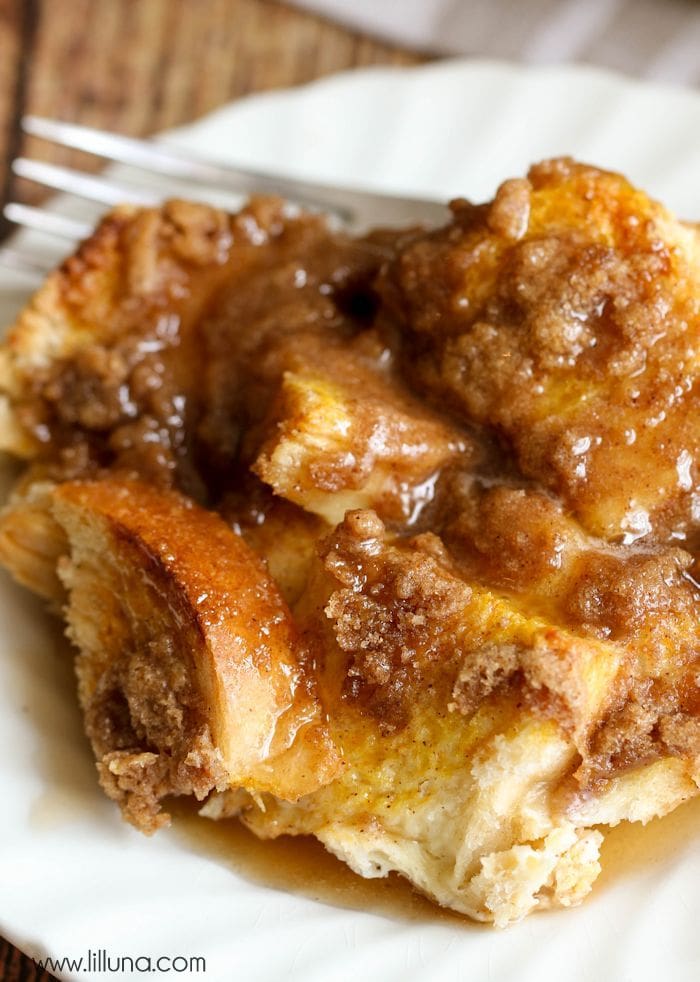 I love that you can see the gooeyness of pumpkin and butter and cinnamon and brown sugar in this last picture. It seriously makes me want to drool. And can I confess something? I made this a few weeks ago around lunch time, so we ended up having it for lunch. And it was so good that the kids asked if we could have it again for dinner, and since I don't like wasting I agreed. Yup – we had this for two meals in one day and it was AWESOME!
As you can tell, I've partnered with LIBBY'S Pumpkin to share one great recipe with you showing it's versatility. But, I also wanted to share with you some amazing tips and things that you can do with pumpkin that may surprise you. Personally, I didn't know about most of them and thought you might like to know about them too. 😉
LIBBY'S® PUMPKIN SUBSTITUTION TIPS
You can improve the nutrition of your cake or brownies by replacing the fat or oil with LIBBY'S® 100% Pure Pumpkin.
When you replace a whole egg in many of your favorite recipes with 1/4 cup of LIBBY'S® Pumpkin, you can cut the calories, cholesterol and fat.  See www.verybestbaking.com for recipe ideas.
You can replace half the butter or margarine in your baking recipes with LIBBY'S® 100% Pure Pumpkin to cut the fat.
Replace half of the creamy or crunchy peanut butter with LIBBY'S® 100% Pure Pumpkin and cut the fat in a PB&J sandwich
Add 1/4 cup of LIBBY'S® 100% Pure Pumpkin into 3/4 cup of your favorite homemade or canned chili to cut the sodium per 1 cup serving.
LIBBY'S® PUMPKIN ADDITIONAL TIPS
Add 2 tablespoons of LIBBY'S® 100% Pure Pumpkin to your 1/2 cup of quick oats for a delicious part of your breakfast that is a good source of dietary fiber and cholesterol-free!
Add LIBBY'S® 100% Pure Pumpkin to your store-bought pancake mix for a hint of added flavor and moistness.
Add 1 part LIBBY'S Pumpkin to 3 parts canned or jarred tomato sauce to reduce the sodium per serving. Also "A boost" implies at least "good source" not sure if a cup of Libby's added to 3 cups of pasta sauce achieves at least 10% DV of vitamin A per serving.
Stir 1/4 cup of LIBBY'S® 100% Pure Pumpkin into your 8-ounce mug of low-fat hot cocoa for a good boost of rich and delicious flavor.
Add 1/4 cup of LIBBY'S® 100% Pure Pumpkin into 1 cup of store-bought hummus for a touch of color and added natural flavor.
Add 1/2 cup of LIBBY'S® 100% Pure Pumpkin to the cooking water for every cup of your uncooked rice and create deliciously creamy risotto-like rice.
SO many great tips and substitute ideas!!
For even more pumpkin ideas and to download a coupon go to pumpkincan.com.
Enjoying this Pumpkin French Toast Bake fresh from the oven along with the Cinnamon Buttermilk Syrup is a little like heaven, and I highly recommend trying it out, especially if you're a pumpkin fan. So, next time you're in the baking aisle, be sure to grab a can and use it one of the many different pumpkin ideas you can find at pumpkincan.com.
For more information from Libby's be sure to follow them here – Facebook – Pinterest – Twitter.
ENJOY!
This is a sponored post written on behalf of Libby's Pumpkin. As always, opinions are 100% my own. #PumpkinCan 😉