Cinnamon Roll French Toast Bake has all of the ooey gooey goodness of warm cinnamon rolls, with the ease of an overnight breakfast casserole.
Combine the delicious comfort of cinnamon rolls during the holiday season with the ease of an overnight french toast bake, and you get this fabulous Cinnamon Roll French Toast Bake! Serve this tasty bake with Cheesy Potato Breakfast Casserole, Breakfast Ring, or Copycat Orange Julius.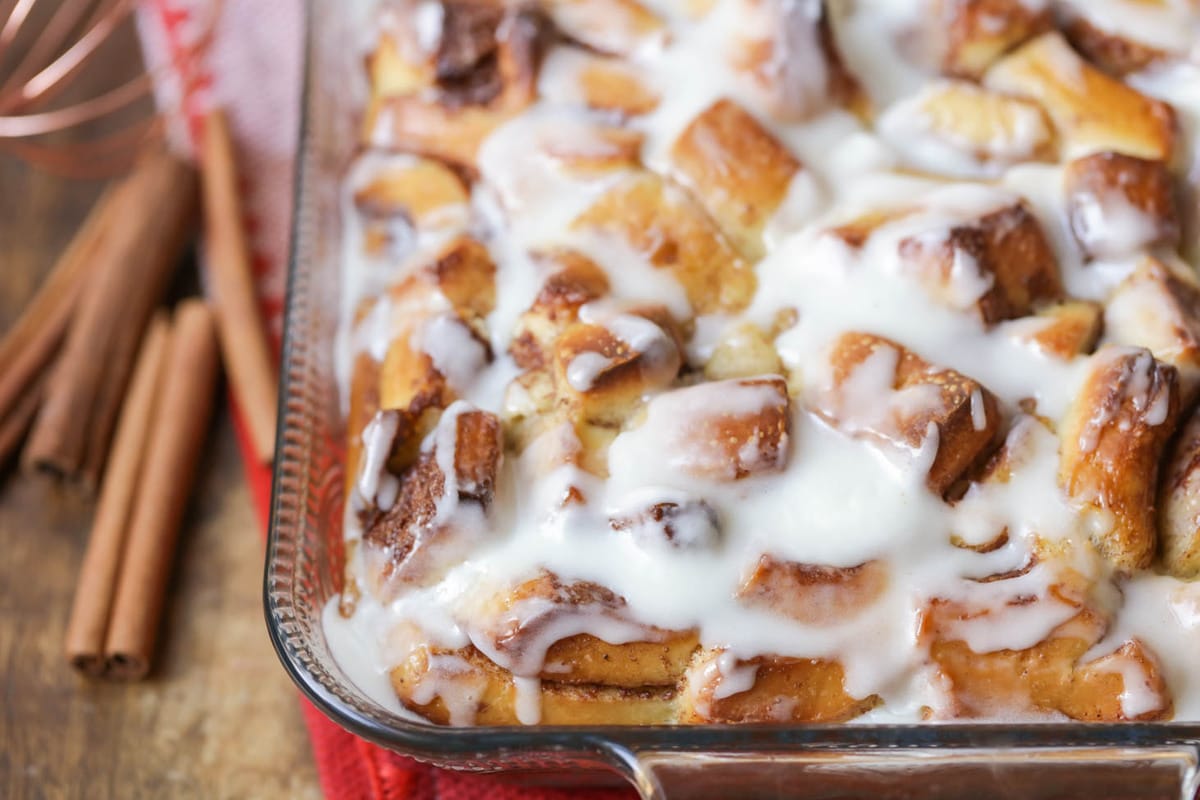 Cinnamon Roll Casserole
During the holidays, I love to treat my family to delicious breakfast and brunch dishes. I always love doing Overnight French Toast because it's super-simple and all the prep work is typically done the night before.
Having said that, I feel like Cinnamon Rolls are a required holiday breakfast food. I remember my mom always making homemade cinnamon rolls during holidays, but I rarely feel like spending the time. Well guess what? Good news: This cinnamon roll casserole recipe is the best of both worlds.
With all the work done the night before, you simply wake up in the morning, transfer your dish from the refrigerator to the oven, and in a matter of moments, you and your family will be enjoying the most amazing, hot breakfast!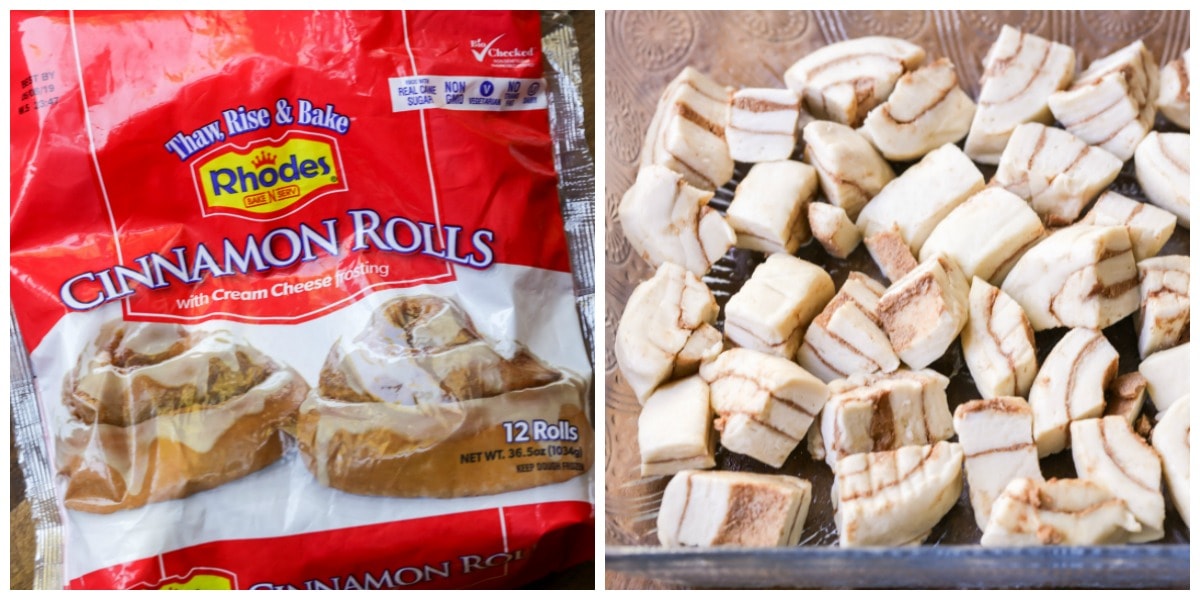 How to Make Cinnamon Roll BAKE
This casserole/bake is super simple to throw together the night before!
CINNAMON ROLLS. Simply take your frozen cinnamon rolls out of the freezer (You can find frozen cinnamon rolls at most grocery stores, in the freezer section—I use Rhodes), and cut the rolls into quarters.
EGG MIXTURE. Add the quartered cinnamon roll pieces to a medium casserole dish that has been sprayed with non-stick spray, and then pour your egg mixture over the top. Then cover the casserole dish with plastic wrap, and refrigerate overnight (or just refrigerate for 4-6 hours).
BAKE. The dough will begin to thaw and rise while in the fridge. When you wake up in the morning, you can then transfer the dish to your preheated oven. These will continue to rise in the oven and bake up beautifully!
You end up with the sweet, delicious flavors of cinnamon rolls, combined with the fluffy textures of French Toast. It's divine.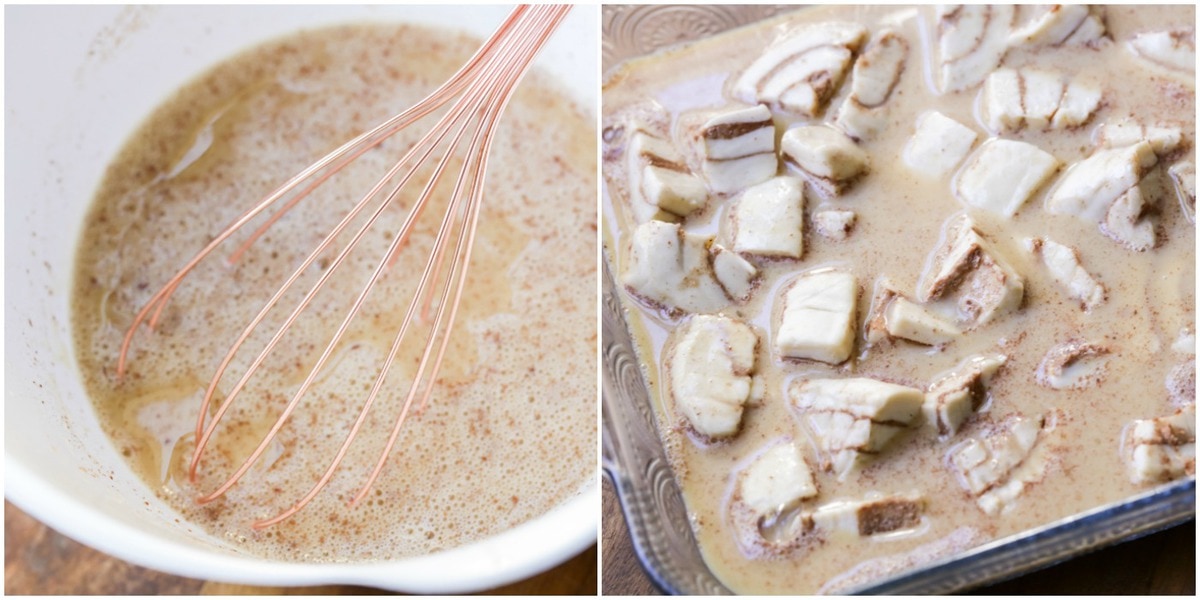 Crock pot cinnamon roll casserole
Several readers have asked if this cinnamon roll breakfast casserole can be made in the crock pot. It can be done! But you'll have to make a few adjustments to the recipe.
Use refrigerated cinnamon rolls instead of frozen. If you're using the Pillsbury 8 count kind, use two cases of them (16 rolls total).
Reduce the milk to ½ cup.
CINNAMON ROLLS. Cut the cinnamon rolls into quarters and mix together all of the ingredients for the egg mixture as usual. Spray your crockpot with nonstick spray and layer half of the cinnamon roll pieces on the bottom.
EGG MIXTURE. Pour the egg mixture over the cinnamon rolls and top with remaining quarters. Put half of the cream cheese frosting (that came with the rolls), on top of the second layer. Cover and cook for 4 hours on low.
Note: I recommend being able to watch the casserole while it cooks in your crockpot since each appliance cooks so differently. It may require more or less baking time than I suggested!
Tips + Storing Info
A 9×13 casserole dish works great, and so does a medium sized round casserole dish like the one pictured.
The higher the fat content in the milk, the better. But skim milk works just fine, as will any type of milk!
The outcome of your casserole can depend on things like oven variations and even elevation. If you find that your breakfast bake is soggy on the bottom, you can try putting it back in the oven for a little longer. To prevent the top from browning too much, cover the top with foil.
Here are some other suggestions you can try for next time: make sure your egg mixture is thoroughly combined, use refrigerated cinnamon rolls instead of frozen, lower the oven temperature to 325, cover with tinfoil for a majority of the baking time, use a more shallow baking dish, or reduce the amount of milk used.
STORE this french toast bake covered in an airtight container in the fridge for 3-5 days.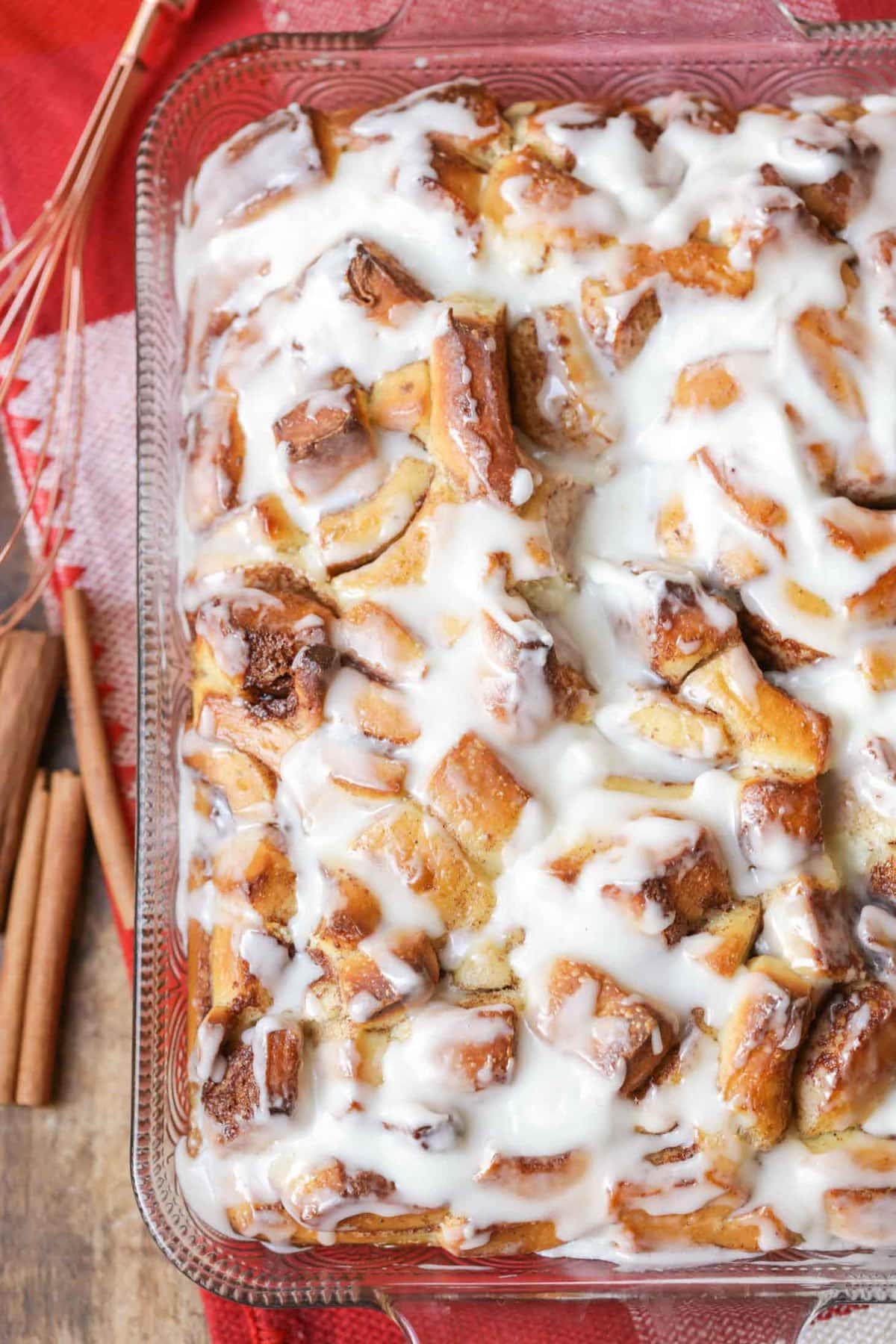 For even more great CINNAMON ROLL recipes, check out:
Cinnamon Roll French Toast Bake Recipe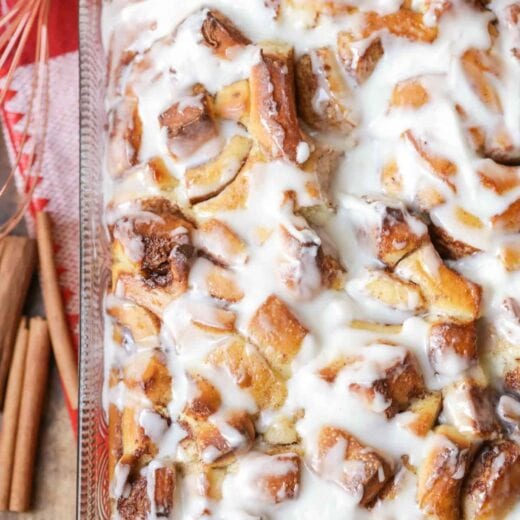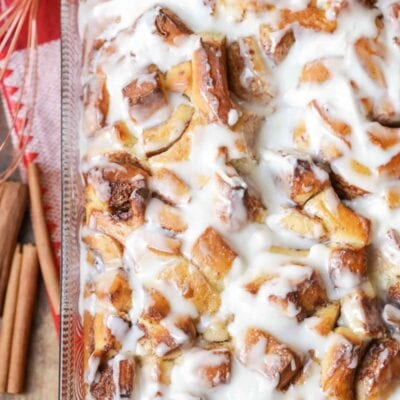 Cinnamon Roll French Toast Bake has all of the ooey gooey goodness of warm cinnamon rolls, with the ease of an overnight breakfast casserole.
Ingredients
1

package

cinnamon rolls

frozen (12 rolls in a package), cut into quarters

4

eggs

1

cup

milk

3

tbsp

sugar

1 1/2

tsp

vanilla extract

1/2

tsp

cinnamon

1/4

tsp

nutmeg

cream cheese frosting from cinnamon roll package
Instructions
In a medium casserole or baking dish (we used 9x13), spray with non-stick cooking spray. Cut the frozen cinnamon rolls into quarters, and evenly spread into the bottom of the baking dish.

In a medium bowl, combine the eggs, milk, sugar, vanilla, cinnamon and nutmeg. Whisk together well, and pour over the cinnamon roll pieces. Cover the baking dish with plastic wrap and refrigerate overnight, at least 6-8 hours. Rolls will begin to thaw and rise.

Preheat oven to 375 degrees. Remove the plastic wrap and bake the French toast for 35-40 minutes or until the rolls are well browned on top.

Remove from oven and frost with the cream cheese frosting from the cinnamon roll package (if desired). You can also top with your favorite syrup.
Can it get any better than this!? Cinnamon Rolls + French Toast in ONE!! CANNOT wait to try this! Thank you, Erin! For more great recipes from Erin head on over to Delightful E Made.