Let's lighten things up this month with this fresh kale smoothie! It's packed with delicious healthy ingredients that will make you feel energized all day long.
I love that smoothies help me to get my daily dose of fruits and veggies! Some of my favorites are this Green Smoothie, and our Blueberry Smoothie recipe.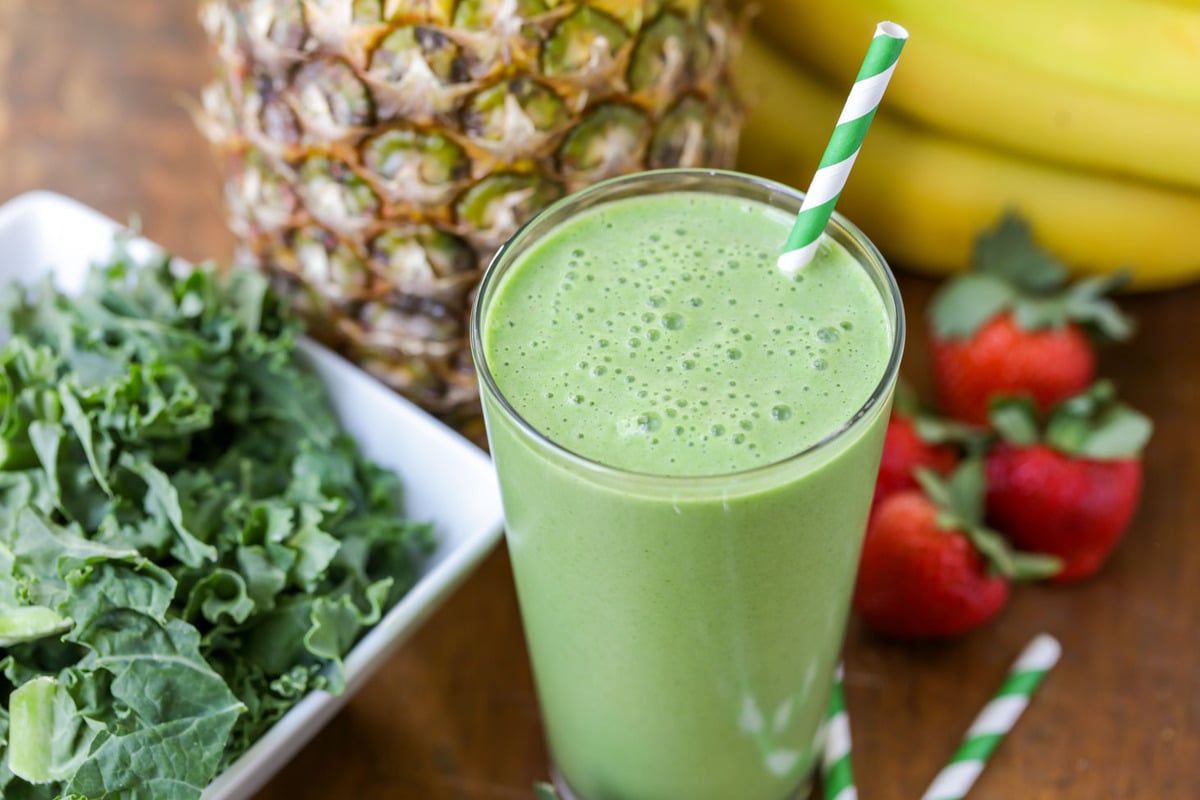 Kale Pineapple Smoothie
I love the new year! It's a chance to start fresh, eat a little healthier, and make goals.
What better way to do those things than with some great new recipes to make you feeling your best, like smoothies?! Starting with this kale pineapple smoothie! It's loaded with tons of fruit, kale, and skim milk. So many tasty ingredients to make one filling meal to start your day.
Smoothies are one of my favorite ways to sneak in servings of fruits and veggies for the day. I make smoothies for myself and my kids almost daily. My kids LOVE smoothies and I love that they are getting the nutrients they need – especially when we sneak in kale.
What are the health benefits of kale? Kale is a nutrient dense food that provides a large range of vitamins, minerals, and antioxidants. Kale can also help lower someone's cholesterol and fight cancer-forming substances.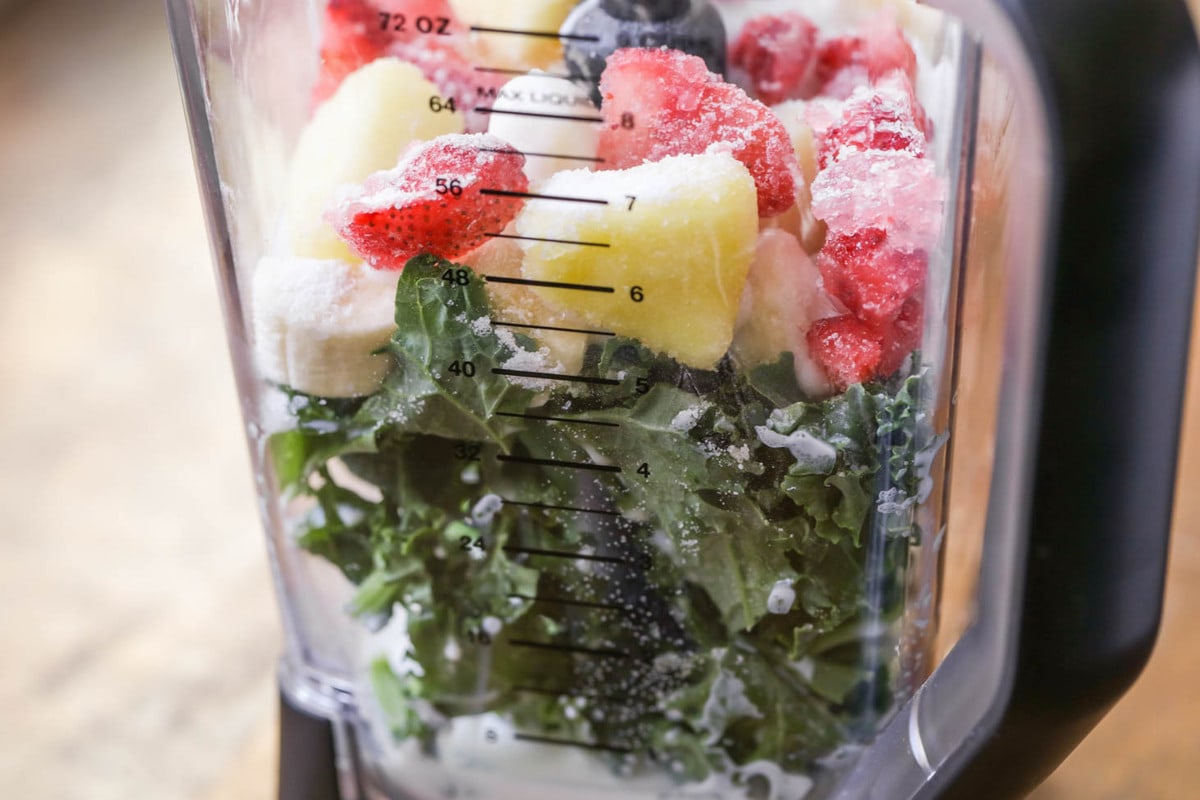 How to Make a Kale Smoothie
The main ingredients you'll need for this kale pineapple smoothie are:
chopped kale leaves (you can freeze packages of kale and throw individual servings into the blender when you need to use them)
skim milk
pineapple
frozen banana
vanilla yogurt
frozen pineapple
frozen strawberries
Stevia (for a little sweetness)
In the order listed in the recipe, throw everything into the blender. Blend all of the ingredients until smooth. You can add more milk or a little water if it's too thick. Blend until you reach your desired consistency! Pour into glasses and serve immediately.
TIP: If you want to avoid getting any leafy kale chunks in your smoothie, place the kale leaves and skim milk into the blender by themselves. Blend those together first until smooth. Then add the rest of the ingredients and blend. Easy as that! No one likes chunks of kale in their smoothie. It's gotta be smooth!
How can you make this recipe dairy free? Instead of skim milk use any milk substitution such as almond, soy, oat, cashew, or coconut milk. They has also made milk substitution yogurts, the Silk brand has a couple of different kinds that would interesting to try. These yogurts are probably going to be a slightly thinner texture so you might after to add more ice to the smoothie for your desired consistency.
How do you not taste the kale in the smoothie? Kale is known for a bitter taste and gross smell. To avoid this in your smoothie the best thing to do would be to cut your kale into small pieces and freeze it. Freezing it eliminates some of the dirt-like taste and gets rid of the pungent smell. I would still recommend doing this and blending it with your milk first to make sure that there are no huge kale chunks in your smoothie. The best way to mask the taste of kale is to hide it with citrus or sweets.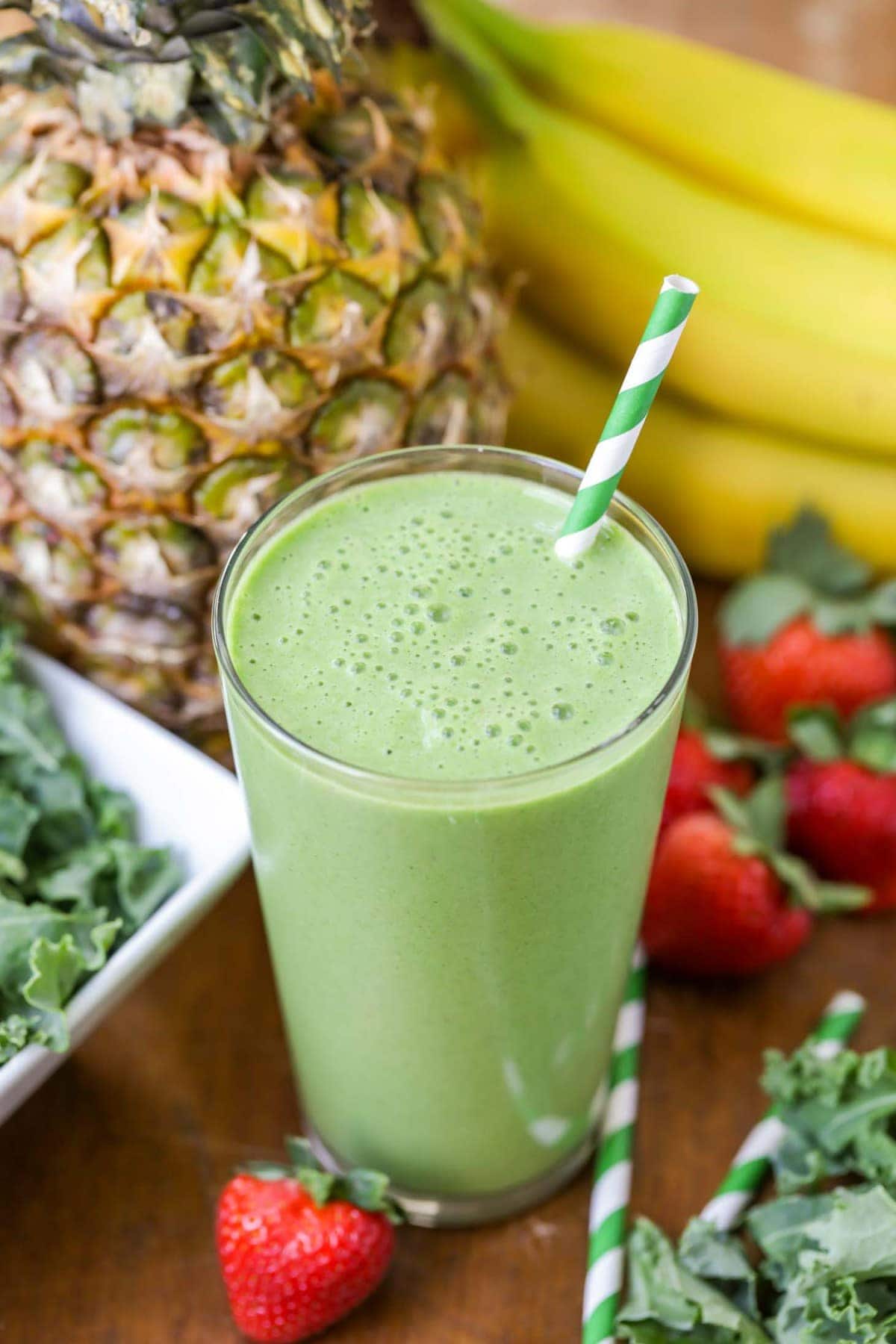 smoothie Variations
One of the best things about smoothies is that you can add other favorite ingredients into the smoothie. Or things you have in your fridge or freezer that you need to use up. Here are just a few ideas:
other flavors of yogurt
almond milk
blueberries
raspberries
spinach
oranges
mangos
protein powders
apples
Possibilities are endless when it comes to smoothie ingredients! We really hope you try this kale pineapple smoothie recipe. I promise it will help you start fresh this new year!
For more favorite smoothie recipes, check out:
Kale Smoothie Recipe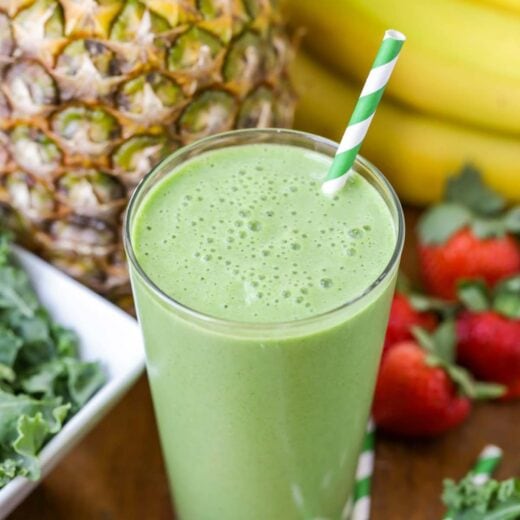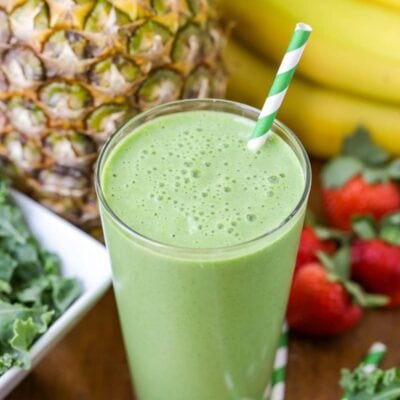 Let's lighten things up this month with this fresh kale smoothie! It's packed with delicious healthy ingredients that will make you feel energized all day long.
Ingredients
2

cups

lightly packed chopped kale leaves

stems removed

3/4

cup

skim milk

1/2

frozen banana

cut in chunks

1/2

cup

vanilla yogurt

1/4

cup

frozen pineapple pieces

1/2

cup

frozen strawberries

2

tsp

stevia
Instructions
Place all ingredients in the order listed, in a blender. Blend until smooth. Add more milk as needed to reach desired consistency. Enjoy immediately.