This delicious (and simple) blueberry smoothie is a new favorite, and has bananas, flaxseed, milk, yogurt and blueberries!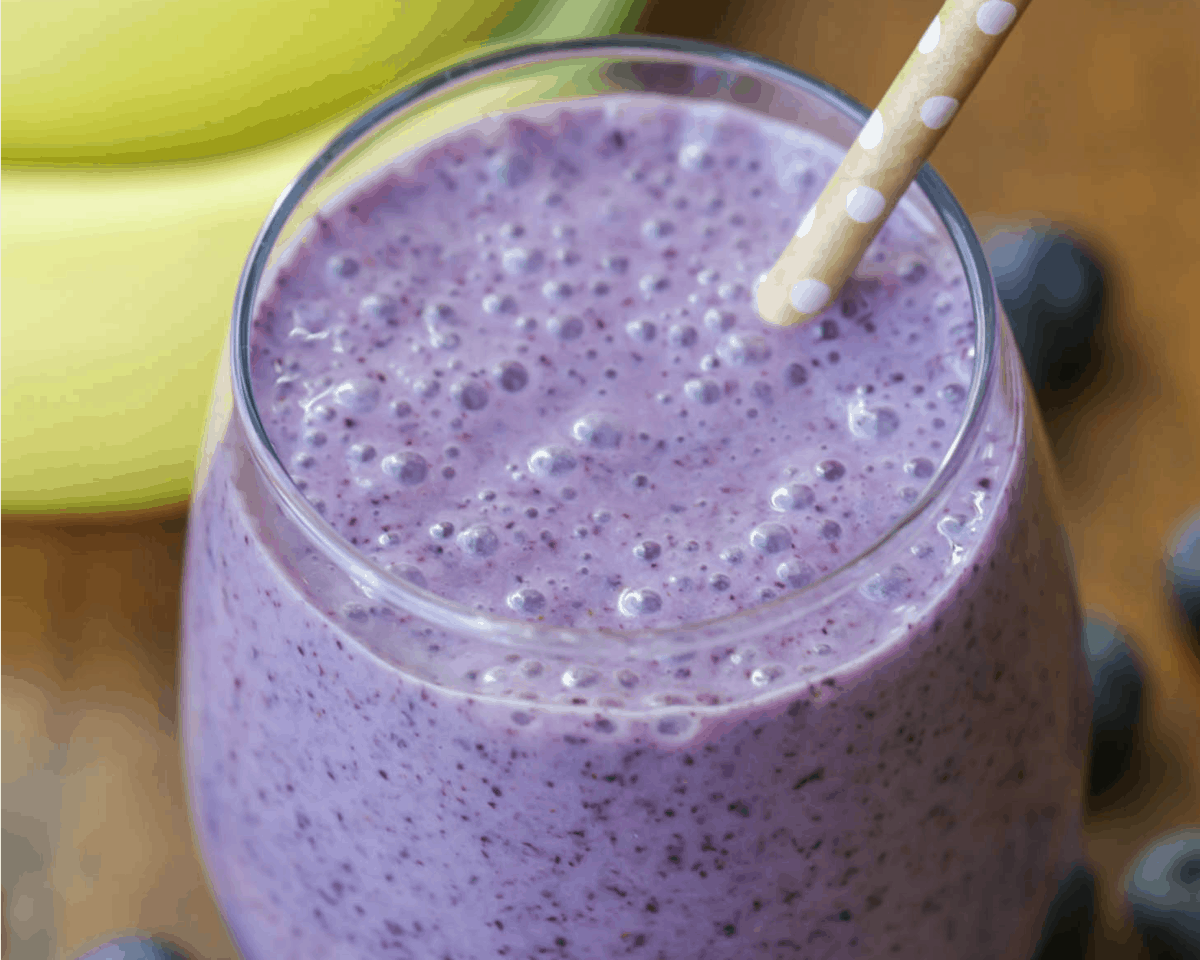 Blueberry Smoothie recipe
Hey guys! Here's a name you've probably never heard of – Stephen Poplawski. Do you know who he is? I'm sure most of you don't, but as a child, Stephen Poplawski always enjoyed mixing things together, which ultimately led to the invention of the Blender in 1922. Boy, am I glad he invented it because we use our blender almost every day!! Lately, we've been on a smoothie kick (yes, trying to eat healthier) so we've been blending ALL THE THINGS! I'm a strawberry lover, but was excited to try a Blueberry Smoothie recipe. Let's just say, I'm a blueberry smoothie convert now! ;D
I've never been a big fan of blueberries but have them occasionally when they are in fruits salads and such. Having said that, I never realized just how delicious they can be in a smoothie. In fact, I think this is my new favorite recipe because it was so flavorful and delicious. Plus, like most smoothies, it takes just a minute to make meaning there is no excuse to making these instead of opting to run and pick up fast food. 😉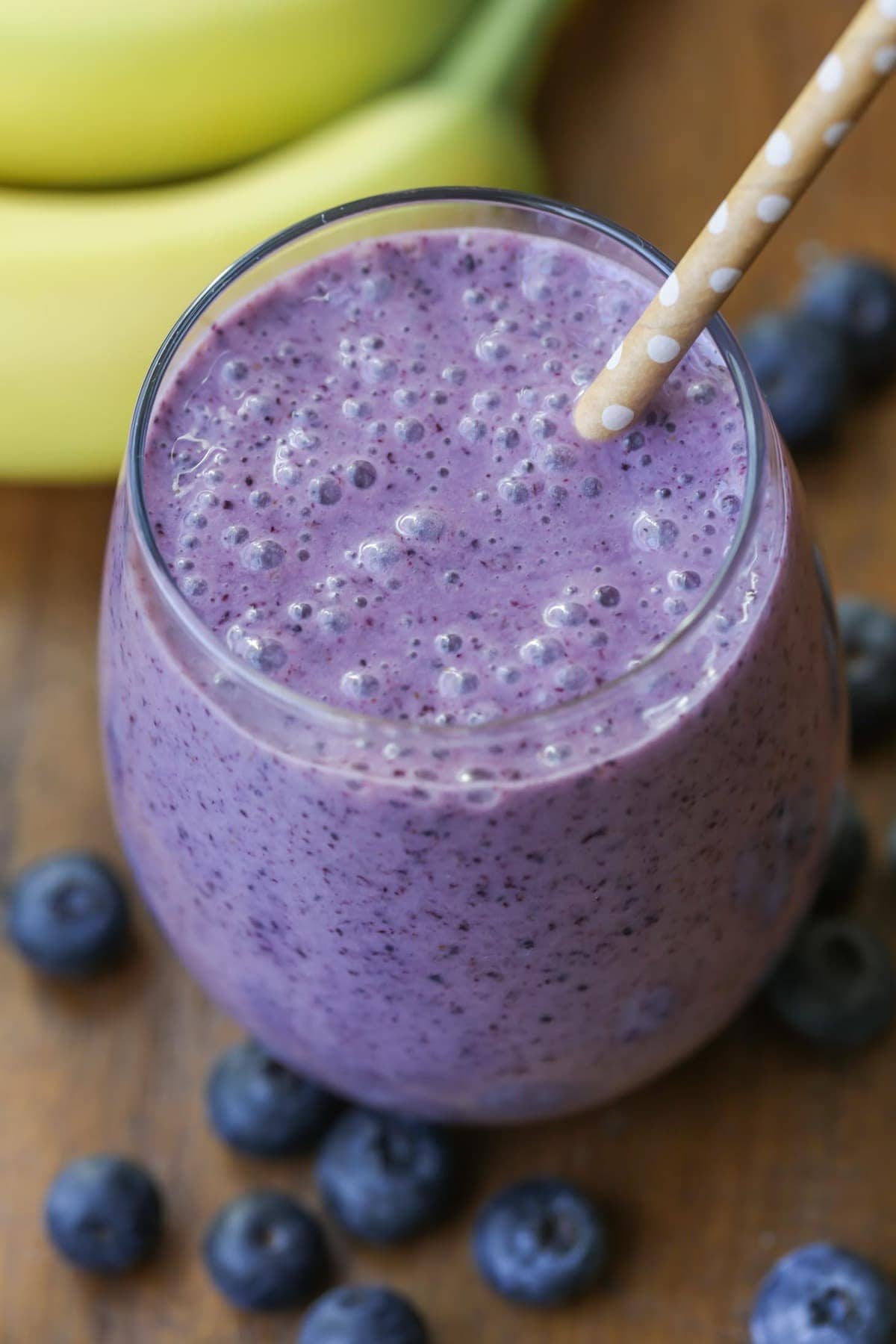 As I mentioned, we LOVE smoothies and are so glad we tried out this version. It really was so good and has become one of our go-to recipes to make. Even though smoothies are typically enjoyed in the morning, we love them for lunch or dinner too. So many fruits and veggies can be enjoyed when turning them into a smoothie.
For more smoothie recipes, check out:
How to make a Blueberry Smoothie:
Blueberry Smoothie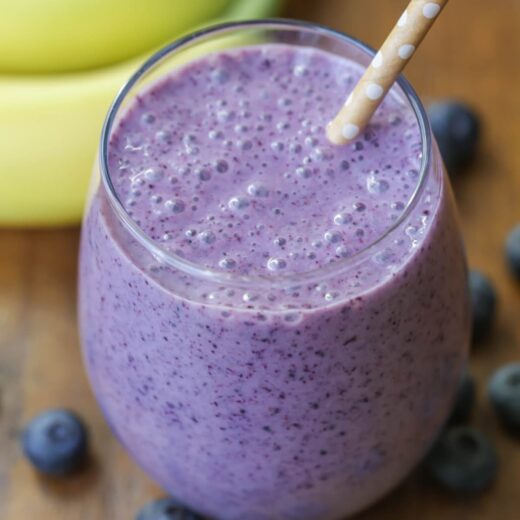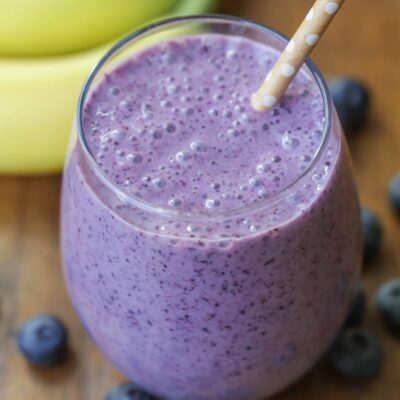 This Delicious (And Simple) Blueberry Smoothie Is A New Favorite, And Has Bananas, Flaxseed, Milk, Yogurt And Blueberries!
Ingredients
1

Frozen banana

thawed for 10-15 minutes

1/2

cup

Skim Milk

1

cup

Fat Free Vanilla Yogurt

1 1/2

tsp

Flax Seed Meal

2/3

cup

Frozen Blueberries
Instructions
Cut your banana into small pieces. Add bananas, milk, yogurt, and flax seed meal to a blender. Beat 5-10 seconds, until smooth. Gradually add the blueberries while blending on low. Increase speed, and blend till you've reached your desired consistency.
Recipe from a old church cookbook.