This delicious yogurt and flaxseed blueberry smoothie is a new favorite. It is simple and comes together in minutes!
We LOVE smoothies and are so glad we tried out this blueberry version. Make it a full breakfast by adding a plate of scrambled eggs, fluffy french toast, and a side of bacon!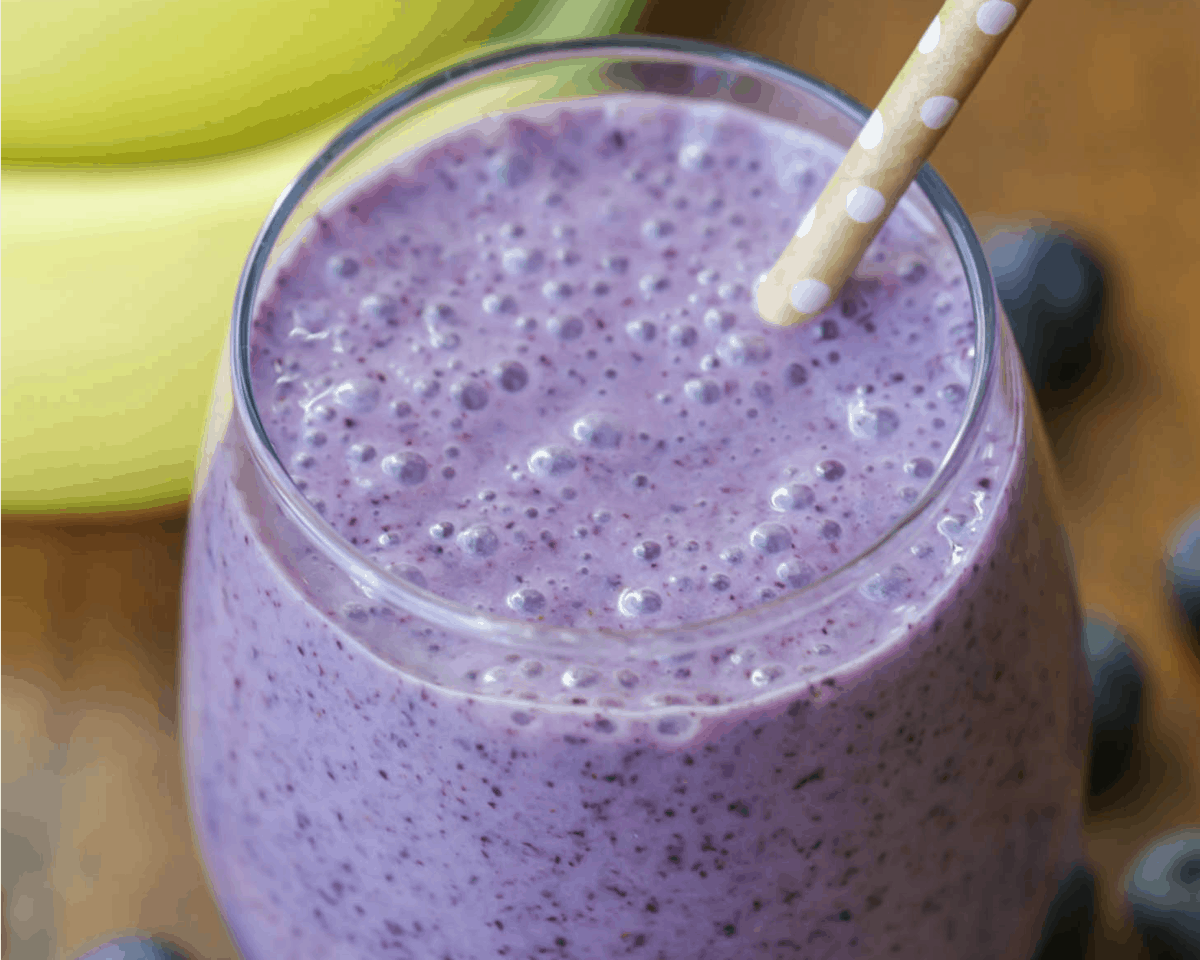 Our Favorite Blueberry Smoothie!
Stephen Poplawski's love for mixing things ultimately led to the invention of the Blender in 1922. Boy, am I glad he invented it because we use our blender almost every day!!
Lately, we've been on a smoothie kick (yes, trying to eat healthier) so we've been blending ALL THE THINGS!
We typically go for strawberries when making smoothies, but opted for a blueberry version and it's a new favorite!
Not only was this blueberry smoothie recipe delicious, but it takes just a minute to make. Quick, delicious, full of nutrition (Vitamin C, Vitamin A, etc.) AND low in calories – what's not to love?!
Lo and I and the kids declared this our favorite blueberry smoothie. So yummy and makes for a great breakfast or snack.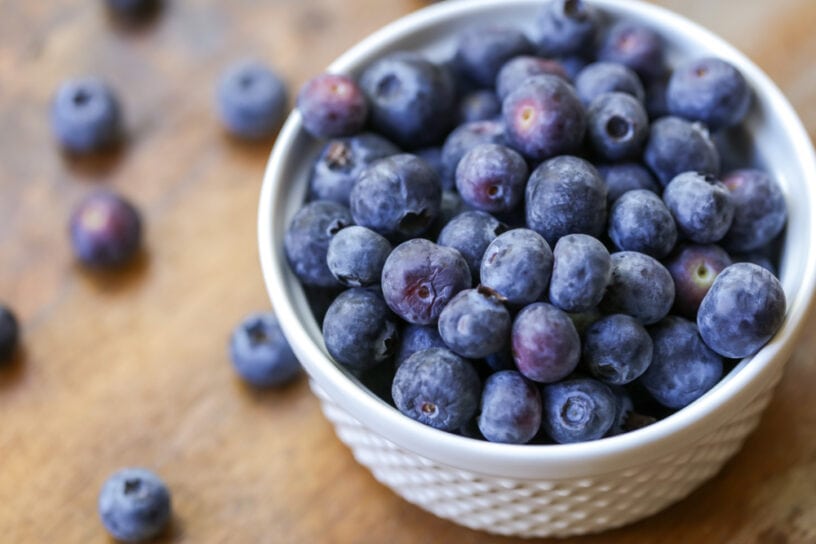 How to make a Blueberry Smoothie
Ingredients are simple and instructions are even easier!
There are only FIVE Blueberry Smoothie ingredients:
Banana
Skim Milk (or Almond Milk)
Yogurt (we used Fat Free Vanilla Yogurt but greek yogurt works too)
Flax Seed Meal
Blueberries (fresh or frozen blueberries work)
PREP. Cut your banana into small pieces.
BLEND. Add ingredients to the blender and blend for 5-10 seconds, until smooth. Gradually add the blueberries while blending on low. Increase speed, and blend until you've reached your desired consistency and creaminess.
VARIATIONS:
There are so many ways to make this your own and make a substitute, which is the beauty of smoothies.
SWEETNESS: If you like your smoothies to taste a little sweeter, here are a few changes you can make:
You can add a little stevia or even a little sugar and vanilla
Add a fruit that is naturally sweet like pineapple
DAIRY/CALCIUM: You can also make any substitutes you prefer like the kind of milk or yogurt to use. Coconut milk and almond milk are great subs as well as Greek Yogurt or even another favorite yogurt flavor.
ADDITIONS: Feel free to add any other things you like. Spinach is a great thing to add for extra vitamins. You can also add: honey, hemp seeds, chia seeds or anything else you like.
Protein Powder can also be added if desired.
Healthy fats that would be good to add include: avocados and nut butters (like as almond putter or natural peanut butter).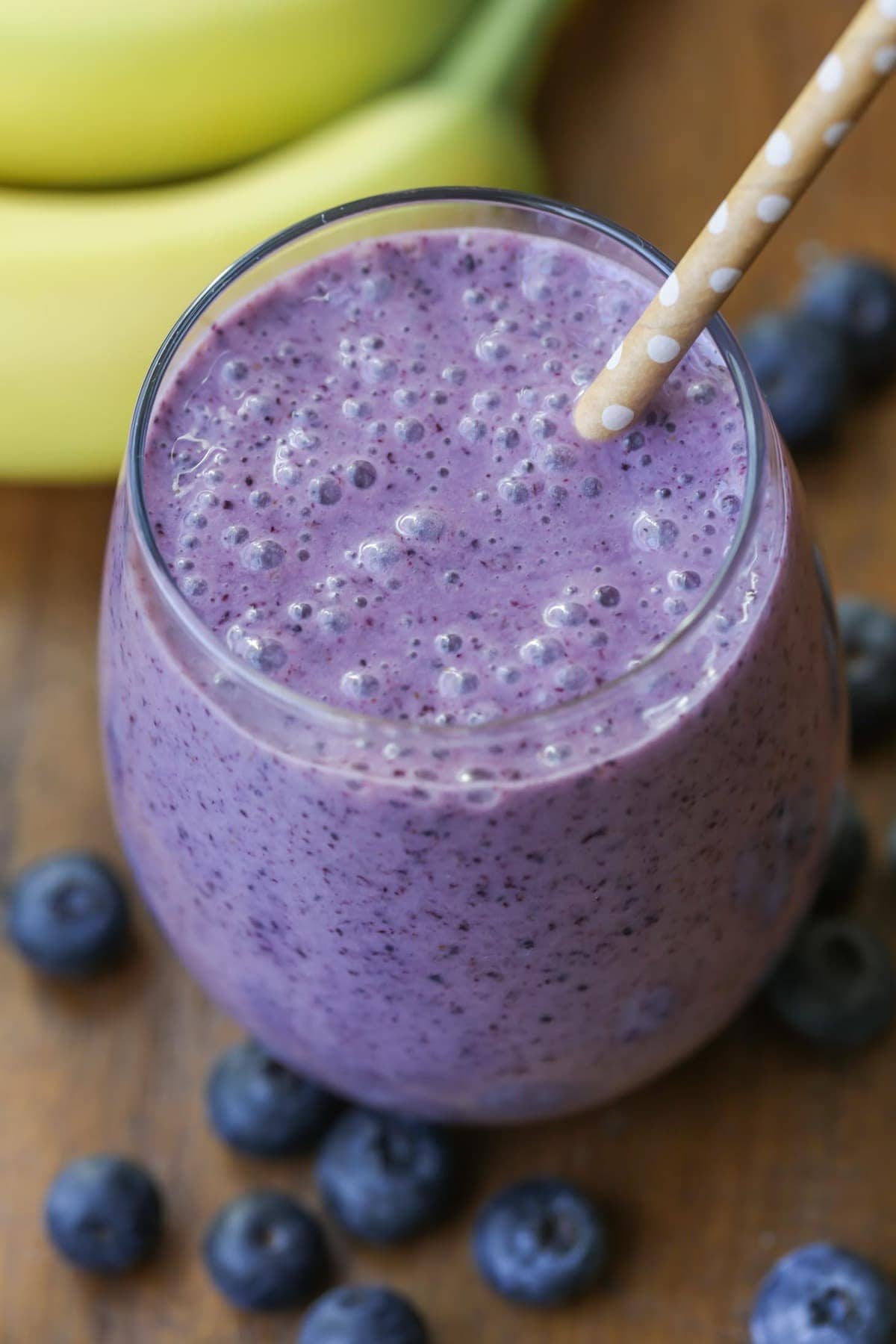 Nutrition + Tips
Find flaxseed meal either online or at any health food store such as Whole Foods, Sprouts, or Trader Joes.
Ground flaxseed before use, if you buy plain flaxseeds, but flaxseed meal is pre-ground.
FLAXSEED is high in omega-3 fatty acids that inhibit tumor growth, have antioxidant qualities, and it contains high amounts of fiber. It also contains high amounts of vitamins, minerals, and some protein.
Flaxseed has been around for centuries but has recently come back into "style" as a popular health food. They help lower cholesterol and control blood sugar.
Unlike some fruits size isn't a good indicator to tell if blueberries are ripe and sweet. If you are using fresh blueberries for this recipe I would suggest finding berries that are either deep purple or blue-black in color.
If the berries are reddish they aren't ripe enough and if they're shriveled or soft they may be on their way to molding.
FAQ
Can you make this ahead of time? Yes – just by prepping the ingredients. Wash, slice, and divide the fruit into individual sized portions and keep them in Ziploc bags in the freezer.
Freeze the yogurt in an ice cube tray. The ice and juice are best added to the smoothie right before mixing.
With the ingredients prepped like this, you can take the ingredients straight from the freezer to the blender! And as you know – the smoothie variations are endless!
How to store the leftovers? Add a little bit of lemon juice or Sure Fresh so the smoothie doesn't brown. If there's a little room at the top of the container, cut a piece of plastic wrap and place it directly onto the top of the smoothie.
STORE in the fridge for 12 hours or in the freezer for up to 3 months.
For more smoothie recipes, check out: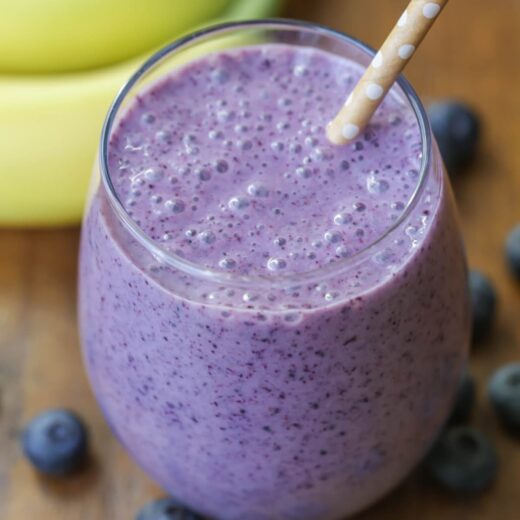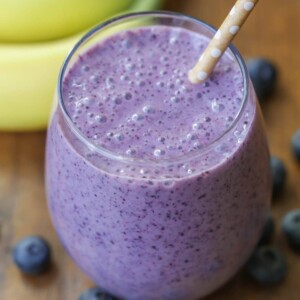 Blueberry Smoothie Recipe
This delicious yogurt and flaxseed blueberry smoothie is a new favorite. It is simple and comes together in minutes!
Ingredients
1

Frozen banana

thawed for 10-15 minutes

1/2

cup

Skim Milk

1

cup

Fat Free Vanilla Yogurt

1 1/2

tsp

Flax Seed Meal

2/3

cup

Frozen Blueberries
Instructions
Cut your banana into small pieces. Add bananas, milk, yogurt, and flax seed meal to a blender. Blend for 5-10 seconds, until smooth.

Gradually add the blueberries while blending on low. Increase speed, and blend till you've reached your desired consistency.
Nutrition
Calories:
231
kcal
,
Carbohydrates:
47
g
,
Protein:
8
g
,
Fat:
1
g
,
Cholesterol:
3
mg
,
Sodium:
98
mg
,
Potassium:
603
mg
,
Fiber:
3
g
,
Sugar:
38
g
,
Vitamin A:
190
IU
,
Vitamin C:
10.8
mg
,
Calcium:
267
mg
,
Iron:
0.4
mg
Nutrition information is automatically calculated, so should only be used as an approximation.
Making this recipe? Tag us!
Share it with us on Instagram using the hashtag #lilluna, so we can see what you're creating in the kitchen!
Recipe from an old church cookbook.