Looking for a way to use up your ripe bananas? Enjoy a tall glass of creamy Peanut Butter Banana Smoothie this summer for a satisfying breakfast or afternoon snack.
Smoothies are the best quick and easy breakfast, and they hardly require any ingredients! I usually opt for a fruity smoothie like strawberry banana or peach, but sometimes I like to have something a little more indulgent tasting like this peanut butter banana smoothie!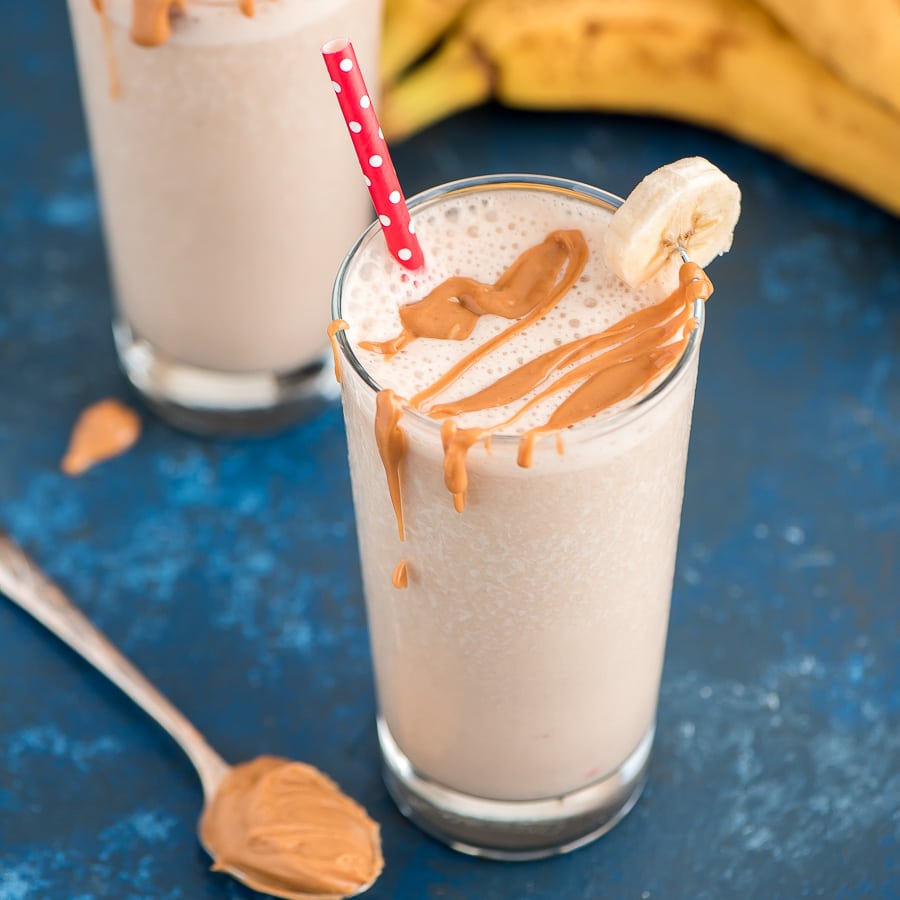 healthy, sweet, and creamy!
I am banana girl. I eat one almost every single day. If not on toast with peanut butter and honey, then in a delicious smoothie like this Peanut Butter Banana Smoothie.
Bananas are essential in all my smoothies. They are what make a smoothie go from good to great because they add natural sweetness and help make it creamier.
It's the start of summer, but the heat is already almost unbearable, so smoothies have become a daily thing in our home and I'm not complaining about it one bit. I love that they are refreshing, cold, and help me get in more fruit, more veggies (hello yummy Spinach Green Smoothie!), and more protein.
Yep! Like all my smoothies, this banana smoothie gets extra protein in addition to the peanut butter because I use Greek yogurt which is super high in protein. It's also really thick and creamy which makes it perfect for adding to smoothies and a whole lot better for you than frozen yogurt.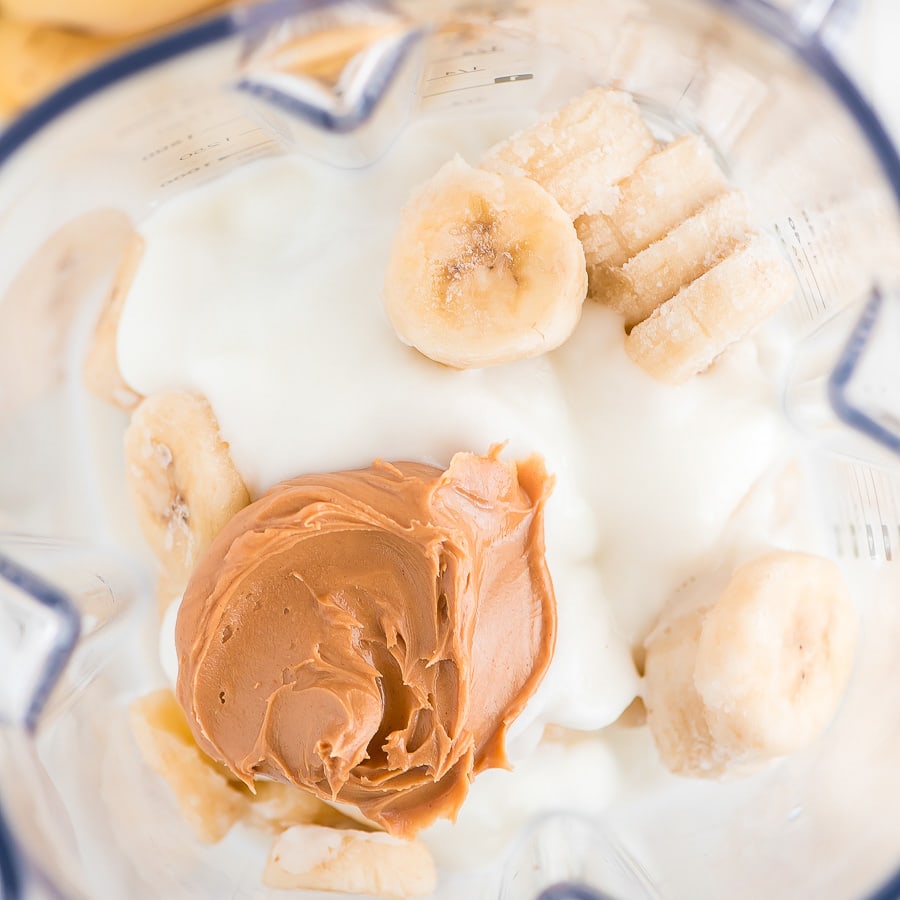 How to Make A Peanut Butter Banana Smoothie:
This smoothie is so easy to make. Well, I guess all smoothies are but this one only has four ingredients, five if you add the ice.
Note: If your bananas are frozen, you won't need to add any ice. If you do, you'll wind up needing to add in more milk just to keep moving in the blender. But even if you use room temperature bananas, you only need to add ice if your goal is to have a thick smoothie, otherwise it will be more on the thin side.
JUST BLEND! Anyway, like any smoothie, just toss all the ingredients into your blender and puree until it's nice and smooth. Pour the smoothie into glasses, add a straw, and if you're feeling extra fancy you can heat up some peanut butter and drizzle a little on top. Relax and sip away!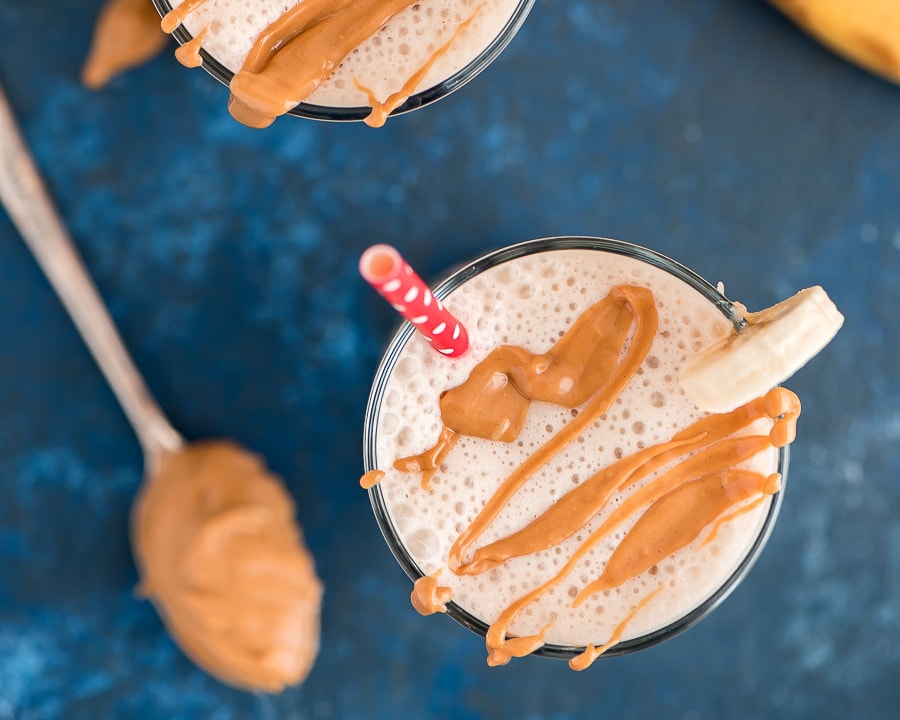 tips and FAQ:
Banana tips:
Use ripe or overripe bananas. They're sweeter and become creamier when blended than newer bananas.

Keep a stash of frozen bananas to use: buy several bananas and allow them to ripen on the counter. Slice each banana and put them in separate baggies. Place all the baggies in a larger freezer safe airtight container. When you're ready to make a shake just grab two of the baggies and toss into the blender. 
What are some substitutions for allergies? If you have food allergies don't worry! You can still enjoy this fresh banana smoothie with a substitution or two. 
Peanut Butter: Use almond butter, cashew butter, pecan butter, even or sunflower butter

Milk: Use almond milk, coconut milk, or soy milk

Yogurt: try an almond, cashew or coconut  based yogurt.
What are some healthy additives? Add ½-1 tsp of any of the following chia seeds, flax seed, wheat germ, nutritional yeast, fiber. You can also add a scoop of protein powder. To sweeten it up use ½ -1 Tablespoon honey or a sweetener such as stevia.
How to store leftover smoothie? Leftover smoothie mix can be kept in the refrigerator for about a day. Store the smoothie in an airtight container. Make sure to fill the container to the top. The less air in the container the better. Adding a little lemon or lime will also help prevent oxidation.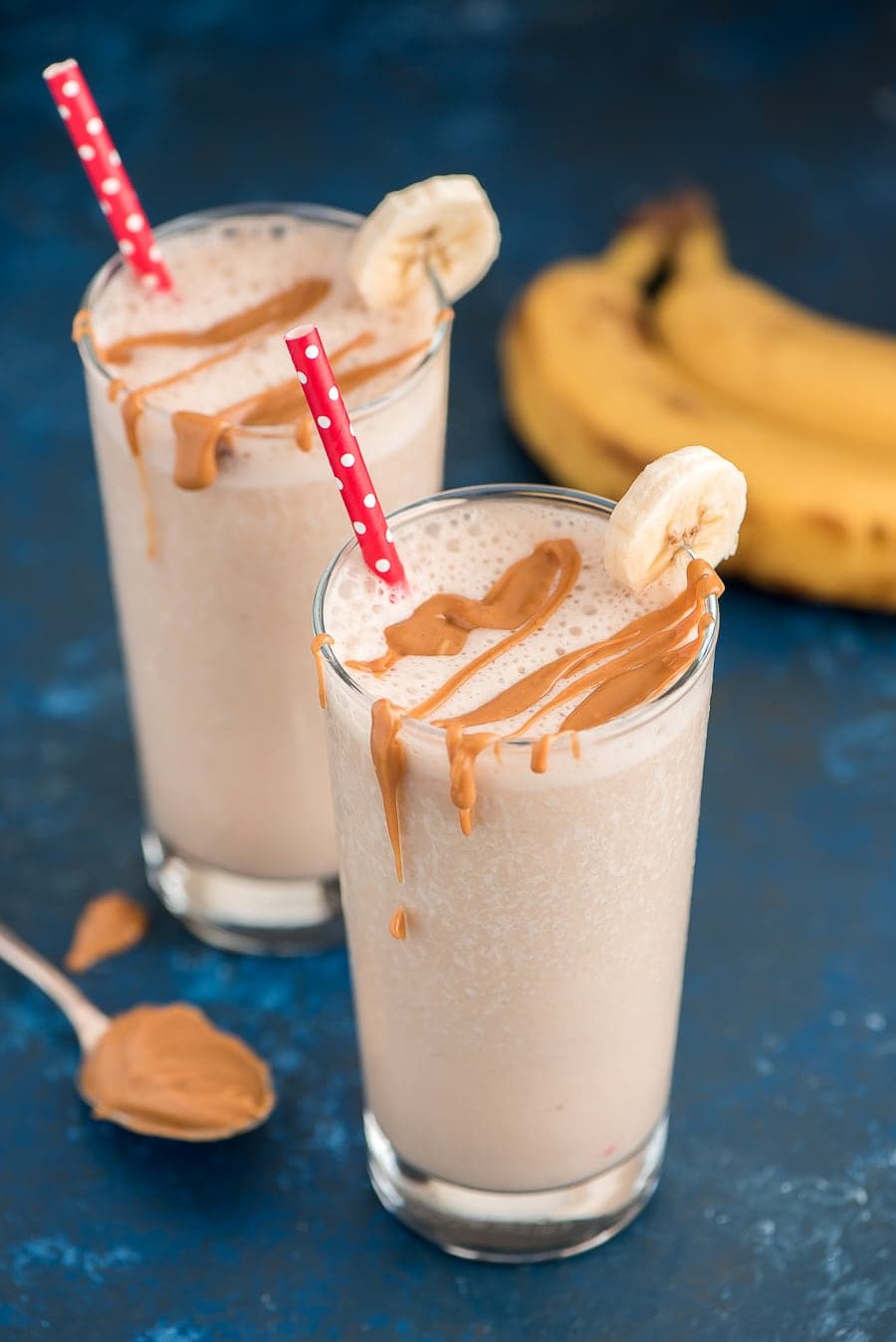 For more smoothie recipes, check out:
Peanut Butter Banana Smoothie Recipe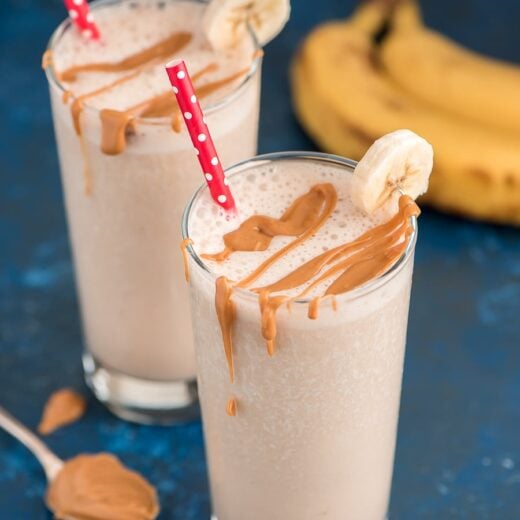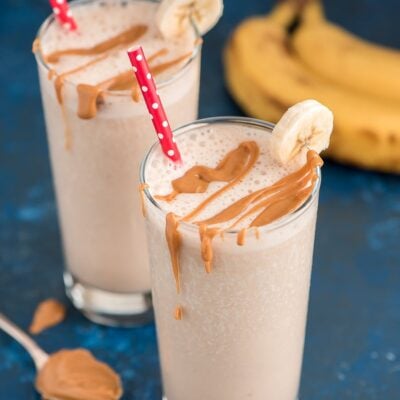 Salty & sweet Peanut Butter Banana Smoothie makes a satisfying breakfast or afternoon snack. It's a perfect combination of flavors!
Ingredients
2

bananas

sliced

2

tablespoons

creamy peanut butter

1/2

cup

vanilla Greek yogurt

1/2

cup

milk

ice

optional
Instructions
Place all ingredients in a blender and puree until smooth. Serve immediately. Drizzle on more peanut butter if desired.