A Peach Smoothie has the most deliciously bright flavor. With a pop of orange, you've got the perfect breakfast or lunch!
This Peach Smoothie recipe is a yummy way to highlight those sweet summer peaches. Whip up some Peach Crumble and Sparkling Peach Lemonade to get the most out of those perfect peaches!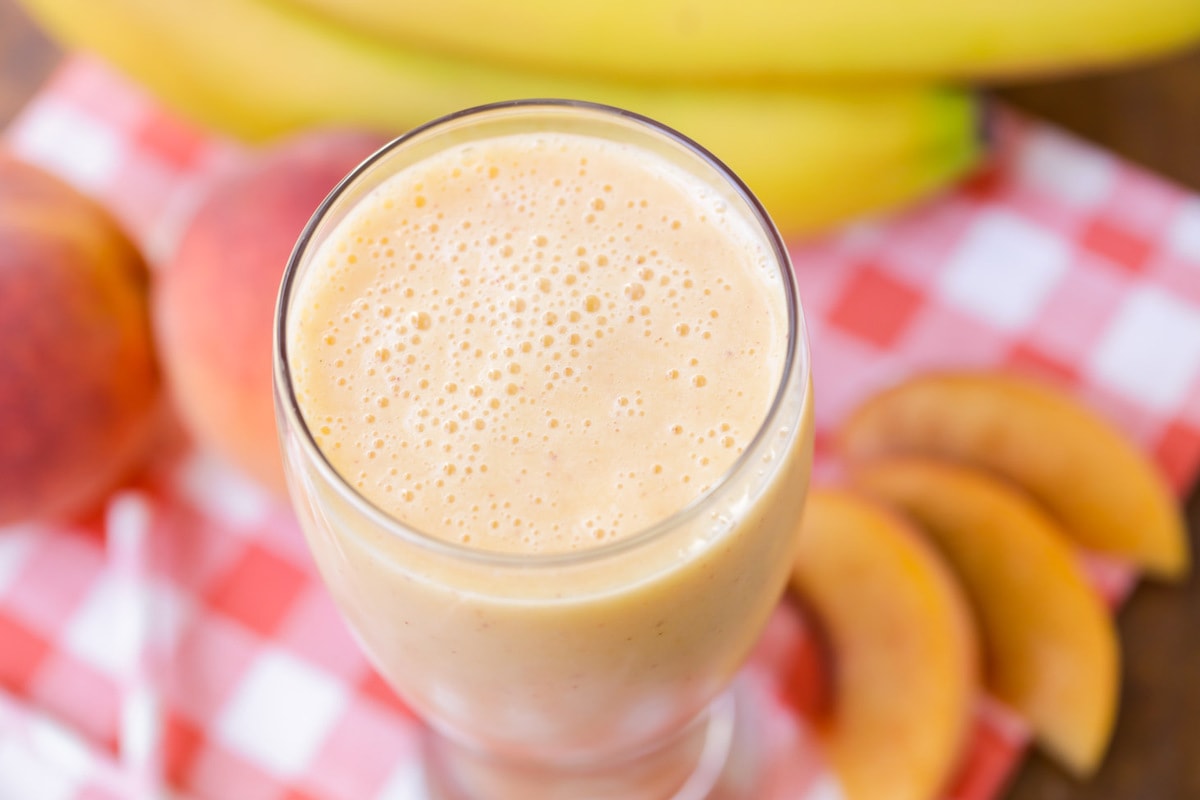 Peach Banana Smoothie
Peaches are one of my favorite fruits. Nothing beats the fresh peach flavor! Put them in a fruit smoothie and it easily becomes my favorite breakfast, lunch, or snack!
There are a ton of nutrients in peaches. They are a great source of vitamin C and vitamin A. Peaches also have lots of fiber in them which helps your digestive health!
And don't forget potassium. Peaches are one of the top potassium-rich fruits which help balance fluids and electrolytes in your body. All of the good health benefits in one smoothie! Yes, please!
I love mixing peaches and bananas together. Their soft light flavors compliment each other so nicely, and blend together for a nice creamy texture.
Drinking this Peach Smoothie will wake you up and give you the energy you need to start your day!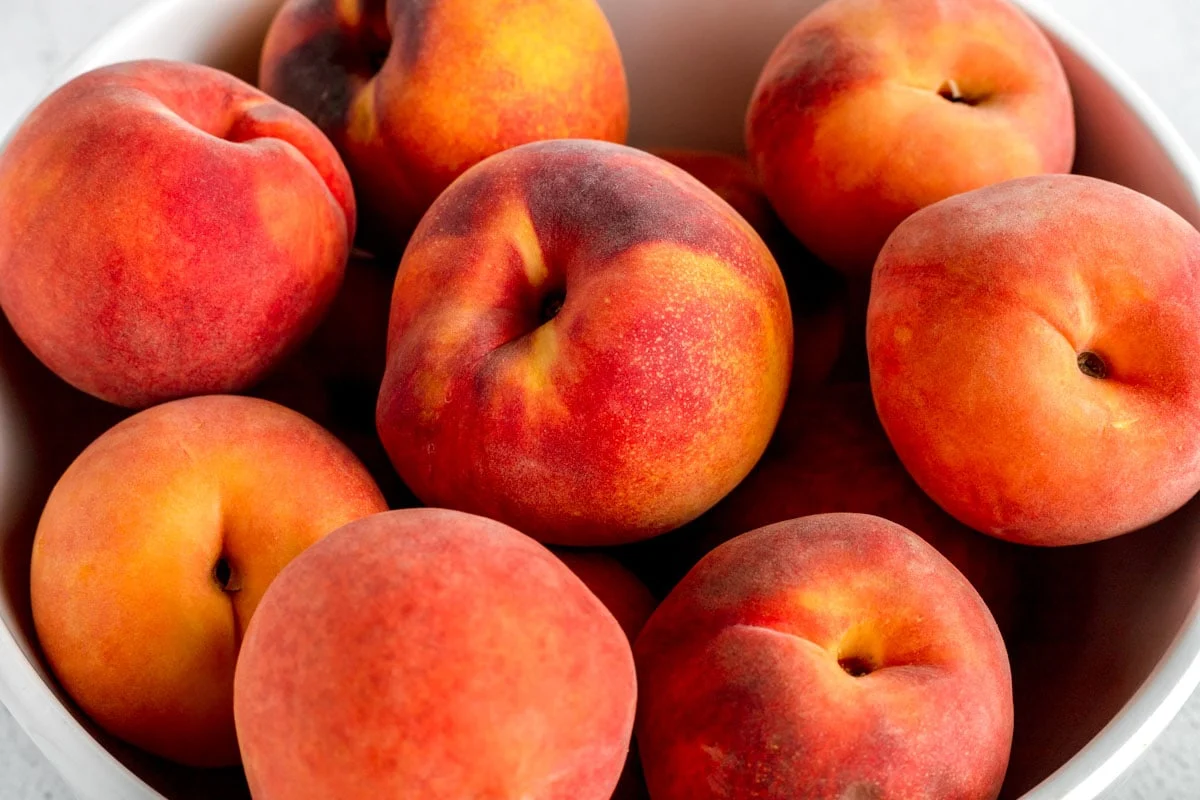 How to Make a Peach Smoothie
PREP. Grab all of your ingredients and prep: banana and peach cut into chunks, low-fat peach yogurt, orange juice, and ice cubes.
BLEND. Combine ingredients in a blender. Blend for 1-2 minutes or until it's smooth and frothy. Pour into a glass and enjoy all of that peachy goodness!
Make a smoothie bowl
A popular twist on a Peach Banana Smoothie is a smoothie bowl. It's thicker and you eat it with a spoon like frozen yogurt. To get the desired consistency you will need to adjust the ingredients:
Use frozen peaches and frozen bananas.
If you can, pre-freeze the yogurt in cubes.
You will also want to reduce the amount of orange juice.
Note that this will require a strong blender so you don't burn the motor.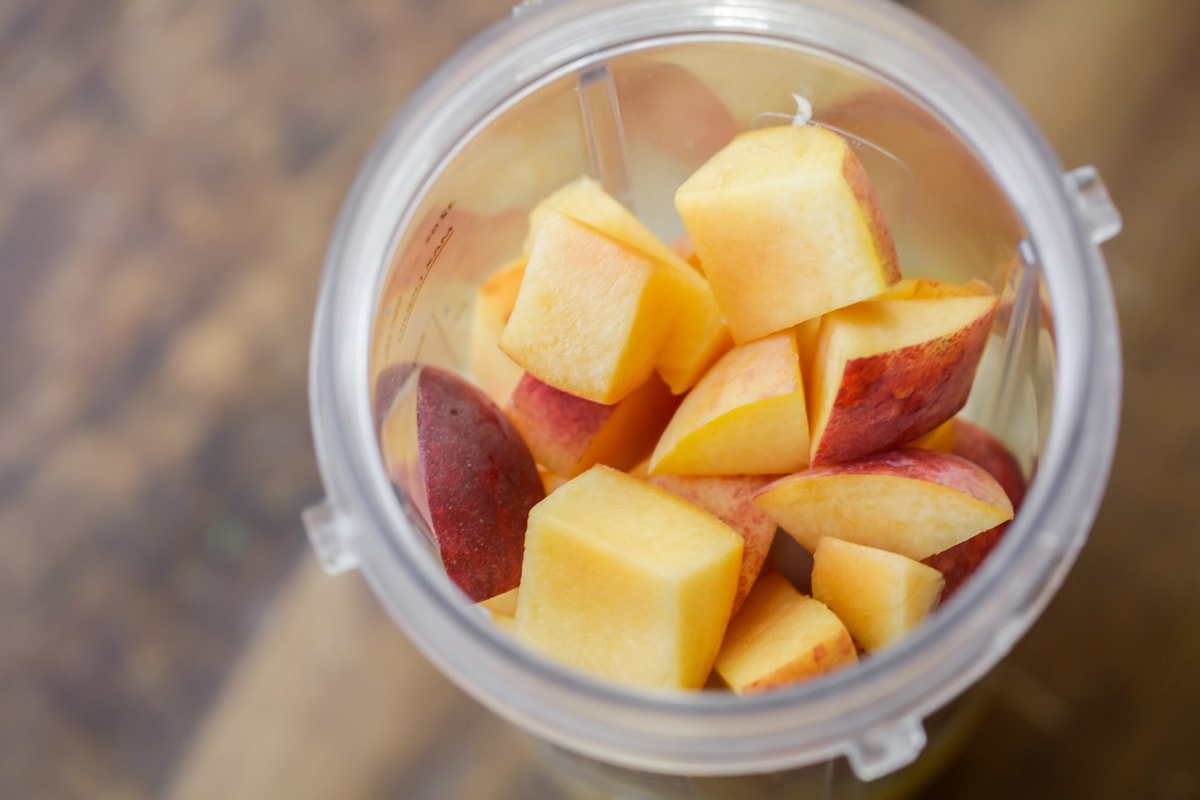 Peach Tips
Peach season. Peaches are in season during the summer months. Since they are a stone fruit they are picked when they are still hard and then they ripen.
They are perfectly ripe when they give off a sweet aroma and have a little give when squeezed.
Store them on the counter, but once they are ripe they can be stored in an open bag, away from other fruits, in the fridge.
To ripen peaches more quickly, place them in a brown bag with the top folded over. They should ripen within a day or two.
Skin on. No need to peel the peach. The skin can stay on and isn't even noticed once it's blended in with the other smoothie ingredients.
Fresh peaches. Fresh peaches are best, but you can use what you have on hand.
Canned peaches. We recommend taking them out of the can, placing them in a freezer bag, and freezing them overnight for more of a smoothie consistency instead of a smoothie juice if used directly from the can.
Frozen peaches. Use frozen fruit – just omit the ice cubes!
Variations
Healthy additions:
add natural sweetness with honey or maple syrup
a scoop of vanilla protein powder
add in collagen, flax seed, chia seeds, nutritional yeast
make it dairy-free with almond milk
Variations and additional ingredients:
berries: blueberries, strawberries, raspberries
mangos
Greek yogurt
spinach or other greens
almond milk, coconut milk, oat milk
almond butter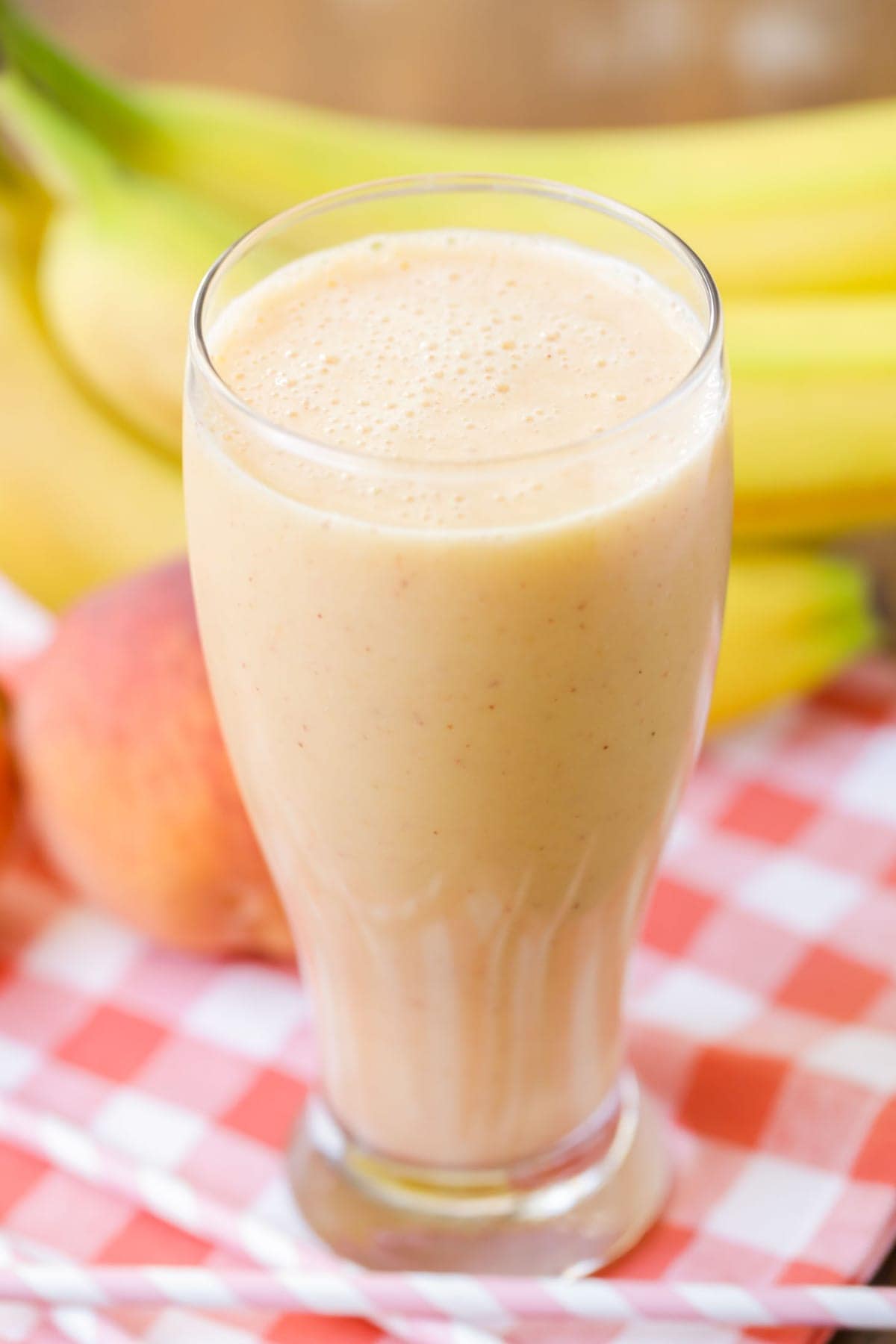 Storing Info
Make ahead of time. Wash, slice, and divide the fruit into individual-sized portions and keep them in Ziploc bags in the freezer. The yogurt can be frozen in an ice cube tray. The ice and juice are best added to the smoothie right before mixing.
With the ingredients prepped like this, you can take the ingredients straight from the freezer to the blender!
STORE. Add a little bit of lemon juice or Sure Fresh to prevent browning. If there's a little room at the top of the container, cut a piece of plastic wrap and place it directly onto the top of the smoothie.
Store this Peach Smoothie recipe in the fridge for 12 hours or in the freezer for up to 3 months.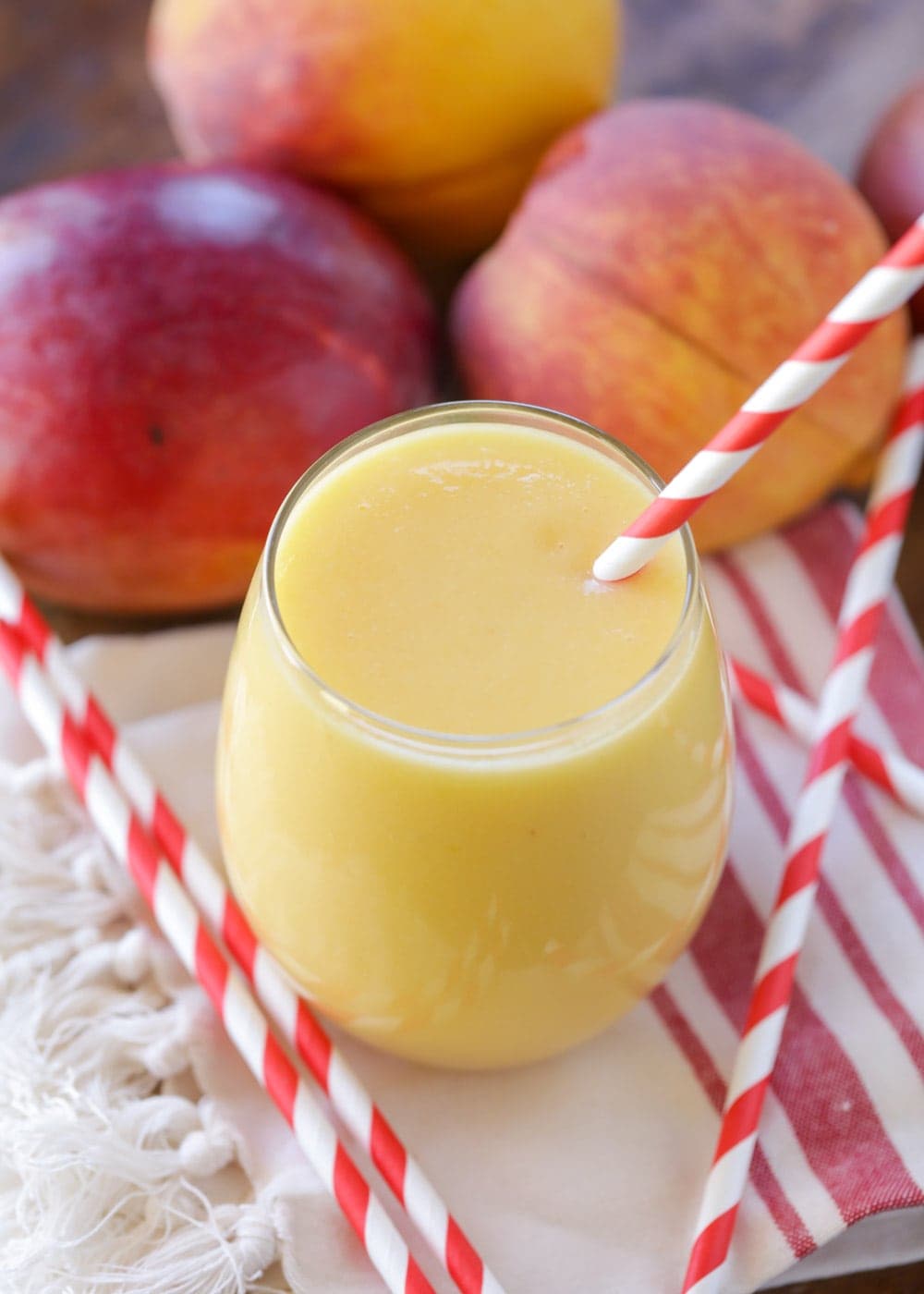 For more smoothie recipes, check out:
Peach Smoothie Recipe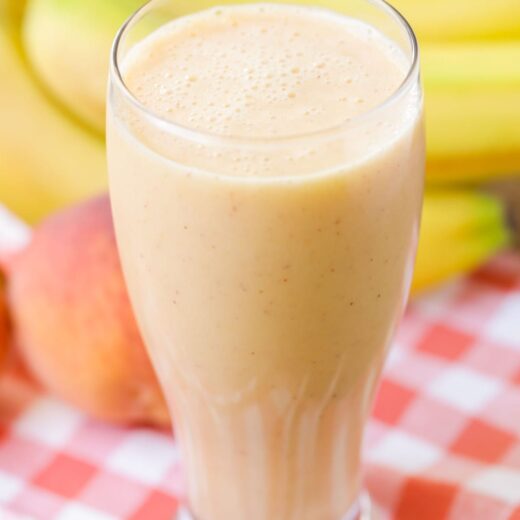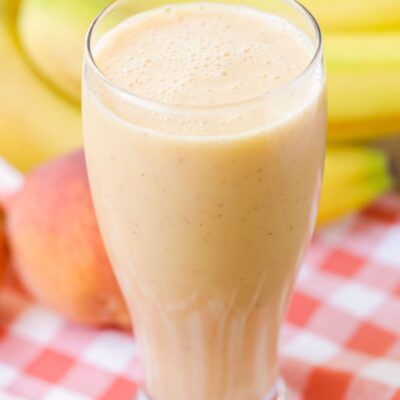 A Peach Smoothie has the most deliciously bright flavor. With a pop of orange, you've got the perfect breakfast or lunch!
Ingredients
1

medium

banana

cut in chunks

1

ripe

peach

pitted and sliced

1

(6) oz

low fat peach yogurt

1/4

cup

orange juice

1

cup

small ice cubes
Instructions
Combine all ingredients in a blender container; blend for 1 to 2 minutes or until smooth and frothy.