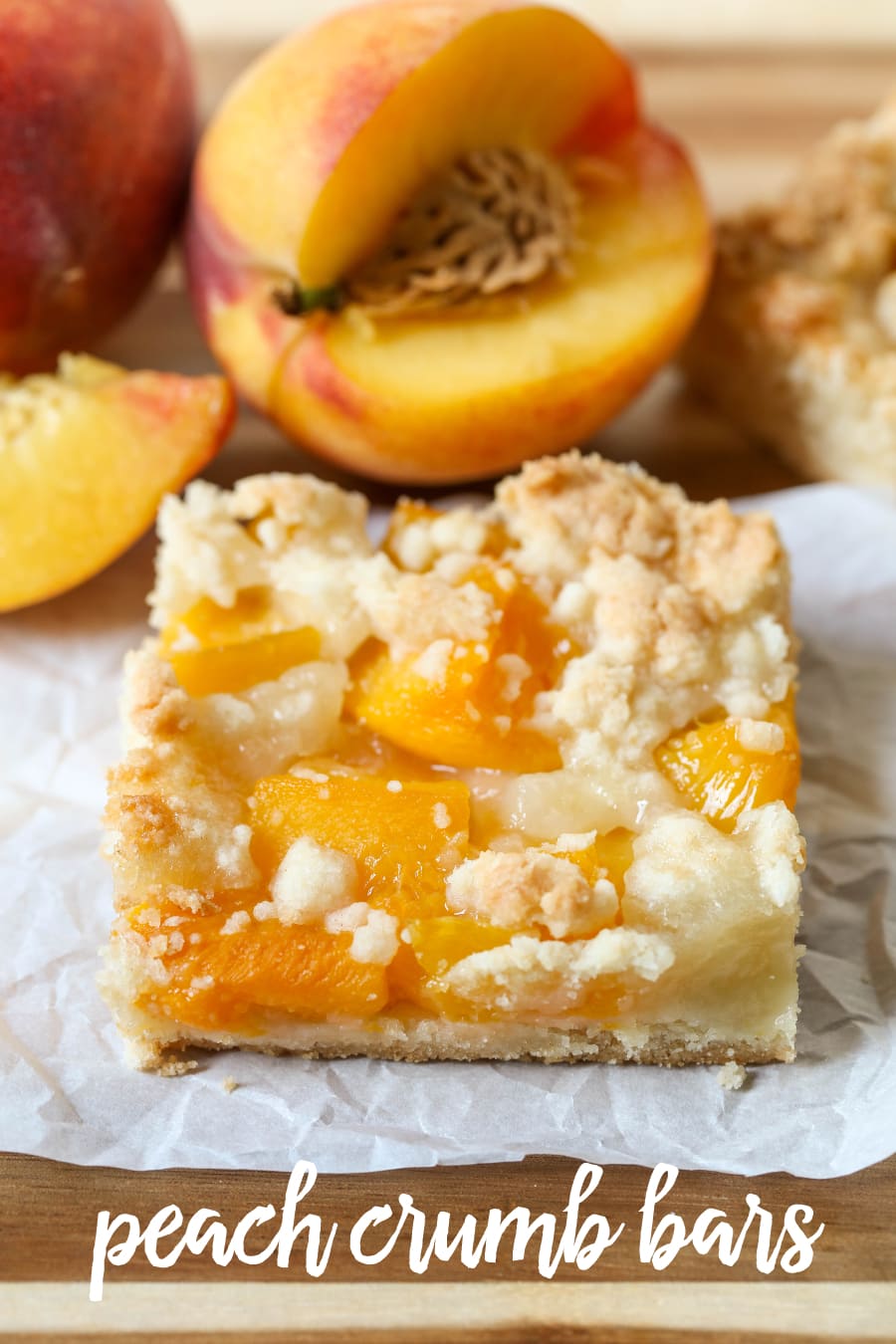 Good morning all! If you haven't figured it out by now, the summer 120 degree weather here in AZ does not stop this family from baking. You know you have a sick addiction when you're willing to let your A/C bill increase just so you can have a delicious treat. It's easier for me, since most of our Tried and True recipes are created, cooked and baked at my mom's house (sorry for the high electric bill Mom!) I don't think she minds too much, because she knows how much joy this kind of stuff brings to our existence. 🙂
Today's recipe especially made the men in our family happy. They're suckers for some peach-y goodness! If you love peach pie, you will love these Peach Crumb Bars. They're much easier to eat than pie and, in my opinion, easier to make too! We decided to used canned peaches instead of fresh. This way you can make all year long, instead of waiting for fresh peaches. Either way, if you're a peach person, these bars are for you.
Here's the recipe…

Peach Crumb Bars
Ingredients
3 Cups All Purpose Flour
1½ Cups Sugar
1 tsp Baking Powder
¼ tsp Salt
1 Cup Unsalted Butter, chilled and cut into chunks
1 Large egg
2 - 15 oz. cans of sliced peaches, drained and cut up.
4 tsp Cornstarch
Instructions
Preheat oven to 375.
Combine flour, 1 cup of sugar, baking powder, and salt in a medium bowl. Add butter to flour mixture and toss. Using a fork or pastry cutter, blend in the butter to create a crumbly texture. Whisk the egg slightly, and stir it into the mixture. Press half of the dough into a greased 9x13 baking pan.
In a separate bowl, stir together your remaining ½ cup sugar and your cornstarch. Add the sliced peaches and gently mix. Spoon peaches over the pressed crust. Crumble your remaining dough over the peach mixture.
Bake at 375 for 45-55 minutes. Top should be slightly brown.
Let cool before cutting into squares. ENJOY!
Adapted from gonnawantseconds.com.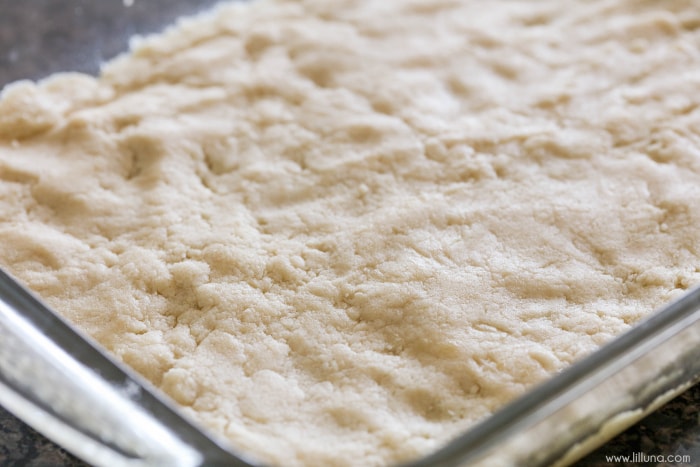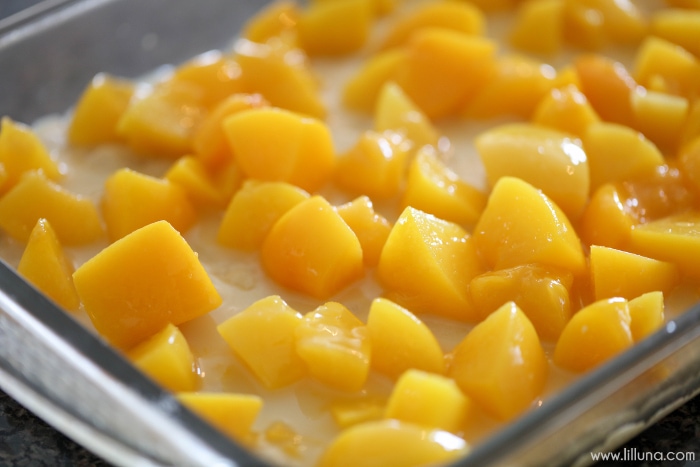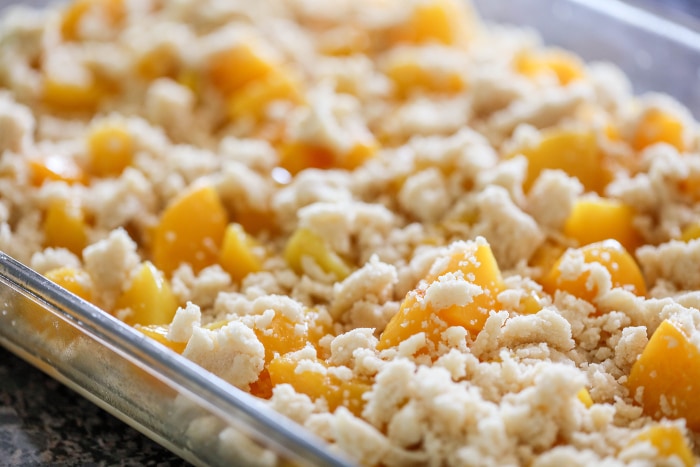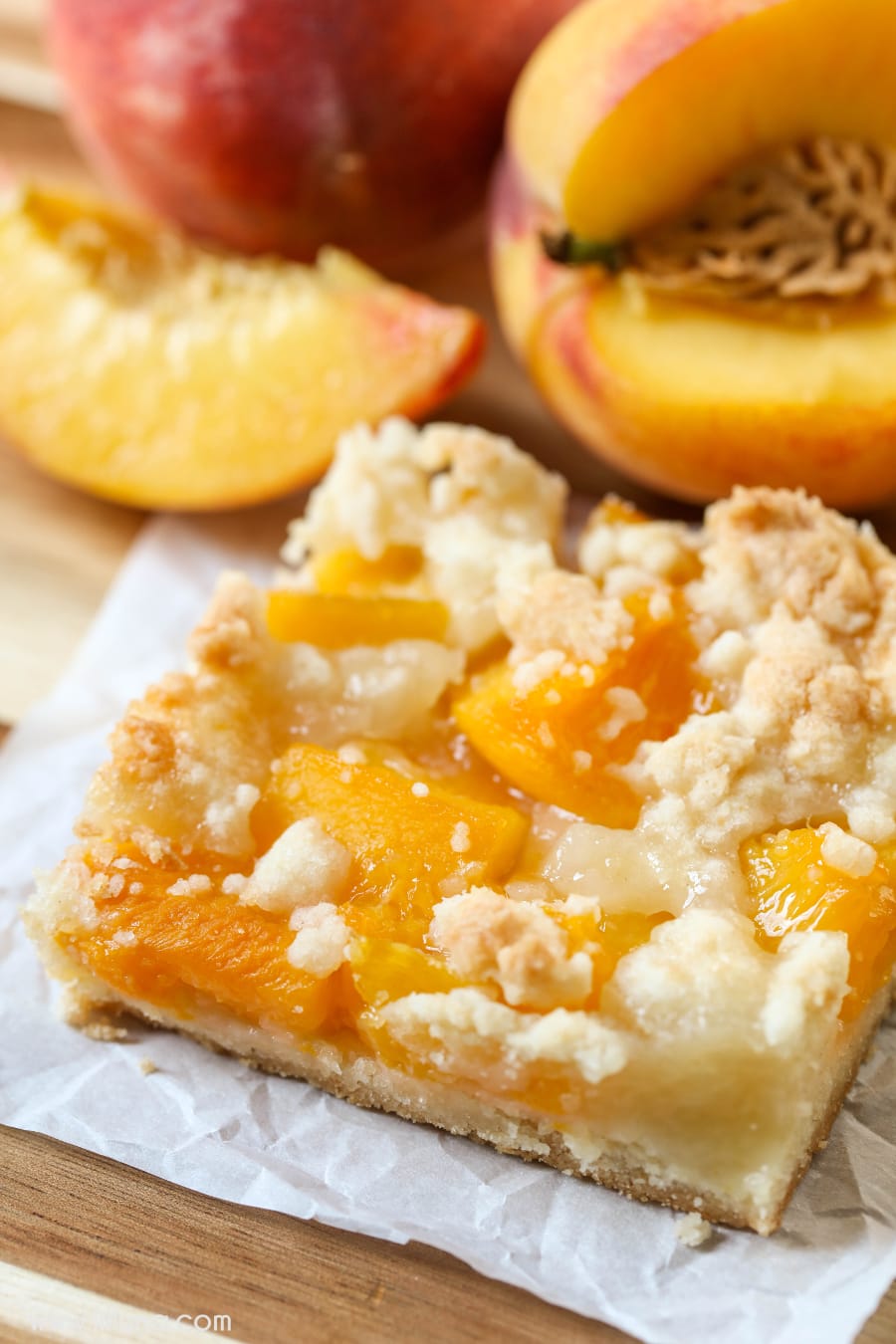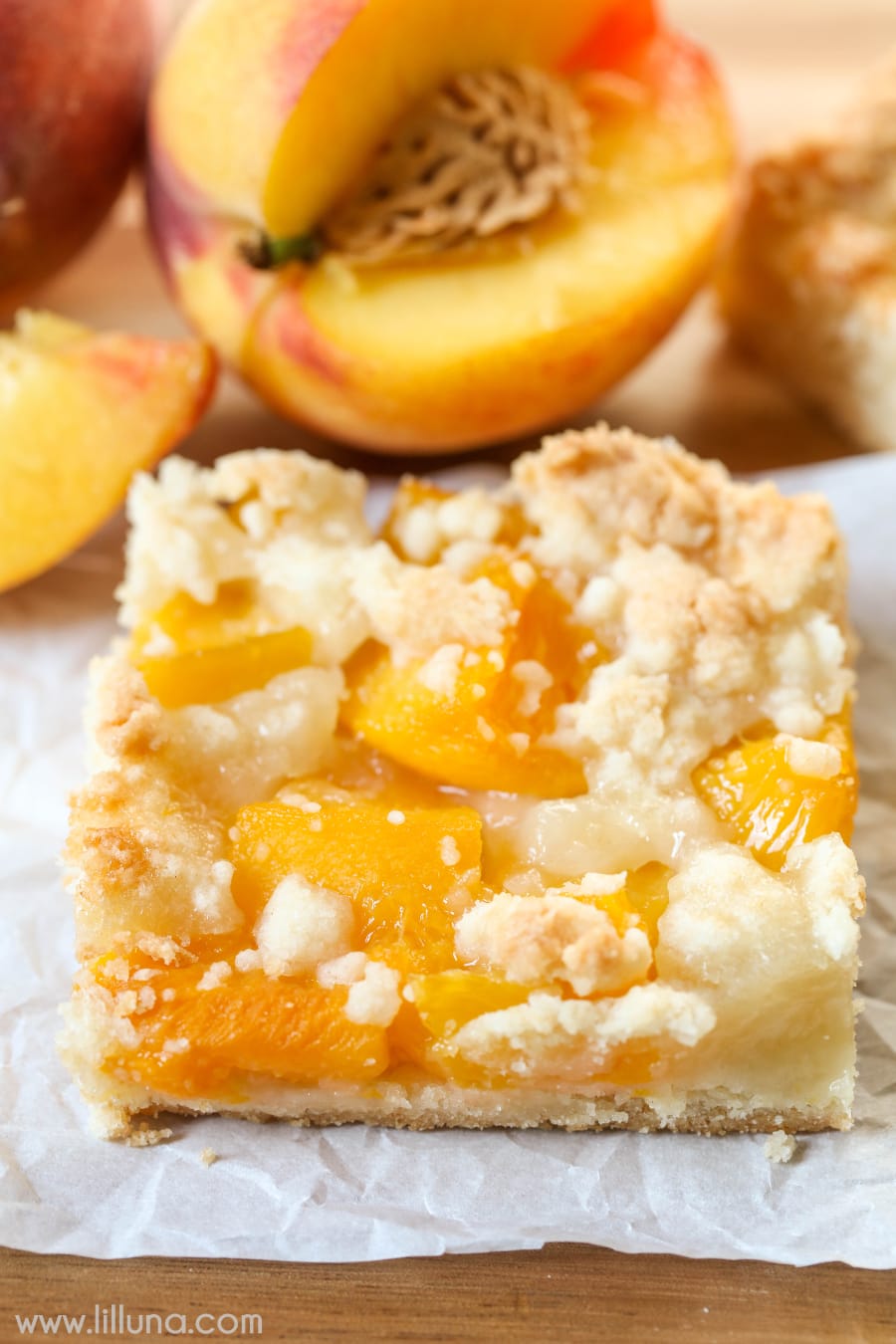 DIFFICULTY: simple
HOW MANY DOES IT FEED: 12
ANY CHANGES MADE: took out ginger and we also used canned peaches
ANY SUGGESTIONS FOR NEXT TIME: none
Fore more delicious fruity desserts, you can check out these recipes:
Check Out My Other Recipes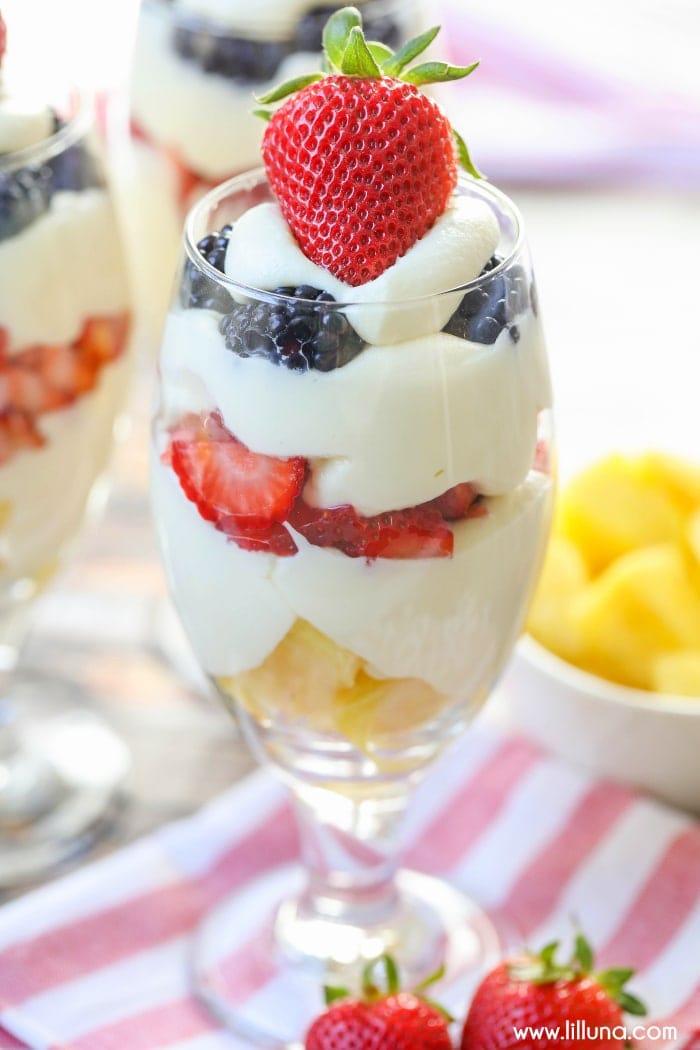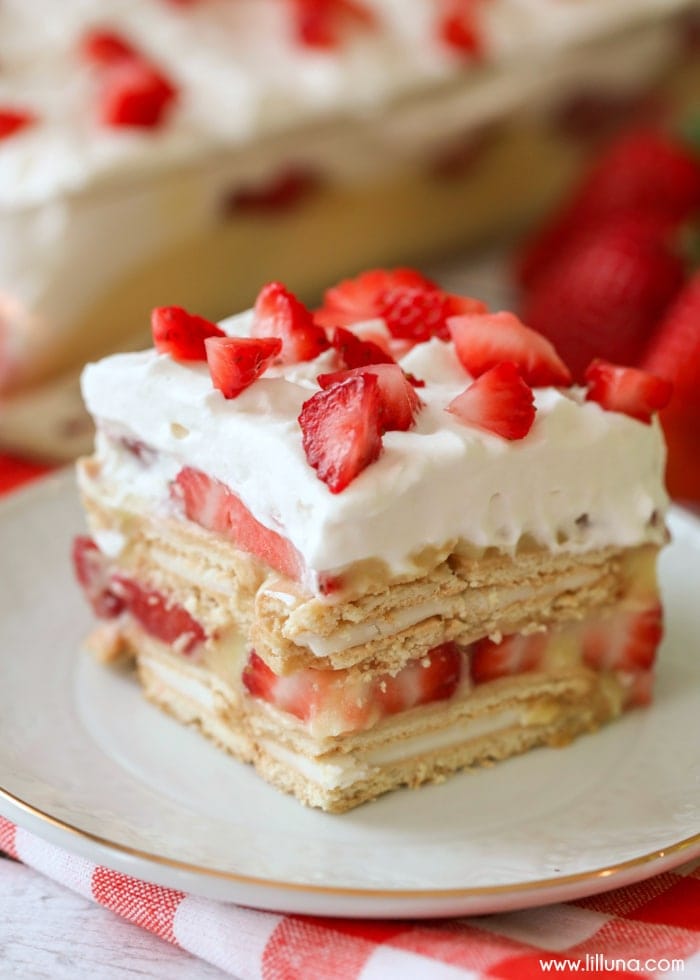 For all dessert recipes, go HERE.
For ALL recipes, go HERE.
And get weekly emails with monthly freebies by signing up for the Lil' Luna newsletter.
For even more great ideas follow Kristyn on Facebook – Pinterest – Instagram – Twitter – Periscope–Snapchat.
ENJOY!!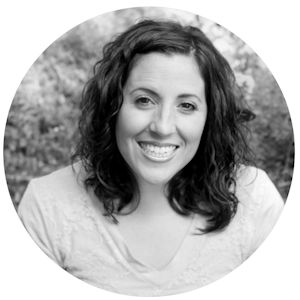 Need more recipes and creative ideas? Sign up and get a FREE copy of my latest ebook!