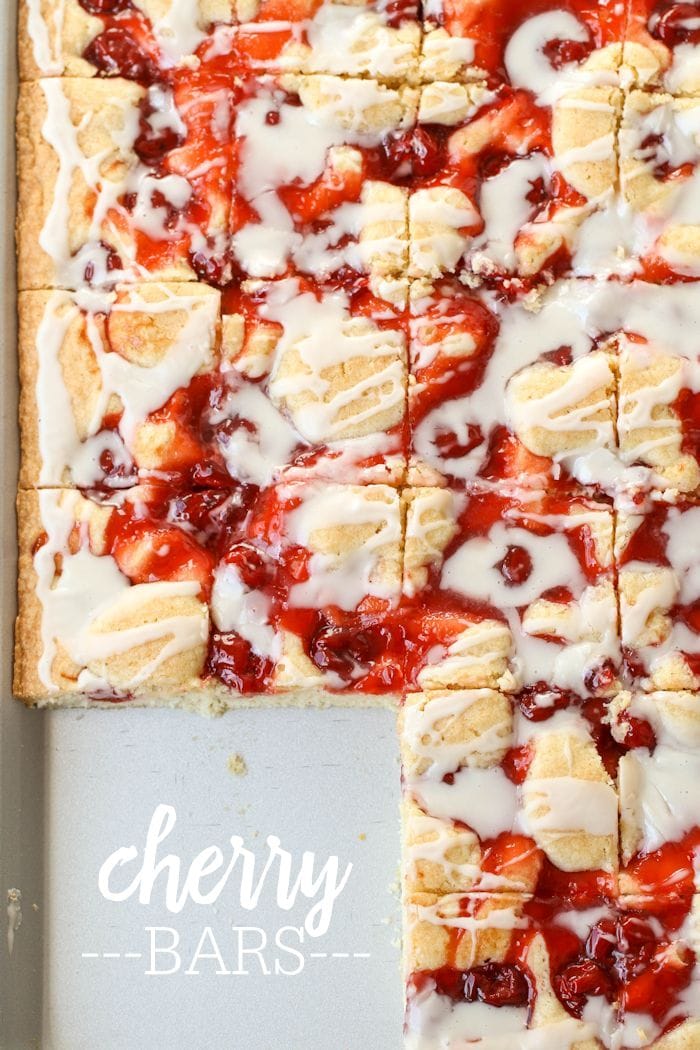 Have any of your friends ever made a dessert before, and after trying to it you tell them, "I NEED that recipe!!"
Well, that's exactly what happened at our Church Easter Egg Hunt back in March. We had a huge potluck where everyone brought a myriad of desserts and goodies and that is where I tried my friend, Marie's, Cherry Bars. I knew I needed to have that recipe in my life, and I knew I needed to have at least 2 more bars that day, lol (no worries, I had just one and fought the temptation). These bars were DELICIOUS, but the two things I loved most about them were: A) they had almond extract which is my all-time FAVORITE ingredient and B) they just looked darn right pretty. And who can resist a pretty treat? I know I can't!
I asked Marie if she would make them again so I could take pictures and add them to my site, so she did. SO, yes, I did not make these Cherry Bars, but you better believe I will be – and soon!! I just knew they would be beautiful if she made them since she's been making them for years. She told me she got the recipe from an old family friends way back when, and I'm so happy she shared it with me so I could share it with all of you, in return. 😀
This dessert is great for so many delicious reasons, but it also serves a ton making it perfect for parties and get togethers. With Memorial Day coming up, I thought it would also be great for that. They are amazing served on their own but would also be great served with ice cream. 🙂
Here is the recipe from Marie: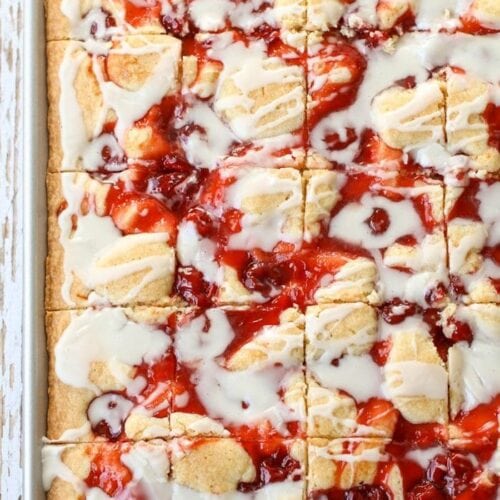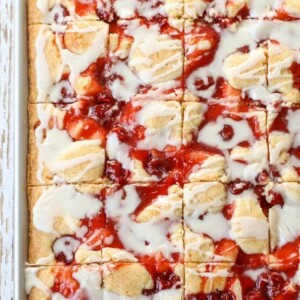 Cherry Bars Recipe
Delicious Cherry Bars topped with a heavenly glaze that has hints of almond extract. It will be your new favorite dessert!
Ingredients
Bar
Glaze
1

cup

powdered sugar

1-2

tbsp

milk

1/2

tsp

almond extract
Instructions
Preheat oven to 350 degrees.

Grease your large jelly rolly pan.

Cream sugar, butter, and vanilla in a medium bowl until light and fluffy. Add eggs, beating well. Add flour and baking powder, stir just until blended.

Spread ⅔ of the batter into the cookie sheet. Spread the pie filling over the batter. Drop remaining batter by teaspoonfuls over the pie filling.

Bake for 33-38 minutes or until toothpick inserted in center comes out clean.

Cool completely.

For glaze, mix together the glaze ingredients in a medium bowl; drizzle over cooled bars. Let set until glaze is set.

Cut into bars. Enjoy!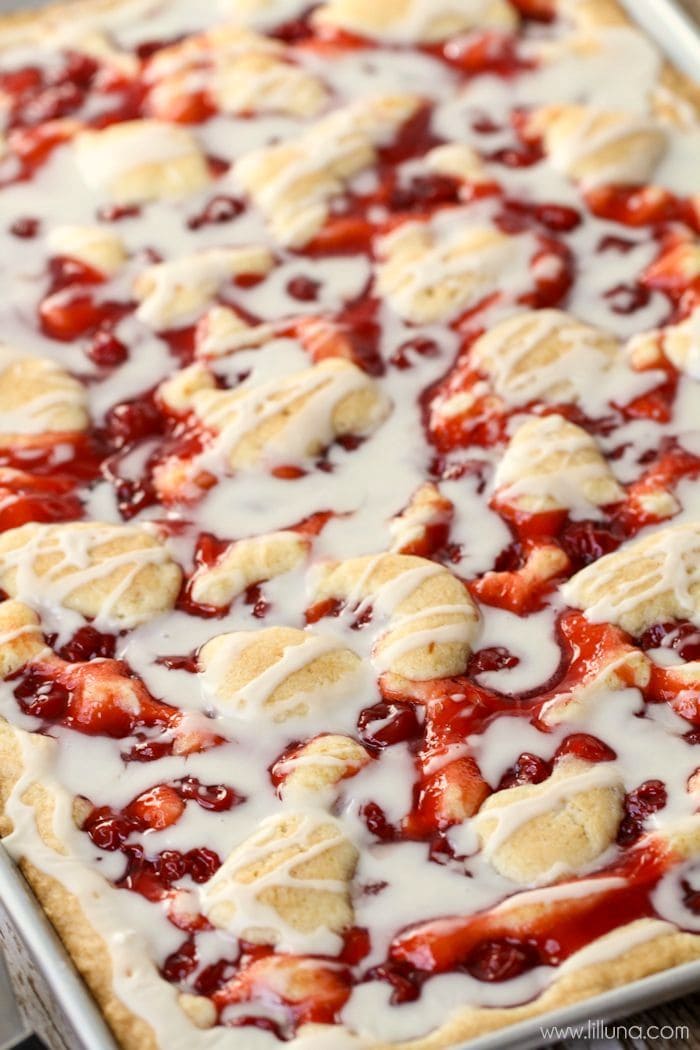 Check out all that yummy glaze!!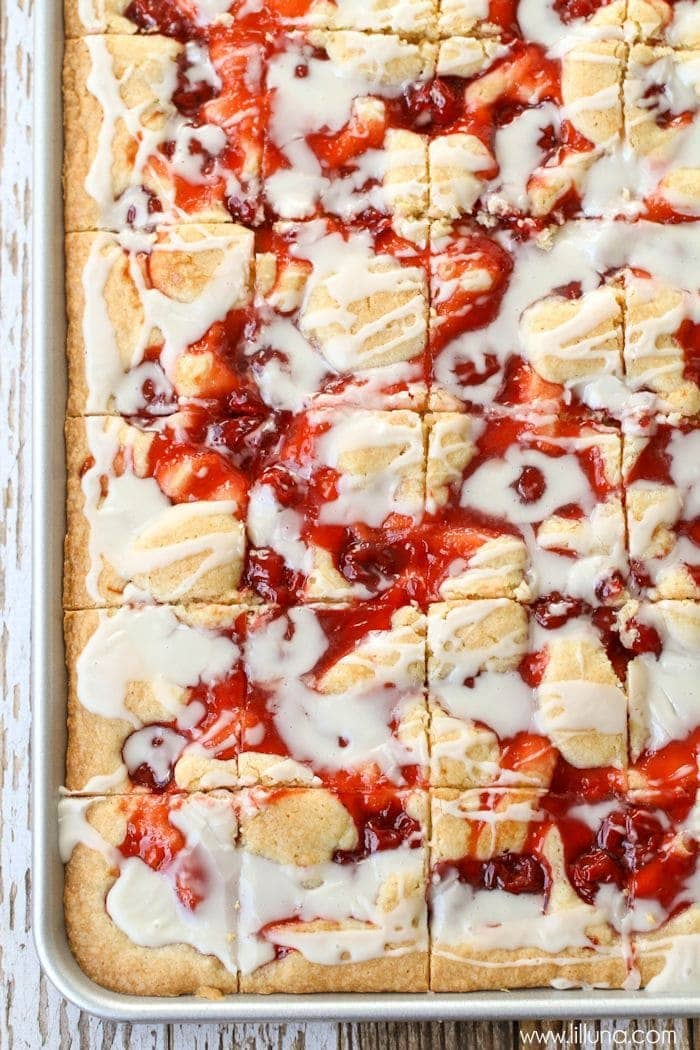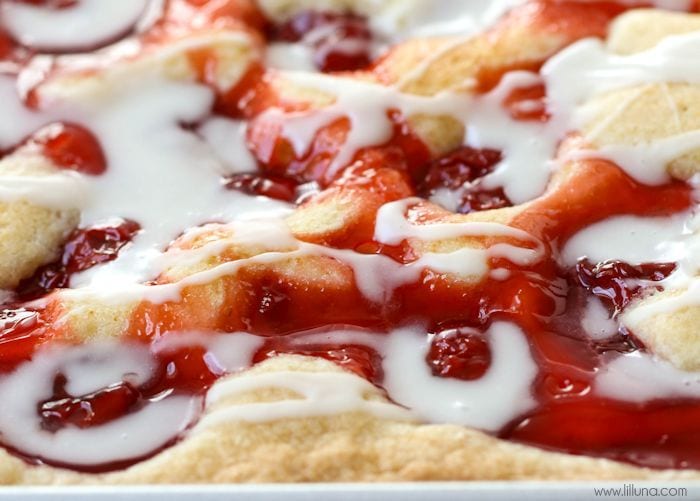 And the cherries?! Yes, please!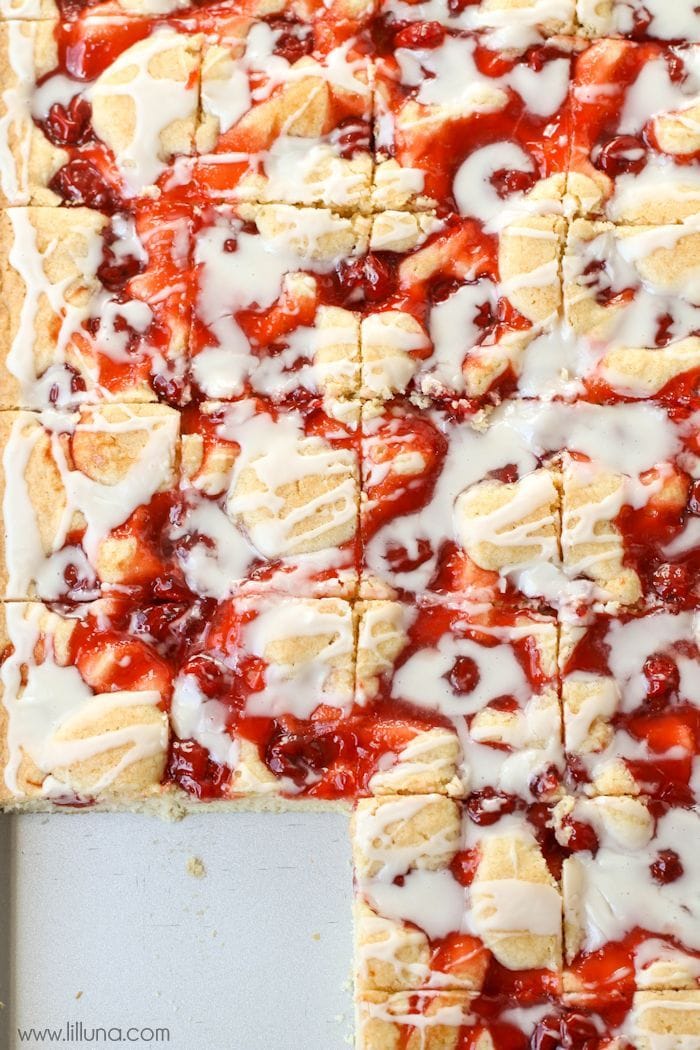 Umm, yeah. I think you need this Cherry Bars recipe as much as I did.
I absolutely love finding great recipes from friends that become family favorites, and knowing how quick these bars were gone, I can tell you now that it is definitely a keeper!
We also love having these "bar" recipes because they are always easy, delicious and perfect for parties.
For more great bars, check out these family favorites: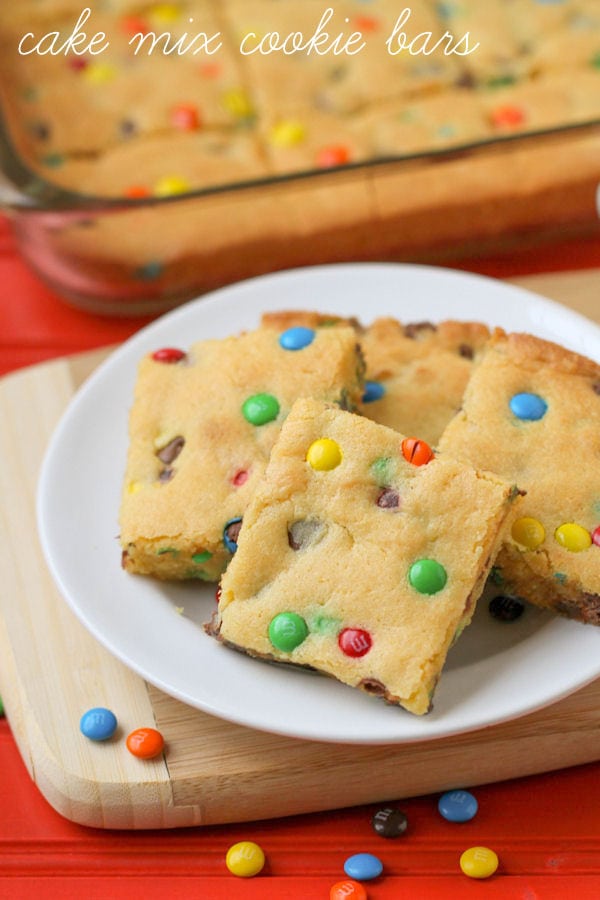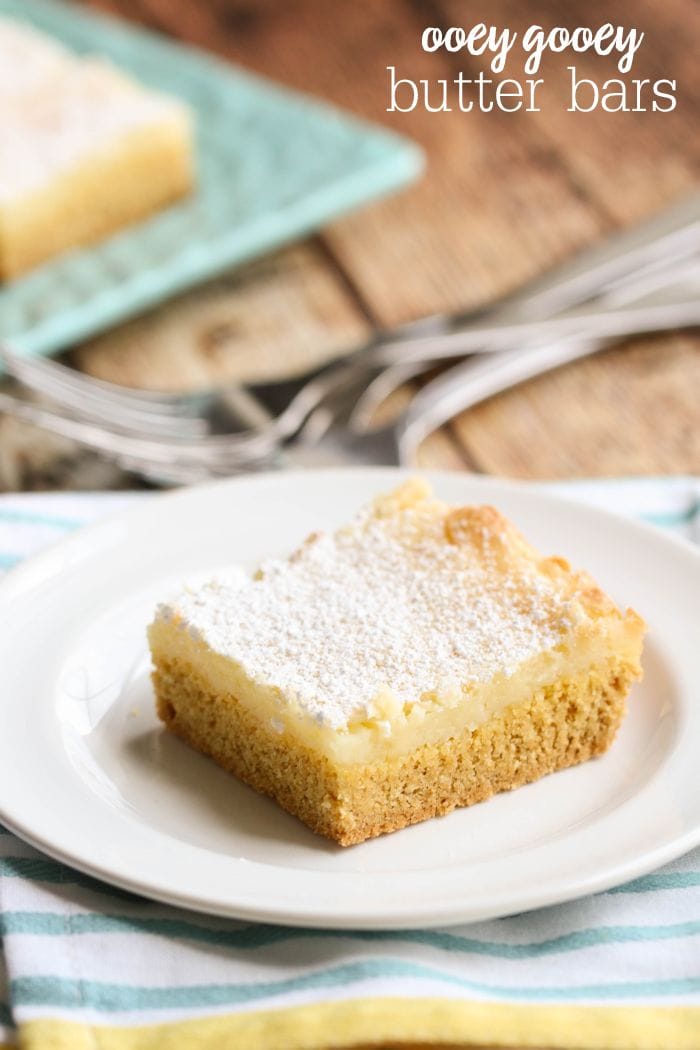 And for a new one, check out: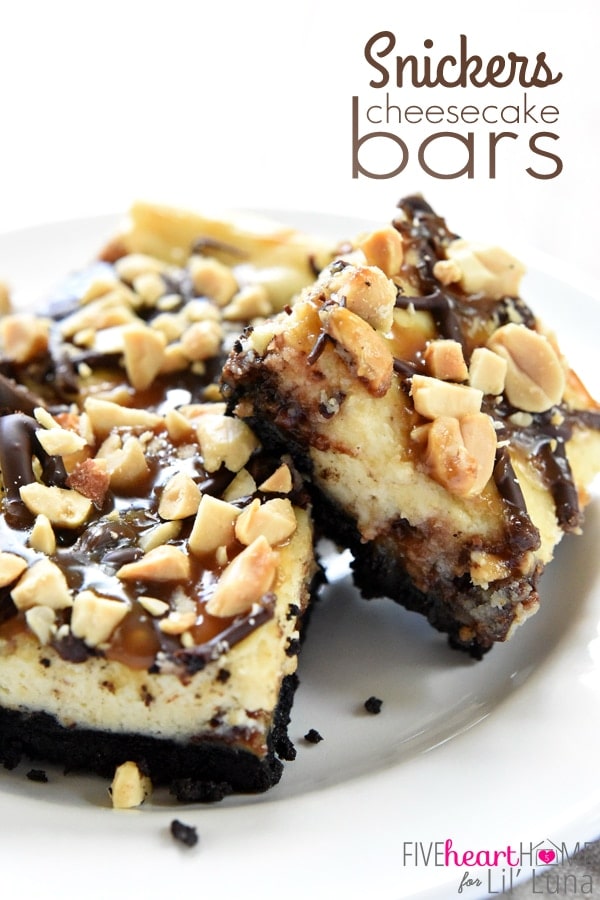 For all dessert recipes on the site go HERE.
For all recipes go HERE.
And get weekly emails with monthly freebies by signing up for the Lil' Luna newsletter. 🙂
For even more great ideas follow me on Facebook – Pinterest – Instagram – Twitter – Periscope – Snapchat.
Don't miss a thing – Sign up for the Lil' Luna Newsletter today!
ENJOY!