Cake Mix Cookie Bars are a simple, quick, and delicious treat everyone will love! They are a fab option for lovers of cake and cookies.
They are quick and easy to make and even easier to devour! Thick and delicious cookies make a perfect accompaniment to milk. For more cookie goodness try Cookie Bars, 3 Ingredient Sugar Cookies, and Almond Cookies.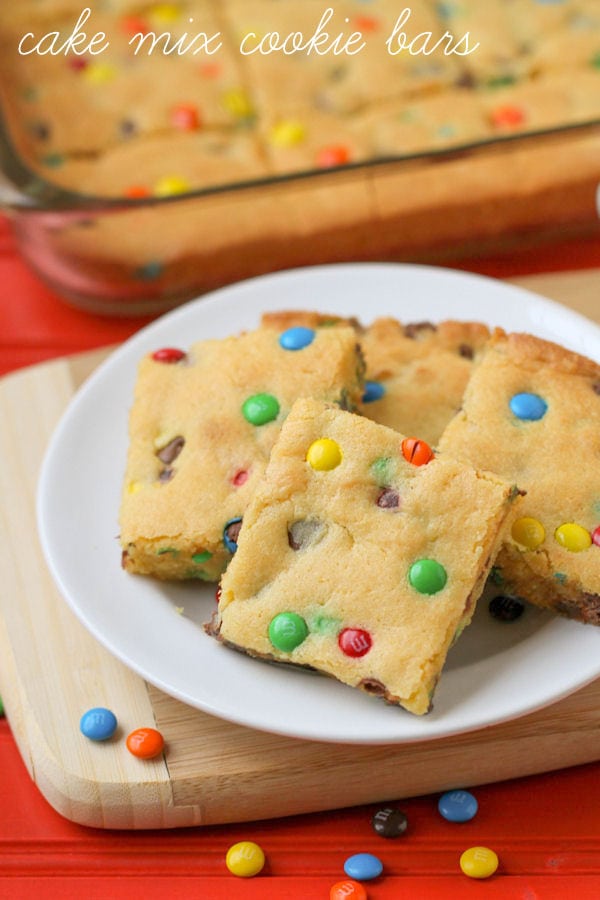 The Easiest Cookie Bars!
Hi. It's me – Lily! Last week I told you I had a big surprise to tell you but I will have to tell you next week. We didn't finish the pictures in time. 😉 How was your week? I hope it went well. My week was awesome. I got to spend time with my daddy today. It was pretty fun. And I got to see my friend, Michael, who is in my church class.
Today's recipe is for Cake Mix Cookie Bars. I think cookies are yummy, and I think cake is yummy and this recipe is those things put together. It also has M&MS and chocolate chips which are so good. By the way, I LOVE M&Ms but not as much as Milky Ways. 😉 This recipe was really simple and delicious, and I think you'll like it.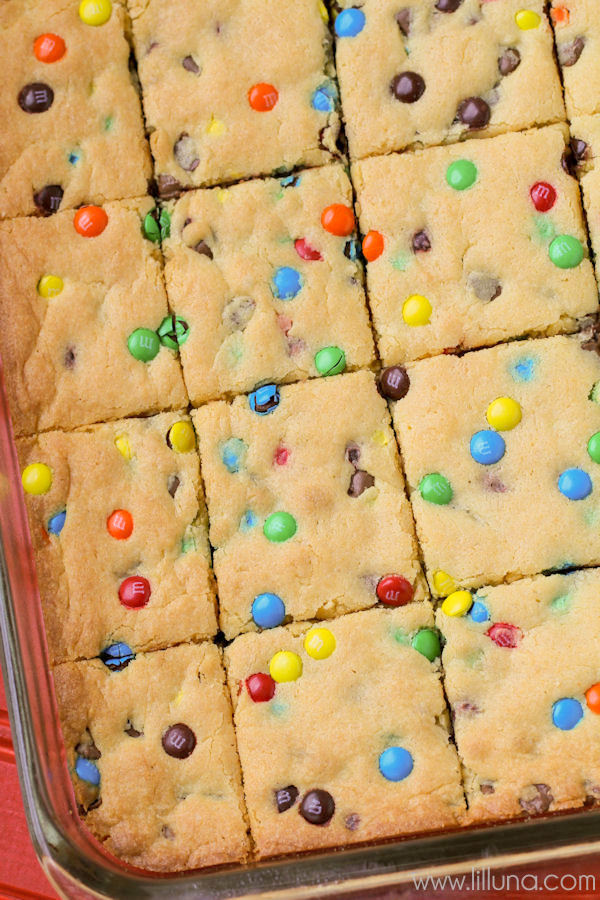 How to Make Them
PREP. Preheat oven to 350.
COMBINE. In a large bowl combine cake mix, pudding, water, oil and eggs using a mixer. Mix until well combined.
FOLD. Fold in chocolate chips and ½ cup mini M&Ms.
POUR & SPRINKLE. Pour into a greased 9×13 pan. Sprinkle with remaining M&Ms.
BAKE. Bake for 24-28 minutes or until golden brown on the edges.
Notes:
Use ONLY the cake mix and the pudding powder. DO NOT add the other ingredients from the box that you normally would.

Use instant pudding mix. A small box is 3.4 oz. 

Glass pan: Glass pans take longer to heat up and distribute the heat through your batter. They also hold onto heat for much longer than metal pans. If using a glass pan,

lower the oven temperature by 25°F from what the recipe calls for, and bake 10 minutes longer or until a toothpick inserted into the center comes out clean.

Different brands of cake mixes may have slightly different baking instructions. Refer to the cake mix box for guidance in oven temperature and bake times.

Allow cookies to cool completely before cutting. Using a plastic knife helps make clean slices.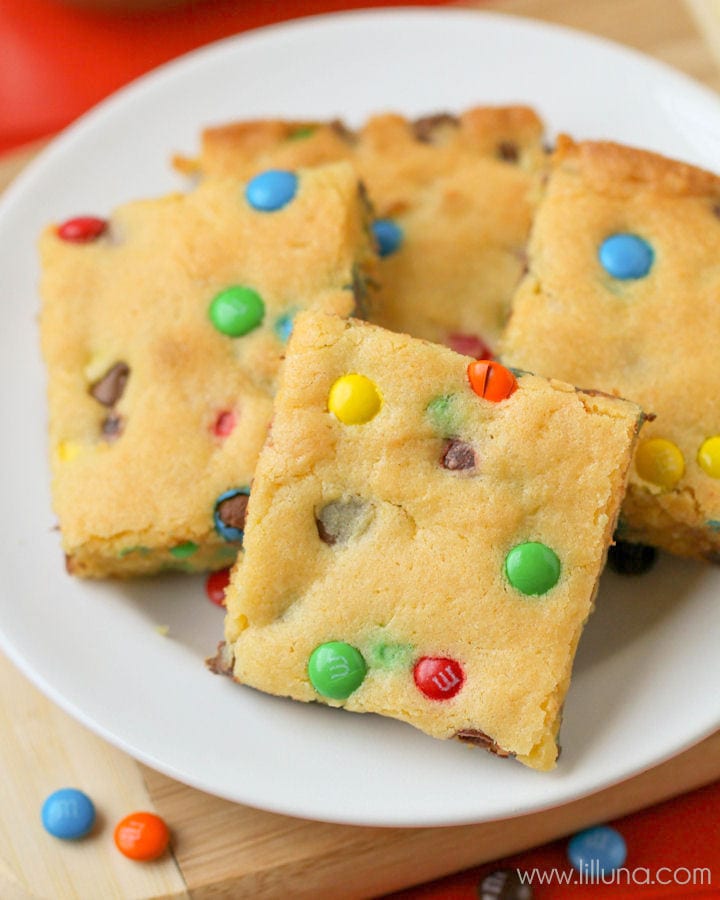 Variations, Storing, and More
Variations:
TheBetty Crocker Yellow Cake Mix that I used is a 15.25 oz box. You can easily substitute the cake mix with another brand of the same size. You can also use other flavors of instant pudding mix (3.4oz box) Substitute the chocolate chips and M&Ms for other flavors, candies, or nuts. There are so many delicious combinations. Here are a few suggestions to get the ideas flowing: 
Strawberry cake mix with white chocolate pudding. Use white chocolate chips.

Chocolate Cake Mix with chocolate pudding. Use peanut butter chips and top with reeses pieces. 

Lemon cake with cream cheese pudding. Dust the top with powdered sugar.
The cookie bars also make a delicious base for adding a scoop of ice cream on top along with your favorite sundae toppings like chocolate, caramel and whipped cream.  
Storage: Store cooled bars in an airtight container for up to 5 days. You can also freeze the cookie bars. Wrap each bar with plastic wrap then you can wrap again with aluminum foil, or place them all in a freezer ziploc bag. Store for up to 3 months.
For more cake mix treats, check out: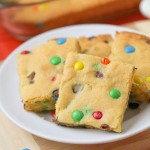 Cake Mix Cookie Bars Recipe
Simple and delicious Cake Mix Cookie Bars - a great "go-to" dessert recipe. Soft bars made from yellow cake mix, vanilla pudding, mini m&m's, and chocolate chips!

Ingredients
1

box

yellow cake mix

(I used Betty Crocker)

1

small box

White chocolate or vanilla instant pudding mix

1/4

cup

water

3/4

cup

vegetable oil

2

eggs

1

cup

mini M&Ms

(divided)

1/2

cup

chocolate chips
Instructions
In a large bowl combine cake mix, pudding, water, oil and eggs using a mixer.

Fold in chocolate chips and ½ cup mini M&Ms.

Pour into a greased 9x13 pan.

Sprinkle with remaining M&Ms.

Bake for 24-28 minutes or until golden brown on the edges.
Recipe adapted from Parent Pretty.