Cake with jello drizzles poked throughout, and topped with a smooth layer of whipped cream! This light and cool Jello Poke Cake recipe is always a crowd favorite.
It's one of our favorite summer desserts! Not only is it cool and light, but it's topped with whipped cream. Be sure to check out some of our other poke cake variations including banana pudding poke cake and Boston cream poke cake.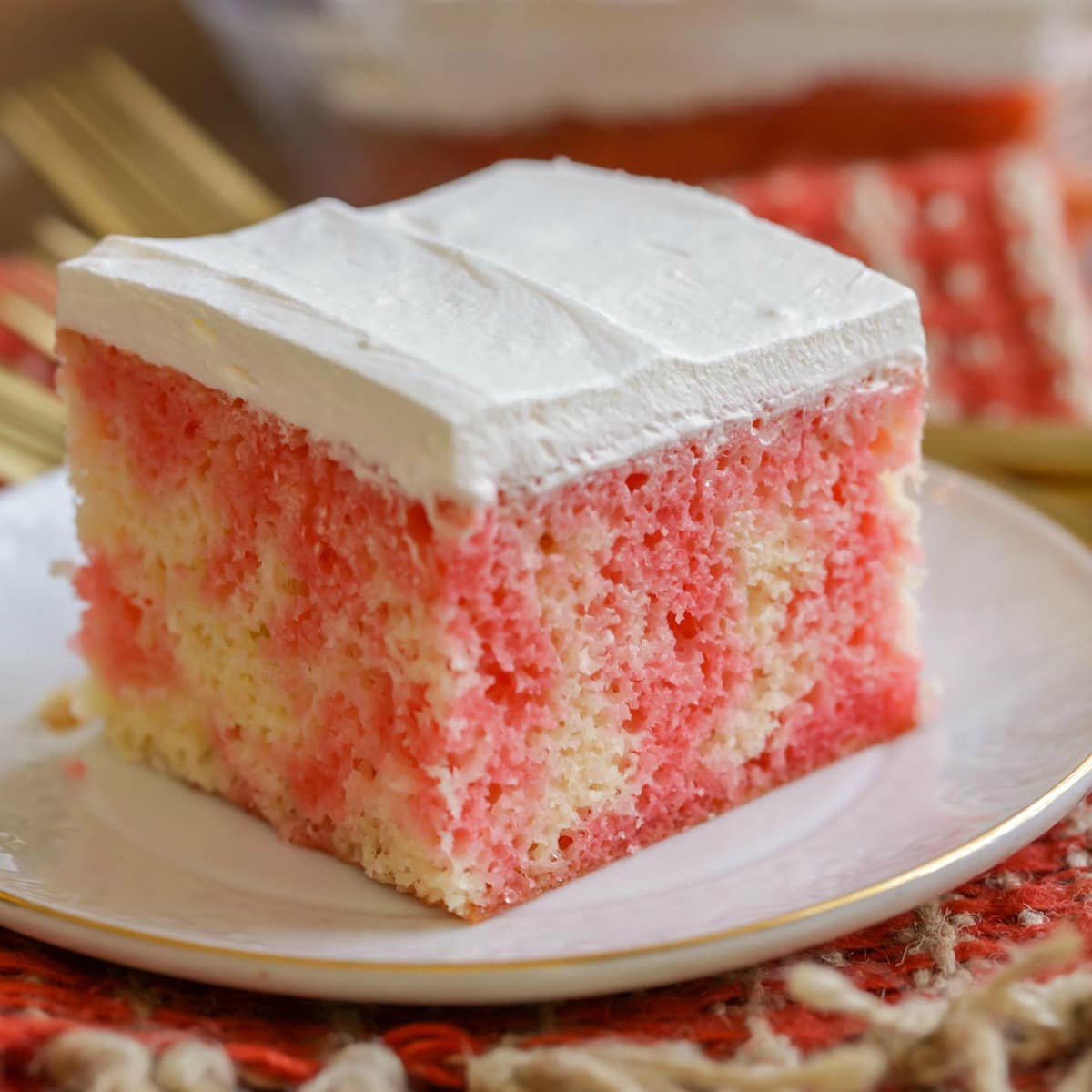 Strawberry jello Cake
I have fond memories of family gatherings and parties that involve this long-time-family-favorite dessert – Jello Poke Cake (we love it so much we've made so many variations on the site you can find HERE).
While it's absolutely unparalleled at BBQ's and summer parties because of its cool and creamy texture… Let's be honest – I crave it year round.
Picture this: a delicious cake with fruity jello poked throughout, and topped with a smooth layer of whipped cream. Needless to say, it's always a crowd favorite.
What's awesome is that you can change out the flavor of jello depending on your mood. We almost always use strawberry, but our other favorites are raspberry and cherry. I've also done lime, blue raspberry and orange before, but those are definitely a little more adventurous!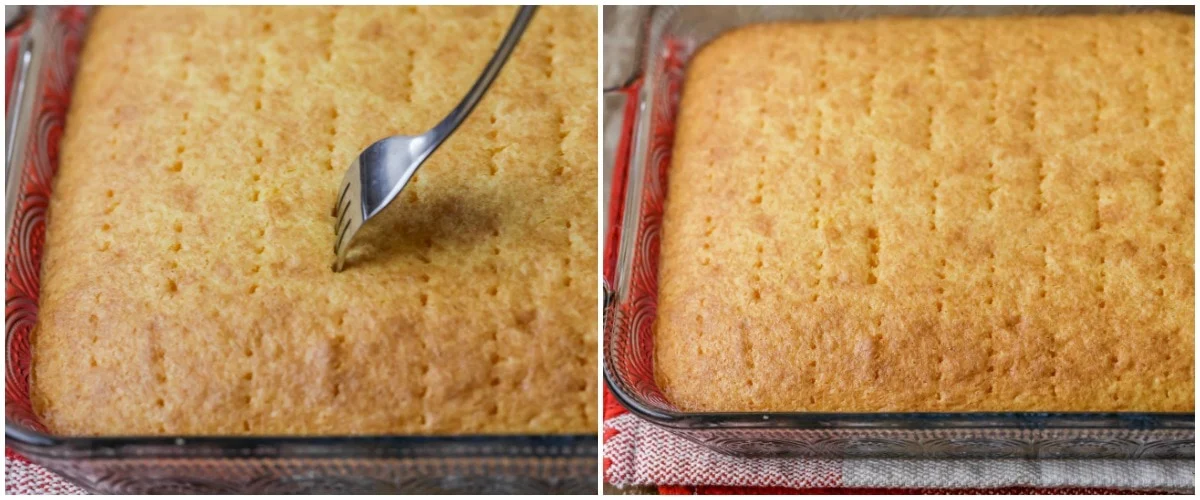 How to make Jello Cake
This Jello cake is really so simple, which is probably why we make it ALL the time.
CAKE. Begin by making your cake (whether you make one from scratch, or use a box mix – either one is perfect!) Once the cake is slightly cooled, poke holes with a fork at ½ inch intervals.
JELLO. From there, make your jello as you regularly would according to the box, and then carefully pour it over the cake, making sure it gets in all the holes you previously made.
CHILL. Chill the cake for a few hours and top with whipped cream right before serving, and you're set! So easy and SO delicious!
Tips for poke cake:
You can use a cake made from scratch, a box cake, or a store bought cake.

White cake pairs well with all flavors of jello

Add a layer of similar pie filling to the top of the cake then top that with whip cream. Such as strawberry jello with strawberry pie filling

For a nice clean slice, wipe the knife after each cut.
How long does it take for the jello to set? It won't set up like normal gelatin does, but it will take at least a few hours for the jello to soak into the cake and cool completely. So plan ahead when making this poke cake!
How to speed up the cook time: You can speed up the time it takes to make this dish a couple of ways.
First, you can buy a pre-made, unfrosted white cake at a local bakery.

Second, stick the cake in the freezer for 30-60 minutes. Long enough to set the jello, but not freeze the cake.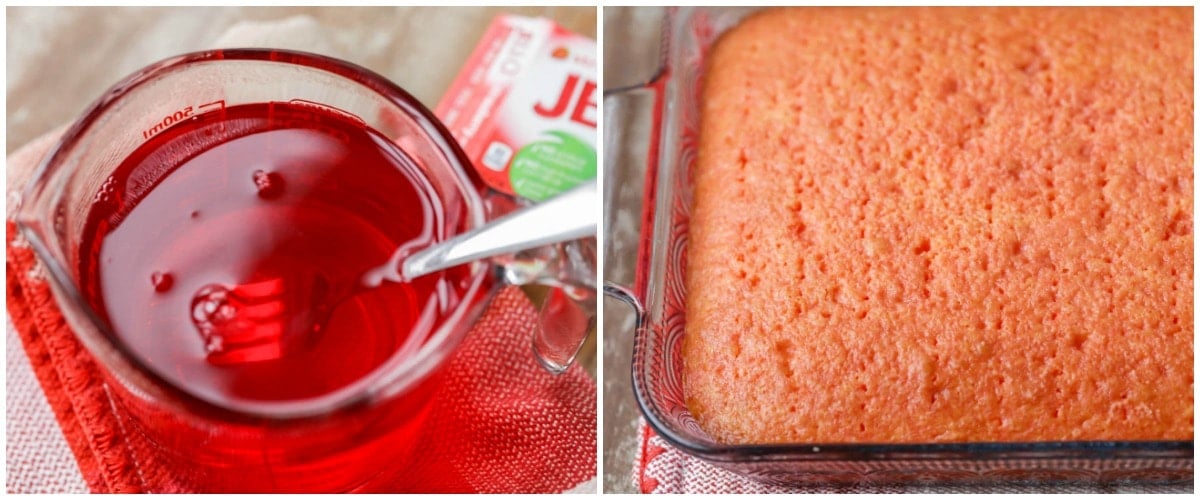 VARIATIONS & STORING
Can I make poke cupcakes? Absolutely! Instead of making a 9×13 cake make cupcakes according to the directions on the box. Once the cupcakes have cooled poke them with a fork or skewer, use a soup spoon to drizzle jello into the holes and chill
Can I use chocolate cake mix? Of course. This recipe can be used to make any flavor of cake mix and pair it with a complimentary flavor. Such as chocolate cake with raspberry or black cherry jello.
How do I store poke cake?
Refrigerate: Because of the jello, keep the cake chilled. Tightly cover the cake and keep in the fridge for 2-3 days.

Freeze: To freeze, wrap cake with plastic wrap, then again with aluminum foil. Label and freeze for up to 3 months.
Note: If the cake is frosted, then you'll need to flash freeze it first. You do this by placing individual pieces on a baking sheet, making sure they are not touching. Freeze for 2-3 hours, or until the outside is frozen, then wrap in plastic and foil, label and return to the freezer.

more Poke Cake delicious-ness
We love poke cakes so much we have a large variety here on the site. Something about having a delicious filling or jello poked through out the cake makes it irresistible. Here are some of our favorites on the site: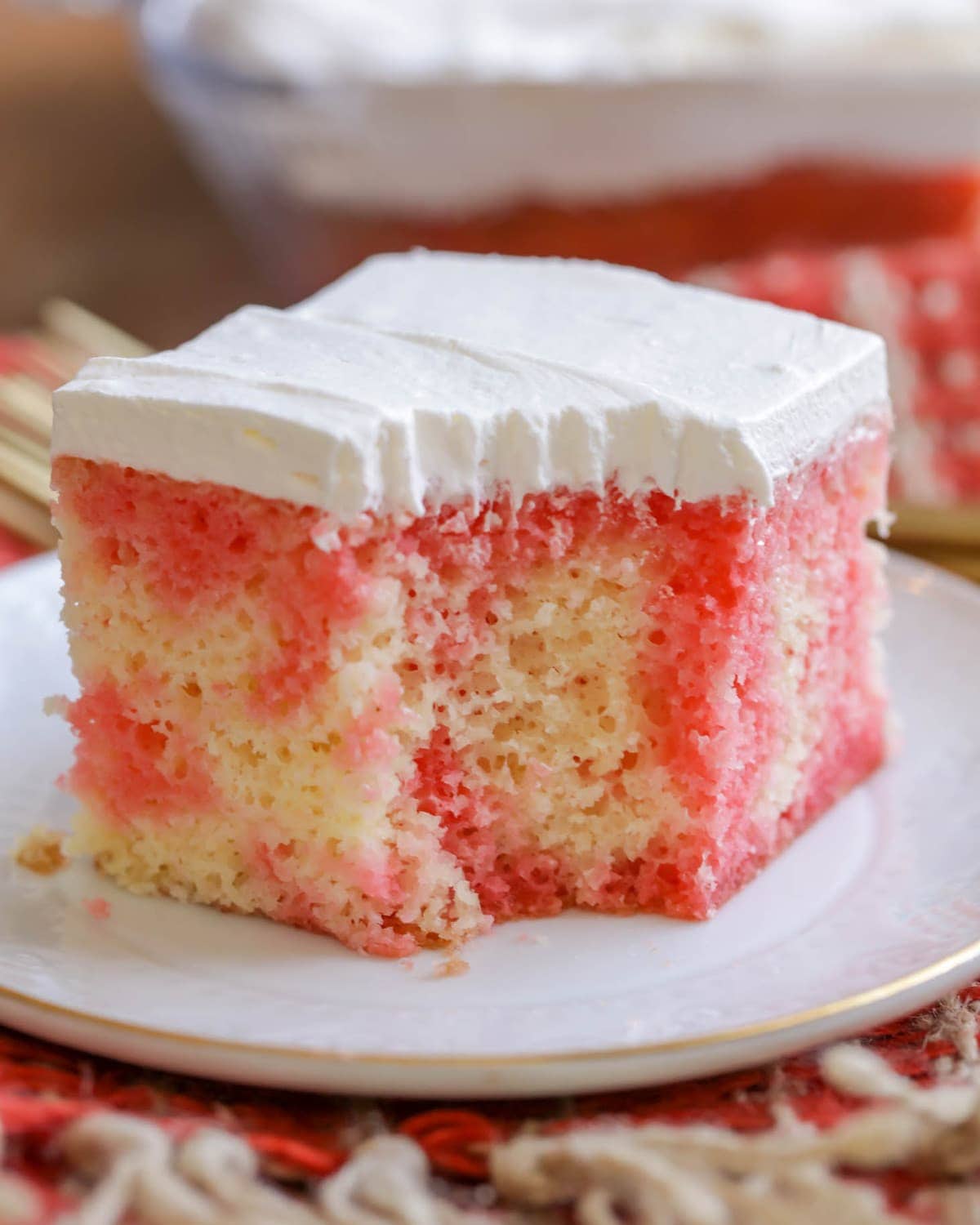 I know you'll love this simple, cool, and delicious treat! It's also pretty light and not as decadent as some of the chocolate treats we make, which is another reason why I love it so much. 😉
For more cool cake recipes, check out:
Jello Poke Cake Recipe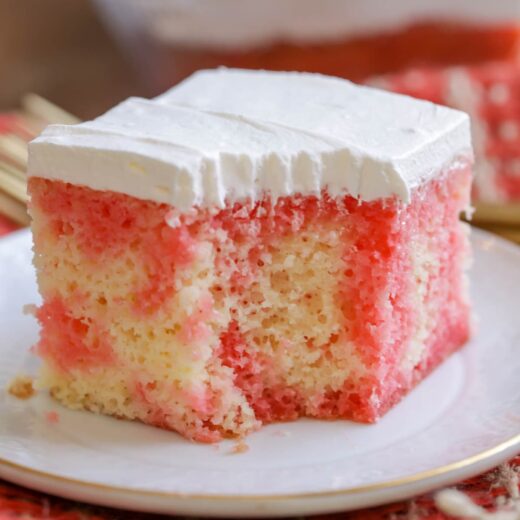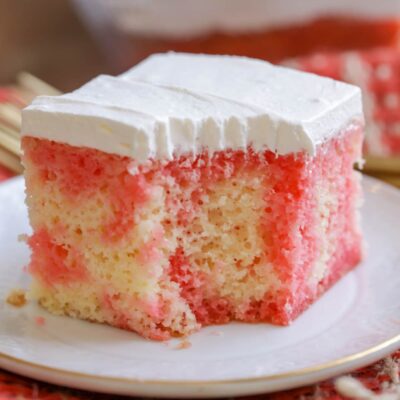 I Love Jello Poke Cake! I Went With Raspberry Here, But You Can Easily Make A Cherry Or A Strawberry Poke Cake.

Ingredients
1

white cake mix box

and any ingredients listed on box

1

3.3 oz

jello mix

raspberry, cherry or strawberry

1

cup

boiling water

1

cup

cold water

1

tub

whipped cream
Instructions
Prepare cake mix as directed and bake in a 9x13 pan. Let cool for 15 minutes.

Poke cake with fork at ½ inch intervals.

Prepare jell-o as directed. Spoon over cake mix until jell-o liquid is all gone.

Chill 3 to 4 hours and top with whipped cream. Refrigerate until ready to serve. ENJOY!