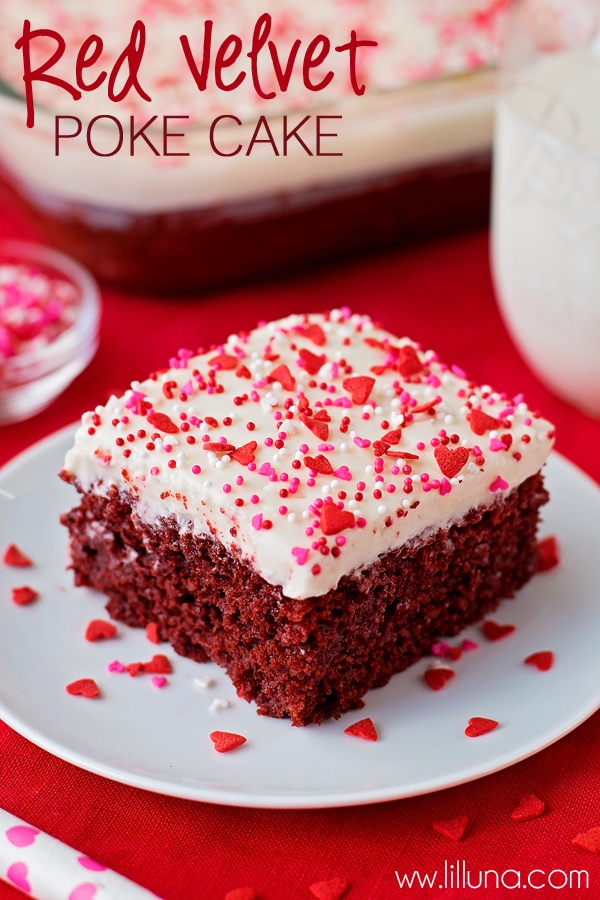 Hello Lil' Luna readers! It's me Natalie, from Life Made Simple.
Today I'm sharing a recipe that I've always wanted to make- a poke cake. Can you believe that I've NEVER made a poke cake prior to this red velvet one? I don't know why I waited so long, because this cake is absolutely delicious! It's thick, moist and topped with my favorite cream cheese frosting. Everything is made from scratch and ready to go in a little over an hour!
The cake itself is best if made part with a hand/stand mixer and part with a wooden spoon. Why? Well you want to get the butter and sugar creamed so the cake bakes up fluffy and tender. But you don't want to overmix it when you add the dry ingredients, buttermilk and vinegar to it. So I prefer to combine those ingredients by hand, with a wooden spoon (or spatula). That way you don't end up with a dense, tough cake!
After the cake comes out of the oven the fun starts! You get to poke holes in it with a fork! That way the sweetened condensed milk soaks in and makes everything sweet and extra moist. Then all that's left to do is whip up the cream cheese frosting. It's so easy to make and comes together in minutes. When the cake is cool, spread it over top and enjoy! It's sure to be a hit for any holiday or special occasion! Enjoy 🙂
Red Velvet Poke Cake (from scratch)
Ingredients
8 tbsp. unsalted butter, at room temperature
1½ c. granulated sugar
¼ c. red liquid food coloring (or 1 tsp. if using gel: see notes)
2 tsp. vanilla extract
2 eggs
2¼ c. all-purpose flour
5 tbsp. unsweetened cocoa powder
1 tsp. salt
1 tsp. baking soda
1 c. buttermilk
1 tbsp. distilled white vinegar
-
1 (12 oz.) can sweetened condensed milk (I used half)
-
3 c. powdered sugar
½ c. (1 stick) butter, room temperature
8 oz. (1 block) original cream cheese, room temperature for 30 minutes
¼ tsp. salt
1½ tsp. vanilla extract
2 tbsp. milk or heavy cream
Instructions
Preheat oven to 350 degrees F. Lightly butter/flour (or spray) a 9x13-inch baking pan, set aside.
Using a hand or stand mixer, beat the butter and sugar until light and fluffy, 2-3 minutes. Add the red food coloring and vanilla extract, beat until combined. Add the eggs one at a time, mixing just until incorporated.
In a small mixing bowl, whisk together the flour, cocoa powder, salt, and baking soda. Alternate adding the dry ingredients and buttermilk/vinegar by hand. Mix together with a wooden spoon just until combined, do not overmix.
Pour the batter into the prepared baking pan, spread into an even layer. Place in the oven and bake for 25-30 minutes or until a cake tester inserted into the center comes out clean. Remove and poke holes into the cake with a fork. Pour the condensed milk over top (I only used half but you can use the whole can). Allow the cake to cool before frosting.
To make the frosting, beat the butter and cream cheese on high speed for 2-3 minutes, then reduce speed and add the powdered sugar. Add in the salt, vanilla extract and milk. Beat for an additional 2-3 minutes until the frosting is light and fluffy. Spread across the cooled cake and decorate as desired.
Notes
-If you are using gel instead of liquid food coloring, add an additional ⅓ c. of buttermilk to the recipe.
-Cake recipe adapted from Brown Eyed Baker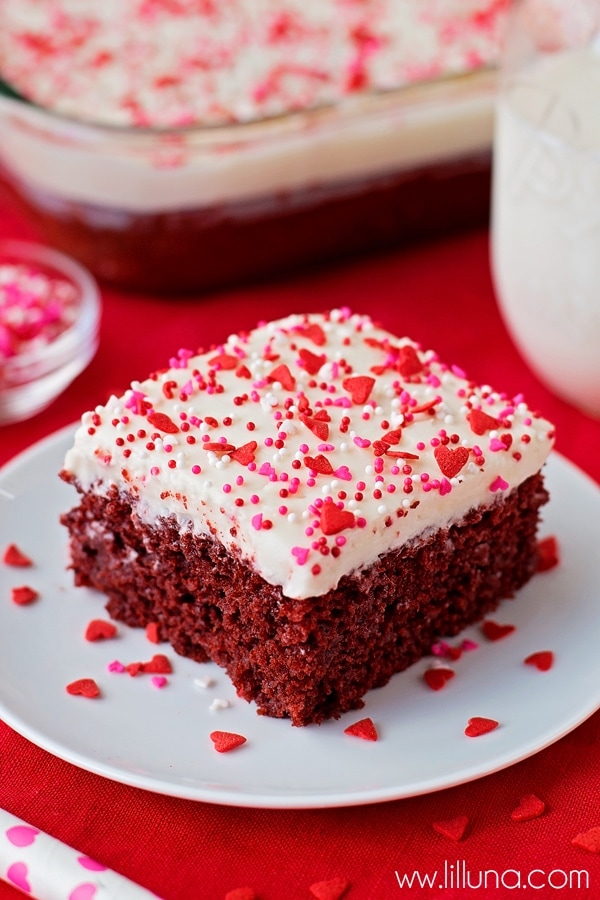 Thanks again Kristyn for having me!
You can find more recipes & craft ideas here: Life Made Simple | Facebook | Pinterest | Twitter | Instagram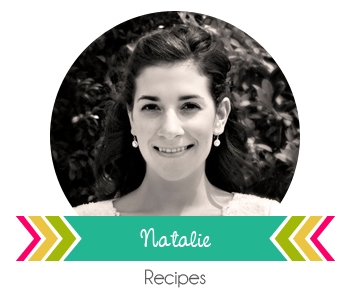 ———————————————–
One word – YUM!
I'm seriously drooling, Natalie!! So excited to try this recipe myself. It looks amazing, and it would be perfect for February 14th. Thanks, Natalie.
For more great recipes from her be sure to head to Life Made Simple.
And for more great recipes from Natalie on the site, check out: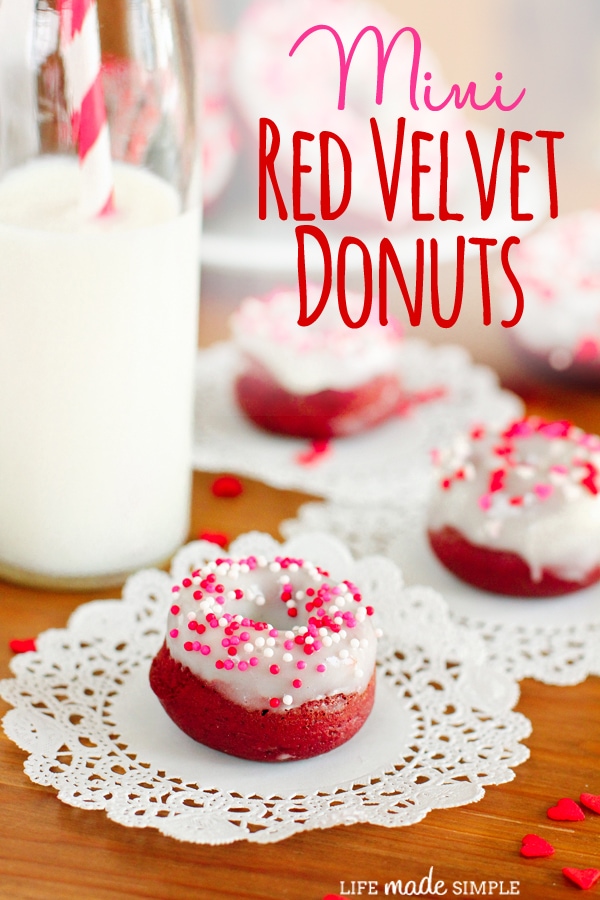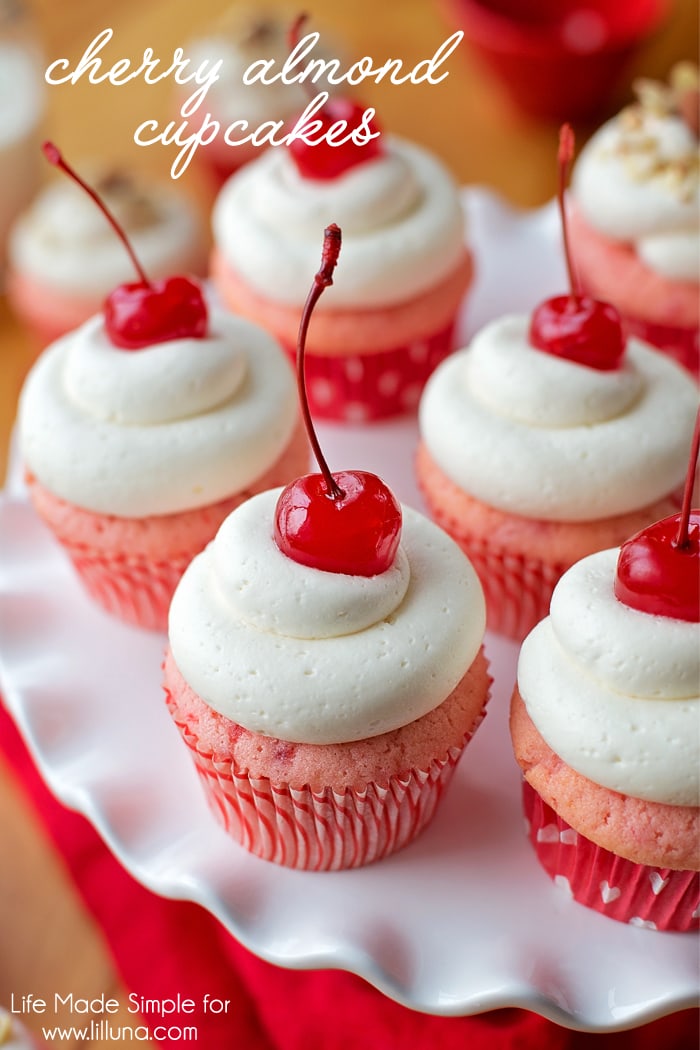 For another recipe perfect for Valentine's: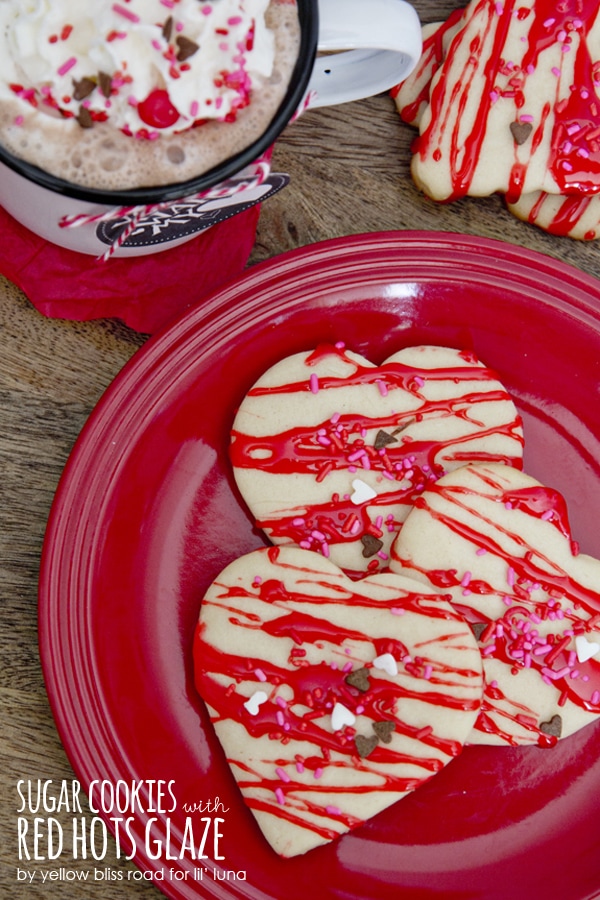 Valentine's Sugar Cookies with Red Hot Glaze
For all Valentine's Ideas on the site go HERE.
For all recipes go HERE.
And get weekly emails with monthly freebies by signing up for the Lil' Luna newsletter. 🙂
For even more great ideas follow me on Facebook – Pinterest – Instagram – Twitter – Periscope – Snapchat.
Don't miss a thing – Sign up for the Lil' Luna Newsletter today!
ENJOY!