Luscious red velvet white chocolate chip cookies are rich yummy. They are loaded with white chocolate chips and under baked to perfection!
Red velvet and white chocolate were just made to go together, right? The flavors complement each other so well and they're beautiful too! If you can't get enough red velvet then be sure to try Red Velvet Cheesecake Brownies, Red Velvet Poke Cake, and Red Velvet Cheesecake Cake.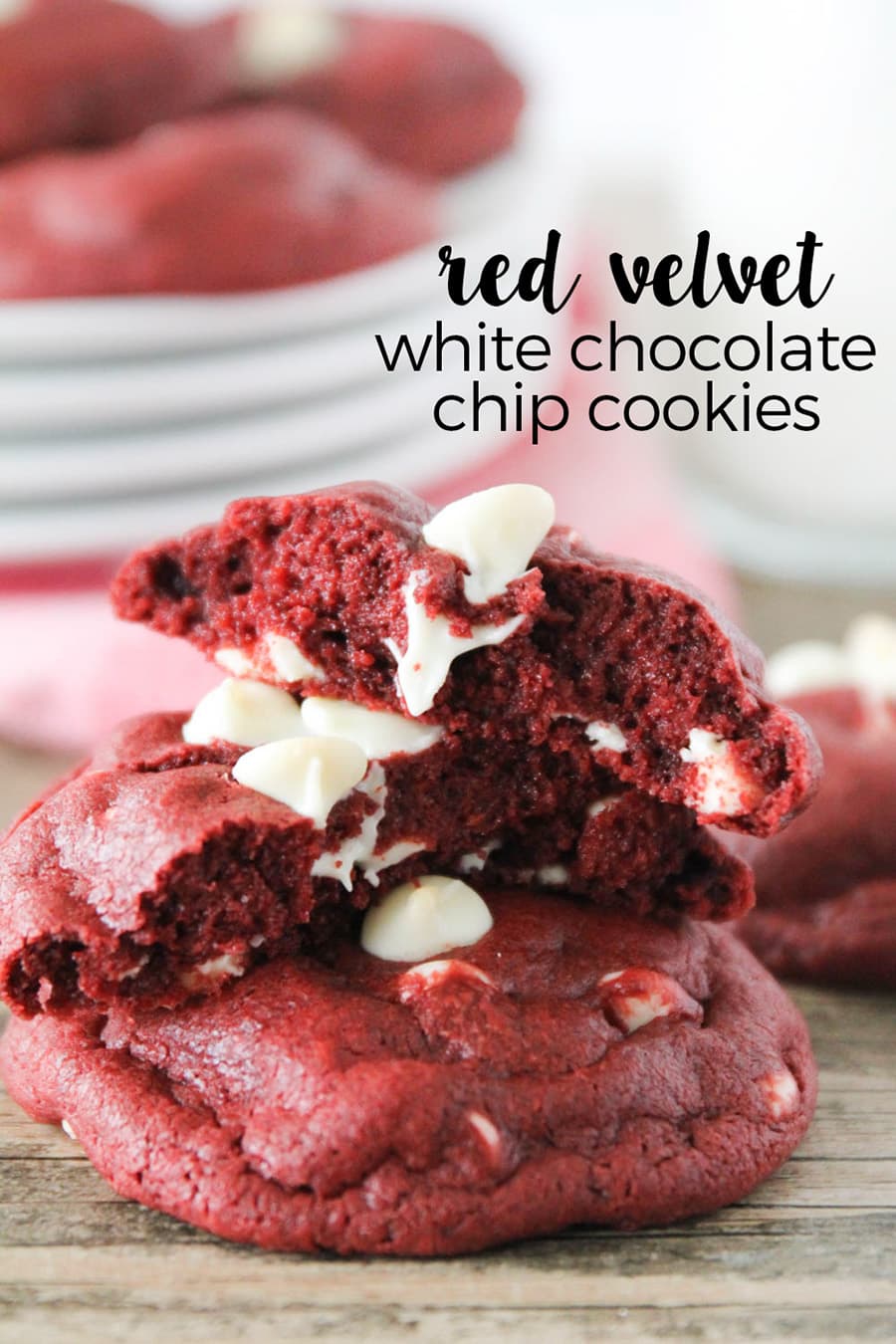 Chocolatey goodness
Who can say no to a good chocolate chip cookie? I certainly can't. Especially when it's a red velvet cookie, loaded with white chocolate chips!
These cookies are perfect when they're just a touch underbaked, so the inside is rich and soft, but they're still nice and crisp around the edges. I love to roll the dough into big inch-sized balls, to make giant soft cookies, but you could definitely use smaller scoops of dough to make more cookies. I always top the dough balls with a few extra chocolate chips, to make for a nicer presentation.
Because they come out of the oven still pretty soft, it's important to let them cool on the baking sheet for a few minutes to help them retain their shape as they cool. Look at that red velvet gorgeousness!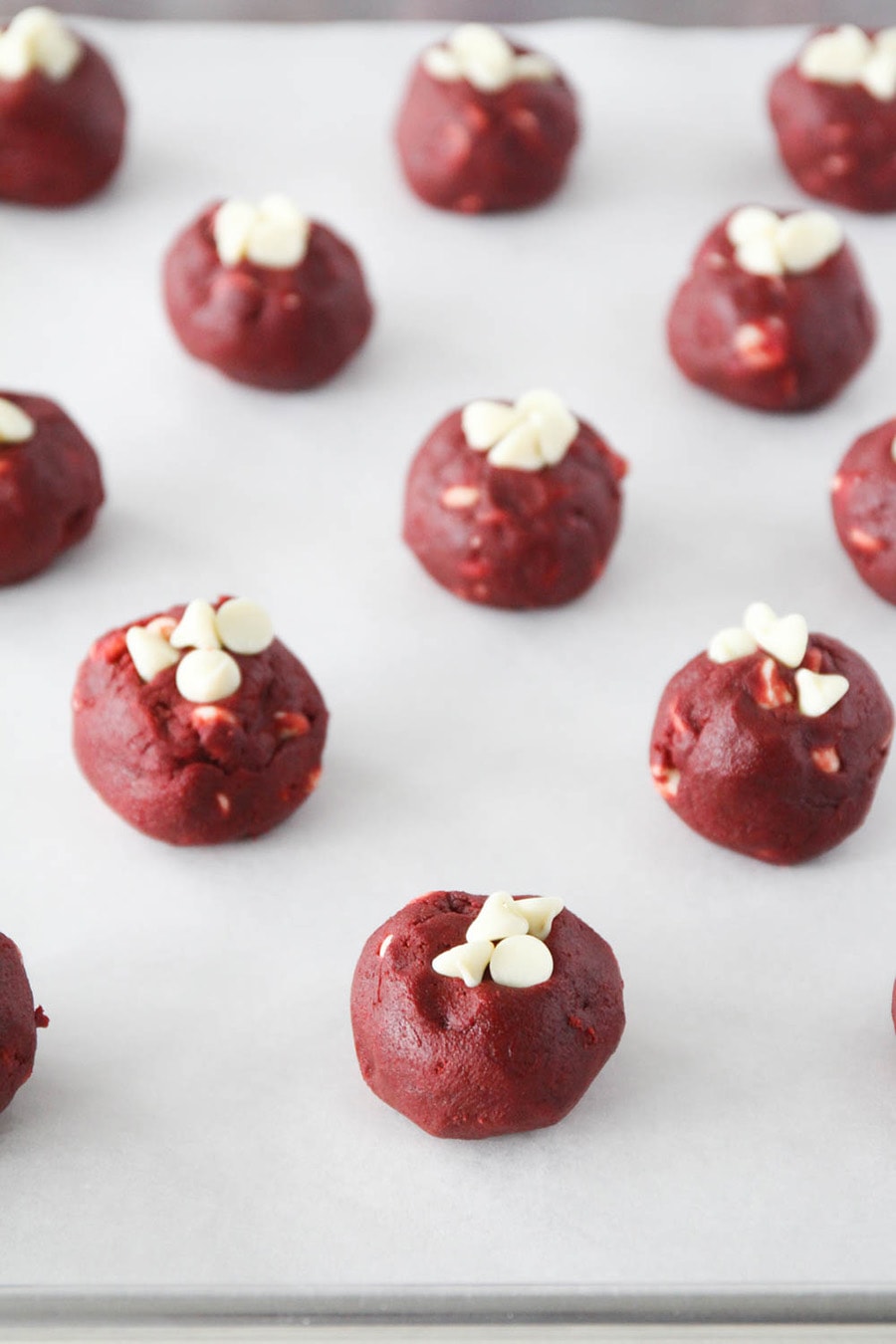 Making Red velvet cookies
WET INGREDIENTS. In a large bowl or the bowl of a stand mixer, beat together the butter and sugar, until light and fluffy. Add the egg, vanilla, and food coloring, and mix until smooth.
DRY INGREDIENTS. In a small bowl, whisk together the flour, cocoa powder, salt, baking powder, and baking soda.
COMBINE. Add the dry ingredients to the wet ingredients, and mix until just combined. Fold in the white chocolate chips.
CHILL & PREP. Refrigerate the dough 30 minutes. During the last ten minutes of chilling time, preheat the oven to 350 and line two baking sheets with parchment or spray with cooking spray.
BAKE. Roll the dough into one inch balls, and top each ball with a few extra chocolate chips. Bake 9 minutes, then remove from oven. The cookies will be puffy and fat, then flatten slightly as they cool. Let the cookies cool on the baking sheet for 10 minutes before removing to a cooling rack.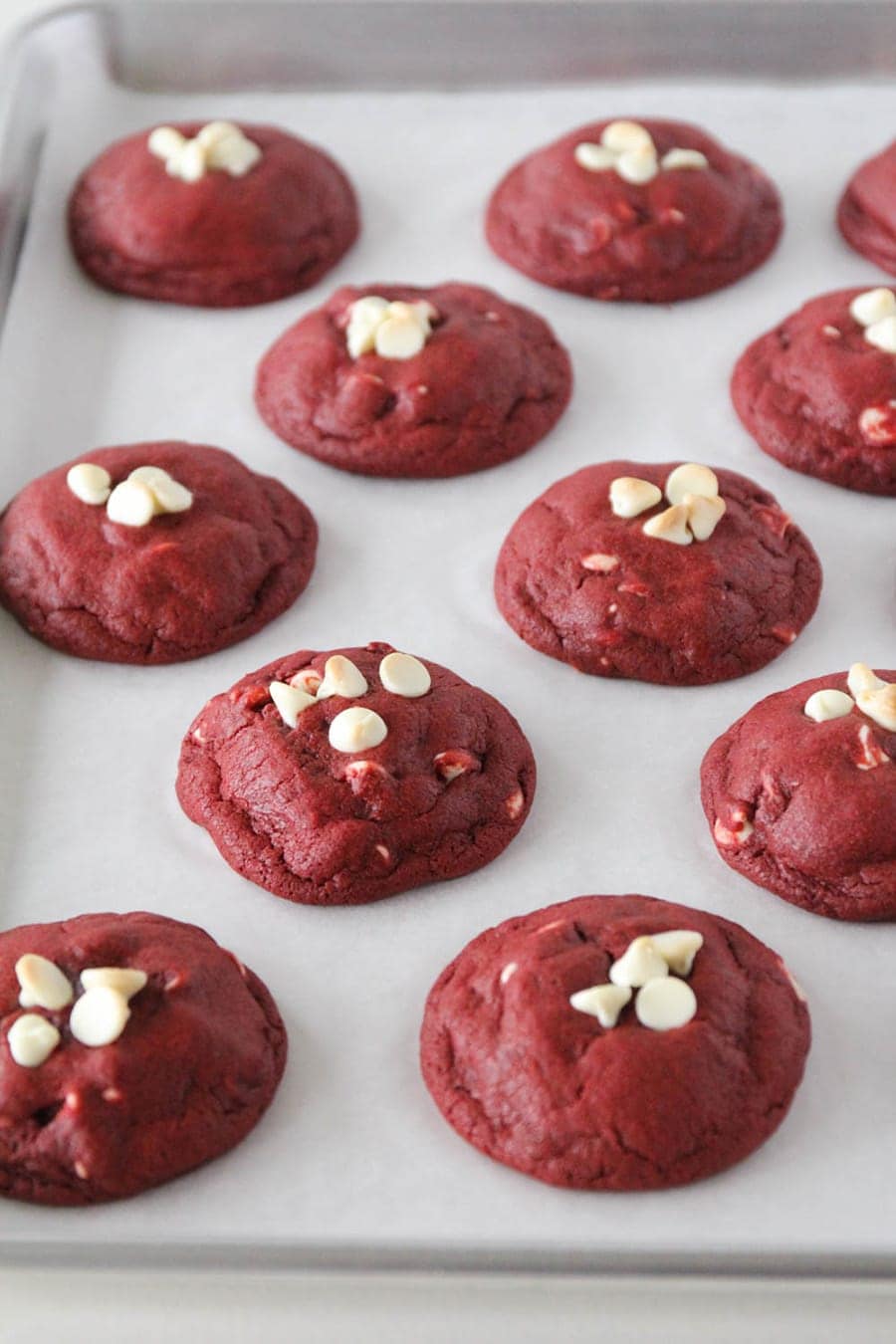 Ingredient tips
For the BEST brand of chocolate chips, I

 really like Ghirardelli chocolate chips, but you could also use yogurt chips if you aren't a fan of white chocolate.

Some of the butter can be replaced with cream cheese for extra creaminess and a bit of extra tanginess 

U

se your favorite cocoa powder, but I really like using Dutch process cocoa powder because it provides a rich chocolatey flavor.
Gel food coloring will give a richer color with less dye, and will not affect the consistency of the cookie dough.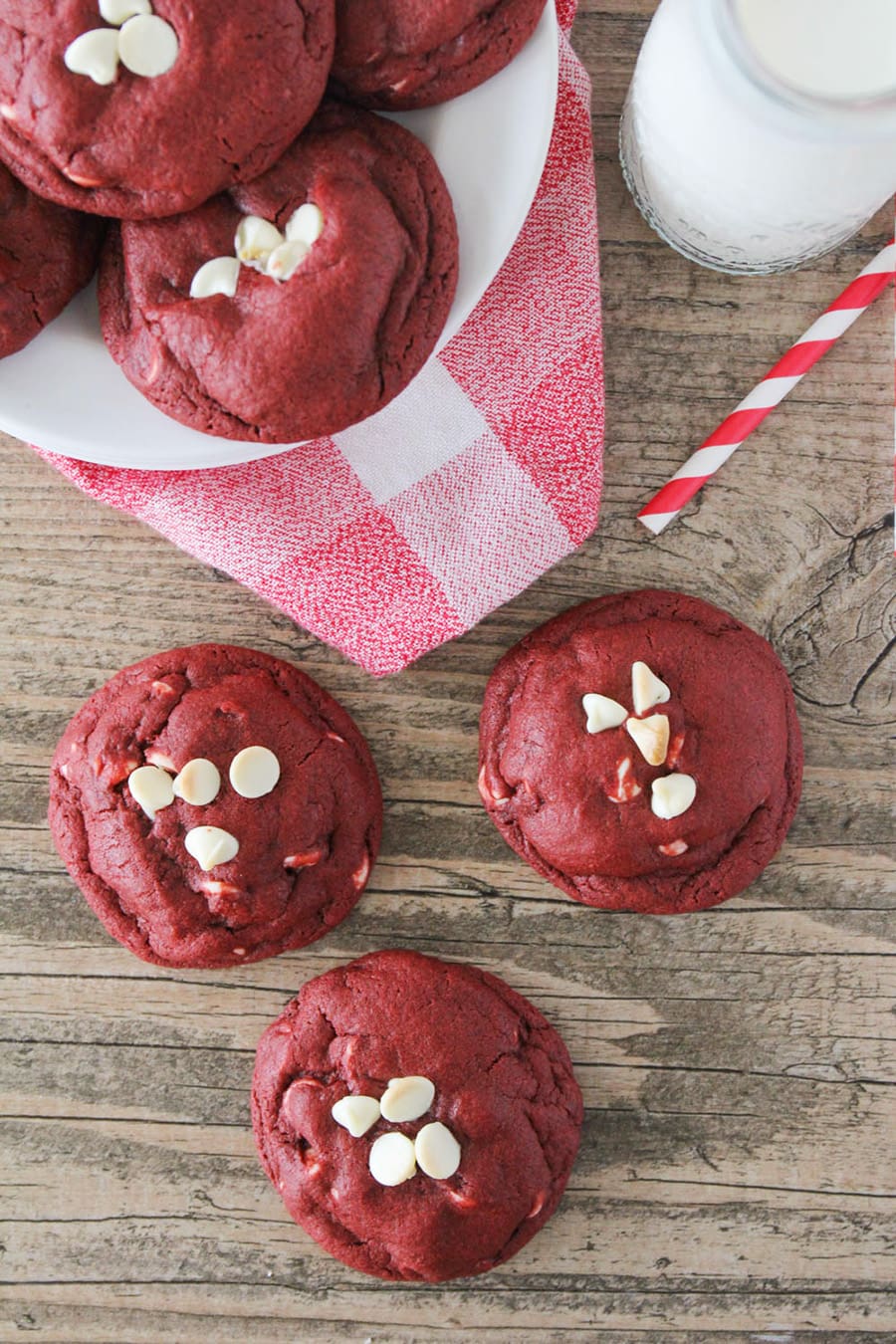 Tips
Top make the red velvet cookies soft and chewy, DO NOT overbake the cookies! As soon as the edges brown they are ready to take out of the oven. Keep them well stored so they don't dry out and become hard. If you are really worried about it you can try to add an extra egg yolk.
If you don't want to use parchment paper you can use a reusable silpat sheet.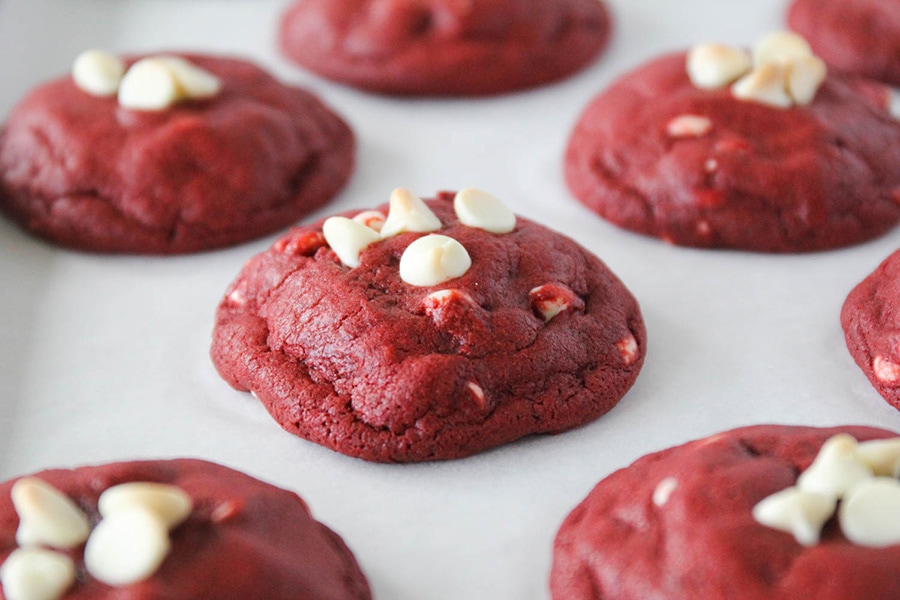 Storage Tips
STORE cookies in an airtight bag at room temperature for about a week. If they are exposed to outside air they will dry out and harden. Place a piece of sandwich bread in the container/bag so that the piece of bread dries out before the cookies do.
To FREEZE the red velvet cookies, let them cool completely and then place them in layers, separated by pieces of parchment paper in an airtight bag. Keep in the freezer for 3-4 weeks.
FREEZE the cookie dough in individual balls or in a log for slice and bake cookies. Either way it should last for about 3 months.
When making the cookie dough balls you can pre-

freeze them, or let them sit on a cookie tray until solid and then place them in a freezer safe bag. When ready to bake the cookies just pop the dough on a tray and bake for a couple of extra minutes.

Freeze

a log of cookie dough and then wrap in a layer of plastic wrap and in a layer of foil to prevent freezer burn. Then let it defrost in the fridge overnight and slice into cookies!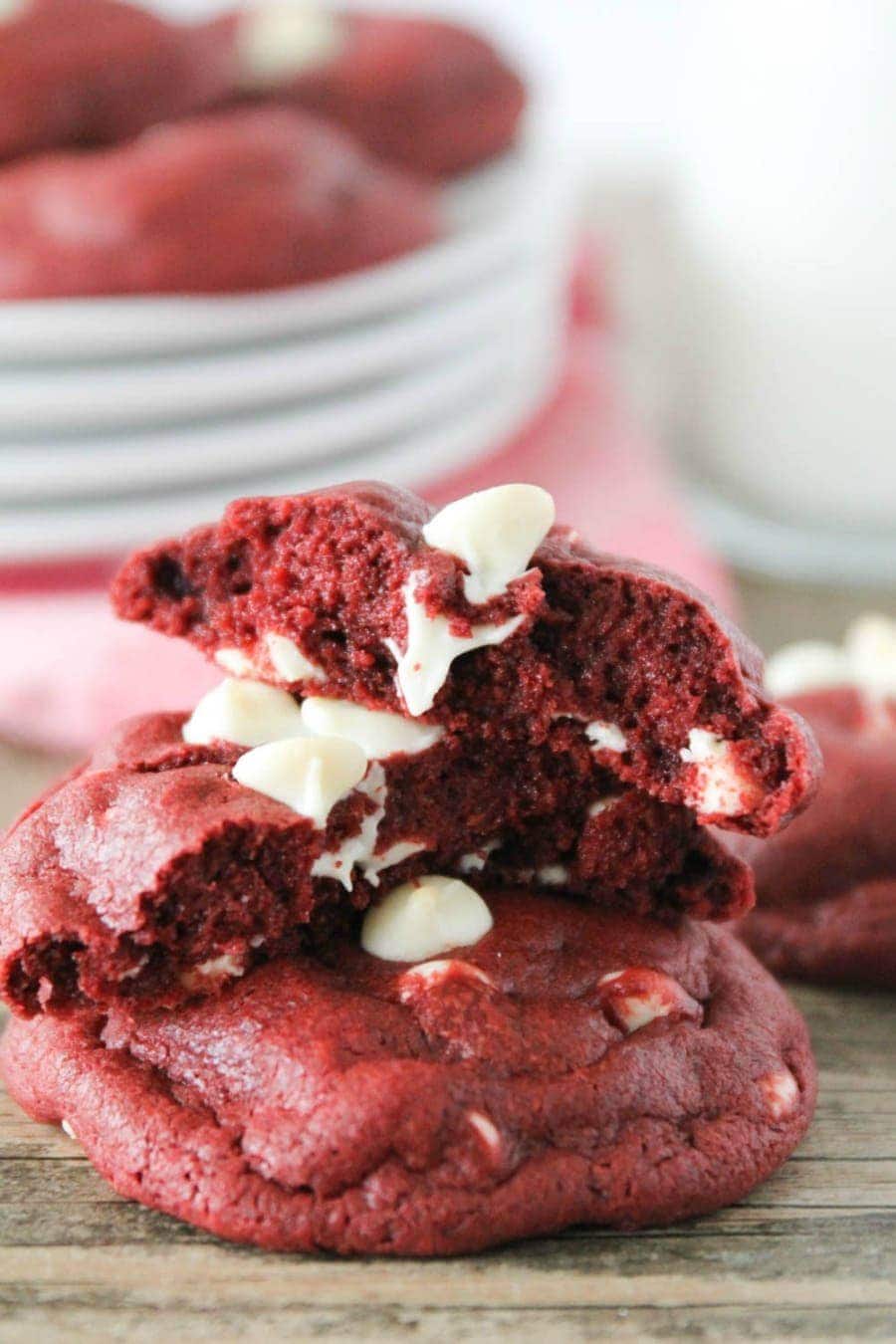 for more yummy red velvet recipes, check out:
___________________
Oh my goodness, these look AMAZING! I love red velvet!! I'm interested to see how the white chocolate compliments it.
Thanks for sharing this recipe with us Alicia!!
For more delicious recipes by her, head on over to The Baker Upstairs!