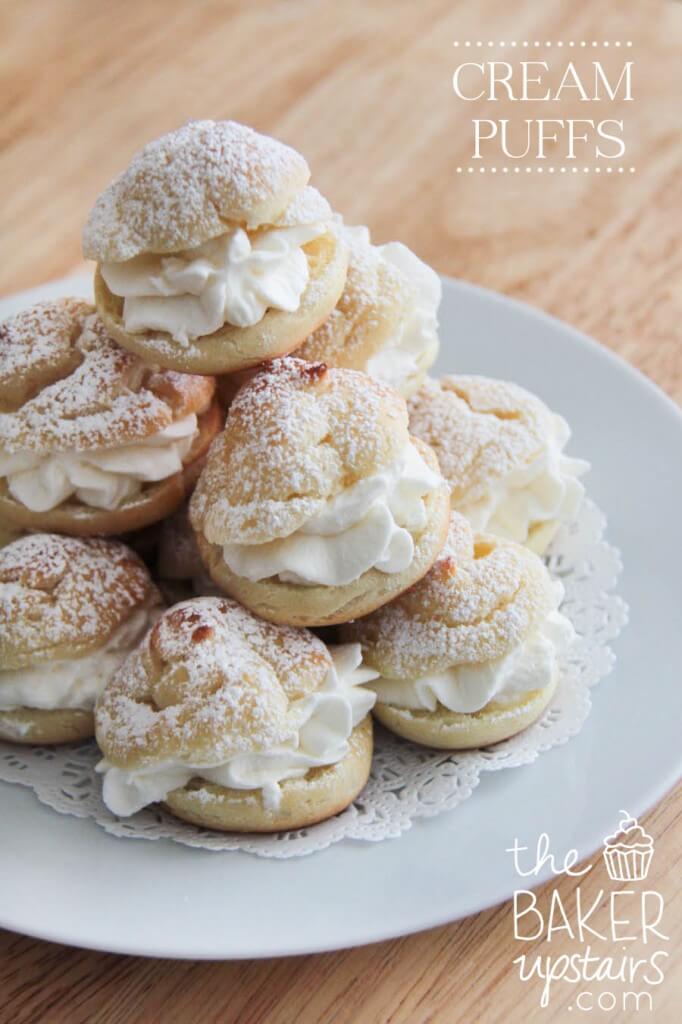 Hello Lil' Luna readers! I'm so excited to share my first post as a contributor today! My name is Alicia and I blog at The Baker Upstairs. I have two adorable little girls, ages five and almost two, and I've been married to my sweetheart Geoff for almost ten years. I work part time as a nurse, and spend the rest of my time chasing kiddos around, knitting, reading, running, sewing, and doing lots and lots of baking! I was especially excited about posting today, because tomorrow is my birthday! And not just any birthday… it's kind of a big one. You know, the kind that rhymes with "flirty." I'm still coming to terms with the fact that tomorrow I will add another decade to my age! I do find, though, that however reluctant I am to get older, a nice birthday treat always makes me feel better. With that in mind, I've brought one of my favorite treats to share with you today… homemade cream puffs! However intimidating they seem, cream puffs are actually very easy to make… almost like magic! The pâte à choux (the pastry part) comes together very quickly and easily, and bakes up into wonderful puffy little pieces of heaven. Here's what mine looked like when they came out of the oven: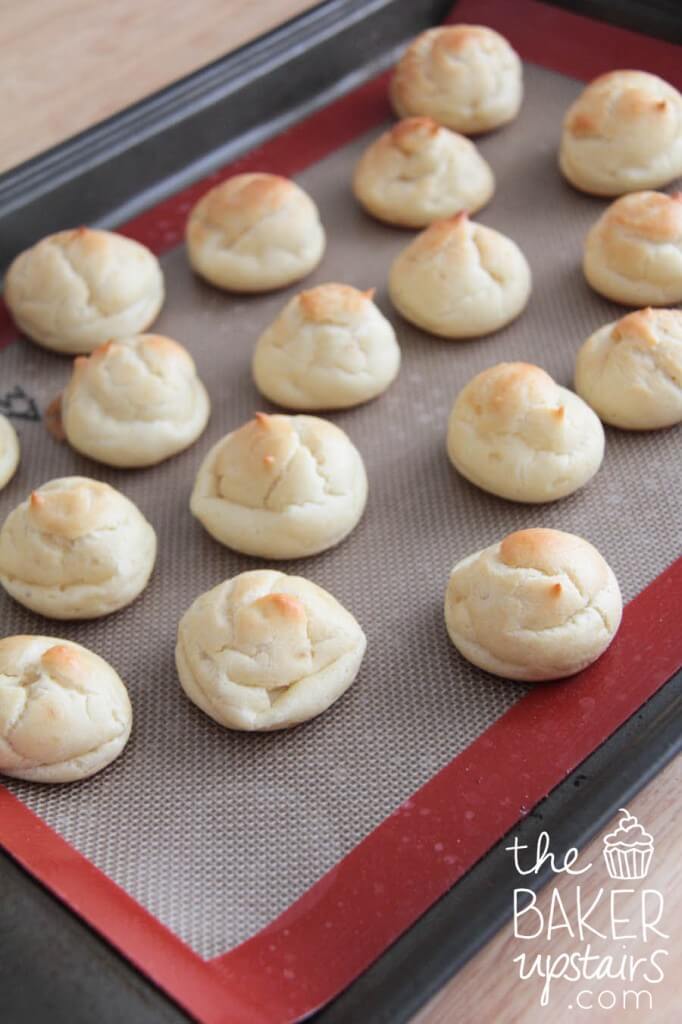 You can see that a few of them are a little collapsed looking, and that is totally fine! They are hollow on the inside, so once you add the whipped cream filling, they will look perfect. Here's a shot of what the inside of the puffs looks like: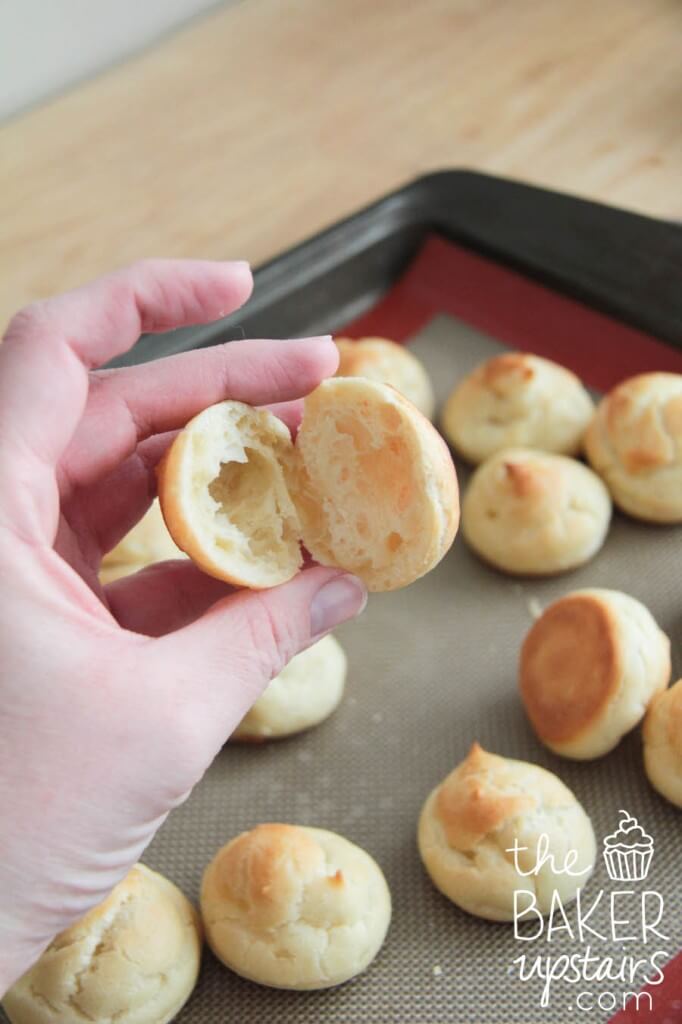 This is one of those recipes that I never thought I could make at home, but they are every bit as delicious as those you can buy at a bakery. And they are not only quick and easy to make, they are also impressive and elegant. Enjoy!
Homemade Cream Puffs
Ingredients
1 cup water
5⅓ tablespoons butter
1 tablespoon sugar
⅛ teaspoon salt
1 cup all purpose flour
4 eggs
1 cup heavy whipping cream
¼ cup powdered sugar more or less to taste
Instructions
Preheat oven to 450. Line two baking sheets with parchment paper or silicone liners.
In a medium saucepan, bring the water, butter, sugar, and salt to a simmer over medium heat. Once a simmer is reached, remove from heat, and stir in flour all at once until the mixture forms a ball. Let stand five minutes
By hand, or using a hand mixer, add the eggs one at a time, mixing well between each addition. Mix until the dough is smooth and shiny.
Using a pastry bag and a large tip (or just a ziploc bag with a hole cut in the corner) pipe small rounds of dough onto the baking sheets, spacing about one inch apart. Use your finger to press down the little peaks at the top of the dough, so the puffs are smooth.
Bake at 450 for 10 minutes, then lower the temperature to 350 for 15 minutes. The puffs are done when they are lightly browned and the insides are hollow. Let the puffs cool completely.
While the puffs cool, beat the whipping cream in the bowl of a stand mixer (or use a hand mixer or wire whisk). Once the cream is whipped to desired level of firmness, beat in the powdered sugar, a little at a time, until it is as sweet as you would like.
Split each cream puff in half using a serrated knife, and place a scoop of whipped cream onto the bottom half of the puff. Top with the other half and dust with powdered sugar. Bon appetit!
adapted from Ambrosia Baking
————————————————
Thanks Alicia!! I love cream puff!!!
Be sure to go to The Baker Upstairs more fun projects from Alicia, and
MY OTHER RECIPES
for more information about her please go HERE.
And if you love Cream Puffs you'll love this Cream Puff Cake:
And, for a couple more cool desserts, check out: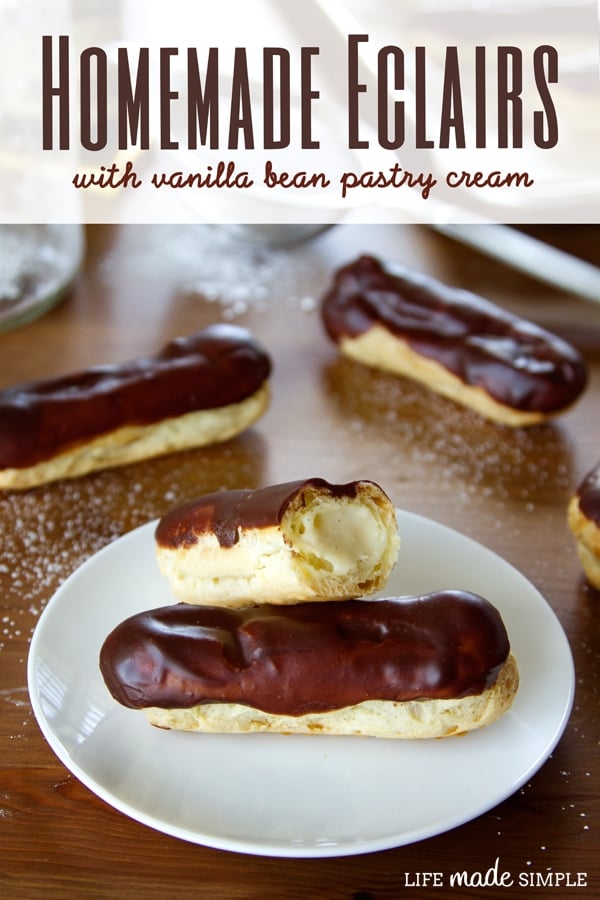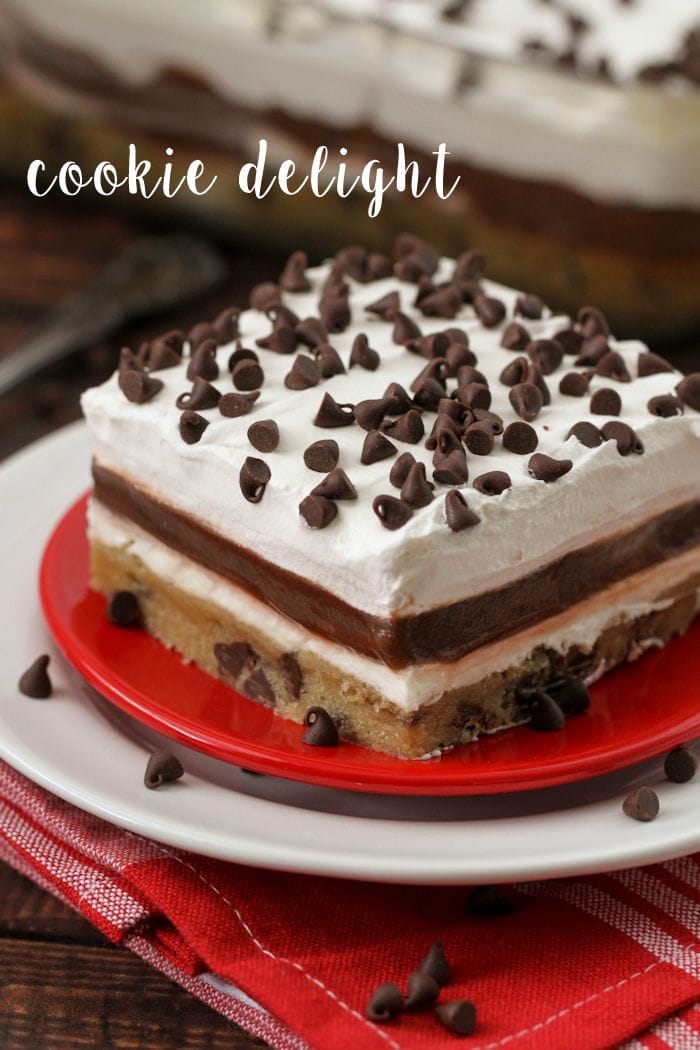 For all Dessert recipes go HERE.
For all Recipes go HERE.
And get weekly emails with monthly freebies by signing up for the Lil' Luna newsletter. 🙂
For even more great ideas follow me on Facebook – Pinterest – Instagram – Twitter – Periscope – Snapchat.
Don't miss a thing – Sign up for the Lil' Luna Newsletter today!
ENJOY!