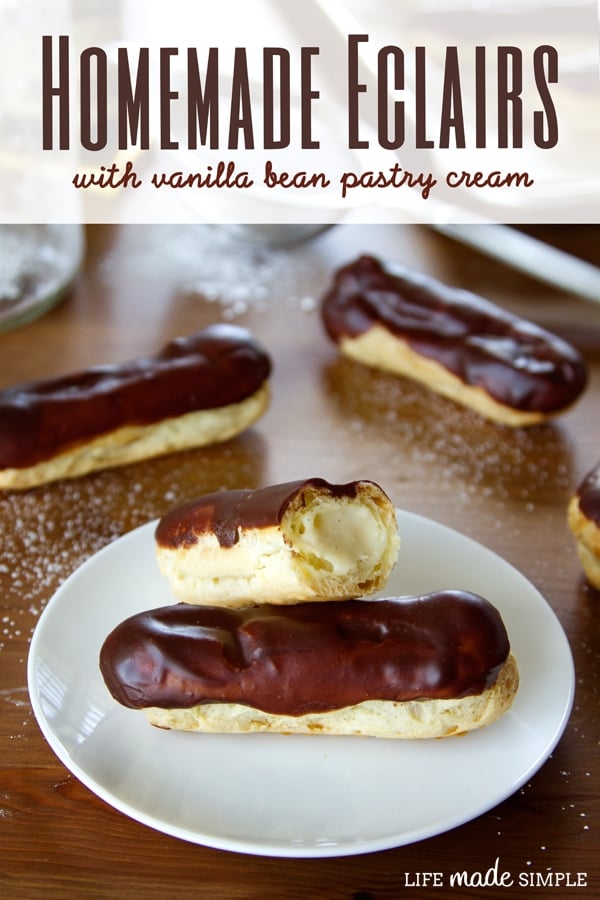 Hello again! It's Natalie from Life Made Simple and I'm here to share a really fun recipe with you! Eclairs have always been the one thing I've been dying to master- and guess what? They're pretty easy! I originally learned how to make them at work, but I thought that I'd try making them at home for my husband. They were a huge success and he absolutely LOVED them! Here's what I did: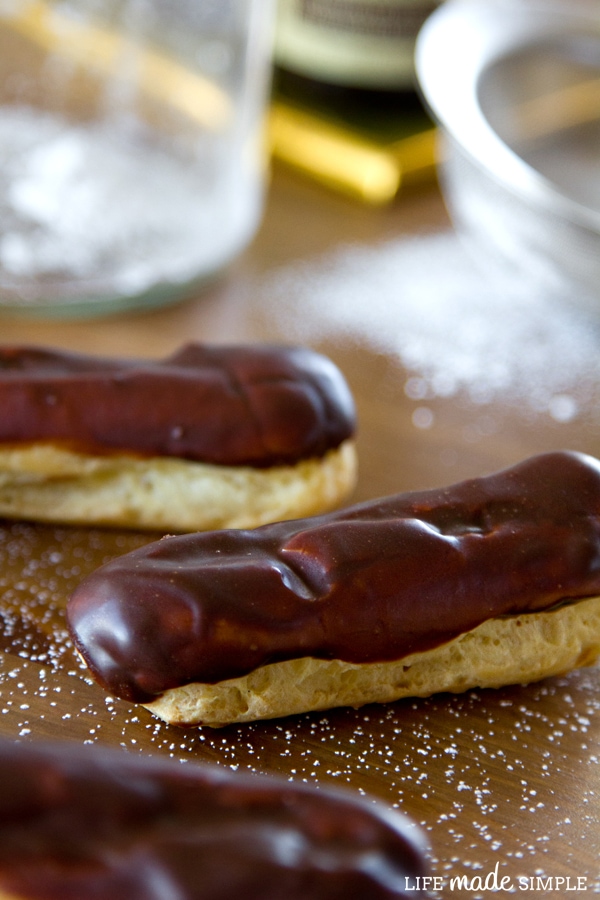 I started off with a traditional Pâte â Choux  (also known as "shoe paste") which is not only used for eclairs but for cream puffs too. For the filling I made a really easy vanilla bean pastry cream. Instead of steeping vanilla beans, I used a heaping tablespoon of that gorgeous vanilla bean paste that you can find at most cooking stores. It helped cut down the cook time and gave it more of an intense flavor which I really loved! You could also fill these with raspberry jam or homemade whipped cream. Lastly, I coated the tops with a simple semi-sweet chocolate/cream glaze.
MY OTHER RECIPES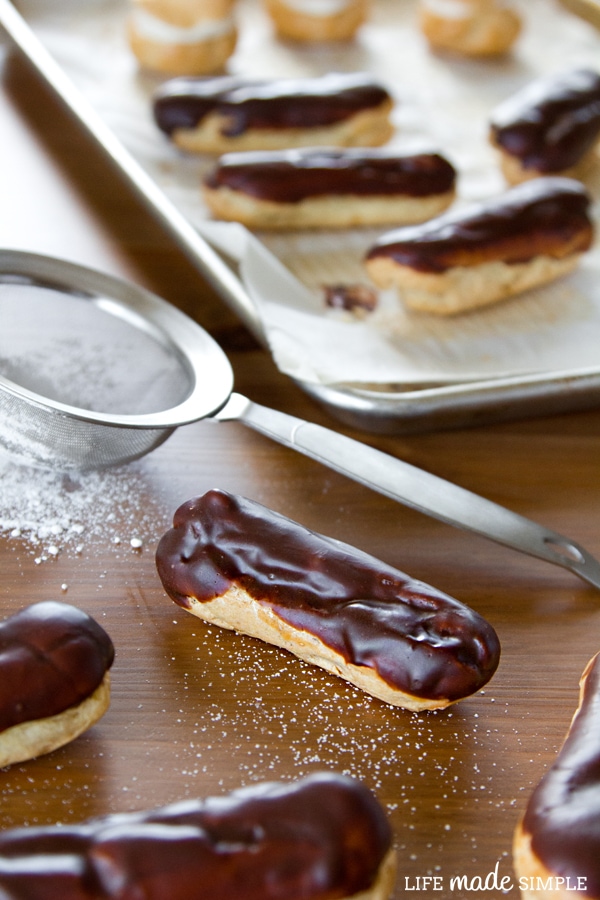 One of the things that I love the most about this recipe is that you can prep the filling and glaze while the pastry shells bake. Then it's just a matter of assembly and letting the glaze set up! You'll have elegant eclairs in no time and people will be so impressed that you made them! Happy baking!!!
Homemade Eclairs with Vanilla Bean Pastry Cream
Pâte â Choux:
1 c. all-purpose flour
1 tbsp. granulated sugar
8 tbsp. (1 stick) butter
4 eggs
1 c. water
¼ tsp. salt
1 egg, lightly beaten
Vanilla Bean Pastry Cream:
¼ c. + 2 tbsp. all-purpose flour
6 tbsp. granulated sugar
2 tbsp. butter
3 egg yolks
1½ c. whole milk
1 tbsp. vanilla bean paste
Chocolate Glaze:
4 oz. semi-sweet chocolate
½ c. heavy whipping cream, plus more if needed
pinch of sea salt
DIRECTIONS:
1. Preheat oven to 400˚F. Line a baking sheet with parchment paper, set aside.
2. To make the pâte â choux, place a medium size saucepan over low heat. Add butter, sugar, water and salt, stirring frequently. Turn heat up to a low boil, remove from head and add in flour. Stir vigorously until the mixture forms a thick paste and no flour pockets remain. Place over medium heat and cook for 1-2 minutes stirring constantly to prevent burning (a thin film might form on the bottom of your pan).
3. Place hot paste into the bowl of a stand mixer fitted with the paddle attachment. Beat on medium speed for 2 minutes until it becomes slightly cooler. Then add the eggs one at a time until incorporated. The mixture will look shiny and will stick to the sides of the bowl. Beat for an additional 2 minutes on medium. Scoop dough into a large piping bag fitted with a large tip (a ½" in diameter). Pipe 4″-5″ logs onto the prepared baking sheet, spacing each two inches apart to prevent spreading and baking into each other. Using a pastry brush, gently and lightly coat each log with the beaten egg wash.
4. Place in the oven and bake for 20 minutes. After 20 minutes, open the oven, rotate the pan and reduce the heat to 350˚F, bake for an additional 20 minutes. Reduce oven heat to 300˚F and bake for 20 more minutes to allow the pastry shells to dry out. That makes a total of 60 minutes or 1 hour at three separate temperatures. Remove from the oven and allow to cool for 20 minutes.
5. Meanwhile to make the pastry cream, in a large mixing bowl, combine egg yolks and sugar, whisking until combined. Pour milk into a medium saucepan over medium heat, bring to a low boil then add the flour. Gradually pour the hot milk into the egg/sugar mixture to temper it, whisking constantly to prevent the eggs from scrambling. Return the mixture to the saucepan set over medium heat, add vanilla bean paste and butter, cook the mixture until it becomes very thick. Pour through a mesh sieve and set over an ice bath to cool (whisk for about 5 minutes or so). Store in the refrigerator until needed.
6. When the pastry shells have cooled, poke three holes into their bottoms. Place pastry cream into a large piping bag fitted with a small round tip and fill each hole. Once the shells are filled, heat the heavy whipping cream for the glaze in the microwave for 30 seconds. Stir in semi-sweet chocolate and salt. Dip each pastry into the chocolate glaze swirling to remove any excess chocolate. Set on the baking sheet and place in the refrigerator to set for about 30 minutes.
Recipe adapted from The Art and Soul of Baking, by Cindy Mushet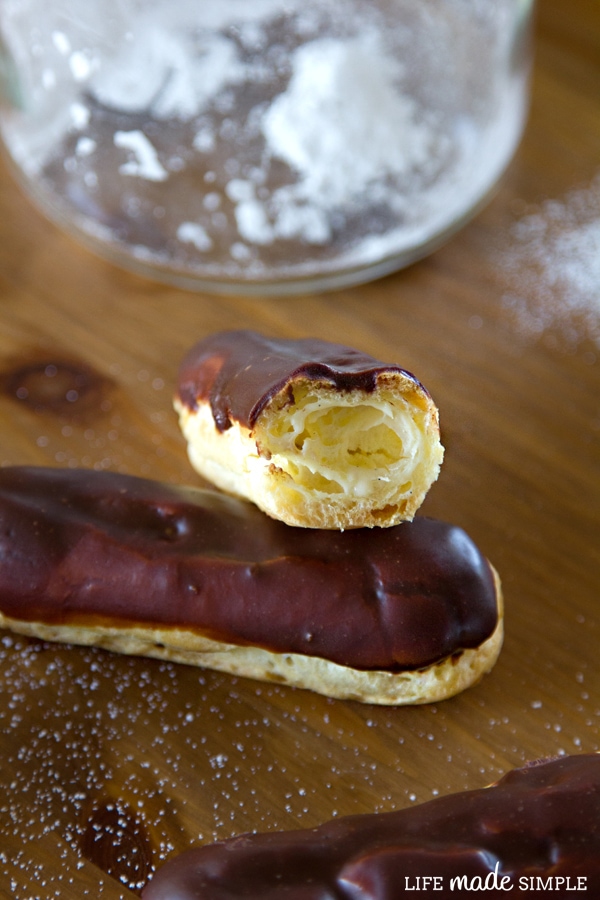 Thanks again Kristyn for having me!
You can find more recipes & craft ideas here:
Life Made Simple | Facebook | Pinterest | Twitter
————————————-
These look so good, Natalie!! Thanks for sharing!
Be sure to go to Life Made Simple  for more fun projects from Natalie, and
for more information about her please go HERE.
If you love Cream Puff desserts, then you'll want to check these recipes out: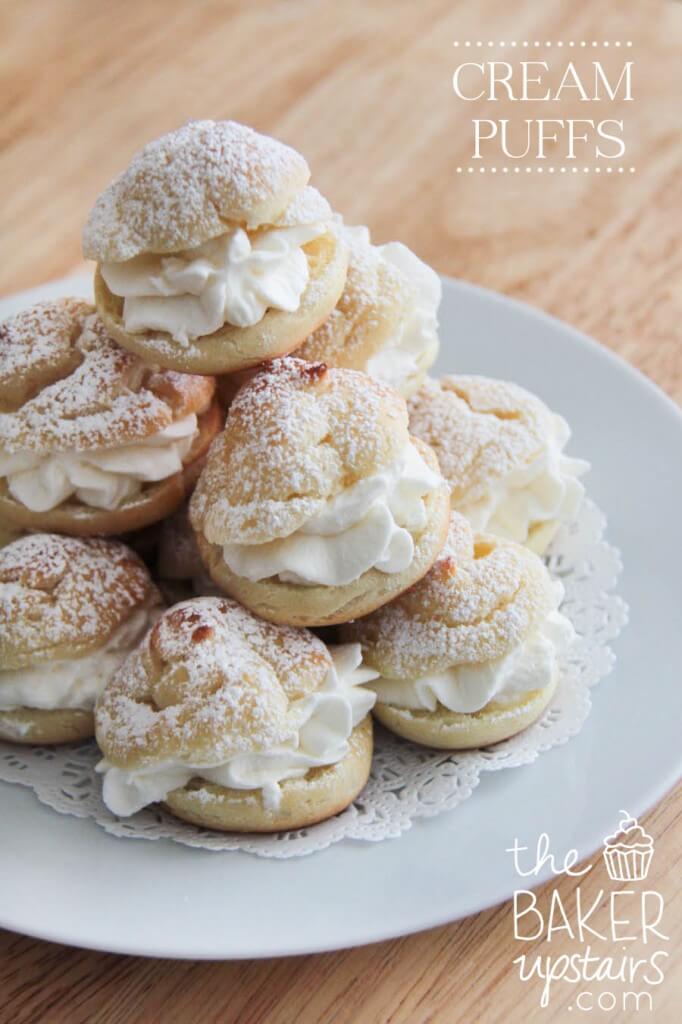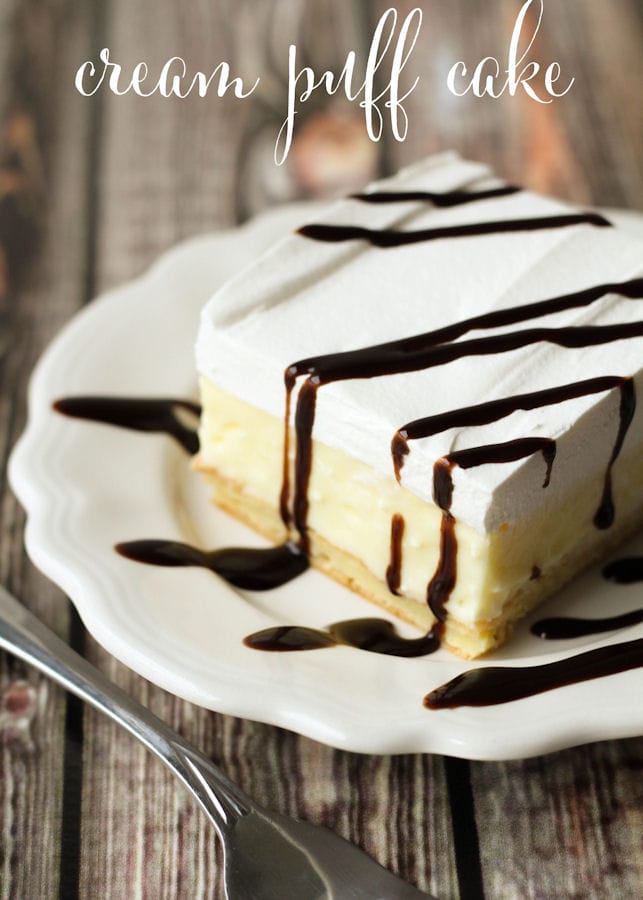 For all Dessert recipes go HERE.
For all Recipes go HERE.
And get weekly emails with monthly freebies by signing up for the Lil' Luna newsletter. 🙂
For even more great ideas follow me on Facebook – Pinterest – Instagram – Twitter – Periscope – Snapchat.
Don't miss a thing – Sign up for the Lil' Luna Newsletter today!
ENJOY!