Delicious Homemade Pop Tarts are easier to make than you think and can be customized based off of your favorite fillings and frosting!
Pop tarts are one of those things that you eat for breakfast that aren't necessarily filling or nutritious, but they sure are GOOD. Kinda like a donut, danish, or a cinnamon roll… 😉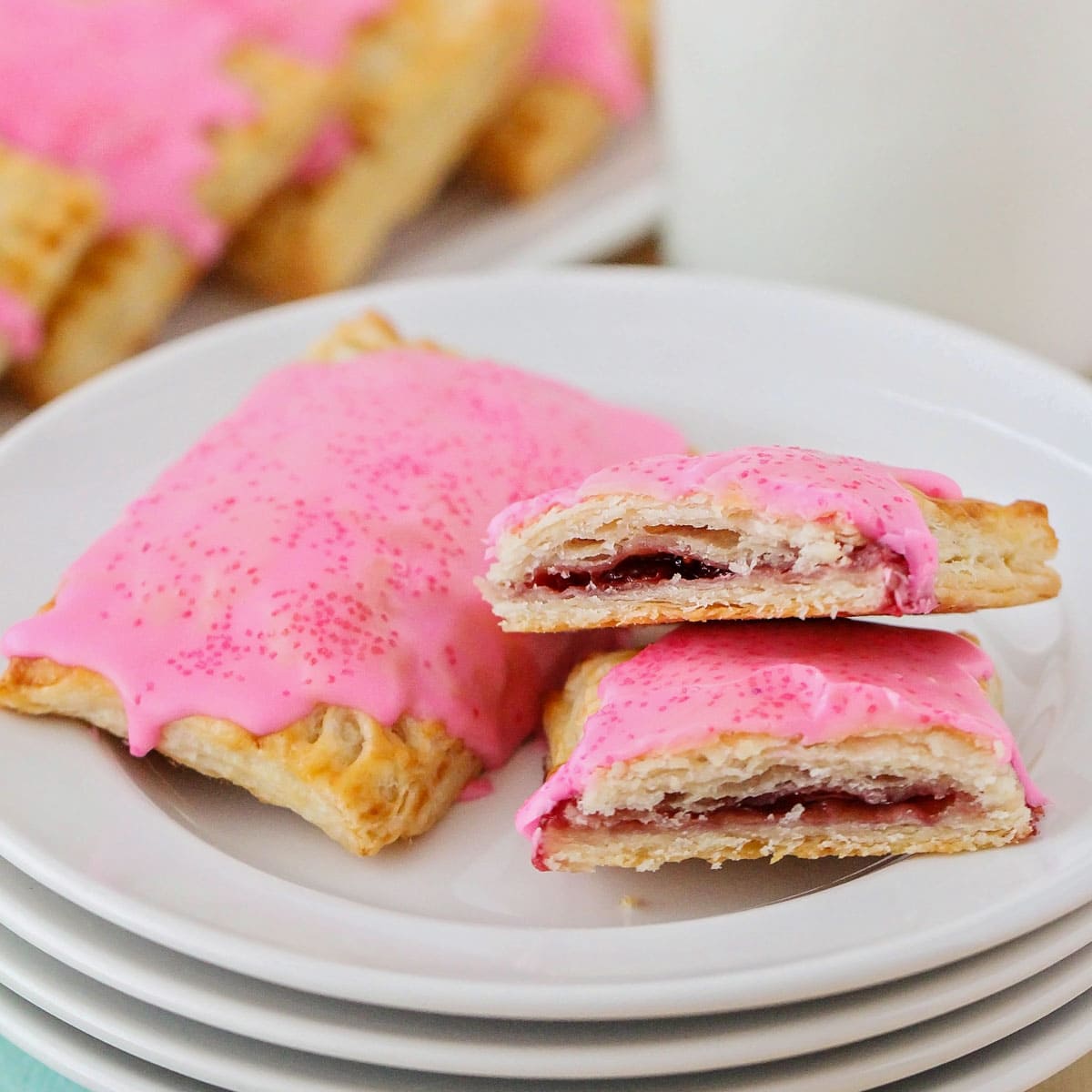 Who doesn't love them?!
I have to know – what are your guilty pleasure foods? You know, those foods that are probably not the best for you, but you can't stop eating them anyway.
For my family it has to be POP TARTS!
We have loved them for forever! We eat them for breakfast, after school snacks, and treats. Knowing of this love for pop tarts, I thought it would be fun to experiment and see if I could come up with an equally delicious version at home.
They turned out amazing! They're not exactly the same as real Pop Tarts, since this crust is a little flakier, but I personally think they taste way better! The combination of sweet glaze, crisp pastry, and fruit filling is totally delicious.
These homemade strawberry pop tarts are delicious and adorable, and with this simple recipe, you can now make these goodies at home – from scratch!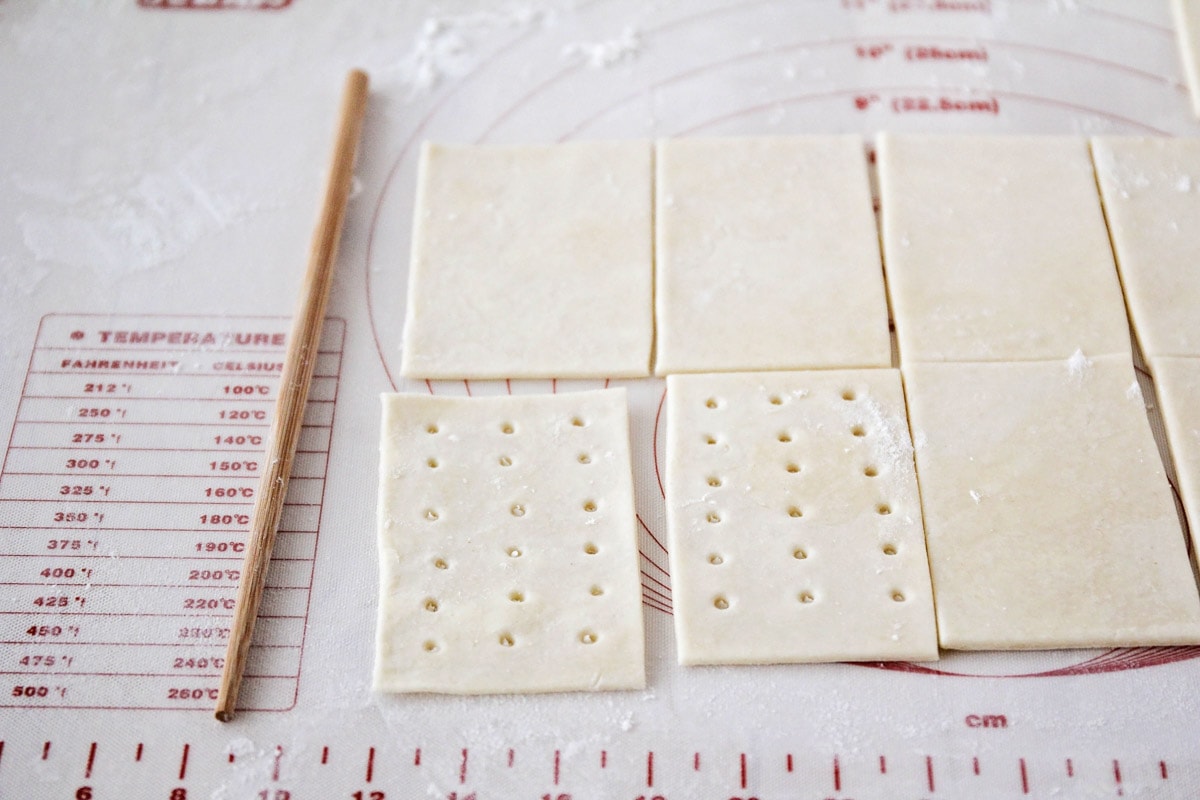 How to Make Homemade Pop Tarts
Although they do take a little time, these homemade pop tarts are super easy to make.
If you want to make things even easier and faster, you could definitely use store-bought pie crust instead of homemade, but I love my flaky homemade pie crust!
PREP. Preheat the oven to 350. Line two baking sheets with parchment paper or silicone mat and set aside. Whisk the egg and milk together in a small bowl.
CRUST. Roll the pie crust out to about 1/8 inch thick, then cut it into rectangles. I just eyeballed mine, and they were about 3 inches by 4 inches.
Place half of the pie crust pieces onto parchment lined baking sheets, then brush with egg wash.
FILLING. Spoon your fruit preserves onto the center of each piece. I used mixed berry preserves, but you could use whatever flavor you like. You can also use strawberry or raspberry jam. Try to keep the filling to the center as much as possible.
Using a chopstick or skewer, poke holes in the over half of the pie crust pieces to allow steam to escape.
Place the top pieces over the filling, and crimp with the tines of a fork to close. Things may get a little messy at that point, but it's totally okay!
BAKE. Brush the tops of the pop tarts with egg wash, and bake until golden brown, then allow to cool completely on a wire rack. When they have cooled, you'll mix up a simple and sweet glaze, and then add the sprinkles.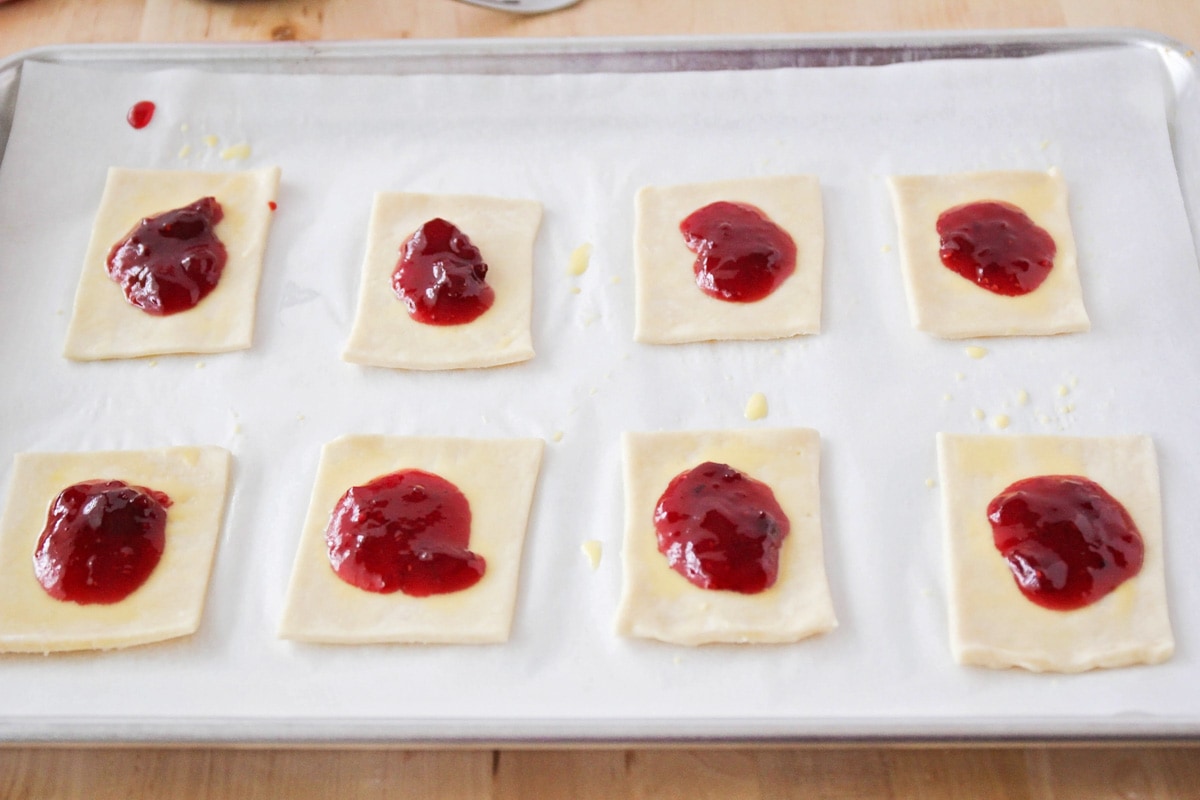 Filling tips
What do I do if the filling is too runny? This shouldn't be a problem if you're using store bought fruit preserves.
If you find your homemade mix is too runny, combine ½ tablespoon of cornstarch and ½ tablespoon water in a bowl. Stir in 1/2 c fruit preserves and then pour into a saucepan. Bring to a boil and simmer for 2 minutes, stir constantly. Remove from heat and allow to cool and thicken before filling the pastry.
Can I use brown sugar cinnamon filling instead of fruit? Of course! All of the steps are the same except replace the fruit preserves with the following Brown Sugar mixture:
Mix ½ c brown sugar with 2 tsp ground cinnamon and 1 tbsp flour. Place about 1 tablespoon of the mix in the middle of the pop tart.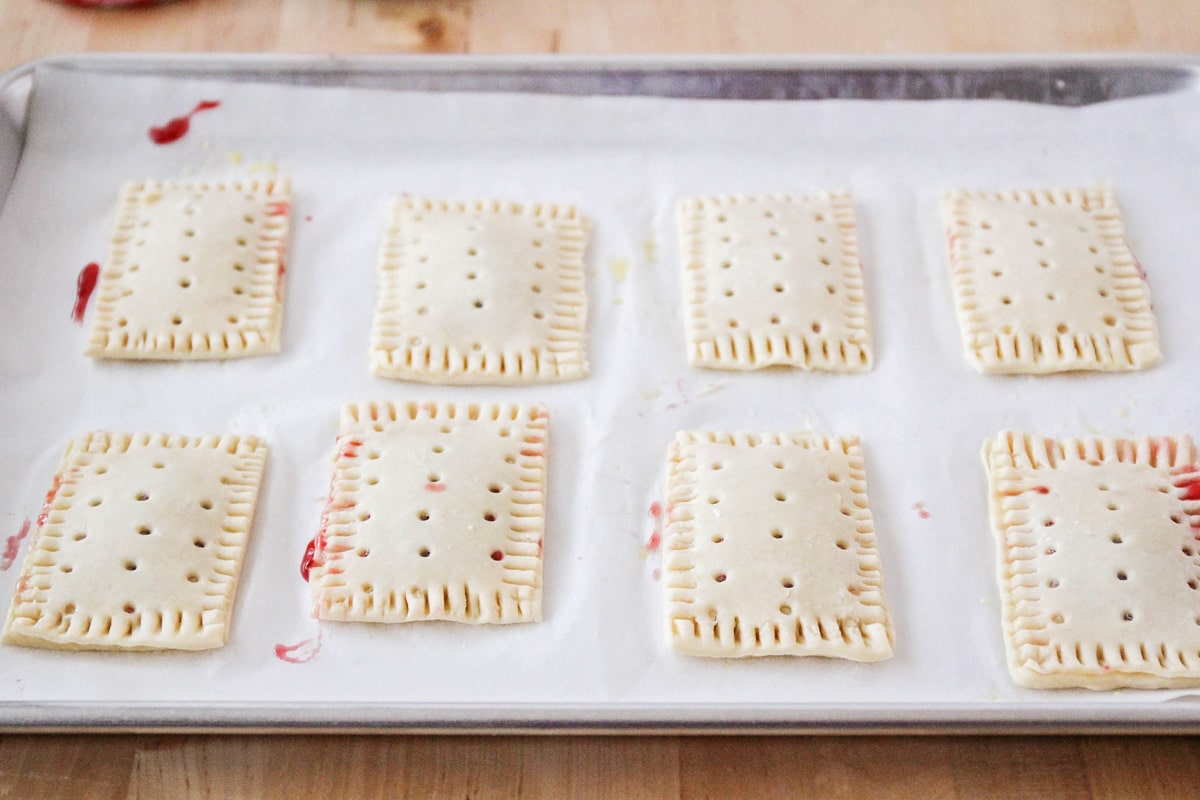 How to STore?
Leftover pop tarts can be stored in an airtight container on the counter for 1-2 days. To reheat use a microwave or a toaster oven. I do not recommend using a toaster because the fruit preserves tend to leak out when the pastry is turned on its side.
Freezing homemade pop tarts: Once the pop tarts have cooled, place pop tarts in an airtight freezer safe container. Separate the layers with parchment or wax paper. You can also individually wrap the pop tarts with plastic wrap. Freeze for up to 1 month.
These homemade pop tarts would be perfect for a fun breakfast or snack, or a delicious dessert. We will definitely be making these again and experimenting with different fillings! Kids will go nuts over these, so be sure to give them a try!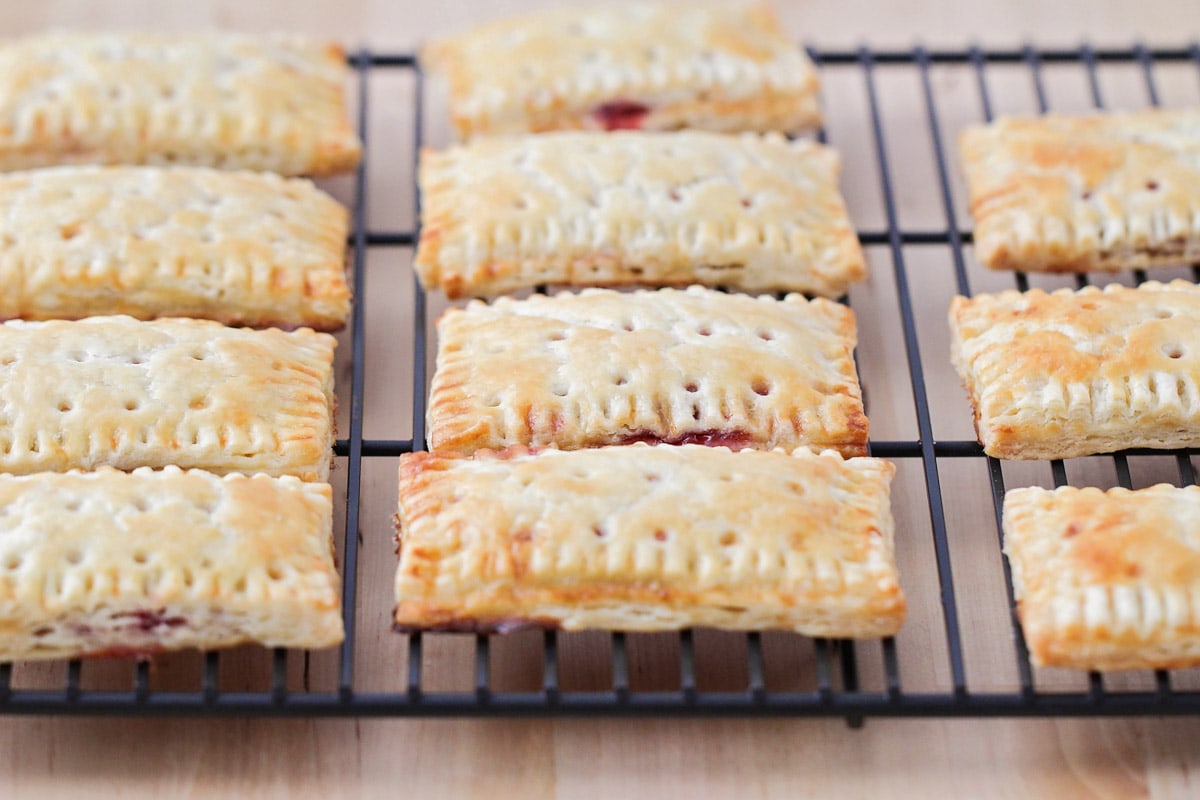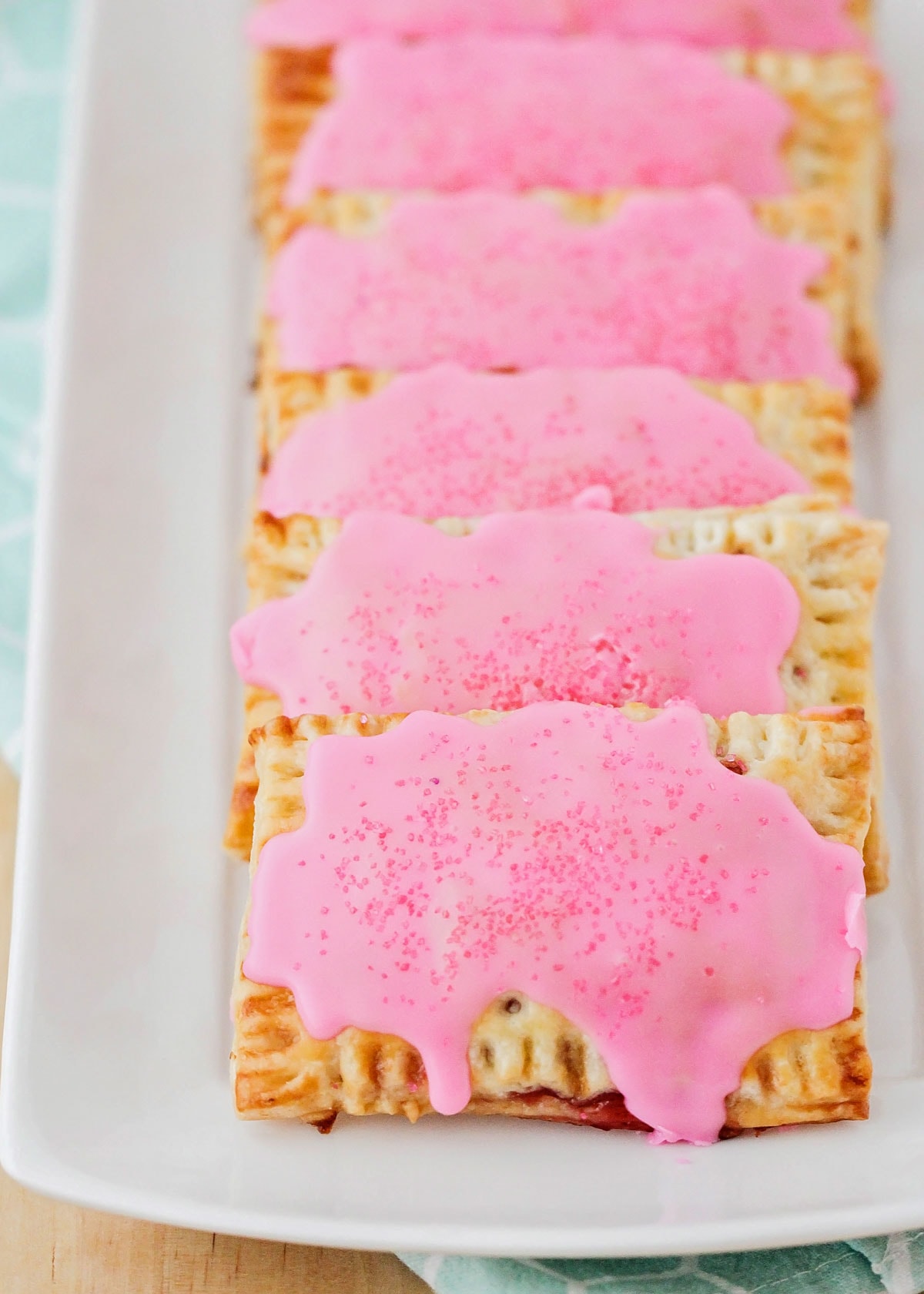 For more breakfast sweets, check out: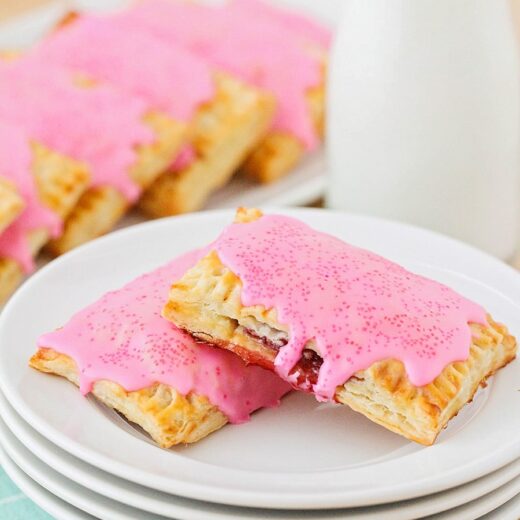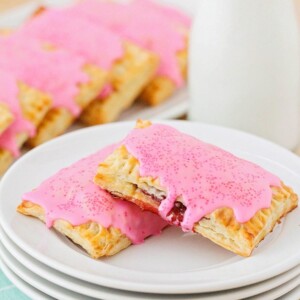 Pop Tart Recipe
Delicious Homemade Pop Tarts are easier to make than you think and can be customized based off of your favorite fillings and frosting!
Ingredients
Glaze
1

cup

powdered sugar

2

tbsp

half & half or milk

1

drop

food coloring

sprinkles of choice
Instructions
In a medium bowl or the bowl of a stand mixer, mix together the flour and salt. Grate the cold butter into the flour mixture, and cut in using a pastry blender or the paddle attachment, until the pieces of butter are no larger than pea sized. Add the buttermilk, and mix until the dough just starts to come together.

Turn the dough out onto a floured surface and gently work into a ball, handling as little as possible. Divide the dough in half and shape into discs. Wrap in plastic wrap and refrigerate at least twenty minutes, or until ready to use.

Preheat the oven to 350. Line two baking sheets with parchment or silicone liners and set aside. Whisk the egg and milk together in a small bowl.

Roll the discs out to ⅛ inch thick on a floured surface. Cut the dough into rectangles using a pizza cutter (mine were about 3 inches by 4 inches). Brush half of the rectangles with the egg mixture, then spoon 1 teaspoon of preserves onto the center of the brushed rectangles.

Using a chopstick, poke holes in the other half of the rectangles to allow steam to escape. Place the pieces with holes on top of the bottom pieces, and crimp with a fork to close. Brush the tops with the egg mixture.

Bake 25 minutes, or until golden brown on top. Remove from oven and let cool completely. While the pop tarts are cooling, whisk together all ingredients for the glaze except the sprinkles. Spoon the glaze over the cooled pop tarts and top with sprinkles if desired.
Nutrition
Calories:
263
kcal
,
Carbohydrates:
26
g
,
Protein:
3
g
,
Fat:
16
g
,
Saturated Fat:
10
g
,
Cholesterol:
55
mg
,
Sodium:
346
mg
,
Potassium:
48
mg
,
Sugar:
10
g
,
Vitamin A:
510
IU
,
Calcium:
24
mg
,
Iron:
1
mg
Nutrition information is automatically calculated, so should only be used as an approximation.
Making this recipe? Tag us!
Share it with us on Instagram using the hashtag #lilluna, so we can see what you're creating in the kitchen!
For more great recipes from Alicia, go to The Baker Upstairs.