My entire family is OBSESSED with Cinnamon Rolls. It's probably because my mom has been making them for as long as I can remember. Recently, she decided to try a new version and wanted to make a 1 Hour Cinnamon Roll recipe. She did some research and decided that the recipe from Your Homebased Mom looked the best. I assured her that anything from Leigh Anne would be phenomenal. She tried it out while we were there visiting for the holidays and the ENTIRE family LOVED the recipe. The rolls were soft and sweet and tasted just as good as her regular version. BUT, they were made in an hour! How awesome is that?! Can't beat having delicious and EASY cinnamon rolls that can made in an hour. 😉
We did change a few things up and added a little more butter and sugar (can't go wrong with more butter and sugar, right?!) We also added some cream cheese to the frosting and baked at a lower heat for more time. The result was amazing and you better believe we'll be making these again!
Begin by mixing together water, buttermilk, sugar, melted butter and yeast. Allow to sit for 15 minutes.
Then, roll dough out on a floured service, into a 12 x 16 inch square. Top with filling.
Cut and place on baking tray.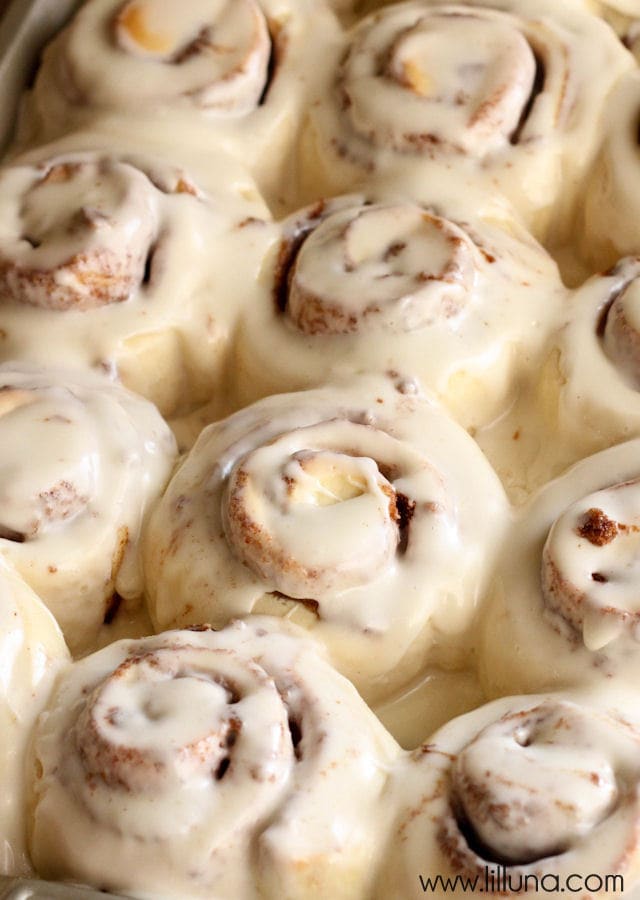 Have you ever looked at a food picture and just WISH you had one in front of you – in real life?! I'm SO excited to make these again here in Texas, but it will be hard not to eat the whole pan by myself. Seriously. You guys – these are DELICIOUS! I know you'll love them. ;D
How to make Cinnamon Rolls Video:
Easy Cinnamon Rolls:
One Hour Easy Cinnamon Rolls
Delicious One Hour Cinnamon Rolls with cream cheese frosting. These rolls are super soft and take no time making them irresistible!
Ingredients
1 cup warm water
¾ cup room temperature buttermilk
½ cup sugar
¼ cup melted butter
3 Tablespoons ActiveDry yeast
½ Tablespoon salt
2 eggs
5-6 cups bread flour
Filling
3 Tablespoons butter, melted
⅔ cup brown sugar
⅔ cup sugar
3 Tablespoons cinnamon
Frosting
¼ cup butter, softened
3 cups powdered sugar
4 oz. cream cheese, softened
1 tsp vanilla
enough milk or half and half to make it spreading consistency.
Instructions
In a bowl, mix together water, buttermilk, sugar, melted butter and yeast. Allow to sit for 15 minutes..
Add in salt, eggs and flour. Mix for 10 minutes and allow to rest for 10 minutes.
Prepare your filling by mixing together melted butter, brown sugar, sugar and cinnamon. Set aside.
On a floured service, roll dough into a 12 x 16 inch square.
Spread your filling over the top and roll up. Cut into 12 large rolls (or 18 smaller rolls)
Place rolls on a cookie sheet covered with a silpat or parchment paper.
Bake at 375 for 15-20 minutes.
While baking, mix together your frosting ingredients. Spread on warm rolls and serve. ENJOY!
Recipe adapted from Your Homebased Mom.
NOTES:
We made this to have a gooey filling, if you want it less gooey, change brown sugar and sugar to 1/2 cup each.
All-purpose flour can also be used but bread flour is best (makes it softer).
This also makes a lot of frosting – we'd rather have a little too much than not enough, but if you like less you can change amounts to: 1/3 cup butter, 2 cups powdered sugar, 3 oz. cream cheese, 1 teaspoon vanilla and milk. 😉
Products Featured in this Recipe:
(may include affiliate links)
If you love cinnamon rolls, you'll love trying a mini version!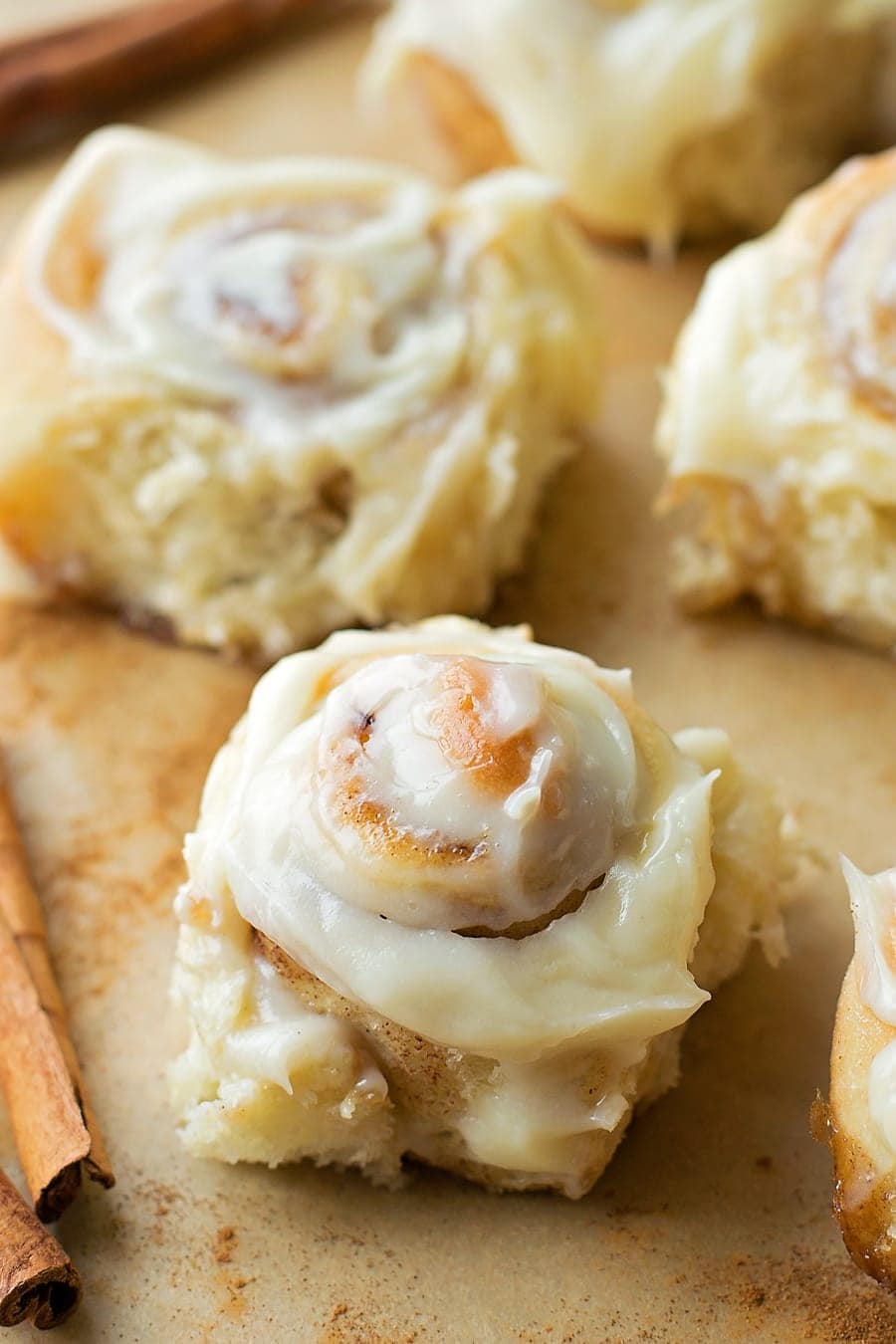 For more sweet cinnamon recipes, check out:
ENJOY!