All the best Easter brunch recipes to choose from for Easter morning. From cinnamon rolls to breakfast casseroles to muffins and more – this delicious collection will help you plan your Easter brunch.
For more Easter collections, check out: Easter Appetizers, Easter Side Dishes, Easter Dinner Ideas, Easter Desserts
MOST POPULAR EASTER BRUNCH IDEAS
Easter is such a fun holiday! With the Easter egg hunts, family gatherings, church and festivities, it's a holiday that so many love. If your family is like ours, we center these family holidays around food.
In case your family gathering happens to be between the morning and lunch time, we will be sharing all of our favorite Easter brunch recipes that everyone loves.
From casseroles to pastries to pancakes and waffles (perfect for a waffle bar), we are sharing the most popular Easter brunch ideas for you to enjoy this holiday season.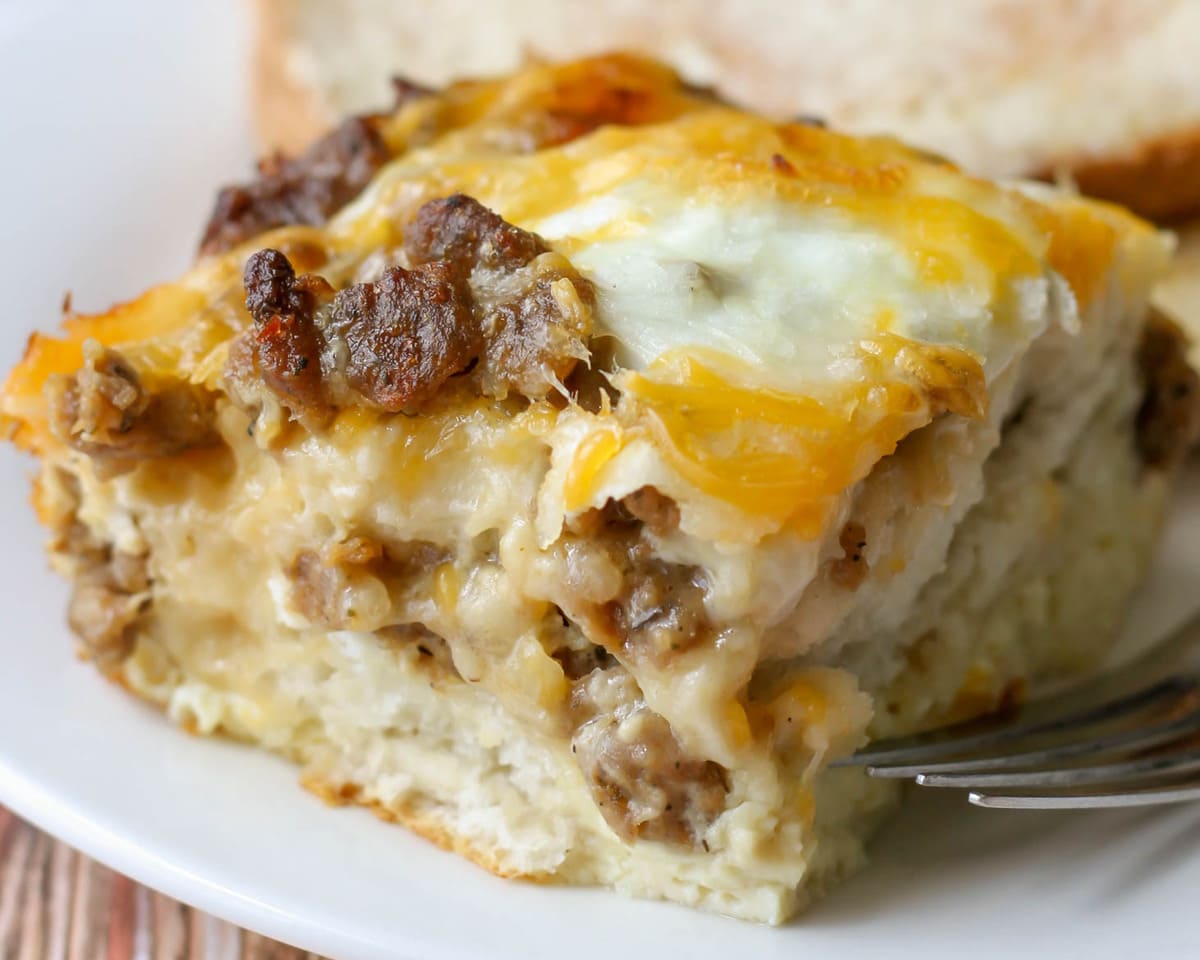 Tips for a Great Easter Brunch
What is a good time to serve brunch? Brunch usually starts between 9 and 10 am. Once you get to 11am you can skip the "br" and just serve lunch. Also, brunch is perfect for a self serve buffet style presentation.
Prep ahead of time: Unlike hosting a dinner, brunch means that you don't have all day to prepare. Getting things done ahead of time will make the morning go more smoothly.
Get your grocery shopping done early. Not only will you beat the crowds, but you don't risk the store being out of a needed item.

Clean the house

Decorate and set up tables

Prep any food items
The menu:
Plan the Easter brunch menu a week or two in advance. This will help you when you're out shopping as well as if people ask to bring a dish. You'll know exactly what items you want to serve and how they can help.

Include both sweet and savory items to the menu as well as both hot and cold items. 

Incorporate make ahead items to the menu. See individual posts for more info. 

Don't hesitate to have guests bring a dish, especially a warm dish. Spreading out the making of hot dishes means you can offer more hot dishes with less work on your part.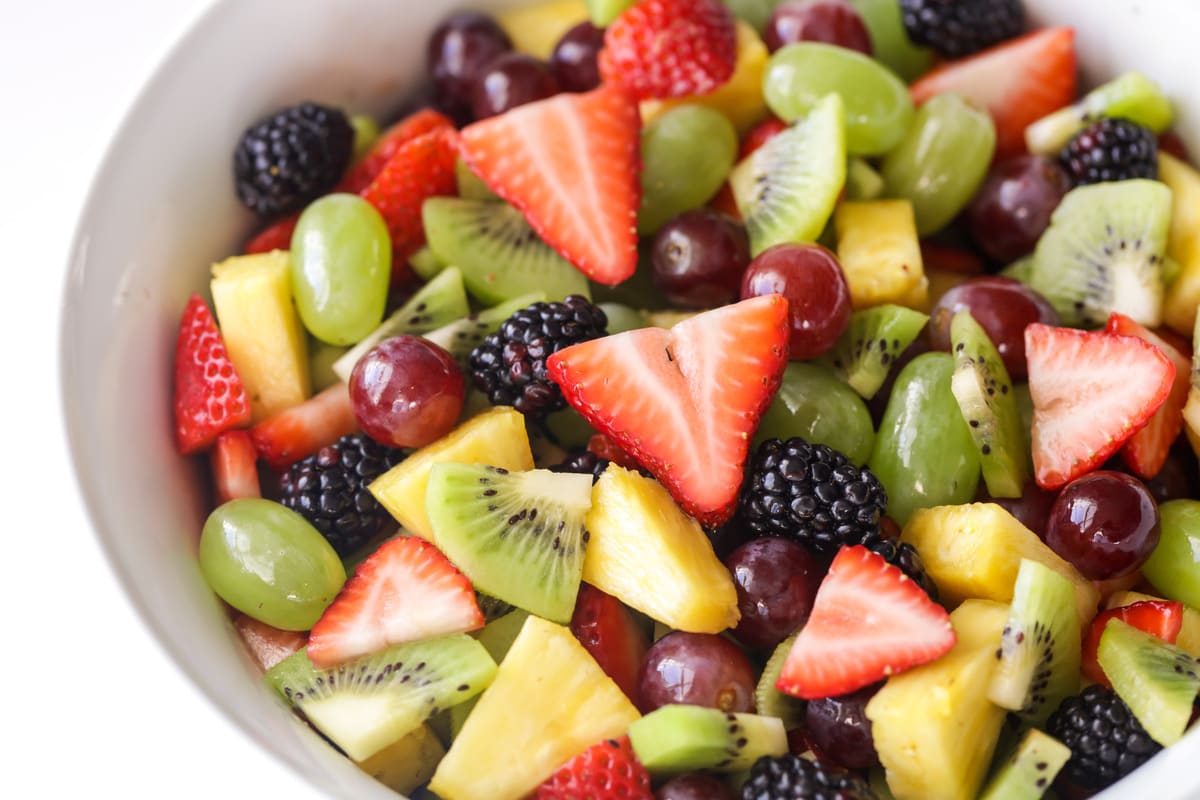 Seasonal Spring Produce
Brunch is a wonderful way to showcase the product of a spring time garden. You can easily find brunch recipes that showcase your favorite spring fruits and vegetables. 
The best way to really see what is in season is to head down to my local Farmer's market. Their produce is the most fresh and best priced and I often come across items I wouldn't have guessed were grown in my area.
Spring Vegetables + Fruits
Many savory brunch dishes are only made better with the addition of some fresh spring vegetables. I love adding asparagus, broccoli florets, mushrooms
Parsley, chives, dill, basil, thyme, mint, garlic, green onions, and shallots are wonderful spring flavors to add to casseroles, quiche and salads.
Some other spring vegetables that you can include on you menu include: baby carrots, beets, young radishes, snap peas, cauliflower, artichokes, brussel sprouts, green beans
Fresh fruit salads are easy to mix up or you can set out a platter full of different cut fruits.
Favorite spring fruits include coconut, apricots, mango, some cherries, pineapple, citrus, (oranges, limes, lemons, grapefruit) strawberries.
Use spring time fruit to add flavor and garnish your water bowls and juice pitchers.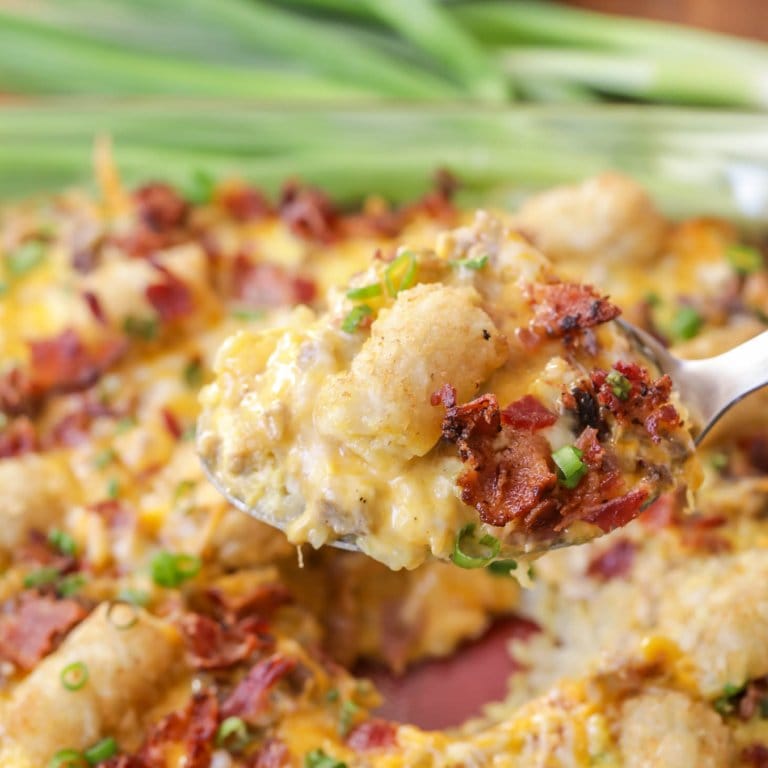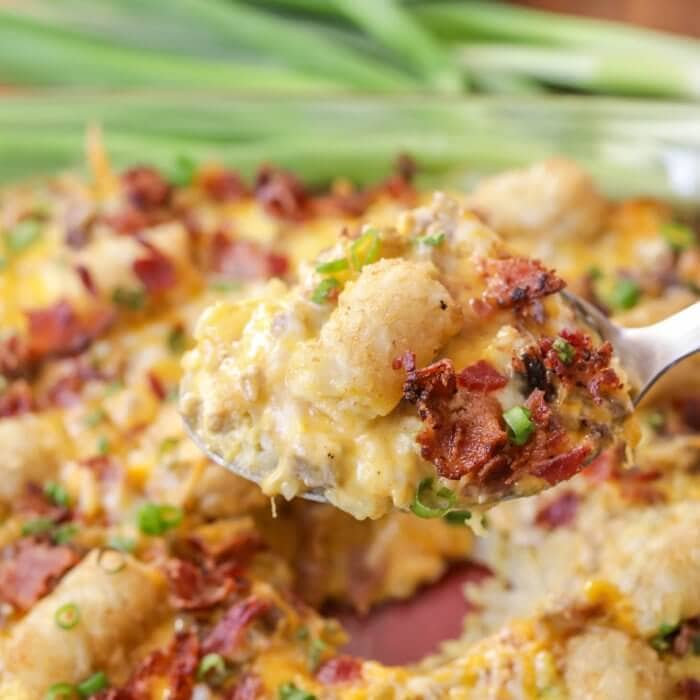 Easter Breakfast Casseroles and QUICHES
Nothing is easier than preparing a breakfast casserole for your Easter brunch. From sweet to savory, we are sharing our favorite casseroles for you to try this holiday.
Breakfast casseroles can almost always be made in advance, are very simple and take just minutes to throw together.
Here are some of our favorite sweet and savory breakfast casseroles perfect for your Easter brunch.
Tater Tot Breakfast Casserole – Filled with bacon, sausage, cheese and more – this Tater Tot Breakfast Casserole is sure to be your next go-to breakfast dish. It's easy, delicious and sure to be a crowd pleaser.
French Toast Bake – This super delicious overnight French Toast Bake recipe takes French toast to a whole new level! Pieces of sourdough bread covered in an egg mixture, topped with cinnamon sugar, and baked to perfection! This easy French toast casserole is the ultimate holiday or weekend breakfast!!
Cheesy Hashbrown Breakfast Casserole – Bacon, egg, and hashbrown casserole is one of our all time favorite savory breakfast dishes! It feeds a crowd, and takes minutes to whip up.
Biscuit Egg Casserole – A delicious Biscuit Egg Casserole recipe filled with biscuits, cheese, eggs and sausage, and takes only minutes to throw together! This breakfast casserole is a family favorite for weekends and holidays!
Cinnamon Roll French Toast Bake – Cinnamon Roll French Toast Bake has all of the ooey gooey goodness of warm cinnamon rolls, with the ease of an overnight breakfast casserole.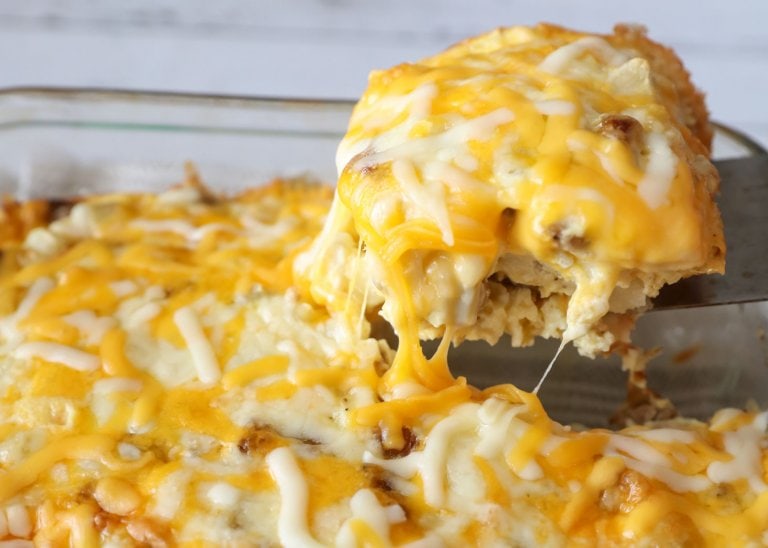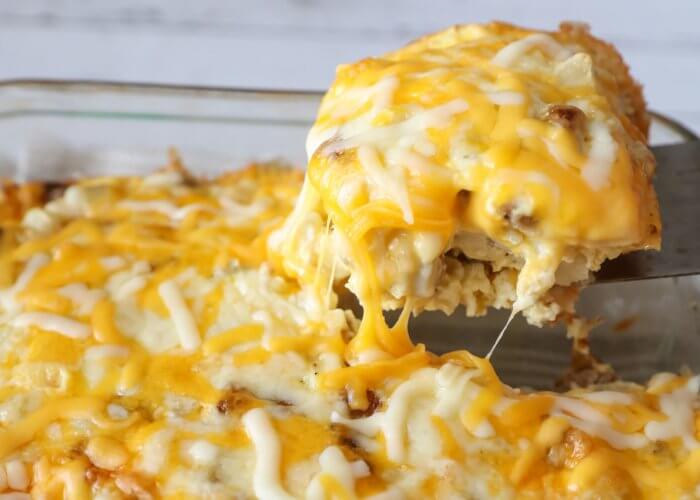 Cheesy Breakfast Potato Casserole – This Cheesy Breakfast Potato Casserole takes minutes to make and is delicious!! This recipe will become a breakfast favorite.
Sausage Breakfast Casserole – Sausage Breakfast Casserole – eggs, sausage, milk, cheese, and seasonings all layered upon a crescent sheet! The perfect way to start off your morning!!
Biscuits And Gravy Casserole – A casserole version of a classic breakfast dish!! This Biscuits and Gravy Casserole is simple and perfect for weekend mornings and holidays – especially if you're feeding a crowd!
Eggs Benedict Casserole – Eggs Benedict Casserole – the perfect breakfast dish made with English muffins, Canadian bacon, eggs and It's delicious!!
Crescent Roll Breakfast Casserole – Crescent roll breakfast casserole is savory and cheesy. It is easy to assemble and bakes in under 30 minutes!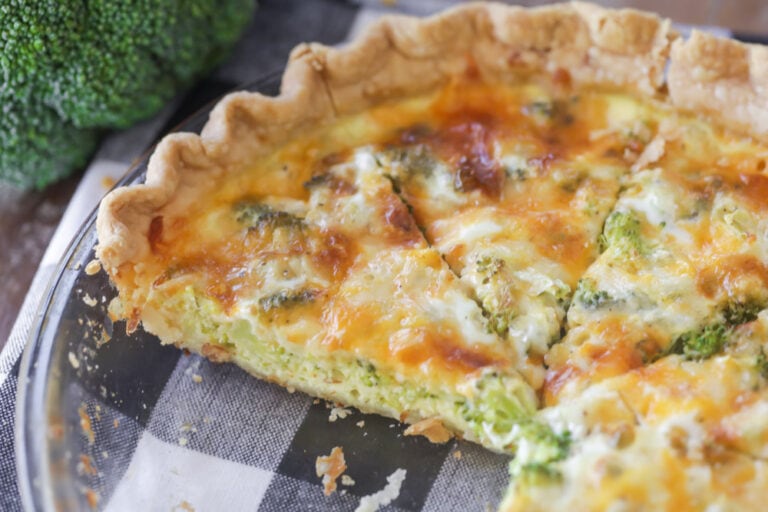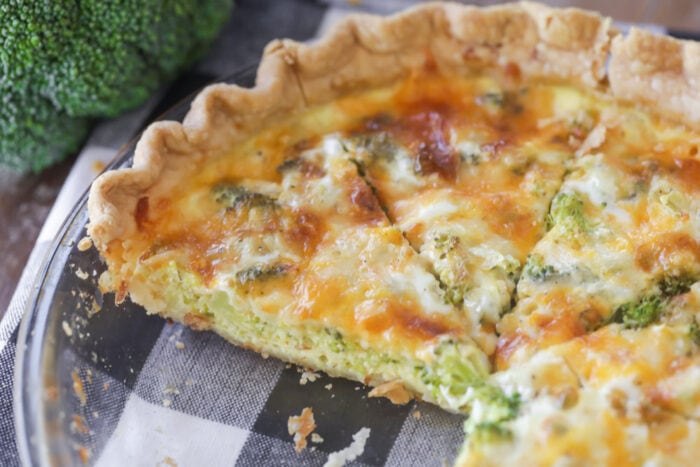 QUICHES + STRATA:
Don't forget quiches! They are always great for Easter brunch!
Broccoli Quiche – Broccoli quiche is one of my favorite hot breakfast recipes! Healthy, filling, and flavorful. It has everything you want and more!
Bacon And Cheese Quiche – Bacon and cheese quiche makes the perfect hot breakfast to share with a crowd. It's filling, savory, and full of delicious flavors.
Spinach Quiche – Hot and cheesy spinach quiche with a buttery crust is the perfect start to your morning. This is a wonderful breakfast dish for any sized crowd. Everyone will love it!
Breakfast Strata – With Buttery Layers Of Bread, Ham, Cheese, And Egg, This Strata Recipe Is Guaranteed To Please Any Crowd!
Asparagus Quiche – This simple asparagus quiche is loaded up with eggs, asparagus, and cheese. It's terrific for a brunch spread or weeknight meal.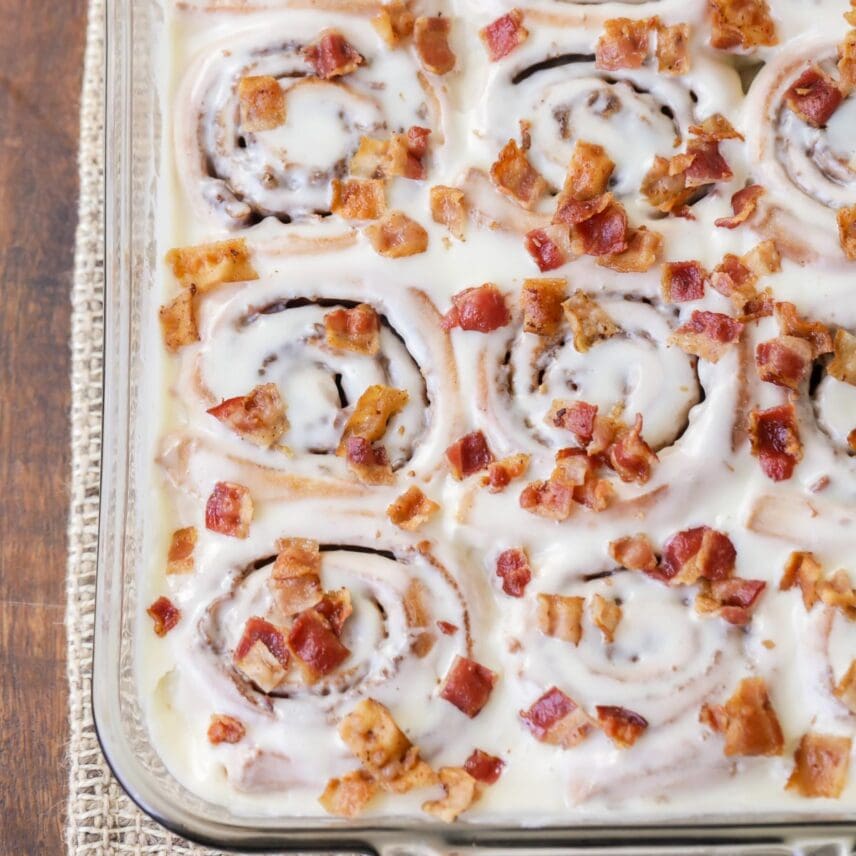 EASTER PASTRIES
Brunch isn't brunch without some yummy treats!
We love to make muffins, coffee cakes and cinnamon rolls for a sweet treat during our Easter brunch. From fruit-filled to cinnamon and sugar filled, these pastries are another great addition to your holiday brunch.
CINNAMON ROLLS:
Maple Bacon Cinnamon Rolls – Melt-in-your-mouth Maple Bacon Cinnamon Rolls are the yin and yang of salty and sweet, and are sinfully addicting!
Quick + Easy Cinnamon Rolls – Delicious One Hour Cinnamon Rolls with homemade cream cheese frosting. These rolls are super soft and result in a quick, mouth-watering cinnamon treat that is delicious any morning or holiday.
Sticky Walnut Buns – Sticky Walnut Buns are a tasty take on traditional cinnamon rolls. They are oozing in a delicious brown sugar, honey-walnut glaze.
Cinnamon Roll Cake – This cinnamon roll cake takes your favorite breakfast treat and puts it in cake form. With buttery cinnamon swirls and a sweet glaze, this cake is sure to be a new favorite!
Mini Cinnamon Rolls – Give these 90 minute Mini Cinnamon Rolls a try and you'll fall in love with their tender, sweet centers and irresistible cream cheese frosting!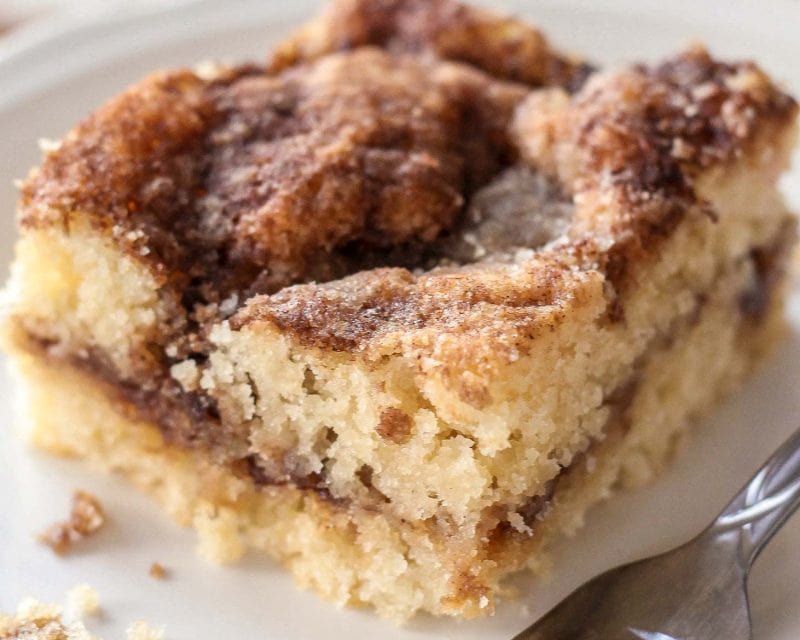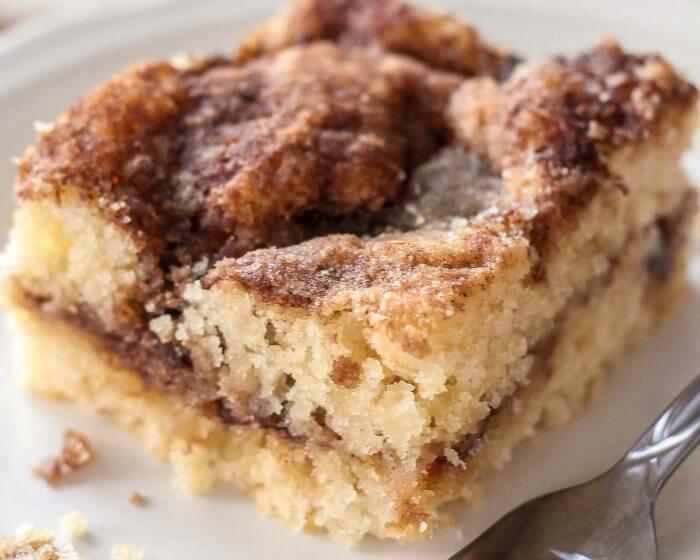 COFFEE CAKES:
Easy Coffee Cake – The BEST and EASIEST Coffee Cake Recipe! It's moist, delicious and perfect for showers, breakfast and holiday celebrations!
Bisquick Coffee Cake – Simple cinnamon & sugar Bisquick Coffee Cake uses a handful of ingredients and comes together quickly in a pinch.
Coffee Cake Muffins – Tender & sweet glazed coffee cake muffins filled with a brown sugar streusel are the perfect breakfast treat!!
Cream Cheese Coffee Cake – Cream Cheese Coffee Cake is even more decadent than your typical coffee cake! It is perfectly topped with a tasty streusel.
Sour Cream Coffee Cake – Moist and fluffy sour cream coffee cake is filled with layers of crunchy sweet pecans. It is a tasty breakfast or dessert!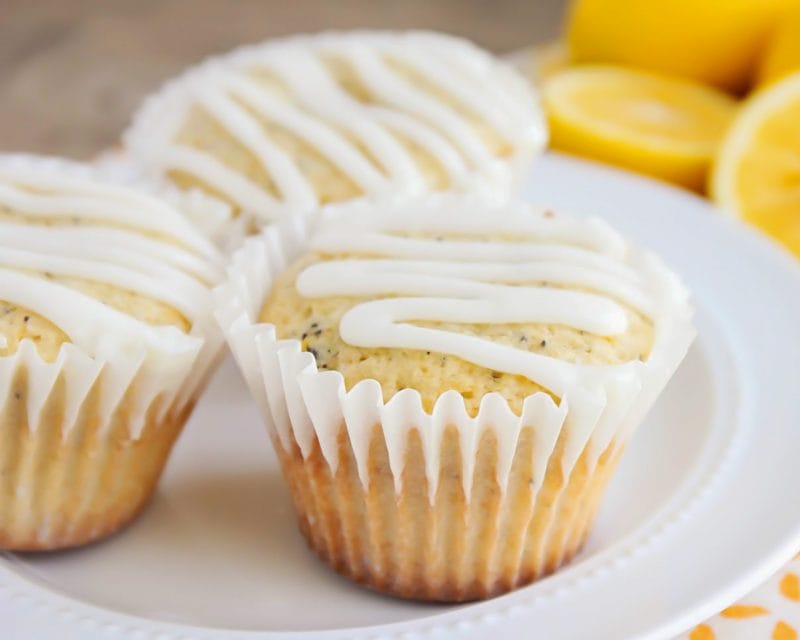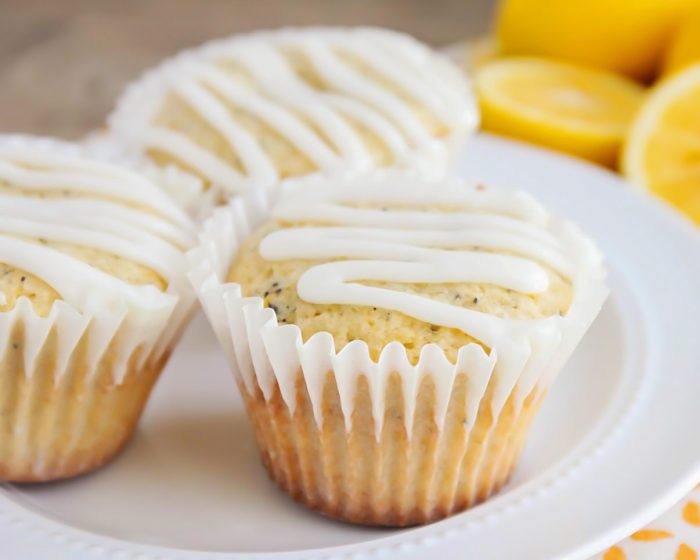 MUFFINS:
Glazed Lemon Poppy Seed Muffins – Fluffy and flavorful Lemon Poppy Seed Muffins are topped with a tasty glaze making them simply irresistible.
Banana Crumb Muffins – Delicious and simple Banana Crumb Muffins are Perfect to use up those over-ripe bananas. The whole family goes crazy for these muffins!
Glazed Donut Muffins – These muffins taste just like a donut, with just the right hint of nutmeg and cinnamon, and are topped with the most delicious glaze!
French Toast Muffins – These French Toast Muffins are easy to make, using things you already have in your pantry! Your choice of bread, cubed and covered in egg and vanilla mixture, topped with a delicious sugary topping, and baked until golden and crispy.
Blueberry Muffins – These soft, delicious Blueberry Muffins are simple and perfect for breakfast, snack or after-school treat. They're filled with blueberries and topped with coarse sugar making them irresistible.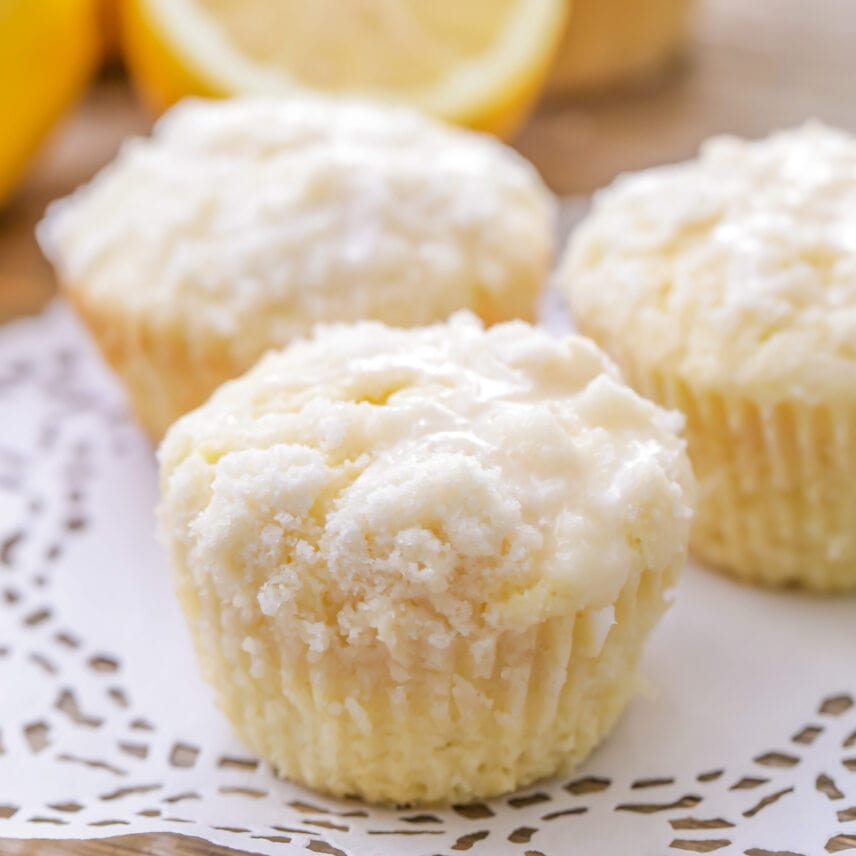 Lemon Crumb Muffins – Soft and delicious Lemon Crumb Muffins are topped with buttery crumbs and a delicious lemon glaze, making them irresistible!
Mini Applesauce Muffins – These Mini Applesauce Muffins are the perfect snack for the whole family! Deliciously moist muffins filled with applesauce, and dipped in an irresistible cinnamon sugar topping.
Chocolate Chip Muffins – Delicious Bakery-Style Chocolate Chip Muffins – so delicious!
Chocolate Muffins – Chocolate muffins loaded with semisweet chocolate chips and dark chocolate chunks, then topped with more chocolate chips and sprinkles.
Orange Muffins – Bright & vibrant Orange Muffins topped with zesty orange glaze are absolutely delicious! They're perfect for breakfast or dessert.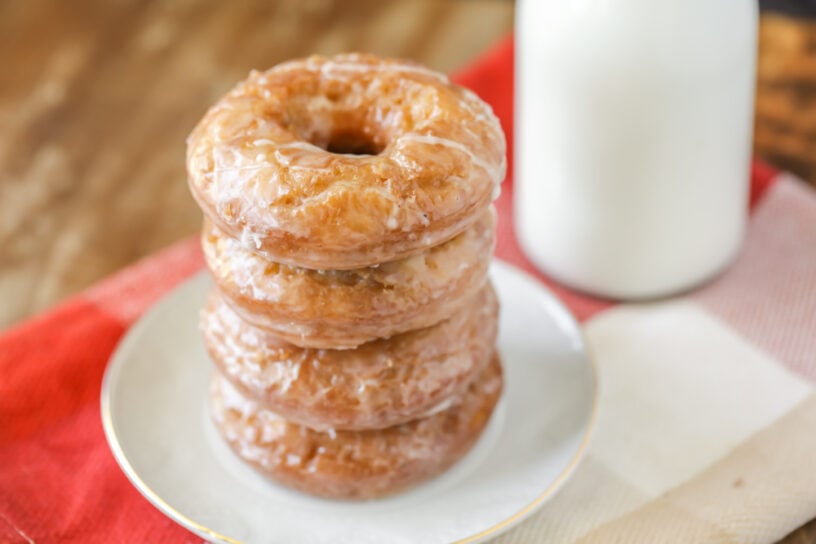 MORE:
Old Fashioned Donuts – Old fashioned donuts will melt in your mouth. These glazed buttermilk beauties are so easy to make!
Cherry Danish – This easy Cherry Danish is made from puff pastry dough filled with a sweetened cream cheese mixture and topped with cherry pie filling.
The BEST Scones Recipe – Bake up a few of these blueberry scones for a delicious breakfast or brunch. They are flaky, buttery, and easy to make!
New York Crumb Cake – If you like the crumb as much as the cake, then you'll love this New York Style Crumb Cake! A moist, delicious bakery-style cake topped with loads of cinnamon sugar crumble and dusted with powdered sugar.
Homemade Biscuit Donuts – These delicious Biscuit Donuts are beyond simple and made using canned biscuits!! If you're looking for the quickest and easiest ways to make donuts, this is it!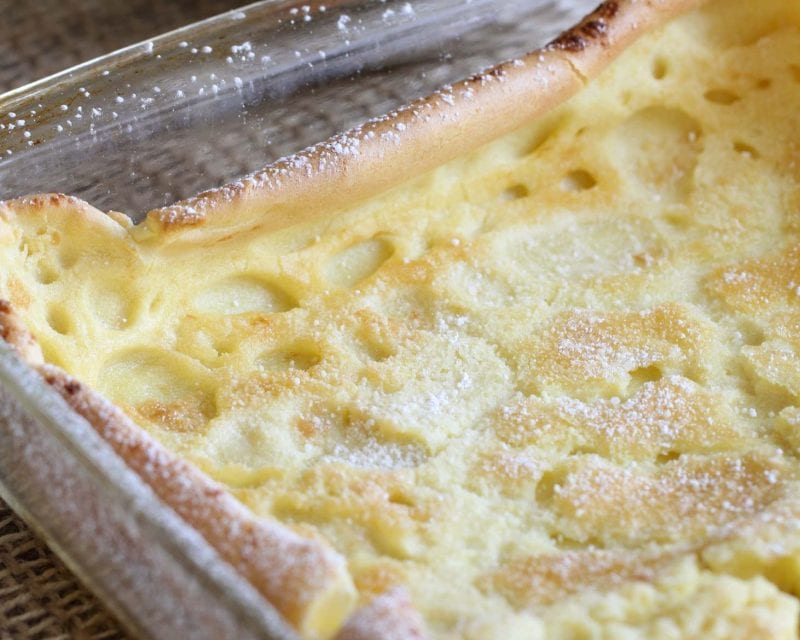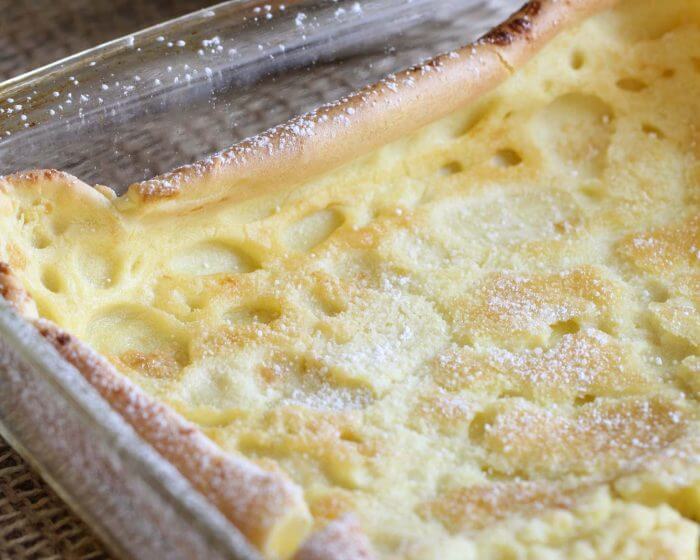 EASTER PANCAKES & WAFFLES
Have you ever tried having a Waffle or Pancake bar at your Easter brunch? Trust us when we say it's ALWAYS a hit!!
Have all the pancakes, waffles and even crepes or Swedish pancakes ready along with all the fillings, and everyone will love going down the line assembling their plates. Don't forget to try our Homemade Whipped Cream, Buttermilk Syrup, and Cinnamon Buttermilk Syrup which are great additions to these dishes!
PANCAKES:
German Pancakes – German Pancakes – a breakfast family favorite recipe we love to make! They're EASY and light and fluffy too!!
Fluffy Pancakes – Waking up to a big stack of fluffy pancakes it THE BEST! This recipe is foolproof for the best pancakes in the world!
Dutch Baby Pancake – Dutch Baby Pancakes are a super simple, fun, and delicious breakfast that the whole family will love. Similar to German Pancakes (but made in a rounded skillet), these dutch babies are simple and can be topped with powdered sugar, syrup, berries, jam.
Easy Pancake Recipe – The easiest and yummiest basic pancake recipe. Use this recipe if you're out of mix for delicious pancakes that everyone will love. Plus, check out all our tips on how to change them up for even more flavor!
Banana Pancakes – Light and fluffy Banana Pancakes that are simple and so full of flavor. Everyone loves these pancakes that are perfect topped with Nutella, chocolate syrup or even buttermilk syrup.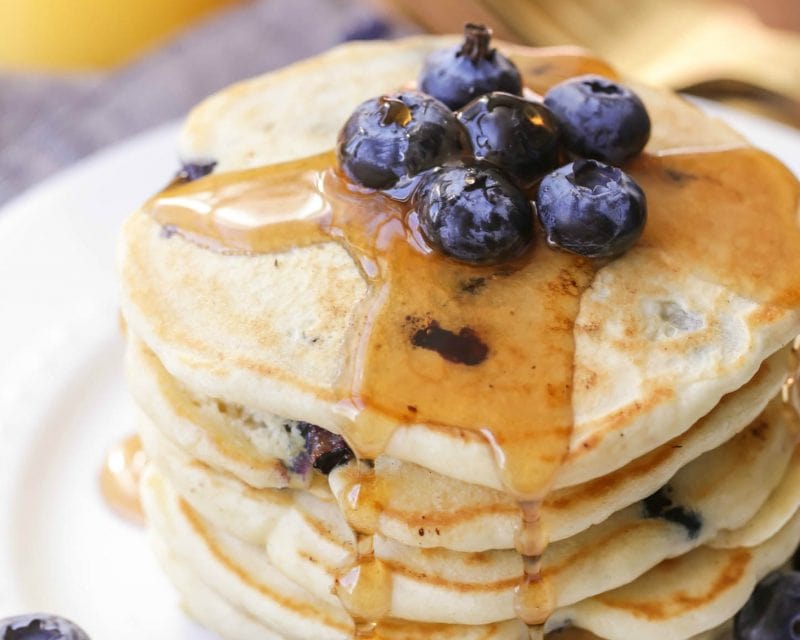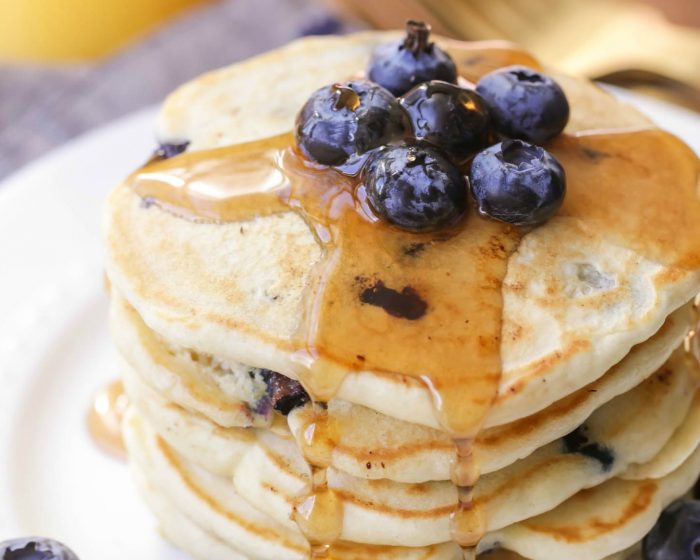 Blueberry Pancakes – These quick and simple Blueberry Pancakes take just minutes to prepare and are filled with fresh blueberries, making them irresistible.
White Chocolate Berry Pancakes – White Chocolate Berry Pancakes are served with homemade berry syrup, fresh berries, and white chocolate on top. They're AMAZING!
Buttermilk Pancakes – Tender homemade buttermilk pancakes turn out light and fluffy every time. These golden beauties are impossible to resist!
Chocolate Chip Pancakes – Delicious and Fluffy Chocolate Chip Pancakes served with a Macadamia Almond Buttermilk Syrup!
Swedish Pancakes – This Homemade Swedish Pancakes recipe makes the softest, most delicious pancakes. Fill and top them with cream, fruit or buttermilk syrup for a delicious breakfast!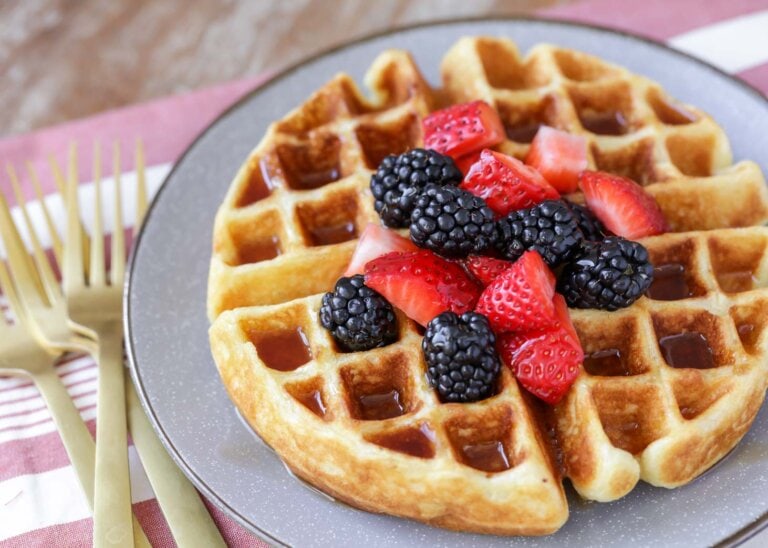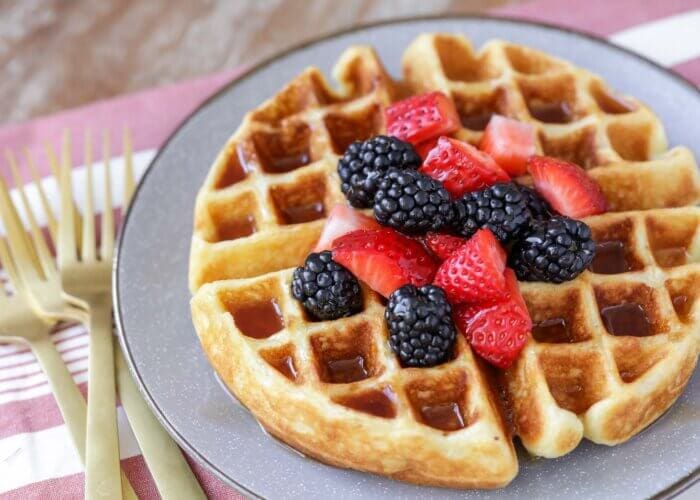 WAFFLES:
Belgian Waffles – Crispy, fluffy, Belgian waffles to start your day off with a smile. Top them with all of your favorite fruits , spreads and syrups. Once you try these homemade waffles, you'll never want the box mix again.
Buttermilk Syrup – Pour this delicious homemade buttermilk syrup over pancakes, waffles, and crepes. It only takes 5 ingredients, and 5 minutes to make!
Red Velvet Waffles – Delicious Red Velvet Waffles made from scratch and topped with berries and syrup – the perfect breakfast recipe!
Cinnamon Roll Waffles – Cinnamon Roll Waffles – crisp, buttery, tender waffles, topped with an amazing combination of sweetened cream cheese and a cinnamon brown sugar topping.
Buttermilk Waffles – What's better than a big, fluffy waffle first thing in the morning? Almost nothing! These buttermilk waffles are your new favorite breakfast recipe—everyone will love them!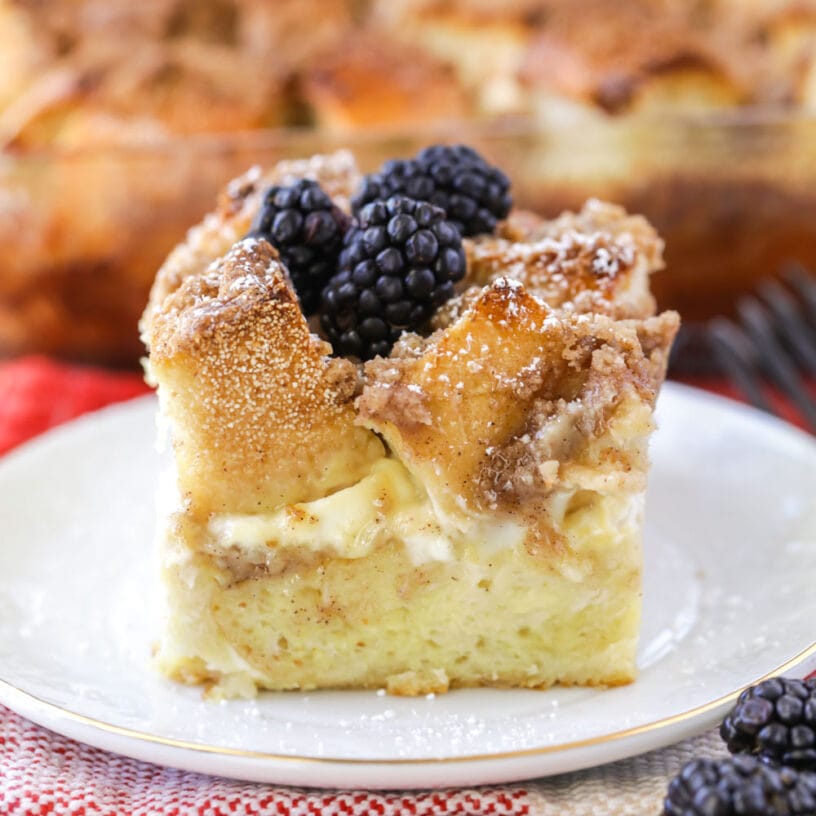 FRENCH TOAST:
Cream Cheese French Toast Bake – Cream Cheese French Toast Bake is slightly toasted on top, soft in the middle, and each bite is bursting with rich cream cheese. Just add your favorite fruit!
Creme Brulee French Toast – Creme Brulee French Toast – delicious overnight French Toast recipe that has a tasty caramel coating on one side!
Overnight French Toast – Overnight French Toast Bake is a layered breakfast recipe has layers of Texas toast, cinnamon, sugar, brown sugar and eggs!
Fluffy French Toast – Make Fluffy French Toast every time using this secret ingredient. These tasty slices have a warm undertones of vanilla, cinnamon and a hint of nutmeg.
Easy French Toast – Is there anything better than Fluffy French Toast topped with syrup, fresh berries, and dusted with powdered sugar? You are going to love this classic breakfast recipe!
Pound Cake French Toast – Have you tried making French toast out of pound cake? If not, you need to! It's thick, delicious and an easy breakfast for weekends and holidays!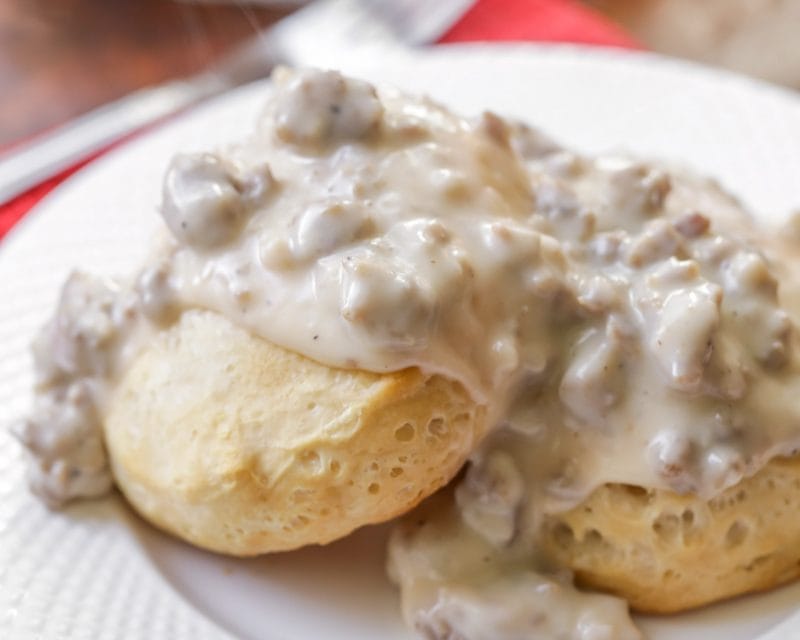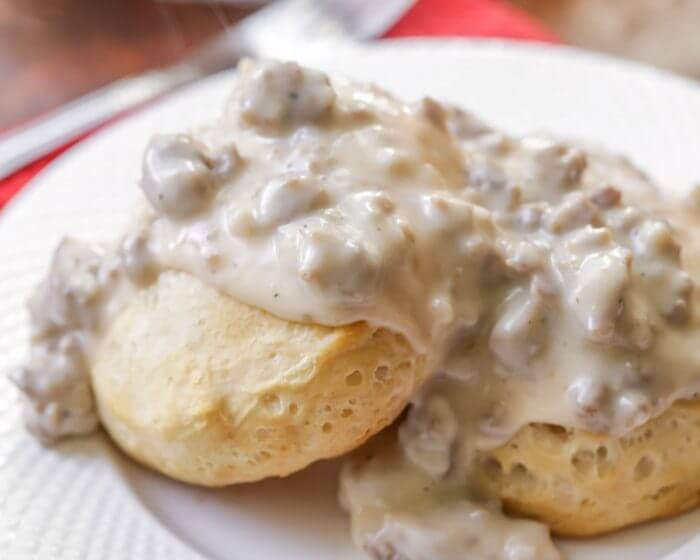 MORE EASTER BRUNCH IDEAS
Along with the breakfast casseroles, pastries and sweet dishes, we have a few more Easter breakfast ideas we think you'll enjoy. They are simple and great to enjoy Easter morning.
Biscuits And Gravy – This CLASSIC Biscuits and Gravy recipe is one everyone knows and loves! Delicious buttery biscuits smothered in a homemade sausage gravy! It only takes a few simple ingredients and is perfect for breakfast (dinner) or a holiday morning!
Favorite Eggs And Potatoes – Delicious Eggs & Potatoes are made in the skillet and finished in the oven. This flavorful recipe is perfect any morning or special day.
Sausage Cream Cheese Crescent Rolls – This simple 3-ingredient appetizer is great for parties and get togethers and is so full of flavor! Everyone will love these Sausage Cream Cheese Crescent Rolls.
Breakfast Pizza – This Bacon Breakfast Pizza is a cheesy breakfast recipe topped with eggs, bacon and your favorite breakfast ingredients! It's simple, quick and is easily customized based off of your favorite morning ingredients.
Sausage Rolls – Sausage mixed with delicious seasonings, all wrapped up in puffy pastry make these Puff Pastry Sausage Rolls delicious and addicting!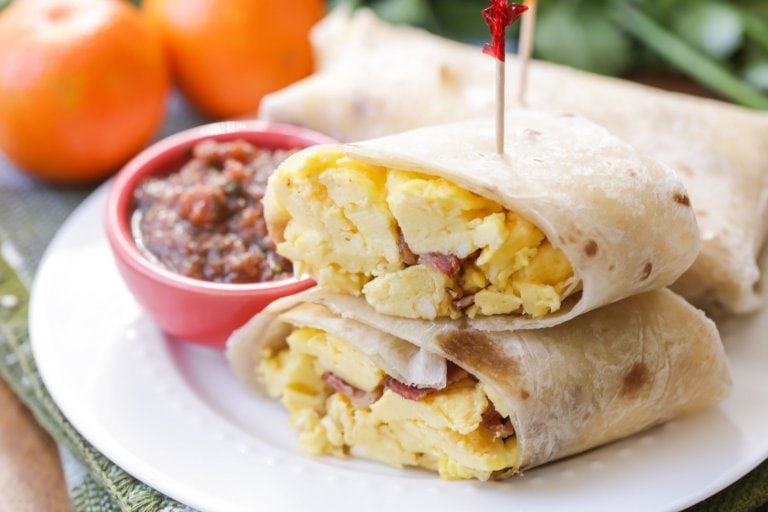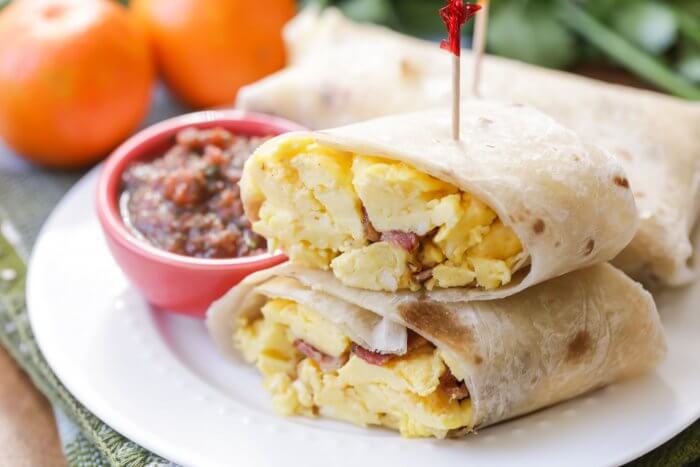 Breakfast Burrito – Delicious breakfast burritos are the perfect on-the-go breakfast! Load them with all your favorite fixings.
Breakfast Crescent Ring – Cheesy Breakfast Ring – delicious cheesy, bacon and pepper-filled eggs inside a ring of delicious crescent roll dough. Its our new favorite breakfast recipe!
Copycat Orange Julius – Refreshing & simple Copycat Orange Julius takes a minute to make and tastes just like the real thing. It is a favorite family treat!
Frittata – Fluffy frittata stuffed with asparagus, ham, and parmesan cheese. It's a breakfast dream—so simple and delicious!
Breakfast Tacos – These Breakfast Tacos will become your morning mealtime hero! Eggs, bacon, cheese, and hash browns all stuffed in a soft mini tortilla!
---
Our Go-To Easter QuichE
We have SO many favorites when it comes to Brunch Ideas for Easter.
We love to do a combination of sweet and savory dishes, and along with breakfast casseroles and bacon, we love a great Quiche.
This version is filled with ham and cheese but is also the base for most other quiche recipes we use.
Feel free to change it up with your favorite cheeses and meats and veggies, and you're sure to love it!
---
The complete list
Here are the picture cards for ALL of the fantastic Easter Brunch Ideas listed above.
With so many scrumptious choices you're sure to find several recipes to help put together the perfect Easter brunch. And, with dishes that are this easy and delicious you'll want to serve them all year long!
---
We hope you enjoy these delicious brunch ideas for your next holiday. Be sure to comment below and let us know what you love to bring to Easter brunch so we can include it in our list. 🙂
Finishing touches
Incorporate all the finishing touches that you would use at dinner such as:
Food labels

Flowers to decorate

Matching palette: Easter usually means pastel colors and floral patterns. Use the palette from serving bowls to table centerpieces. Using a coordinating palette helps all the different elements of a brunch come together.
Have a space, both indoor and outdoor, for children to play
For more Easter recipes, check out: