All the best Easter brunch recipes to choose from for Easter morning. From cinnamon rolls to breakfast casseroles to muffins and more – this delicious collection will help you plan your Easter brunch.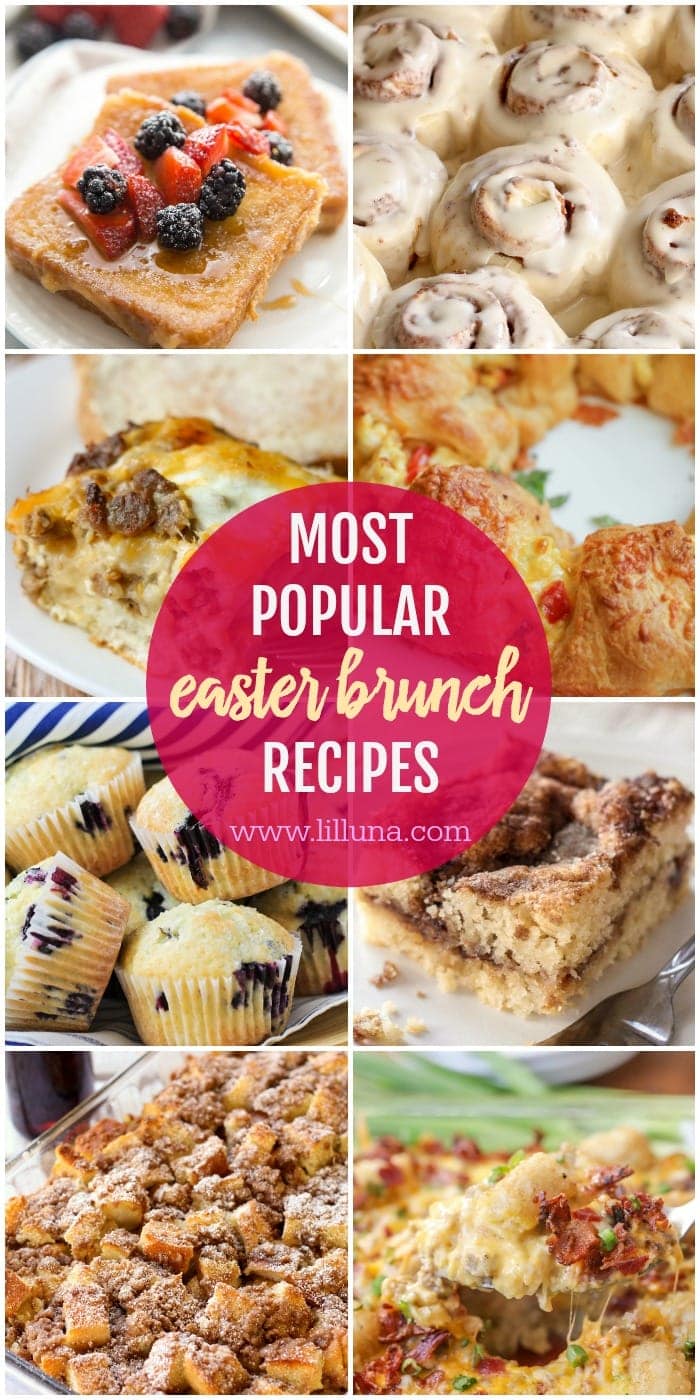 MOST POPULAR EASTER BRUNCH IDEAS
Easter is such a fun holiday! With the Easter egg hunts, family gathering, church and festivities, it's a holiday that so many love. If your family is like ours, we center these family holidays around food.
Today, we will be sharing all of our favorite Easter brunch recipes in case your family gathering happens to be between that morning and lunch time that everyone loves.
From casseroles to pastries to pancakes and waffles (perfect for a waffle bar), we are sharing the most popular Easter brunch ideas for you to enjoy this holiday season.

Easter Brunch Casseroles
Nothing is easier than preparing a breakfast casserole for you Easter brunch. From sweet to savory, we are sharing our favorite casseroles for you to try this holiday. Breakfast casseroles can almost always be made in advance, are very simple and take just minutes to throw together.
Here are some of our favorite sweet and savory breakfast casseroles perfect for your Easter brunch.

Easter Pastries
Brunch isn't brunch without some yummy treats!
We love to make muffins, coffee cakes and cinnamon rolls for a sweet treat during our Easter brunch. From fruit-filled to cinnamon and sugar filled, these pastries are another great addition to your holiday brunch.
CINNAMON ROLLS:
COFFEE CAKES:
MUFFINS:


Easter Pancakes & Waffles
Have you ever tried having a Waffle or Pancake bar at your Easter brunch? Trust us when we say it's ALWAYS a hit!!
Have all the pancakes, waffles and even crepes or Swedish pancakes ready along with all the fillings, and everyone will love going down the line assembling their plates. Don't forget to try our Homemade Whipped Cream and Buttermilk Syrup which are great additions to these dishes!
PANCAKES:
WAFFLES:
FRENCH TOAST:


More Easter Breakfast Ideas
Along with the breakfast casseroles, pastries and sweet dishes, we have a few more Easter breakfast ideas we think you'll enjoy. They are simple and great to enjoy Easter morning
We hope you enjoy these delicious brunch ideas for your next holiday. Be sure to comment below and let us know what you love to bring to Easter brunch so we can include it in our list. 🙂
For more Easter recipes, check out: