These soft, delicious Blueberry Muffins are simple and perfect for breakfast, snack or after-school treat. They're filled with blueberries and topped with coarse sugar making them irresistible.
Sometimes I like to bake a batch of muffins and have them on hand for a grab-and-go breakfast, or an after school snack. These blueberry muffins are always a hit, but my family also loves apple, lemon poppy seed, or banana crumb muffins.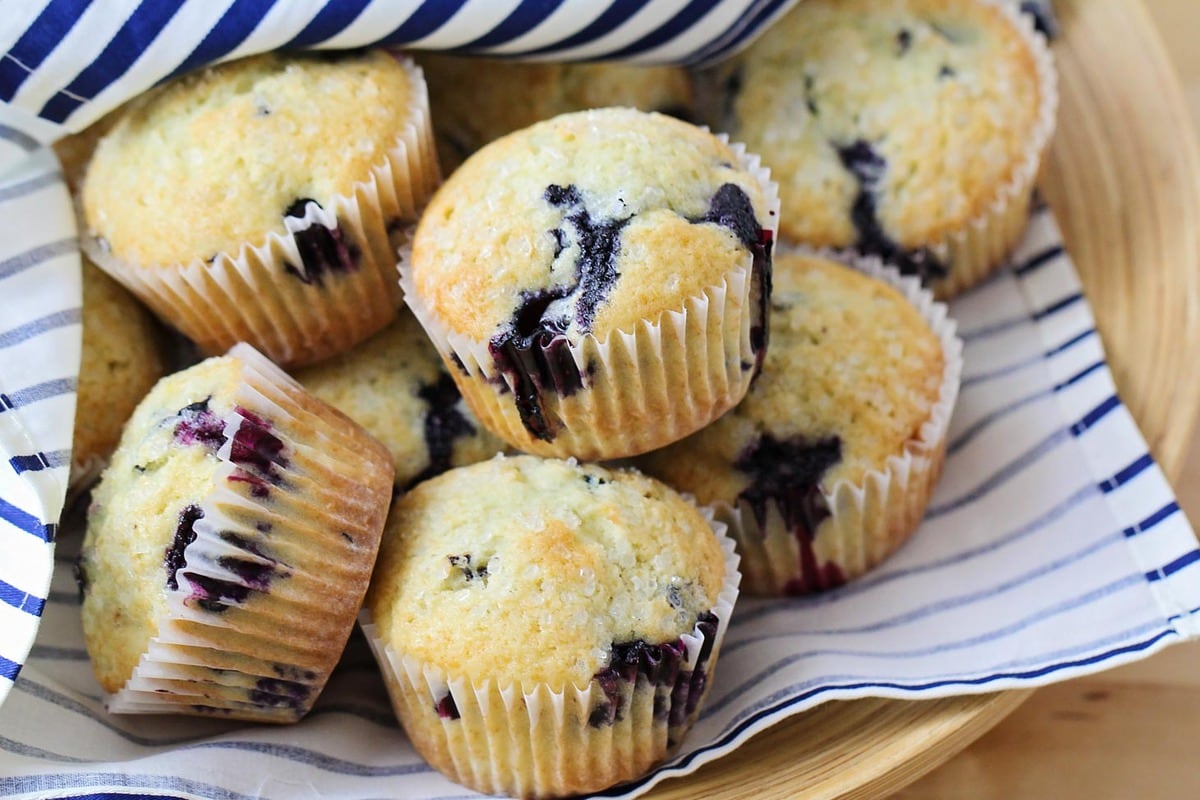 OUR FAVORITE SNACKS
There is something SO comforting about muffins baking in the oven. The sweet smell that fills the house just makes me smile!! Especially if they have blueberries in them, like today's recipe.
These fluffy, moist blueberry muffins make the most delicious breakfast. Pair them on the side of some eggs and bacon and you're done.
I'm dying over how yummy these are warm and straight out of the oven, especially with a nice layer of of butter spread in the middle. I even like to eat one (or two!) of these for an afternoon pick-me-up or a late night snack before bed. To be honest, they are tasty any time of the day!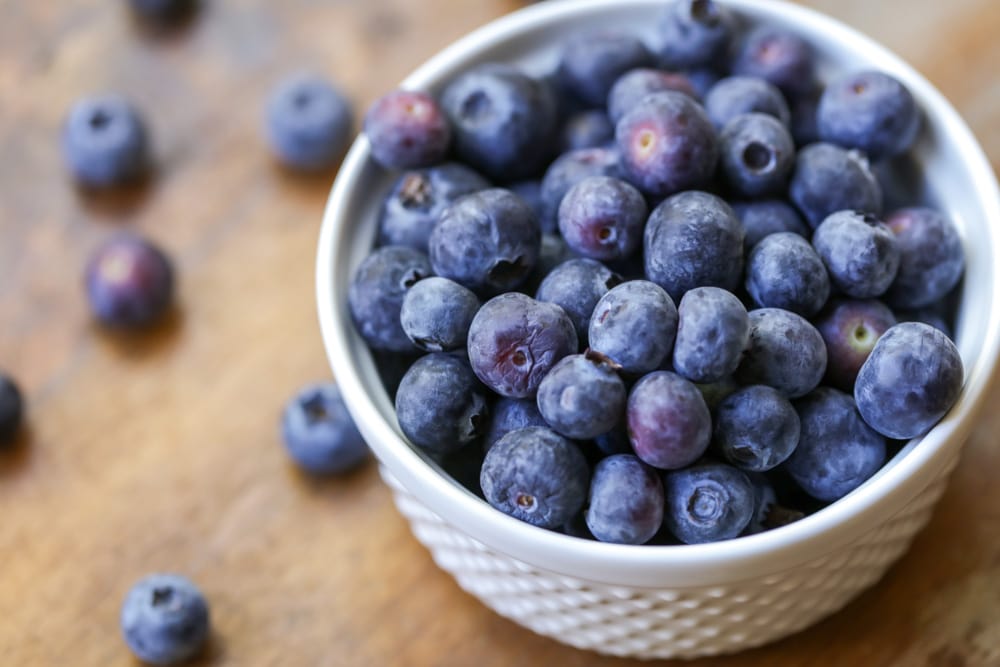 How to Make Blueberry Muffins
You're in luck because blueberries are officially in season (from about May to August)!
To make perfect blueberry muffins, you'll need 2 cups of fresh blueberries (washed and drained). You'll also need coarse sugar for sprinkling on top of the muffin batter before putting them into the oven.
Can I use frozen blueberries? Yes! Be sure to rinse the frozen berries several times. The water will begin as dark blue then turn to a lighter purple/red. Carefully pat dry. This will help the muffins from baking up as a blue/green color.
Wet ingredients. To make the muffins, beat the regular sugar and butter in a large bowl, or in a stand mixer with the paddle attachment, until smooth and mixed together. Add your eggs one at a time, and then add the vanilla.
Dry ingredients. Stir your dry ingredients in a separate bowl. Then add the dry ingredients to the wet ingredients a little at a time. While you're doing that, alternate with adding in your ½ cup of milk. Then your batter is ready for the blueberries!
Blueberries. Take ½ cup of the blueberries and mash them up with a fork. Mix those in with your batter. Then take the other 1 and ½ cups of blueberries and fold them into the batter.
Bake. Pour the batter into muffin tins, sprinkle your coarse sugar on top (you can use raw sugar or turbinado sugar), and bake for about 20 minutes at 375 degrees. After baking, you can pull the muffins out to cool on a wire rack.
The result is the perfect, soft muffin filled with blueberries – a family favorite!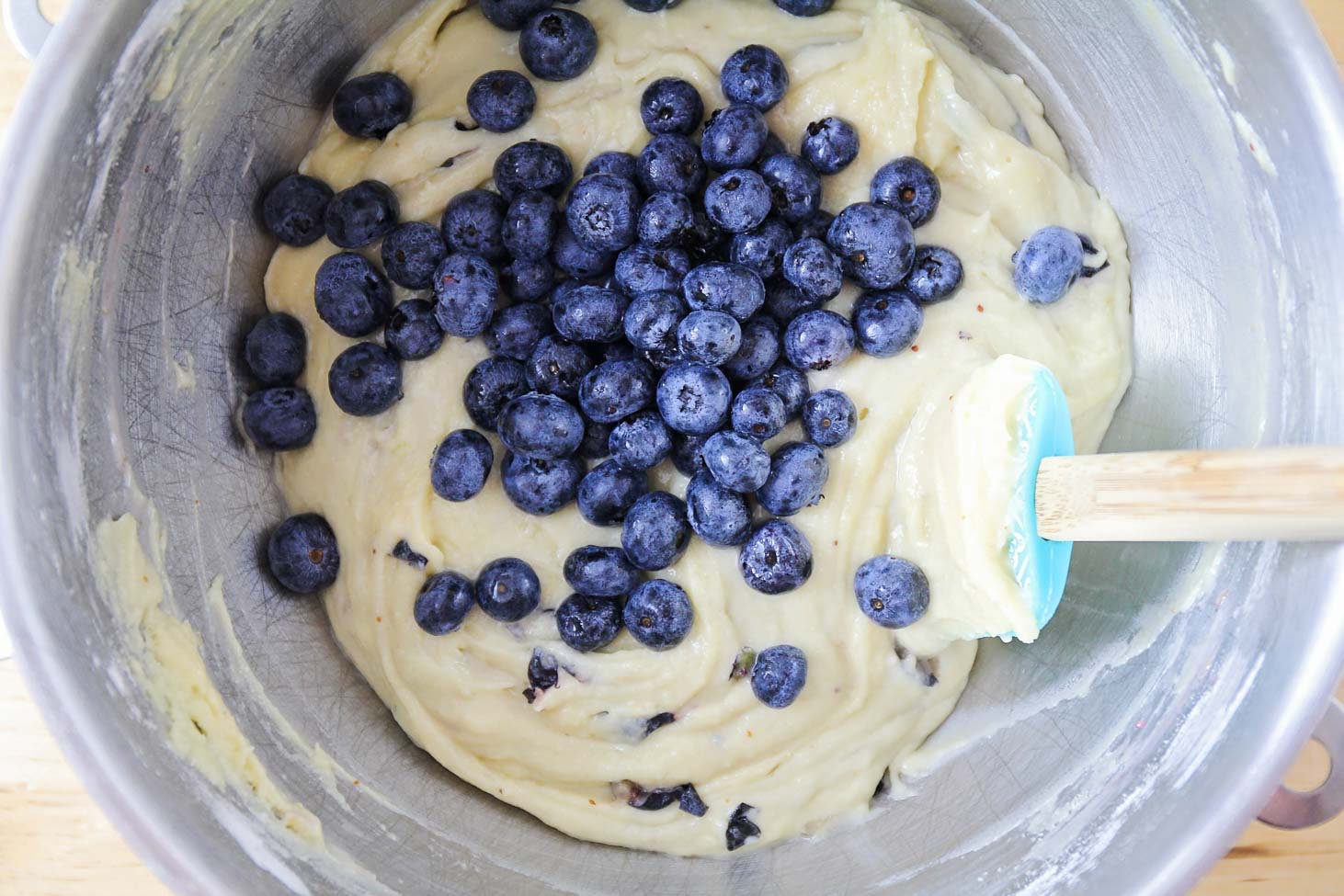 MUFFIN BAKING TIPS:
Do not over mix! When you add the wet ingredients to the dry ingredients, you want to be cautious. Stay away from electric mixers or the muffins will become dense and tough.
Batter thickness: If your batter is too runny, add 1 tablespoon of flour at a time. If it's too thick, add 1 tablespoon of milk at a time until the batter reaches the desired consistency. It is ok if the batter has a few lumps—they will bake out.
Mini muffins: Follow recipe as directed, and pour batter into a mini muffin tin. Shorten the baking time to about 9-11 minutes.
Sinking blueberries: Toss the berries in 1 tablespoon of flour before adding them to the mixture, and it will keep them from sinking to the bottom. OR try adding 1 tablespoon of plain batter to the muffins tins, then fold the blueberries into the remaining batter. Finish filling in the muffins tins and bake.
OPTIONAL CRUMB TOPPING
Add ½ c sugar, ⅓ c flour, 1 ½ tsp cinnamon in a bowl. Mix with a fork and sprinkle over the muffins. Bake according to directions.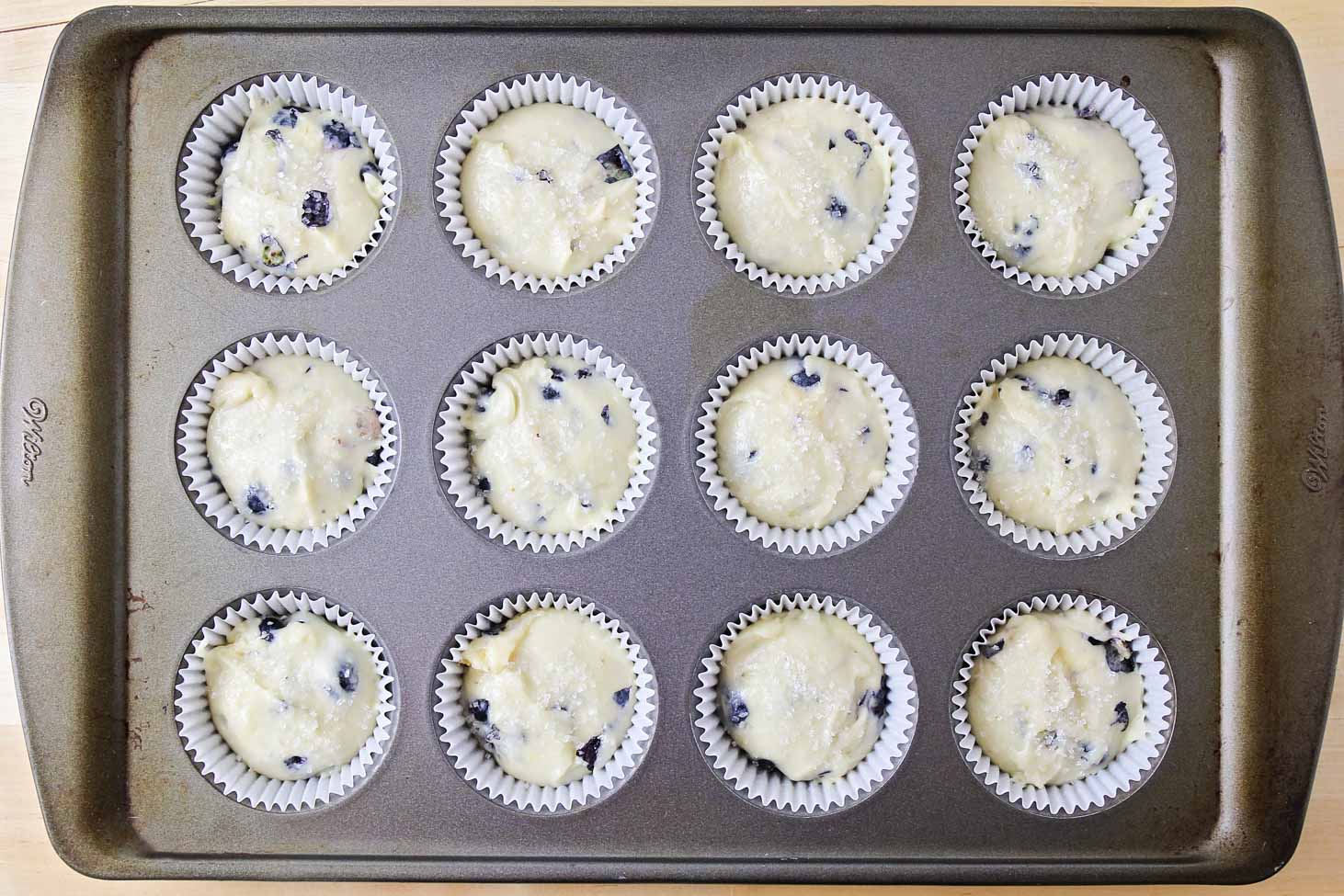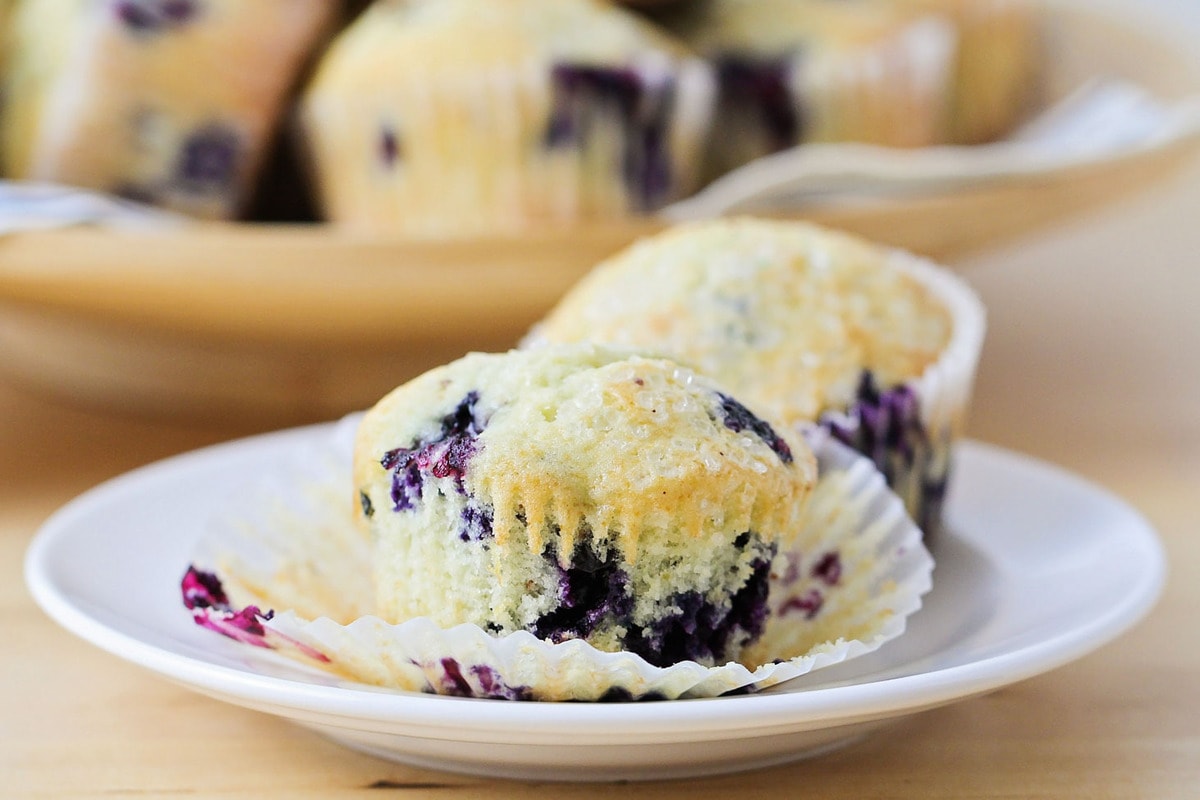 Storing & Freezing
Normally, most foods should be STORED in an airtight container. However, because these muffins are a type of "quick" bread, without a little air flow they tend to get a bit soggy. I'd recommend lightly covering them with plastic wrap allowing some moisture to evaporate while keeping the muffins soft and fresh.
Room temperature: let cool, cover lightly and store for to 3-4 days

Refrigerator: let cool, cover lightly and store for up to a week
You can FREEZE blueberry muffins to enjoy a quick treat on any given day. Once the muffins cool place them in an airtight container or freezer bag, label and freeze for up to 3 months. To eat: thaw and cook in the microwave for 20-30 seconds.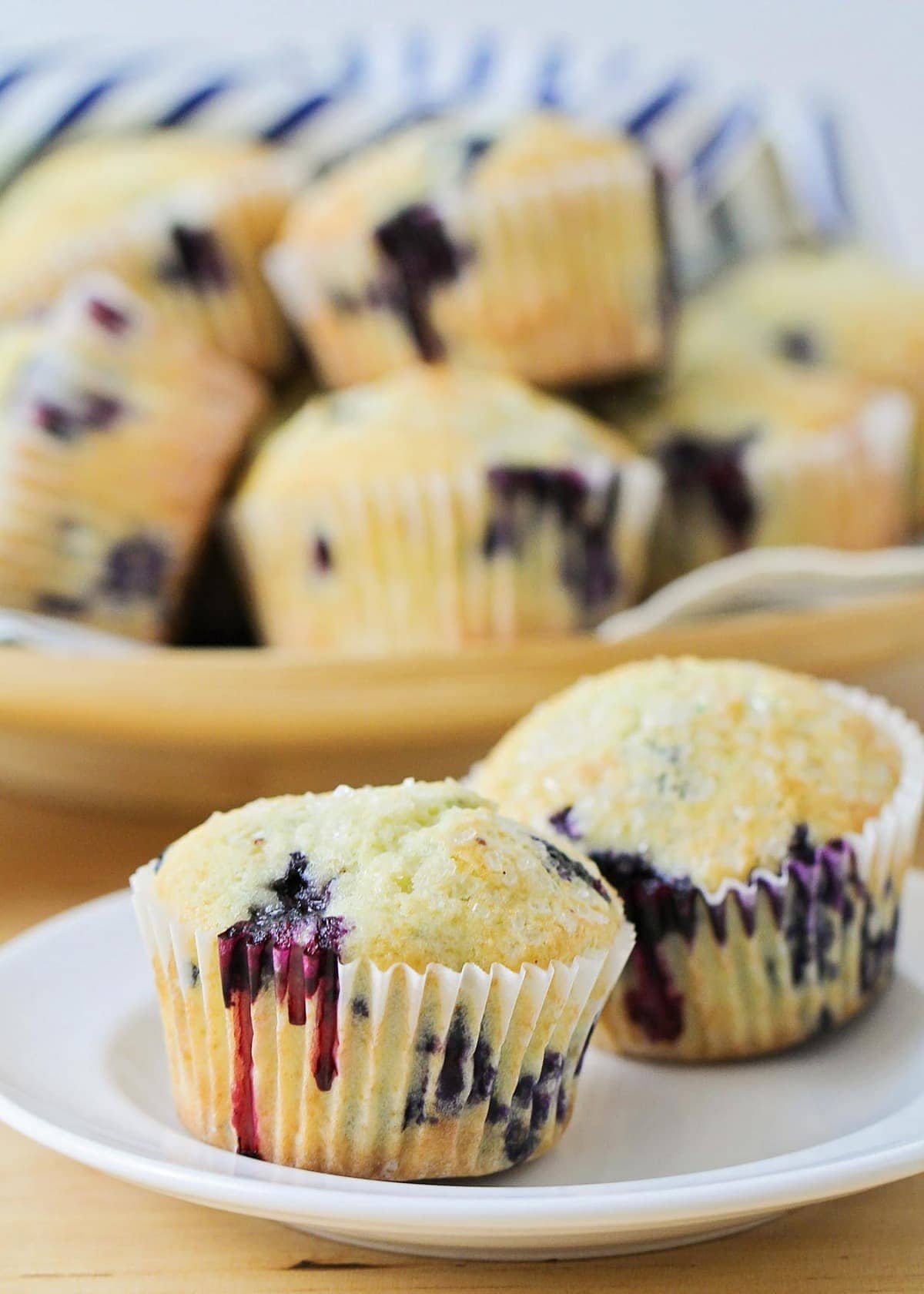 These are the BEST homemade blueberry muffins. You just can't go wrong with them! We hope you'll give them a try and let us know what you think. Not only are they great for breakfast, but they're great as a snack or after-school treat too!
FOR MORE MUFFIN RECIPES, CHECK OUT:
Blueberry Muffins Recipe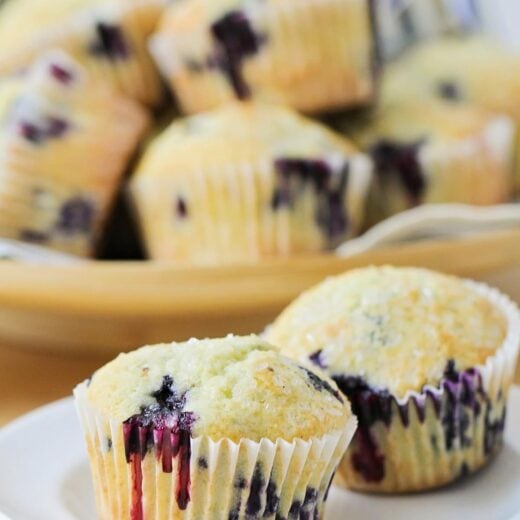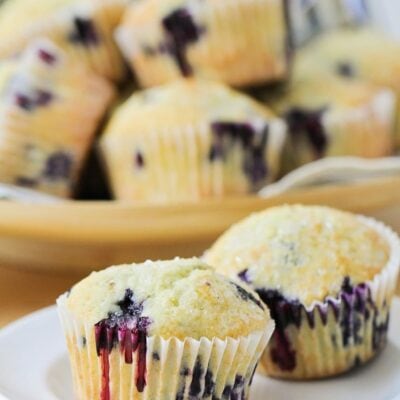 These soft, delicious Blueberry Muffins are simple and perfect for breakfast, snack or after-school treat. They're filled with blueberries and topped with coarse sugar making them irresistible.
Ingredients
1 ¼

cups

sugar

½

cup

unsalted butter

softened

2

eggs

1

teaspoon

vanilla extract

2

cups

plus 1 tablespoon all-purpose flour

divided

2

teaspoons

baking powder

½

teaspoon

salt

½

cup

milk

2

cups

blueberries

rinsed, drained and dried

⅛

cup

coarse sprinkling sugar
Instructions
Preheat the oven to 375 degrees F.

Prepare two 12-cup muffin tinstwo 12-cup muffin tins by adding liners. Set aside.

In a medium bowl, beat sugar and butter with a hand mixer until well combined. Add eggs one at a time, blending in between additions. Mix in vanilla.

In a separate bowl, sift 2 cups flour, the baking powder and salt. Add to butter/sugar mixture a little bit at a time, alternating with the milk, using a wooden spoon and making sure not to overmix.

Using a fork, crush ½ cup of the blueberries and fold into the batter. Toss remaining blueberries in remaining 1 tablespoon flour. Fold these coated blueberries into the batter.

Divide batter among the wells of the prepared muffin tin. Sprinkle coarse sugar over the tops and bake for about 20-24 minutes.

Remove from muffin tin and allow to cool at least 30 minutes.
Notes
Make Ahead: Place in a large resealable plastic bag and store at room temperature for 3–4 days or in the refrigerator for 7 days. These muffins also freeze well. Place muffins in a single layer in a resealable plastic freezer bag and freeze for up to 3 months. TO MAKE BLUEBERRY BREAD: 
Pour batter into a parchment paper–lined 5-x-9-inch loaf pan and sprinkle with sugar. Tent with foil and bake for 70 minutes, or until a toothpick inserted into the middle comes out clean.