Whether you like fruity, chocolatey, or another flavor profile, this collection of muffin recipes has something for you! Muffins make the best on the go snacks.
More Collections: Healthy Breakfasts, Brunch Recipes, Breakfast Smoothies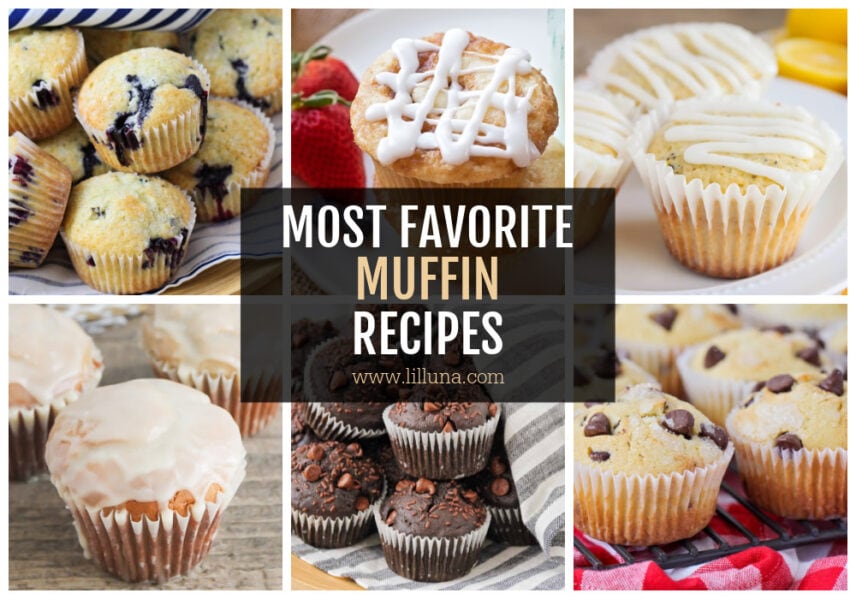 THE ULTIMATE ON THE GO SNACK!
Muffins are a go-to, portable favorite in our house.
They are perfect for snacks, breakfast and even dessert.
Whether you like fruity or spiced, I have the perfect muffin recipes for you! Make these mini or large, either way they are perfect grab-and-go bites for the busiest family. They freeze well too, so don't be afraid to whip up a big batch, or two!!
Before I even get into the recipes, I have LOADS of muffin making tips for you…
General Muffin Making TIPS
Keep these tips in mind while making muffins:
Baking is a science so measure accurately and combine the ingredients as stated in the recipe. Seemingly simple changes can affect the outcome.
Be careful using substitutions. Some may affect the final outcome.
No electric mixers needed. Most muffins can be easily mixed by hand. This also helps make sure that you don't overmix your muffins.
Mixing the dry ingredients together separately helps ensure that you don't overmix the batter.
If the recipe doesn't state otherwise, a good rule of thumb is to fill your muffin cups ⅔ full.
The toothpick test is the easiest way to test if your muffins are done. Simply insert a toothpick into the center of the muffin if it comes out with just a few mist crumbs, then it's done. You may need to retest if you insert it into a more liquid part of the muffin such as a blueberry.
Liners: For a crispier muffin, then don't use a liner. Simply spray the muffin tin with cooking spray and add the batter directly into the pan.
I generally use liners because they make cleaning up a lot easier. Good quality paper liners peel right off the muffin without taking a layer of muffin with it. You can also invest in reusable silicone liners.
If you want to make Jumbo muffins, but don't have a large muffin pan, you can easily use free standing paper baking cups. They can be placed on a cookie sheet and they'll keep their shape.
Muffin Additions
Easy to add delicious ingredients: Once great thing about muffins is how easily they can be to add more delicious flavors and textures.
One favorite is to add chopped nuts or toasted coconut to the top of the batter before baking.
Baking chips are also easy to add. Here are many different flavors and sizes you can choose from.
Dried Fruit adds great flavor and texture without changing the batter.
Adding Fresh Fruit: Many recipes call for fresh fruit, mostly fresh blueberries. If a recipe doesn't call for fresh fruit I would hesitate adding it. The liquid from the fruit will change the way the batter behaves. You can't just add fresh fruit without adjusting the other ingredients to compensate.
When a recipe does call for fresh fruit one tip I have found is to toss the fruit in a bit of flour. A quarter cup of flour for every 2 cups of fruit should work. The theory behind this is that the layer of flour helps keep the fruit from suspended in the batter and not sinking down to the bottom.
Adjust the size
Mega muffins, regular (cupcake size) muffins and mini muffins can generally be made from any muffin recipe.
Mini: Mini tins require about 2 tbsp of batter. Generally mini muffins bake for 8-10 minutes. This is about 5-8 minutes less than what is called for in the standard sizes recipe.
Regular: Regular tins require about ⅓-½ cup of batter. Standard size muffins usually require 18-22 minutes.
Mega: Jumbo Muffins require about 1 cup of batter. Mega muffin can take about 20-24 minutes. You can also add about 8-13 more minutes to the time listed in the standard size recipe.
Storing Muffins
Storage: Muffins tend to be moist and so I will place a paper towel at the bottom of the container before adding the muffins. This will help keep the tops of your muffins from getting moist and sticky.
Freezable: I love having muffins in the freezer. I can pull a few outright when I get up and they'll be ready to heat for breakfast. I also love being able to toss one into my kids school bag for a snack. Once the muffins have cooled I wrap each muffin with plastic wrap, or place each one in a foldable sandwich bag. Then, I place them all together in a freezer Ziploc. They generally last in the freezer for about 3 months.
---
Best Muffins
The most classic and popular flavors of muffins are all on this list! From blueberry to chocolate, and a little pumpkin in between, I guarantee these will be the BEST muffin recipes!
---
Breakfast Muffins
While ALL muffins can be eaten for breakfast, these muffins are specifically a spin off of other breakfast foods, making them perfect to eat first thing in the morning. 😉
---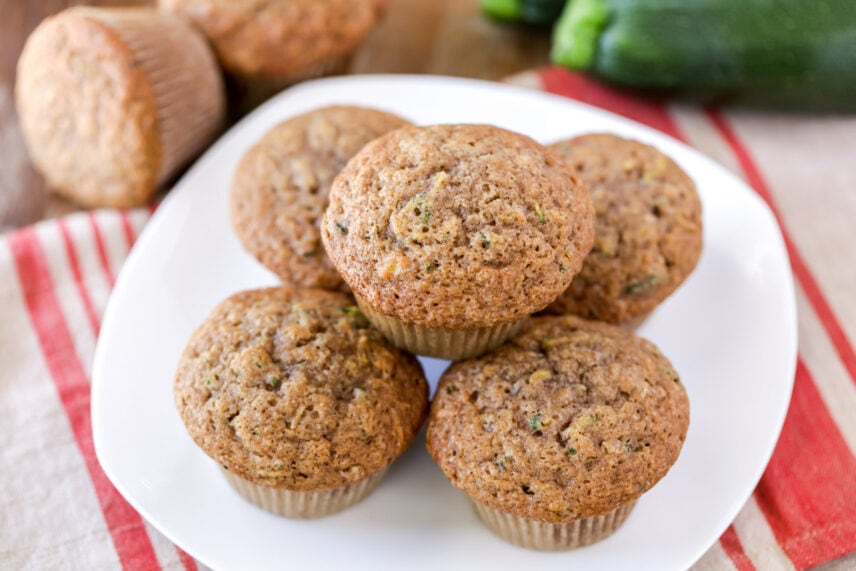 Healthy Muffins
While there may be few to choose from, these recipes are lighter and have healthier ingredients. You can also make any muffin recipe a little healthier by trying the following:
Replacing butter/oil with applesauce
Reducing the amount of white sugar.
Using whole wheat flour instead of white flour, or a mixture of the two.
Add fresh fruit or vegetables. You may need to add a bit more flour to compensate for the added moisture, as well as increase the bake time just a little.
Add chopped nuts which are high in Omega 3 fats
Make sure to check out all of our Breakfast Recipes and Bread Recipes.
For more collections: Quick Bread Recipes, Pancake Recipes, Breakfast Smoothie Recipes