Whether you like fruity, chocolatey, or another flavor profile, this collection of Muffin Recipes has something for you! Muffins make the best on-the-go snacks.
More Collections: Healthy Breakfasts, Brunch Recipes, Breakfast Smoothies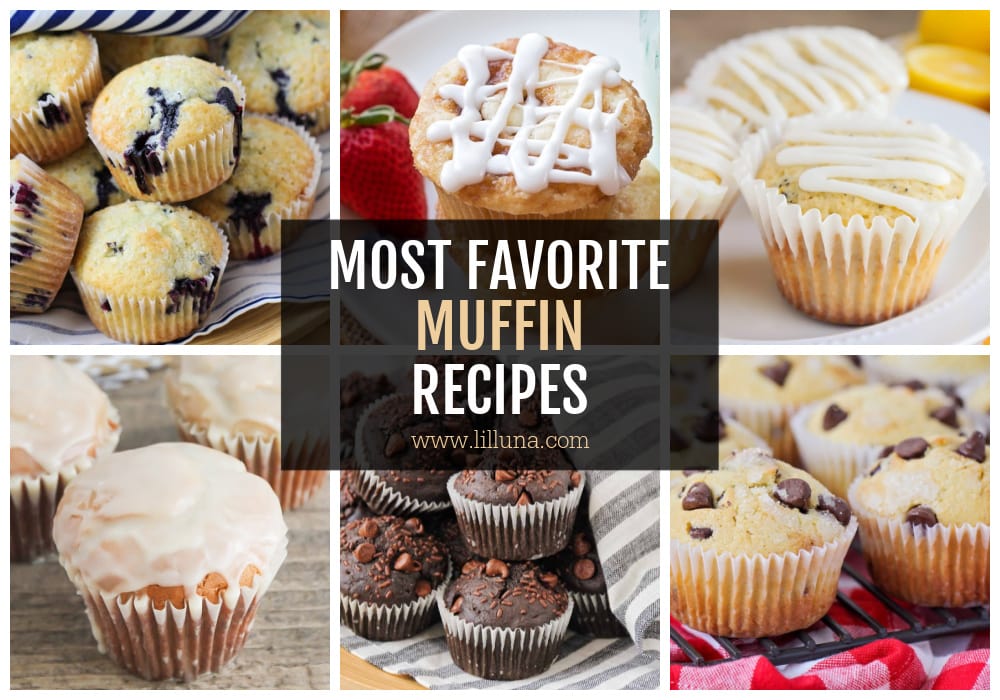 Our favorite snacks
Muffins are a go-to, portable favorite in our house. They are perfect for a snack, breakfast, and even dessert.
Whether you like fruity or spiced, I have the perfect Muffin Recipes for you! Make these mini or large – either way they are perfect grab-and-go bites for the busiest family.
They freeze well too, so don't be afraid to whip up a big batch, or two!!
Before I even get into the recipes, I have LOADS of muffin-making tips for you.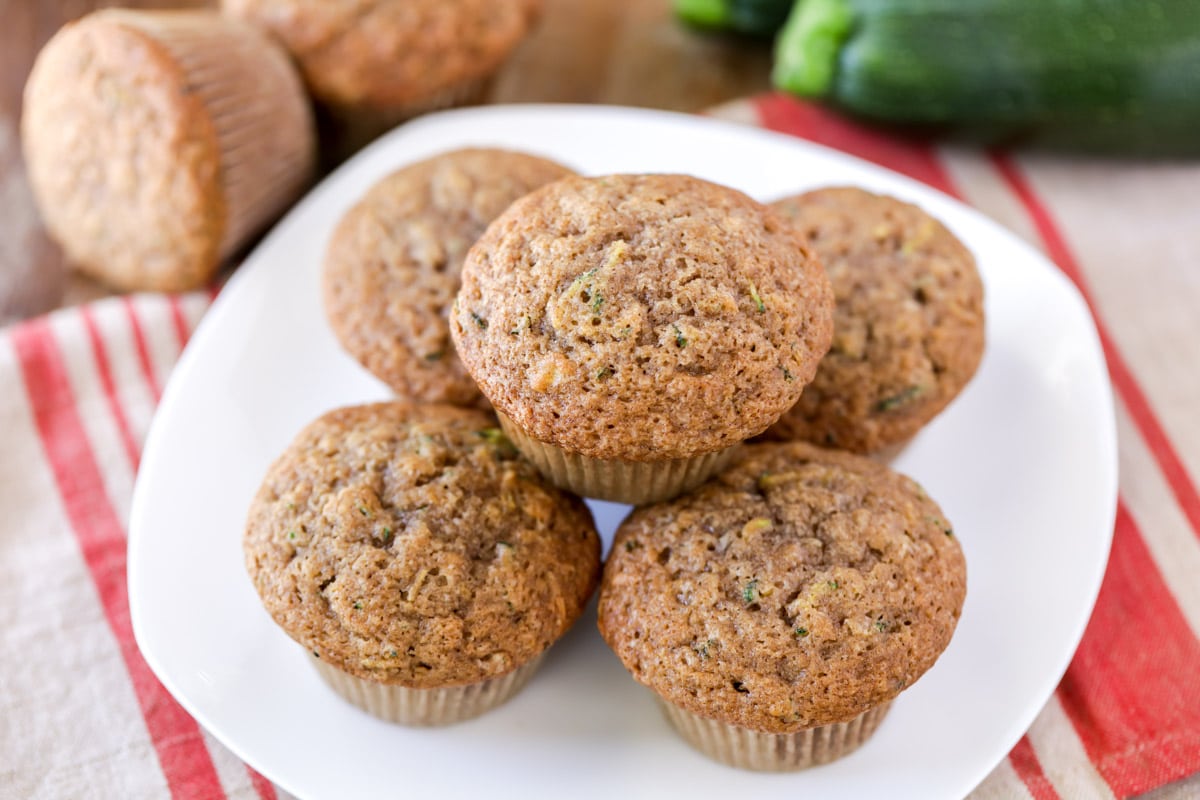 What's the difference between muffins and cupcakes?
Toppings: Cupcakes are typically topped with frosting and other decorations like sprinkles and candies. Whereas muffins are plain and have a strudel, crumble, or a simple glaze.
Sugar: Muffins typically have less sugar than cupcakes. They can be both sweet and savory and served for breakfast, a snack, an appetizer, a side dish, and more. Cupcakes are definitely in the sweet dessert category.
Consistency: Muffin batter is thicker resulting in a denser texture. Cupcake batter is thinner and easily pourable. They bake to be lighter and fluffier than muffins.
Muffin method: Some cupcakes use the method, but nearly all muffins do – hence the name. This method is when the wet and dry ingredients are first mixed in separate bowls before combining. This helps ensure all ingredients are properly mixed without over-mixing the batter.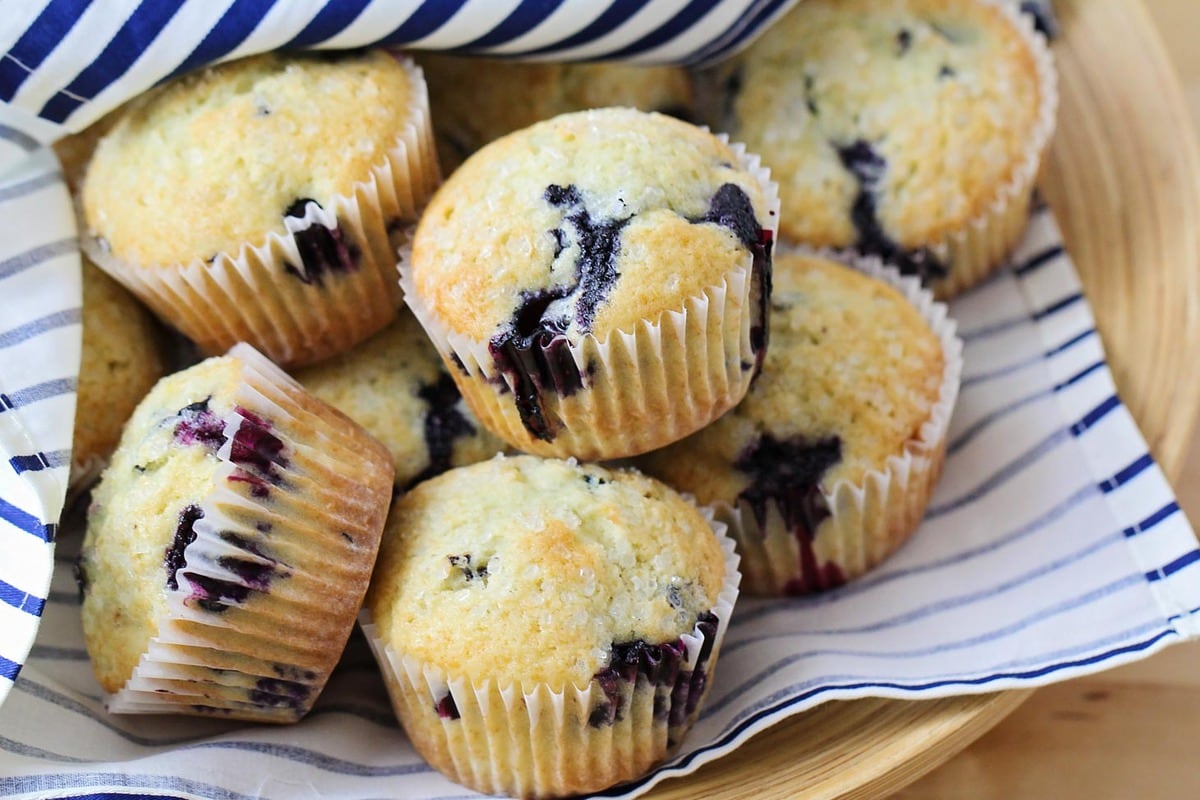 Secrets to Light and Moist Muffins
Our recipes have been tested for the best taste and texture, all you have to do is follow the instructions. With that said, there are always a few good tips to keep in mind when baking muffins:
Accuracy. Baking is a science so measure accurately and combine the ingredients as stated in the recipe. Seemingly simple changes can affect the outcome.
Texture. Muffin batter should be thick and spoonable, but not pourable. When using ingredients like oats, bran, coconut flour, or corn meal it may seem like the batter is too runny. But these types of ingredients tend to be moisture-absorbing, leaving just the right amount of texture in the end.
Fats. The fat from melted butter and oil gives a moist texture. If the recipe turns out too dry, add 1-2 more tablespoons of oil next time.
Moisture. Try adding 1-2 tbsp of applesauce or sour cream to add moisture. Shredded zucchini and carrots will add moisture as well as texture.
Fresh fruit berries add more moisture than dehydrated ones. Be careful not to add too many fresh berries or the muffins will go from moist to soggy.
Do not overbake. To test for doneness, simply insert a toothpick into the center of the muffin. If it comes out with just a few moist crumbs, then it's done. You may need to retest if you insert it into a more liquid part of the muffin such as a blueberry or cranberry.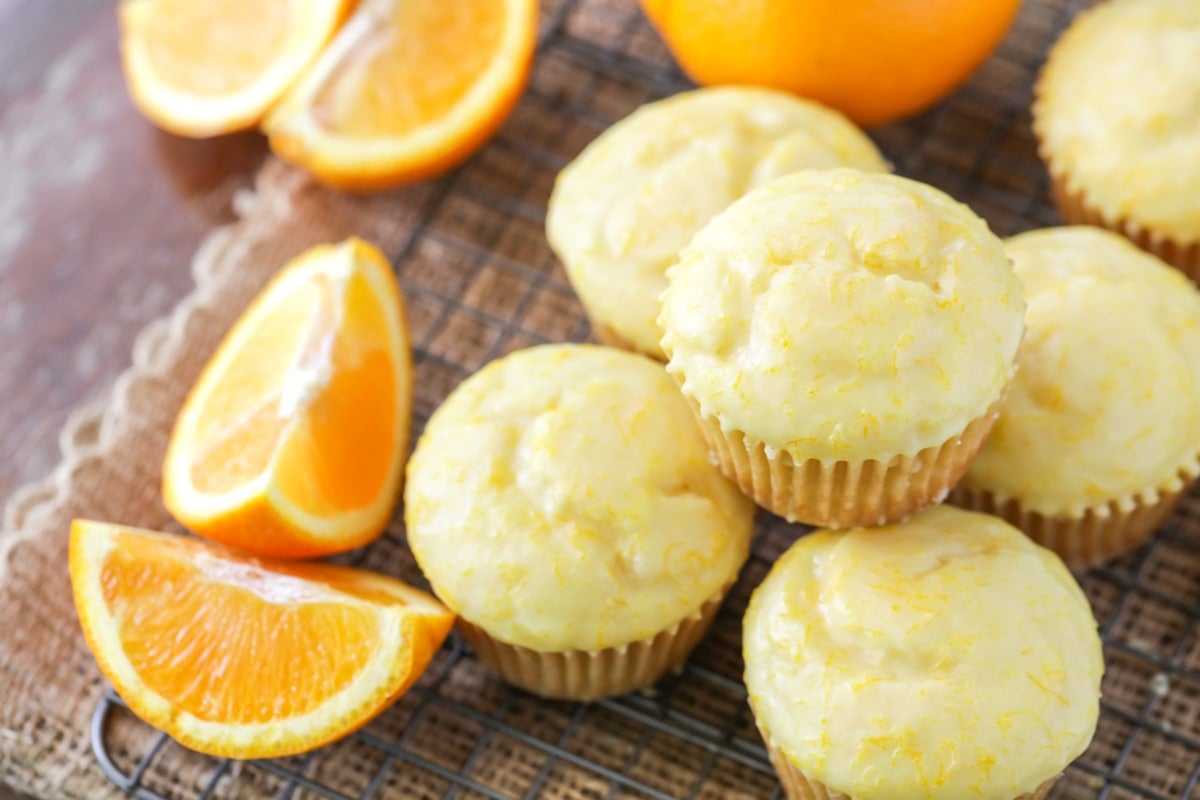 How to Get Fluffy Muffins
Using room temperature ingredients helps the batter rise properly giving a fluffy texture. Unless otherwise stated this includes room-temperature butter, eggs, and dairy.
Chewy and dense muffins could mean over-activated gluten. To avoid this, do not over-mix the batter. Mix the dry ingredients separately before adding them to the wet ingredients. Having small lumps is completely fine.
No electric mixers needed. Most muffins can be easily mixed by hand. This also helps to avoid overmixing. About 12 stirs with a whisk is all it takes for the ingredients to combine. If adding berries, raisins, nuts, or chocolate chips, FOLD them in the batter.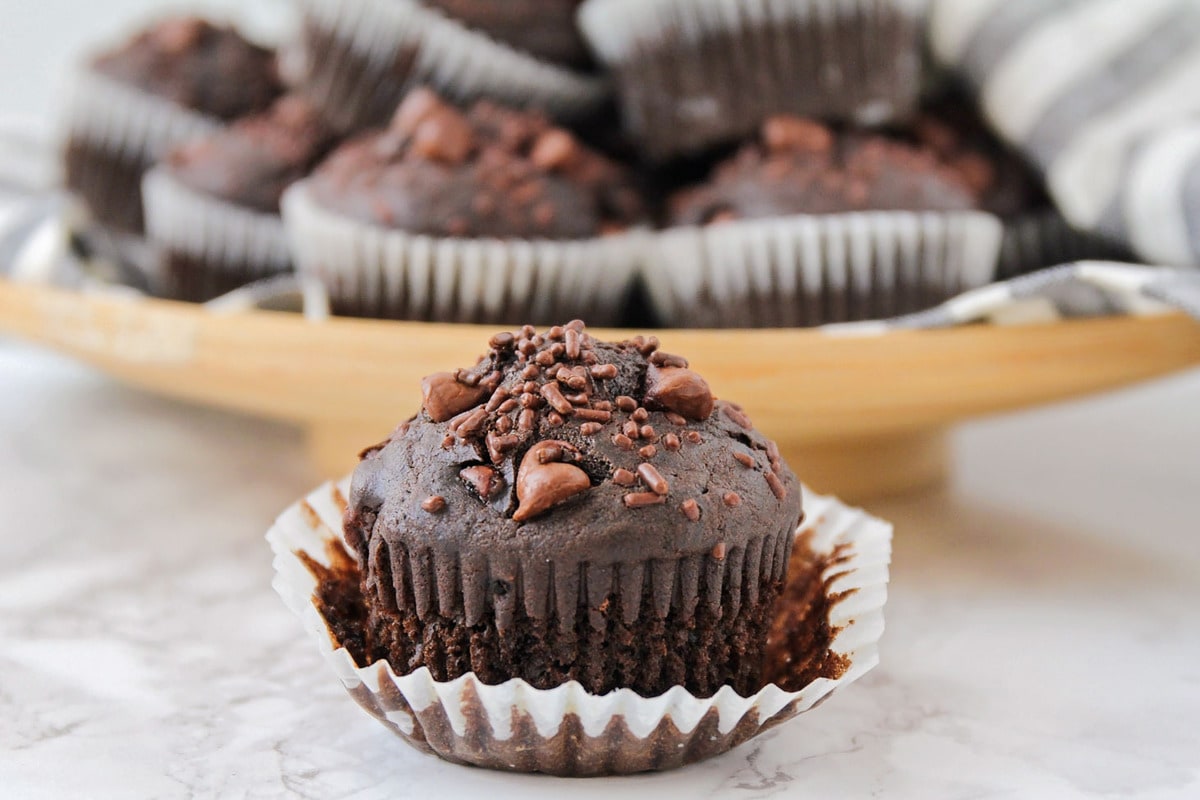 How to Get Round Top Muffins
Leavening agents. Be sure the leavening agents, typically baking powder or baking soda, are not expired. Using a poor leavening agent means a poor rise to the muffin.
Making the batter too far ahead of time will cause the leavening agents to lose their effectiveness. If the batter has been refrigerated, make a test muffin. If it doesn't rise well, add a bit more baking soda or powder to revive them.
Bake temperature. Try to bake muffins at an initial temperature of 425°F. The increased heat will cause the muffins to rise quickly and the outside to bake before they have time to settle down. This will take about 10 minutes.
Once you have beautiful tops, reduce the oven temperature to whatever the recipe states and bake for another 5-7 minutes or until an inserted toothpick comes out clean.
Batter. Once the batter has been added to the tin, spread it evenly and right to the edge of the liner. This will help the batter rise evenly with a nice rounded top.
Many recipes state to fill the muffin liner ⅔-¾ of the way full. For an even higher dome, fill the tins to almost full. They may spread outward as well creating a mushroom top, so only use every other tin to prevent spreading. (Add a bit of water to the empty tins when baking).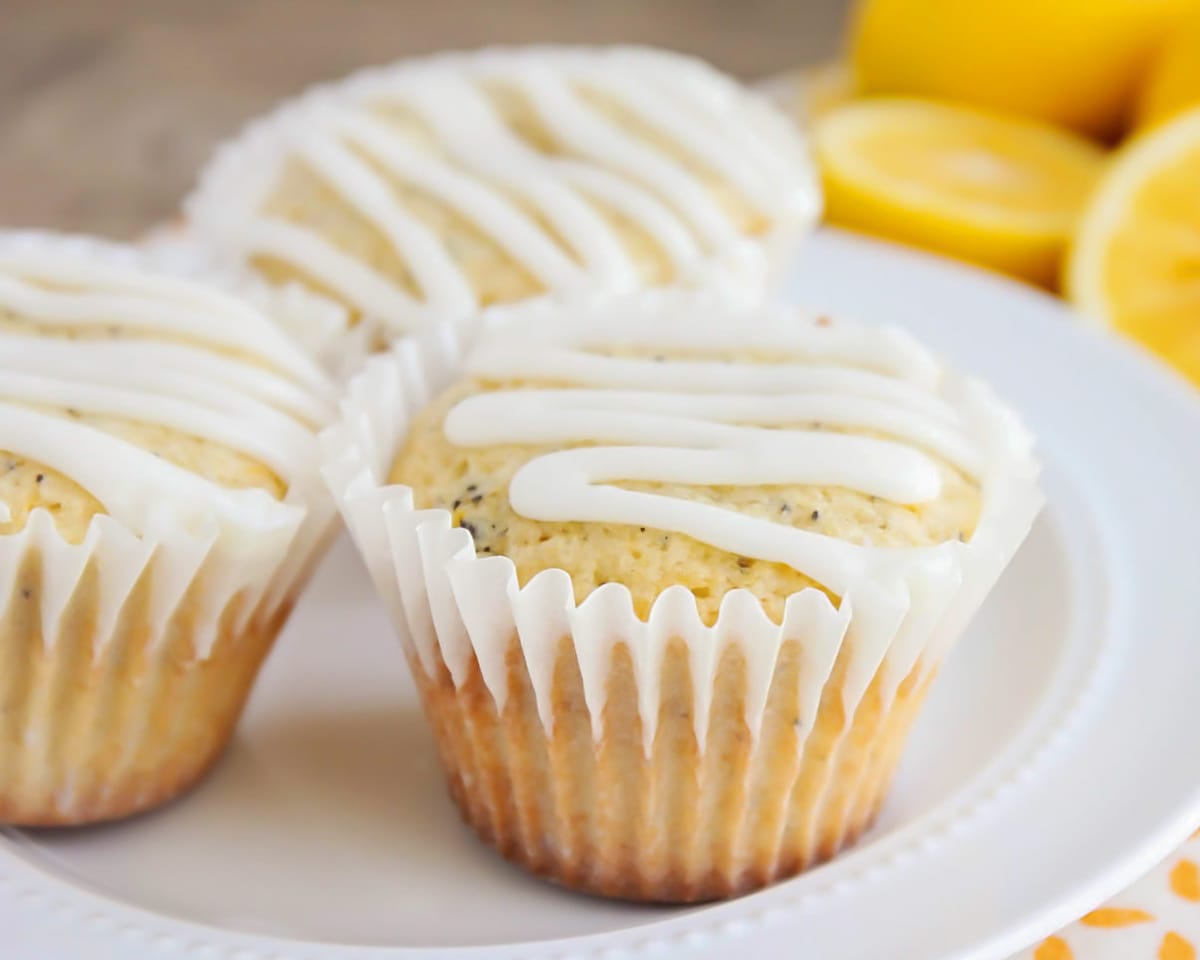 recipe tips
Liners. For a crispier muffin, don't use a liner. Simply spray the muffin tin with cooking spray and add the batter directly into the pan.
I generally use liners because they make cleaning up a lot easier. Good quality paper liners peel right off the muffin without taking a layer of muffin with it. You can also invest in reusable silicone liners.
To make jumbo muffins use a large muffin pan or free-standing paper baking cups. They can be placed on a cookie sheet and they'll keep their shape.
Easy to add delicious ingredients. One great thing about muffins is how easy it is to add more delicious flavors and textures.
Add chopped nuts or toasted coconut to the top of the batter before baking.
Baking chips are also easy to add. Here are many different flavors and sizes you can choose from.
Dried Fruit adds great flavor and texture without changing the batter.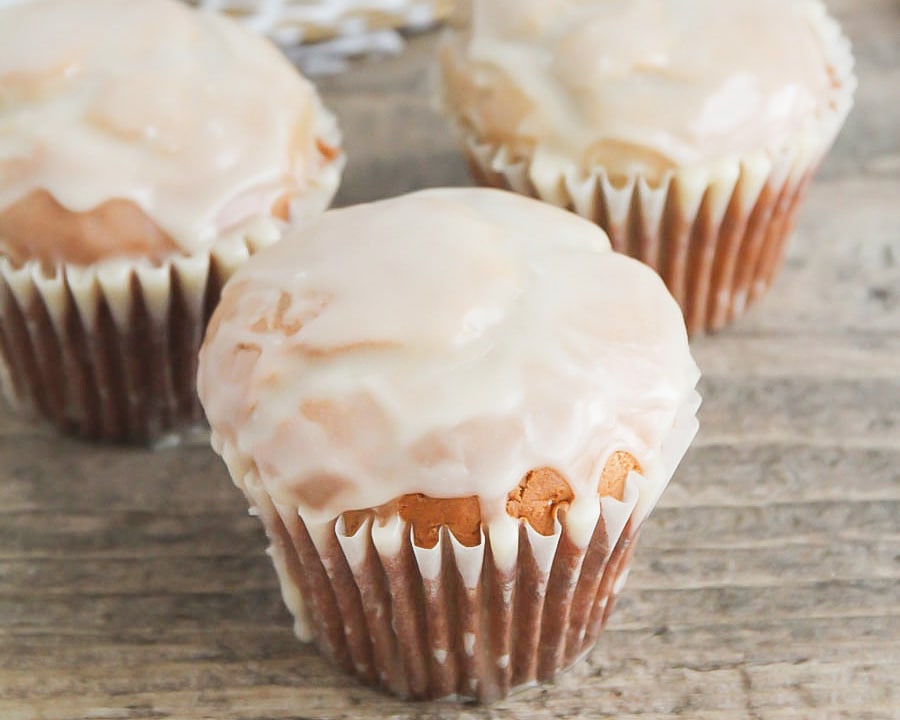 Adding fresh fruit. Many recipes call for fresh fruit, mostly fresh blueberries. Adding fresh fruit to a recipe that doesn't already include it may change the way the batter behaves (due to added moisture from the juices). Typically the other ingredients need to be changed to compensate.
When a recipe does call for fresh fruit one tip I have found is to toss the fruit in a bit of flour. A quarter cup of flour for every 2 cups of fruit should work. The theory behind this is that the layer of flour helps keep the fruit suspended in the batter instead of sinking down to the bottom.
If a recipe does call for fresh fruit, replace the fresh berries with an equal amount of similarly sized fruit. Your favorite blueberry muffin recipe may just become your favorite recipe for raspberry muffins or strawberry muffins.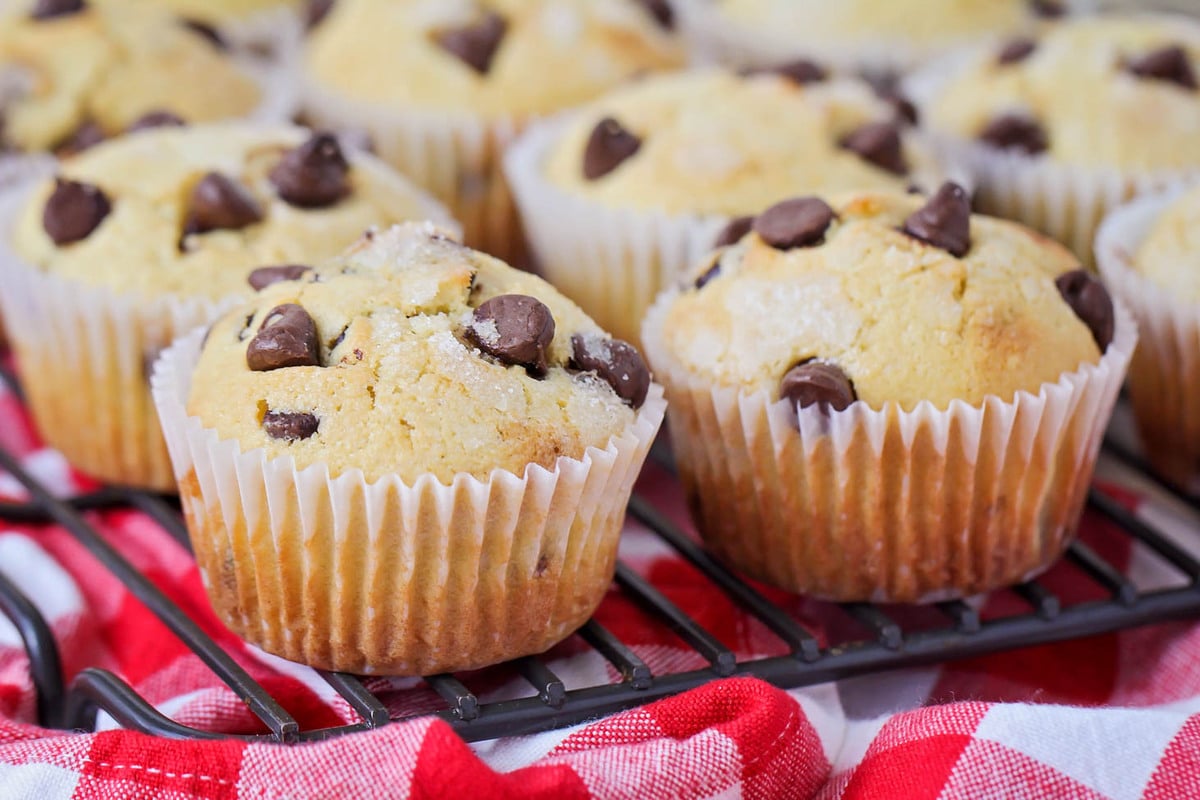 Adjust the size
Mega muffins, regular (cupcake-size) muffins, and mini muffins can generally be made from any muffin recipe.
Mini: Mini tins require about 2 tbsp of batter. Generally, mini muffins bake for 8-10 minutes. This is about 5-8 minutes less than what is called for in the standard sizes recipe.
Regular: Regular tins require about ⅓-½ cups of batter. Standard-size muffins usually require 18-22 minutes.
Mega: Jumbo muffins require about 1 cup of batter. Mega muffins can take about 20-24 minutes. Or add about 8-13 more minutes to the time listed in the standard-size recipe.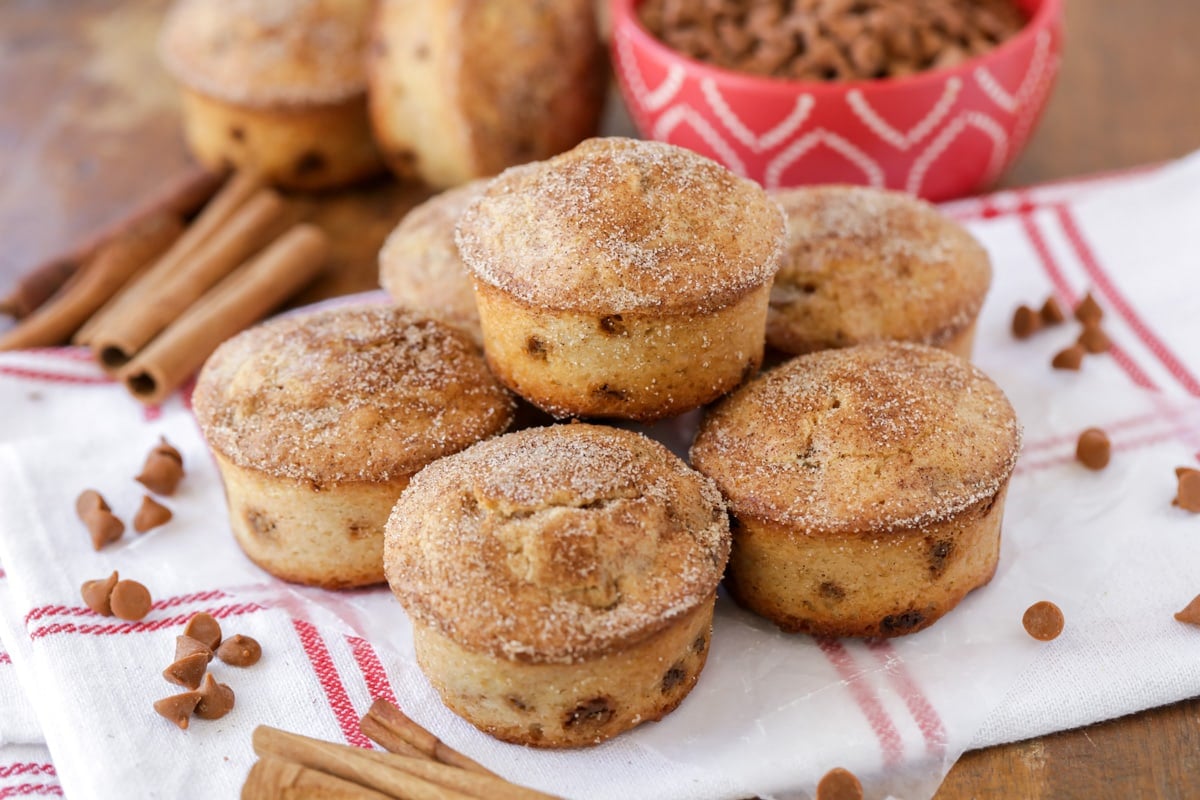 Storing Muffins
STORE. Muffins tend to be moist. Place a paper towel at the bottom of the container before adding the muffins. This will help keep the tops of your muffins from getting moist and sticky.
FREEZE. I love having muffins in the freezer. I can pull a few out when I get up and they'll be ready to heat for breakfast. I also love tossing one into my kids' school bag for a snack. To freeze:
Once the muffins have cooled, wrap each muffin with plastic wrap, or place each one in a foldable sandwich bag. Place them all together in a freezer Ziploc and freeze for about 3 months.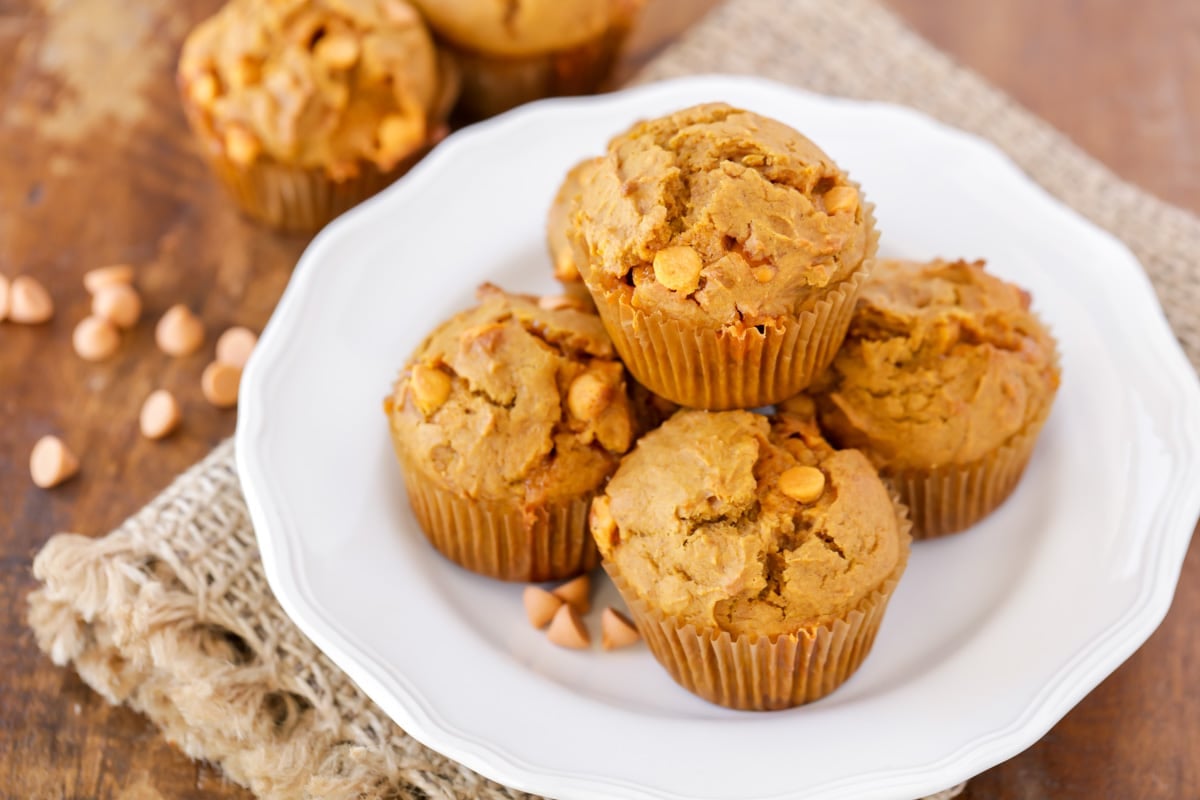 Making and Storing Ahead of Time
Overnight muffin batter. Muffins are a type of quick bread which means they rely on a rising agent such as baking soda and baking powder to make them puff up. The batter can be mixed up, covered, and stored in the fridge.
In fact, many people prefer chilling their batter and feel that it produces a better result. Most muffin batters should be able to last for 5-7 days in the fridge.
Freezing muffin batter. I don't do this often as it is just as easy for me to freeze baked muffins, but it is doable.
Fill a silicone muffin liner with the amount of batter suggested in the recipe and place the batter-filled liners in the freezer.
Once fully frozen you can transfer the cubes of batter to a freezer-safe Ziploc. They should keep for about 3 months.
When you wish to bake up a few muffins, place the batter cubes into a muffin liner and bake at the temperature suggested in the recipe, but add a few extra minutes to compensate for starting with frozen batter.
If you let the batter thaw first, just bake according to the recipe directions.
---
Best Muffin Recipes
The most classic and popular flavors of muffins are all on this list! From blueberry to chocolate, and a little pumpkin in between, I guarantee these will be the BEST muffin recipes!
Lemon Crumb Muffins
Soft and delicious Lemon Crumb Muffins are topped with a buttery crumb topping and a delicious lemon glaze, making them irresistible!
Blueberry Muffins
These soft, delicious Blueberry Muffins are simple and perfect for breakfast, snack or after-school treat. They're filled with blueberries and topped with coarse sugar making them irresistible.
Banana Muffins
Everything you love about banana bread in muffin form! Moist, fluffy banana muffins sprinkled with a little cinnamon and sugar on top.
Chocolate Muffins
Chocolate muffins loaded with semisweet chocolate chips and dark chocolate chunks, then topped with more chocolate chips and sprinkles.
Pumpkin Chocolate Chip Muffins
You can never have just one of these soft and delicious Pumpkin Chocolate Chip Muffins. After trying several recipes, this one is our favorite!
Mini Glazed Pumpkin Donut Muffins
A donut muffin filled with pumpkin and cinnamon flavors, topped with a spiced white chocolate glaze. These mini glazed pumpkin donut muffins are totally irresistible!!
Cinnamon Sugar Pumpkin Muffins
These Cinnamon Sugar Pumpkin Muffins are so moist and full of cinnamon, sugar, and pumpkin. Top them with cinnamon sugar, or with a delicious cinnamon buttercream spread!
Mini Applesauce Muffins
These Mini Applesauce Muffins are the perfect snack for the whole family! Deliciously moist muffins filled with applesauce, and dipped in an irresistible cinnamon sugar topping.
Glazed Lemon Poppy Seed Muffins
Fluffy and flavorful Lemon Poppy Seed Muffins are topped with a tasty glaze making them simply irresistible.
Monkey Bread Muffins
If you like monkey bread, you'll LOVE these Monkey Bread Muffins! They're a cinch to put together and are ready to eat in under 20 minutes.
Pumpkin Butterscotch Muffins
Pumpkin Butterscotch Muffins are soft and tender, studded with creamy butterscotch chips. They are practically a dessert!
Snickerdoodle Muffins
Soft and sweet Snickerdoodle Muffins taste just like their cookie cousin! They're a perfect grab-and-go breakfast or late-night snack.
Orange Muffins
Bright & vibrant Orange muffins topped with an orange zest glaze are absolutely delicious! They're perfect for breakfast or dessert.
Apple Muffins
Apple Muffins are deliciously full of warm apple bits and topped with a scrumptious crumble. This is a family favorite bakery style muffin!
Chocolate Chip Muffins
Delicious Bakery-Style Chocolate Chip Muffins – so delicious!
Lemon Zucchini Muffins
Simple no yeast Lemon Zucchini Muffins are tender and delicious, topped with a vibrant lemon glaze! They are perfect for freezing for later.
Almond Poppyseed Muffins
Topped with a light lemon glaze, almond poppyseed muffins are tender, sweet, and perfect for snacking. They are practically a dessert!
---
breakfast muffins
While all muffins are tasty breakfast options, these next recipes are an especially perfect way to start the day.
Mini Donut Muffins
Mini Donut Muffins are coated in cinnamon sugar and topped with a DELICIOUS cream cheese frosting. It's hard not to eat the whole batch!!
Cinnamon Roll Muffins
Delicious Homemade Cinnamon Rolls Muffins with a glaze on top! Soft, buttery, and full of cinnamon flavor with a glaze made from powdered sugar!
Glazed Donut Muffins
These muffins taste just like a donut, with just the right hint of nutmeg and cinnamon, and are topped with the most delicious glaze!
Coffee Cake Muffins
Tender & sweet glazed coffee cake muffins filled with a brown sugar streusel are the perfect breakfast treat!!
French Toast Muffins
These French Toast Muffins are easy to make, using things you already have in your pantry! Your choice of bread, cubed and covered in egg and vanilla mixture, topped with a delicious sugary topping, and baked until golden and crispy.
---
Healthy Muffins
While there may be few to choose from, these recipes are lighter and have healthier ingredients. You can also make any muffin recipe a little healthier by trying the following:
Replacing butter/oil with applesauce.
Reducing the amount of white sugar.
Using whole wheat flour instead of white flour, or a mixture of the two.
Add fresh fruit or vegetables. You may need to add a bit more flour to compensate for the added moisture, as well as increase the bake time just a little.
Add chopped nuts, like walnuts or pecans, which are high in Omega 3 fats.
Banana Crumb Muffins
Delicious and simple Banana Crumb Muffins are Perfect to use up those over-ripe bananas. The whole family goes crazy for these muffins!
Sweet Honey Muffins
These simple sweet honey muffins are sweetened with a little bit of agave (or honey). They are melt-in-your-mouth good!!
Zucchini Muffins
These soft and flavorful zucchini muffins are sweet and topped with a delicious glaze. The kids will never even know they're filled with zucchini!
Apple Cinnamon Muffins
Apple cinnamon muffins are moist & tender. With chunks of apples and a cinnamon sugar topping, they're perfect for breakfast or a snack.
Bran Muffins
Homemade Bran Muffins are healthy, delicious, and whip up in under 20 minutes! Make them your own with your favorite mix ins.
Healthy Apple Muffins
Delicious and Healthy Apple Muffins filled with oats, bran, and cinnamon. These muffins are not only simple but are great for breakfast and after-school snacks.
---
Find a New Favorite!
Whether you are looking for the perfect breakfast, snack, or treat you're sure to find one (or several) of your new favorites!
Make sure to check out all of our Breakfast Recipes and Bread Recipes.
For more collections: Quick Bread Recipes, Pancake Recipes, Breakfast Smoothie Recipes