Everything you love about banana bread in muffin form! Moist, fluffy banana muffins sprinkled with a little cinnamon and sugar on top.
Broccoli Quiche, Crockpot Breakfast Casserole, and Baked Denver Omelet all make a delicious breakfast. These muffins would be such a great addition to a wonderful brunch!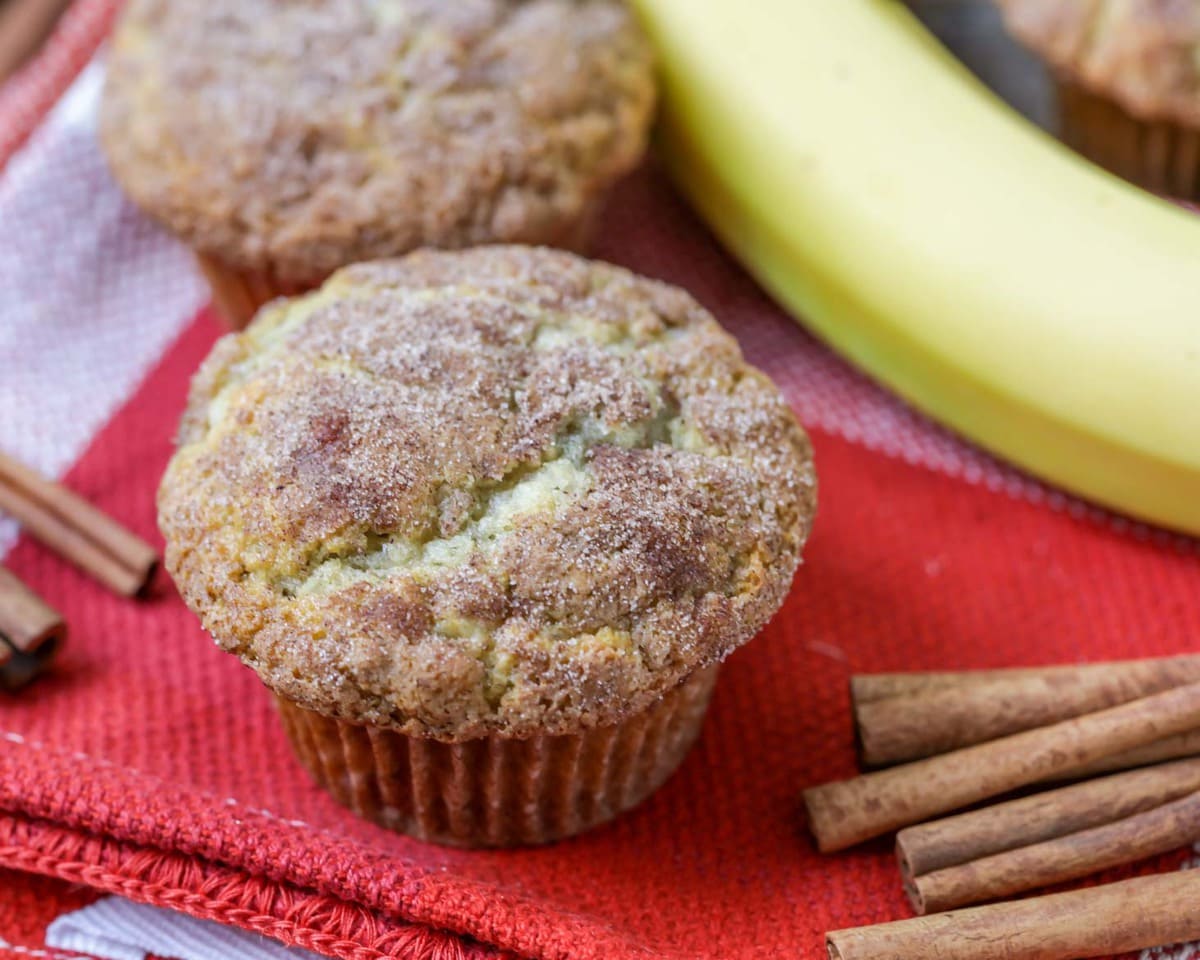 Banana Bread Muffins
Banana bread is one of my favorite snacks of all time. Sometimes instead of banana bread loaves, I like to make banana muffins instead! They are a little easier to make if you're wanting to feed a crowd or have a grab-and-go snack. Banana bread muffins are great for throwing into school lunches or grabbing a couple for breakfast on your way out the door to work (along with our Lemon Poppyseed Muffins and Blueberry Muffins).
Today's muffins are just as easy to make as banana bread loaves – if not even easier! You'll just need a muffin tin instead of bread loaf pans. The cook time is a little different so be sure to pay attention to oven temperature and how long it takes to cook the muffins.
We hope you enjoy these delectable banana muffins! Let us know in the comments below and leave a review- thanks!!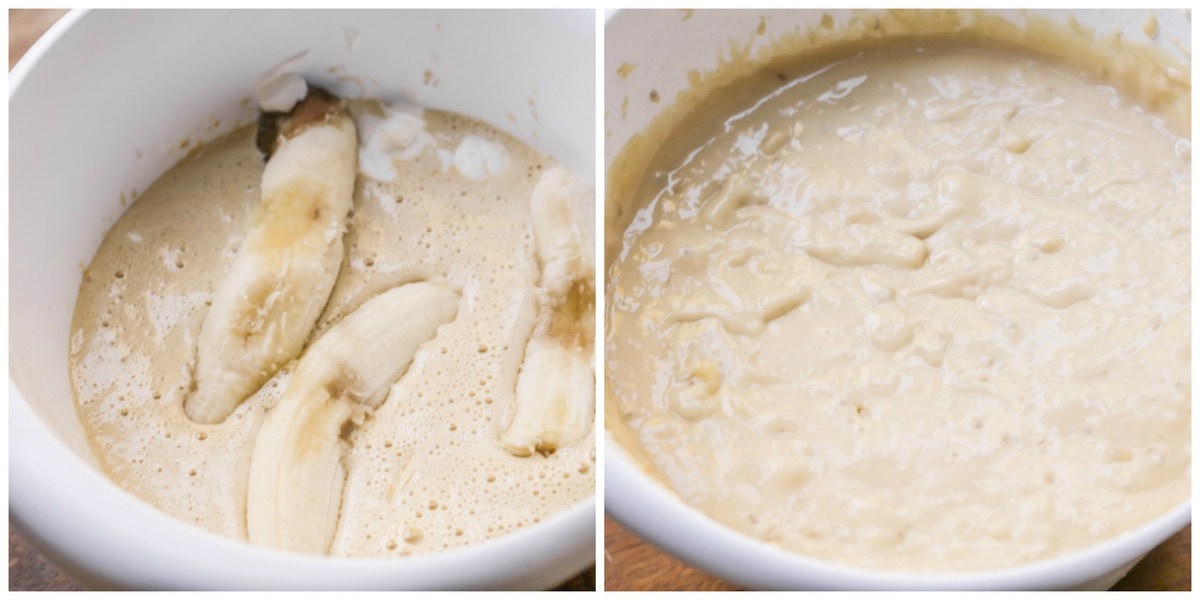 How to Make Banana Muffins
BANANAS. Make sure you have three large bananas that are VERY ripe. They need to be almost black on the outside. The more ripe the banana, the better tasting banana muffins! Take the peels off the bananas and put them into a bowl. With a potato masher or two forks, get mashing! Mash up the bananas so they are easier to mix in the muffin batter.
DRY INGREDIENTS. Start by mixing your dry ingredients in a bowl – the flour, baking powder, baking soda, and salt.
WET INGREDIENTS. In another bowl, mix your bananas, eggs, sugar, and melted butter. Fold in the dry ingredients and mix until the batter is smooth.
TOPPING. In a separate little bowl, mix together the cinnamon and sugar. After you have poured the batter into greased muffins tins (or use cupcake liners!), sprinkle the cinnamon and sugar mixture on top of each muffin cup.
BAKE. Bake in the oven at 350 degrees for 25-30 minutes. If you want to do mini muffins bake those for 10-15 minutes.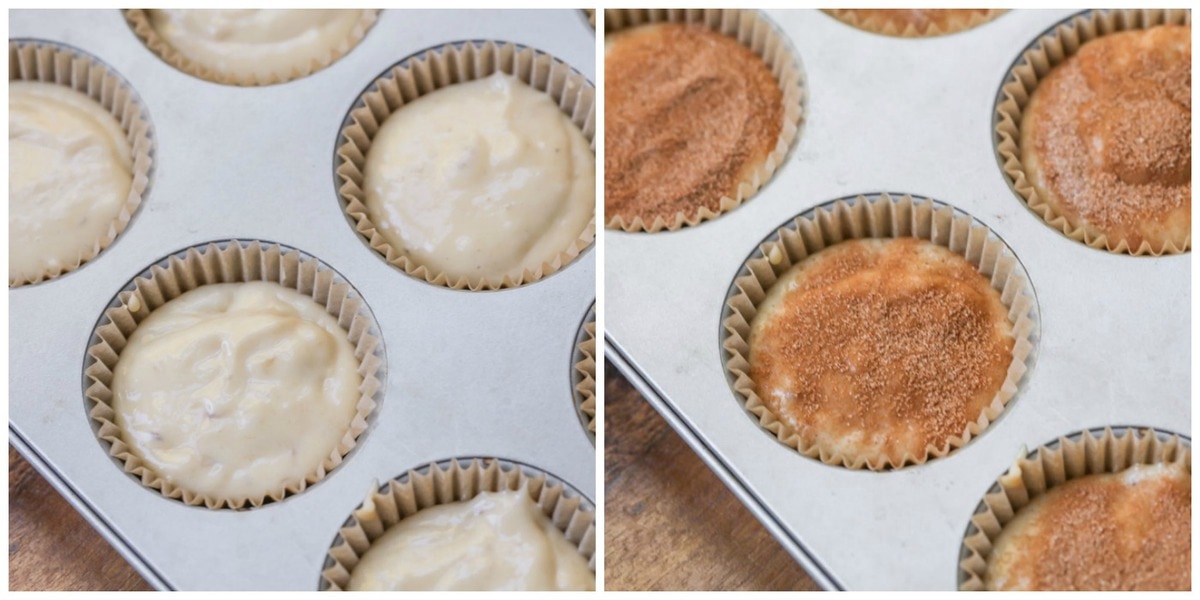 Banana Chocolate Chip Muffins
Want to make these muffins even more delicious?? Try throwing in a cup of chocolate chips to the batter!
CHOCOLATE CHIPS. Sometimes chocolate chips can sink to the bottom of the batter. To make sure this doesn't happen, coat the chocolate chips in a little flour before adding them to the batter. Make sure to add the chocolate chips last. Any chocolate chips will work – milk chocolate, semi sweet, dark chocolate. You could even do mini chocolate chips.
TOPPINGS. Feel free to leave off the cinnamon and sugar mixture if you would rather have the banana muffins plain. You can also add chopped walnuts to the batter to make these banana NUT muffins (a muffin version of our Banana Nut Bread). OR make our banana crumb muffins with a delicious streusel top. So tasty!
Tips + Storing Info
Here are a few extra tips for making these delectable muffins:
Use your mixer to mash the bananas! Just break them up into chunks, then add them to the bowl and use the beater until they are mashed. Next, mix in the egg and the butter, followed by the dry ingredients.
Got some frozen bananas you've been saving for a recipe like this? Awesome! Just make sure to thaw them first and then blot them off with a paper towel to remove some of the extra moisture that builds up from freezing them.
Use a cookie scoop to fill your muffin pans for mess free, uniform muffins.
STORE Banana Muffins in an air-tight container or Ziploc bag and leave on the counter for up to 4 days. This can be extended a few days if stored in the fridge.
These banana muffins FREEZE wonderfully! Just put them into a freezer-safe Ziploc bag and keep them in the freezer until you need them. We typically let them thaw on the counter and often put them in the microwave just to give them a little warmth before enjoying. 😉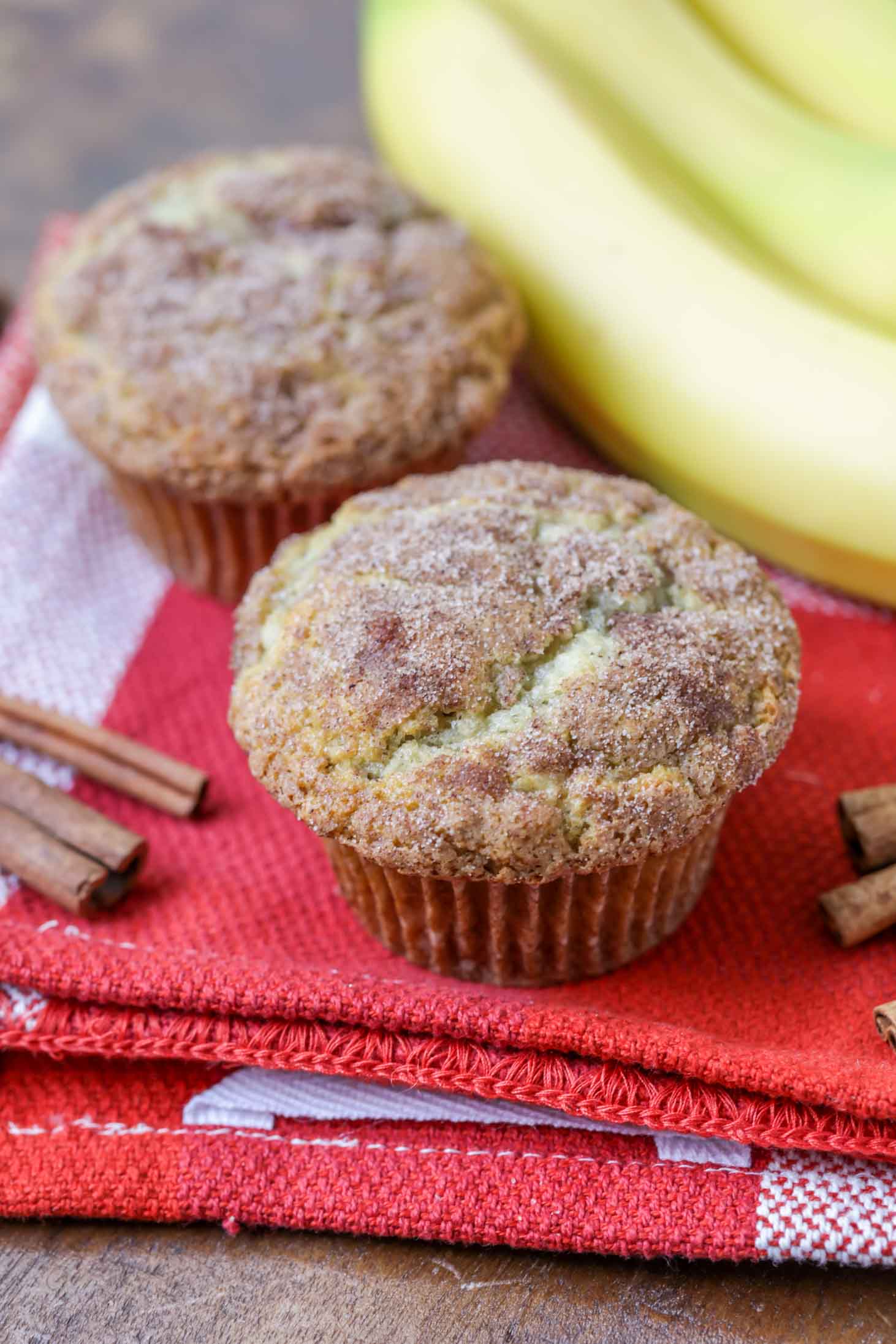 For more muffin recipes, check out:
Banana Muffins Recipe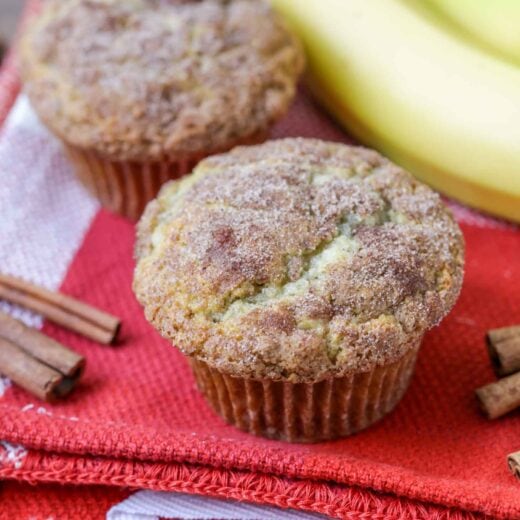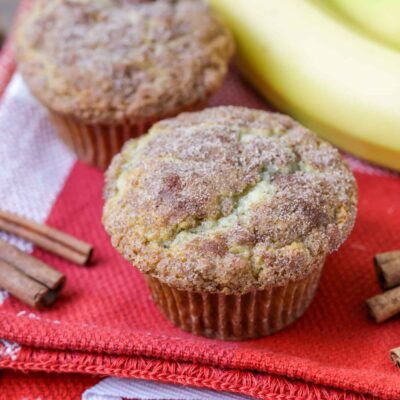 Everything you love about banana bread in muffin form! Moist, fluffy banana muffins sprinkled with a little cinnamon and sugar on top.
Instructions
In a bowl, sift flour, baking powder, baking soda, and salt.

In a separate bowl, mix together bananas, sugar, egg, and melted butter. Fold in flour mixture, and stir until smooth. Scoop batter into greased muffin cups. Sprinkle with cinnamon and sugar.

Bake at 350 for 25 to 30 minutes. Bake mini muffins for 10 to 15 minutes. Enjoy!