The BEST homemade Banana bread recipe that is moist, simple, and so easy. Everyone loves this recipe and it's always a hit with the kids.
I know I've mentioned this before but even though I LOVE fruit, I don't like it in my desserts or other dishes. Weird, I know. I guess you could say I was surprised then when my mom made my family some Banana Bread and I could NOT stop eating it. It was DELISH!!! I asked her what the secret was to The Best Banana Bread Recipe and she said "Whipped Topping and Sour Cream." YUP! Both of those ingredients are in this bread and make it so stinkin' good and so (although I don't really like this word) MOIST!! This recipe is also easy and has become my go-to recipe whenever we over-ripe bananas sitting on the counter.
After trying this bread, I don't think I'll ever use another Banana Bread recipe again. It's perfect and so delicious (and is gone in minutes if the kids are around). 😉
MY OTHER RECIPES
Baked to perfection!!
Since then I have made this recipe every other week for the last few months. It's the perfect go-to recipe when the bananas start getting old and you don't want to waste them and throw them away.
You can also change it up and add 1 -2 cups of chocolate chips (I prefer milk chocolate chips) to make:
TIPS FOR MAKING BANANA BREAD:
They're best when the bananas are overly ripe
For muffins bake for 18-20 minutes instead.
If you like nuts, fold them in before pouring into pans.
Looking to make it more sweet? Add a cinnamon and sugar topping on the top (1 TB sugar mixed with 1 teaspoon cinnamon.)
How to make Banana Bread:
The Best Banana Bread Recipe
Ingredients
1 cup sugar
1 cup brown sugar
½ cup oil
3 eggs
3 tsp. vanilla
1 12 oz. carton of sour cream
4 bananas ripe
2½ cups flour
1 tsp. baking soda
1 tsp. baking powder
1 envelope whipped topping
pinch of salt
Instructions
Preheat oven to 350. Spray two loaf pans with spray or grease and flour.
Cream sugars, oil and eggs. Add vanilla, sour cream, and bananas. Mix well.
In a separate bowl combine flour, baking soda, baking powder, salt and powdered whipped topping. Add dry mixture to wet mixture and mix well. (You can add chocolate chips as well - optional)
Pour into prepared pans. Bake 40-50 minutes.
For more yummy Bread recipes be sure to check out:
And turn it into a cute gift by wrapping in cellophane and adding a tag (GO HERE FOR FREE TAGS)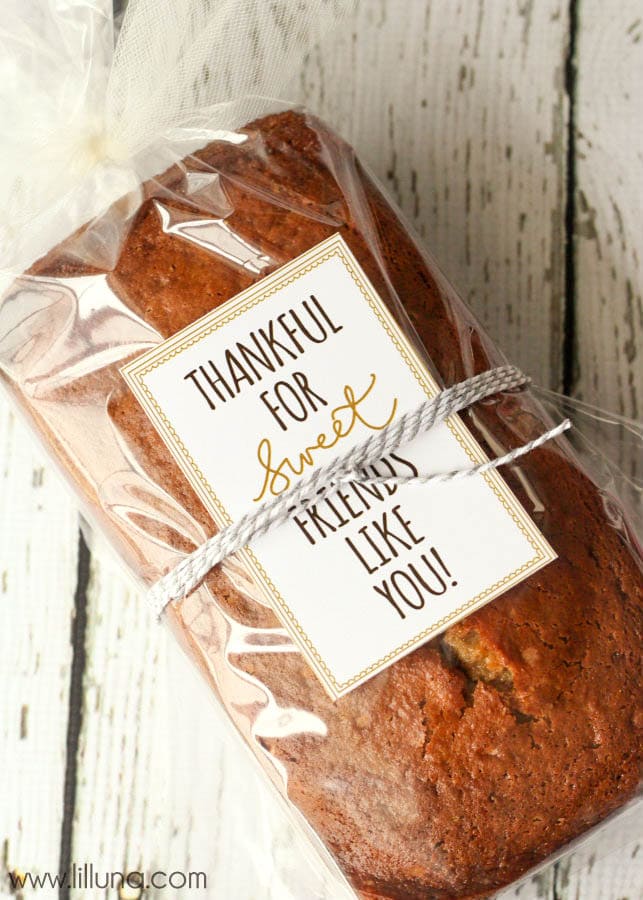 For all Food Gift ideas go HERE. For all Bread recipes go HERE.
And get weekly emails with monthly freebies by signing up for the Lil' Luna newsletter. 🙂
For even more great ideas follow me on Facebook – Pinterest – Instagram – Twitter – Periscope – Snapchat & YouTube.
ENJOY!