The BEST and Easiest homemade Banana bread recipe. Everyone loves this no-yeast bread – it's simple, moist, and SO easy. Perfect to make with over-ripe bananas!
Banana bread is probably the most common quick bread (no yeast) recipe we make. If it's not banana bread, though, then it's probably zucchini bread, amish bread, or lemon bread!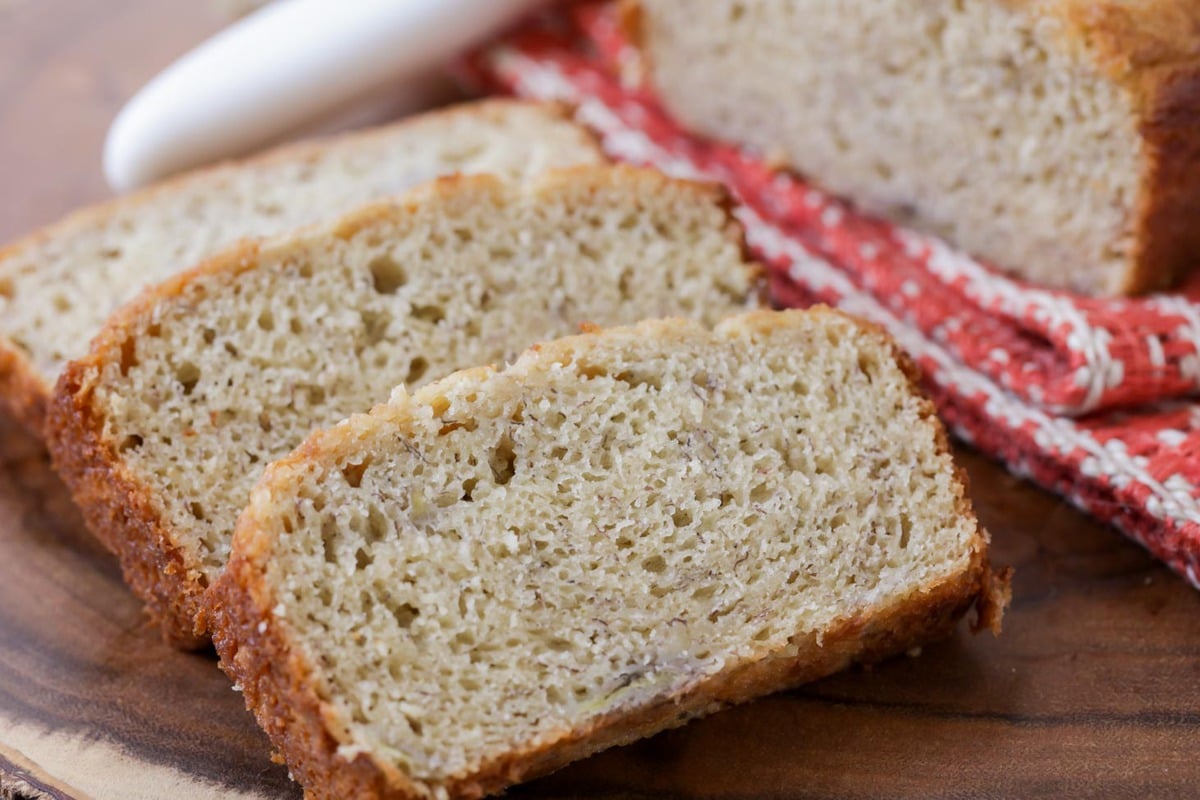 mom's secret ingredients for moist bread
Banana bread is one of those bread recipes we've enjoyed our entire lives. My mom has tried so many different versions over the years, but today's easy banana bread recipe is, by far, our favorite. It's so simple, moist and delicious.
We love that this quick bread is made in just about 5-10 minutes and then popped into the oven. When we first made it, it was gone in about .2 seconds and I asked my mom what the secret ingredient is. She replied, "it's actually sour cream and whipped topping mix."
I thought she would say love, 😉 but apparently the whipped topping and sour cream make it super moist and super tasty. We now use this recipe any time we have over-ripe bananas sitting on the counter, which happens more than I care to admit.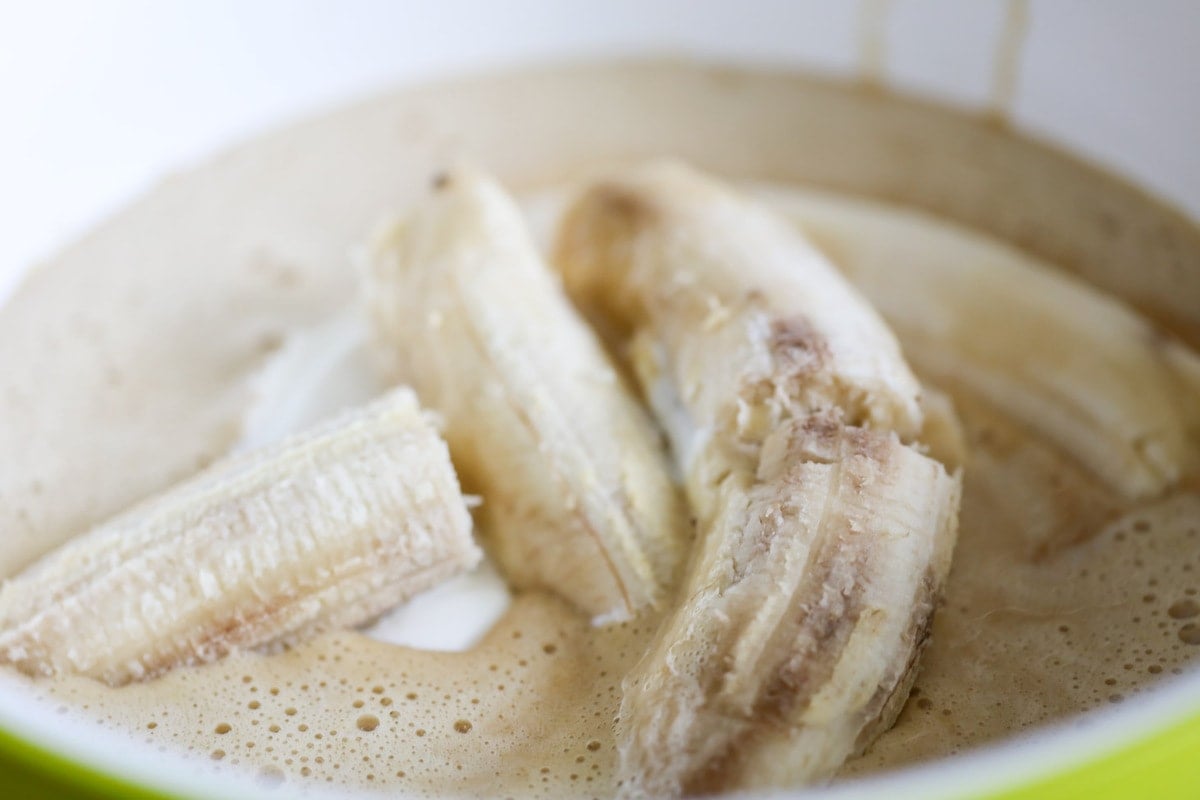 How to make Banana Bread:
As I mentioned, making this recipe is SO EASY! We always have these ingredients on hand too, which means we make it ALL. THE. TIME! Here are the ingredients needed to make this recipe:
sugar
brown sugar
oil
eggs
vanilla
sour cream
ripe bananas (over-ripe bananas are best)
flour
baking soda
baking powder
whipped topping mix
salt
Once you have the ingredients and you're set, you'll just follow these easy steps… begin by preheating your oven and grease two large loaf pans.
Cream sugars, oil and eggs. Add vanilla, sour cream and bananas and blend well.
Mix dry ingredients in another bowl and add to wet ingredients (if you add nuts or chocolate chips – this is the time to do it). Blend and pour into greased pans (this is also where you can add the cinnamon/sugar topping).
Bake for 40-45 minutes and you're set!
Banana Bread Baking Tips:
Line your bread pan with parchment paper. Leave a couple inches to fold over the top of the pan. Once the bread has been cooked use the parchment paper to easily lift the bread out of the pan. Cool and serve.

Use an electric mixer to smash your bananas. Break each ripened banana into a few large pieces. Begin mixing at low speed gradually increasing the speed as the bananas begin to mash.

To add a bit more sweetness, add a mixture of cinnamon and sugar to the top before baking. The kids love it when I do that. 😉

What if my bananas aren't ripe enough
?
There are a few ways to be sure you're bananas are ripe enough when you are ready to make banana bread.
Oven: Place the

UN

peeled bananas on a foil lined baking sheet. Bake at 350 degrees F for 15-20 minutes or until the peels have turned black. Once they have cooled slice open the peels and scoop out the ripened center.

Brown Paper Bag: If you can wait a day or two, then use the brown bag method. (this also works to ripen other fruits such as peaches and pears) Place the bananas in a brown paper bag and fold over the top.

Ethylene will build up and circulate within the bag which speeds up the ripening process.
Keep a stash in the freezer: Place the UNpeeled bananas in a freezer safe ziploc bag. Remove any excess air. Freeze for up to 3 months. When you're ready to use thaw the bananas and remove the peel.
Do you have to use over-ripe bananas for this recipe? Overripe bananas work best because they're easier to mash and are sweeter.
What is whipped topping mix?
One of the questions I get often, is what is whipped topping mix? This is what it looks like. You can usually find it on the top shelf of the baking section.
If you can't find it, you can also make your own: In a separate bowl mix ¼ c powdered milk, ¼ tsp vanilla powder, 1 tablespoon sugar. 4 Tablespoons mix=1 Dream Whip packet. Store left over mix in an airtight container to use later.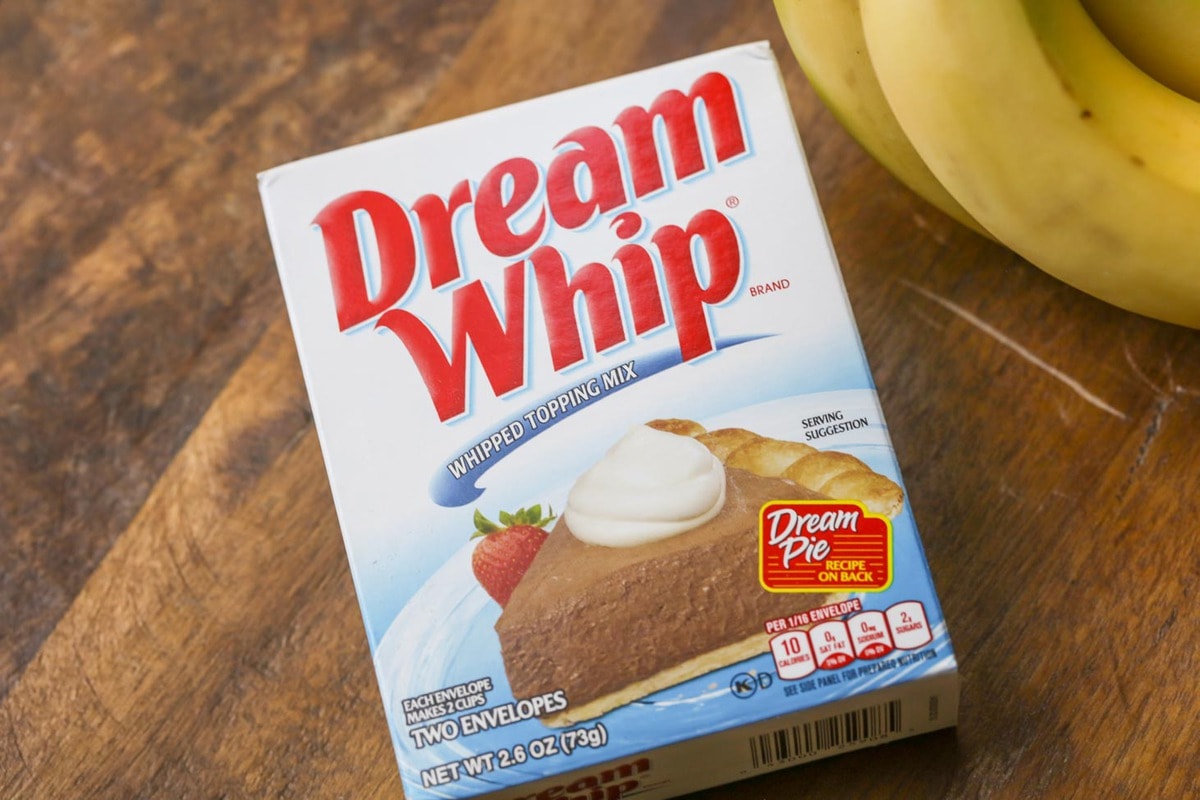 How long do I bake banana bread in different pans?
Regular size muffins: bake 350 degrees F for 20-25 minutes

Mini Muffins bake at 350 degrees F for 10-15 minutes.

Mini loaf pans

(5.73 x 3 inches): Bake at 350 degrees F for 30-35 minutes

Bundt cake pan: bake at 350 degrees F for 55-65 minutes

Note: insert a toothpick to test for doneness. If it comes out clean remove pan from the oven. If it does not, then cook longer, checking at 5 minute intervals, until done.
How to store banana bread?
Remove bread from the pan as soon as it is done baking and allow the bread to completely cool before storing.
Countertop: Place in an airtight container and store for 2-3 days at room temperature.

Fridge: Place in an airtight container and store in the fridge for 7-10 days

Freezer: Wrap the bread with plastic wrap then store in an airtight container or wrap again with aluminum foil. Label the contents. Freeze for 3-4 months.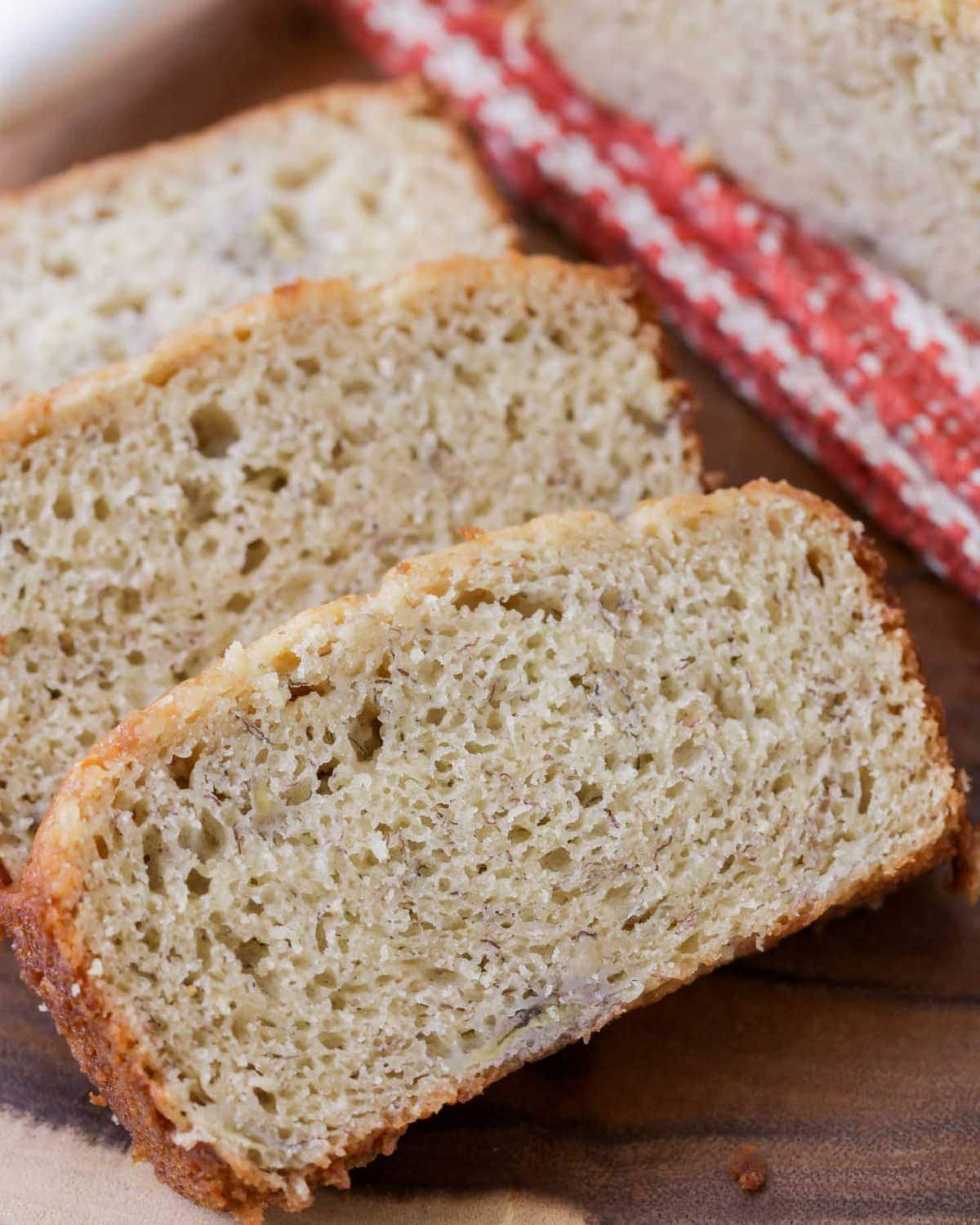 Fresh out of the oven, a warm slice of banana bread really can't get any better (unless you maybe added the chocolate chips or cinnamon/sugar mix on top OR you  tried our Cream Cheese-Filled Banana Bread Recipe).
We hope you love this recipe as much as we did. If you have any questions or suggestions, let us know. We'd love to add to our tips list for making this easy banana bread recipe.
For more banana bread recipes, check out:
Easy Banana Bread Recipe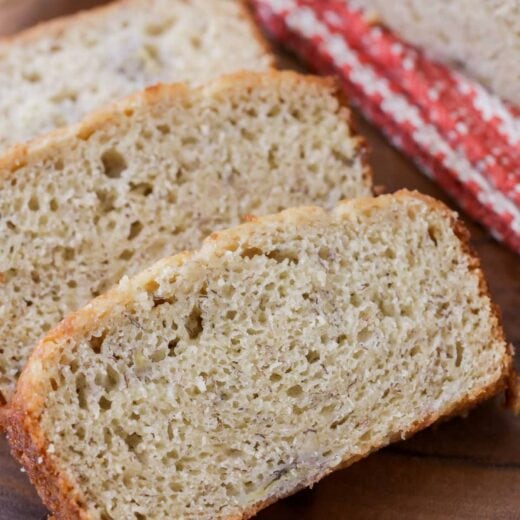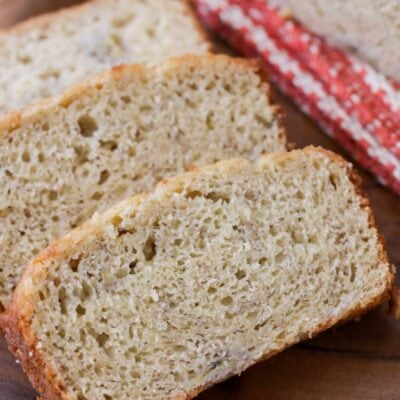 The BEST homemade Banana bread recipe that is moist, simple, and so easy. Everyone loves this no-yeast recipe that is easy and perfect to make with over-ripe bananas

Ingredients
Instructions
Preheat oven to 350. Spray two large loaf pans with spray or grease and flour.

Cream sugars, oil and eggs. Add vanilla, sour cream, and bananas. Mix well.

In a separate bowl combine flour, baking soda, baking powder, salt and powdered whipped topping. Add dry mixture to wet mixture and mix well. (You can add chocolate chips as well - optional)

Pour into prepared pans. Bake 40-50 minutes.
And turn it into a cute gift by wrapping in cellophane and adding a tag (GO HERE FOR FREE TAGS)