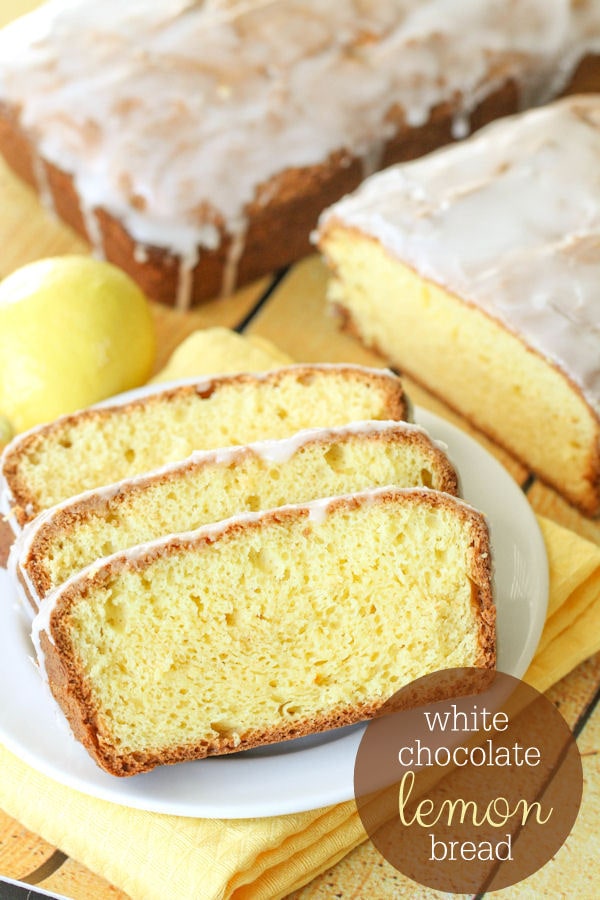 I know I've mentioned this before but I always get super nervous to make bread. I'm just unfamiliar with yeast and haven't used it a ton so it kinda freaks me out. I'm always looking out for bread recipes then that contain NO yeast because I feel like those are the ones I can actually do – LOL!
My mom, on the other hand, has been working with yeast all her life and can tackle ANY bread recipe. Fortunately for me, she found a great White Chocolate Lemon Bread recipe that contains NO yeast. She tried it out and made a load for each of the families (this was  few months back before we moved to TX). The loaf was literally gone in MINUTES (no joke!) I was thrilled to find out that it was a non-yeast bread recipe that was delicious. She assured me it would be super easy and I can't wait to try it out myself.
Look how delicious this is?!
The hubby claims this is his new favorite bread. I may have to agree with him. I'm not a HUGE Lemon fan, but this recipe had just the right amount of lemon that it wasn't overwhelming at all. And the glaze on top was definitely my favorite part. 🙂

White Chocolate Lemon Bread
Ingredients
1 box lemon cake mix
2 small boxes white chocolate pudding mix instant
4 eggs
⅛ cup fresh squeezed lemon juice
¼ cup oil
1 cup sour cream
zest of one lemon
Instructions
Mix cake mix, pudding mix, oil and eggs in a bowl with a beater until well combined.
Add sour cream, lemon juice and lemon zest. Mix by hand. Pour into greased loaf pans.
Bake at 350 for 40-45 minutes (For smaller loaf pans, bake for about 15 minutes). Let cool.
Poke holes in the top of the bread and drizzle with glaze (To make, mix 1½ cup powdered sugar, juice and zest of one lemon - add more lemon juice if glaze is too thick). ENJOY!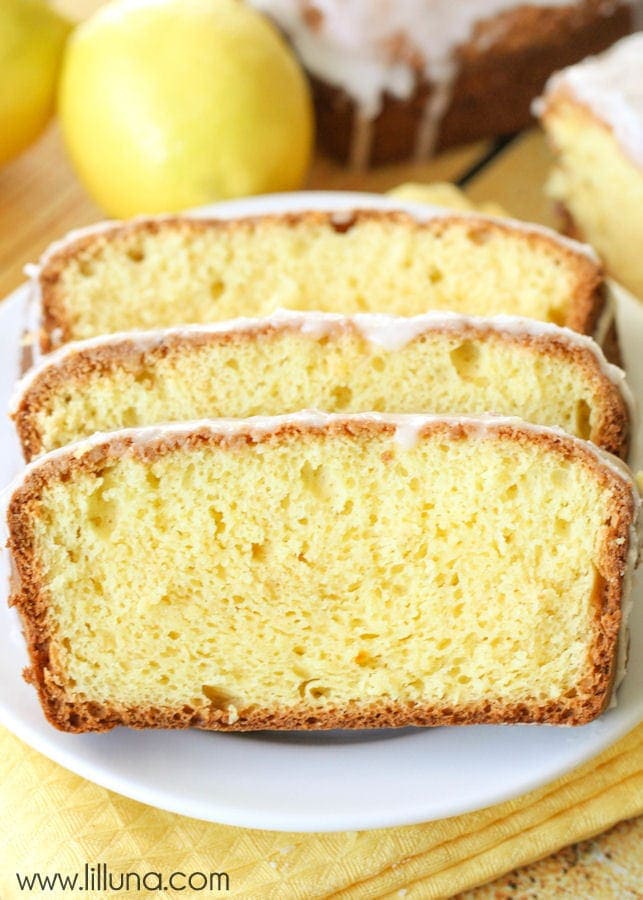 I can't wait to have some more of this delicious bread!! If you like Lemon and White Chocolate I'd definitely give this one a try.
NOTES:
– Can be made in 2 regular loaf pans. Bake at 350 for about 35-42 minutes (until a toothpick inserted comes out clean).
– Can also be made in smaller loaf pans (ours were the paper kind that are about 2.5 inches x 6 inches) and were cooked for 15-20 minutes.
-For a healthier version you can substitute the sour cream for greek vanilla yogurt.
-You can make these as muffins (makes about 2 dozen) – bake for about 12- 18 minutes.
MY OTHER RECIPES
For another non-yeast bread recipe, be sure to try out our Favorite Banana Bread Recipe:
Or add some cream cheese to make this delicious Cream Cheese Swirl Banana Bread: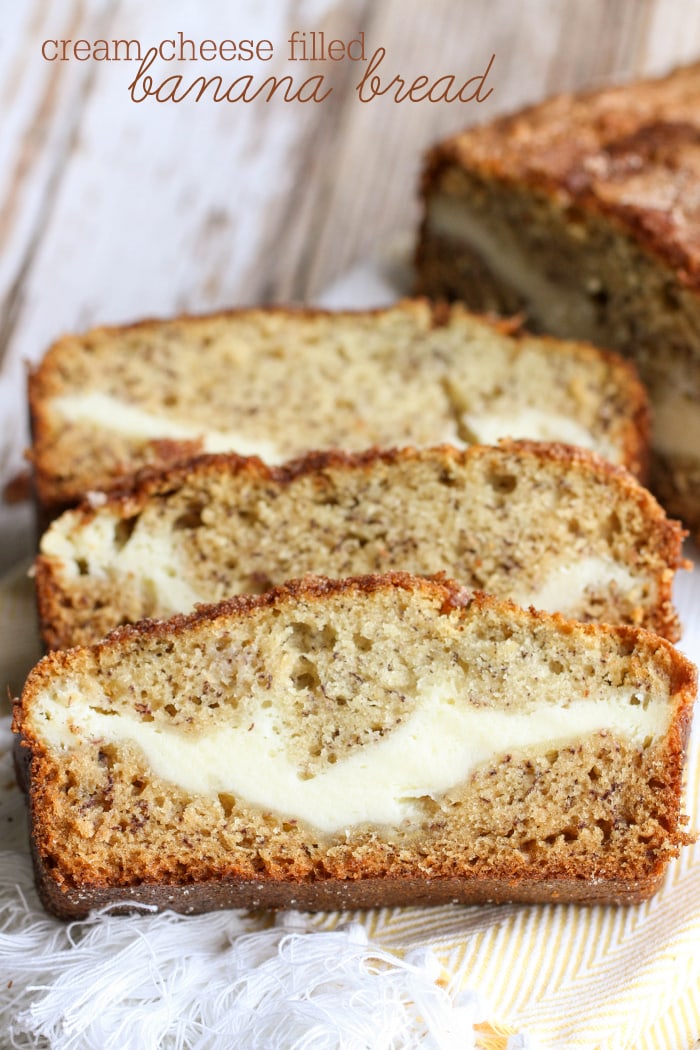 Or my all-time favorite: Snickerdoodle Bread: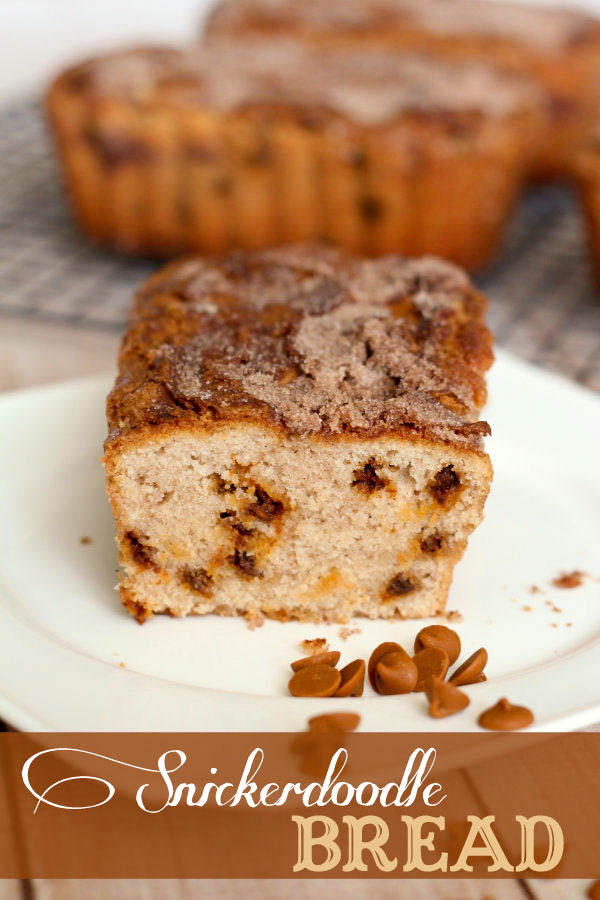 For all bread recipes on the site go HERE.
For all recipes go HERE.
And get weekly emails with monthly freebies by signing up for the Lil' Luna newsletter. 🙂
For even more great ideas follow me on Facebook – Pinterest – Instagram – Twitter – Periscope.
ENJOY!
This Post is Brought to you by: