Glazed Almond Poppy Seed Bread is soft and delicious. The almond & lemon flavored glaze takes it to another level of goodness!
Delicious Glazed Almond Poppy Seed Bread has no yeast involved! For more NON-YEAST and no-knead bread recipes, be sure to check out White Chocolate Lemon Bread, Snickerdoodle Bread, and Our Favorite Banana Bread.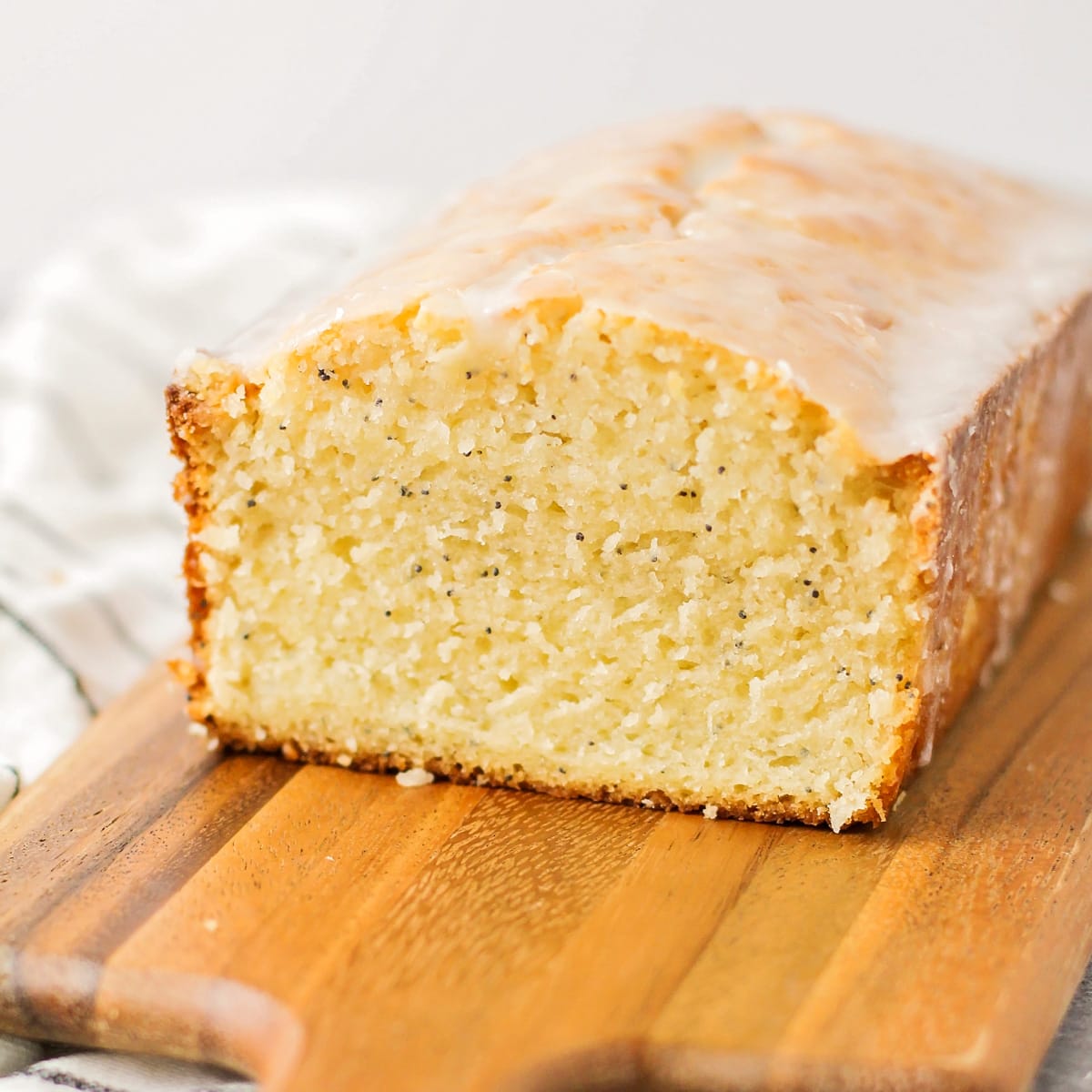 Perfect for a bread novice
I have to admit that I haven't always considered myself a "bread maker" because for so long I feared recipes with yeast. Maybe you're in the same boat!
Fortunately, I have a collection of bread recipes that don't call for yeast, like this next one – making it a "quick bread".
It's actually one my mom tried out for the family, and it reminds me of an even better version of the Poppy Seed muffins you can get at Sams Club or Costco.
Doesn't this bread look delicious?! I love poppy seed bread already, but with a glaze on top it makes even more delicious.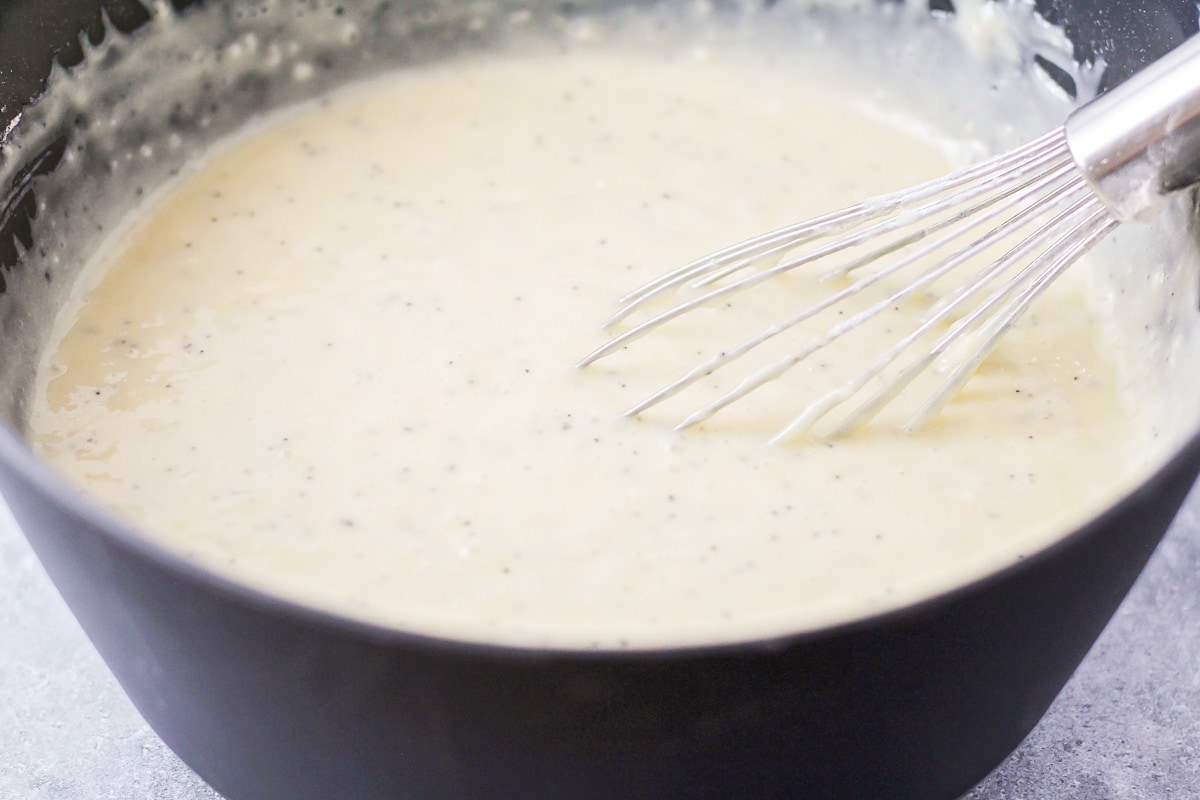 how to make almond poppy seed bread
PREP. Preheat oven to 350 degrees. Grease and flour 2 large bread pans.
COMBINE. Mix all of the ingredients together with your mixer until well combined. Pour into your greased pans.
BAKE. Bake at 350 for about 50 minutes (use a toothpick. to make sure it's done) NOTE: Dark metal pan requires less baking time at a lower temperature.
GLAZE. Mix 2 cups sifted powdered sugar, milk, lemon juice, ½ tsp. almond extract in a bowl until well combined. Add any more milk needed to make it the consistency you like. Pour glaze or spoon it over warm bread.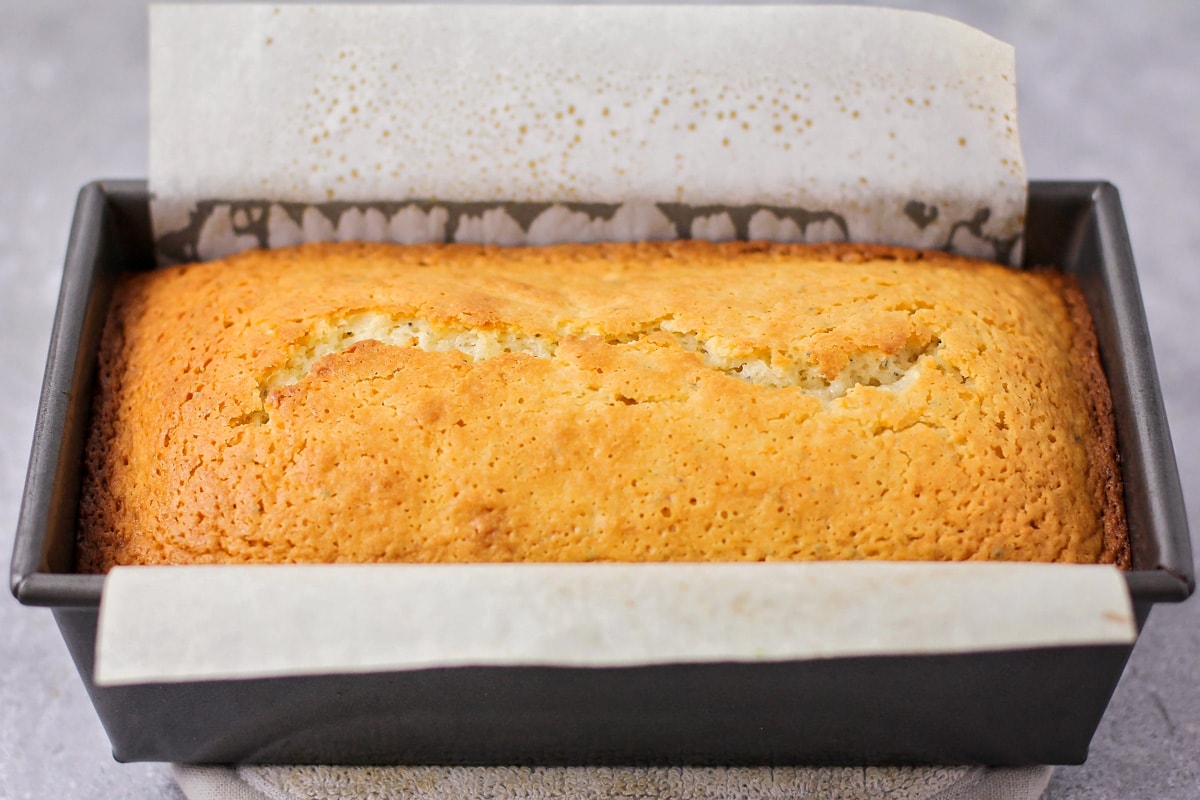 Tips + Variations
To flour a bread pan first grease it with cooking spray. Then, add a scoop of flour. Move the pan around so that the flour coats all sides. Add more flour if necessary. Once the pan is evenly coated discard the excess. This helps keep the bread from sticking to the pan.
This bread is simply delicious as is, but sometimes it's fun to add little something extra. Here are a few variations to try:
Add dried berries such as cranberries or blueberries
Add dark or white chocolate chips
Use a flavored glaze

Lemon or orange flavoring or adding some orange juice would be delicious with a little zest mixed in

.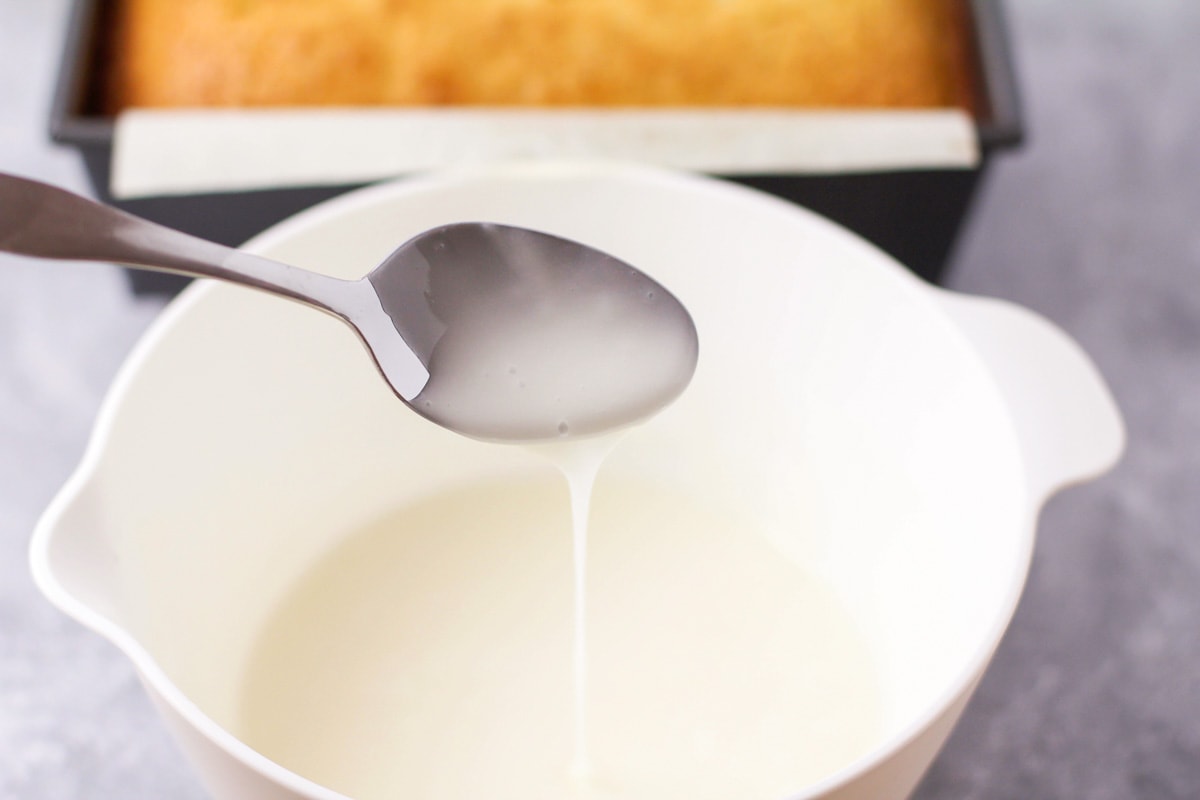 Storing Info
STORE the bread in an airtight container. This bread keeps at room temperature for 1-2 days or for about a week in the fridge.
I Recommend FREEZING it without the glaze, thawing, and then adding glaze just before eating, but it can be frozen with the glaze as well.
Either way wrap the bread with plastic wrap and again with foil. Freeze for up to 3 months.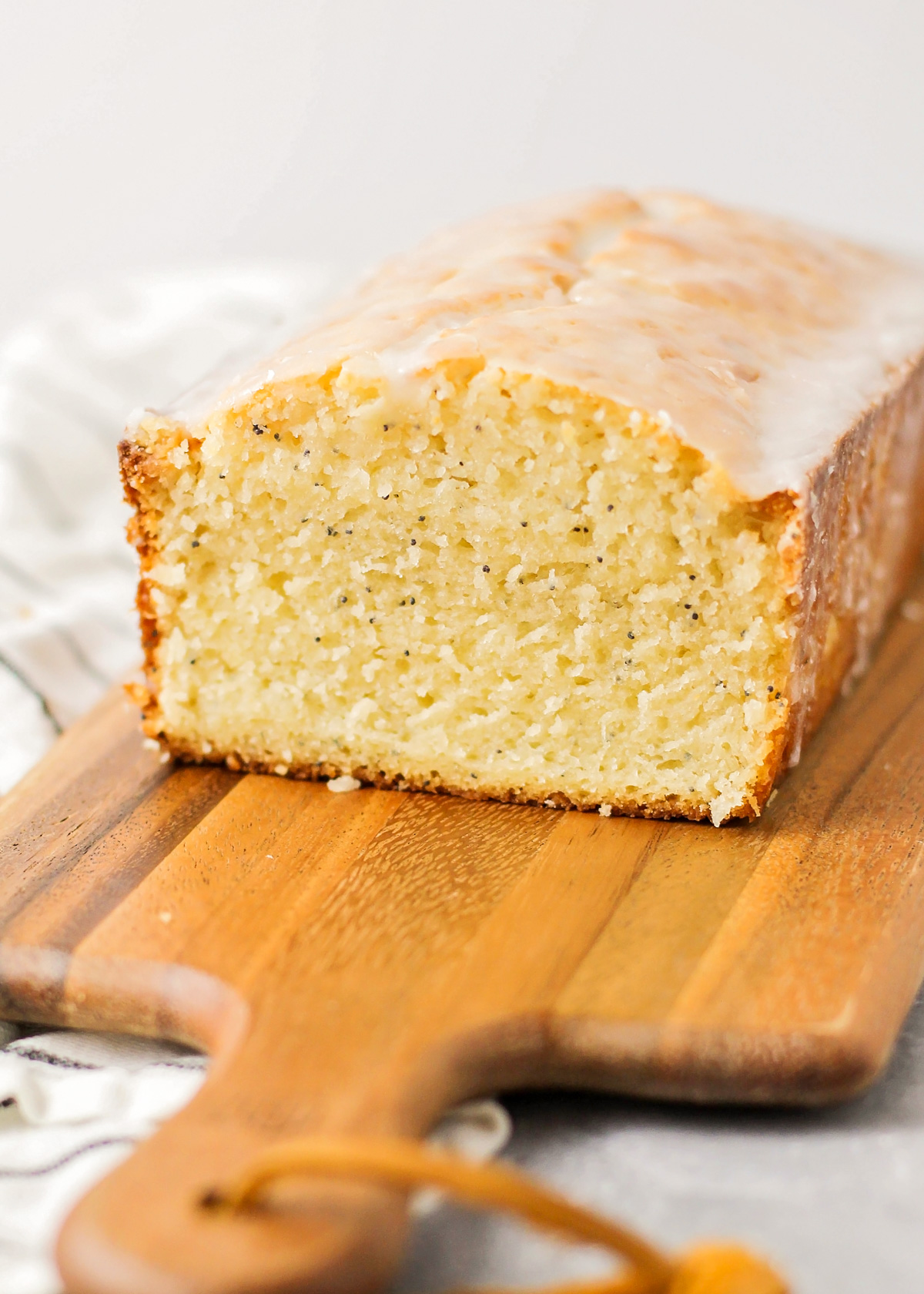 For more Quick Bread check out
:
Glazed Almond Poppy Seed Bread Recipe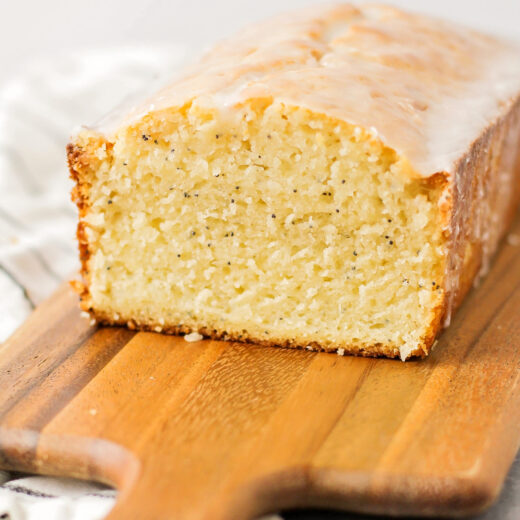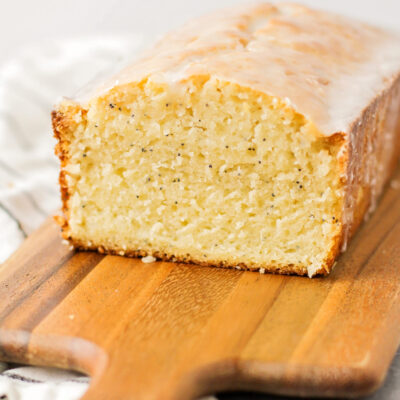 Glazed Almond Poppy Seed Bread is soft and delicious. The almond & lemon flavored glaze takes it to another level of goodness!
Ingredients
Glaze
2

cups

powdered sugar

sifted

3-4

tablespoons

milk

1

tablespoon

lemon juice

½

teaspoon

almond extract
Instructions
Preheat the oven to 350 degrees F. Grease two 5-x-9-inch loaf pans with cooking spray and set aside.

To make the bread, mix flour, sugar, poppyseeds, baking powder and salt in a large bowl or the bowl of a stand mixer fitted with the paddle attachment. Add eggs, milk, oil, sour cream, almond and vanilla extracts and mix until smooth. Distribute batter evenly into the prepared loaf pans.

Tent loaf pans with aluminum foil and bake for 55–60 minutes, removing the foil for the last 15 minutes. Cool loaves in pans for 10 minutes before removing to a wire rack.

While bread is baking, prepare the glaze. Mix powdered sugar, milk, lemon juice and almond extract in a bowl until well combined. Begin with 3 tablespoons milk and add more as needed to make it the consistency you like.

Spoon glaze over loaves while they are still warm. Allow to cool completely before serving.
Notes
Make Ahead: Place in a large resealable plastic bag and store at room temperature for 3–4 days or in the refrigerator for 7 days. To freeze, wrap each loaf in plastic wrap, then place in a resealable plastic freezer bag and freeze for up to 4 months. Thaw at room temperature before warming to your liking. Variation: Turn this recipe into a Lemon Poppy Seed Bread by substituting the same amount of lemon extract for the almond extract in the bread and glaze.
Recipe adapted from HERE.