Baking fresh homemade bread may seem daunting, but with these No Knead Bread Recipes, you'll be a professional in no time! They are easy and SO delicious.
More Collections: Yeast Bread Recipes, Quick Bread Recipes, Dinner Rolls and Biscuits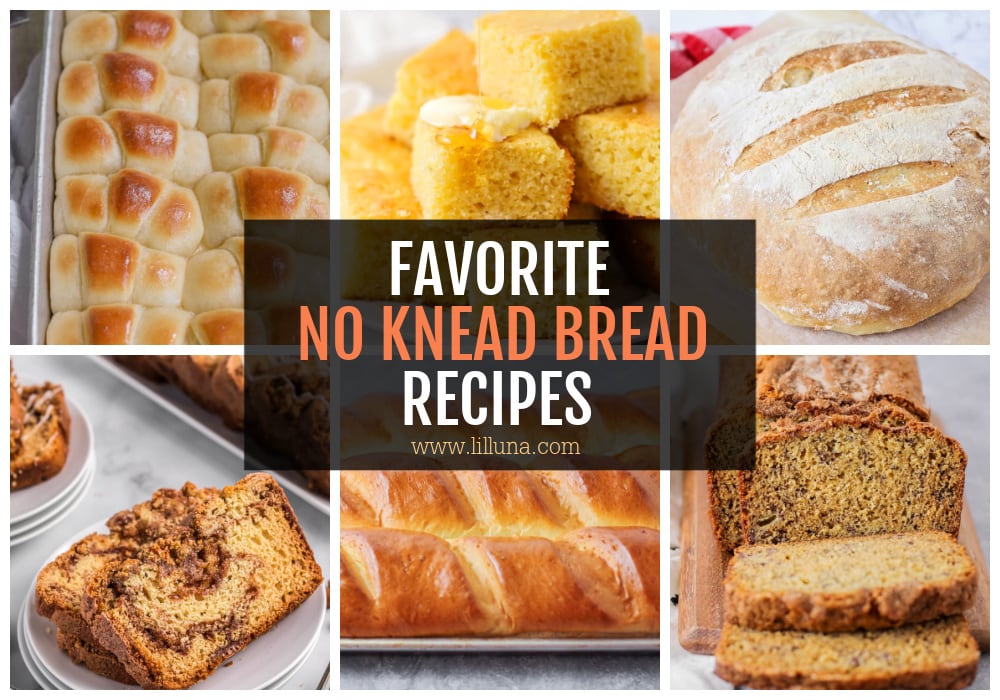 Easy no knead bread
Golden brown bread is perfectly crave-able and the ultimate comfort food!
Whether you are slathering a warm slice with butter and jam, sopping up your favorite soups or sauces, or eating a sweet slice with a glass of milk, I have a perfect collection of bread just for you!
Typically, bread requires a lot of time and effort—proofing, kneading, rising, shaping, and baking. It can be a daunting process. However, these bread recipes require NO kneading at all!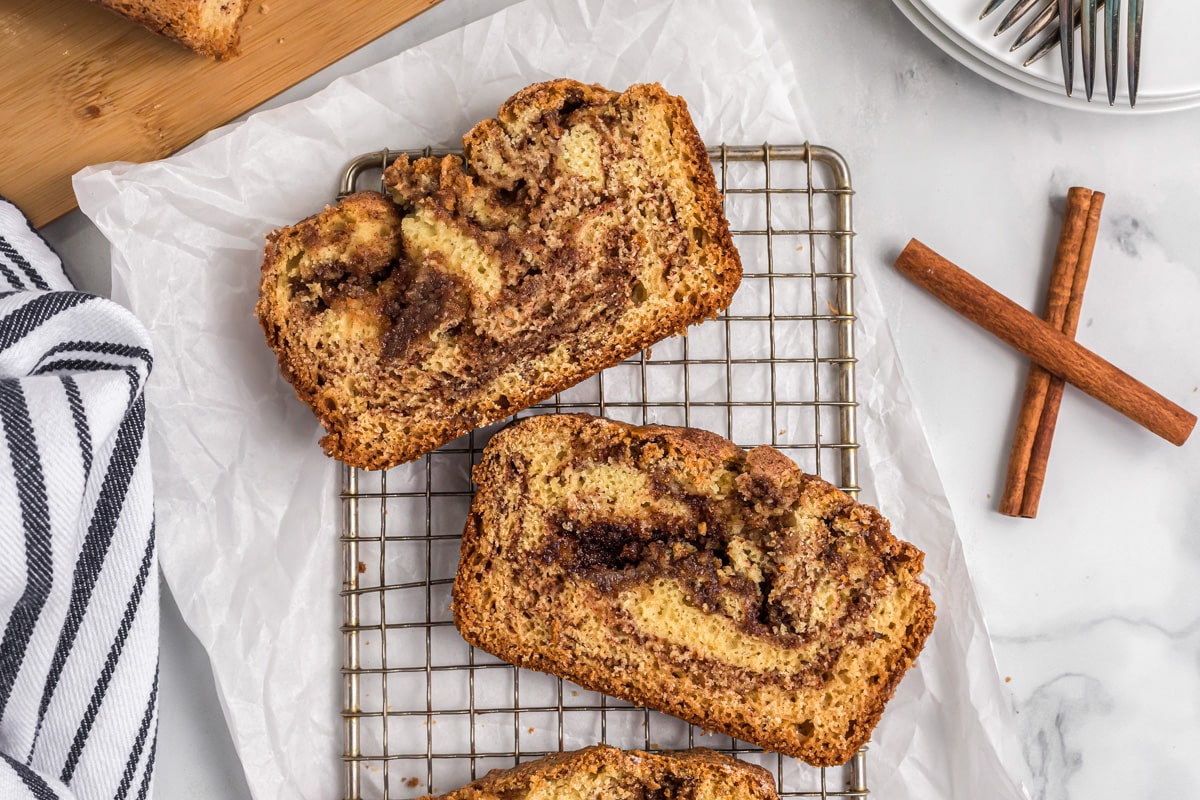 What makes no knead bread different?
When making bread with yeast, the recipe instructions often instruct to knead it. Kneading warms up the strands of dough which allow the yeast to work its magic more efficiently resulting in a more elastic and better-structured dough.
Not all bread needs to be kneaded. Here are a few notes about no-knead bread:
Quick breads are no knead, they are often wetter, like a batter, and rely on baking powder and baking soda to leaven (rise) it.
Some types of yeast bread are no-knead. They do require a longer rise/proof time to compensate. The bread dough is typically sticker when mixing and you might be tempted to add more flour, but don't. Once it has had time to proof it isn't as wet and is easier to roll and shape.
Also, keep in mind that you'll be shaping the dough on a floured work surface and a little more flour will be incorporated that way. They often showcase a crisper crust with a soft chewy inside. Artisan bread is a perfect example of this.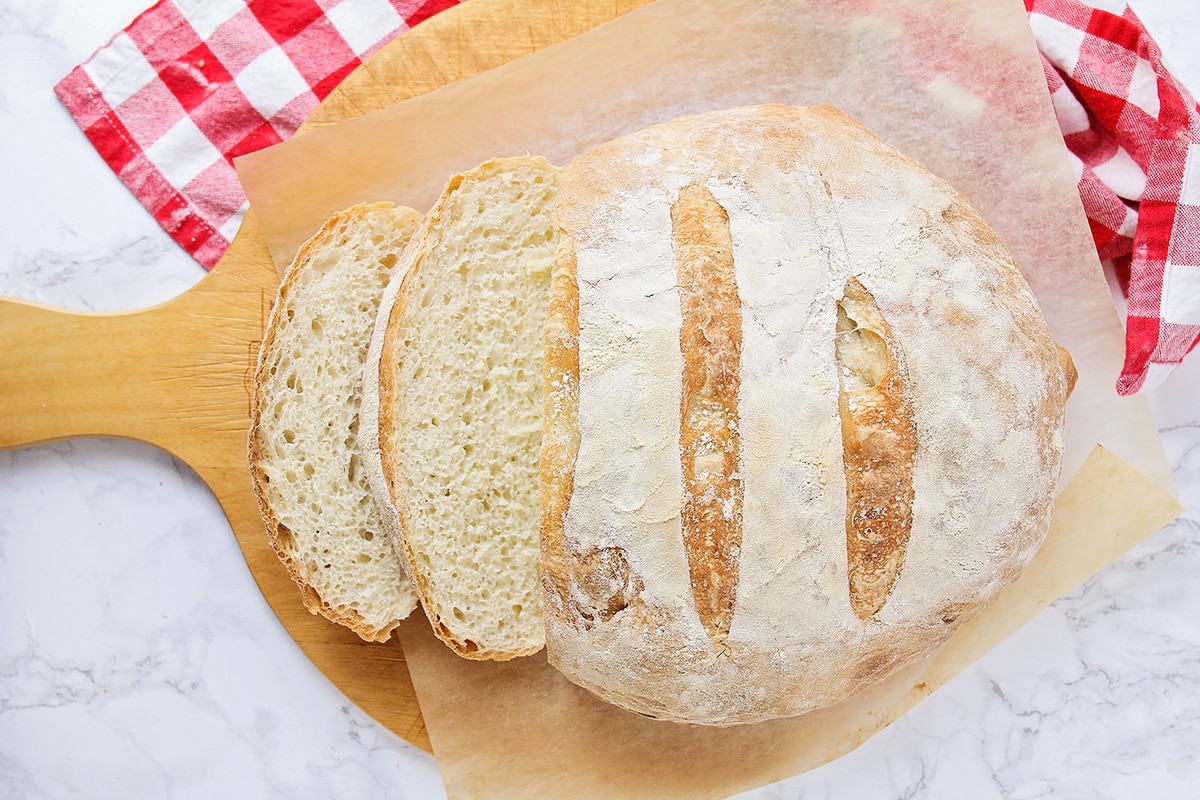 All about yeast
There are two main types of yeast: Active Dry Yeast and Instant Yeast (also known as rapid rise or bread machine yeast)
To activate. Sprinkle active dry yeast along with a bit of sugar in a bowl of lukewarm water (between 100°F and 110°F). It should start to bubble and foam within 30 seconds, to tell if it is viable.
This is referred to as blooming the yeast. It is best used in recipes that call for a long proofing time or a double rise.
Unlike active dry yeast, instant yeast does not need to bloom in warm water before using it in a recipe, just add it directly to the flour mixture. When using instant yeast you only need 1 rise time.
Substitutions. If you are new to working with yeast I recommend using what is called for in the recipe and following the instructions exactly. Any alterations can easily produce a poor result.
With that said, the two types of yeast can be successfully substituted for each other: ¾ teaspoon of instant yeast is equivalent to 1 teaspoon of active dry yeast.
When substituting, be sure to adjust the other directions too. For example: if a recipe calls for 2¼ tsp of active dry yeast, use 1¾ tsp instant yeast. Skip blooming the yeast in water, and cut out the first proofing time.
Salt. Avoid direct contact between yeast and salt. The salt will kill the yeast before it has a chance to activate and grow.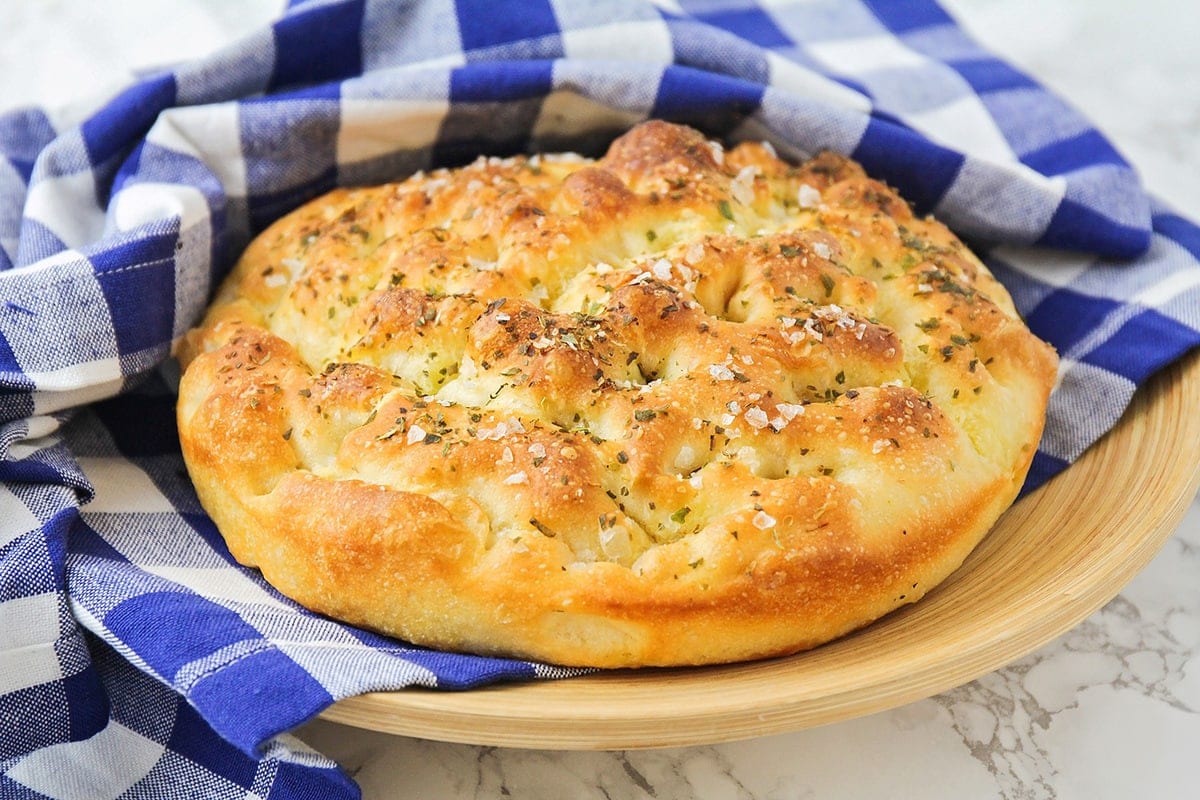 What makes the bread more dense?
Getting the correct texture is key to great bread. Pay attention to how much flour you add. Too much and the bread will be too dense. It's always best to scoop the flour into the measuring cup and level it off.
Proofing. Be patient and let it proof. If you don't let it rise enough then the bread will be too dense and heavy. The dough should usually rise until doubled in size before shaping it.
The temperature of the room will affect how quickly this happens. A warm room allows the dough to rise more quickly. A cold room causes the dough to rise slowly.
Use the right type of flour. Whole wheat flour will give a heavier, dense texture. When a recipe just lists "flour" use all-purpose flour. It is the most common and can be used to make any type of bread.
You can also try bread flour for yeast-based bread. It has a higher protein content which means it has more gluten making the dough more elastic.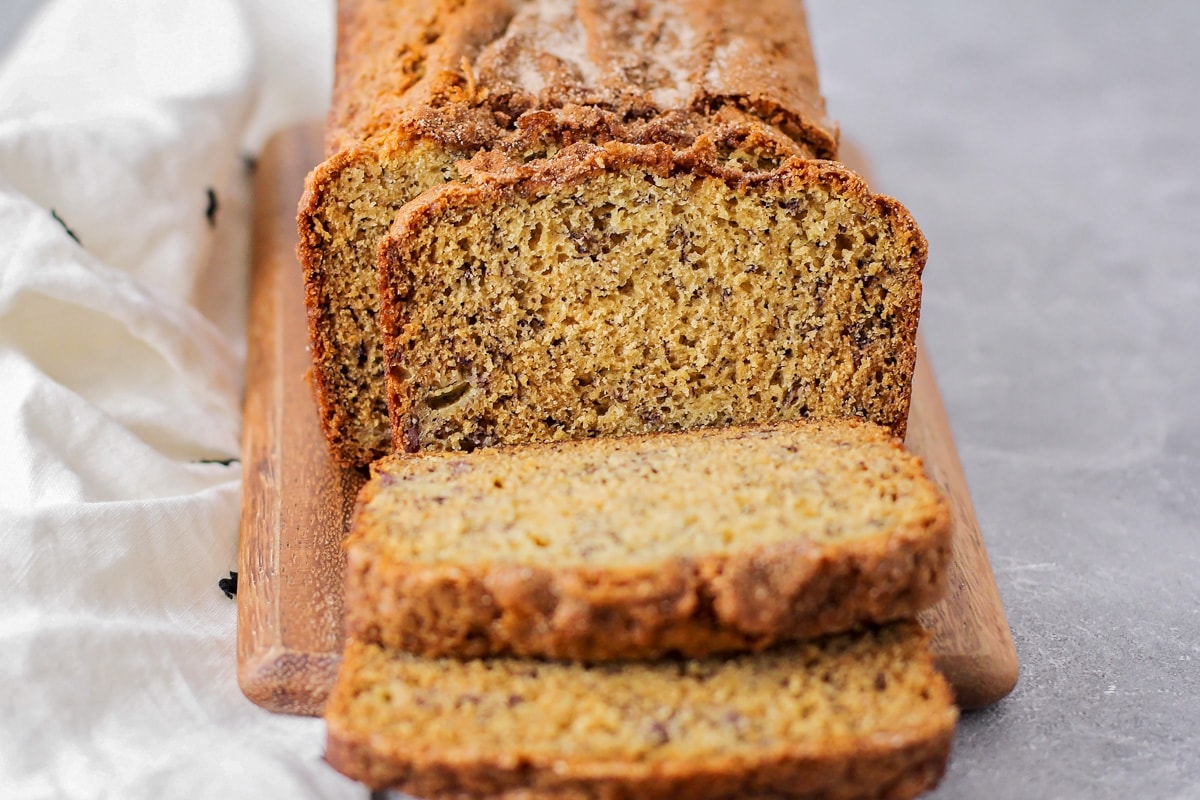 No-knead Bread Tips
How to get soft bread:
Flour with a high protein content will yield softer bread.
Allow the bread to cool on a rack. Fort a soft crust, cover it with a kitchen towel while cooling to retain moisture, otherwise do not cover it.
Yeast bread uses steam to create a soft chewy texture and a crusty outside. Simply add a baking tray with water to the bottom rack while baking the bread.
Avoid opening the oven door during the first 30 minutes of baking. The first 30 minutes is when the bread rises to the correct shape before it finishes baking in the center.
STORE. Once the bread has cooled it can be stored at room temperature in an airtight container. I like to use bread bags, but you can also use Ziploc bags, plastic wrap, or a bread box.
FREEZE. To freeze the bread be sure that it has completely cooled before wrapping it with plastic wrap and then again with foil or place the wrapped loaf into a Freezer bag. Label and freeze.
Allow time to thaw before cutting with a sharp knife and serving.
---
No Knead Yeast Breads
These breads do not require kneading, but may require longer rise times. Either way, they are delicious and worth the effort!
No Knead Bread
This no-knead bread has only four ingredients, and could not be simpler to make! It's the perfect bread recipe for beginning bread makers, and so delicious that even experienced bread makers will love it.
Beignets
Classic beignets are pillowy, sugary New Orleans-style fried Dough. Enjoy these soft donuts sprinkled with powder sugar or dipped in a sauce!
Homemade Dinner Rolls
These are our ALL-TIME FAVORITE Dinner Rolls! They are soft, butter-y and always the hit for any dinner or holiday get together. It's so hard to eat just one!
French Bread
The BEST Homemade French Bread recipe – so soft and tasty!! Serve with butter or turn it into a delicious appetizer. Everyone loves this recipe!
Focaccia Bread
Crisp yet fluffy bread topped with delicious herbs and seasonings like garlic. This flavorful focaccia bread is so easy to make, and is perfect for sandwiches, dipping in soups, or enjoying on its own!
---
No-Knead Quick Breads
No Knead Quick Breads do not call for yeast or a proof time. You just mix up the ingredients and bake right away. They are typically sweeter than yeast bread.
Rise. Even though they do not call for yeast, they will still rise a bit when baked. This is due to using baking powder or baking soda as a leavening agent. Be sure both are fresh to get the best rise.
Cinnamon Quick Bread
If you love snickerdoodles, this bread is for you! The wonderful flavors of cinnamon and sugar swirled into a moist, delicious no-yeast batter and baked to perfection. Amazing for breakfast and goes great with your morning coffee or tea!
Pumpkin Bread
This moist Pumpkin Bread has become a favorite fall treat in our family! A delicious pumpkin loaf, topped with irresistible cinnamon sugar, and packed with amazing flavor. Best of all, this easy pumpkin bread recipe doesn't require any yeast!!
Zucchini Bread
Soft and moist zucchini bread has a hint of cinnamon and is oh so flavorful. It is quick, easy and SO delicious!
Best Banana Bread
The BEST homemade Banana bread recipe that is moist, simple, and so easy. Everyone loves this no-yeast recipe that is easy and perfect to make with over-ripe bananas.
Amish Friendship Bread
Soft & fluffy Amish friendship bread is covered in an irresistible cinnamon sugar mixture. Make this without a starter using buttermilk!
Sour Cream Cornbread
This Sour Cream Cornbread Recipe is the perfect accompaniment to your favorite bowl of chili. It's creamy, tender and oh so delicious.
Indian Fry Bread
Delicious Homemade Fry Bread – aka "Navajo Tacos" or "Indian Bread" – one of the best recipes you'll ever try! Pillows of dough fried until it's a little crispy on the outside, but soft on the inside. Make it sweet or savory! We like to top it with ground beef and cheese!
White Chocolate Lemon Bread
Soft and flavorful glazed White Chocolate Lemon Bread is bright with just the right amount of lemon. It is SO tasty!
Homemade Cornbread Recipe
Soft and buttery corn bread with a hint of sweetness that melts in your mouth! This go-to recipe is perfect with any chili or soup recipe and is on repeat all fall long!
Almond Poppy Seed Bread
Glazed Almond Poppy Seed Bread is soft and delicious. The almond & lemon flavored glaze takes it to another level of goodness!
Chocolate Bread
Decadent Chocolate Bread is studded with chocolate chips, and preps in 10 minutes! It's moist and delicious.
---
Yummy Bread with Little Effort!
You're sure to find some new favorite bread recipes that require little effort, but taste divine!
Make sure to check out all of our Bread Recipes.
And for more collections: Yeast Bread Recipes, Quick Bread Recipes, Dinner Rolls and Biscuits