I may have mentioned I wouldn't be doing any more Pumpkin recipes, but I may have fibbed. I have one more I wanted to try this week, and the next one is from my mom. She has always been known for her bread. It always turns out SOOO good, and so soft, and she usually gets requests not only from the kids, but from anyone who has had her bread before. In fact, she usually gets orders at Christmas time because everyone wants it. 😉
I'm thinking this next recipe will become one of those as well because everyone loved it! She found today's Pumpkin Bread recipe from HERE and just changed it up a bit by adding some Cinnamon and Sugar on top since we all know adding cinnamon and sugar can never be bad. Everyone agreed it was the best Pumpkin Bread recipe they had tried and that it would be a new fall staple in our home.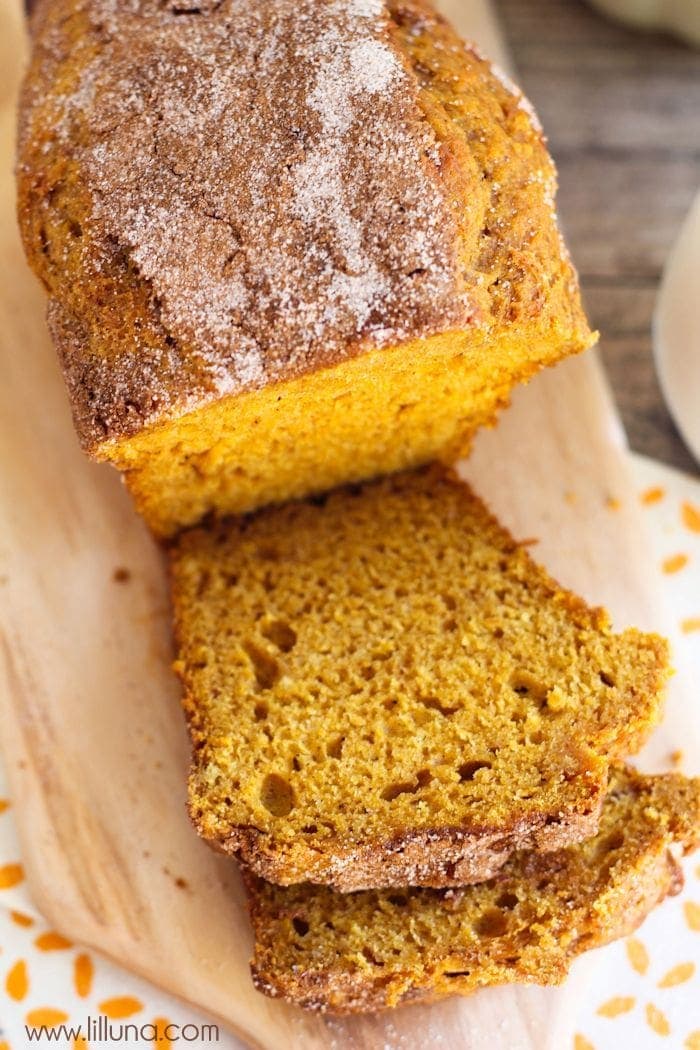 I think the Cinnamon and Sugar topping is the perfect touch! Can't wait to start making this for my own family since we all love the fall flavors that pumpkin recipes bring.
MY OTHER RECIPES
BEST Pumpkin Bread recipe:
Perfect Pumpkin Bread Recipe
The most delicious Pumpkin Bread recipe filled with so much flavor. Best part?! No yeast involved! It's a favorite fall treat.
Ingredients
1 15 ounce can pumpkin puree
4 eggs
1 cup Vegetable Oil
⅔ cup water
3 cups sugar
3½ cups all purpose flour
2 tsp. baking soda
1½ tsp. salt
1 tsp. cinnamon
1 tsp. ground nutmeg
½ tsp. ground cloves
¼ tsp. ginger
3 TB sugar
1 TB cinnamon
Instructions
Grease and flour three 7×3 inch loaf pans.
Mix together pumpkin puree, eggs, oil, water and sugar until well blended in a large bowl. In a separate bowl, whisk together the remaining ingredients. Combine the dry ingredients and the pumpkin mixture and stir until just blended. Pour into your prepared pans.
Combine 3 TB sugar and 1 TB cinnamon and mix well. Sprinkle over the top of the bread mixture.
Bake for about 50 minutes at 350.Toothpick should come out clean.
NOTE: Pictures for this recipe were re-taken by Alicia of The Baker Upstairs.