Pumpkin Bubble Bread is a unique treat you can enjoy in the fall! Pumpkin-flavored bread filled with lots of cinnamon, and topped with a delicious cream cheese glaze, ready to be pulled apart and devoured.
If you've ever tried our cinnamon pull-apart bread, imagine that but filled with pumpkin flavor, and topped with a delicious glaze. This pumpkin bubble bread is one of our new favorite fall-time bread recipes!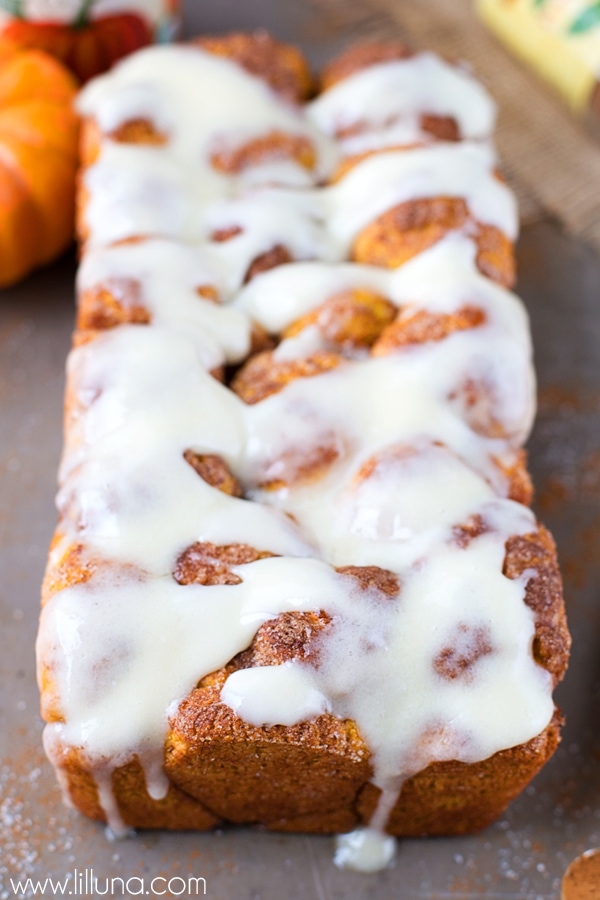 Three delicious recipes in one
Hello Lil' Luna readers! It's me Natalie, from Life Made Simple. Today I'm sharing a version of one of my favorite fall treats. I love pumpkin cinnamon rolls, and ever since I made my first batch a few years ago I just can't seem to get enough! Instead of making traditional cinnamon rolls I thought I'd switch things up a bit and do a mashup of sorts.
This unique bread is a combination of cinnamon rolls, monkey bread and pull-part bread… three delicious breakfast treats baked into one incredible loaf! Best of all, this bubble bread is loaded with all kinds of pumpkin and cinnamon flavor!!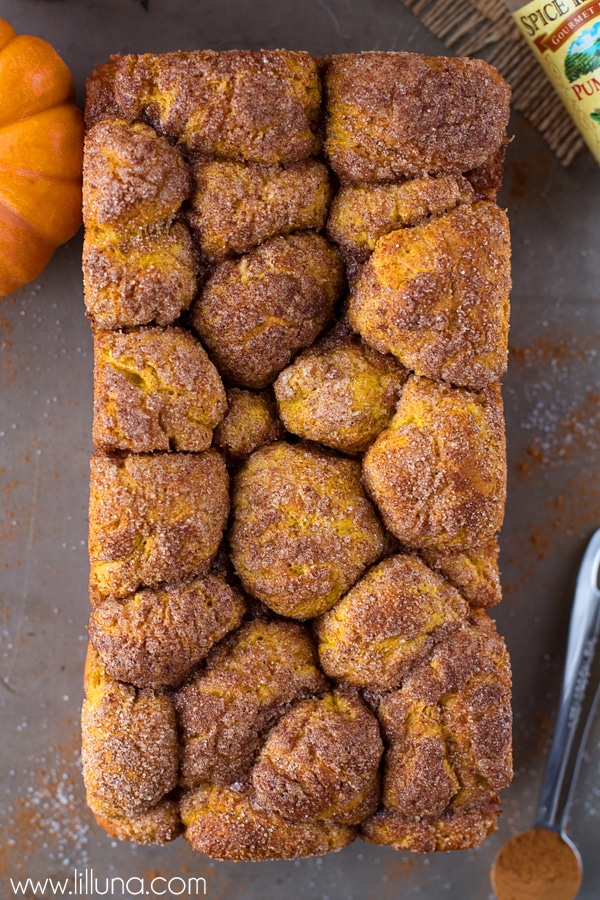 How to Make It
Making this bread is basically the same as making cinnamon rolls, but instead of rolling out the dough into a large rectangle, you create lots of little balls of dough.
Once you have your dough balls, just dip them into some melted butter, roll them in a cinnamon/pumpkin pie spice/sugar mixture and then layer them in a standard size loaf pan. It'll look a little like monkey bread 🙂
Bake until golden brown and set in the center, then drizzle with a buttery cream cheese glaze. Tip: If you feel like getting a little creative you can sub the vanilla for maple or even add a pinch of cinnamon to it!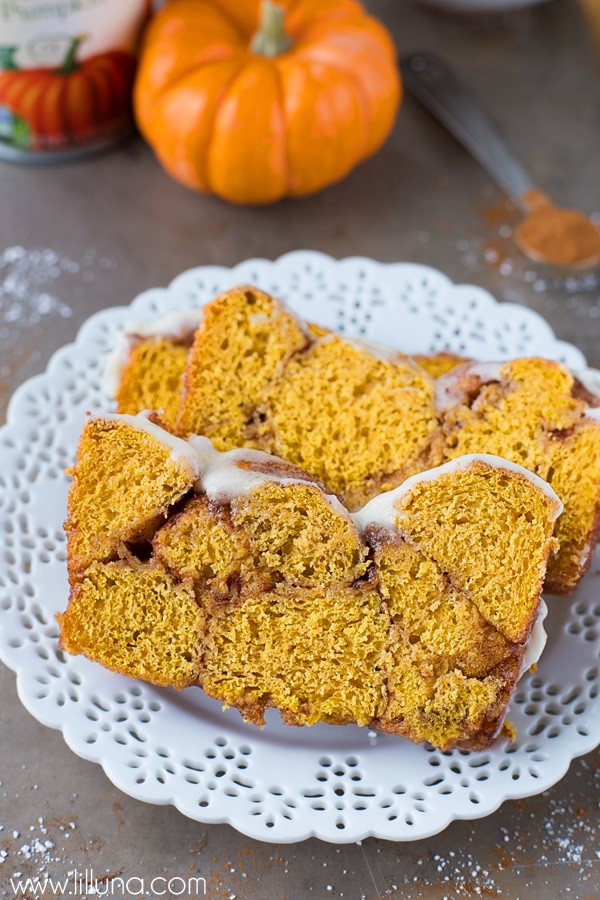 Bubble Bread Tips and Tricks
Tips for Yeast: Working with yeast can be a little tricky. Here are a few tips to make sure this bread turn out perfectly:
Be sure the yeast is not expired. The best way to store it is in the fridge for 4 months or the freezer for 6 months. 

Be sure that the liquid is between 110-120 degrees F when you add the yeast.

Be sure that the yeast begins to bubble. This helps you know that it is alive and ready to make your bread rise.
Speed up the rise time: One of the downfalls of making yeast bread is that it usually takes quite a while because you have to wait for the dough to rise. To speed up the process, use a warm oven.
Heat your oven to 150-200° F. Once it's heated, then turn the oven to OFF. 

Place the dough in a metal or glass bowl and cover with a damp tea towel

Place the bowl in the oven and prop the oven door open just a bit

Allow the dough to double in size. It should only take half the time.
How to eat it? What I absolutely love about this bread is that you can pull it apart and eat the little bubbles by themselves or you can slice the bread and see all of those pretty swirls inside. Either way it'll taste amazing!!! 
Store leftover bread: Leftovers can be covered and stored at room temperature for 3-4 days, or wrapped in plastic wrap and then frozen for 1-2 months. To reheat thaw and warm them up in the microwave or cover with foil and heat in the oven set to 200 degrees F.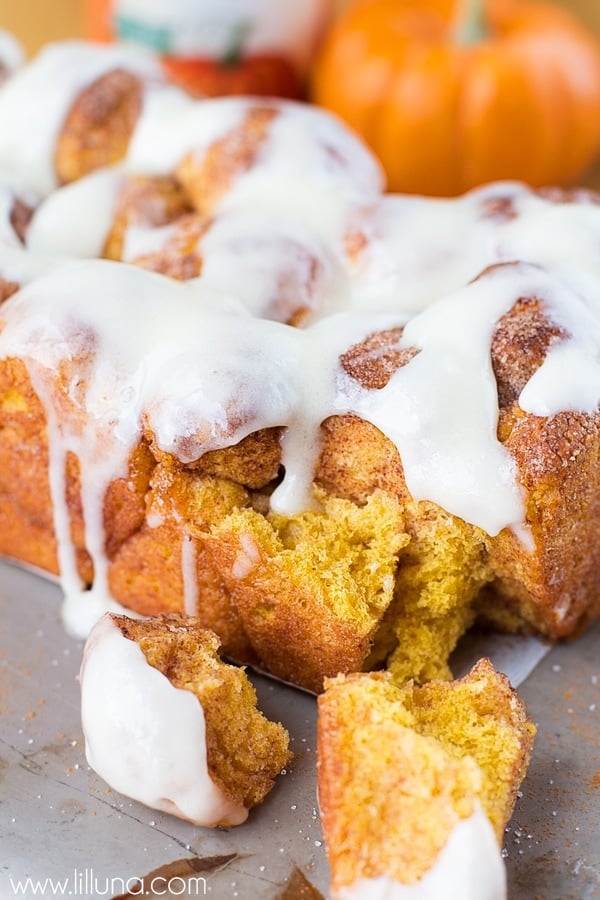 I hope that the next time you're looking for a cozy fall bread you'll give this one a try, I think you're going to love it! Happy baking!!!
For more pumpkin recipes, try:
Pumpkin Bubble Bread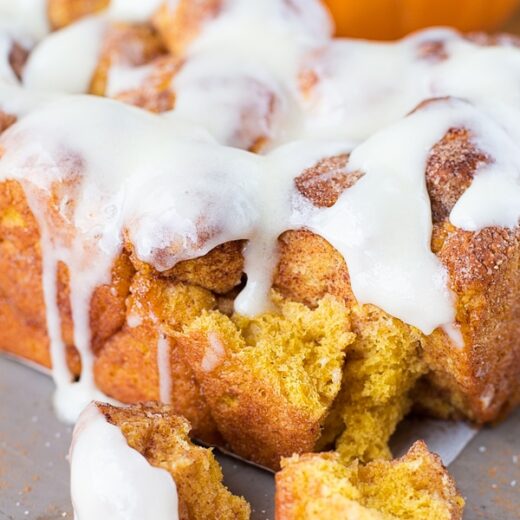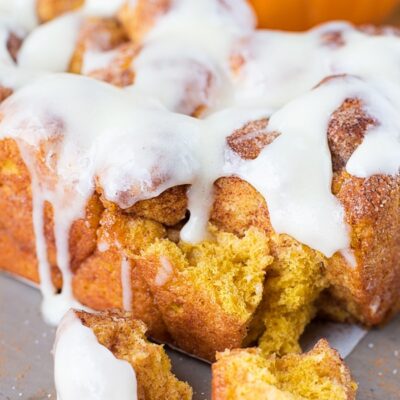 Pumpkin-flavored bread filled with lots of cinnamon, and topped with a delicious cream cheese glaze, ready to be pulled apart and devoured.
Ingredients
Dough
1/2

cup

whole milk

1

envelope

active dry yeast

(2 ¼ tsp)

1/4

cup

brown sugar

3/4

cup

pumpkin puree

2

tbsp

unsalted butter

1

tsp

salt

1/4

tsp

cinnamon

2 3/4

cup

all-purpose flour
Instructions
To make the dough, in a 2 cup glass measuring cup or microwave safe bowl, combine the whole milk and butter. Microwave on high for 45 seconds or until the butter has melted. Allow the mixture to return to 110 degrees. Sprinkle in the yeast and ½ tbsp. of the brown sugar. Let the mixture sit for 5-7 minutes or until bubbly.

Meanwhile, combine 1 cup of the flour, the remaining sugar, the pumpkin puree, salt and cinnamon in the bowl of a stand mixer fitted with the paddle attachment. Mix on low while gradually adding the liquid ingredients and the remaining flour. Once a soft dough forms switch to the dough hook and knead for 6-8 minutes. Place the ball of dough into a well buttered bowl covered with plastic wrap. Allow to rise until doubled.

Meanwhile, combine the filling (granulated sugar, cinnamon and pumpkin pie spice). Remove the dough and roll into balls approximately 1.5 tbsp. in size (they don't have to be perfect). Dip into the melted butter, then roll into the sugar/spice mixture. Place the balls into a lightly greased 8x4-inch loaf pan. Cover with plastic wrap and allow to rise for 1 hour. Remove the plastic wrap and place in the oven, bake at 350 degrees for 25-35 minutes or until golden brown on top and set in the center.

While the bread cools, beat the glaze together and drizzle over the warm bread.
Um – WOW!! Seriously – this looks amazing!! I'm drooling, Natalie!! Be sure to check out all of Natalie's yummy recipes on Life Made Simple!