Soft and Gooey Pumpkin Cinnamon Rolls topped with a delicious pumpkin spice glaze. Between the pumpkin flavored bread dough, the pumpkin spice filling, and the pumpkin spice glaze on top, this dessert has all the goods!
In the fall, it's fun to make pumpkin variations of all your favorite treats—like pumpkin banana bread, or pumpkin brownies. This recipe is a fall twist on classic cinnamon rolls!

a fall twist on your favorite sweet Rolls
In my opinion, nothing screams Fall more than yummy pumpkin recipes. Fortunately, this site is full of wonderful pumpkin recipes, such as these Frosted Pumpkin Bar and of course Lily's Magic Pumpkin Cake. Both are amazing!
Today's recipe for Pumpkin Cinnamon Rolls is equally delicious and is one we've been wanting to try for awhile.
My mom was the one to give these Pumpkin Cinnamon Rolls a try, and we are so glad she did!! They are soft, gooey, and the perfect way to welcome in the fall season.
We decided to replace the cinnamon with Pumpkin Spice and it really added to the yummy pumpkin flavor. I mean, just look at them – don't you want one?! Try them out and let us know what you think.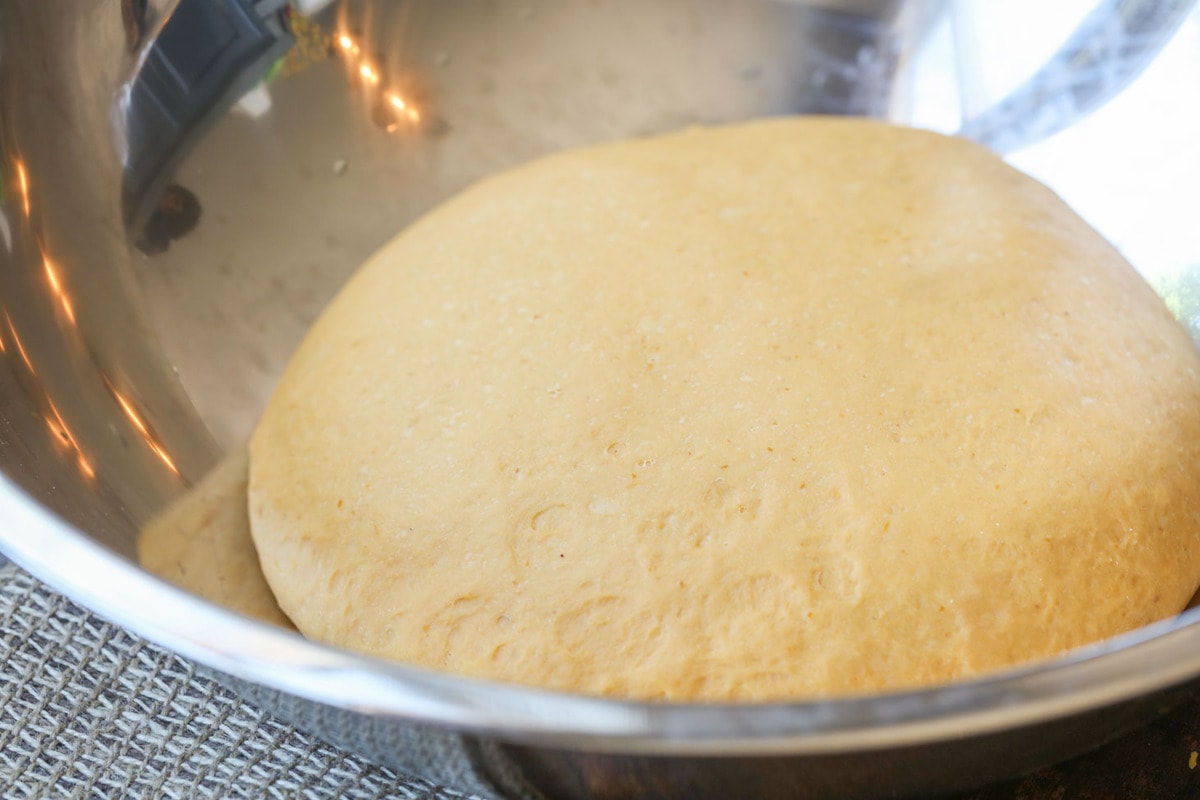 Recipe notes
Use 2% or whole milk. The fat content contributes to a soft fluffy roll.

Use pumpkin puree, NOT pumpkin pie filling

If you like, top your rolls with chopped pecans

Use unflavored dental floss or string to cut the individual rolls. Once you have the dough rolled into a log, slide a long strand of dental floss under the dough. Bring the floss up, cross the strands, and pull the strands tight. It will cut right through the dough! Repeat for each roll. Be sure to cut all the slices the same size.
If you want to speed up the rising process, you can use the oven to create a warm environment that will allow the dough to rise faster. Heat the oven to 200°F and then turn it OFF. Cover the bowl with the dough in it with a damp tea towel. Place in the oven and let the dough rise until it has doubled in size.
You can also make the dough ahead of time and wait to bake it until later. Keep the shaped rolls in the fridge for up to 12 hours.
Follow the written recipe, but do not let them rise a second time. Instead, cover the pan with plastic wrap and place in the fridge. When you're ready to bake them remove the pan from the fridge, allow them to rise for about an hour, and bake as directed. 
Why didn't my rolls rise? There are a lot of reasons that keep the dough from rising. Here are few of the most common reasons: 
Expired yeast

The room is too cold and you just need more time

The water was too hot or too cold and the yeast died

A different flour other than what was written in the recipe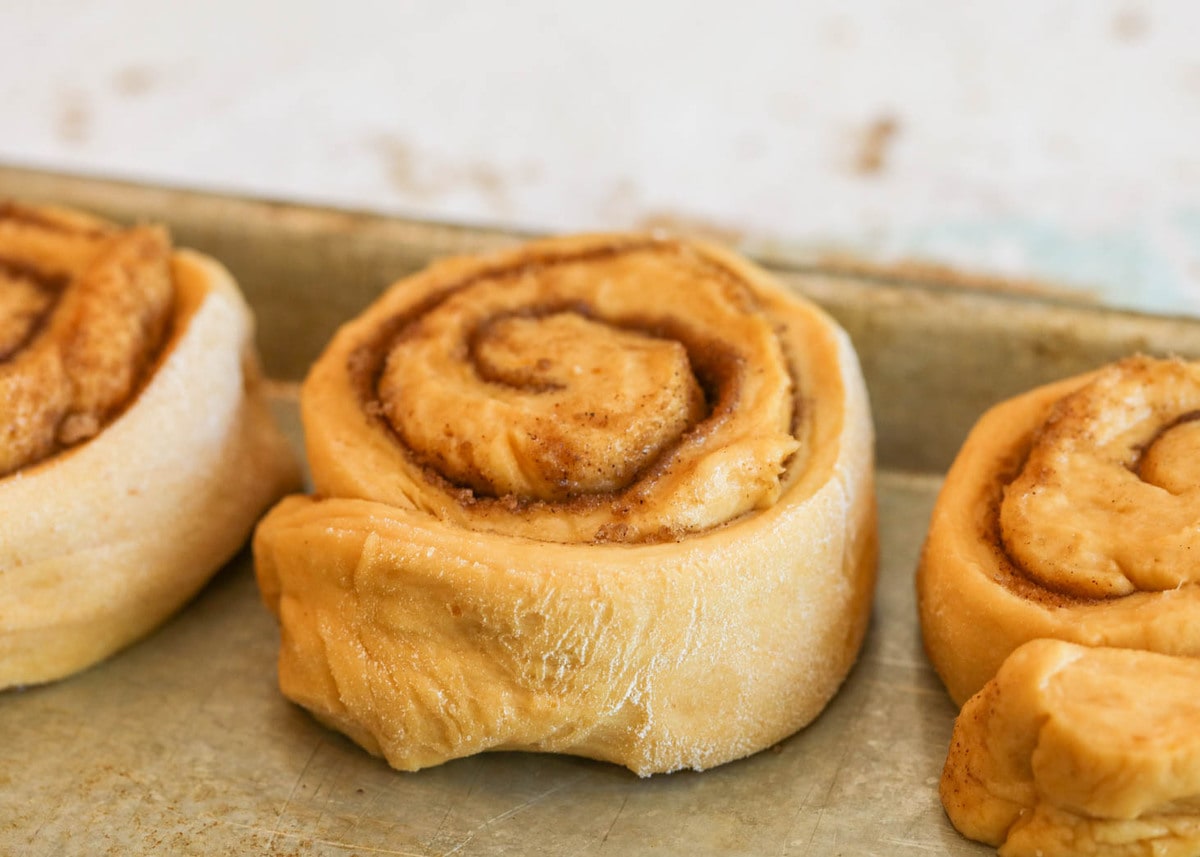 The glaze
The glaze on these pumpkin cinnamon rolls are unlike any other glaze. It's not your traditional topping! This glaze is made with a special ingredient. See if you can guess what it is. 😉
butter
confectioners sugar
vanilla extract
pumpkin pie spice
The addition of pumpkin pie spice is a GAME CHANGER. Honestly, a normal glaze just wouldn't do it for these amazing pumpkin cinnamon rolls. A recipe like this needs a glaze that compliments it perfectly, and this pumpkin spice glaze is just that.
Make the glaze by combining water, butter, and pumpkin pie spice in a small bowl. Add powdered sugar and vanilla, then beat until smooth. Spread over the warm rolls after they've come out of the oven, and ENJOY! (You definitely will!)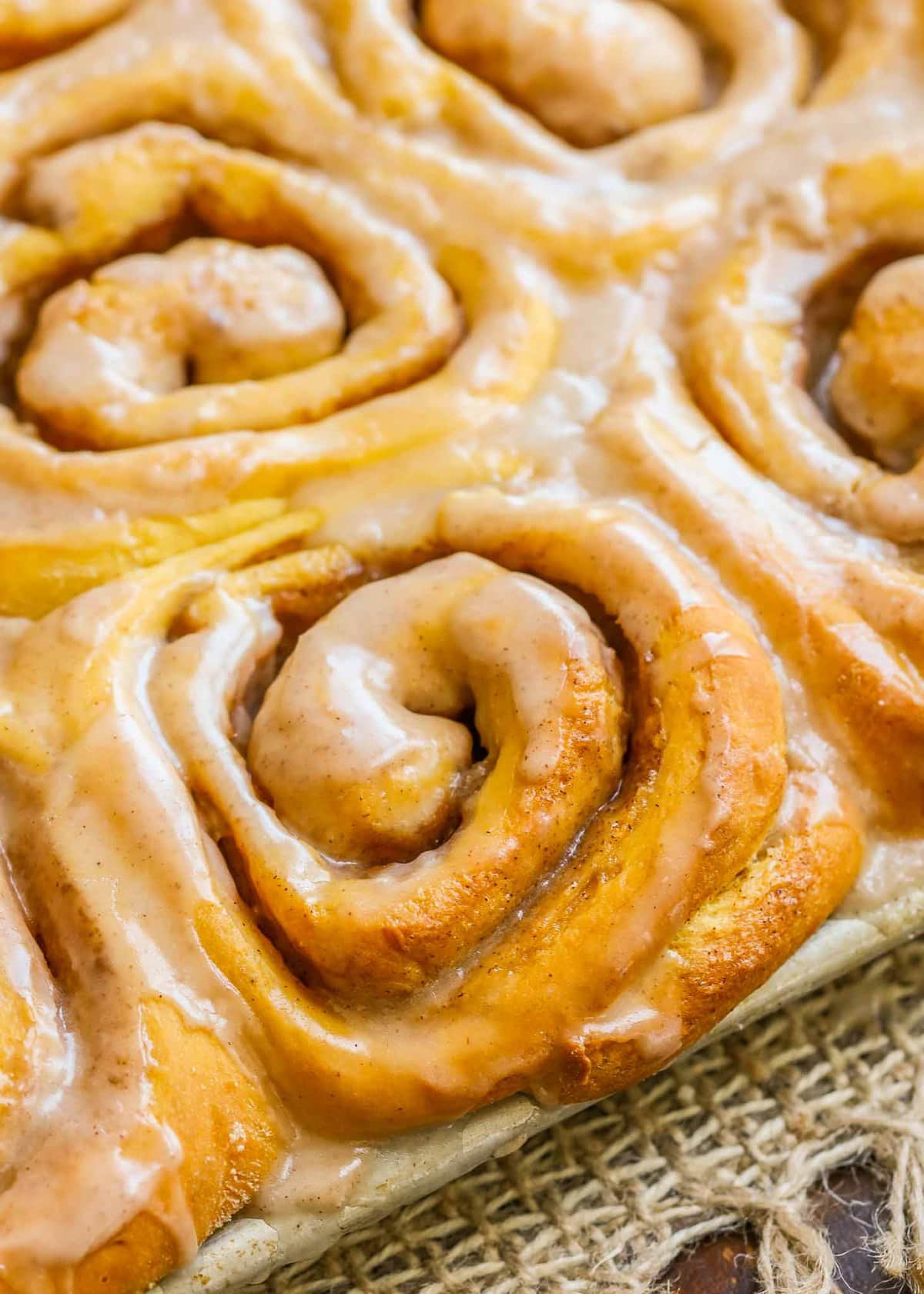 Storage tips
The rolls are best fresh out of the oven when they are warm and gooey. However, you can store the rolls at room temperature or freeze them for later. I don't recommend storing them in the fridge as they will dry out much faster.
Room temperature: Keep rolls in an airtight container for up to 4 days. To reheat place the roll in the microwave for about 5-10 seconds. 
Freezer: Once the rolls have been baked allow them to cool. Cover the pan, or wrap each roll individually, with plastic wrap them again with aluminum foil. Freeze frosting in a separate container. They can stay in the freezer for up to 6 months.
Allow to thaw and warm the rolls up in the oven (400⁰ oven for about 15-25 minutes) or microwave (place individual roll in the microwave for 5-8 seconds then in a hot oven for 1-2 minutes to get a fresh baked texture) Spread frosting over warm rolls. 
Can you see all the sweet spice and sugary goodness?! These will definitely be a new fall staple in our home. 🙂
Looking for more pumpkin recipes? Check out:
More sweet roll recipes:
Pumpkin Cinnamon Rolls Recipe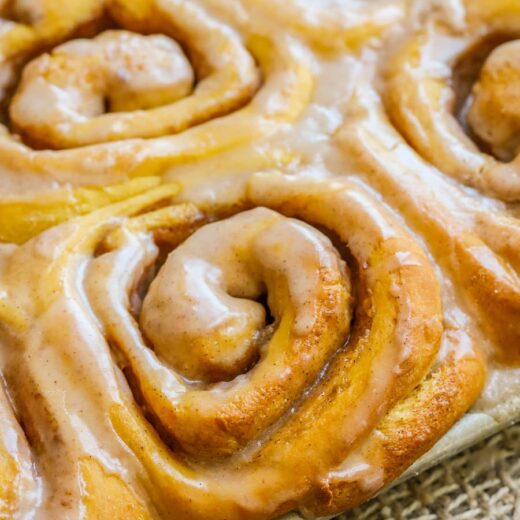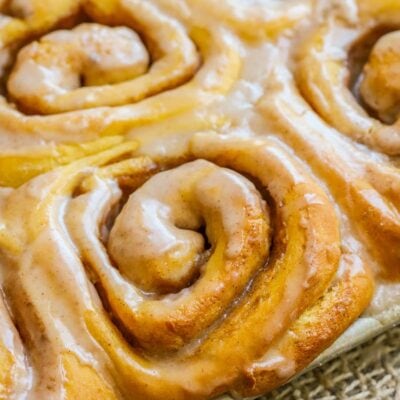 Soft and gooey Pumpkin Cinnamon Rolls are topped with a delicious pumpkin spice glaze. This simple dessert has all the goods!
Ingredients
2

tablespoons

active dry yeast

1/2

cup

warm water

110° to 115°

4

eggs

large

1

cup

shortening

1

cup

canned pumpkin

1

cup

warm milk

110° to 115°

1/2

cup

sugar

1/2

cup

brown sugar

1/3

cup

instant vanilla pudding mix

1/3

cup

instant butterscotch pudding mix

1

teaspoons

salt

7 1/2

cup

all purpose flour
Instructions
Dissolve yeast in a large bowl with ½ cup warm water. Let stand until bubbling, about 5 minutes. Add eggs, shortening, pumpkin, milk, sugars, pudding mixes, salt and 6 cups flour. Beat until smooth. Slowly stir in up to 1 more cup of flour until soft dough forms. (Dough will be sticky).

Spread ½ cup flour on a flat surface. Knead dough for 6-8 minutes, until smooth and elastic. Place in a greased bowl, turning to grease top of the dough. Cover and place in a warm spot. Let rise for about 1 hour or until doubled in size.

Punch dough down and divide in half. Roll each into a 12x8 rectangle. Brush with melted butter. Mix together your brown sugar and pumpkin pie spice; sprinkle over dough.


Start rolling with a long side (jelly-roll style); pinch seams to seal. Cut each roll into 12 slices. Cut side down, place into 2 greased 9x13-in. pans. Cover and let rise for about 30 minutes or until doubled.


Bake for 22-28 minutes at 350°. Rolls should be golden brown. Combine your water, butter and pumpkin pie spice In a small bowl. Add powdered sugar and vanilla and beat until smooth. Spread over warm rolls.

Adapted from www.tasteofhome.com
ENJOY!