Happy Wednesday! August flew by and I couldn't be more excited to start a new month. September means we're getting closer and closer to cooler weather. You may already be there, but we're still melting here in AZ which means I CANNOT wait for Fall. It's my favorite season! In my opinion, nothing screams Fall more than yummy pumpkin recipes. Fortunately, this site is full of wonderful pumpkin recipes, such as these Frosted Pumpkin Bar and of course Lily's Magic Pumpkin Cake. Both are amazing! Today's recipe is equally delicious and is one we've been wanting to try for awhile.
My mom was the one to give these Pumpkin Cinnamon Rolls a try, and we are so glad she did!! They are soft, gooey, and the perfect way to welcome in the fall. We decided to replace the cinnamon with Pumpkin Spice and it really added to the yummy pumpkin flavor. I mean, just look at them – don't you want one?! Try them out and let us know what you think.
Here are a few shots…
MY OTHER RECIPES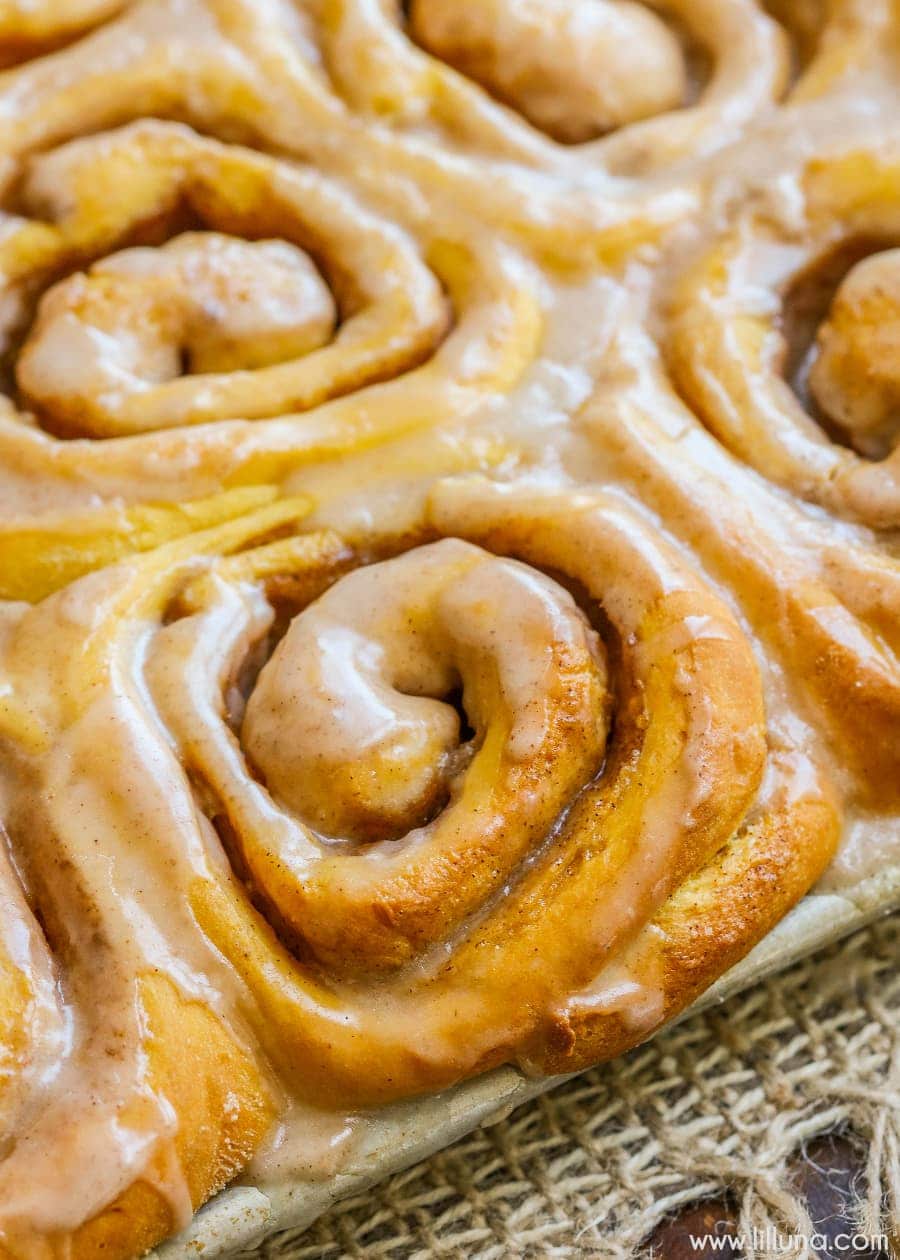 Can you see all the cinnamon and sugar goodness?! Add pumpkin and you've created one of the best fall treats you could ever try. These will definitely be a new fall staple in our home. 🙂
How to makePumpkin Cinnamon Rolls:
Soft Pumpkin Cinnamon Rolls
Soft and Gooey Pumpkin Cinnamon Rolls topped with a delicious cinnamon glaze making them the perfect fall version to try out!
Recipe type:
Dessert/Breakfast
Ingredients
2 TB active dry yeast
½ cup warm water (110° to 115°)
4 eggs
1 cup shortening
1 cup canned pumpkin
1 cup warm milk (110° to 115°)
½ cup sugar
½ cup packed brown sugar
⅓ cup instant vanilla pudding mix
⅓ cup instant butterscotch pudding mix
1 tsp salt
7½ cups all-purpose flour
FILLING:
¼ cup butter, melted
1 cup packed brown sugar
2 tsp pumpkin pie spice
ICING:
6 TB water
4 TB butter, softened
2 tsp pumpkin pie spice
3-4 cups confectioners' sugar
3 tsp vanilla extract
Instructions
Dissolve yeast in a large bowl with ½ cup warm water. Add eggs, shortening, pumpkin, milk, sugars, pudding mixes, salt and 6 cups flour. Beat until smooth. Slowly stir in up to 1 more cup of flour until soft dough forms. (Dough will be sticky).
Spread ½ cup flour on a flat surface. Knead dough for 6-8 minutes, until smooth and elastic. Place in a greased bowl, turning to grease top. Cover and place in a warm spot. Let rise for about 1 hour or until doubled in size.
Punch dough down and divide in half. Roll each into a 12x8 rectangle. Brush with melted butter. Mix together your brown sugar and cinnamon; sprinkle over dough.
Start rolling with a long side (jelly-roll style); pinch seams to seal. Cut each roll into 12 slices. Cut side down, place into 2 greased 9x13-in. pans. Cover and let rise for about 30 minutes or until doubled.
Bake for 22-28 minutes at 350°. Rolls should be golden brown. Combine your water, butter and cinnamon In a small bowl. Add powdered sugar and vanilla and beat until smooth. Spread over warm rolls.
Adapted from www.tasteofhome.com
TRIED & TRUE FINDINGS:
DIFFICULTY: Simple-Moderate
HOW MANY DOES IT FEED: 24 servings
ANY CHANGES MADE: replaced cinnamon with pumpkin pie spice, doubled frosting
ANY SUGGESTIONS FOR NEXT TIME: This recipe was great as it, but want to add a little more pumpkin flavor next time.
Here is another great pumpkin recipe to check out: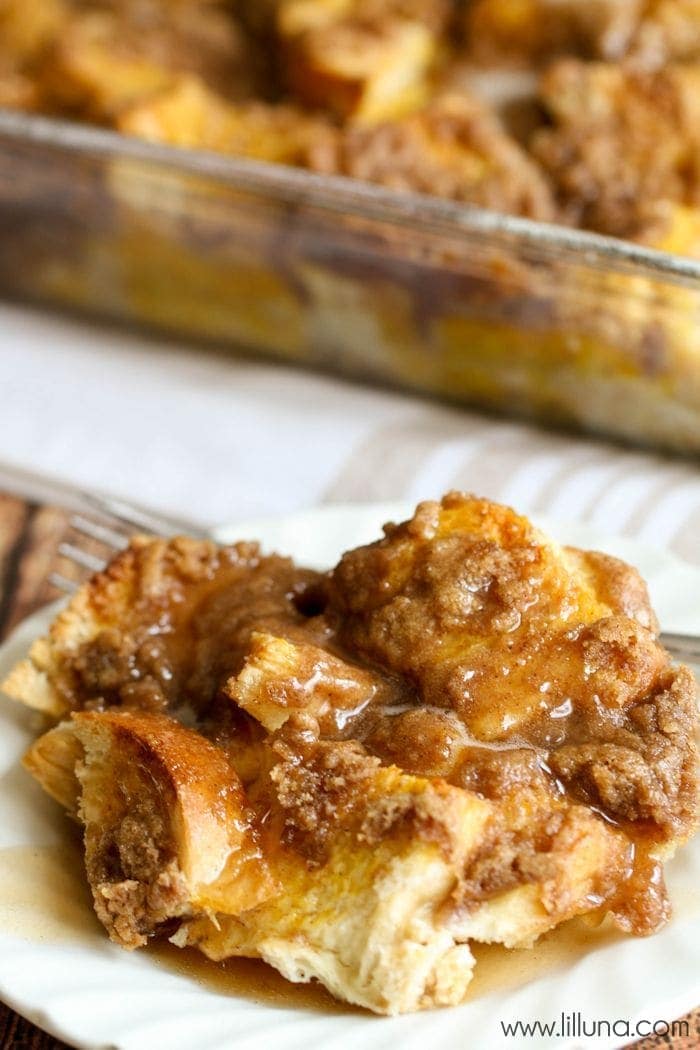 Looking for more pumpkin recipes? Check out:
ENJOY!