Libby's Pumpkin Roll is a classic fall favorite! Nothing beats a pumpkin cake full of cinnamon, nutmeg, and ginger all rolled up with a delicious cream cheese filling.
This is a classic dessert for holidays and is easier than you think. Filled with pineapple cream cheese frosting, this simple dessert is perfect for your next fall gathering (along with our pumpkin delight and pumpkin pie).

A fall staple
One of the best things about fall is all the pumpkin recipes! Who agrees? Not only do they taste fantastic, but they just make your house smell amazing. One of the most classic pumpkin recipes is a Pumpkin Roll, also known as a Libby's Pumpkin Roll.
I have memories of my mom making them all the time when I was growing up, and this is the recipe she used. She would add nuts to it, and I actually prefer it that way, but even without them, it is an unbeatable dessert!
I might be biased, but I think Pumpkin Rolls should be a staple in every house during the fall. They look really fancy, but they are actually pretty easy to make. I've got a few tips for you today so that your pumpkin roll turns out perfectly.

Tips for the perfect Pumpkin Roll
Parchment Paper. This is one of those recipes where parchment paper is not optional. It's an absolute MUST for the cake to bake properly and be removed from the sheet pan smoothly. Trust me!
Cake. Make sure to bake the cake long enough that the center has completely set. If it is undercooked, the center will be sticky and nearly impossible to roll!
Dish Towel. Once your cake has been baked, invert it onto a (clean!) dish towel that has been generously coated with powdered sugar. While the cake is still warm, roll it up inside the towel and let it cool. (Note: I actually rolled mine pretty tight. You can roll it much looser than the photo shown.)
Filling. We like to add crushed pineapple to our filling—it adds such an amazing flavor!! But it's totally optional. Just make sure that if you are including it, that you drain the pineapple really well.
Slicing. Cutting the roll from a frozen state makes for some nice clean slices. Even if you place it in the freezer for 30-60 minutes, that will help it be easier to slice. Place slices on a platter and allow to thaw.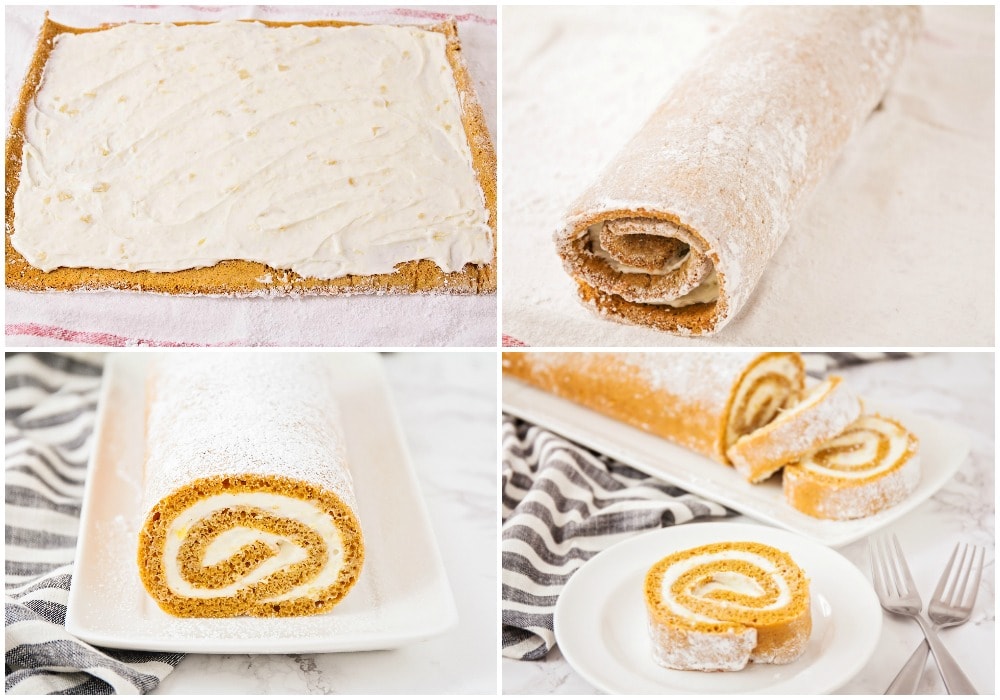 Storing TIPS + TRICKS
Entire roll. Wrap the roll tightly with plastic wrap and again with foil. Store in the fridge for 4-5 days or in the freezer for a month.
Individual slices. If the pumpkin roll cake is already sliced, you can store them in an airtight container with sheets of parchment paper in between to keep them separated.
If you've never made a cake roll before, I hope you'll give it a try. It really is an impressive dessert that anyone can master. And it is always a hit!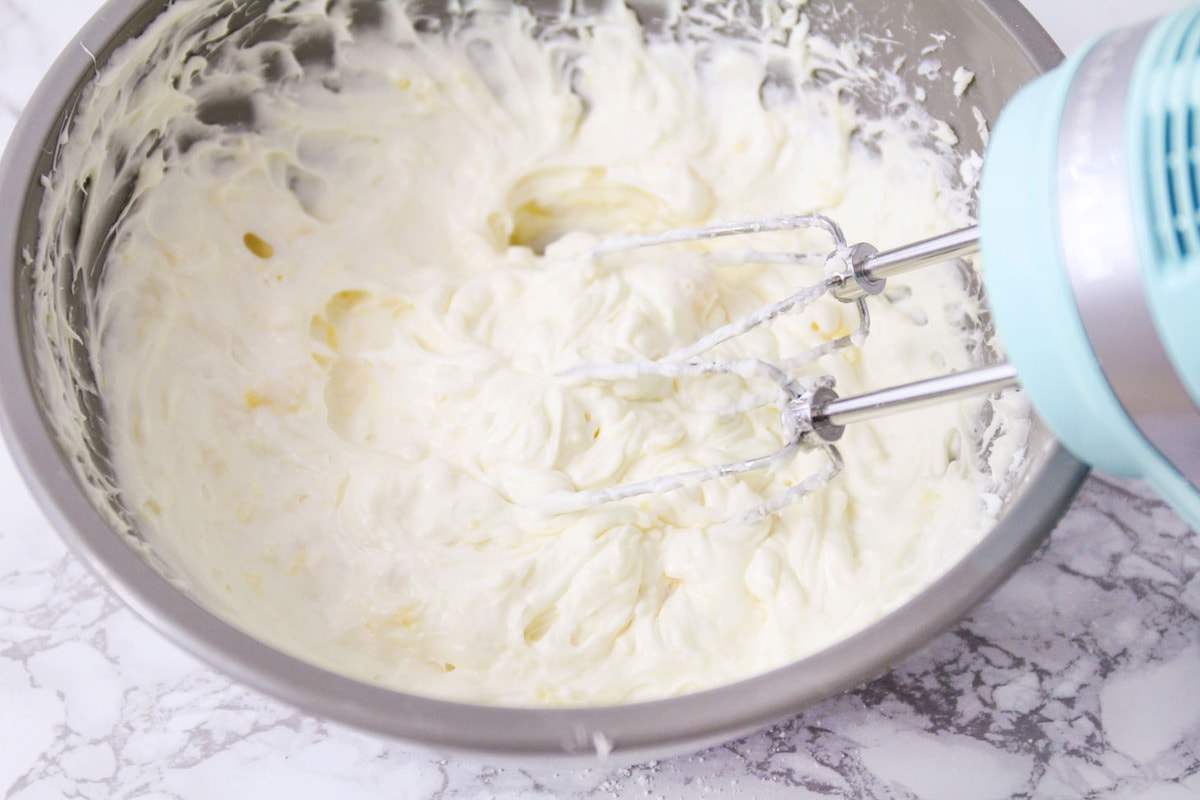 Pineapple Cream Cheese Frosting
As mentioned above, we love to add some drained pineapple to our cream cheese frosting. It adds the perfect amount of sweetness making this pumpkin roll absolutely irresistible.
Don't like pineapple? No worries – just leave it out. If you want to give it even more fall flavors, we suggest trying our cinnamon cream cheese frosting (that we use with our pumpkin cupcakes).
Also note that whichever frosting you make can be made AHEAD OF TIME (Up to 48 hours). Just store in an airtight container and place in the fridge until using it on your pumpkin roll.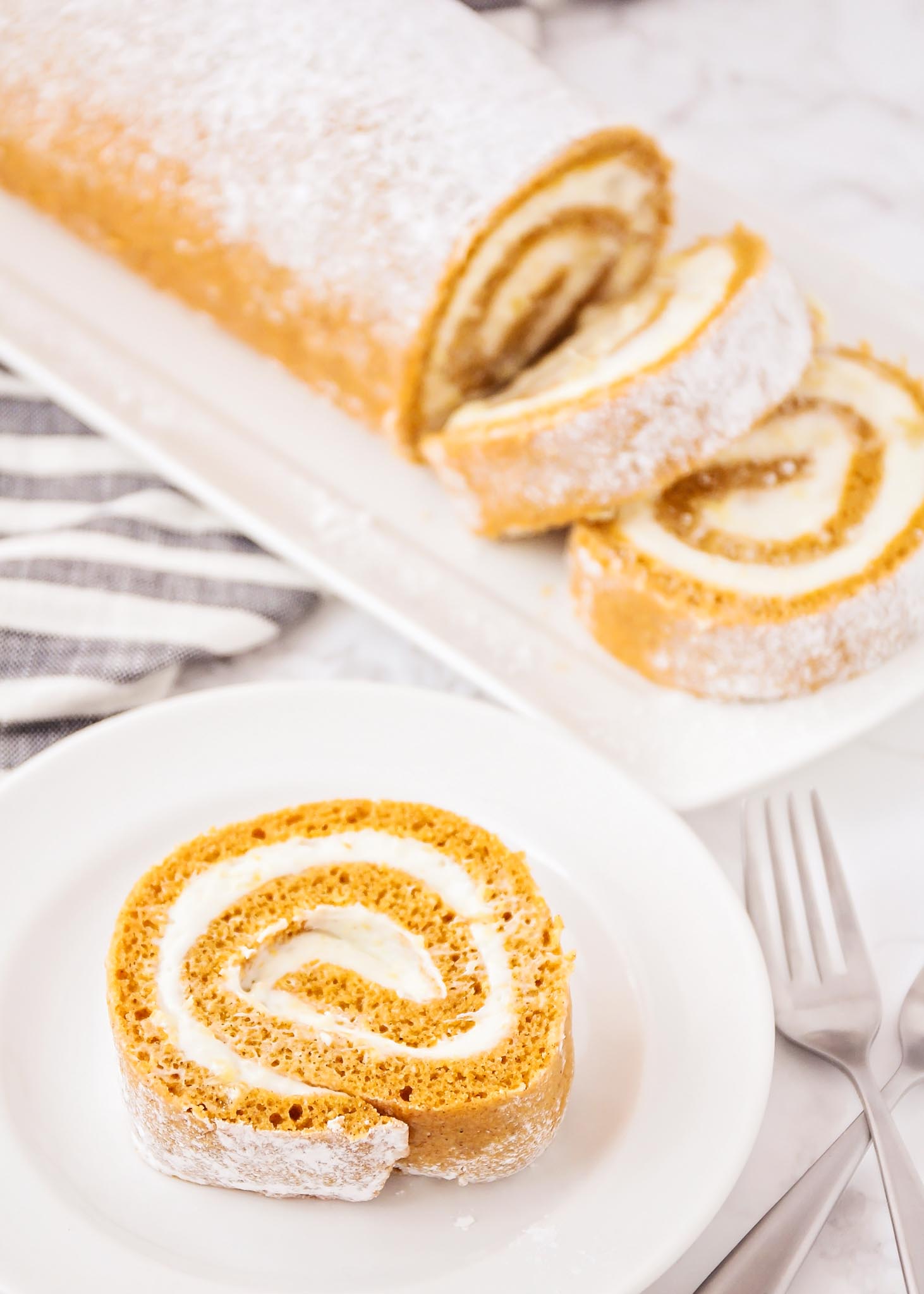 For more pumpkin recipes, check out:
Pumpkin Roll Recipe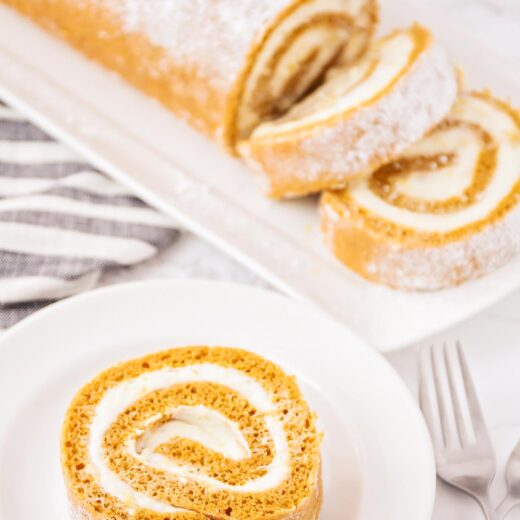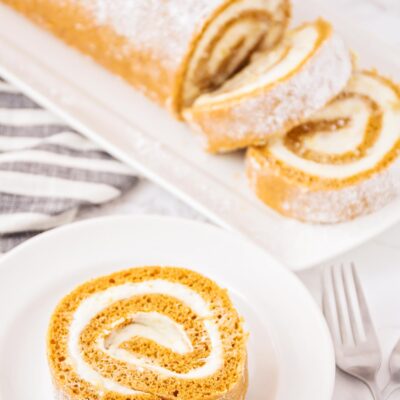 This delicious spiced Pumpkin Roll filled with tangy pineapple cream cheese frosting is a classic fall favorite!
Instructions
In a large mixing bowl, beat eggs for 5 minutes. Gradually beat in the sugar. Beat in the pumpkin and lemon juice.

Whisk together the dry ingredients in a small bowl, then add to the pumpkin mixture. Stir till well blended.


Pour batter into a jelly roll pan that has been lined with parchment paper and sprayed with non-stick spray. (Mine is about 15 x 11 x 1".) Bake at 375° for 15 minutes, or till cake is completely set in the middle.


Invert hot cake onto a flour sack dishtowel that has been sprinkled generously with powdered sugar. Loosely roll up the cake and towel, and let cool completely.


While cake is cooling, prepare filling by beating all ingredients together till smooth.


Unroll cake and spread filling to within ½" of the edges. Roll the cake up starting at the short side.


Wrap pumpkin roll in plastic wrap and place in the refrigerator. Chill for at least two hours to blend flavors. It can also be frozen at this point.


To serve, unwrap the pumpkin roll and sprinkle with powdered sugar. Slice in 1" slices.

I love pumpkin desserts & can't wait to try these! Thank you Kara! Head over to Creations by Kara for more delicious recipes!