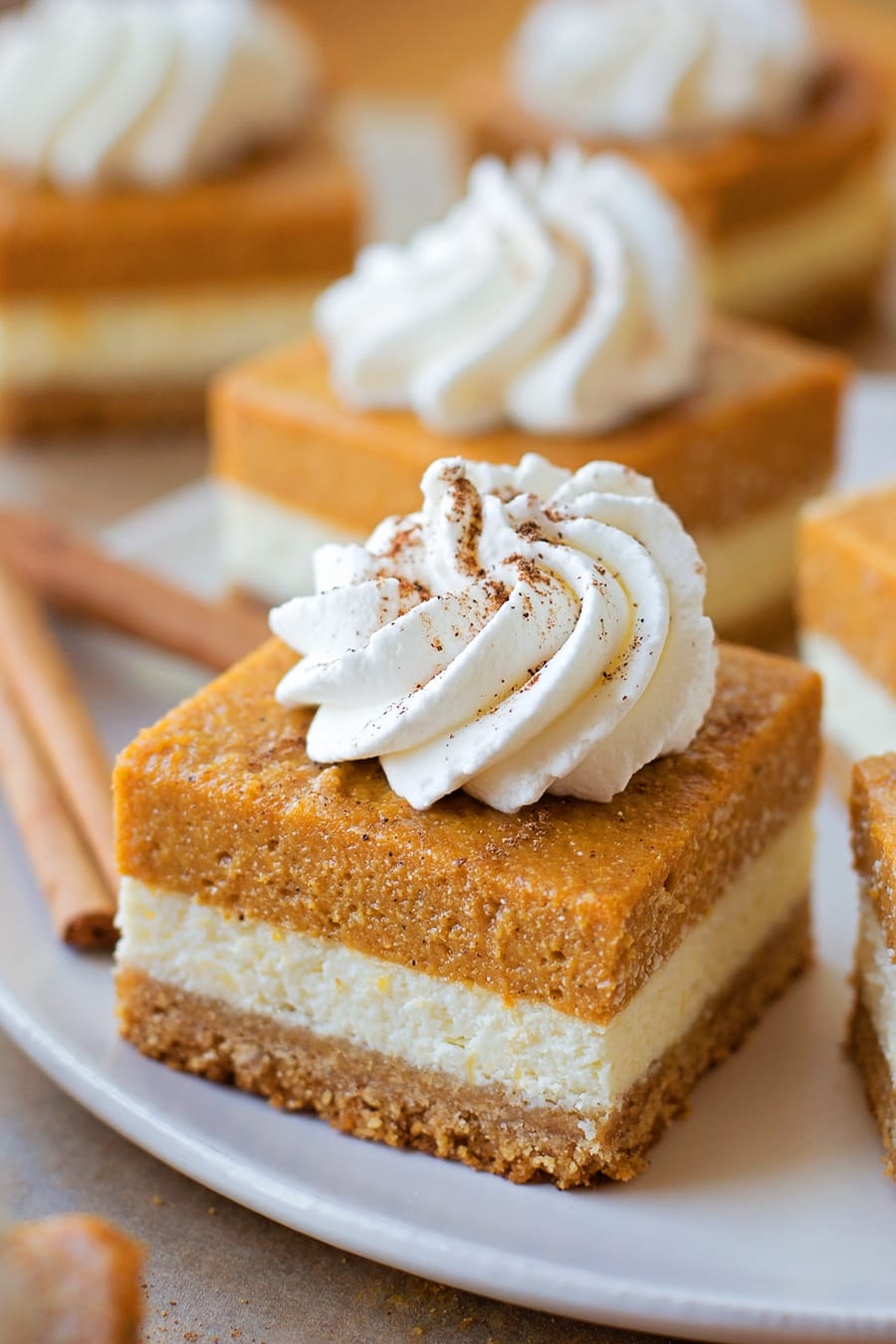 Pumpkin desserts are always a huge hit with me! It's taken quite some time for certain members of my family to get on board, but recipes like this one have slowly converted them. These pumpkin cheesecake bars are a combination of two holiday classics: pumpkin pie and traditional cheesecake. They're thick, sweet and full of fall spices. While these do require a bit of extra work, they are totally worth it. You can easily double this recipe to fit a 9×13-inch pan. It's a great dessert to take to parties or gatherings, especially if you want to impress your friends and family. I mean, look at those perfect layers right there!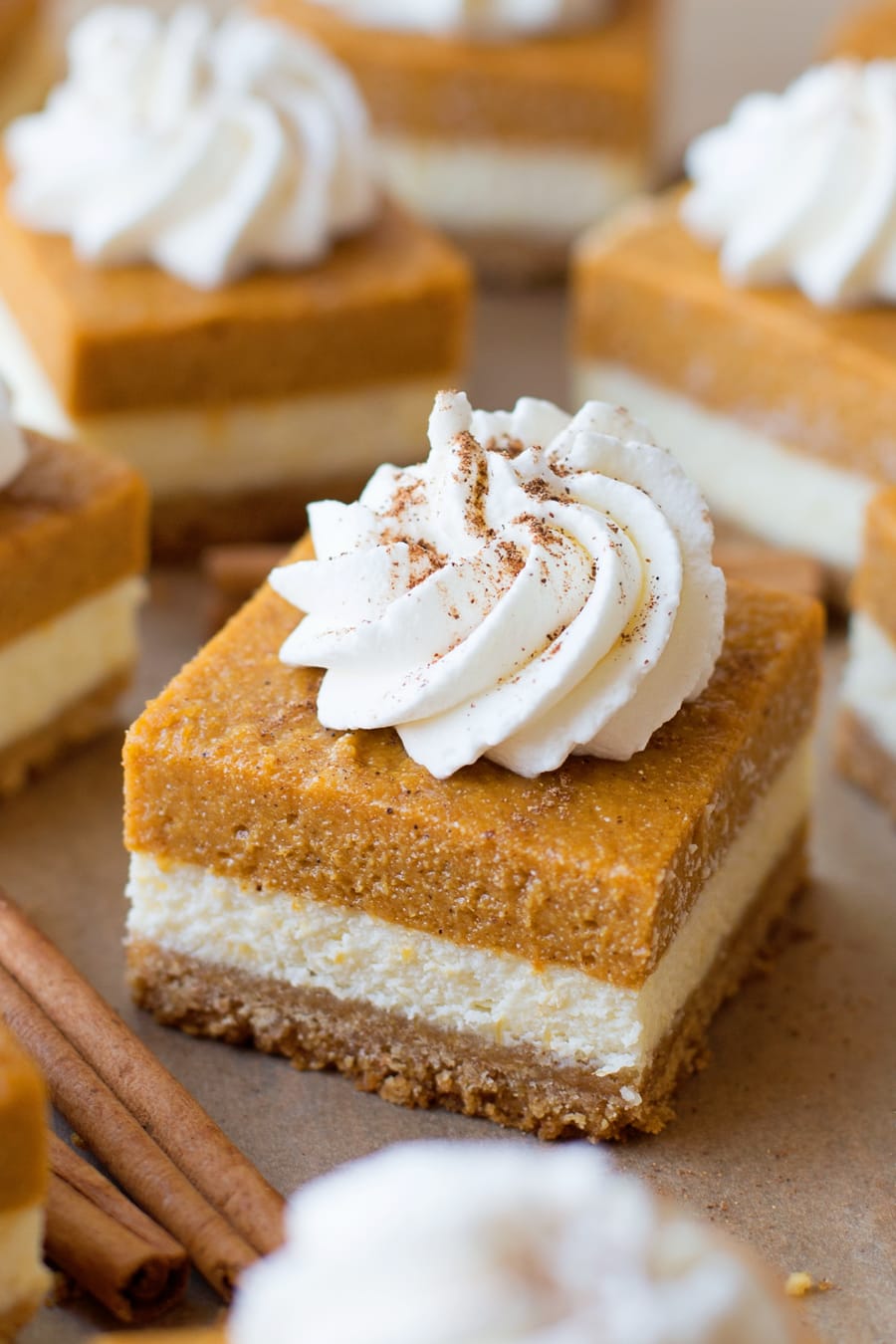 MY OTHER RECIPES
These luscious pumpkin pie cheesecake bars were loved by everyone who tried them. We shared them with friends and I was immediately asked when I was going to share this recipe. That's how you know it's a good one! If you love pumpkin layered desserts, you should give this one a try. Grab your hand mixer and you're ready to go.
For more pumpkin cheesecake recipes, check out:
Pumpkin Cheesecake Bars
Pumpkin Cheesecake Bars - layers of goodness with a graham cracker crust, cheesecake layer and pumpkin layer. This will be perfect for all fall festivities!
Ingredients
FOR THE CRUST:
1½ c. graham cracker crumbs
3 tbsp. granulated sugar
5 tbsp. melted butter
FOR THE CHEESECAKE LAYER:
1 package (8 ounces) cream cheese, softened
¼ c. sour cream
⅓ c. granulated sugar
½ tsp. vanilla extract
2 eggs
FOR THE PUMPKIN LAYER:
3 egg yolks
1 can (15 ounces) solid-pack pumpkin puree
½ c. packed brown sugar
½ c. milk
½ tsp. salt
1 tsp. pumpkin pie spice
½ tsp. ground cinnamon
½ tsp. vanilla extract
1 envelope unflavored gelatin
¼ c. cold water
¼ c. granulated sugar
3 egg whites
pinch cream of tartar
FOR THE GARNISH:
Whipped cream (or topping)
Pumpkin pie spice
Instructions
In a small bowl, combine the graham cracker crumbs, sugar and the melted butter. Press into a foil-lined 8x8-inch pan.
In a small bowl, using a hand mixer, beat the cream cheese, sour cream, granulated sugar, and vanilla extract until smooth. Add the eggs, mix just until combined, then pour over crust. Place in the oven and bake at 350° for 20-25 minutes or until set. Transfer the pan to a wire rack to cool.
Meanwhile, separate the three remaining eggs. In a medium saucepan set over medium-low heat, combine the yolks, pumpkin puree, brown sugar, milk, salt, pumpkin pie spice, and cinnamon. Cook, whisking every few minutes for 10 minutes or until mixture reaches 160°. Remove from the heat, whisk in the vanilla extract.
In a small microwave-safe bowl, sprinkle the gelatin over the water; let stand for 1 minute, then microwave for 30 seconds or until the gelatin is dissolved. Stir into pumpkin mixture; set aside.
In the top of a double boiler, combine the granulated sugar, egg whites and cream of tartar. Beat with an electric mixer set at low speed for 30 seconds, then set the pan over boiling water (the pan shouldn't touch the water). Beating at high speed, for about 7-9 minutes, or until it's stiff and glossy. Remove it from the heat, and beat an additional 1-2 minutes.
Fold into the pumpkin mixture then spread evenly over cream cheese layer. Refrigerate uncovered for 1 hour, then cover and refrigerate for an additional 3 hours or until firm. Garnish with whipped cream and pumpkin pie spice; if desired.
_________________________
Natalie, these are so stinkin pretty!! I ALMOST feel like I don't want to eat them. 😉 But really, I'm drooling just looking at them. Thanks for sharing this recipe with us!! Be sure to go visit Natalie over at Life Made Simple for more amazing recipes!