Not only is this homemade pumpkin pie incredibly easy – it's the most moist, flavorful, all around perfect pumpkin pie! Made from canned pumpkin, seasonal spices, and evaporated milk, this pie is a must have dessert during the holidays.
This pie is a Thanksgiving favorite along with our Pecan Pie and Homemade Apple Pie. Once you make this pie homemade, you'll never want to buy one from the store again!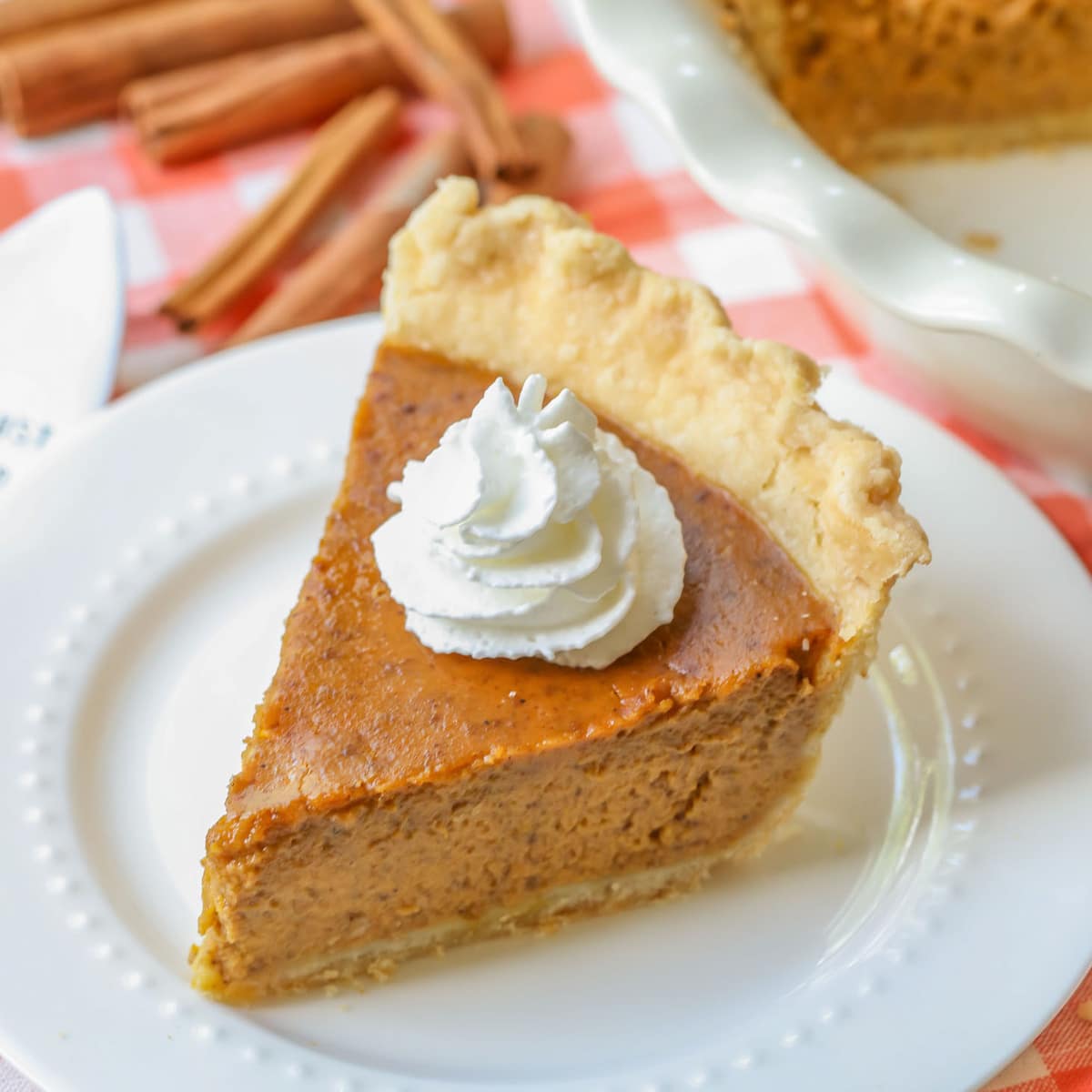 Pumpkin pie with a secret ingredient
This recipe we're sharing today has been our go-to Pumpkin Pie recipe for several years. It comes from Luby's, a favorite restaurant that is sadly now out of business. I've never been much of a pumpkin pie person, until I tried THIS recipe.
I never would have thought that homemade pie was this easy to make, but once your crust is made (or purchased from the store ;)) it only takes a few minutes to put the filling together!
This pumpkin pie filling is SO DELICIOUS. Perfectly sweet, moist, full of pumpkin flavor, and just the right amount of spices. It's made up of pretty standard pumpkin pie ingredients, but I'll let you in on a little secret… Evaporated milk! This secret ingredient is what gives the pie its amazing texture, and contributes to the perfectly sweet taste.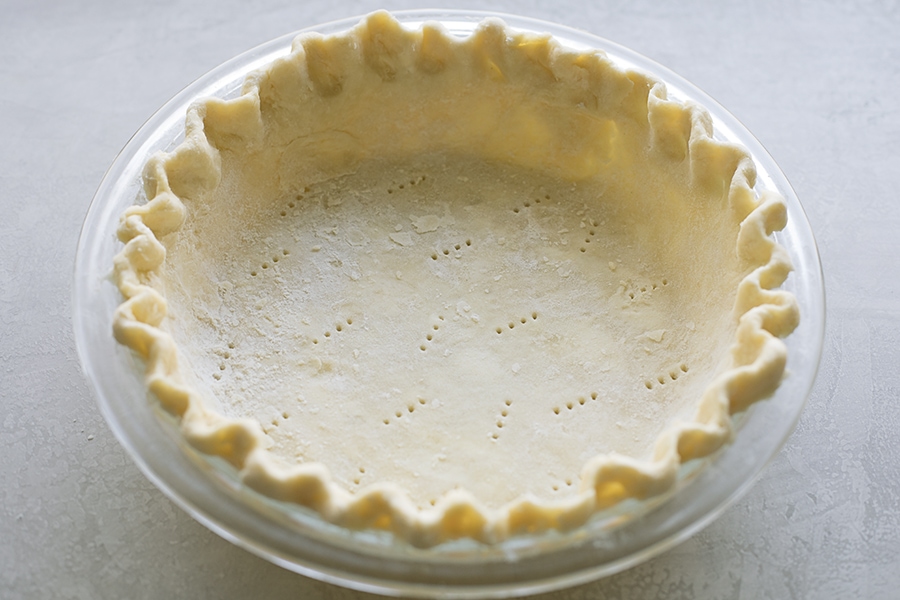 How to Make Pumpkin Pie
This is a easy homemade pumpkin pie recipe from scratch (okay, not entirely from scratch… It does use canned pumpkin puree rather than fresh pumpkin), but you can simplify it even more by using a store bought crust rather than homemade.
CRUST. If you're feeling ambitious and want to make a homemade crust, you can use the pie crust recipe found here. Make sure to follow the instructions on bling baking the crust before adding the filling!
PUMPKIN PIE FILLING. Once your crust is ready, make your pie filling by lightly beating the eggs until they are well blended. Add canned pumpkin, milk, sugar, cinnamon, nutmeg, salt, and cloves. Mix until well blended, then pour the filling evenly into the pie shells (this recipe makes 2 pies).
(Note: this is canned pumpkin and NOT canned pumpkin pie filling – we typically used Libby's 100% Pure Pumpkin.)
BAKE. Bake at 350° for 1 hour or until a knife inserted in center comes out clean. Serve at room temperature, and dress it up with any of these topping ideas:
Peanut Brittle
Sugared Nuts (Pecans are great!)
Scoop of Ice Cream (Vanilla, Caramel, or Cinnamon)
Mini Chocolate Chips or Chocolate Sauce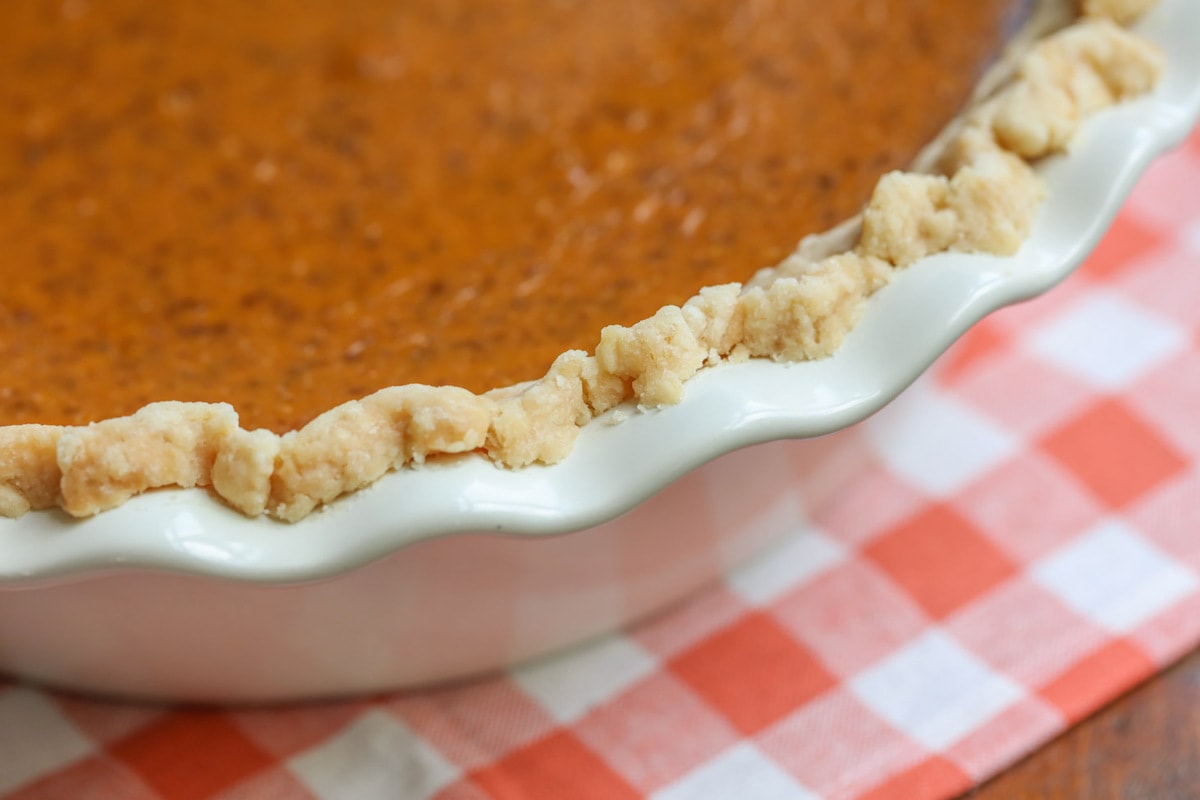 Frequently asked questions
Making pumpkin pie doesn't have to be hard, but if you're still new to making it, there may be some questions you come up with. Hopefully, this section helps out.
Why does pumpkin pie separate from crust? This is pretty normal! When custard pie fillings (like pumpkin) cook and cool, they typically shrink, causing separation from the crust.
Do you need to blind bake crust for pumpkin pie? This might only be applicable if you do a homemade crust recipe. If you are using a store bought crust, you don't need to worry about pre-baking the crust. Just throw the filling in and bake. 
However, if you are making a homemade crust, it is best to blind bake it (pre-bake without any filling). Place your rolled out pastry dough in your pie pan, flute the edges if you like, and line the pastry with two layers of tinfoil, pressing it to the bottom and sides.
Make sure the foil extends over the edges of the pie pan to prevent excess browning. Bake for 10 minutes, remove the foil, and bake for another 2-4 minutes until it barely starts to brown.
Fill with the pie filling while the crust is still hot, cover the edges with a pie crust ring, or with strips of tin foil, so they don't get too brown. Remove the ring/foil during last 15 minutes of baking.
How do you make pumpkin pie from real pumpkin? While it's definitely not as simple, you might prefer the flavor of pie made with fresh pumpkin. Here's how to make your own pumpkin puree!
Take a pumpkin (1½ pound pumpkin will yield about 2 cups of puree) and split it in half using a knife. Scrape out all of the seeds and stringy bits with a spoon, and place the halves cut side up on a foil-covered baking sheet. Roast in the oven at 325 degrees for 30-40 minutes for a small pumpkin, and about an hour for a larger one.
If the flesh is still thick and hard to scrape, then the pumpkin needs to roast longer. Scrape out all of the flesh until the rind is empty, and puree it using a blender, or mash by hand. Once it's mashed, it's ready to be used in your recipes!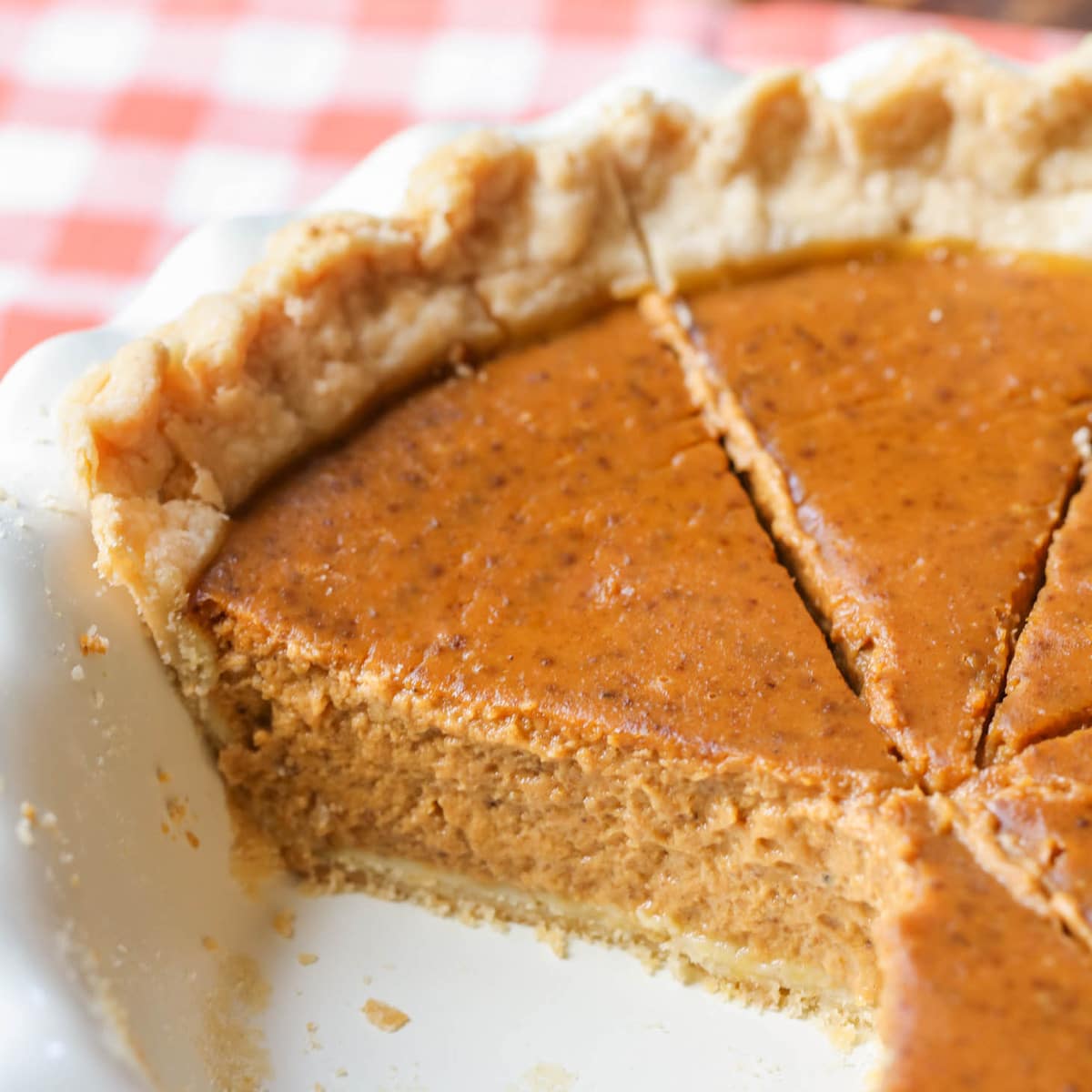 Storing and freezing
Does pumpkin pie need to be refrigerated? After pulling a pumpkin pie out of the oven, it has to sit and cool to room temperature. Once it has cooled, homemade pumpkin pie can be left at room temperature for about two hours, but because it's made with milk and egg, it can start to develop harmful bacteria if it's left out much longer. Store it in the fridge, loosely covered, for 3-5 days.
Can you freeze pumpkin pie?If you want your pumpkin pie to last longer than 3-5 days, you can store  it in the freezer, either as a whole pie or in individual slices.
If you start making the pie with the intention of  freezing it, bake it in a disposable aluminum pan—this will allow it to freeze quicker (the quicker, the better). Regardless of what type of pie dish you bake it in, let your pie cool completely before putting it in the freezer. Otherwise, steam and moisture will get trapped under the crust and ruin the texture.
Wrap it tightly in a couple layers of plastic wrap (and one layer of foil for good measure), and store on a flat shelf in the freezer for a month, or two at most.
When you're ready to eat the pie, let it thaw in the fridge. It will take at least 12 hours, so plan accordingly! Thawing at room temperature will make it thaw too quickly, resulting in a soggy crust.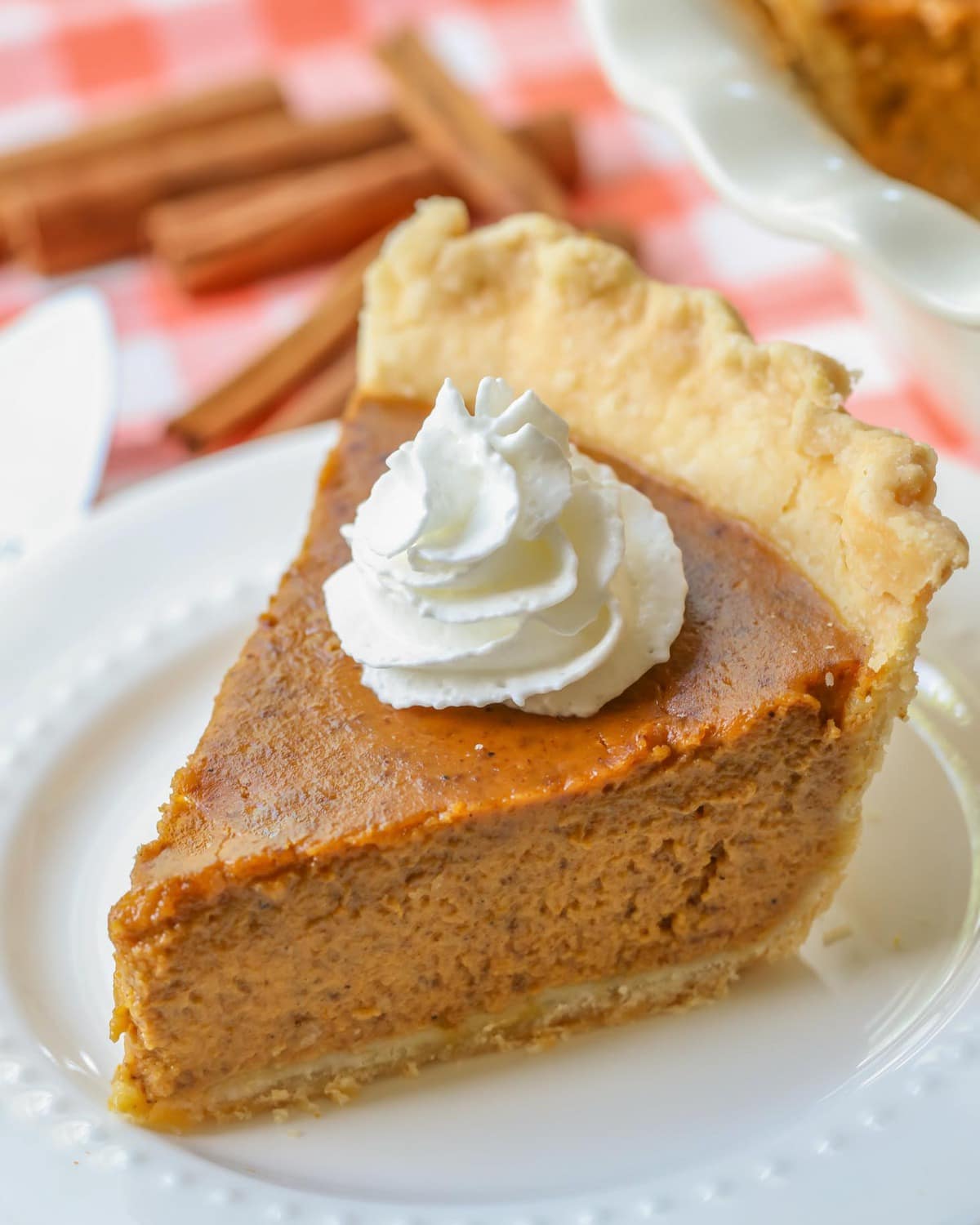 If there's any question in your mind whether you should try this pumpkin pie recipe this holiday season, I'll answer it for you now. DO IT! Seriously, this pie will turn anyone into a pie lover.
For more pumpkin recipes, check out:
Pumpkin Pie Recipe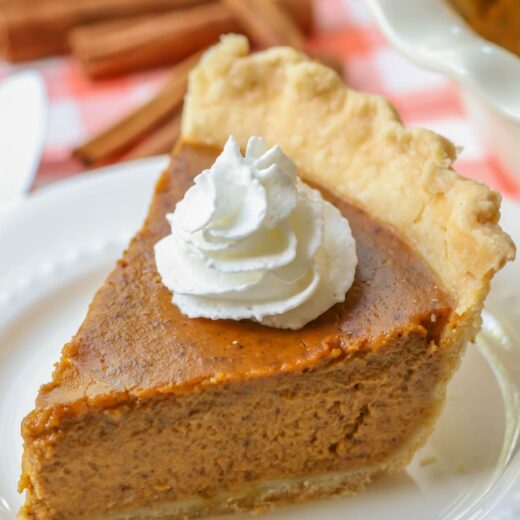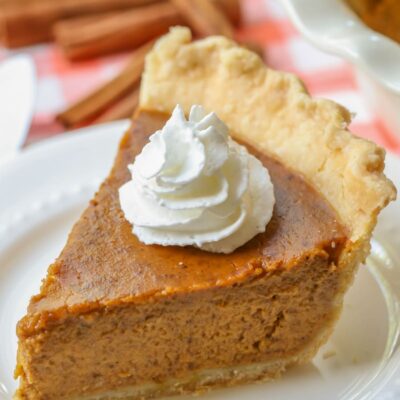 Not only is this pumpkin pie incredibly easy - it's the most moist, flavorful, all around perfect pumpkin pie! Made from canned pumpkin, seasonal spices, and evaporated milk, this pie is a must have dessert during the holidays.
Ingredients
Instructions
Lightly beat eggs until well blended. Add pumpkin, milk, sugar, cinnamon, nutmeg, salt, and cloves. Mix until well blended. Pour evenly into pie shells.

Bake at 350 for 1 hour or until knife inserted in center comes out clean. ENJOY!
Notes
TRIED AND TRUE FINDINGS
DIFFICULTY: Easy
HOW MANY DOES IT FEED: 8 - 12
ANY CHANGES MADE: none
ANY SUGGESTIONS FOR NEXT TIME: none