Have you noticed that I've already been posting PUMPKIN recipes?! Don't go hating on me for it. I like to be ahead of schedule to make sure you guys have plenty of time to see all of the recipes before the actual holidays and seasons. ;D Pumpkin Season is something I've been gearing up for for awhile now. Some of the most popular recipes on this site are pumpkin recipes, which tells me you guys LOVE pumpkin. With that in mind, I have to make sure I'm providing loads of delicious, mouth-watering pumpkin recipes to keep you guys coming back. I'm hoping I've done that for you, and I think it's working because I'm officially a pumpkin dessert convert myself. I've always liked pumpkin recipes but would have called myself a chocolate kind of gal before.
Recently, all I want is pumpkin! I think it all started when my mom got me a Pumpkin Muffin Top from Kneader's right after we moved back to Arizona in June. I thought I'd give it a try, and I LOVED it. Now, I order the muffin tops all the time, and after becoming obsessed with them and working on pumpkin desserts for the last 6 weeks, I officially LOVE pumpkin. My favorite recipe so far has to be today's recipe for Pumpkin Lasagna. It's very similar to the White Chocolate Lasagna and Lemon Lasagna I've posted on the site – this is just a pumpkin version.
MY OTHER RECIPES
Layer Oreos + butter in 9×13
Add your cream cheese mixture on top.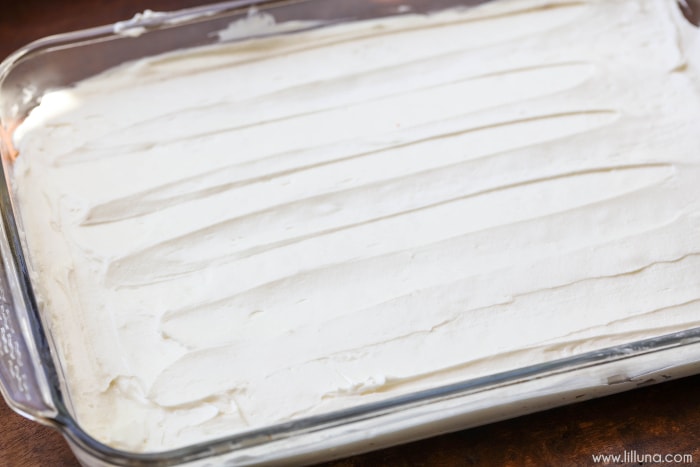 Add pumpkin pudding on top of the cream cheese mixture.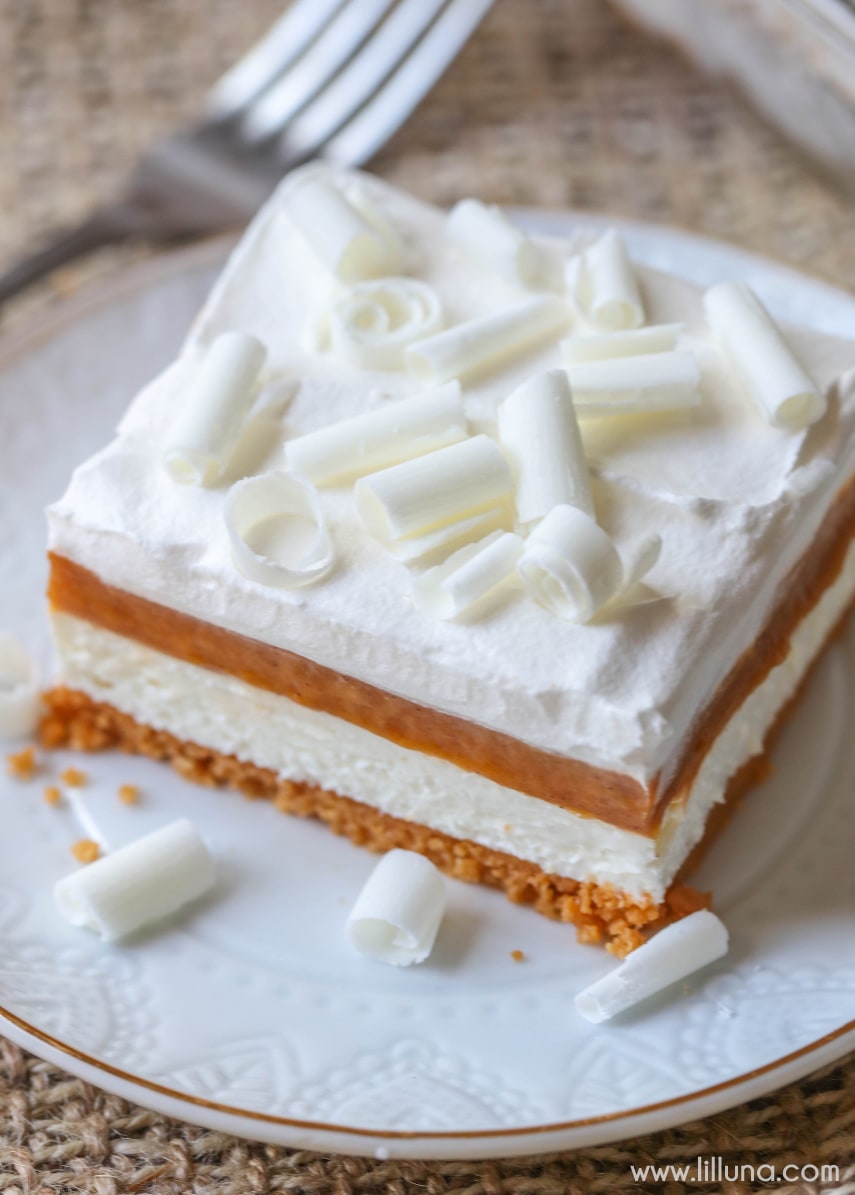 I'm happy to report that everyone who tried it loved it!! In fact, I took some over to my cousin's family (because the hubby and I were eating the whole thing by ourselves) and her husband wasn't too happy with me after he ended up eating several pieces a. LOL!
If you love pumpkin and love layered desserts, I definitely think you should give this one a try. It is sure to be a hit at your next get
For more pumpkin desserts, check out:
Pumpkin Lasagna VIDEO:
Pumpkin Lasagna
Pumpkin Lasagna - a delicious layered dessert with a Pumpkin Oreo crust, cream cheese layer, pumpkin pudding layer, and topped with cream and white chocolate curls. It's PHENOMENAL!
Ingredients
2 rows of Golden Oreos + 2 rows of Pumpkin Oreos (or crushed Gingersnaps)
8 TB unsalted butter, melted
1 8 oz. PHILADELPHIA Cream Cheese (softened)
½ cup butter
1 cup powdered sugar
1 large container cool whip (16 ounces), divided (or whipped cream)
2 - 3.4 oz packages of pumpkin instant pudding
3 cups milk
white chocolate bar (to make curls with) - I use vanilla candy coating
Instructions
Begin by crushing your Oreos. For a very fine mixture, place Oreos in your food processor. Place in a ziploc baggie and add your melted butter. Mix until it is well combined.
Press into the bottom of a 9x13 pan spreading out to cover the entire bottom of the pan.
In a medium bowl, blend cream cheese, butter, powdered sugar and ½ of the cool whip. Blend well and pour over your Oreo Crust.
In another bowl, make your pudding by adding your milk to your bowl and instant pudding. Whisk together until pudding thickens. Pour over the cream cheese layer. Refrigerate for at least 5 minutes.
Top off with the rest of your Cool Whip. Add white chocolate shavings.
Refrigerate at least 1 hour before serving. ENJOY!
NOTES:
CAN'T FIND THE PUMPKIN PUDDING MIX??
CAN'T FIND PUMPKIN OREOS?

I'd use Golden Oreos and add a little bit of Pumpkin Pie Spice 😉 OR I used crushed Gingersnaps

DON'T LIKE OREOS?

A graham cracker or ginger snap crust on this dessert would be great too. 😀
ENJOY!