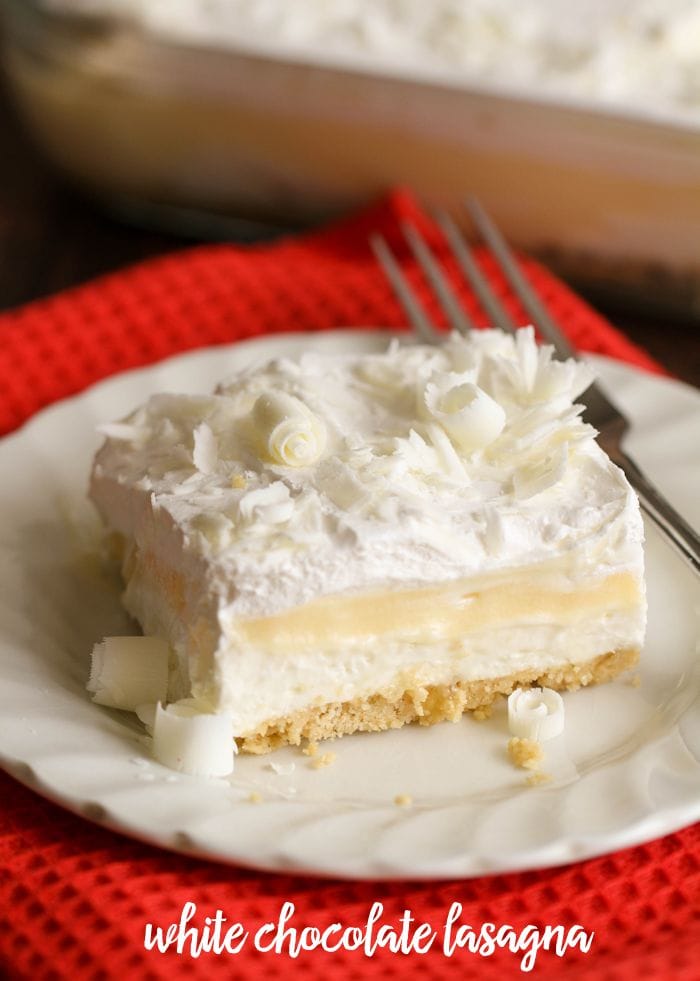 Hi its me, Lily. How has your week been? Its been really fun for me. Yesterday in PE I got to play with a REALLY big ball. It was so much fun. I even kicked the ball, and it accidentally hit my teacher in her face! She didn't get mad (which is good!) PE was one of my favorite parts of this week. 😀 Another favorite part was when I came home that night and got to try a really yummy treat. My Mom wanted me to help her make it, but it was sunny in the morning and a storm was coming so she mad it and took pictures without me. It was okay because I still got to taste test! The treat is called White Chocolate Lasagna. It's the treat that we will be sharing today.
You may wonder why we are calling it lasagna, but it's mostly because it has layers like a lasagna. In this dessert, there are layers of crushed Golden Oreos, cream cheese, pudding, whipped cream and it's all topped with white chocolate curls!! You may not want to call it lasagna, but you may want to call it White Chocolate Heaven, because it is really so good!!!
The dessert is so delicious and wonderful. I think you will really like it… especially if you like white chocolate, which I do. Here is a video to show you how to make this…
So many delicious layers!!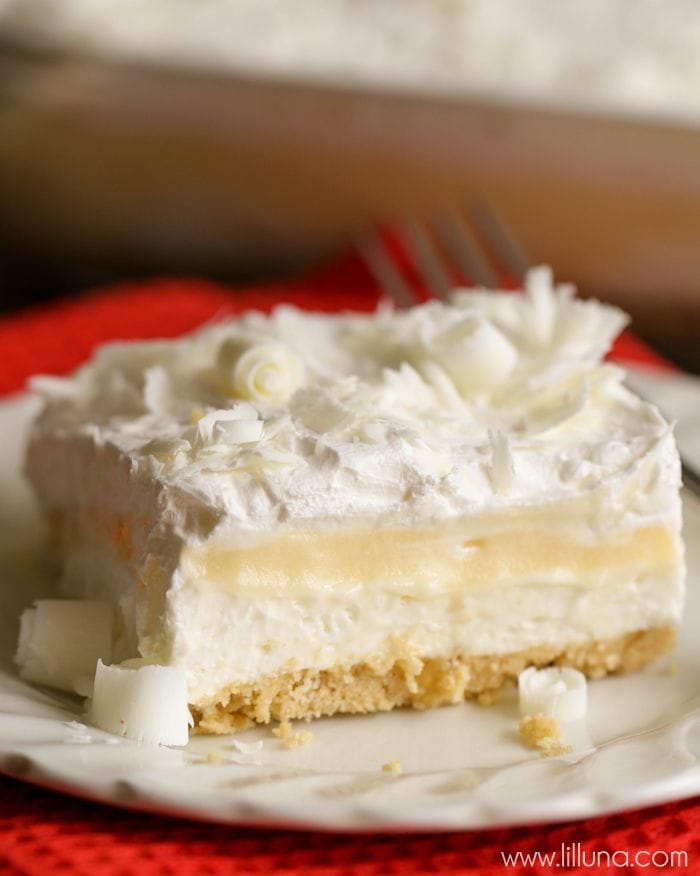 Oh, this was sooo good! I can't wait to make it again. 😀 I'm thinking next time I'll make it with some of the other OREOS they have at the store!! I hope you can come back again soon for more yummy treats from me.
White Chocolate Lasagna Video:
Here is the printable white chocolate lasagna recipe:

White Chocolate Lasagna
Layers of Golden Oreos, cream cheese, pudding, whipped cream and white chocolate curls make up this DELICIOUS White Chocolate Lasagna that is a hit at every function.
Ingredients
1 package Golden Oreos
6 TB unsalted butter, melted
1 8 oz. PHILADELPHIA Cream Cheese (softened)
½ cup Margarine or butter
1 cup powdered sugar
1 large container cool whip (16 ounces)
2 - 3.9 oz packages of white chocolate or vanilla instant pudding
3 cups milk
white chocolate bar (to make curls with)
Instructions
Begin by crushing your Oreos. For a very fine mixture, place Oreos in your food processor. Place in a ziploc baggie and add your melted butter. Mix until it is well combined.
Press into the bottom of a 9x13 pan spreading out to cover the entire bottom of the pan.
In a medium bowl, blend cream cheese, margarine/butter, powdered sugar and ½ of the cool whip. Blend well and pour over your Golden Oreo Crust.
In another bowl, make your pudding by adding your milk to your bowl and instant pudding. Whisk together until pudding thickens. Pour over the cream cheese layer. Refrigerate for at least 5 minutes.
Top off with the rest of your Cool Whip. Add white chocolate shavings.
Refrigerate at least 1 hour before serving. ENJOY!
Recipe adapted from Center Cut Cook – go here for a CHOCOLATE version. 😉
Check Out My Other Recipes
Products Featured in this Recipe:
(may include affiliate links)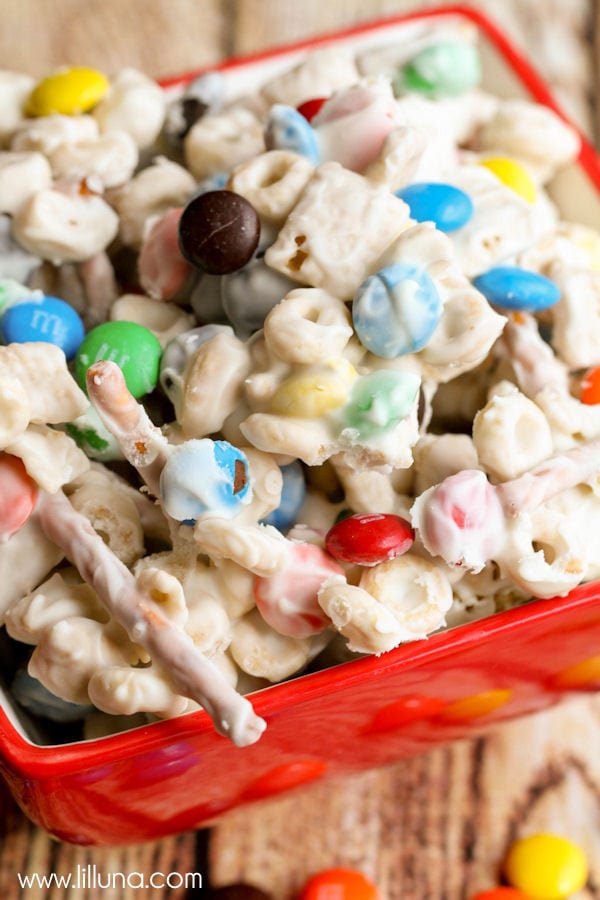 For more yummy white chocolate treats, check out:
Love, Lily
BEHIND THE SCENES AT LILLUNA.COM:
My little brother, Wes, LOVED this dessert! Can you tell?
Need more recipes and creative ideas? Sign up and get a FREE copy of my latest ebook!