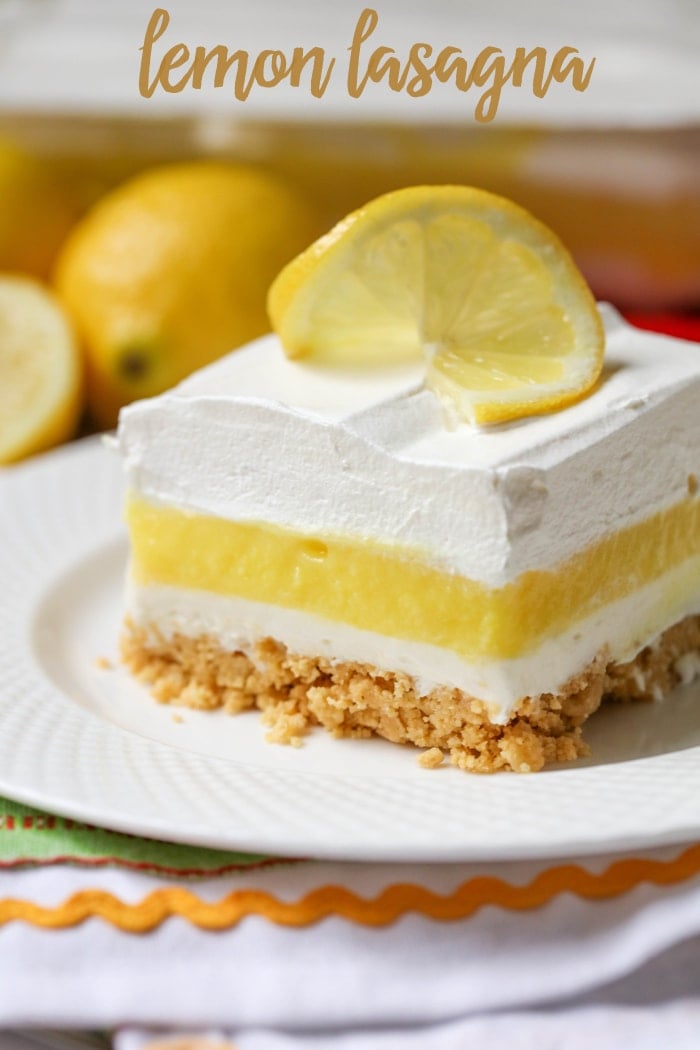 Hey guys!
How's your summer going so far? Has it been flying? Ours is going by so quick and we already start school in a few weeks. Pretty crazy, but the kids are excited. Can't say I feel the same because I love our time together, but having school starts also means the holidays are fast approaching and that makes me pretty giddy (I'm crazy, I know!)
Speaking of things that make me pretty giddy, I'm SO excited to share another delicious dessert recipe with you today that is AMAZING!!! This recipe for Lemon Lasagna will seriously knock your socks off. It's one of those "layered" treats that has so many levels of delicious-ness. I've never been huge on lemon desserts, but things have changed and now I can't get enough of them! My White Chocolate Lasagna has been a favorite, so I knew a Lemon version would be great. I'm thinking I'll have to try other versions like cherry and strawberry soon because the layered desserts are a favorite of the family's.
If you're looking for  simple and yummy summer treat to make for your next party or BBQ, you gotta try this one. It's so creamy and one that everyone will love!

Lemon Lasagna
Ingredients
1 package Lemon (or Golden) Oreos
6 TB unsalted butter, melted
1 8 oz. PHILADELPHIA Cream Cheese (softened)
½ cup Margarine or butter
1 cup powdered sugar
1 large container cool whip - 16 oz. - or you can make your own cream
2 - 3.9 oz packages of lemon instant pudding
3 cups milk
lemons (for garnish)
Instructions
Begin by crushing your Oreos. For a very fine mixture, place Oreos in your food processor. Place in a ziploc baggie and add your melted butter. Mix until it is well combined.
Press into the bottom of a 9x13 pan spreading out to cover the entire bottom of the pan.
In a medium bowl, blend cream cheese, margarine/butter, powdered sugar and ½ of the cool whip. Blend well and pour over your Lemon Oreo Crust.
In another bowl, make your pudding by adding your milk to your bowl and instant pudding. Whisk together until pudding thickens. Pour over the cream cheese layer. Refrigerate for at least 5 minutes.
Top off with the rest of your Cool Whip.
Refrigerate at least 1 hour before serving. Add lemon slices and ENJOY!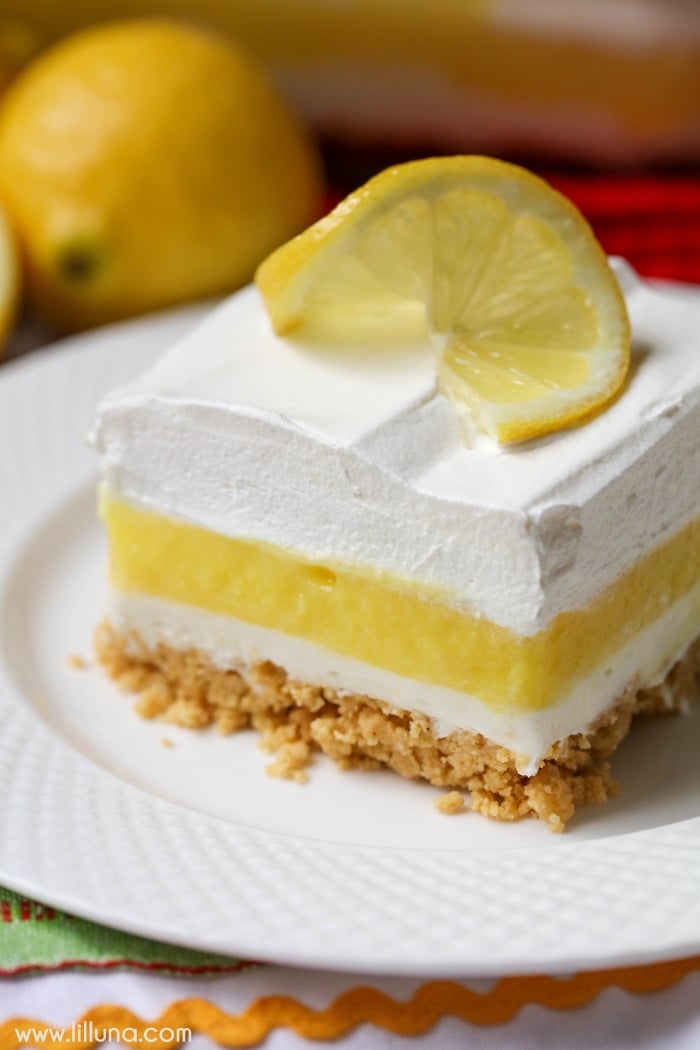 Thumbs up for amazing, lemon desserts!
For even more lemon goodness, be sure to check out:
Check Out My Other Recipes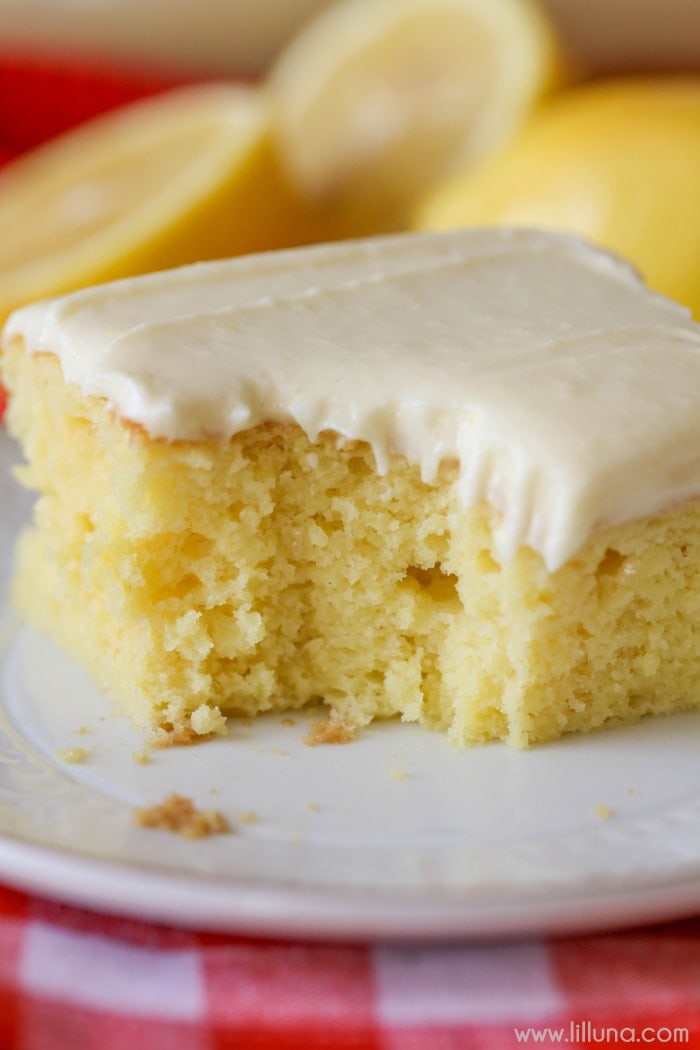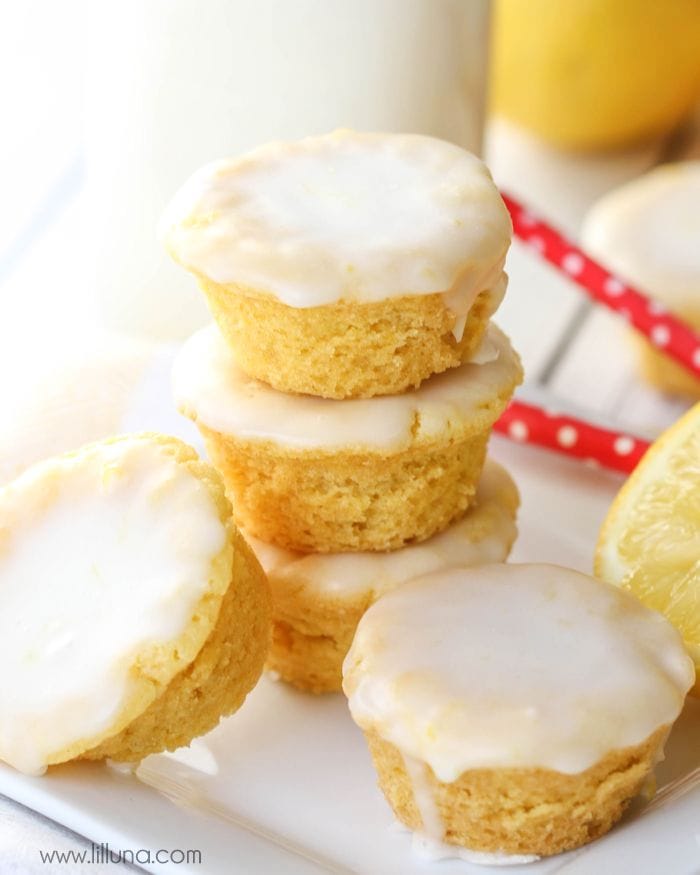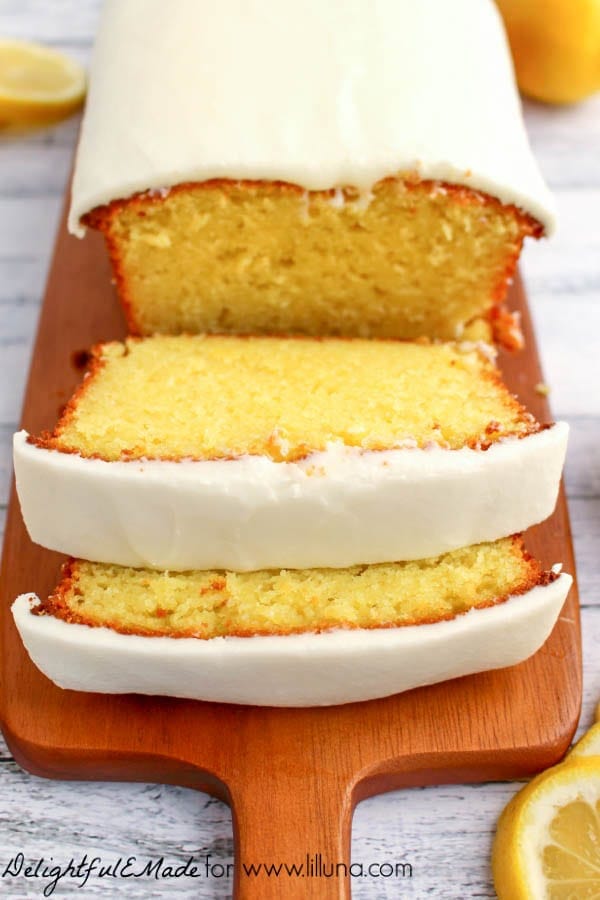 Better than Starbucks Lemon Loaf
For all Dessert recipes go HERE.
For all Recipes go HERE.
And get weekly emails with monthly freebies by signing up for the Lil' Luna newsletter. 🙂
For even more great ideas follow me on Facebook – Pinterest – Instagram – Twitter – Periscope – Snapchat & YouTube.
ENJOY!
BEHIND THE SCENES AT LILLUNA.COM:
Mel sure loved the dessert! She came sneaking in while I was taking pictures and kept pointing saying, "mmmm!" I let her try it and she loved it – kept asking for more. Looks like we have another Lil' Luna test taster in the making. 😉
Need more recipes and creative ideas? Sign up and get a FREE copy of my latest ebook!