If you like Starbucks Lemon Loaf, then you'll love this moist, delicious Lemon cake! This easy to make recipe is loaded with delicious lemon flavor, and topped with an amazing lemon frosting. It's even BETTER than Starbucks!
This delicious loaf of heaven is the perfect cross between a quick bread and a cake! It's similar to both our white chocolate lemon bread, and our lemon bundt cake—moist, delicious, and perfectly lemon-y!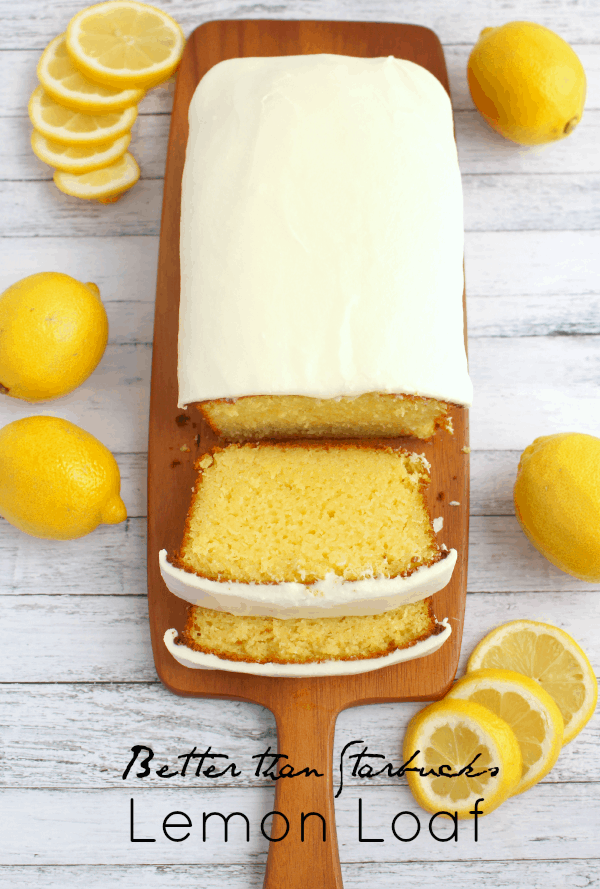 Even better than starbucks!
Raise your hand if you love Starbucks Lemon Loaf! Yes, I see you raising your hand – I'm right there with you! There is something about that delicious, moist cake that keeps us all coming back for more.
It's rich, moist, perfectly flavored lemon cake topped with the perfect layer of lemon frosting, well…there is no way I'm sharing a slice. I've come to tell you that you can make this delicious Lemon Loaf right at home, and it will taste EVEN BETTER than Starbucks!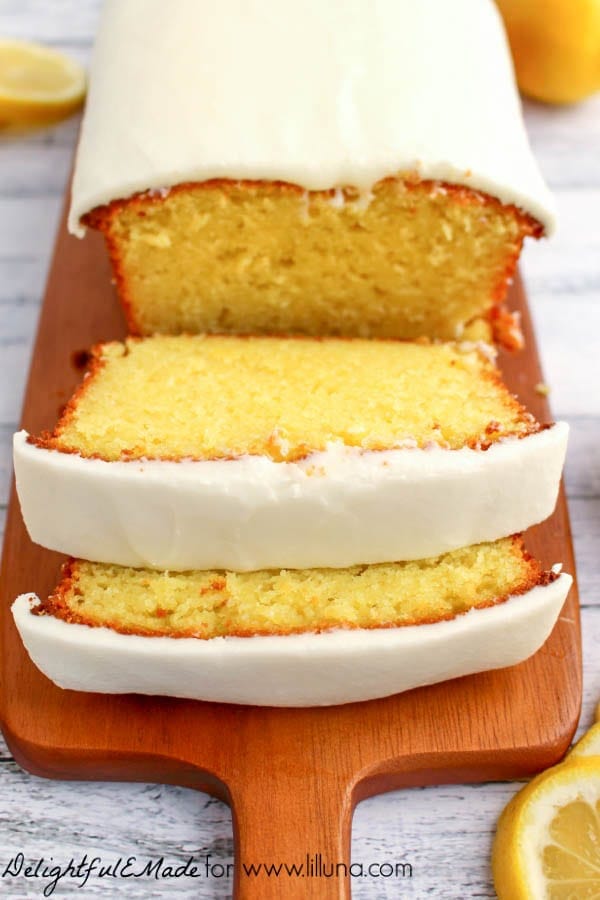 Why it's better
A couple things – I tested a few recipes I found on line. What I found were recipes that ended up either too dry, or had an odd balance of tart lemon flavor. None really had the same moistness and perfectly balanced lemon flavor as the Starbucks cake.
Another thing was getting a frosting that had the same consistency as the Starbucks cake. The one I have here, hits the spot perfectly!
While baking, I kept it in the oven a little longer than some of the other recipes I tried. It needed a little longer to ensure that it wouldn't sink in the middle.
Unlike other recipes I tried, I added Greek yogurt to this cake recipe, and a little more oil. With these additions, this recipe is spot-on! The ultimate moist, delicious lemon cake!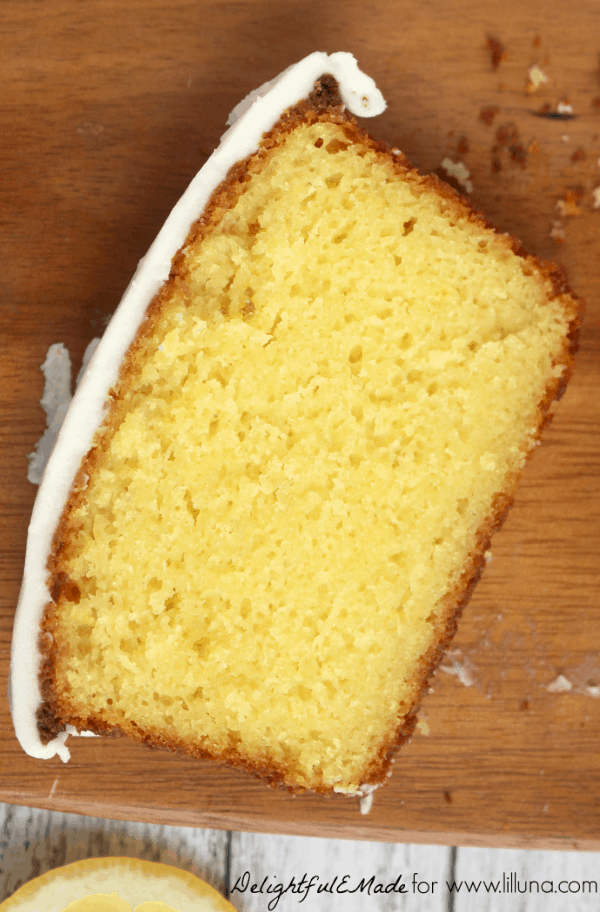 Tips, tricks, and troubleshooting
Can't find lemon pudding mix? I can usually find lemon pudding mix at any of my local grocery stores. However, I know many people have had trouble locating this specific pudding.
If you have the time, you can order lemon pudding online from Amazon, OR you can use a vanilla pudding mix that is more readily available. If you choose to use vanilla pudding, just add a little extra lemon extract.
Double check that you bought the INSTANT pudding, NOT the cook n serve kind.
Using different sized pans: Since every oven seems to cook a little differently, use the following information as a guide. Keep a close eye on the cake toward the end of the bake time and adjust as needed. You'll know your cake is done when an inserted toothpick/skewer comes out clean.
Bundt pan: Preheat oven to 325

°

F. Be sure to grease and flour the pan generously.

Bake about 1 hour and 15 minutes.

Mini loaves: Preheat oven to 350

°

F and bake for 25-30 minutes.

Muffins: Preheat oven to 350° F for 20-25 minutes.
Icing came out grainy? Here are a few common reasons it could happen:
Poor sugar quality: Use "pure sugar cane" powdered sugar and sift the sugar.

Not enough fat (in this case the butter).

Not using room temperature butter.

Be sure to add the powdered sugar slowly beating well between each addition.
What do I do if the outside is browning, but the inside isn't done yet?
Loosely place a piece of aluminum foil over the top of the cake as it finishes baking.

Reduce the oven temperature by 25°.

Be sure the pan isn't too close the the heating element. It should be positioned in the center of the oven.

Use a rose nail to help spread the heat to the center of the cake for a more even bake. Also known as a flower nail or cake nail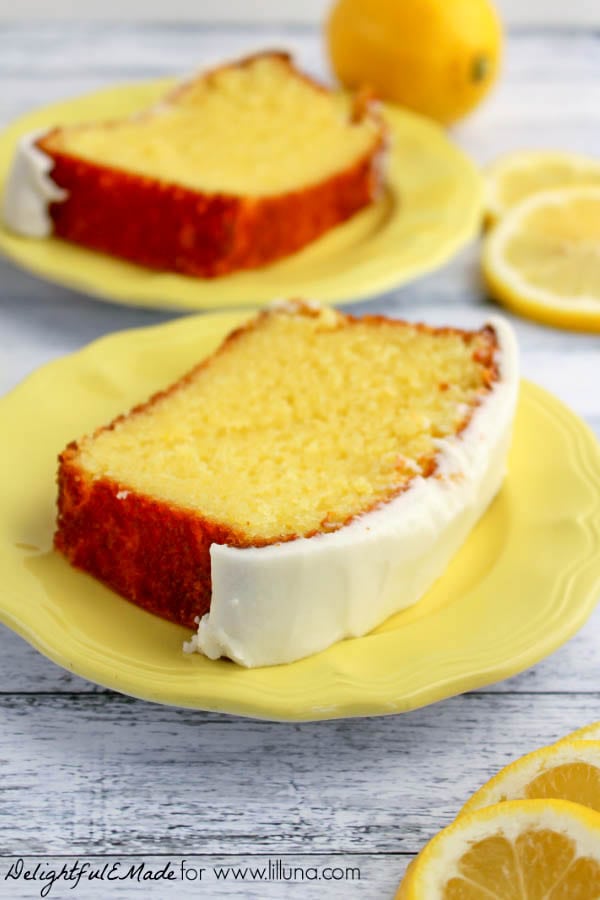 Keep your loaf fresh
This delicious lemon loaf can be stored in an airtight container for 4-5 days. We do not recommend keeping it in the refrigerator as it will dry the cake out faster!
For long term storage, go ahead and keep it in the freezer. To freeze it without the frosting, allow the cake to completely cool wrap the loaf with plastic wrap then again with aluminum foil.
If it has frosting, flash freeze first by placing the cake (whole or sliced) on a baking sheet. Freeze for 2-3 hours, then wrap. Once wrapped, label and freeze for up to 6 months.
I hope you enjoy this Lemon Loaf as much as my family and I have. I think you'll discover this recipe is definitely better than Starbucks, and maybe even save you a trip to the coffee shop in the future!
For more yummy quick bread loaves, check out:
Starbucks Lemon Loaf Recipe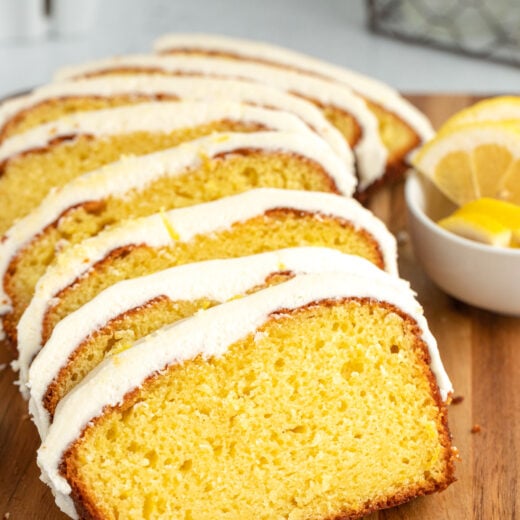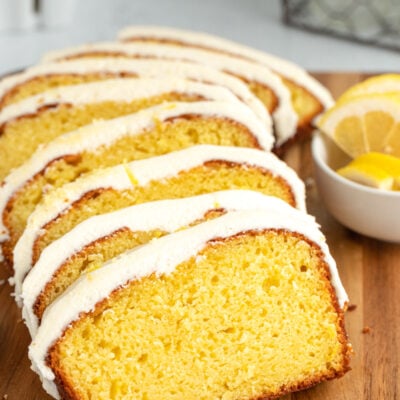 This easy-to-make Starbucks Lemon Loaf is loaded with delicious lemon flavor, and topped with amazing icing. It's even BETTER than Starbucks!
Ingredients
1 1/2

cups

all-purpose flour

3.4

oz

instant lemon pudding mix

1/2

teaspoon

baking powder

1/2

teaspoon

baking soda

1/2

teaspoon

salt

3

eggs

1

cup

sugar

2

tablespoons

butter

softened

1

teaspoon

vanilla extract

2

teaspoons

lemon extract

1/3

cup

fresh lemon juice

1/2

cup

vegetable oil

3/4

cup

plain Greek yogurt

zest of 1 lemon
Frosting
3

tbsp

butter

soft but not melted

1 1/2

cup

powdered sugar

3

tablespoons

lemon juice

1

teaspoon

lemon extract
Instructions
Preheat the oven to 350°F. Line the bottom of a 5 x 9" loaf pan with a piece of parchment paper. (With a pencil, trace the bottom of the pan on a piece of parchment paper and cut it out with scissors.)

Spray the pan and parchment paper with non-stick baking spray. Set aside.

n a mixing bowl, combine the flour, pudding mix, baking powder, baking soda, and salt. With a stand or hand mixer, combine the eggs, sugar, butter, vanilla, lemon extract, lemon juice, oil, and yogurt. Mix until evenly combined.

Gradually add the dry ingredients to the wet, stopping to scrape down the sides of the bowl. Add the lemon zest, and mix until just combined.

Pour the batter into the prepared loaf pan. Bake for 55 minutes, or until the center is fully set, and a toothpick inserted comes out crumb free.

After baking, let cool in the pan for 5-10 minutes. Run a knife around the sides of the pan, invert and remove from the pan, removing the parchment paper from the bottom. Let the cake finish cooling on a wire rack

For frosting. Combine the butter, lemon juice, and lemon extract with a hand or stand mixer. Gradually add the powdered sugar, and beat until smooth and creamy.

Evenly spread the frosting over the top of the loaf. Refrigerate to let the frosting set completely before slicing. Refrigerate any leftovers in an airtight container.
_____________________________
Oh my! This Lemon Loaf look AMAZING!!! And no yeast is involved, which is good for me since I still don't feel like I've mastered using it. 😉
Thanks, Erin! For more great recipes from her, be sure to go to Delightful E Made.