Deliciously tart Lemon Curd is an easy treat, perfect for summer! Enjoy it as a dessert on it's own or use in pies and cakes.
When the lemons ripen I'm all about lemon treats like this easy lemon curd! Lemon Sheet Cake, Lemon Bars, and Lemon Cookies are also on the top of my must-make lemon treats!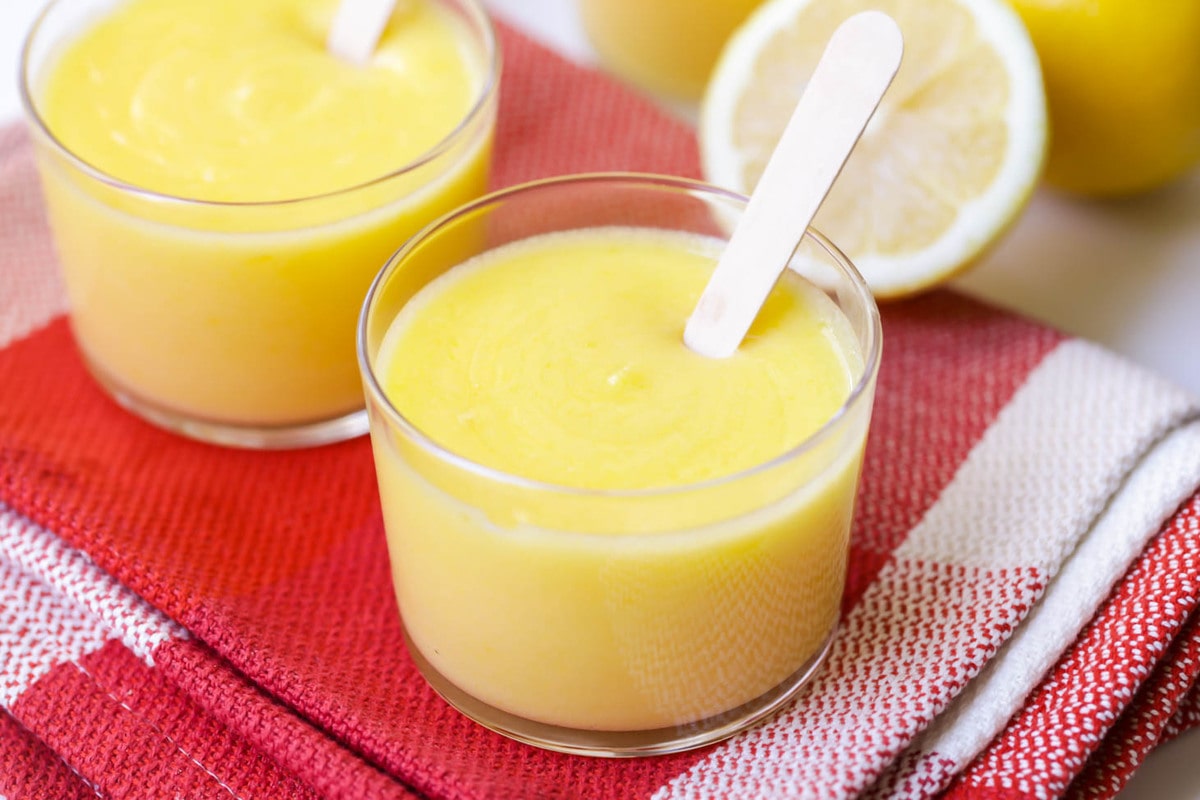 What is Lemon Curd?
Have you ever tried lemon curd? Well today is your day to try something new! Lemon curd is a thick preserve made from lemons, eggs, butter, and sugar. It's soooo yummy and can be used with lots of different desserts.
You can pour lemon curd over cakes, put it on top of sugar cookies, use it as a pie filling, and more! It has a thick consistency but it's smooth texture makes it delicious with so many desserts. Lemon curd brings such a nice flavor to anything it's paired with.
This lemon curd recipe is making me super excited for summer. I love the flavor of lemon during those hot summer months. It's so light and refreshing. Bring on summer!! And bring all the easy lemon treats. I really thought this recipe may be too lemon-y, but it was perfect in every way, and I'm craving it as we speak!! It's great all year long but is especially delicious in the warm months. 😀
How to Make Lemon Curd
You're going to impress a ton of people with this lemon curd recipe. It sounds like it's difficult to make, but it's SO easy.
ZEST. Just slice the zest/skin off of 3 lemons and put into a food processor with the sugar. The food processor will make your life so much easier for this step. It's going to do all the heavy lifting for you. It will make that zest/sugar mixture really fine. You want the zest and sugar to become one so that it mixes easily with the rest of the ingredients.
CREAM. Take your mixer and cream the butter on medium speed. Then beat in the zest/sugar mixture to combine. Add your eggs, lemon juice, salt, and watch them come together to make a beautiful yellow.
HEAT. Pour your lemon curd into a saucepan on low heat. While keeping a constant stir, cook for about 10 minutes until it's reached a thick consistency. Take it off the heat to cool.
CHILL + SERVE! Then refrigerate it until you need to use it!
Told you it was easy. ☺
Tips + Storing Info
Use fresh squeezed lemon juice
To make a thicker lemon curd use one more egg yolk
When you think the curd is finished touch the back of a spoon to the curd. It should coat the spoon without dripping off. 
Pour the curd through a fine mesh strainer to get rid of any clumps that may have formed. 
Double boiler: When cooking this curd stay away from metal pots. The curd can easily take on a metallic taste. One way to avoid this is to make a double boiler using a ceramic or glass bowl. 
Simply fill a saucepan with a couple inches of water. 

Place a ceramic or glass bowl over the pot. Bring the water to a boil.

Cook the curd as directed in recipe   
Lemon curd can be used in pies, but it is different than pie filling. Pie filling is thickened with flour and cornstarch. Lemon curd uses egg yolks and pectin from the lemon to thicken. 
I've already mentioned some uses for lemon curd, but I really wanted to share more ideas: 
Top on pancakes, waffles toast, scones, muffins

Mix in with yogurt, ice cream, smoothies

Filling in tarts, cream puffs, donuts cakes, or cupcakes. 
Lemon curd can be stored for quite some time. STORE in an airtight container and refrigerate for about 10 days. FREEZE for up to 6 months. Thaw in the fridge before using.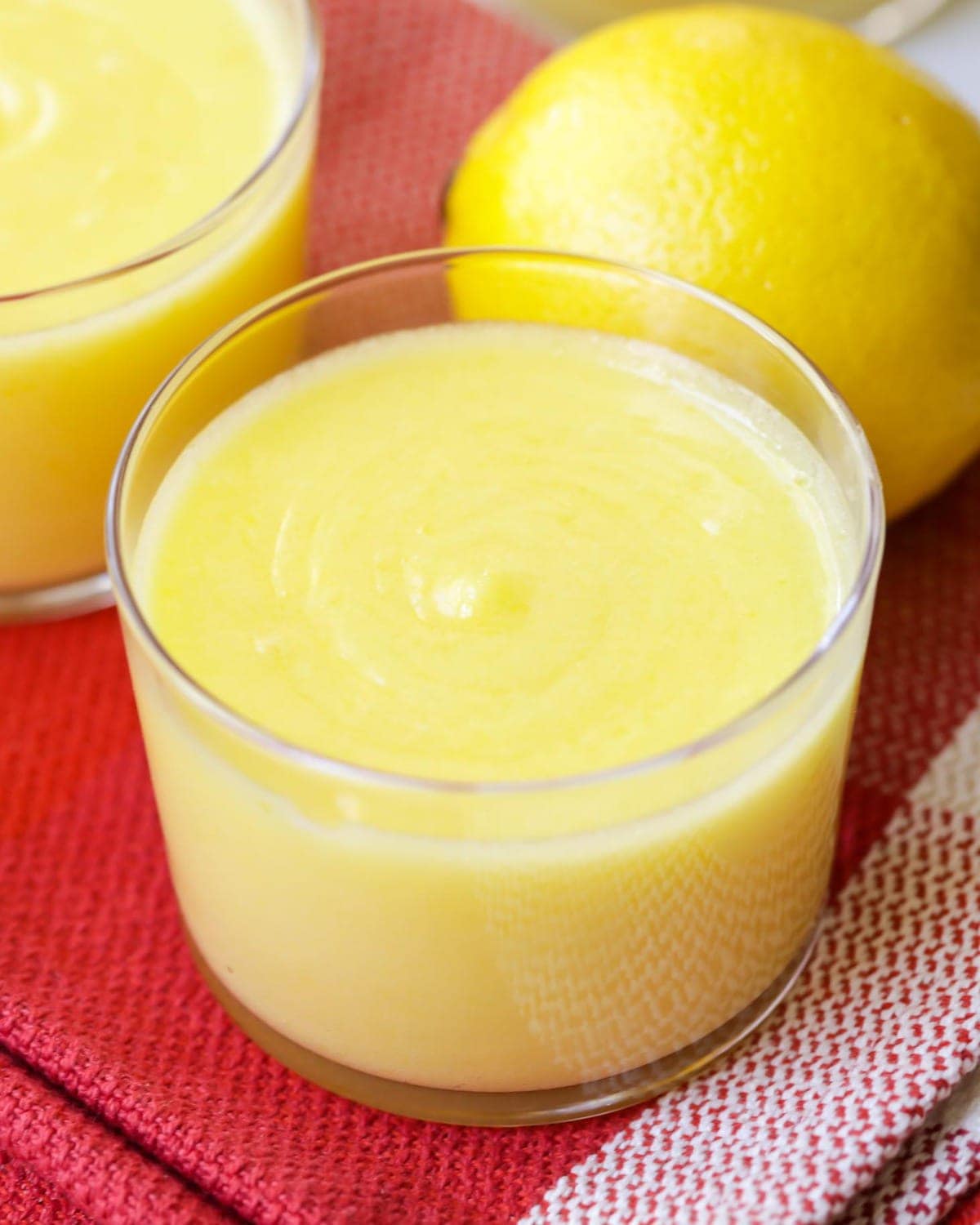 For some more desserts, check out:
Lemon Curd Recipe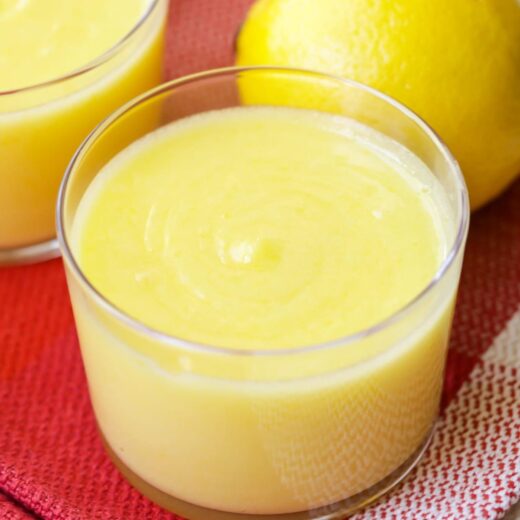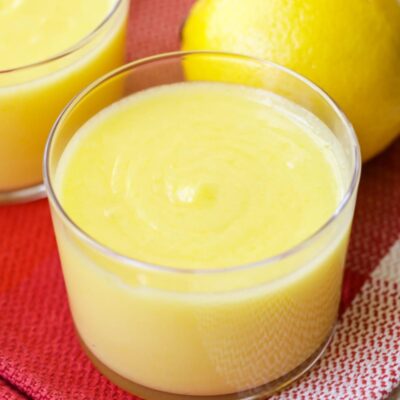 Deliciously tart Lemon Curd is an easy treat, perfect for summer! Enjoy it as a dessert on its own or use it in pies and cakes.
Ingredients
3

lemons

1 1/2

cups

sugar

1/4

lb

unsalted butter

room temperature

4

extra large eggs

1/2

cup

lemon juice

3-4 lemons

1/8

tsp

kosher salt
Instructions
Remove the zest of 3 lemons with a grater or zester. Add to a food processor, and with the steel blade, pulse with sugar until fine.

In a mixer, cream the butter and beat in the sugar. Add eggs 1 at a time, then add lemon juice and salt. Combine.

Add to a saucepan on low heat. Cook, stirring constantly, for 10 minutes or until thick. Remove from heat and cool or refrigerate.