Dinner rolls and biscuits act as the humble supporting character at any meal. Their simple flavor compliments everything from pot roast to soup.
More Collections: Quick Bread Recipes, Yeast Bread Recipes, No Knead Bread Recipes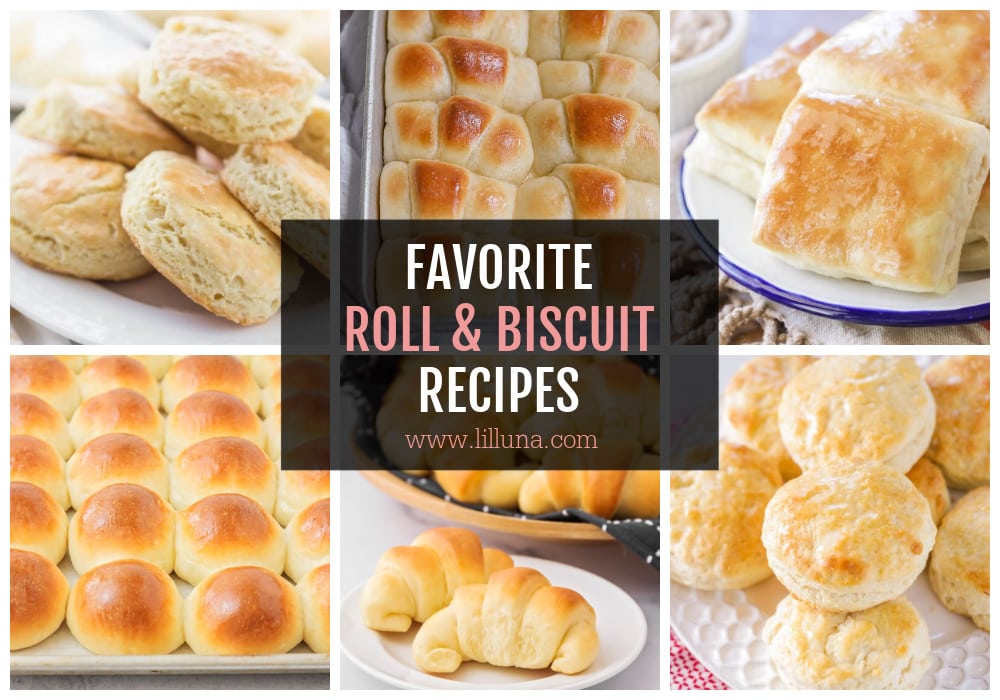 Every Meal Needs Rolls and Biscuits!
Dinner rolls and biscuits may take a bit of time, but the aroma that fills your house and the flavor of fresh rolls and biscuits is worth it!
Any of these recipes are delicious and completely achievable by even the most novice bread-maker.
With plenty of tips and step by step directions, you'll have a melt-in-your mouth roll or biscuit in no time!
Rolls vs Biscuits
Rolls typically use yeast as its main rising agent, whereas biscuits use baking soda or baking powder to rise. Due to the need for the yeast to activate and rise, they often take much longer than biscuits to make.
Another difference is the way rolls and biscuits are shaped. Rolls are rolled into the desired shape then set out to rise before baking. Whereas biscuits are rolled out, cut into the desired shape using cookie cutters or a biscuit cutter then immediately baked.
Rolls are often airy and fluffier than biscuits which are more dense and full of buttery flaky layers.
Serving Suggestions. Dinner rolls don't tend to vary in size so plan for guests to have 2 dinner rolls each. If you are serving larger biscuits, plan for 2 per person. If you are serving smaller biscuits then plan 3 per person.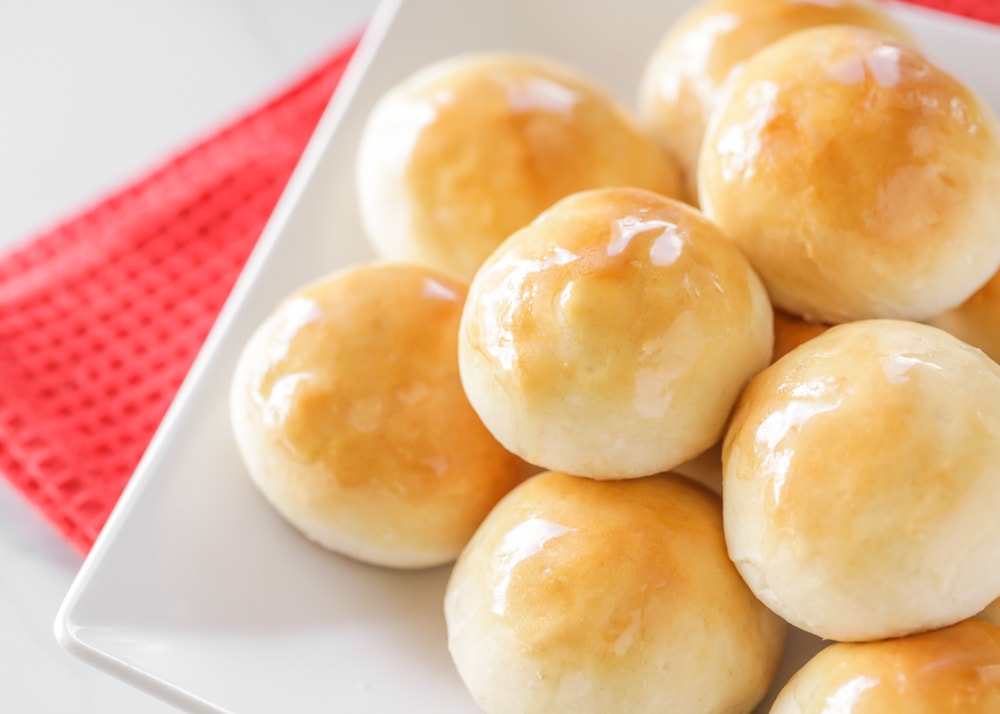 tips for making dinner rolls
Rise. Allow time for a proper rise otherwise your fluffy rolls will be flat and dense. Typically, proofing is the most time consuming aspect when making rolls. Speed up the proof time by creating a warmer environment. Her are a few ways I help create a warmer area:
If I've got my crockpot going, then I like to proof my rolls next to the warm pot. I drape a tea towel over the pot and the rising rolls.
Heat the oven to 200° degrees and then turn it OFF. Place a damp tea towel over the bowl of dough. (Make sure the bowl is oven safe) Put the covered mixing bowl in the oven.
Fireplace or wood stove: cover the dough with a tea towel and place it near the fireplace/stove. Be sure that there isn't any way for the towel to catch fire.
Kneading. Like bread, many rolls require kneading. The fastest cleanest way is to use an electric mixer, but you can knead by hand as well.
Electric mixer: In general dough being kneaded using a dough hook should be kneaded at medium-low speed for approximately 5 minutes.
Kneading by hand can take up to 10 minutes.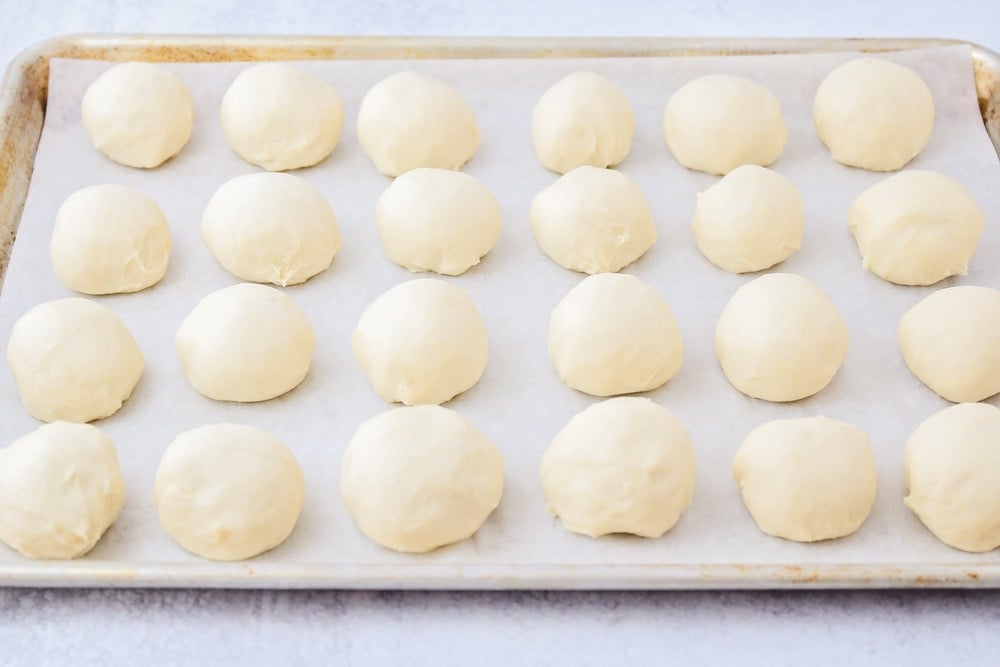 Continued…
Shaping uniform rolls. One of the easiest methods is to roll the dough into a rectangle with the same thickness throughout. Use a pizza cutter to cut the rectangle into the same size squares. I stick to about 1" cubes. From there you can roll each square into a ball. Keep in mind the dough balls will rise to double the size before baking and will expand a little more in the oven.
Rolls are often topped with an egg wash or butter to help give them a nice golden shine.
Egg wash: Brush an egg wash over the proofed rolls right before placing them in the oven to bake. Mix the egg with 1 tablespoon of water. Using only egg yolks will help in browning. Egg whites will give it a shine. Use the whole egg for a golden brown shine.
Seasoning: Depending on what I'm serving the rolls with I may even season them after I add an egg wash. Sesame seeds are a classic you can also use poppy seeds, parsley, shredded cheese or even bacon.
Butter: I don't usually add melted butter until my rolls have been pulled out of the oven, but you can add a layer right before baking as well as during the middle of baking.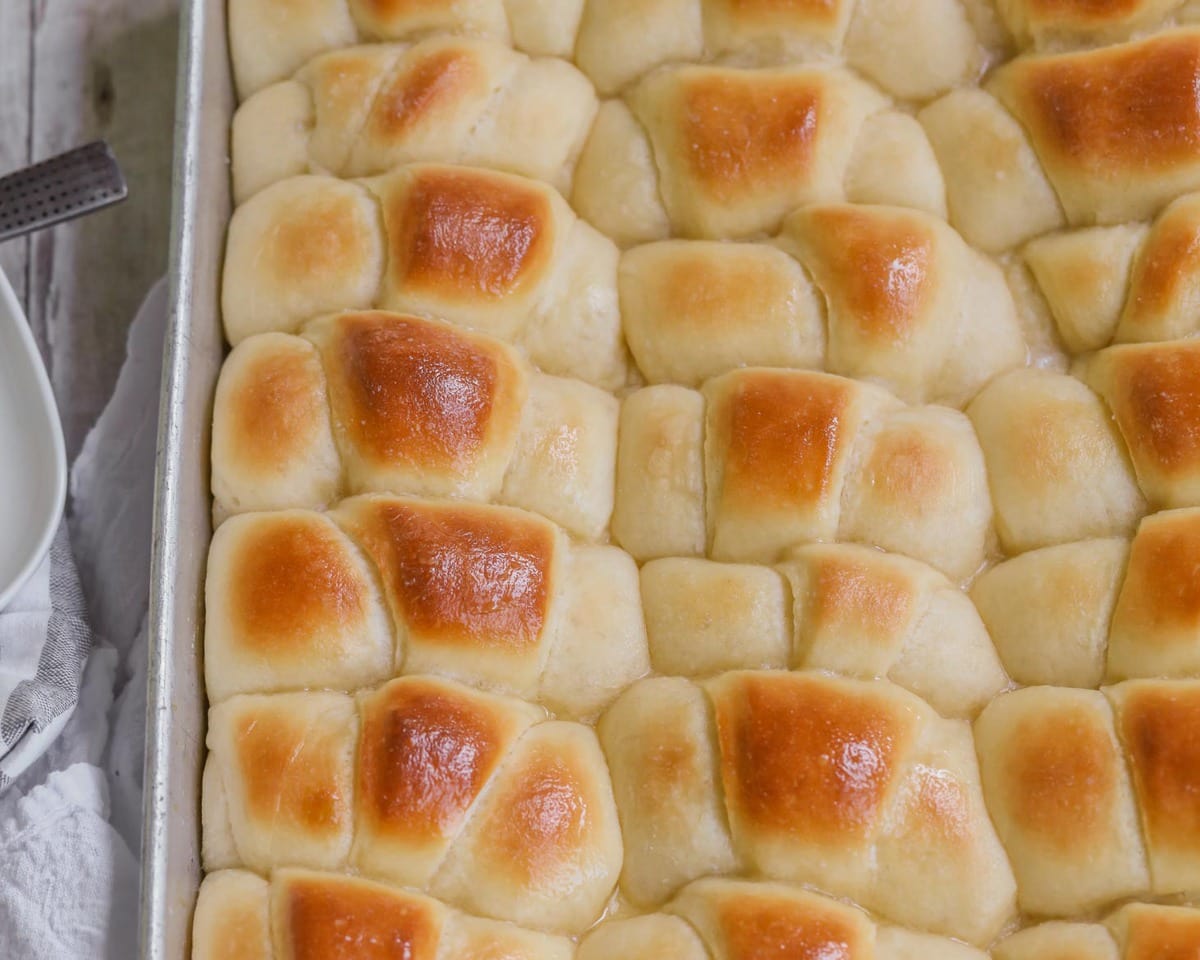 Dinner roll faq
What exactly is a "lightly floured surface". When rolling out rolls or biscuits you don't want the dough to be sticking to the counter with every roll. Add just enough flour to the work surface to keep the dough from sticking. You don't want to use too much flour because it could cause the dough to be difficult to shape as well as become too dense.
Keep dinner rolls warm. Use dry beans! Wrap dry beans in a kitchen towel and microwave the little bundle until warm. Place hot beans at the bottom of the basket, you may need to line it first. Place a cloth napkin on top of the beans and add the rolls. Cover the rolls.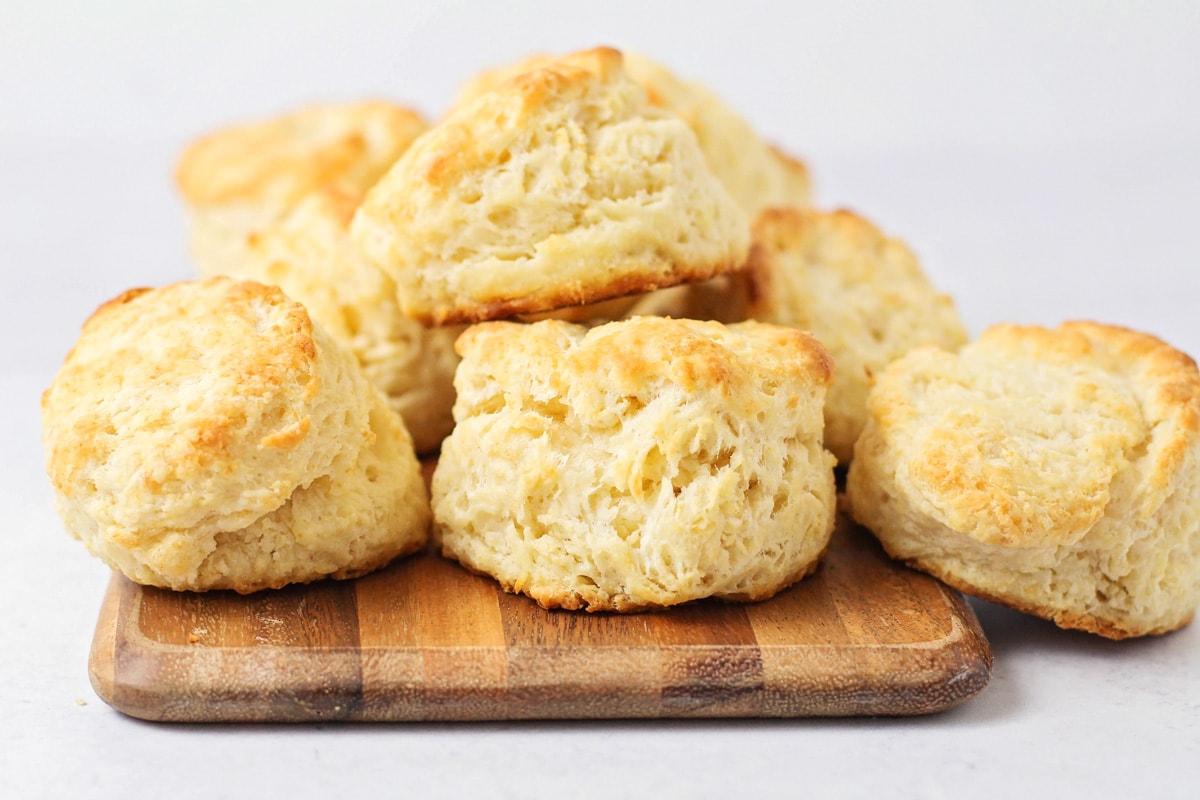 Biscuit Tips
Keep these tips in minds when it comes to biscuits:
Use COLD Butter or shortening. The butter should be about the size of a small pea after being cut into the flour.
Less is more. The more the dough is handled the more gluten develops. This is great for rolls, but not great for biscuits. Mix the ingredients until just combined into a solid lump. Be gentle when rolling and cutting the biscuit dough.
Layers. the cold butter will help give nice flaky layers. For more pronounced layers gently roll the dough into a rectangle then fold it in half. Gently roll and fold. Repeat 3-4 times. Chill the dough in the fridge before cutting shapes.
Cutting. When you cut the dough be sure that you press down and go straight up. If you twist the cookie cutter it may cause the edges to seal and you won't get as good of a rise. Gently roll leftover dough together and cut more shapes.
Shapes. The typical biscuit is a circle. A circle cookie cutter or the top of a drinking glass works well. I also like to use holiday shaped cookie cutters to form my biscuits. My kids love heart biscuits during February and pumpkin shaped biscuits in October.
Toppings. They taste delicious smothered in Chocolate Gravy, Honey Butter and Jam.
Pans. Using a cookie sheet, baking sheet, or jelly roll pan is my preferred way to bake biscuits. They come out lightly browned all over with a crisp outside and soft flaky layers. For softer fluffier biscuits, bake them in a metal baking pan with 2 inch sides.
---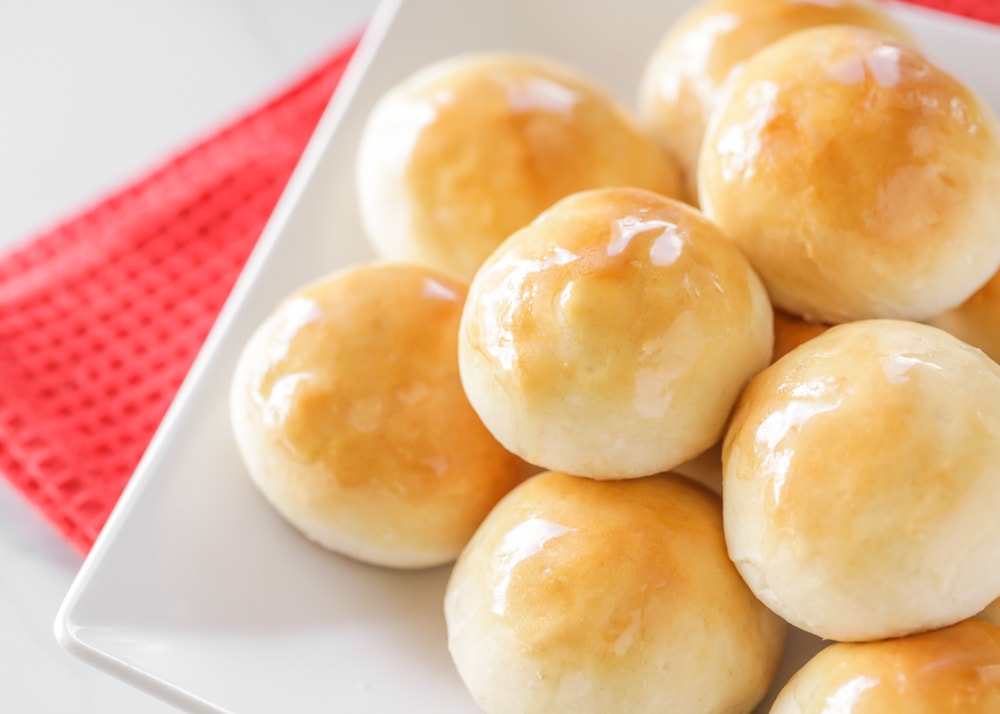 Our Favorite Dinner Rolls + Biscuits
So many to choose from, but trust us – you will be glad you tried them. Simple, soft and crazy delicious!
Both of the biscuit recipes featured here actually do require buttermilk. If you don't have any on hand and need a substitute, check out this post!
Easy Yeast Rolls – These easy yeast rolls can be made in under an hour with just 4 ingredients! With how quick and simple they are, they will become your new go-to dinner rolls.
Homemade Biscuits – Flaky, buttery homemade biscuits that are to die for. These delicious biscuits are not only simple and soft, but make the perfect side dish for any meal.
Potato Rolls – Potato rolls are soft, chewy and buttery. The mashed potatoes make the rolls very pillow-y and add that little extra something to make them melt in your mouth!
Buttermilk Biscuits – You only need FOUR ingredients to whip up a batch of these golden and flaky buttermilk biscuits. Enjoy them on their own, with a dollop of jam, or smothered in gravy!
Crescent Rolls – These flaky crescent rolls are soft and tender. Whether you're making them for Sunday dinner or for a holiday gathering, everyone will love how delicious and simple these rolls are.
Cheddar Bay Biscuits – These addicting copycat Cheddar Bay Biscuits whip up in under 15 minutes, and they taste even better than the real thing!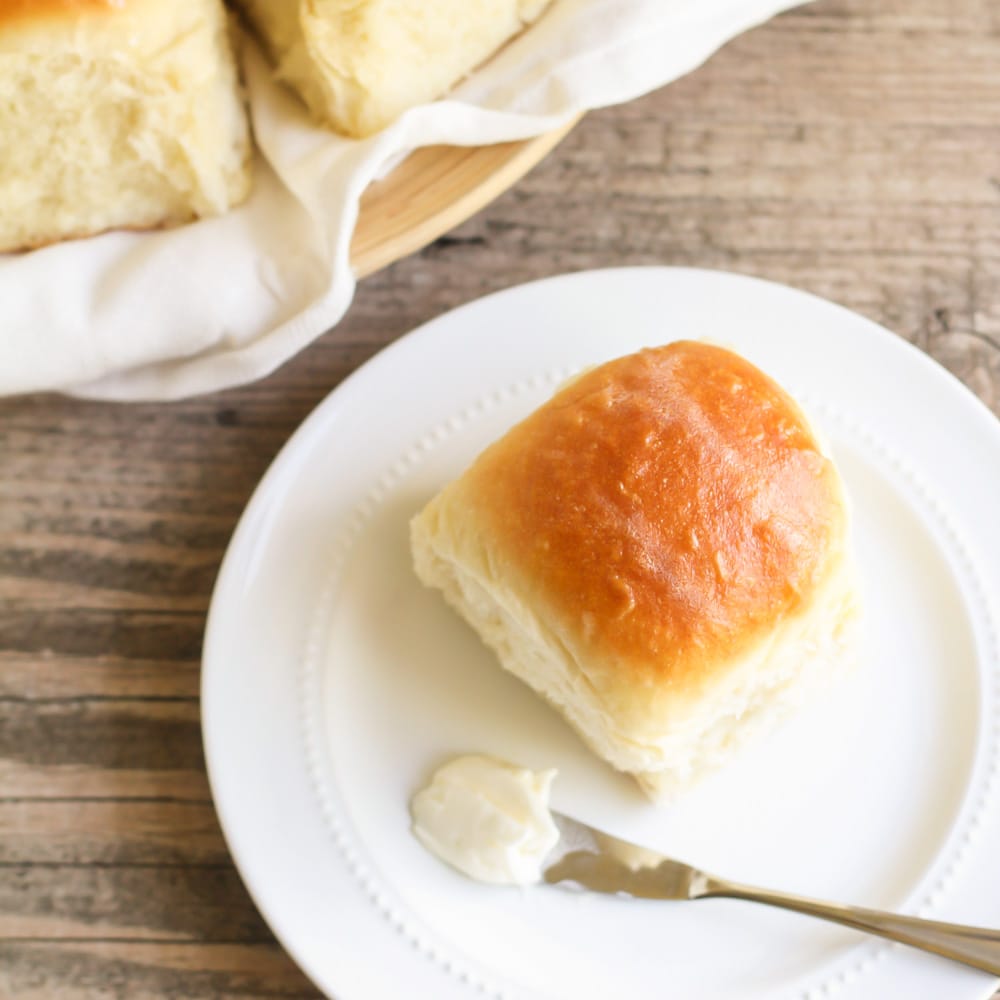 Yeast Dinner Rolls – Homemade Dinner Rolls Recipe that are delicious and perfect for any meal. They're soft, delicious and a hit at every meal!
Homemade Dinner Rolls – These are our ALL-TIME FAVORITE dinner rolls! They are soft, butter-y and always the hit for any dinner or holiday get together. It's so hard to eat just one!
Olive Garden Breadsticks – Just like the originals, these copycat Olive Garden breadsticks are light and airy on the inside, and flavored with butter and garlic salt on the outside. You can never eat just one!
Copycat Texas Roadhouse Rolls – Copycat Texas Roadhouse Rolls are so soft they melt in your mouth!! They are huge, buttery, and SO good!
Pretzel Rolls – Pretzels rolls have a soft center and a chewy crust topped with sea salt. They taste just like pretzels!
---
the complete list
Here are the picture cards for all of the yummy Dinner Rolls And Biscuits listed above.
Nothing is better than a warm delicious homemade biscuit or roll to accompany your meal, and with so many easy recipes to choose from you'll want to try them all!
---
Make sure to check out all of our Bread Recipes.
And for more collections: Quick Bread Recipes, Yeast Bread Recipes, No Knead Bread Recipes