Whether you are baking up soft fresh bread or dinner rolls, homemade is always better than store bought. Any of these tasty Yeast Bread Recipes will hit the spot!
More Collections: Quick Bread Recipes, No Knead Bread Recipes, Dinner Rolls and Biscuits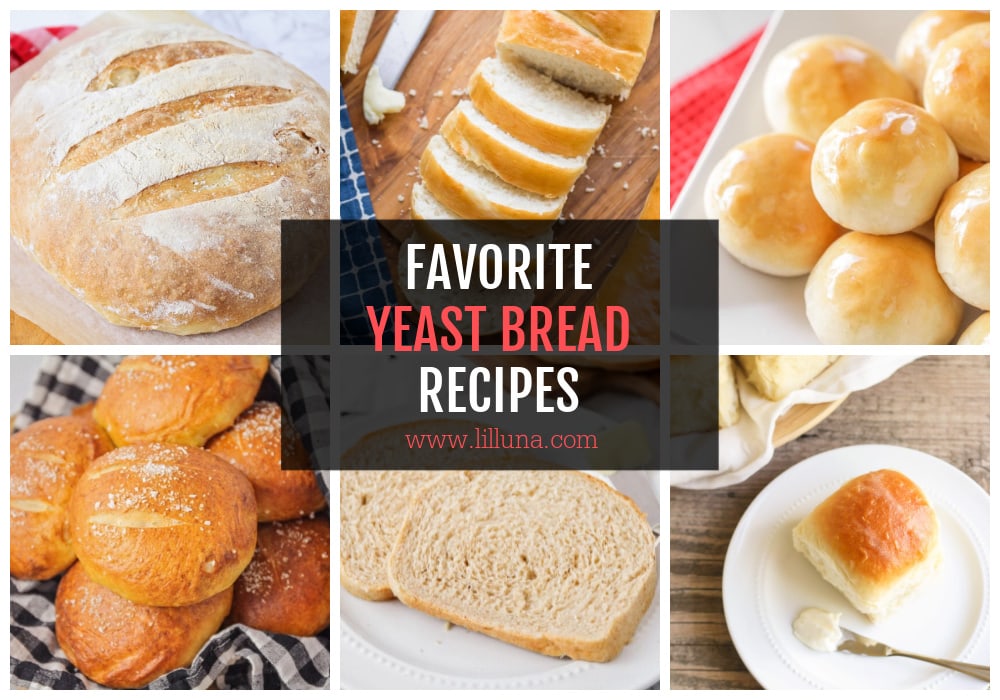 Homemade Bread is Best!
There is nothing quite like the aroma of fresh-baked rolls or bread filling your home, and warming your soul. With any of these fool-proof recipes, easily whip up a batch yourself!
Soft, warm bread also makes the BEST sandwiches and toast. It's also perfect to serve with soups and salads. We could easily eat a loaf a day!!
I know yeast can seem intimidating, so before getting into the list of our favorite yeast bread recipes, I have few tips!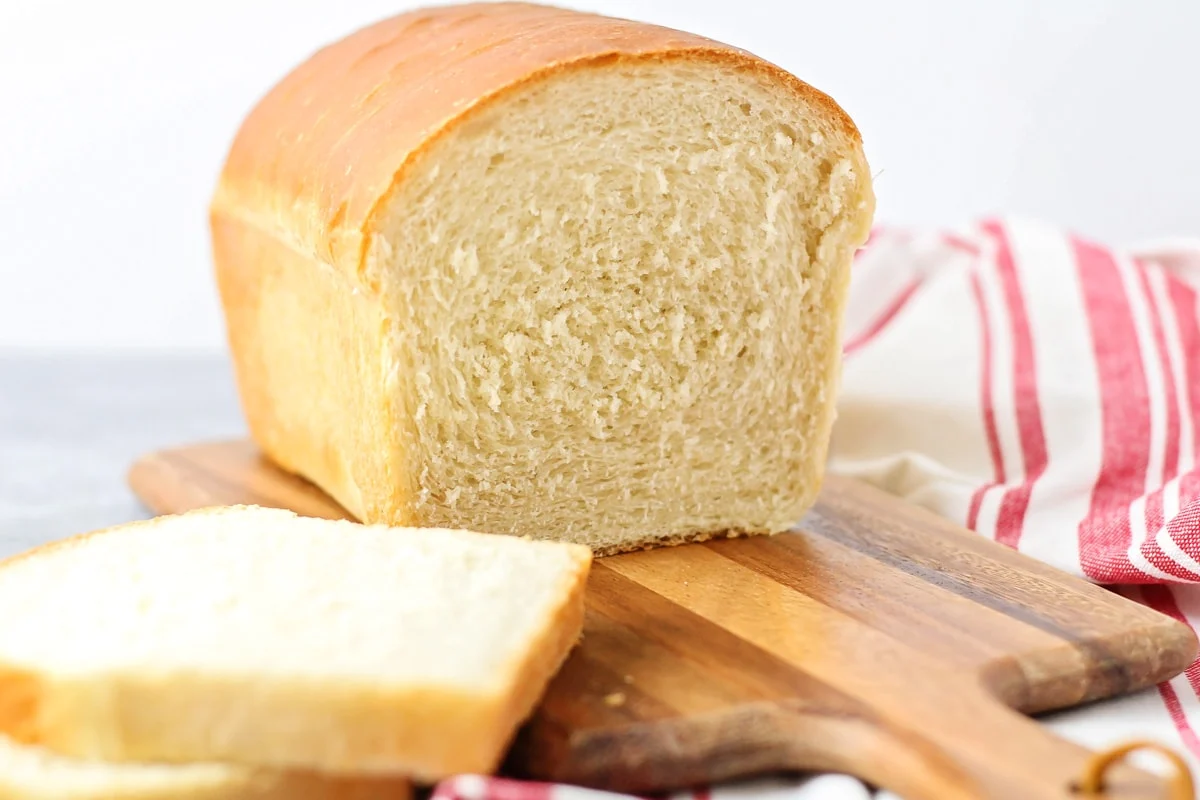 Yeast 101
It's important to know the difference between the 2 kinds of yeast.
Active dry yeast. Active dry yeast should be dissolved in lukewarm water (between 100°F and 110°F). It should start to bubble and foam within 30 seconds, to tell if it is viable. This is referred to as blooming the yeast. It is best used in recipes that call for a long proofing time, or a double rise.
Instant Yeast is also known as bread machine yeast, or rapid rise. Unlike active dry yeast, you do not need to bloom it in warm water before using in a recipe. When using this yeast, skip the initial proof, and form the bread right after mixing.
Substitutions. Keep in mind that ¾ teaspoon of instant yeast is equivalent to 1 teaspoon of active dry yeast. When substituting, be sure to adjust the other directions too.
For example: if a recipe calls for 2 ¼ tsp of active dry yeast, use 1 ¾ tsp instant yeast. Skip blooming the yeast in water, and cut out the first proofing time.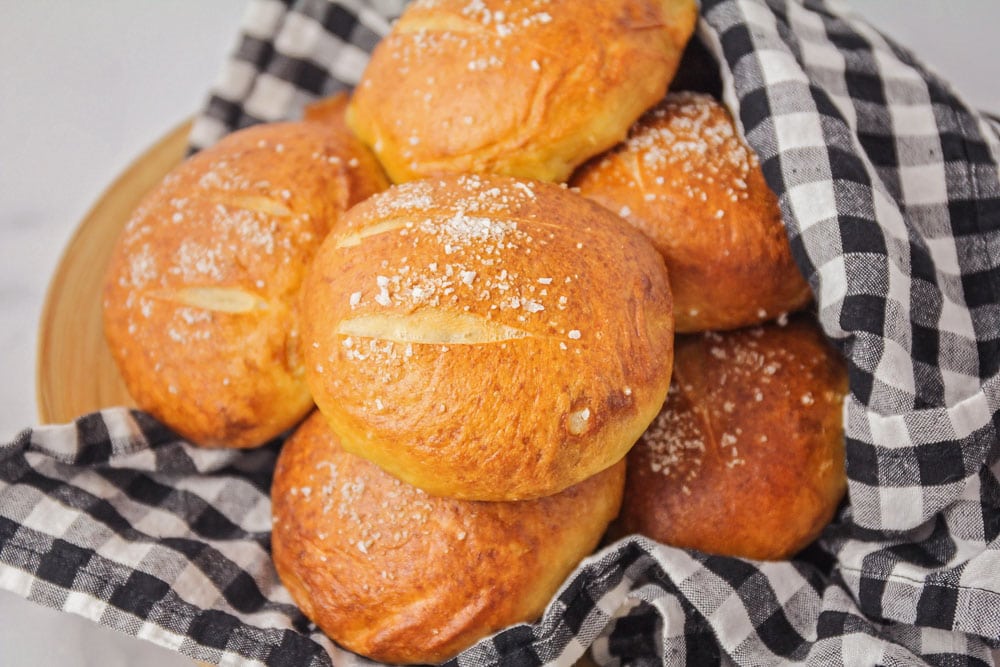 Proofing Yeast Bread
Most bread recipes with yeast call for proofing, or rise time. This allows time for the yeast to grow, and creates little air pockets in the dough.
Doughs that don't proof long enough are flatter, and more dense. Typically, proof the dough until it doubles in size. A warmer environment will proof the dough faster than a colder one.
It is possible to proof the dough for too long, causing the puffed up dough to cave inward. Be sure to check on the dough periodically.
Rise more slowly. Yeast dough can take over an hour to rise, so this is not usually a factor to consider. However, if you need to slow the proofing process, cover the bowl of dough, and place it in the refrigerator.
Creating a warmer environment
If your kitchen doesn't have a proofing drawer, create a warm environment in a few different ways:
Oven. While you are mixing the dough, preheat your oven to 200°F and turn it OFF. Place the dough in a heatproof bowl, cover with a warm damp tea towel, and place it in the oven.
Steam. Add HOT water to a bowl that is slightly smaller than the one the dough is in. Cover the bowl of dough, and place it directly on top of the smaller bowl. The steam and heat coming from the water will warm the bowl of dough, causing it to rise faster.
Fireplace. If you are lucky enough to own a fireplace, during the colder months, cover the dough and place it near the lit fire. Check periodically to see how it's rising.
Crock pot. When I have my crock pot turned on, I place the dough near it, and drape a tea towel covering both the dough and the crock pot.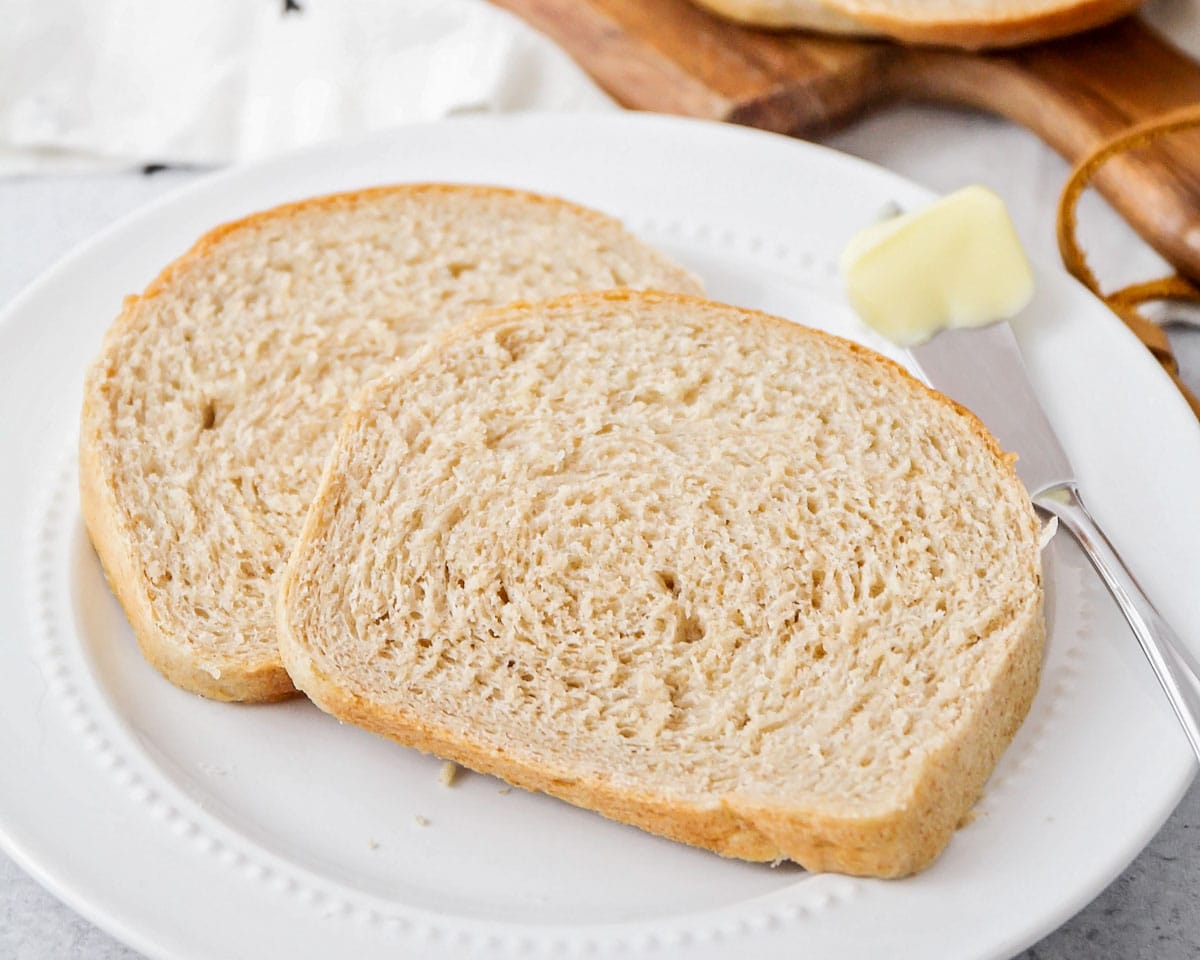 Bread tips
Bread Flour. Bread flour is higher in protein, which gives structure and elasticity to yeast breads. You do not need bread flour in order to make yeast bread. In fact, many recipes simply call for all purpose flour.
If you do come across a recipe calling for bread flour, but don't have any on hand, make your own using all purpose flour and vital wheat gluten. (I keep a package in the freezer for just this purpose).
Place 1.5-2 teaspoons of vital wheat gluten into a one cup measuring cup.
Fill it the rest of the way with all purpose flour.
Sift it together, and use it as an equal substitute for bread flour.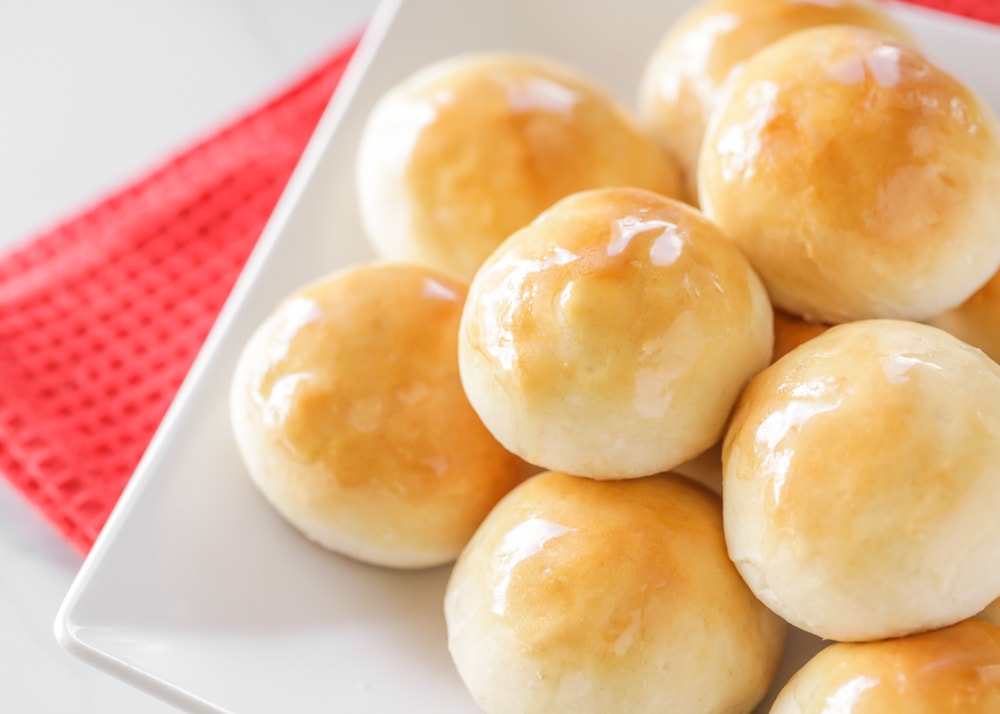 Kneading
By hand. When kneading by hand:
Turn the dough onto a lightly floured countertop.
Add a little extra flour right at first, but be careful not to add too much.
Fold the dough in half, and press forward with the heels of your hands.
Turn the dough, fold and press.
Repeat for about 6-12 minutes unless otherwise instructed by the recipe.
With an electric mixer. Many people like to knead with their electric hand held mixer or stand mixer. Be sure that you use the dough hook, and do not over knead the dough.
When kneading in a mixer, mix for 5-10 minutes on medium to medium low speed.
When dough has been kneaded enough, it will pull away from the side of the bowl. It will feel elastic, and will not break when you pull on it.
It will also keep its shape, and not fall between your fingers, when formed into a ball.
Place the dough in a greased bowl to rise. This will help keep the dough from sticking to the sides of the bowl making it easier to remove when it's time to knead.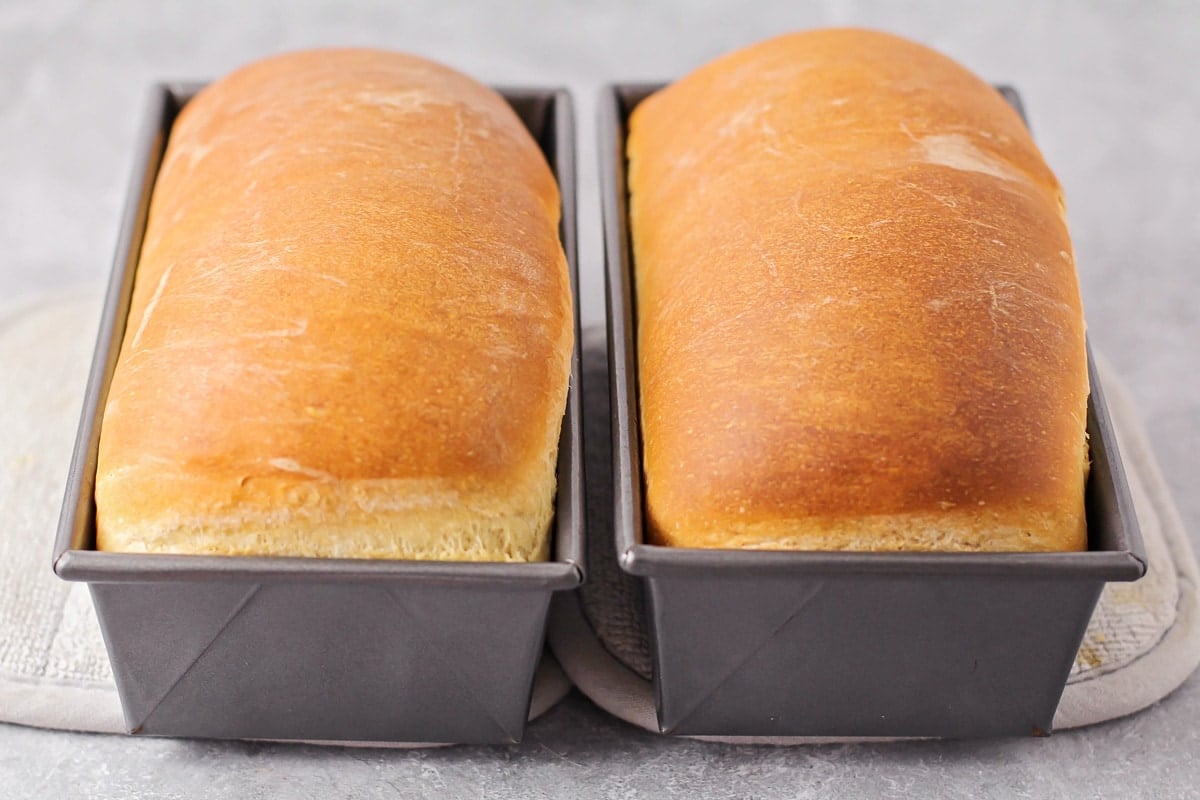 High Altitude Baking
I don't live in a high altitude area, so I had to refer to google for this one. Here are a few common points I found for yeast bread making:
Yeast dough rises 25 to 50% faster at high altitudes. Begin checking the dough halfway through the rising time listed in the recipe.
Dough dries out faster at high altitudes. When it's ready to proof, lightly oil the top of the dough, and cover with plastic wrap sprayed with cooking spray.
Baking temperature and time shouldn't change much. However, the bread may brown a bit faster. If it browns too quickly, before the inside is done, place a piece of tented tinfoil over the bread while it finishes baking.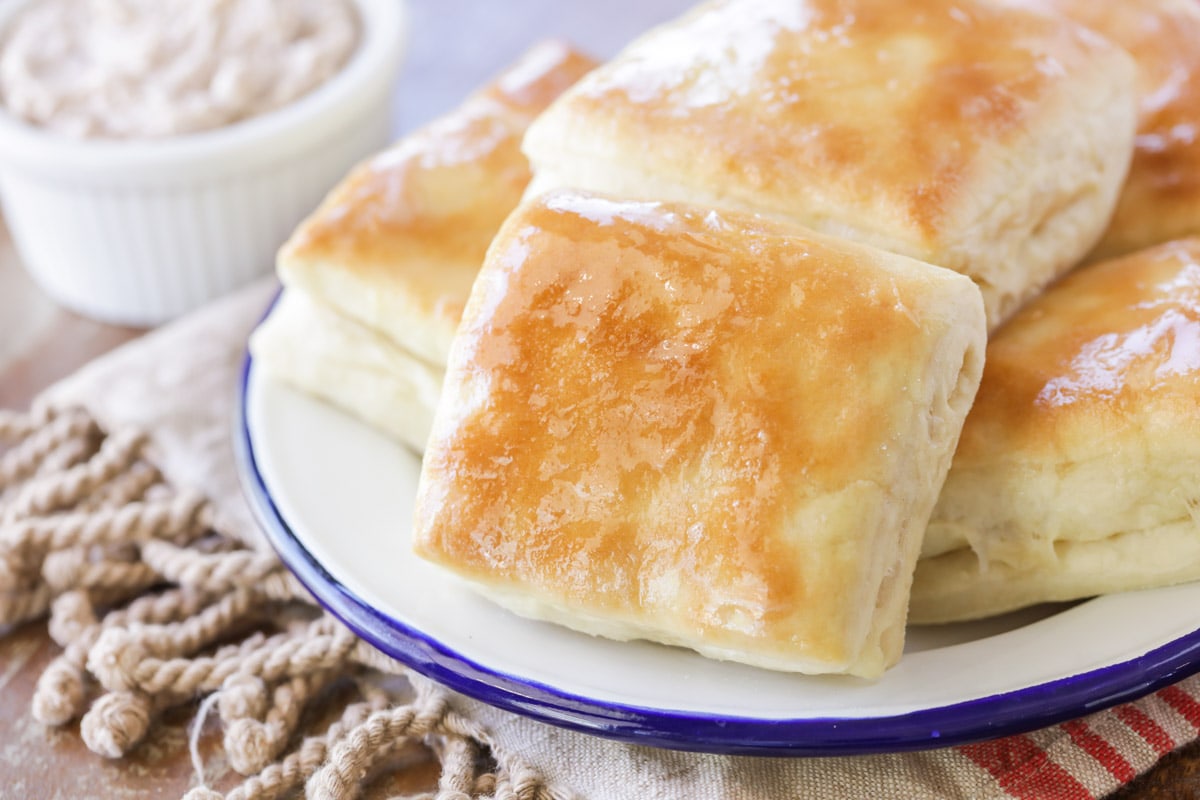 storing info
STORE baked bread. Once the bread has cooled a little, remove and allow it to cool completely on a wire rack before storing. To help bread retain moisture, keep it in an airtight container, bread bag, or wrap with plastic. It should keep at room temperature for a few days.
Crusty bread should not be wrapped or stored in a container, otherwise it will lose its crusty texture. Simply store the bread open on the counter. If it has already been cut, place the cut side down to store.
FREEZE baked bread. Wrap the cooled bread with plastic, and again with foil. Store in the freezer for several months. Thaw before using.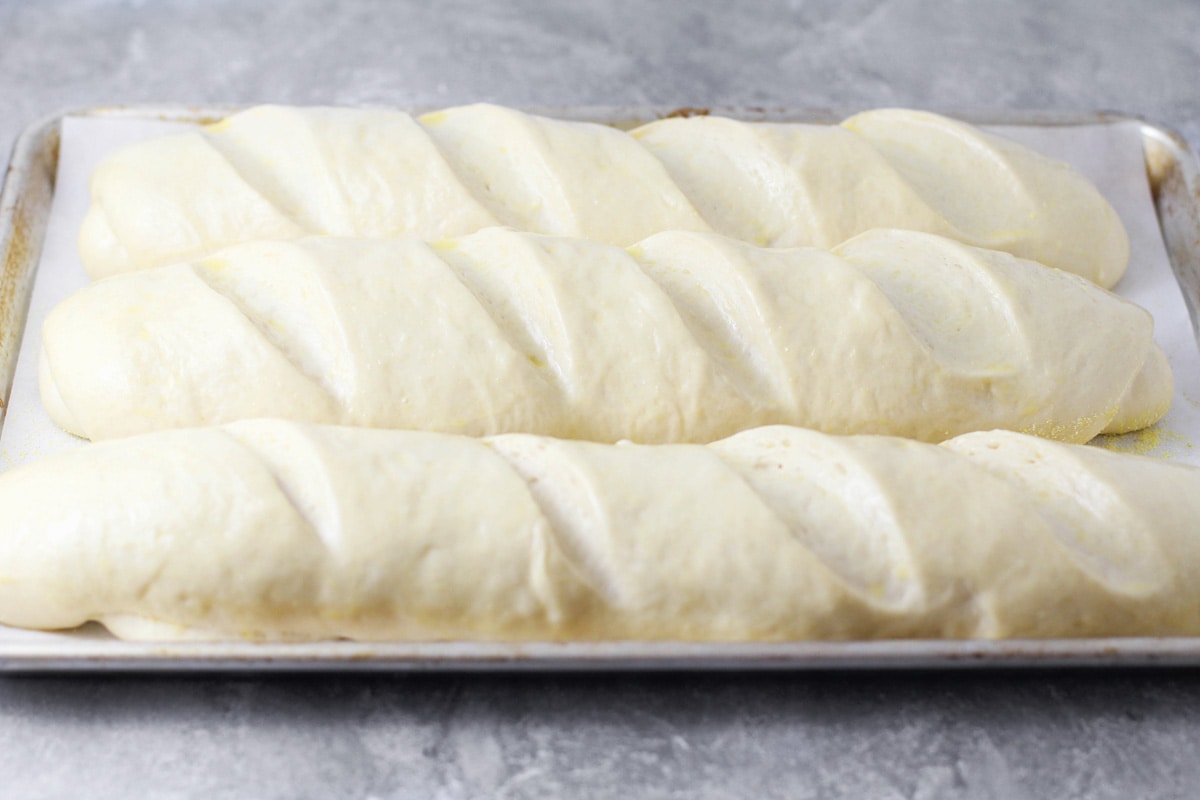 Freezing the dough
Yeast dough is typically formed into loaves of bread, or rolls. In either case, only use active dry yeast when freezing dough. Important: add twice as much yeast as the recipe calls for, to compensate for yeast that will die while in the freezer.
Freeze bread loaves
Line the bread pan with plastic wrap.
Shape the dough, place it in the pan, then freeze for 8-10 hours.
Remove the frozen dough from the pan and wrap it tightly with plastic wrap, place it in a freezer Ziploc bag.
Label it and freeze for 4-6 weeks.
To bake. Place frozen, wrapped dough in the fridge to thaw for several hours. (I usually thaw it overnight). Grease the bread pan, unwrap the dough, and place it in the pan. Cover and allow it to rise for the second time, on the counter, then bake.
Freeze rolls
Line a baking sheet with parchment paper.
Shape the rolls, place on sheet pan, and freeze for several hours.
Once solid, transfer the rolls to a freezer Ziploc bag.
Label it and freeze for 4-6 weeks.
To bake. Grease the baking pan, place the desired number of frozen rolls 1-2 inches apart on the pan. Cover, let it rise at room temperature for 4-5 hours. Bake.
---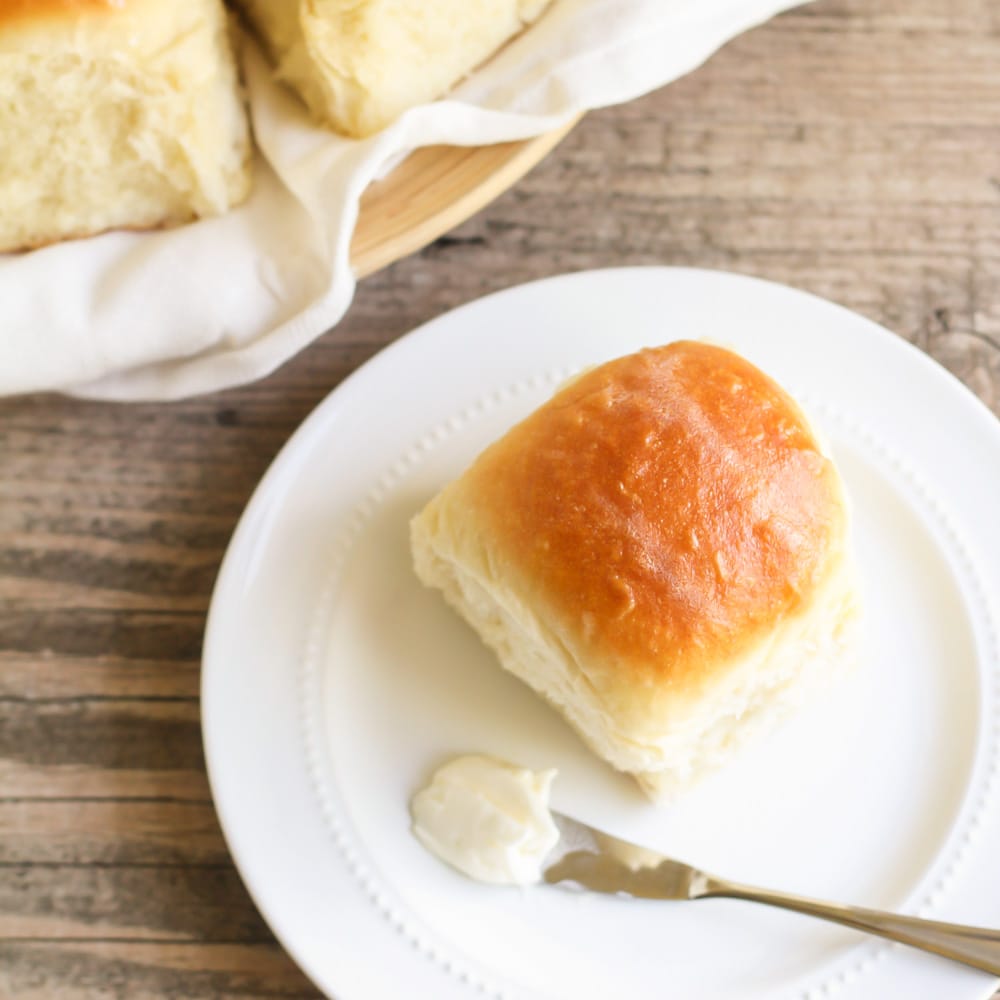 Favorite Yeast Bread Recipes
Yes, yeast can be intimidating, but it shouldn't be. Just follow each of these easy yeast bread recipes to make some delicious bread. We promise you will be so happy you tried them!
Yeast Dinner Rolls – Homemade Dinner Rolls Recipe that are delicious and perfect for any meal. They're soft, delicious and a hit at every meal!
Best Homemade Bread Recipe – Basic Homemade Bread – the best, most fluffy loaf of homemade white bread! Tastes so much better than store bought!!
Bread Bowl Recipe – These homemade bread bowls are surprisingly easy to make. Crusty on the outside, soft on the inside, they make a perfect vessel for your favorite soup!
Easy Yeast Rolls – These easy yeast rolls can be made in under an hour with just 4 ingredients! With how quick and simple they are, they will become your new go-to dinner rolls.
Easy Bread Recipe – This extremely easy bread recipe only requires FIVE ingredients to make two delicious loaves of homemade bread. Whether you're a bread beginner or a pro baker, you'll love this simple recipe!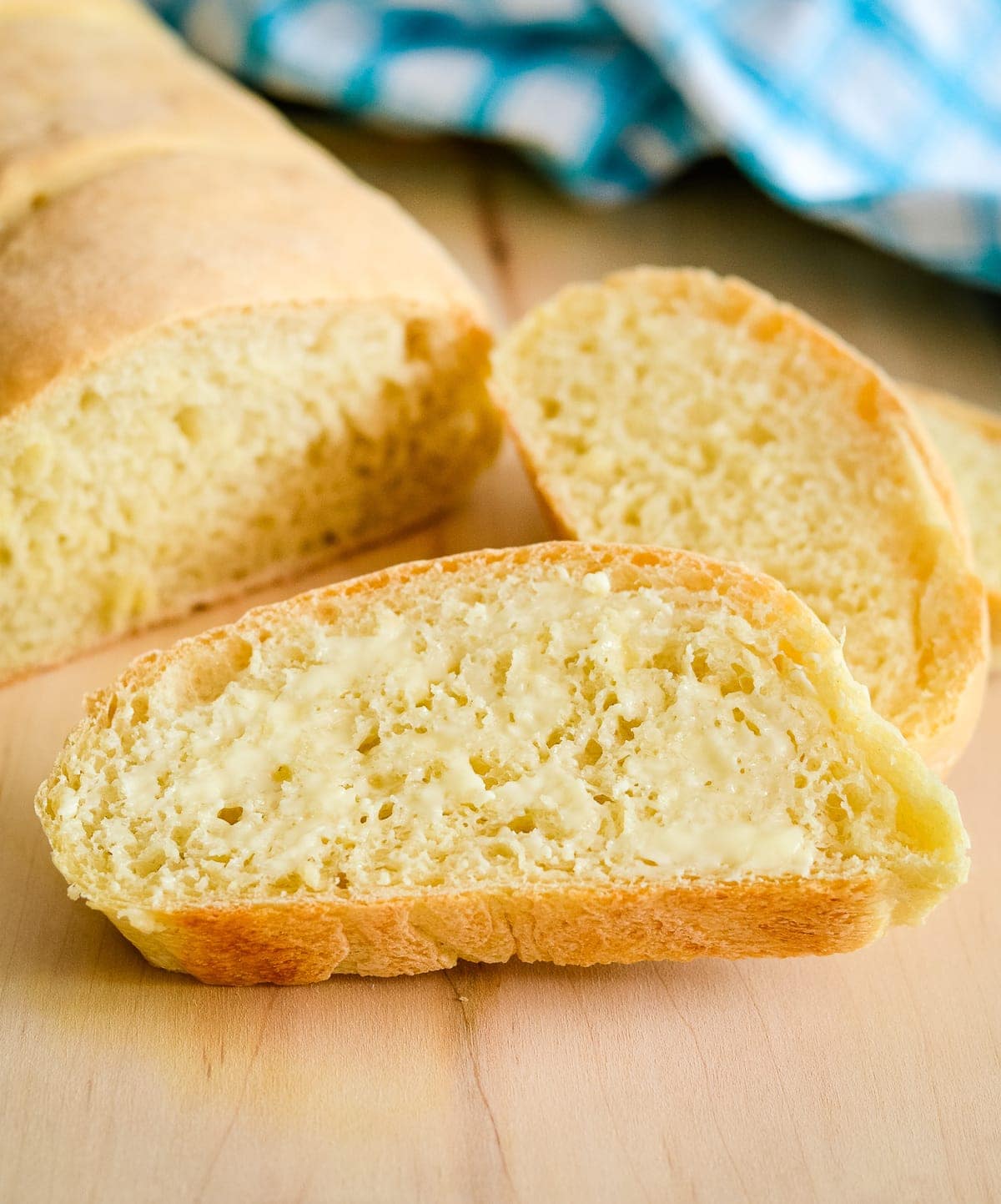 Italian Bread – It is so easy to make Italian Bread at home with just a few simple ingredients. Nothing beats a soft and crusty bread warm from the oven!
Olive Garden Breadsticks – Just like the originals, these copycat Olive Garden breadsticks are light and airy on the inside, and flavored with butter and garlic salt on the outside. You can never eat just one!
Homemade Naan Bread – This homemade Naan Bread is soft, chewy, and simply delicious. You won't believe how easy it is to make and will want it as a side to every meal.
No-Knead Bread – This no-knead bread has only four ingredients, and could not be simpler to make! It's the perfect bread recipe for beginning bread makers, and so delicious that even experienced bread makers will love it.
French Bread Recipe – This is the BEST Homemade French Bread recipe and is so easy to make! It's soft, tasty and comes out perfect every time.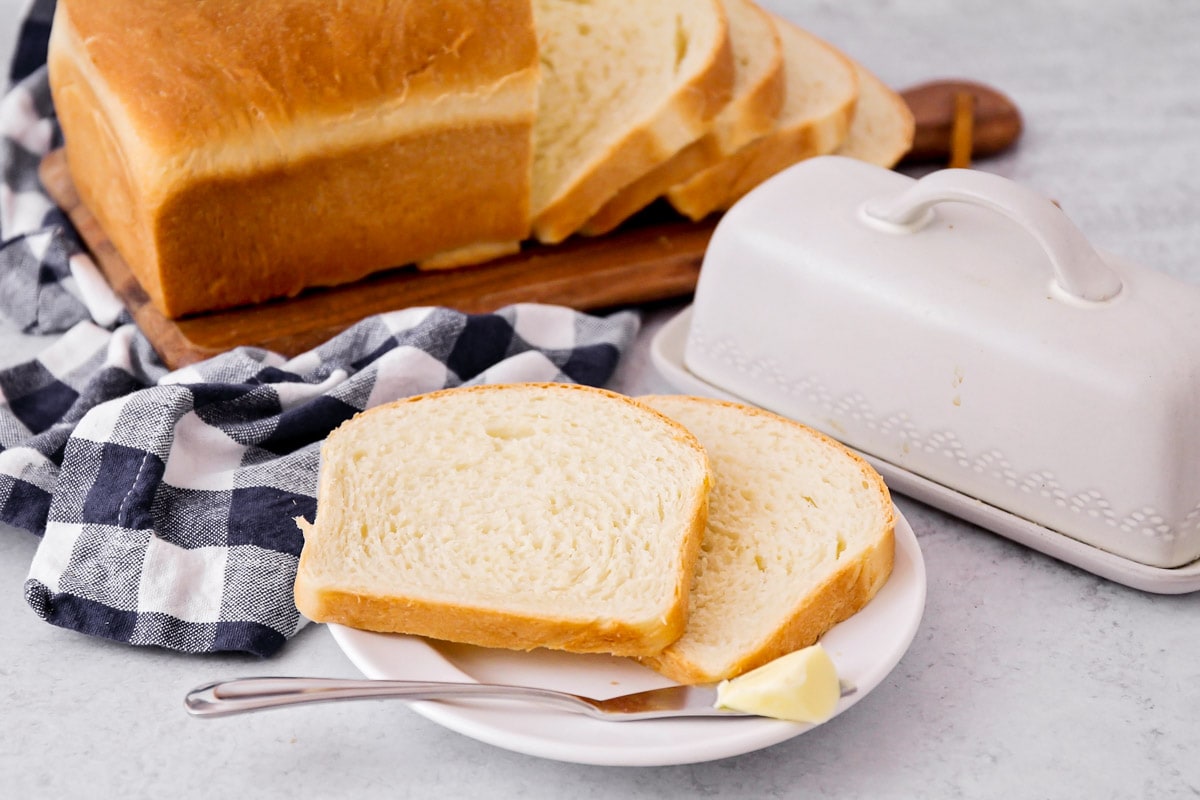 Sandwich Bread – Whip up your own fresh-baked tender & delicious sandwich bread with just a few simple steps and 15 minutes of prep time.
Cinnamon Bread – The BEST Cinnamon Bread recipe ever! So soft! This will be gone in minutes and will become a family favorite in no time.
Pretzel Rolls – Pretzels rolls have a soft center and a chewy crust topped with sea salt. They taste just like pretzels!
Cinnamon Pull Apart Bread – This recipe for Cinnamon Pull Apart Bread makes a tasty breakfast treat! Delicious pieces of homemade bread dough, covered in cinnamon and a yummy glaze! The best part is, it comes together in less than an hour!!
Focaccia Bread – Crisp yet fluffy bread topped with delicious herbs and seasonings. This flavorful focaccia bread is so easy to make, and is perfect for sandwiches, dipping in soups, or enjoying on its own!
---
the complete list
Here are the picture cards for all of the wonderful Yeast Bread Recipes listed above.
Nothing beats homemade bread warm from the oven – you'll want to give all of these delicious recipes a try!
Make sure to check out all of our Bread Recipes.
More Collections: Chili Recipes, Easy Soup Recipes, Chicken Soup Recipes