This copycat recipe for Auntie Anne's Cinnamon Sugar Pretzel Bites makes pretzels that are super soft on the inside and bursting with cinnamon sugar flavor on the outside!
For a traditional twisted pretzel with all the same flavors as these pretzel bites, try our Soft Baked Cinnamon Pretzel. It tastes just like a Cinnamon Roll!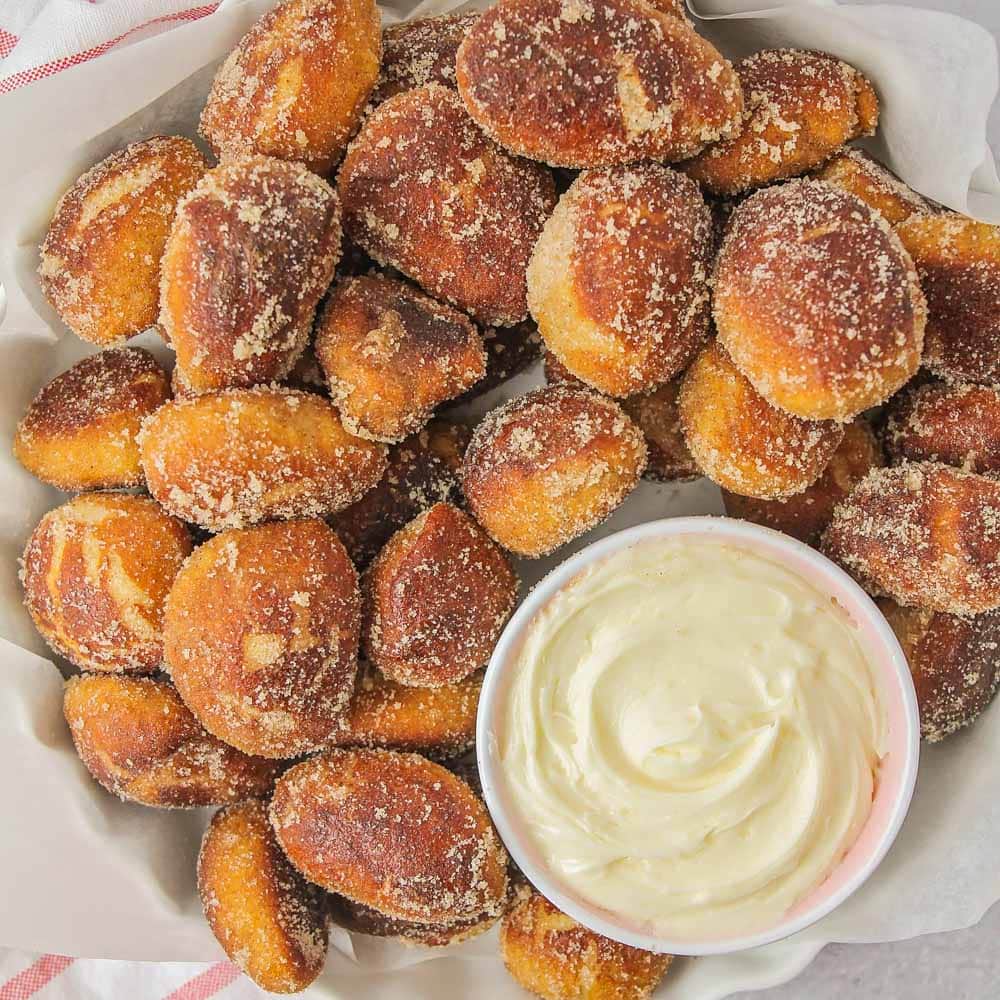 Just like Auntie Anne's!
Hi! It's Alicia from The Baker Upstairs, back to share a super delicious recipe with you! I must confess, I absolutely love a good pretzel, and these cinnamon sugar pretzel bites are some of the best pretzels I've ever made!
They're an Auntie Anne's copycat recipe (so you know they're going to be good!) and they taste amazing. They're chewy on the outside, soft on the inside, and coated with a buttery cinnamon sugar topping. When you add the cream cheese dip to them, they are out of this world!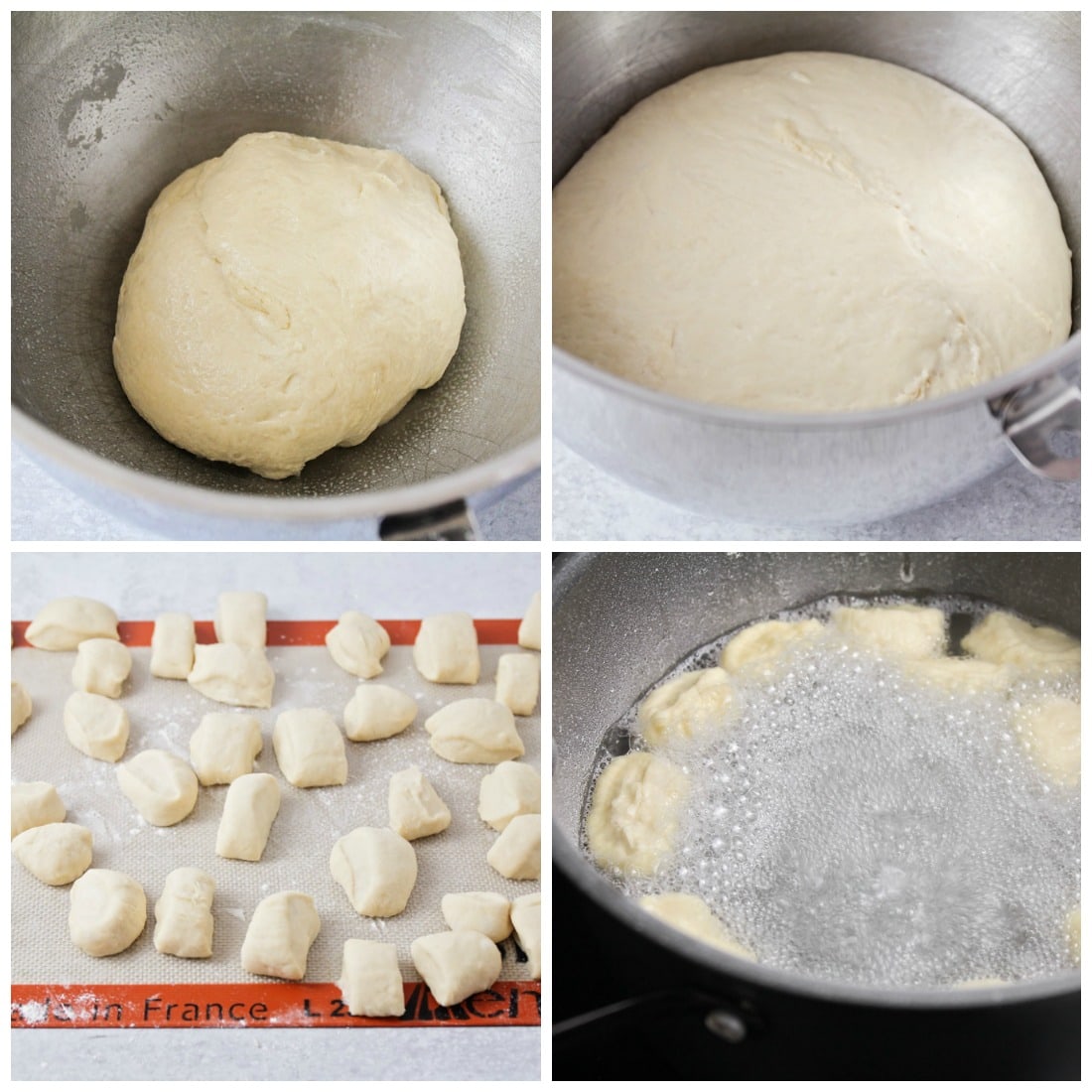 How to Make Cinnamon Pretzel Bites
DOUGH. You'll start with a simple pretzel dough. If you're a beginner with yeast, no worries! This recipe is pretty much foolproof. I think the key is making sure your yeast is active. If it doesn't foam up like the picture below, toss it and try again with some warmer water and a pinch more sugar.
The dough is made with only a few simple ingredients and mixes up quickly. You'll want to be careful not to add too much flour. The dough should be just slightly sticky to the touch, and still soft and pliable.
RISE. Cover and let the dough rise until it has doubled in size.
CUT. Once the dough has risen, divide it into four pieces and roll each piece into a long skinny rope, about one inch in diameter. Cut each rope into inch-long pieces.
BATH + BAKE. From there, the pretzel dough gets a quick bath in a baking soda solution, then is baked in the oven until golden brown. The pretzel bites will puff up, and it's okay if they stick together a little bit. They are easily pulled apart.
COAT. Once they've cooled a little bit, it's time to toss them in melted butter and the cinnamon sugar coating. Yum!
Cream Cheese Dip
If you can hold off on eating them for a little bit, the fabulous cream cheese dipping sauce is well worth the wait.
I added a little bit of maple flavoring to mine, and I love the combination of maple and cinnamon together. The contrast of the warm, buttery pretzel bites and the smooth and creamy dip is amazingly tasty!
You can also use other sweet dips such as: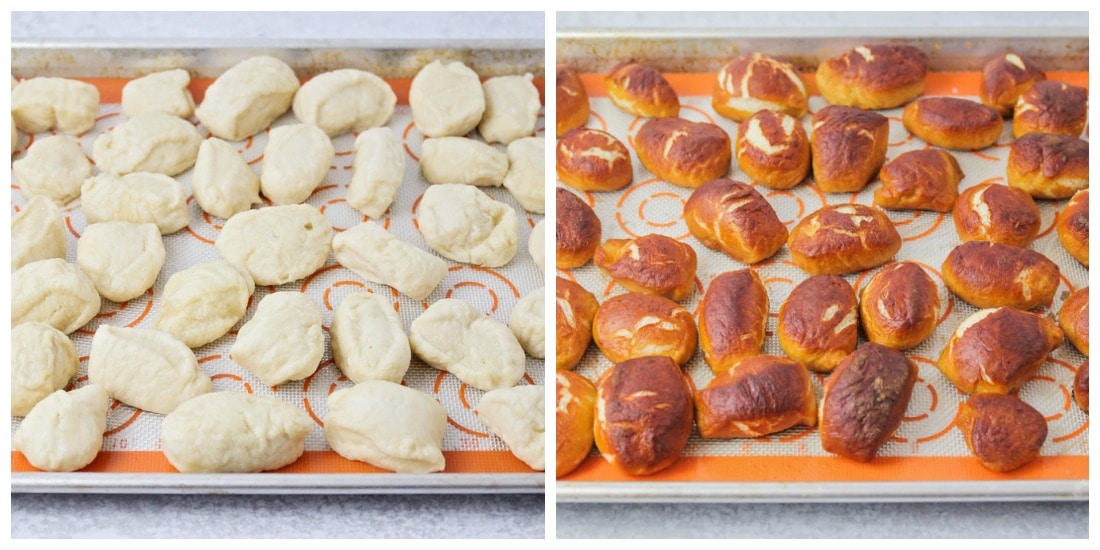 Recipe Tips
Rise faster: If you want to speed up the rise time preheat the oven to 200°F. Place the dough in a metal or glass bowl with a damp kitchen towel spread over the top. Turn off the oven and place the bowl in the oven. The rise time should only take about half of the time.
How to make sure the water is warm enough for pretzels: When activating yeast you'll need to make sure that the water is just the right temperature, between 100 and 110°F. An easy way to test this is to put your wrist under the running water. If it feels very warm on your wrist, it's perfect for the yeast.
Don't forget to line the pan: Line a baking sheet with a silpat mat or parchment paper. This will help keep the pretzels from sticking to the pan AND it will keep the baking soda from creating little pretzel outlines on the pan even after it's washed. Trust me on this one!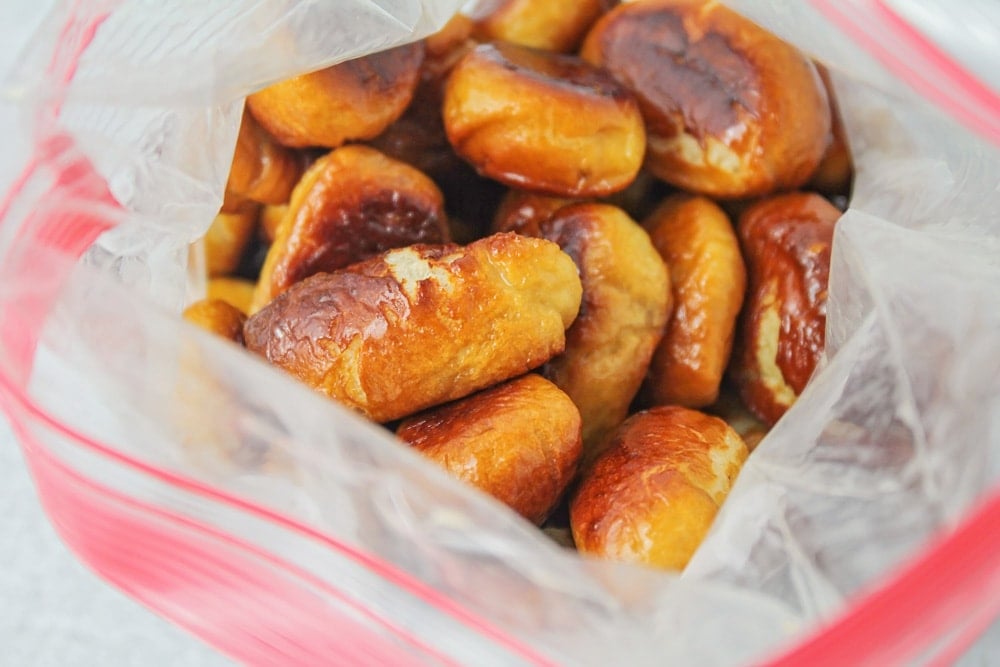 How to shape into a traditional twisted pretzel: Instead of making pretzel bites you can use the same dough to make traditional cinnamon sugar pretzel twists.
Roll some dough into a long 20-22 inch rope that is about 1 inch wide. Place the rope in a "U" shape on the counter, twist the ends so they overlap each other.
Finally, fold them over so the ends rest on the bottom of the "U" shape. Use a large mesh sieve or spatula to lower the larger pretzel twist into the baking soda boil, then bake at 400°F for about 12-15 minutes.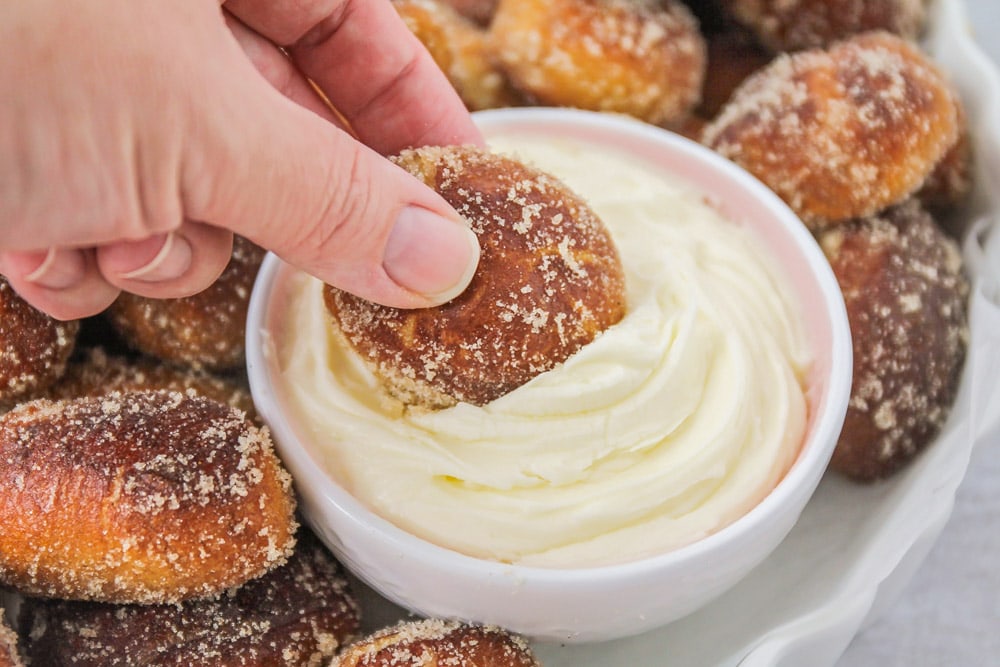 Making Ahead + Leftovers
Make the dough ahead of time: To make the dough ahead of time you can mix up the dough and store it covered in the fridge for 1-2 days or place it in a freezer ziploc and freeze for 2-3 months. If you freeze the dough allow it to thaw in the fridge overnight. Take dough from the fridge and allow it to warm up on the counter for about 30 minutes before shaping and boiling.
Storage: Allow the pretzels to cool before storing them in an airtight container. They can be kept at room temperature 2-3 days or you can place them in the freezer for up to 2 months. I like to individually wrap each pretzel before freezing them together in a Ziploc.
To reheat: You can easily wrap the pretzel in a damp paper towel and reheat it in the microwave. You can also reheat them in an oven set to 350°F. Heat until warm for about 5-10 minutes or 15-20 minutes, if frozen.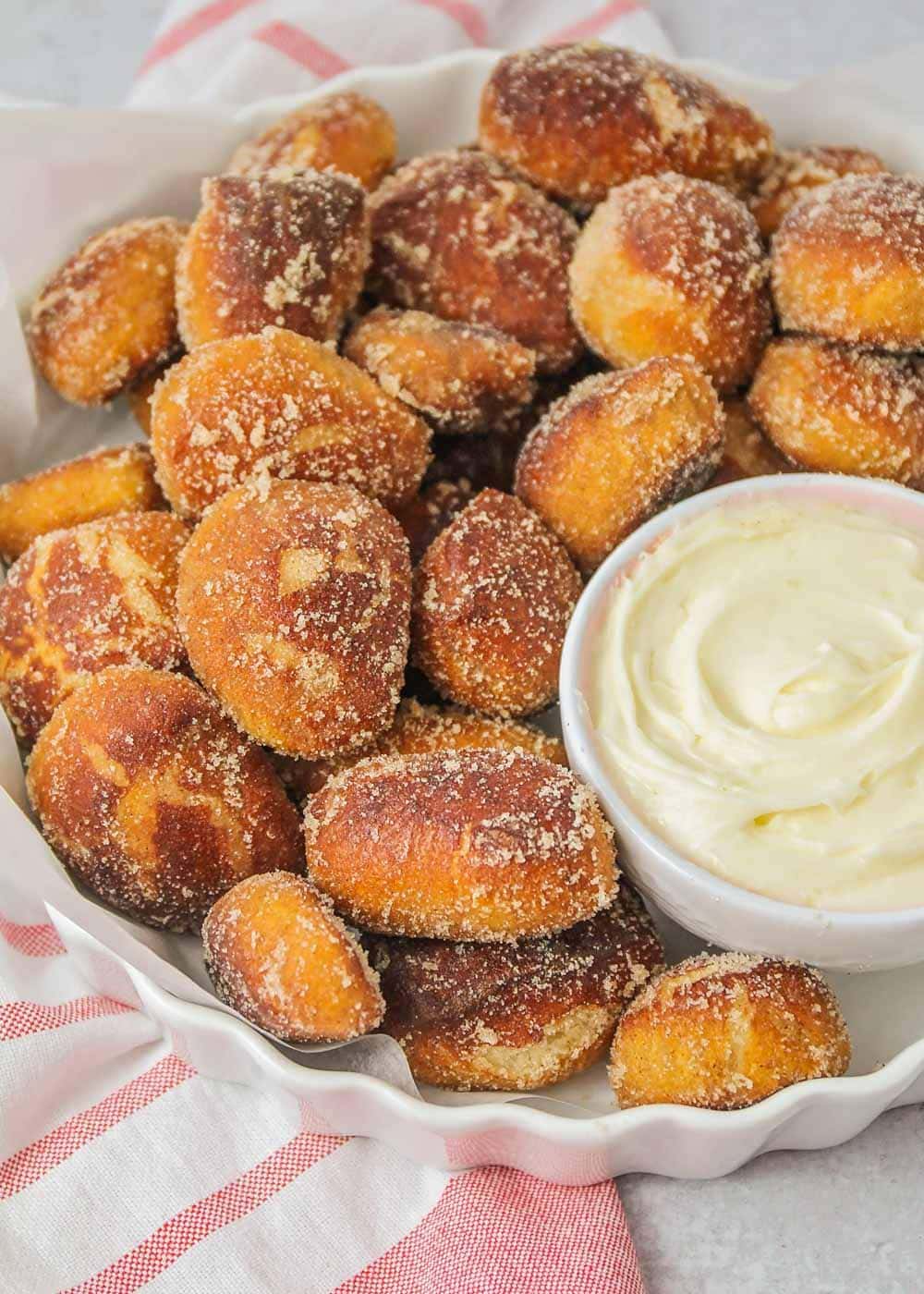 For more cinnamon filled treats, check out:
Cinnamon Sugar Pretzel Bites Recipe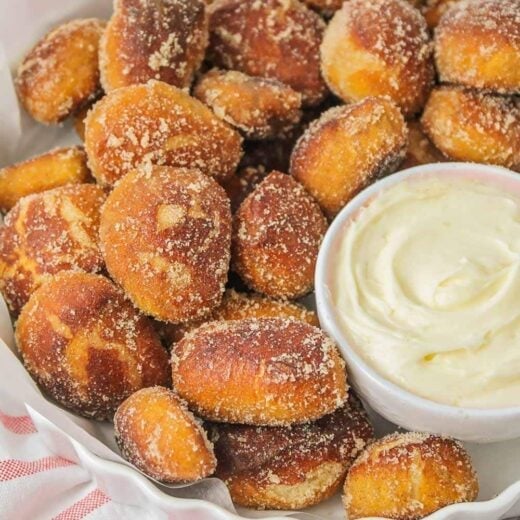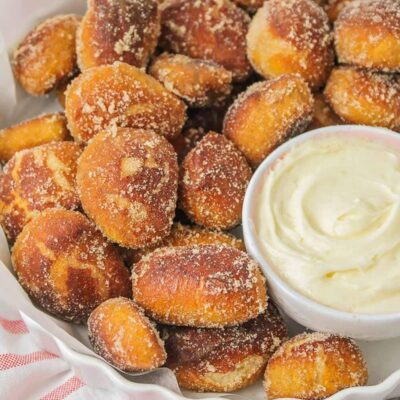 This copycat recipe for Auntie Anne's Cinnamon Sugar Pretzel Bites makes pretzels that are super soft on the inside and bursting with cinnamon sugar flavor on the outside!
Ingredients
Water Bath
3

cups

water

1/4

cup

baking soda
Instructions
In a large bowl or the bowl of a stand mixer, dissolve the yeast in the warm water with a pinch of sugar. Let stand until foamy.

Add the sugar, brown sugar, oil, salt, and two cups of flour to the mixing bowl. Continue to add flour, ¼ cup at a time, to form a soft but not overly sticky dough. Let the dough rise, covered, in a lightly greased bowl for 60-90 minutes, or until doubled in size.

When the dough has risen, gently deflate the dough and divide into four equal sized pieces. Roll each piece of dough into a snake approximately one inch in diameter. Using a bench scraper or a knife, cut the dough into one inch segments. Repeat with remaining dough.

Preheat the oven to 425. Add the water and baking soda to a pot and bring to a boil over medium high heat. Line a baking sheet with parchment or a silicone liner.

Drop the pieces of dough into the pot and let them boil for 30-45 seconds. Remove with a strainer or slotted spoon and place on the prepared baking sheet. Bake 10-12 minutes, or until golden brown. Allow the pretzel bites to cool on the pan for 10-15 minutes.

After the pretzel bites have cooled slightly, place them in a gallon sized ziplock bag and drizzle the melted butter over the top. Toss to coat the bites in butter. When they are all coated, add the sugar and cinnamon and toss to coat evenly.

To make the dipping sauce, whisk together the butter, cream cheese, powdered sugar, vanilla, and maple extract, until smooth. Add a teaspoon or so of milk, if needed, to reach a good dipping consistency. Serve the pretzel bites warm with dip and enjoy!